Hawaiian Ham Balls | Ham Balls with Pineapple Sauce
As an Amazon Associate and member of other affiliate programs, I earn from qualifying purchases.
This Hawaiian Ham Balls recipe is bursting at the seams with sweet and tangy flavors that are intertwined with hearty and tender textures that you will love as an appetizer or dinner! These glazed ham balls with pineapple sauce are incredibly delicious and made with tender pork, brown sugar, juicy pineapple, and graham cracker crumbs that are all so perfect together.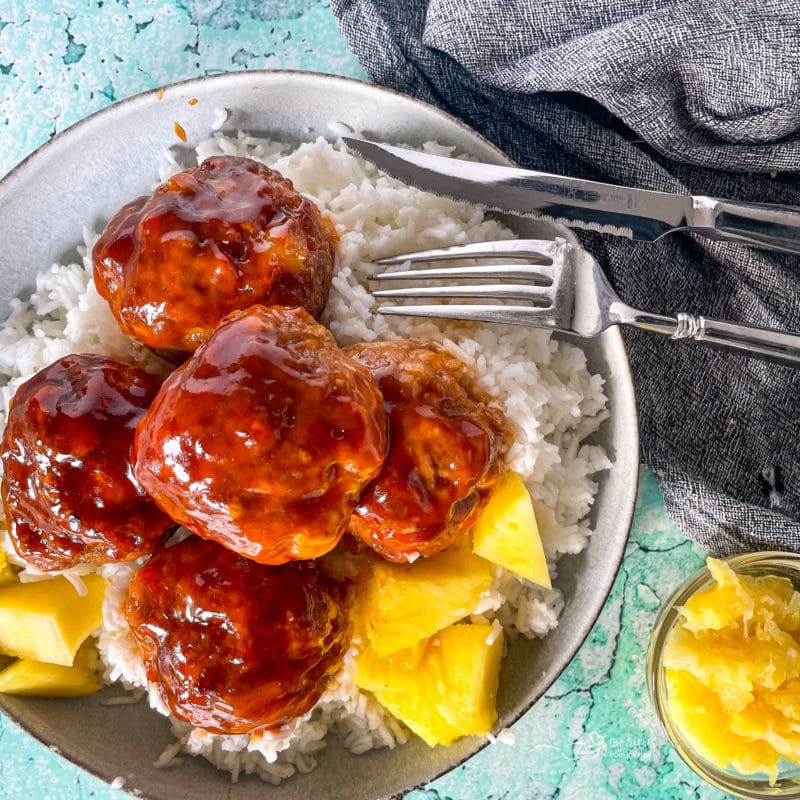 Oh, ham balls. This Hawaiian ham ball recipe is that classic old-fashioned recipe that you stumble upon when you're flipping through your grandparents' cookbooks. Served with a sweet and sour type sauce, they are a true Midwestern favorite. These savory and tender pineapple glazed ham balls are staples for any party or event. You're going to love them so much!
Originating in Iowa, this recipe can be served as either a main course meal with rice or served as an appetizer. Not only does the perfect duo of ham and pineapple encompass this easy recipe, but it's also filled with just the right ratios of sweet and savory. If you're on team ham and pineapple on your pizza, then you'll really enjoy these Hawaiian ham balls.
Why You're Going to Love Pineapple Glazed Ham Balls
Versatile: There is more than one way to eat this recipe! These Hawaiian ham balls can be served over a bed of rice with chunks of fresh pineapple or even served on top of rings of pineapple as appetizers– yum!
Great for Entertaining: If you're attending or hosting a potluck, party, holiday meal, or just having some friends over, then these ham balls with brown sugar glaze will be the highlight of the party. Just serve them with toothpicks and napkins!
Flavorful: Bold in tropical flavors thanks to the perfect blend of flavors of crushed pineapple and sweet graham cracker crumbs that help the meat stay nice and tender.
What are Ham Balls Made of?
Ground pork- You can find ground pork at any local market.
Ham- If you're having trouble finding ground ham, you can make your own or ask your local butcher to grind some for you. If you buy your ham whole from the store, then you can place it in the food processor and chop it up that way.
Graham cracker crumbs- The crumbs create a flavor you'll never forget! Just smash some graham crackers in a bag or crumble them with your hands. I used the honey type of graham crackers.
Eggs- Responsible for additional moisture and helps the ham balls stick together.
Crushed pineapple- You'll need both crushed pineapple and its juices. Make sure you don't throw the pineapple juice away!
Sauce Ingredients
Tomato soup- Robust and savory, it's the perfect addition to a sweet and sour glaze.
Brown sugar- A key element in the sauce, brown sugar is used for its sweetness and flavor. What is a sweet glaze without brown sugar?
Dry mustard- A basic pantry ingredient you may already have! I like to use dry mustard for additional flavors and seasoning. I can find it in the spice aisle at the local market.
Soy sauce- You'll need soy sauce for the sticky glaze. I always reach for the low sodium kind.
Pineapple juice- I used the juice from the crushed pineapple.
Cornstarch- A thickening agent for the sauce.
Water
Is ground ham the same as ground pork?
The two are different! You can make your own ground ham at home and ground pork is usually labeled as "ground pork" in the store.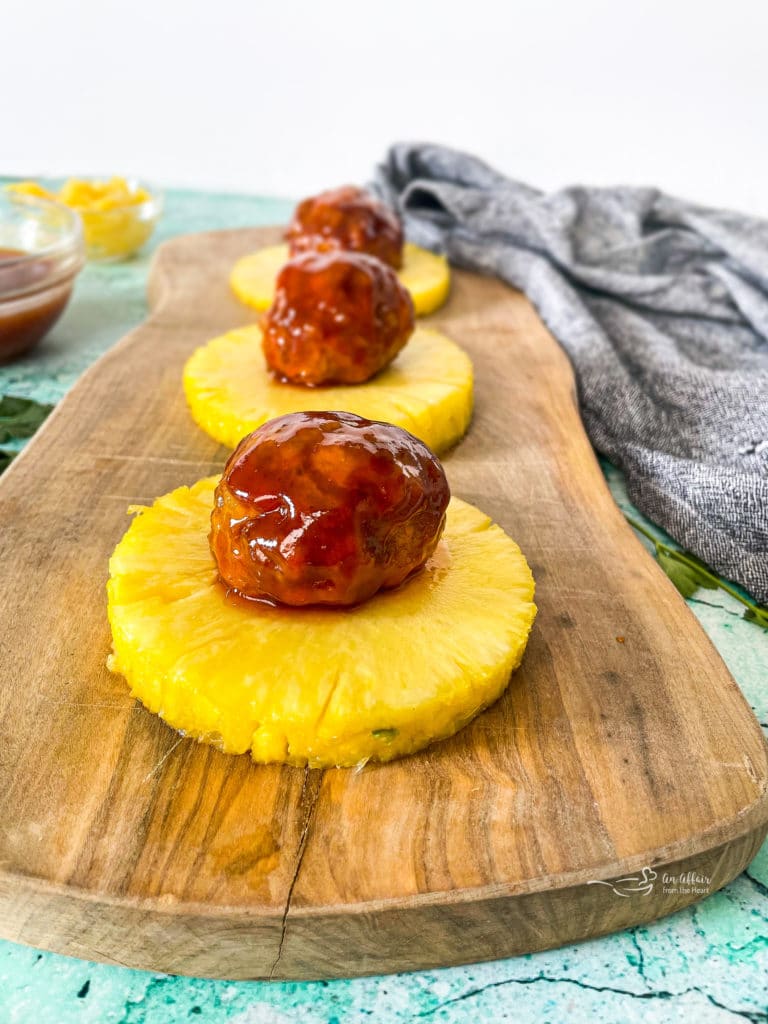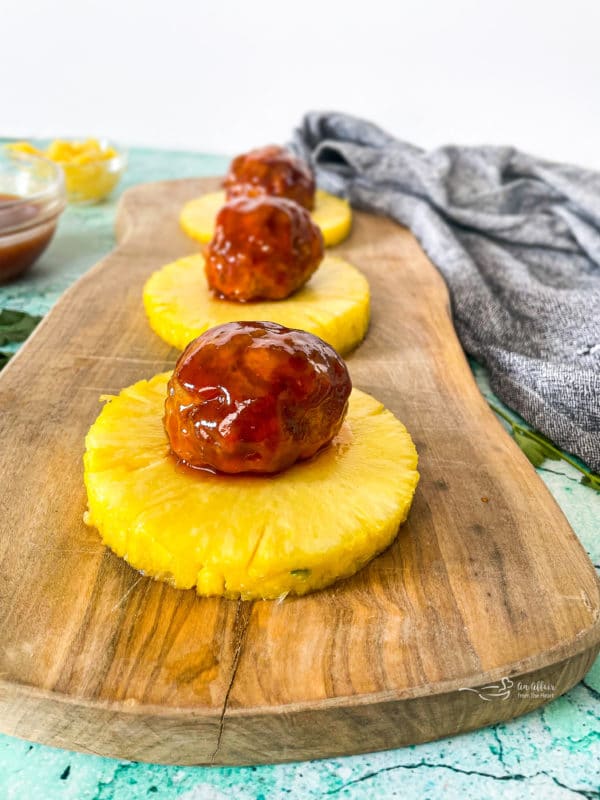 How to Make Hawaiian Ham Balls
Ever wonder how to make ham balls from scratch?
With just some simple steps, you will have delicious Hawaiian ham balls ready in no time! Scroll to the recipe card for more detailed steps and measurements.
Step 1
First, preheat the oven to 350 degrees Fahrenheit. Meanwhile, in a medium bowl, combine the ground ham and pork with the cracker crumbs, eggs, and pineapple.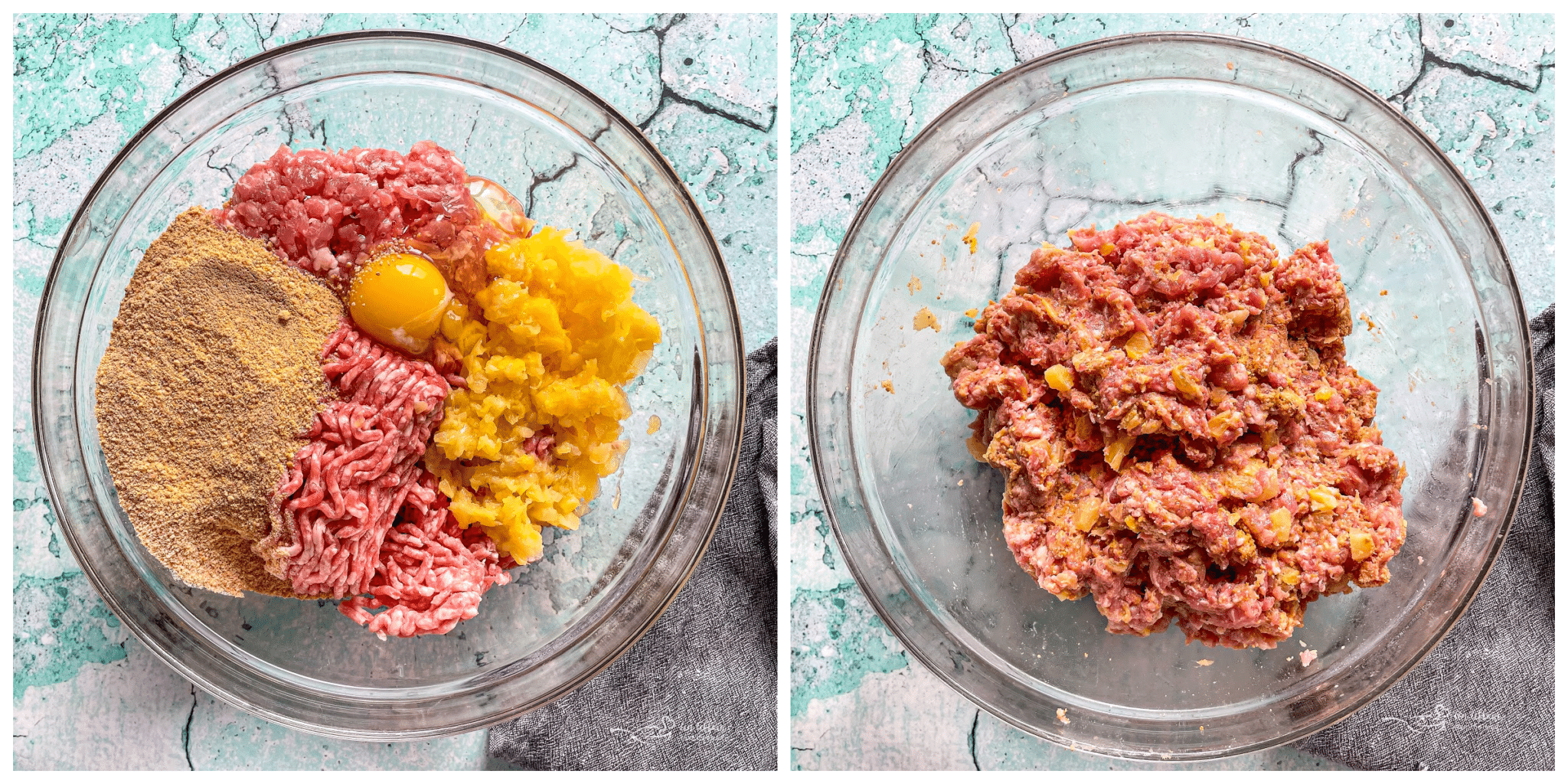 Step 2
Then, use a measuring cup to scoop the meat mixture to form evenly sized balls. (This size is better when served as a meal. If you want them smaller for appetizers, you can use a cookie scoop.)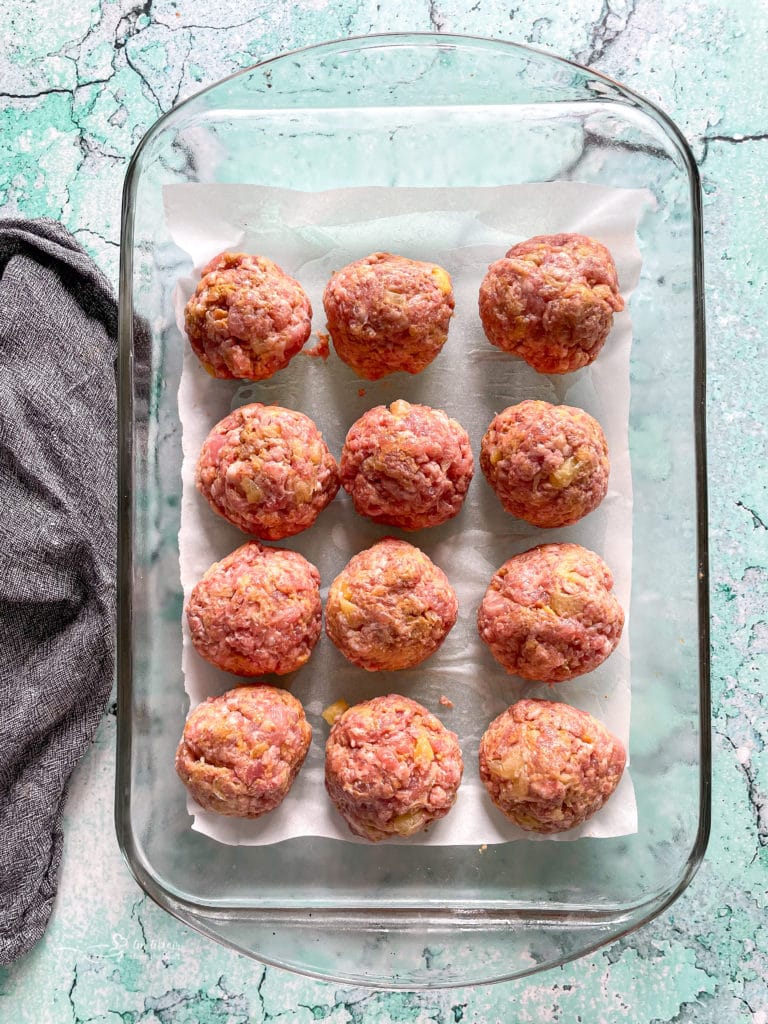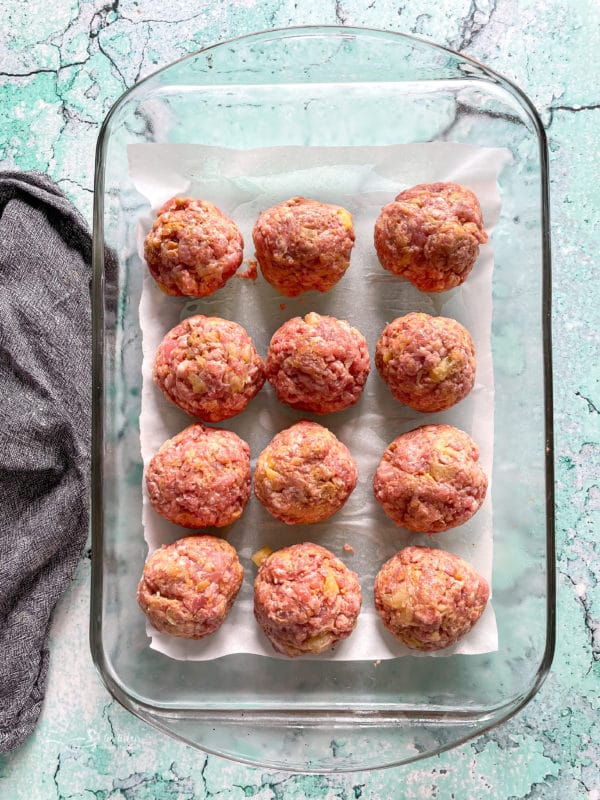 Next, we want to make the sauce while the ham balls rest.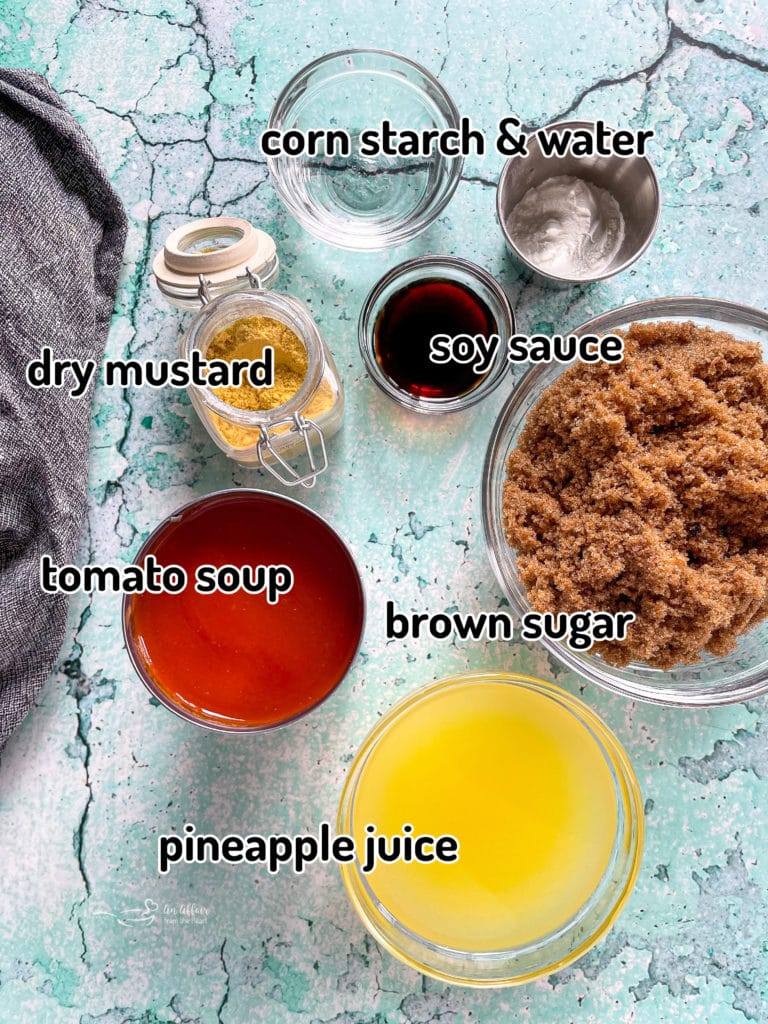 Step 3
In a small bowl, mix the pineapple juice, brown sugar, cornstarch, water, dry mustard, tomato soup, and soy sauce until combined. Next, place the meatballs in a shallow baking dish in a single layer. Then, bake the Hawaiian ham balls uncovered for 30 minutes.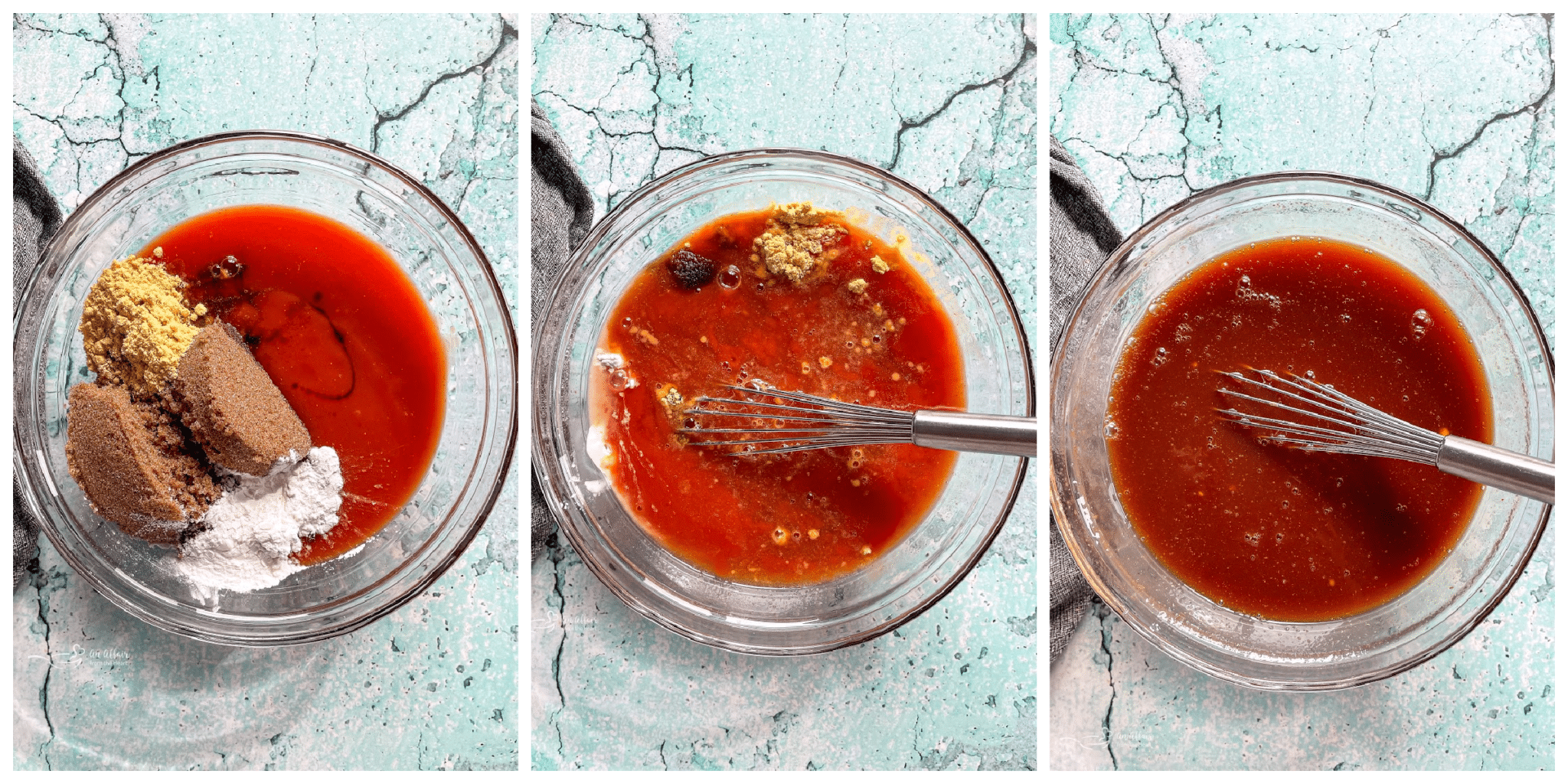 Step 4
Pour the sauce over the meatballs and bake for 30 minutes more. Baste them with the sauce.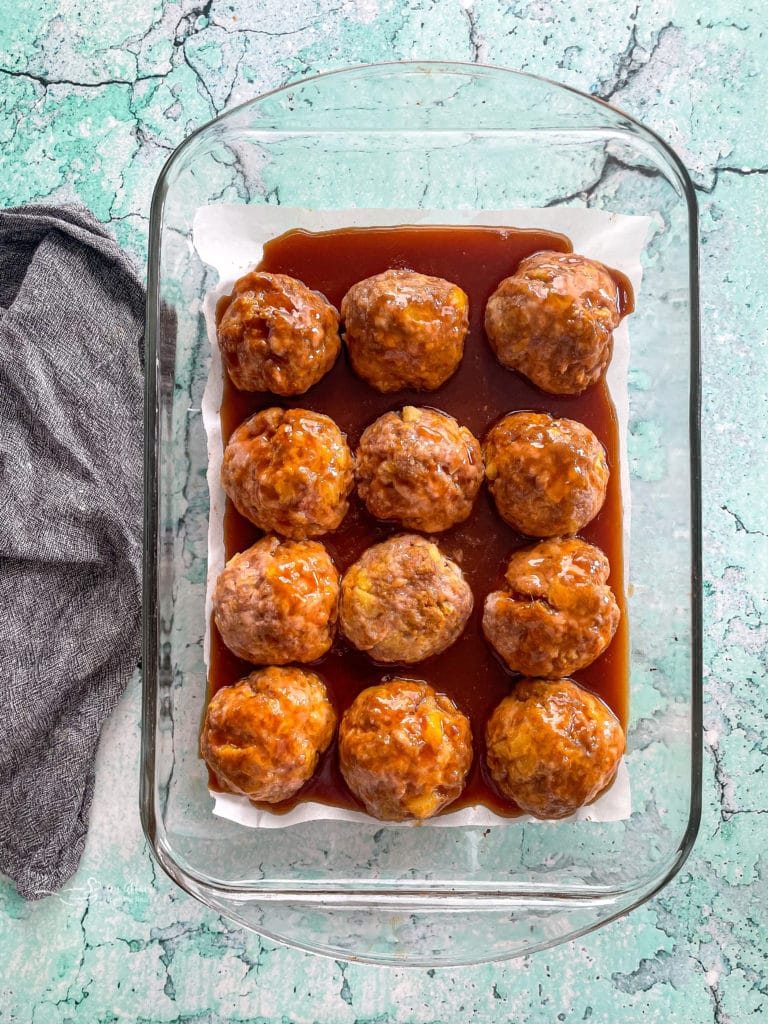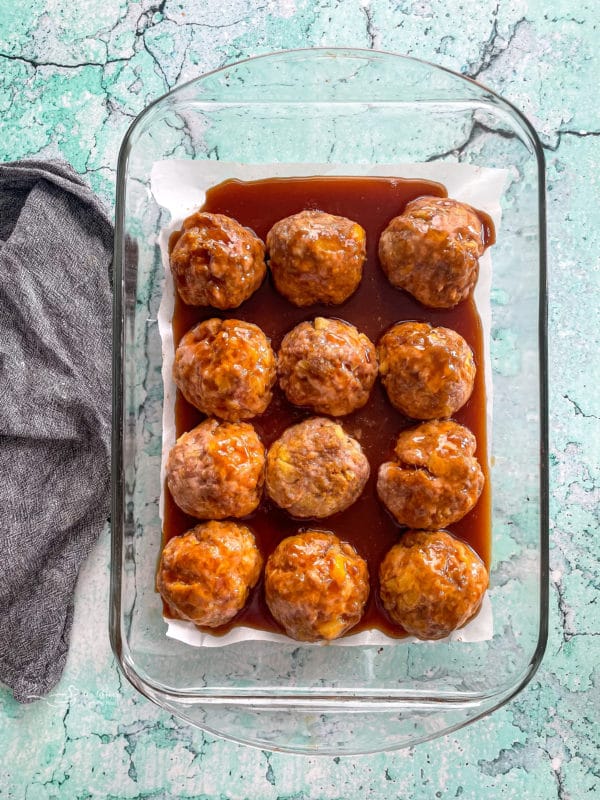 Then, check the internal temperature of the meat after one hour– it should be 160 degrees. Lastly, serve the retro ham balls as appetizers or over a bowl of rice.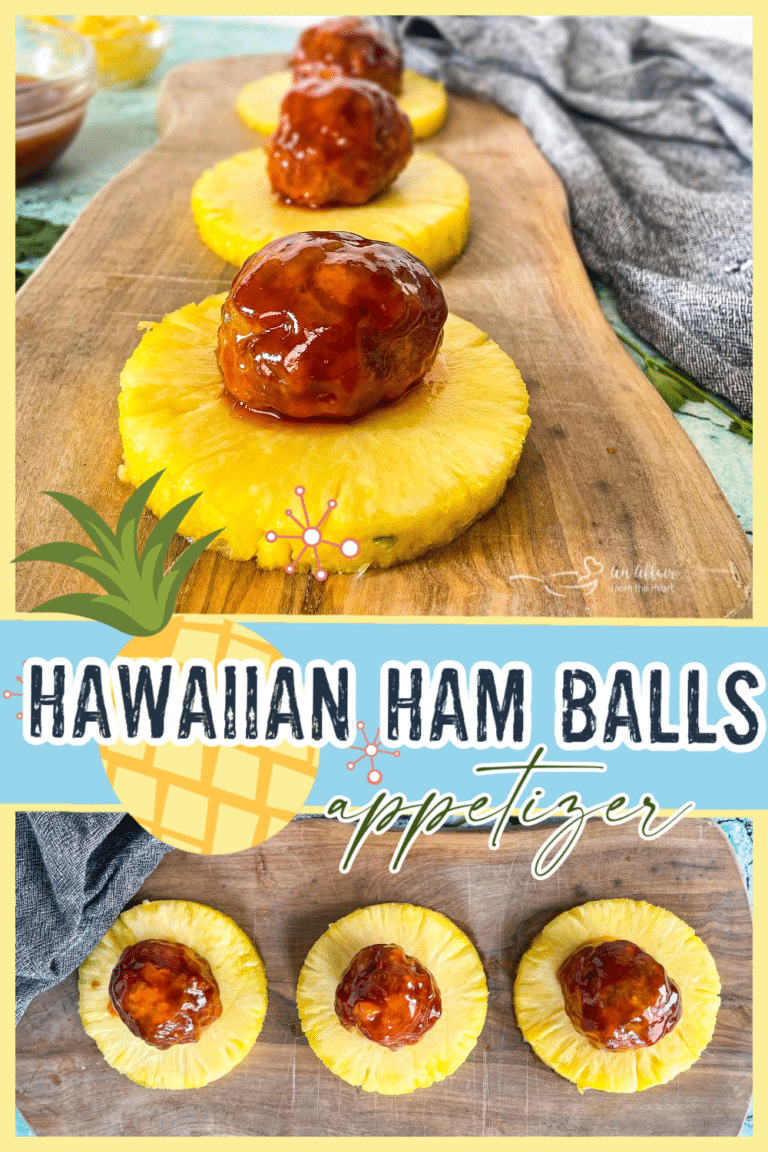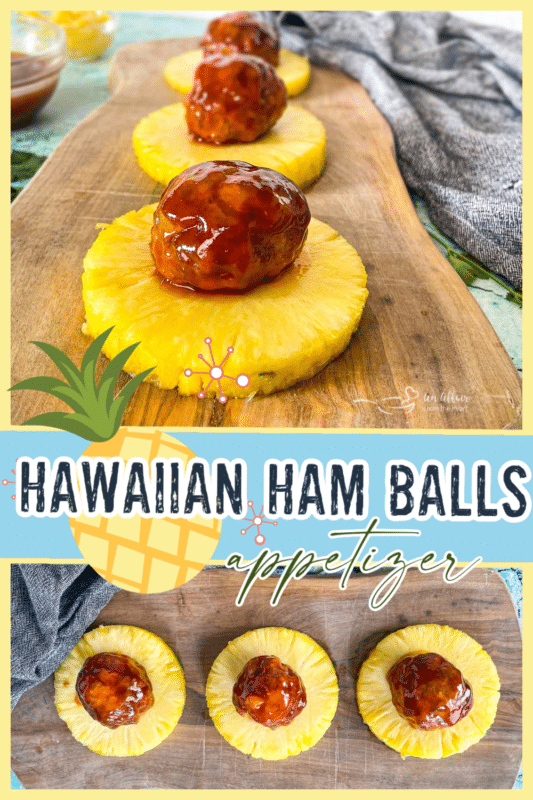 LOVE IT? PIN IT!
Make sure that you save this old-fashioned recipe so that you can find it easily when you want to make it next time! Then, Pin this recipe to your favorite Pinterest recipe board before you go!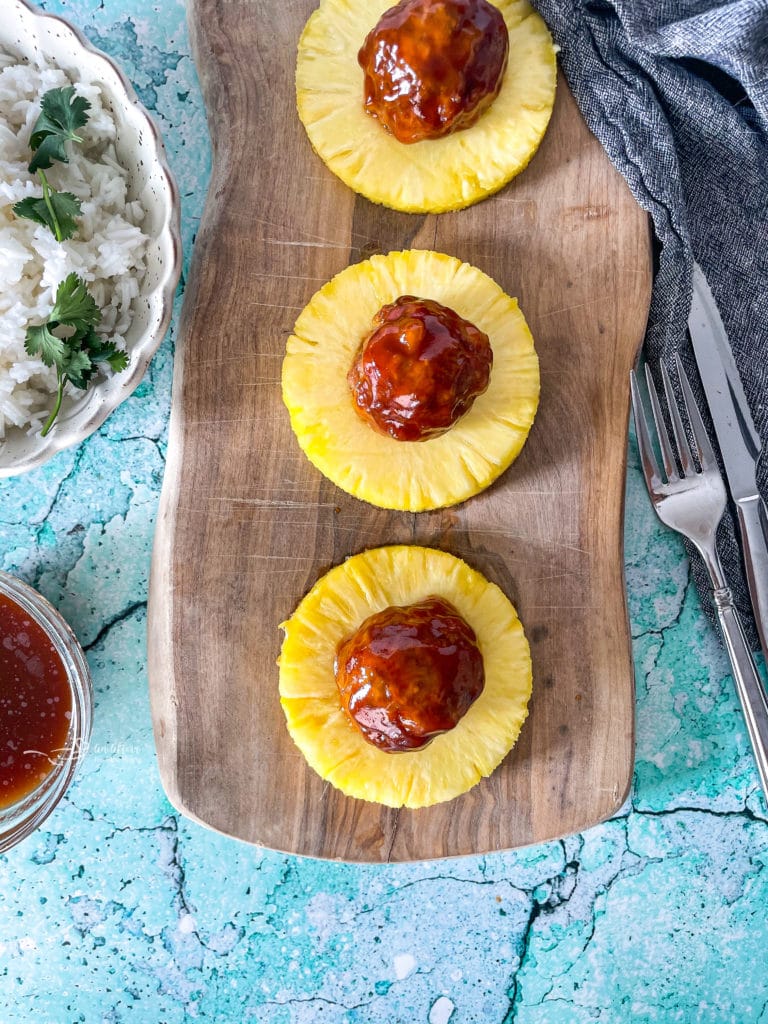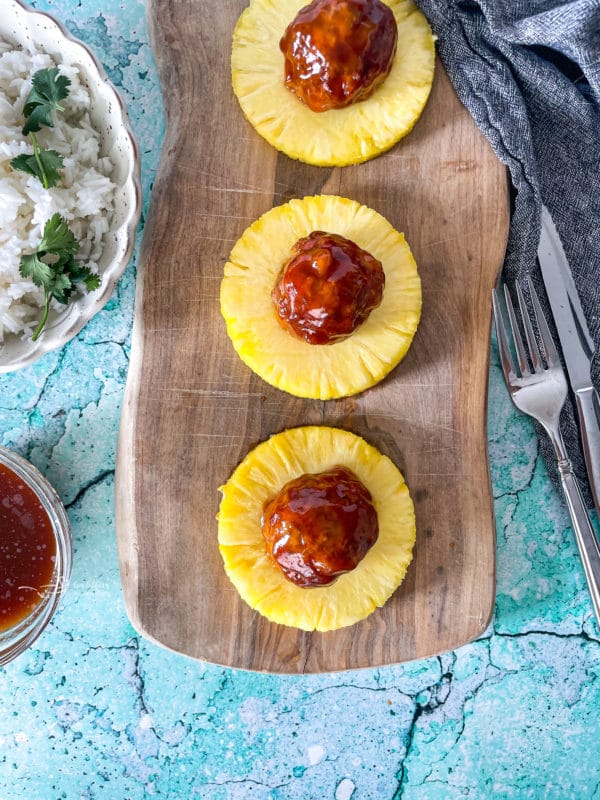 Tips
Chop the ham in the food processor if using cubed ham.
Store the leftovers in an airtight container in the refrigerator for up to four days.
Try freezing these ham balls by placing them in a freezer-safe bag or container and the freezer for up to four months.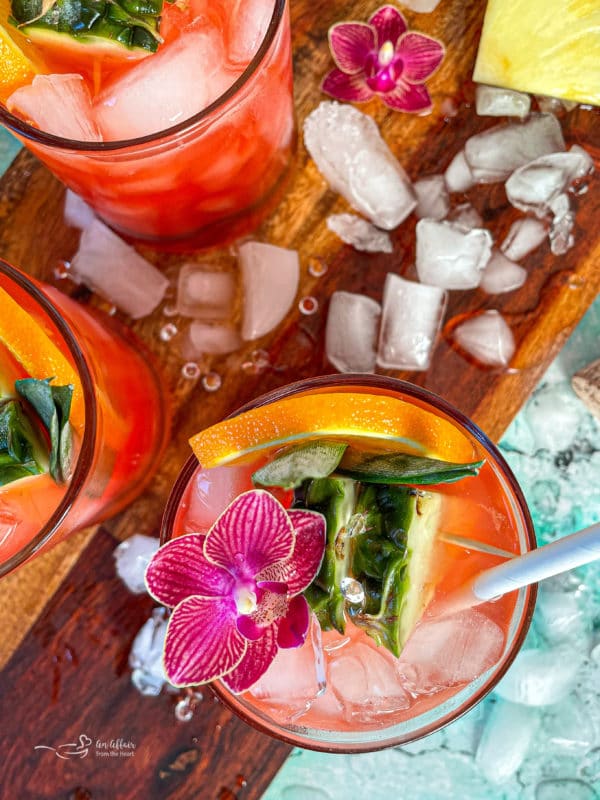 Other Recipes You Will Love
If you can't get enough when it comes to tropical flavors, I have so many recipes that you will want to be sure and check out! Here are just a few of them:
Let's mix up a batch of these tempting tropical meatballs!

Yield: 12 meatballs
Hawaiian Ham Balls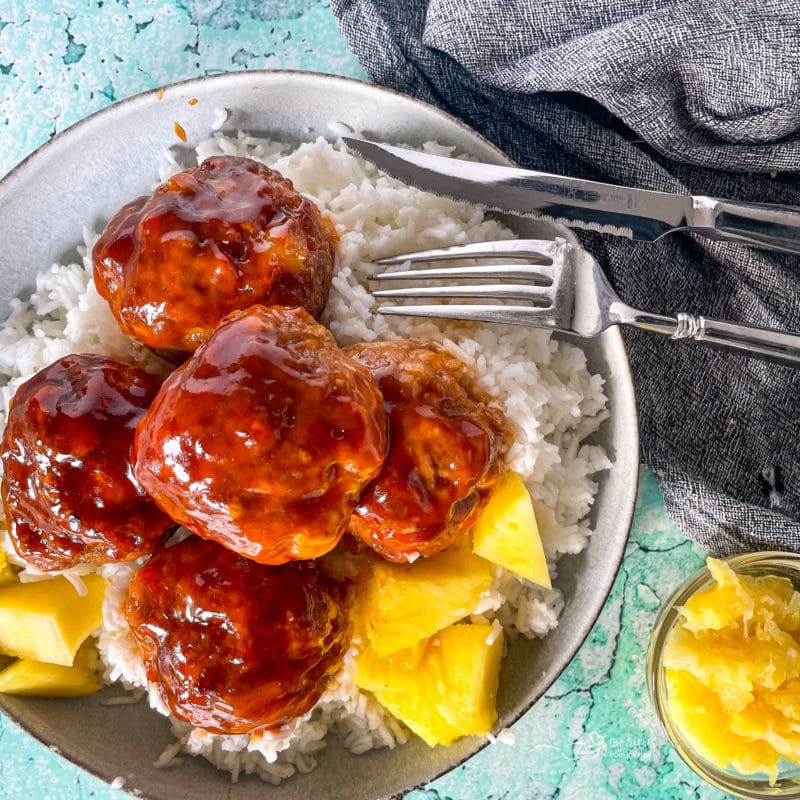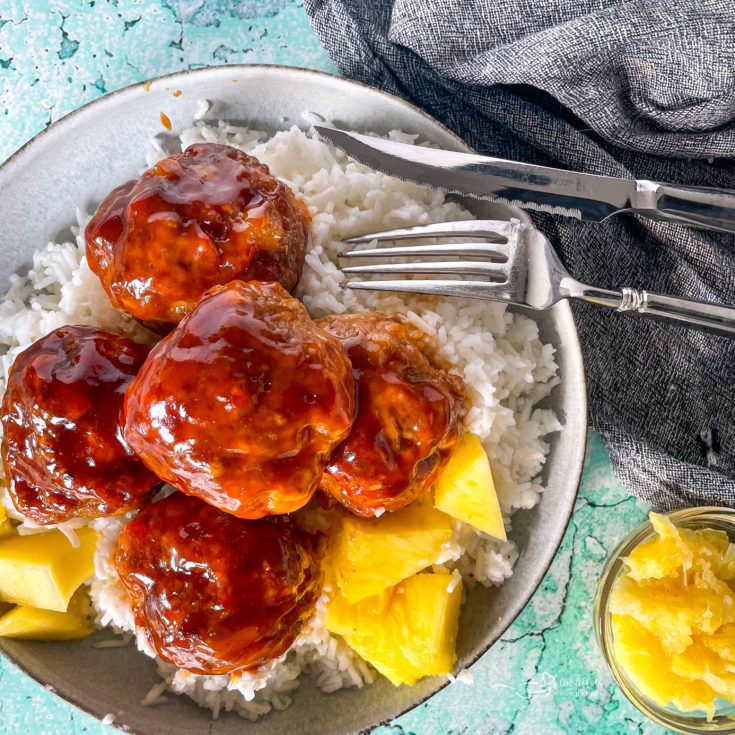 Ingredients
For the meatballs
2 pounds ground ham
2 pounds ground pork
2 cups graham cracker crumbs
2 eggs
1 (20 ounce) can crushed pineapple, drained, juice reserved
For the sauce
½ cup reserved pineapple juice
1 (10 ounce) can tomato soup
1 ½ cups brown sugar
1 Tablespoon dry mustard
1 Tablespoon soy sauce
1 Tablespoon cornstarch
2 Tablespoons water
Instructions
Preheat oven to 350 degrees.
Place ground ham and pork along with cracker crumbs, egg and crushed pineapple into a bowl and combine. Use a 1/3 cup measuring cup to scoop the meat mixture to form even sized balls. (This size is better when served as a meal, scoop them a bit smaller, using a large cookie scoop to make them appetizer sized.)
Mix the sauce ingredients together.
Place the meatballs in a shallow baking dish (9x13) in a single layer. Bake for uncovered 30 minutes.
Pour the sauce over the meatballs and continue baking for 30 minutes more. (baste them with the sauce after 15 minutes)
Check the internal temperature of the meat at one hour. It should be 160 degrees. When they have reached the safe internal temperature, pull them from the oven.
Serve them over rice as a meal or with toothpicks as an appetizer.
Notes
** If you don't have a meat grinder, place cubed ham in your food processor to grind it into a ground beef like texture.
Recommended Products
As an Amazon Associate and member of other affiliate programs, I earn from qualifying purchases.
Nutrition Information:
Yield:
6
Serving Size:
1
Amount Per Serving:
Calories:

1139
Total Fat:

49g
Saturated Fat:

16g
Trans Fat:

0g
Unsaturated Fat:

27g
Cholesterol:

314mg
Sodium:

2298mg
Carbohydrates:

93g
Fiber:

3g
Sugar:

71g
Protein:

81g
Please note that nutrition is not guaranteed accurate.