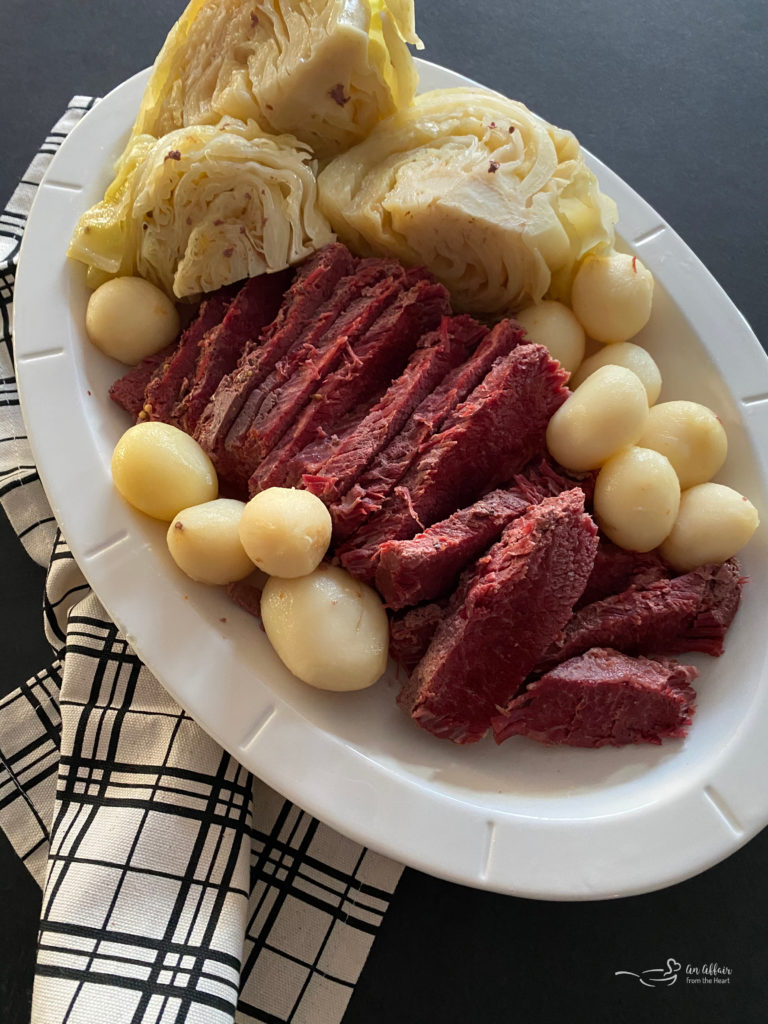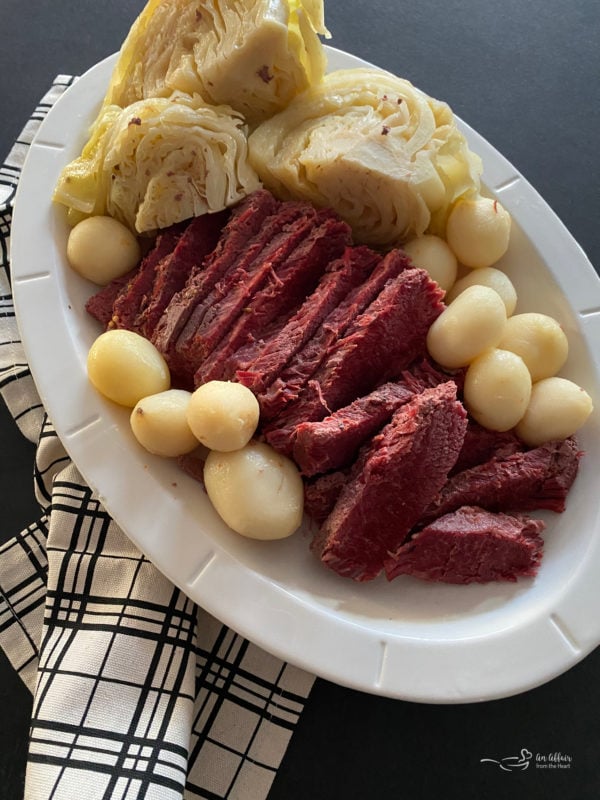 Corned beef and cabbage, my kids get super excited when I make this meal. I think I make it once or twice a year.
I don't know why? It's not like it's hard?
But when March rolls around, I see the Corned Beef front and center in the supermarket,
and I know it's time!
A Classic Corned Beef And Cabbage Recipe
Because March means St Patrick's Day is near. And, just like you see all the turkeys around before Thanksgiving, now you see all the corned beef everywhere. How can you not take advantage of that? Especially right after St Patty's and it all goes on sale!
But even though we associate corned beef and cabbage with being an Irish dish, this style dish started in the US of A! In Ireland, the dish originated as bacon and cabbage. Since bacon was expensive in the States for Irish immigrants, they started using corned beef.
Well, corned beef is kind of like beef bacon, so that was a great idea. So now we all get to enjoy corned beef and cabbage and tip back a few green beers. Unless you don't drink… In which case a green apple soda will certainly suffice.

What Exactly Is Corned Beef?
Corned beef is typically a section of the belly brisket that has been salted and cured. The curing process gives it a pinkish color depending on what type of salt it is cured in. Beef brisket is simply the uncured version of the beef. You can cook brisket and corned beef the same way. So, if you only have access to brisket and not the corned beef, then you can use it to substitute as well.
The curing process is sort of similar to making pickles. There are a lot of similar herbs and spices added to the salty brine, like mustard and dill, garlic, and peppercorns.
What Is A "Deckle" And "A Flat" In Brisket?
Corned beef comes from brisket, and brisket is cut in two styles, the deckle, and the flat. The deckle is the fattier tip, so it has a more pointy look in the package or at the counter. The flat is the wider end piece and typically has more fat removed. Both work great, so go with whatever is easiest to find.
Using A Crock Pot For Corned Beef And Cabbage
The best part…put it in the crockpot and walk away!! Oh no, the best part… Only one pot to clean up afterward!!! Hold on… Eating it finally after smelling how good it is getting for hours! Actually, that is more like sweet relief. This is the sort of dish that makes you wonder why all the cars are slowing down in front of your house.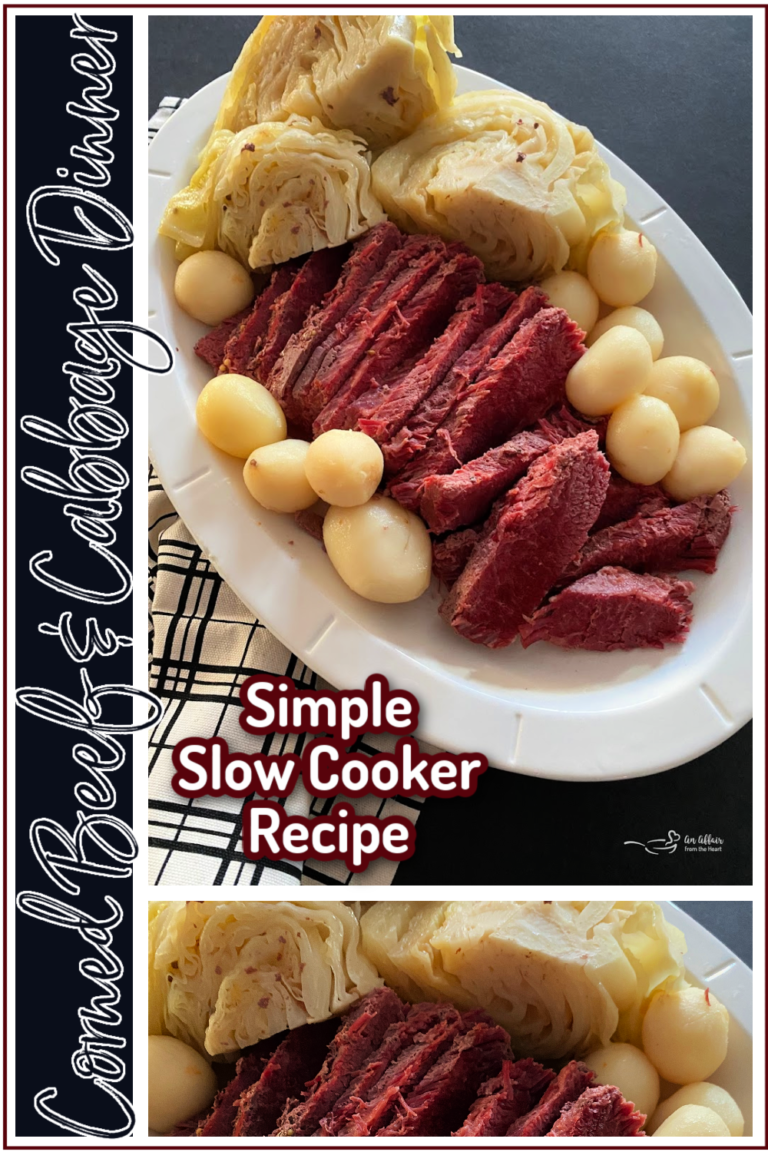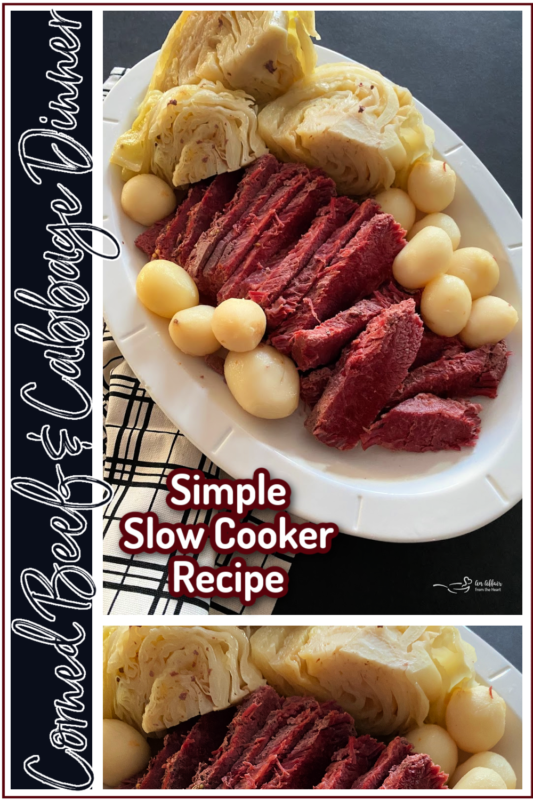 Love it? Pin it!
Don't forget where you found this simple recipe for making corned beef in a slow cooker! Pin it to your favorite Pinterest recipe board before you go!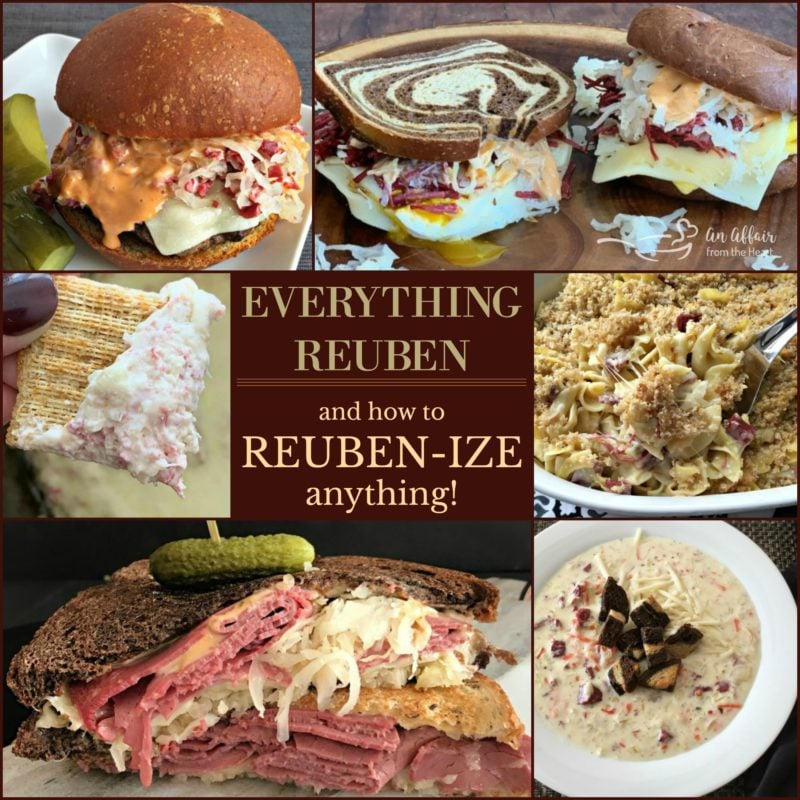 The Reuben — it's SO much more than a sandwich. I have actually come up with all sorts of ways to Reubenize lots of recipes! If you have some leftover corned beef, you'll have to try some of them!
More Inspirations For St Patrick's Day Dishes
The legend of St Patrick might seem a bit far-fetched, owing to the fact that Ireland never really had a snake issue, but he did do a pretty great job of converting a lot of Druids to Christianity. In any event, the day has been recognized since 400 AD as a feast day and a day of celebration. So in terms of food holidays,
St. Patrick's Day
is another great one.
If you need a few more recipes for inspirations, then I have you covered: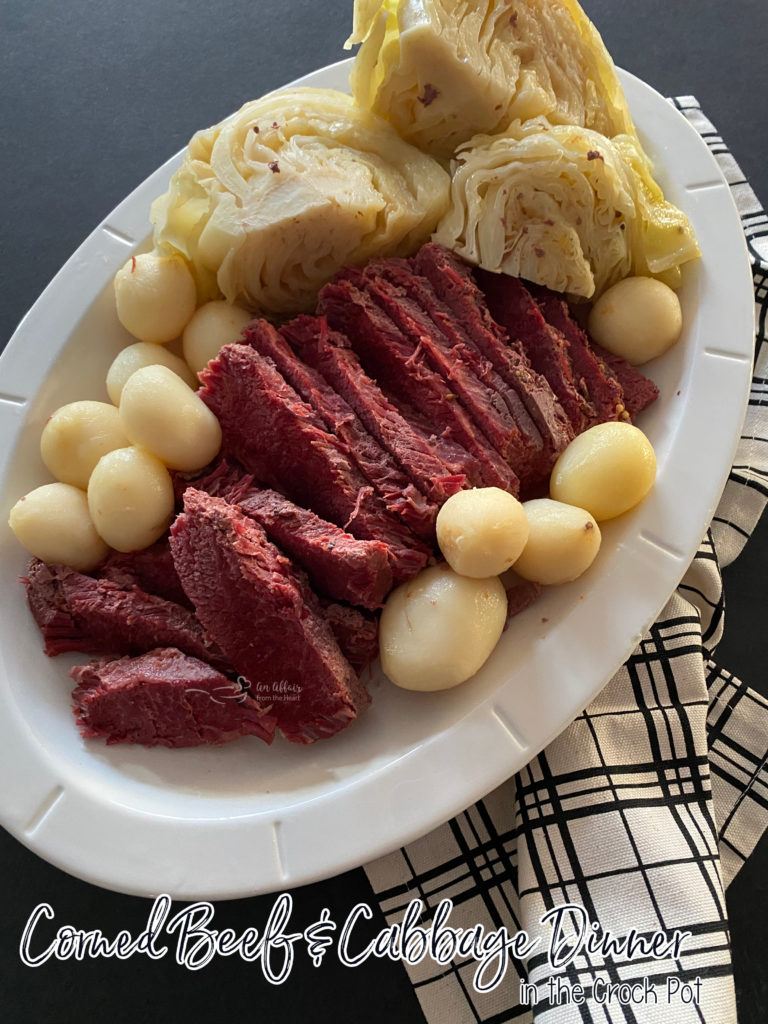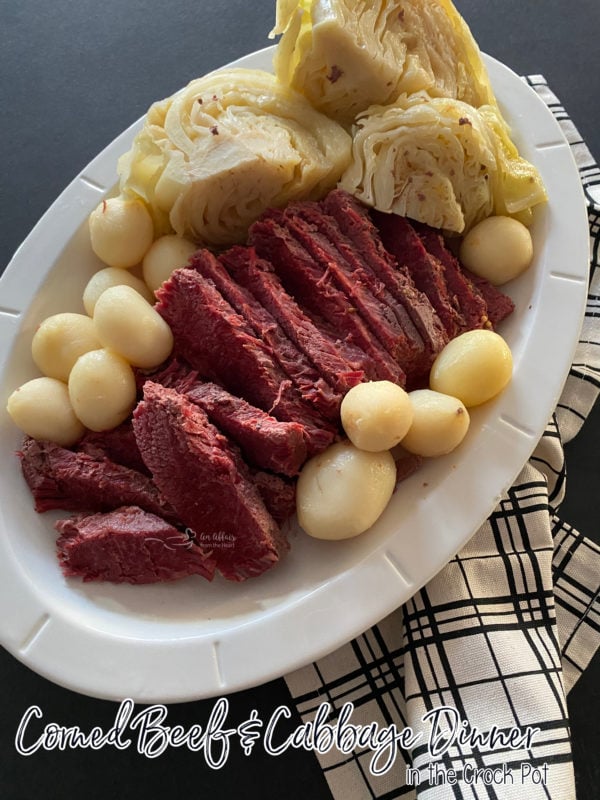 Let's make some Corned Beef & Cabbage in the Slow Cooker!

Yield: 8 servings
Corned Beef and Cabbage Dinner in the Crock Pot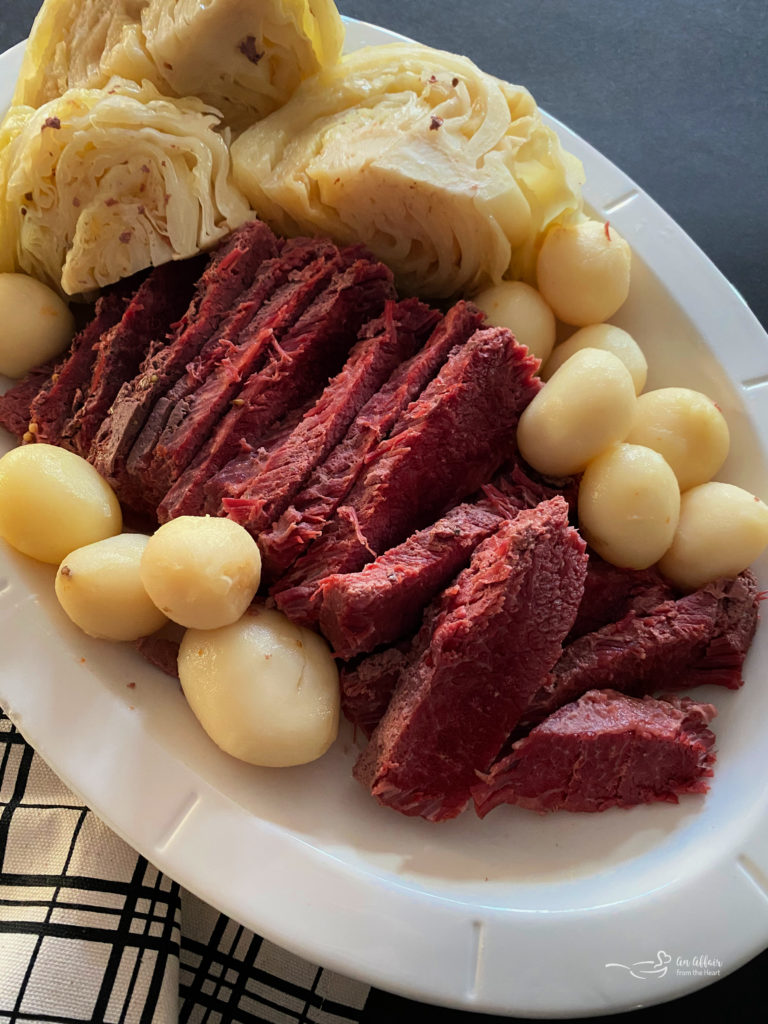 The whole family is going to love this Corned Beef, Cabbage, Irish Potatoes and Rye Bread.
Total Time
8 hours
5 minutes
Ingredients
5.5-6 pounds of Corned Beef
1 1/2 cups water
1 head of green cabbage, quartered
3 cans of Irish Potatoes
Loaf of Rye Bread
Instructions
Place corned beef, juices and all in crock pot, fat side up.
I always buy the corned beef that has the seasoning packets right in it, place those in the crockpot over meat.
Pour water over the top.
Cook on high for about 6 hours.
Reduce to low.
Pour potatoes in.
Place cabbage on top and recover.
Continue to cook for about 2 hours.
Nutrition Information:
Yield:
8
Serving Size:
1
Amount Per Serving:
Calories:

921
Total Fat:

65g
Saturated Fat:

22g
Trans Fat:

0g
Unsaturated Fat:

34g
Cholesterol:

333mg
Sodium:

3351mg
Carbohydrates:

17g
Fiber:

4g
Sugar:

5g
Protein:

65g
Nutrition isn't always accurate.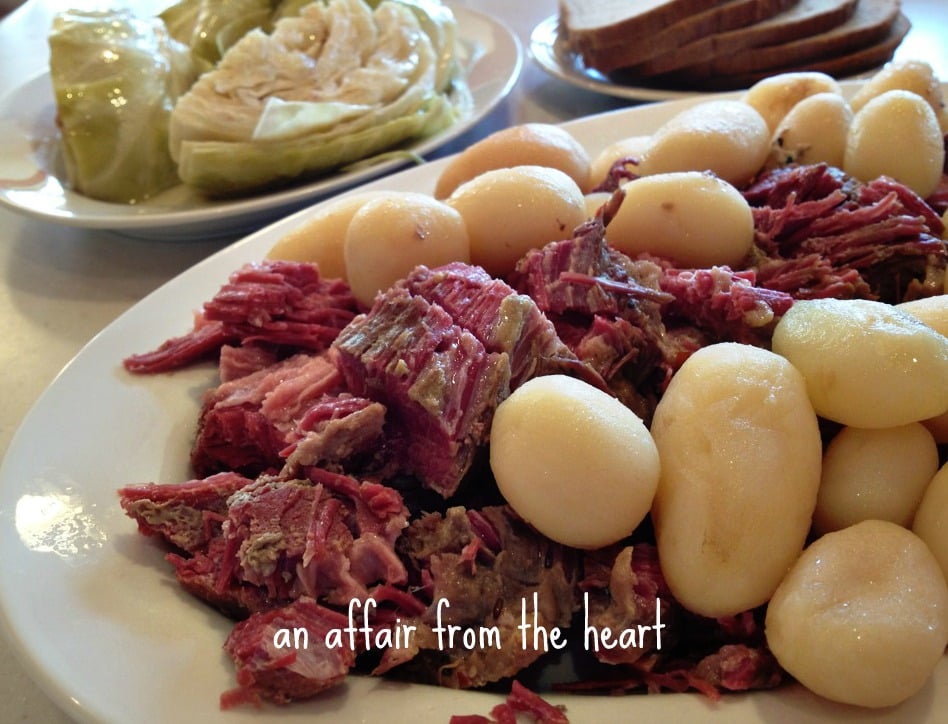 If you make this recipe, I'd love to know! Snap a picture, share the photo on social media with the hashtag #AnAffairFromTheHeart – I'd love to see what you made! – Michaela