Loaded Baked Potato Casserole
As an Amazon Associate and member of other affiliate programs, I earn from qualifying purchases.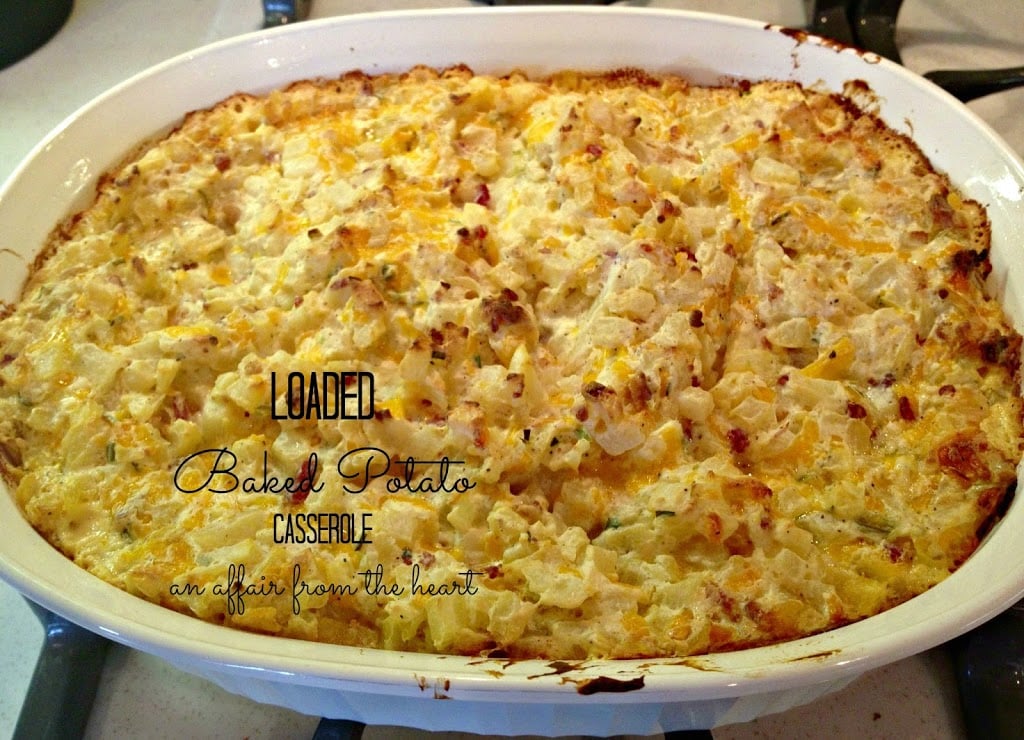 For this loaded baked potato casserole, I went to the store to buy ingredients for a potato casserole I found in my Church cookbook.
But I am not usually one for following recipes and changed my mind walking through the store.
I started thinking how good a loaded baked potato sounded, but we had just had baked potatoes, and I wanted to switch it up.
I took all of the goodness of a loaded baked potato and whipped up this casserole!
It was FABULOUS!!
We ate it with steaks on the grill, but it's hearty enough, it could be your meal!
Bake a potato casserole
A baked potato casserole combines the best parts of mashed potatoes, french fries, baked potatoes, and potato soup. You get fluffy mash and crunchy potato charred edges along with some creaminess. You get everything that makes potatoes so comforting.
I love simple casserole recipes. Easy to prep. Not long to cook. And most importantly, universally accepted as delicious. You can count on a potato casserole to hit on all scores.
With a baked potato casserole, you can serve as an appetizer or a main course. It can work equally well for brunch, lunch, or dinner. For a dish that is classically provincial, it is remarkably elegant as well.
If you want a fancier way to serve potatoes at your next dinner party, the potato casserole works great. Fresh out of the oven, it looks better than a lump of mashed potatoes or a pile of fries. It looks like it took hours to make.
But that couldn't be farther from the truth.
However, just for the record, you can make it well ahead of time. In fact, prepping it a day ahead makes it even better.
Baked potatoes are healthy too
Potatoes are actually pretty healthy. You wouldn't think it but potatoes are actually a great source of vitamin C. They are also full of B6 and niacin. So if you want to keep the calories down too, just reduce the cheese and sour cream.
You can reduce those by a third to half and this potato casserole will still taste great. Just don't deny yourself the full version for the special occasions and holidays. Life is too short not to enjoy life's riches once in a while right?
Some baked potato casserole variations
You can do a couple versions of this recipe. Keep them guessing. For example, use a can of mushroom soup instead of celery. Other condensed cream soups work too.
Tomato, cheese, and broccoli all play well with potatoes.
Also, you can add tiny cubes of ham, or bits of shredded cooked chicken breast. You don't need a lot, because the flavor bakes in just fine. You still want the potatoes to play the front and center role.
I would serve a loaded baked potato casserole with…
If the potato casserole is just the starch in your multicourse meal, I can certainly recommend dishes that compliment it perfectly.
Meat and potatoes? I love serving potato casseroles with steak. This steak Jack and Coke recipe is a fun take on steak.
However, steak is great, but baked potato casseroles go great with chicken and pork dishes too. No need to paint yourself into a corner with beef steaks exclusively.
I suggest my sweet and spicy bacon wrapped chicken. Bacon going well with potatoes? Even better than the marriage of peanuts and chocolate if you ask me.
Here are a few more suggestions:
Loaded Baked potato casseroles for the holidays
I definitely don't want you to think only of baked potato casseroles during the holidays. But, no doubt, they do make a great dish for any and every holiday. Thanksgiving to Easter, Christmas to St. Patty's day. You name it.
So easy to prep and make ahead of time, you can take so much stress off entertaining with dishes like this.
You can store it overnight, or you can freeze it. Bust it out when you need a simple way to cover a big appetite. It actually will keep really well for up to 60 days in the freezer if you store it properly.
Yield: 1 casserole
Loaded Baked Potato Casserole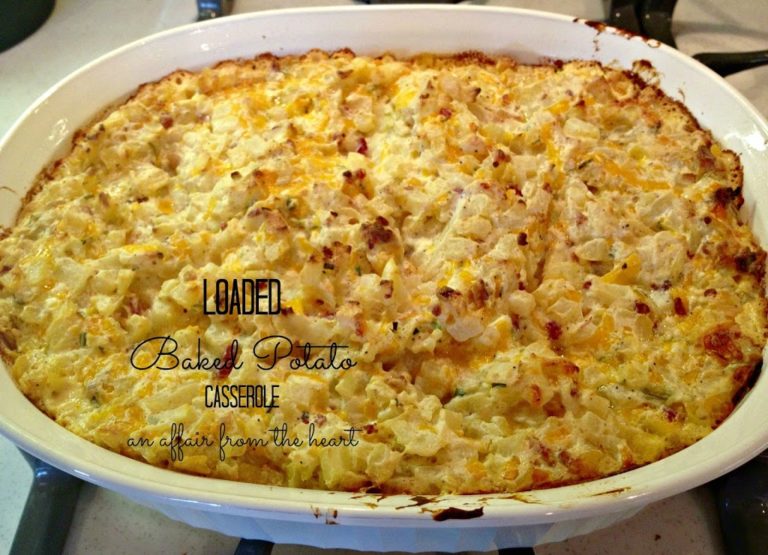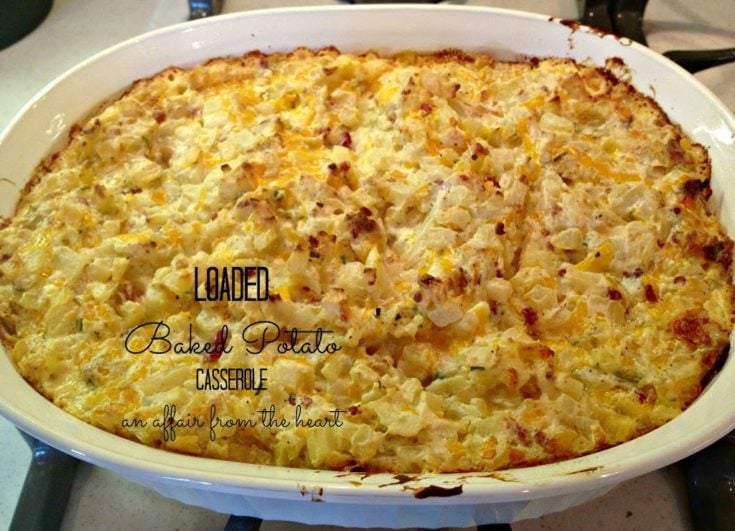 This Loaded Baked Potato Casserole is the ultimate side dish.
Ingredients
1 32 oz frozen hash browns
1 can cream of celery
1 tsp salt
2 cups cheddar cheese
2 Tbls dried minced onion (1/2 cup fresh)
2 cups sour cream
1/2 tsp pepper
2 Tbls fresh chives, chopped
1 package of real bacon pieces
Instructions
Mix all of ingredients in a 2 quart greased casserole dish.
Bake at 350 degrees for 45 minutes.
Nutrition Information:
Yield:
1
Serving Size:
1
Amount Per Serving:
Calories:

4580
Total Fat:

308g
Saturated Fat:

112g
Trans Fat:

7g
Unsaturated Fat:

162g
Cholesterol:

573mg
Sodium:

5959mg
Carbohydrates:

360g
Fiber:

38g
Sugar:

47g
Protein:

124g
Nutrition isn't always accurate.