Reminiscent of the comfort food from my childhood, this from scratch Salisbury Steak has mushrooms in the dark onion filled gravy.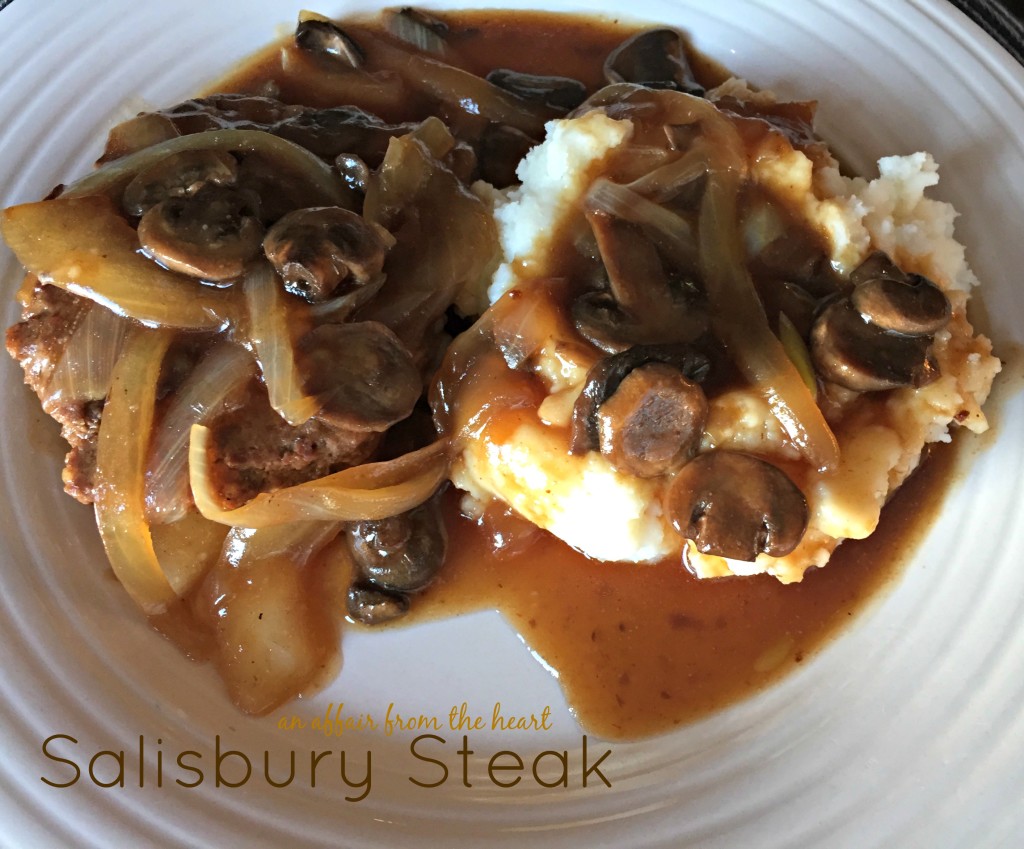 Salisbury Steak reminds me of my childhood. It's pure comfort food isn't it? That rich dark gravy, fluffy mashed potatoes, and fork tender hamburger steak. My mom never made Salisbury steak from scratch when I was a kid, that I remember? She would, once in a while, buy the Banquet Salisbury Steak for dinner.
Remember when the frozen dinners came in that foil tray? I am sure I am dating myself, but yes, back in the days before microwave ovens they did. Mom bought the "family sized" version, but here is one I found on google images:
I actually remember when we got our first microwave. It was HUGE! It had this giant door and this big Fischer-Price looking dial for a timer. The house I grew up in had a little kitchen, and it took up some valuable counter space, but in the new days of cable tv and microwaves, you made room. Slowly but surely, the trays were converted over to the microwaveable kind. Back in the day, we had patience, I guess. If you wanted a tv dinner you had to bake it and wait!
About a year ago, I made Salisbury steak, but I never blogged it. One night, when I couldn't sleep, I was concocting recipes in my brain, and thought about making it meatball style. My Salisbury Steak Meatballs were made the next day. They have been very popular on my blog ever since.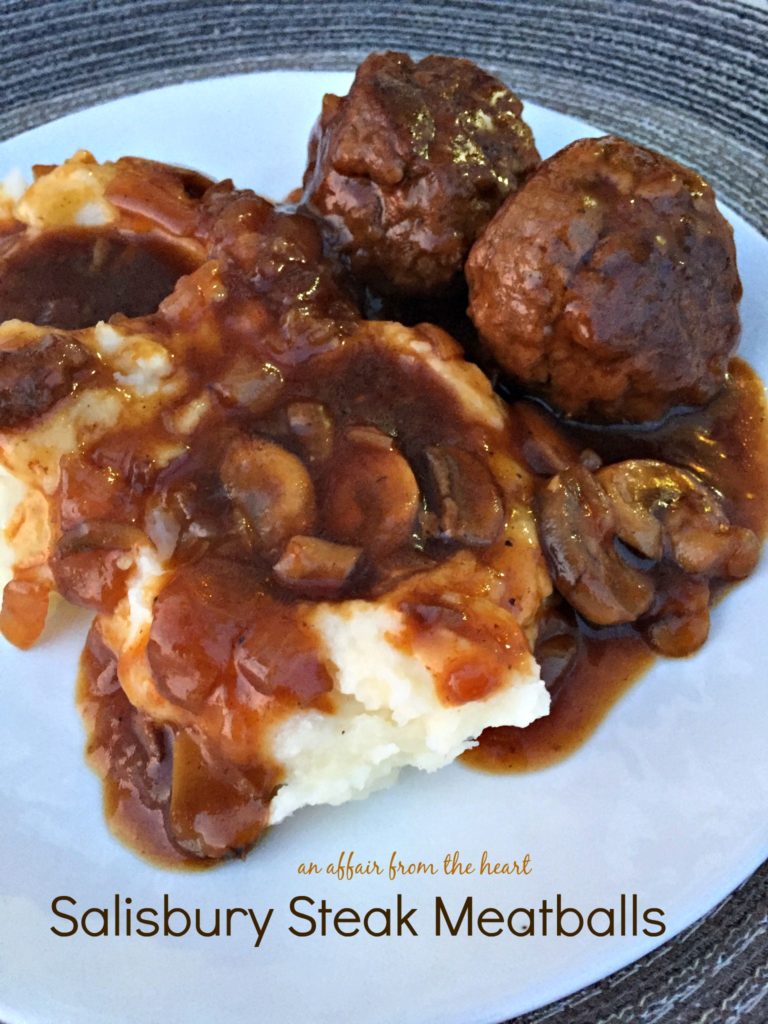 This past Sunday, I had a craving for Salisbury Steak and Mushrooms. Guess what we had for Sunday dinner?
yup. and this time I blogged them!
Now, you don't need to put the mushrooms in it if you don't care for them. We adore mushrooms, so I put them in lots of stuff that I cook. You can substitute canned in a pinch, but the fresh ones give this dish a great flavor.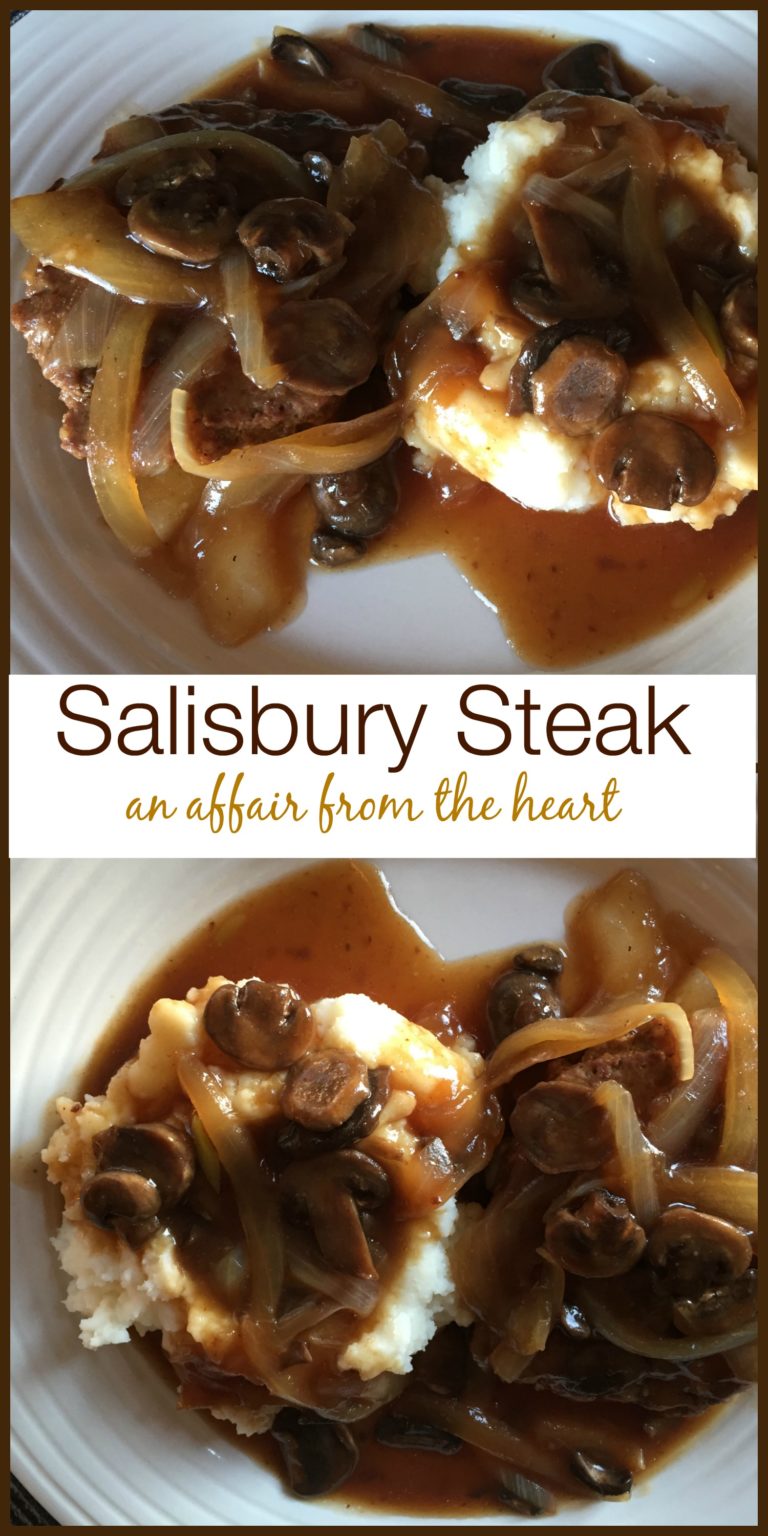 Yield: 6 steaks
Salisbury Steak with Mushrooms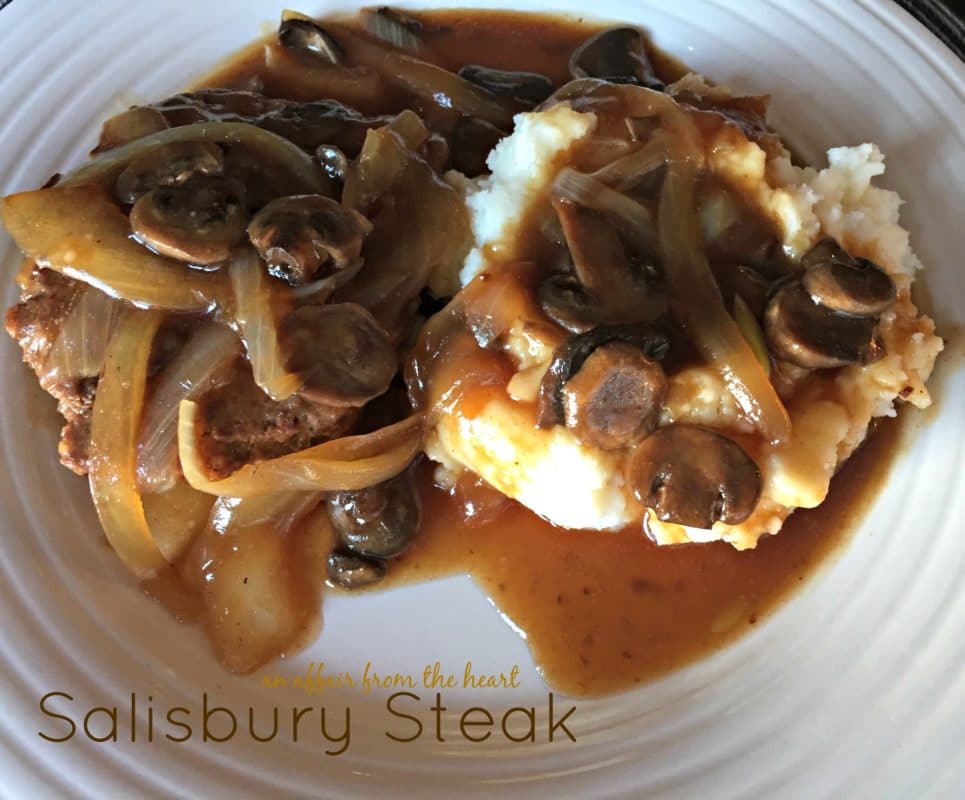 Reminiscent of the comfort food from my childhood, this from scratch Salisbury Steak has mushrooms in the dark onion filled gravy.
Total Time
1 hour
10 minutes
Ingredients
For the Meat:
1.5 pounds Lean Ground Beef
⅔ cup Seasoned Breadcrumbs
2 teaspoons Ground Mustard
2 teaspoons Beef Bouillon Granuals
4-5 dashes Worcestershire Sauce
1 Tablespoon Ketchup
Salt And Pepper, to taste
butter for frying
For the Gravy:
16 ounces fresh mushrooms
olive oil
1 clove garlic, minced
1 medium Onion, diced
32 ounces Beef Broth (OR 4 cups water and 4 beef bouillon cubes dissolved)
4 dashes Worcestershire sauce
1 Tablespoon Ketchup
2 teaspoons Kitchen Bouquet
3 Tablespoons of Corn Starch dissolved in 3 Tablespoons water
Salt & Pepper, to taste
Instructions
In a skillet, place about 2 Tablespoons of olive oil, heat and add mushrooms. For about 5-10 minutes, saute them evenly. Remove them from pan, set aside. Remove any liquid from the pan.
In a bowl combine your ground beef with all of the meat ingredients, and form into 6 oval shaped patties. Place a couple of Tablespoons of butter in your skillet, and add meat, brown over medium heat, flipping them to brown evenly on both sides. Once they are browned evenly, remove them from the pan and set them aside.
Add onions to the pan, and saute them along with the garlic until they are fragrant and translucent. Add olive oil to the pan if needed.
Add in the Worcestershire sauce, ketchup. kitchen bouquet and broth. Add mushrooms back in. Bring to a boil and then reduce heat to low. Add cornstarch mixture and whisk incorporate. Gravy will begin to thicken.
Add meat back into the pan, and simmer covered for about 30 minutes. turn meat every 10 minutes or so, and give the gravy a a stir. Take care as to not break the patties. Salt and Pepper to taste.
Serve over mashed potatoes.
Nutrition Information:
Yield:
6
Serving Size:
1
Amount Per Serving:
Calories:

419
Total Fat:

20g
Saturated Fat:

7g
Trans Fat:

0g
Unsaturated Fat:

10g
Cholesterol:

106mg
Sodium:

1514mg
Carbohydrates:

21g
Fiber:

3g
Sugar:

5g
Protein:

38g
Nutrition isn't always accurate.
—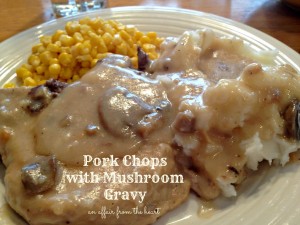 If a meaty meal with mashed potatoes and gravy is your kind of comfort food, too, you are likely to love these Pork Chops with Mashed Potatoes and Mushroom Gravy as much as we do!

If you make this recipe, I'd love to know! Snap a picture, share the photo on social media with the hashtag #AnAffairFromTheHeart – I'd love to see what you made! – Michaela