Classic American Goulash Recipe
As an Amazon Associate and member of other affiliate programs, I earn from qualifying purchases.
Classic old fashioned American style goulash recipe, made with ground beef, veggies, and pasta. An easy, 30-minute weeknight customizable meal anyone will love.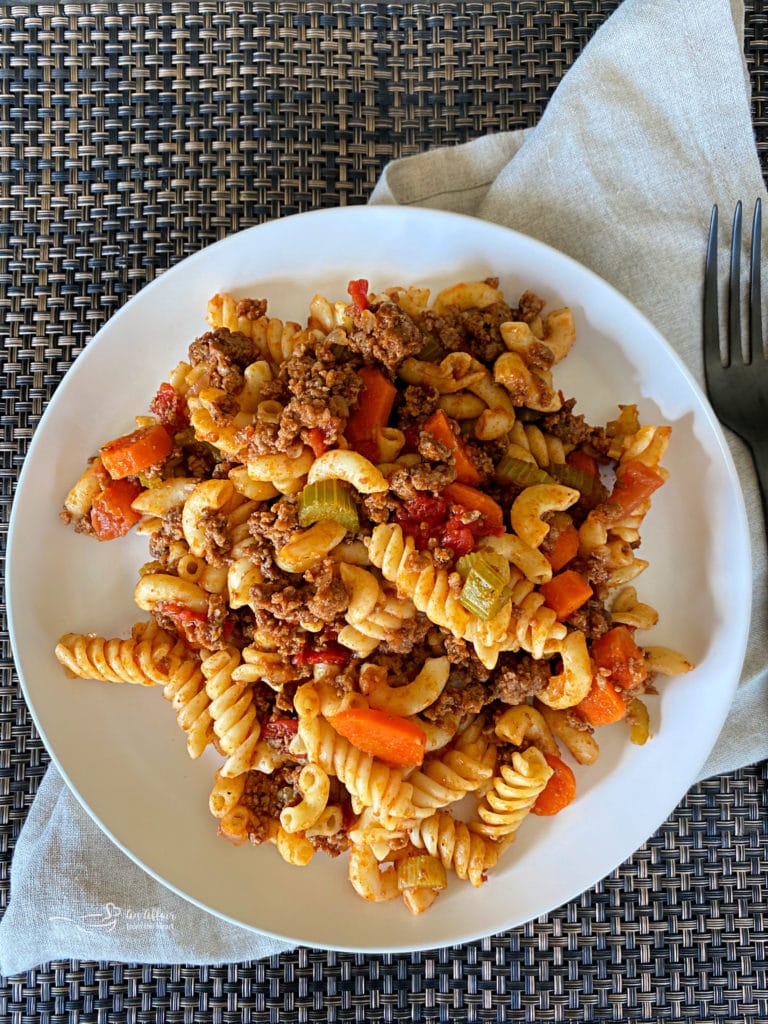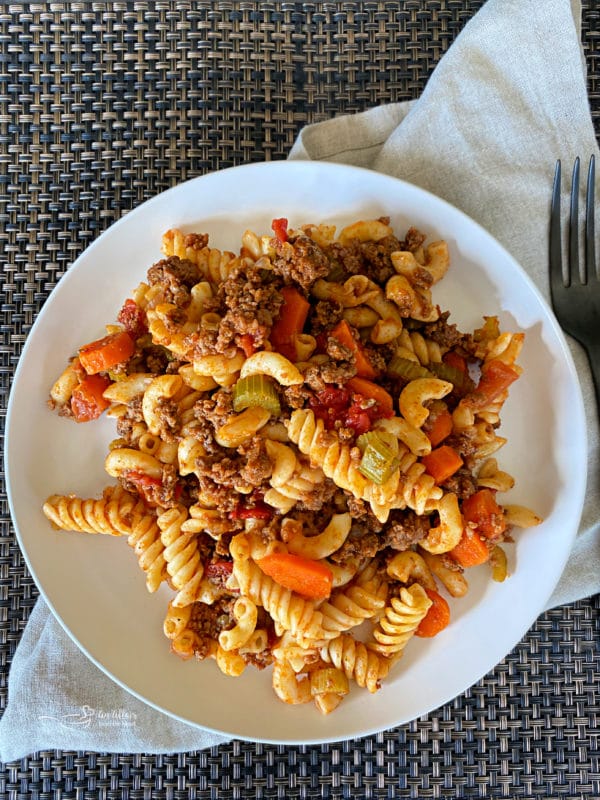 This American Goulash recipe has been in my recipe box for many, many years. Given to me by a woman I babysat for.
It's hard to believe that I started babysitting when I was 9 1/2. NINE and a HALF?! I babysat for all of the kiddos on my block.
I have twins that are 11 1/2 and we just began to let them stay home alone for small periods of time. Crazy how times change?
There was one family I babysat for at the top of the street, and she was a good cook. A lot of times when there is a babysitter, kids are given mac 'n cheese, or PB&J, but
this mom liked to cook, and she would prepare food for me to warm up for the kids.
One time, she had goulash. This goulash.

Classic American Goulash Recipe
This classic American goulash recipe was a revelation. It wasn't anything that my Mom ever made, and so when I tried it and I liked it, I asked for the recipe.
I still have the VERY recipe on a notecard that was put in my hope chest. Did you have a hope chest? In my opinion, it's something all of us should have.
I don't know why, but I hadn't made this recipe for years. (B.C. even… "Before Children") My Mom still makes it quite often.
I came across the recipe in my recipe box and thought I'd give it a whirl.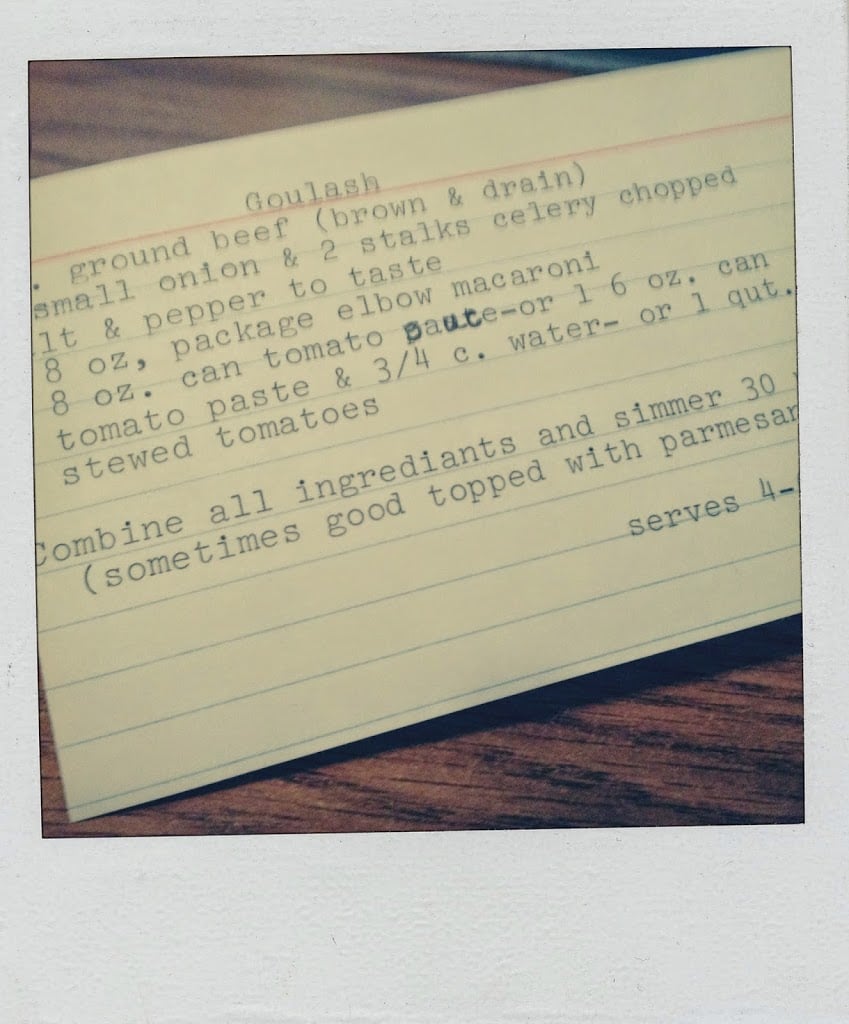 When I was making it, my youngest daughter asked me how I got it "printed like that on that notecard?"
Well, I used my electric typewriter. "YOU had a TYPEWRITER?" she exclaimed.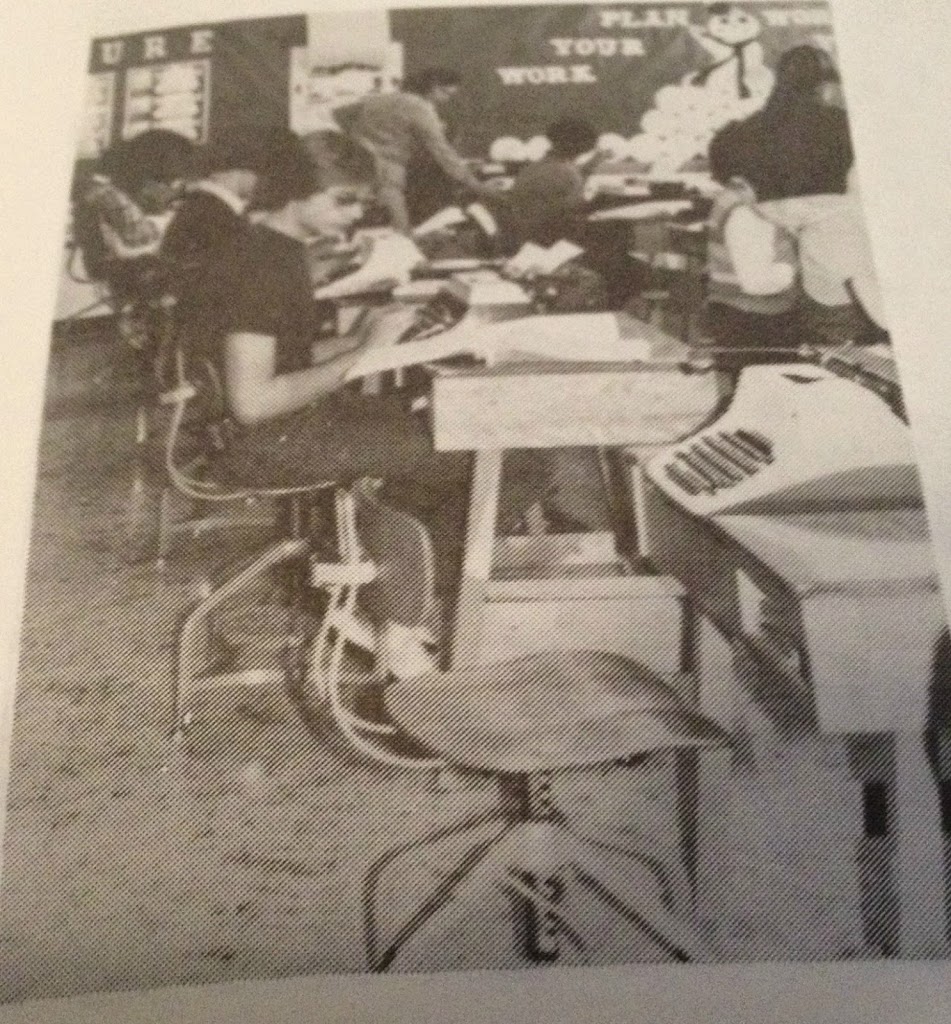 typing class, picture taken from my freshman year yearbook
Yes, yes, dear, we did. How cool was I?
Back in the dark ages, a.k.a. The 80's, when we took typing class not "keyboarding."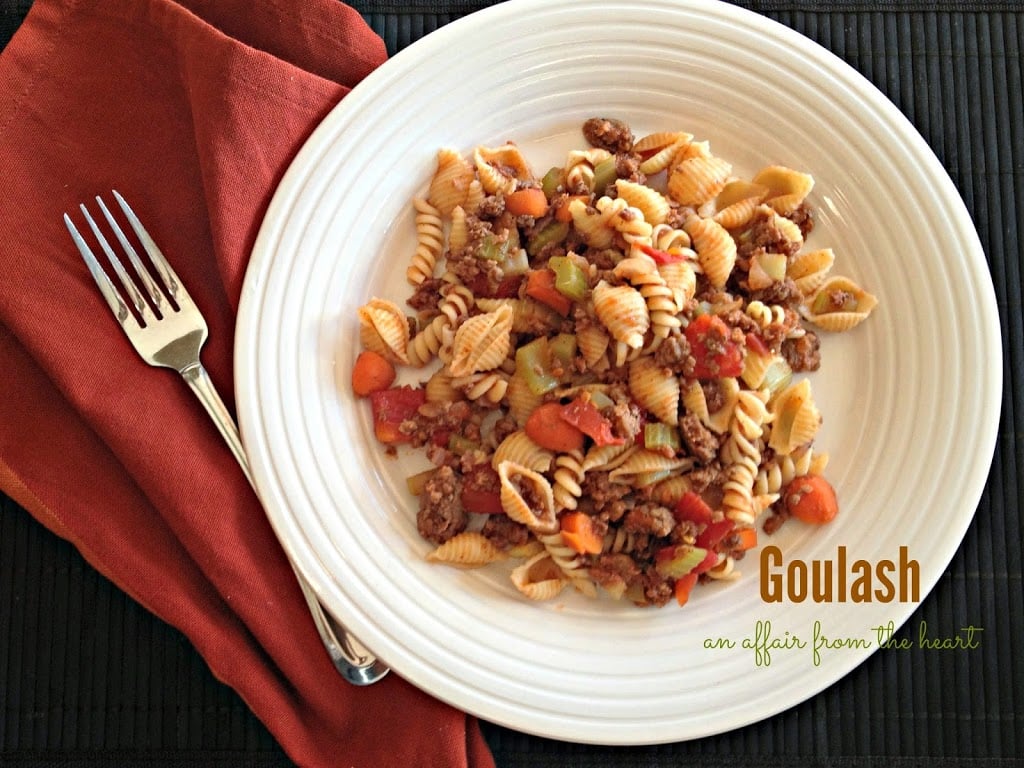 What is goulash anyway?
Some call it soup. Others a stew. I guess it is somewhere between a soup and a stew because it does have a rich broth, but it is also full of noodles, meat, and veggies like a great stew.
Goulash originated in the middle ages in Hungary and at this point, it is a staple of Hungarian cuisine.
There are some differences in the ingredients in American vs Hungarian goulash.

LOVE IT? PIN IT!
Don't forget where you saw this simple recipe for Goulash. It's one I am sure you and your family will love, so make it easy to find, and pin it to your favorite Pinterest recipe board before you go.

American Goulash vs Hungarian Goulash
American goulash is sometimes also referred to as "American Chop Suey". It is also sometimes called "slumgullion." You can be darn sure I am not about to tell my family that slumgullion is on the menu for tonight's dinner. Where that name came from I don't know, but it is probably best to keep it that way.
Not sure why it is called American chop suey either for that matter, but I can point out the differences between American and Hungarian style goulash.
In Hungary, goulash is more like a soup and does not have shell macaroni. Instead, it relies on potatoes for the starch component and also relies more heavily on the onions and paprika. American style goulash uses tomatoes and pasta like macaroni.
Paprika in Goulash
The dish is full of noodles, meat, and veggies, so it is a hearty provincial style dish. What really sets goulash apart is paprika. Lots of paprika. If you told me that "goulash" translated to tons of paprika then I wouldn't be surprised in the least. When it comes to paprika, there are a few different types to consider.
Paprika is made from sweet red pepper. However, there is also a type of hot paprika that is common in Hungarian dishes. Make sure you know which is which… The hot version of paprika is great but it will burn your face off if you use it like the sweet style paprika.
Smoked paprika uses smoked peppers and it is usually on the sweet and smoky side. I have never seen smoky hot paprika but I am sure it is out there somewhere.
Paprika is found in many Hungarian dishes, but it is actually originated in North Africa. Great flavors travel well and sometimes they find a special home in regions far, far away!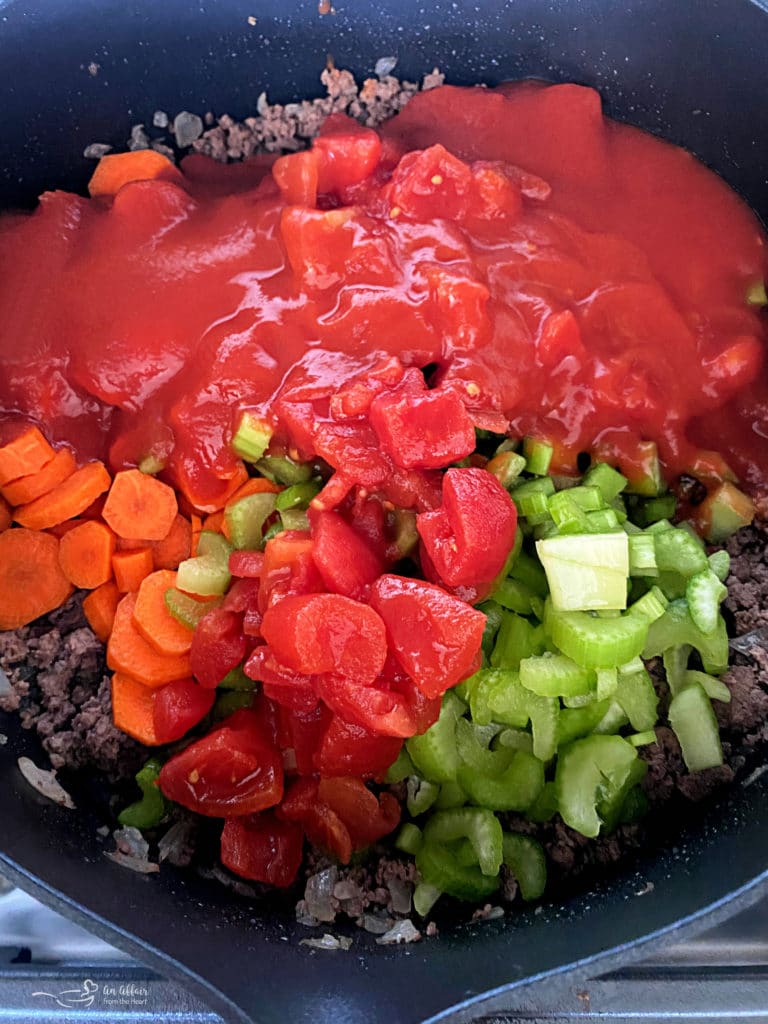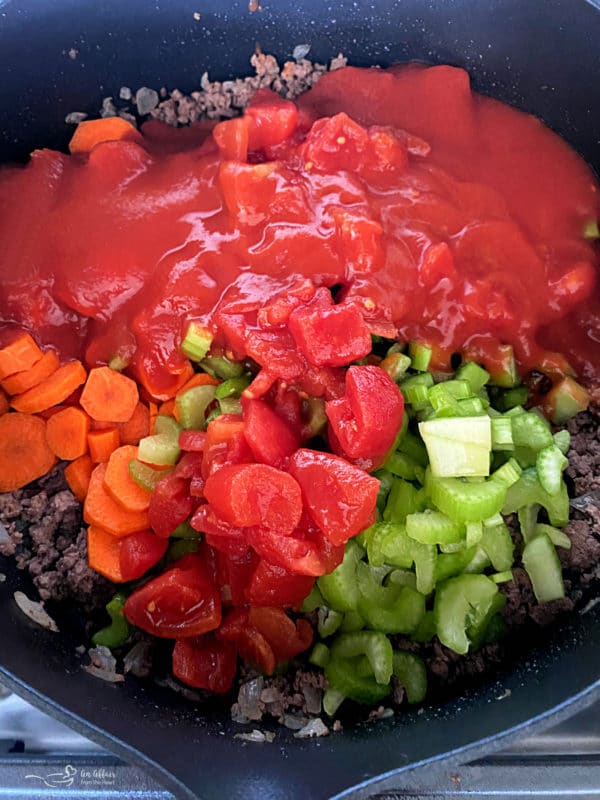 How do you make American Style Goulash?
Like everything else, I switched up the original recipe. But that is one of the things about this goulash recipe, you can customize it however you like, using whatever you have one hand even.
I used the basic idea of the recipe I received way back when, but we love our veggies, so I added more of those, and I made the recipe bigger to feed more people. Not to mention, the leftovers are awesome!
I sometimes use all one kind of noodle, but other times I use what I have leftover or combine a couple of different kinds. I like the look of it, don't you?
You brown your hamburger in a skillet, along with the onion and salt and pepper. When it's done, add in your tomato sauce, can of diced tomatoes, celery and carrots. Mix it up and put a lid on it and cook it until the veggies are your desired tenderness.
While you are simmering your vegetables and meat, boil your water and cook your pasta al dente. Drain it and combine it with the meat mixture.

More skillet style dishes
Easy skillet dishes are the best. You can use one big skillet to handle everything so clean up is a cinch. Plus, they tend to cook in layers of flavor as you add the ingredients. Tasty and convenient? A winner all around. Here are a few other skillet dishes to try:
Skillet Lasagna, Unstuffed Cabbage Roll Skillet (pictured above), Five Bean Ground Beef Noodle Skillet Casserole, Chili Mac Skillet, Stuffed Pepper Skillet, Southwest Chicken Linguine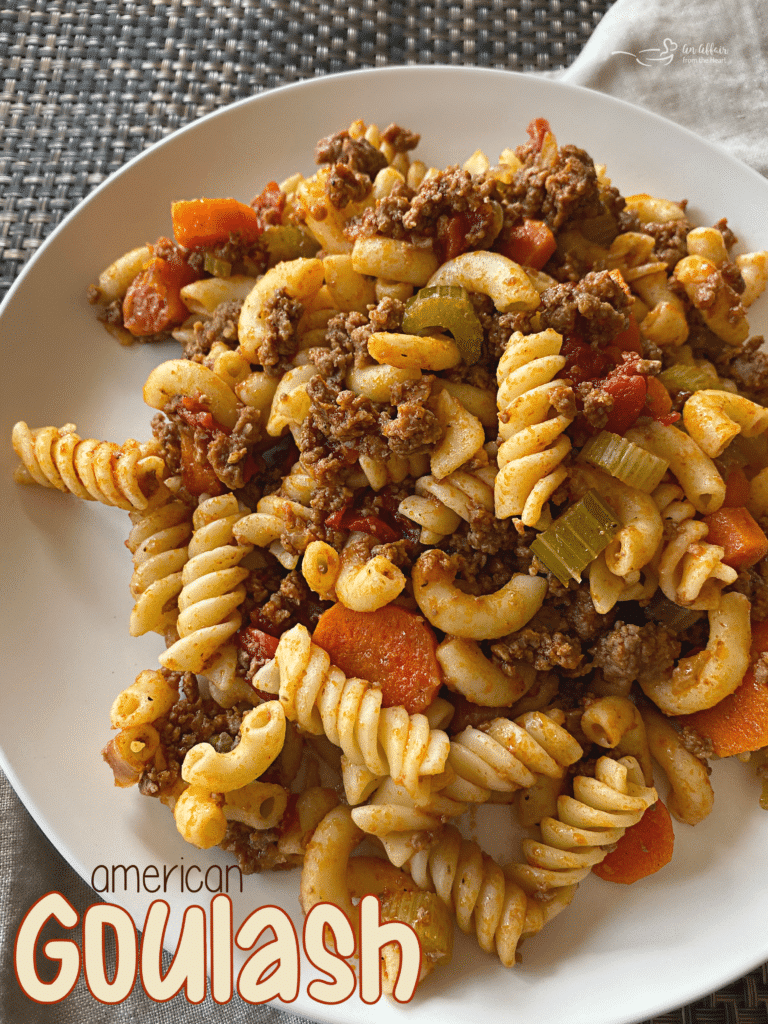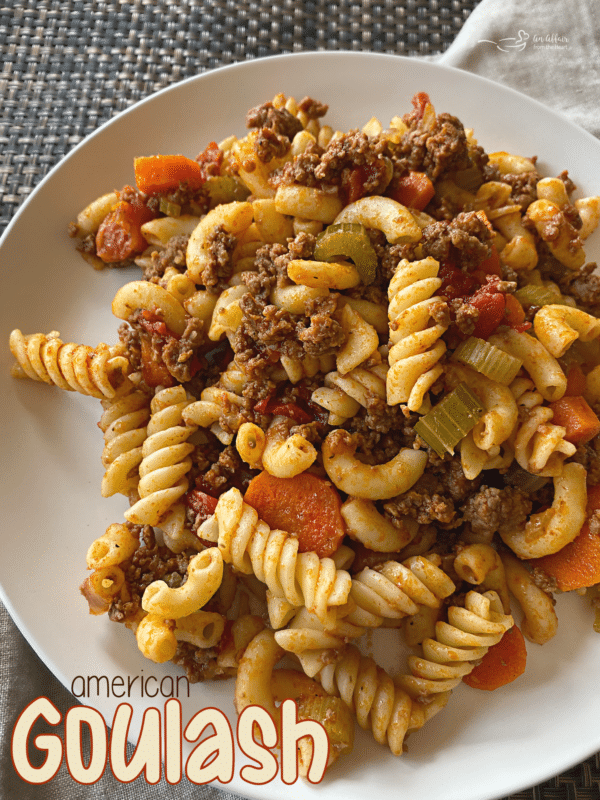 I hope that you won't wait 20 years to feed this Goulash Recipe to your kids, mine loved it!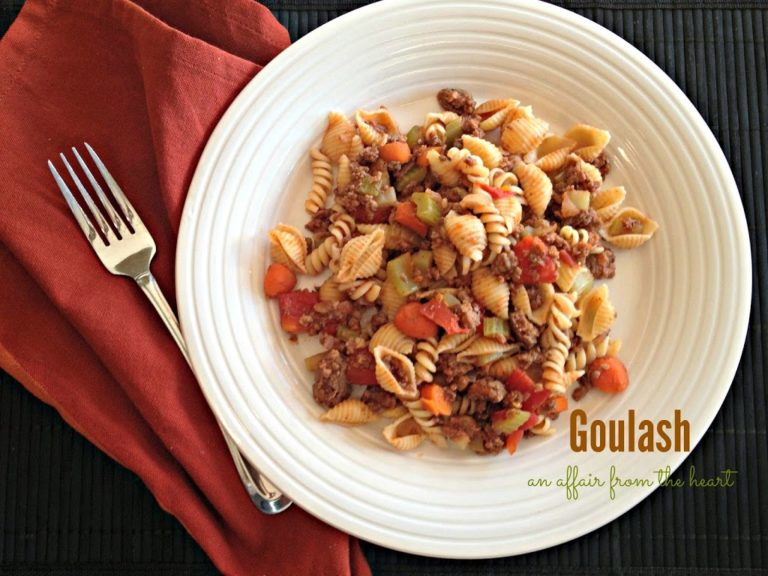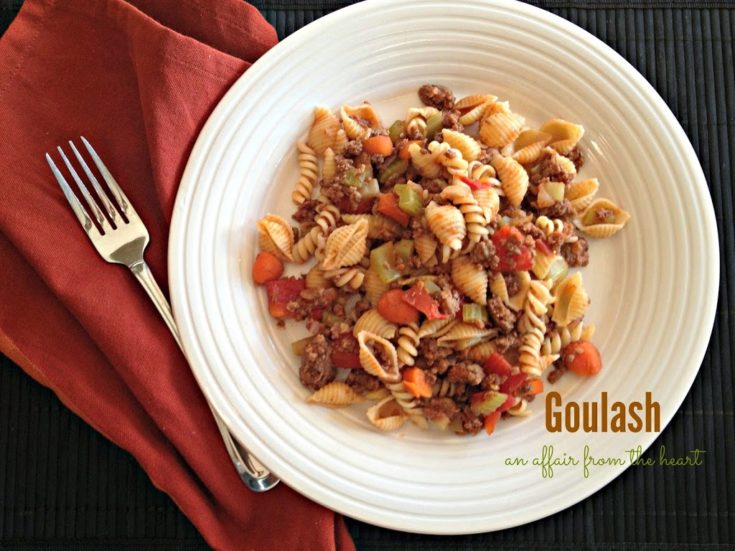 Easy weeknight meal, using ground beef and whatever vegetables and noodles you have on hand.
Ingredients
2 pounds lean ground beef
1 medium sized sweet onion, chopped
Salt & Pepper to taste
1 1/2 cups carrots, chopped
1 1/2 cups celery, chopped
1 - 14 ounce can diced tomatoes
2 - 8 ounce cans tomato sauce
12 ounces macaroni noodles, or what you have on hand
Instructions
Brown ground beef with onion and celery, sprinkled with salt and pepper.
Drain any excess grease.
Return to pan, add carrots, tomatoes and tomato sauce.
Simmer for about 15-20 minutes, stirring occasionally.
While sauce is simmering, boil, drain and rinse noodles.
Add to sauce, combine and serve.
May be topped with Parmesan cheese.
Notes
Feel free to add more veggies if you like, my Mom always puts corn in hers. Use your imagination. Can be cut in half easily. I have a big family, so I cook big!
Nutrition Information:
Yield:
6
Serving Size:
1
Amount Per Serving:
Calories:

506
Total Fat:

19g
Saturated Fat:

7g
Trans Fat:

1g
Unsaturated Fat:

9g
Cholesterol:

135mg
Sodium:

706mg
Carbohydrates:

33g
Fiber:

6g
Sugar:

10g
Protein:

49g
Nutrition isn't always accurate.
this recipe was updated to improve user experience on August 18, 2020