Creamy Chicken with Green Onions & Mushrooms
As an Amazon Associate and member of other affiliate programs, I earn from qualifying purchases.
This shop has been compensated by Collective Bias, Inc. and its advertiser. All opinions are mine alone. #DipYourWay #CollectiveBias
Chicken, baby bella mushrooms, green onions and Kraft green onion dip make this creamy pasta sauce that will be an instant family favorite!
Thanks to Walmart and Kraft for the helping me pull off this super easy poolside dinner party!
Pasta is something I love to experiment with. There are so many options when it comes to not only the noodles themselves, but the sauces and flavors! I was fortunate to have some friends over for a get together by our pool recently, and thanks to Kraft, my night was easy and enjoyable. (Not to mention delicious!)
I was doing all of my back to school shopping at my local Walmart, and I popped over to the grocery side to do some shopping for our get together. In the dairy section I grabbed 3 Kraft Dips.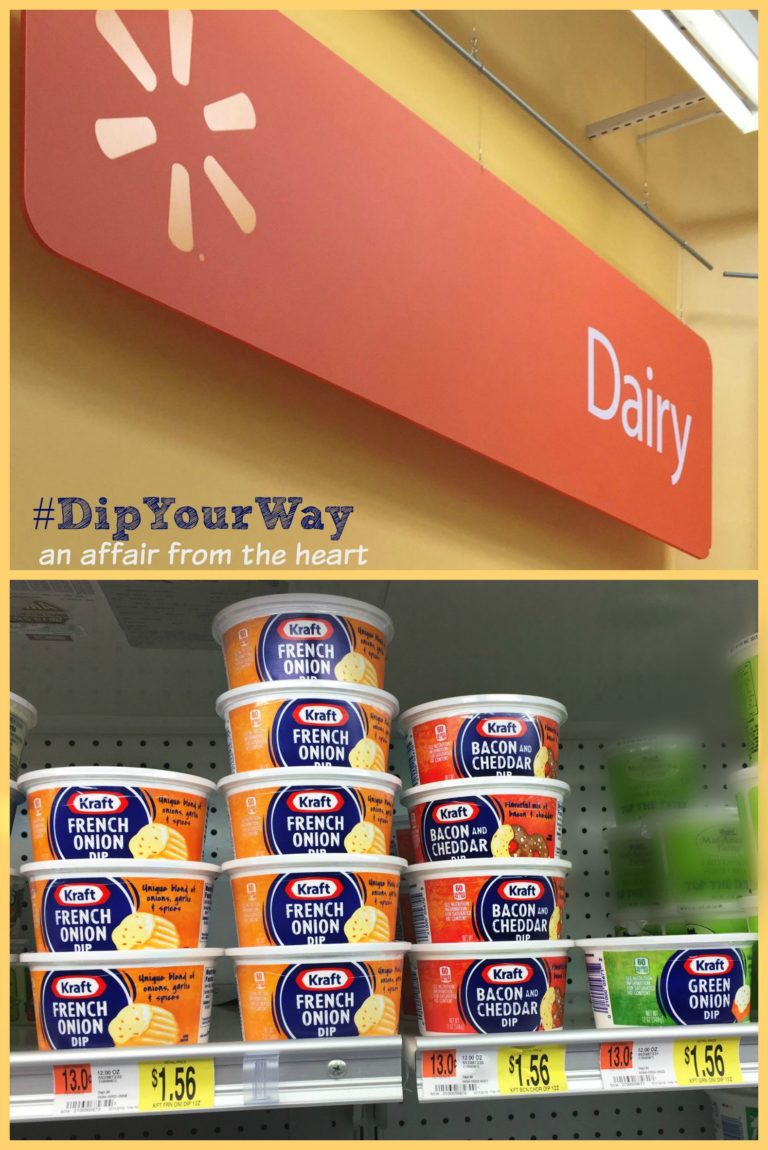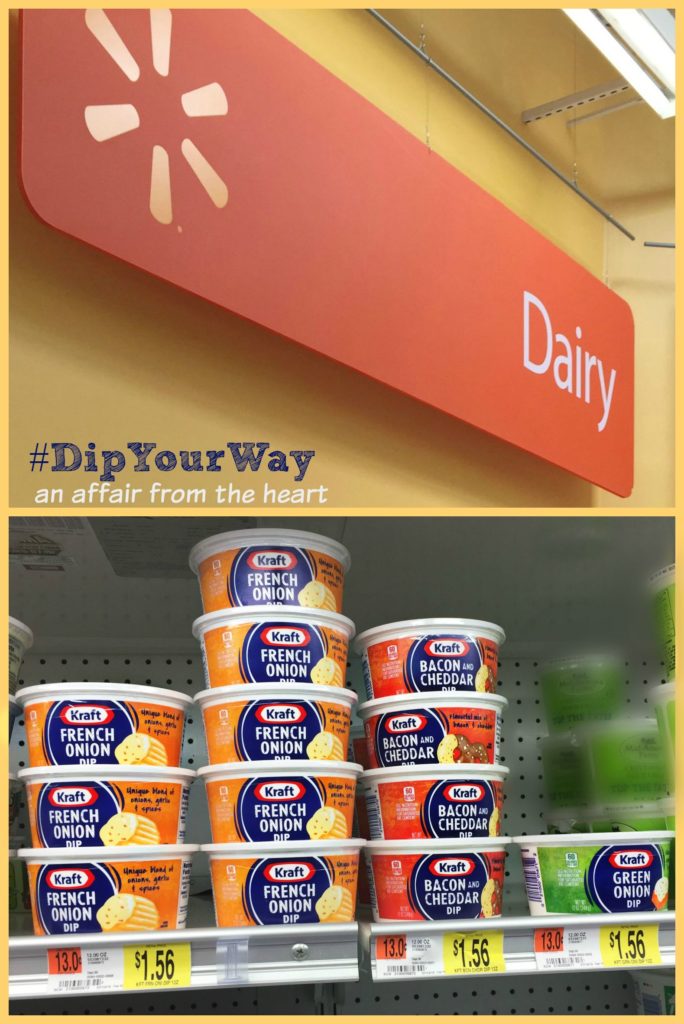 Have you noticed the new packaging? I love the new look! Don't worry though, they taste just as good as ever!
I was making a pasta sauce with the Green Onion dip … look at how lucky I was! I got the VERY LAST ONE!
What? Never thought of using Kraft Dips IN a recipe? Only picture it ON a chip? Oh … keep reading, you are going to love this!
Plus, grab some tips for throwing a stress free poolside dinner party.
Let's PARTY!! Ever since getting our pool in our back yard, parties just seem so much more FUN! I love all of the bright colored party accessories for by the pool! How cute are these flip flop invites and the pool float serving dishes?! I couldn't WAIT to use them!
I am "old school" I guess. I still believe in handwritten invitations that you receive in the mail, I also am a firm believer in the thank you card. (but that's another story!) I typically send out invites 10-14 days prior to the event. Just enough time to get on someone's calendar, but not so far in advance they forget all about it.
One thing I have learned (the hard way really) is to take my photos before my guests arrive. Otherwise, you are snapping photos while people are eating, or forget about it entirely, and you are kicking yourself the next day.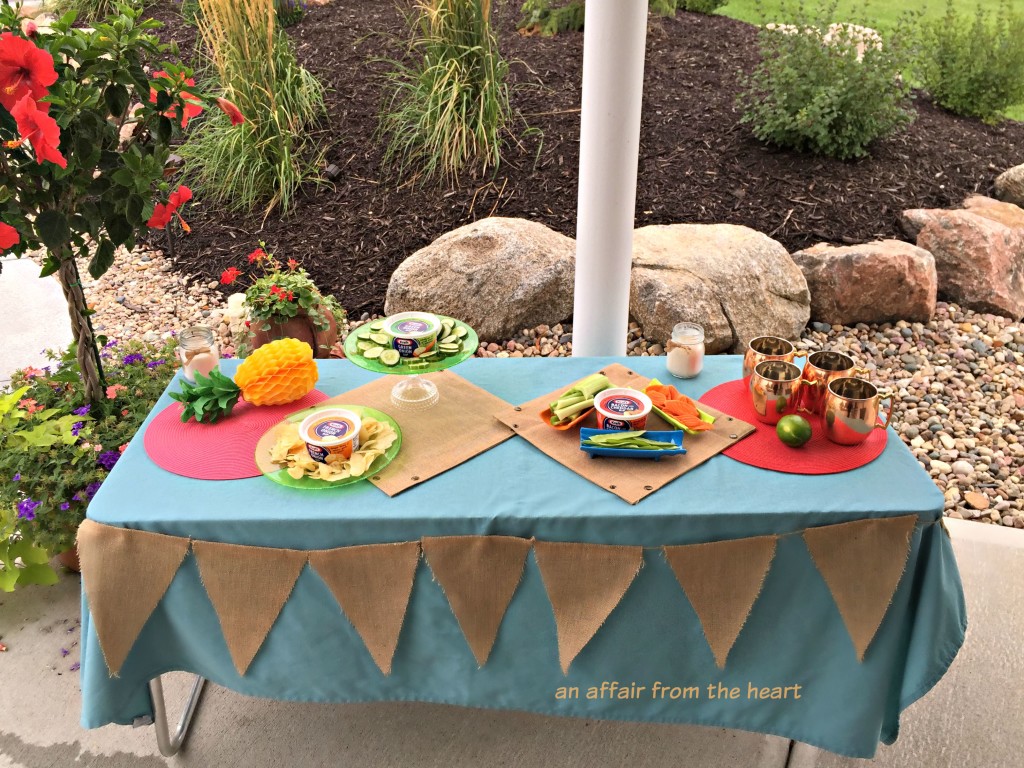 When I have company, I like to have some munchies set out when they arrive. I enjoy getting to relax a bit, have a cocktail and a few snacks. I don't want to put out so much food though, that nobody is hungry for dinner, or everyone needs a nap when they are done!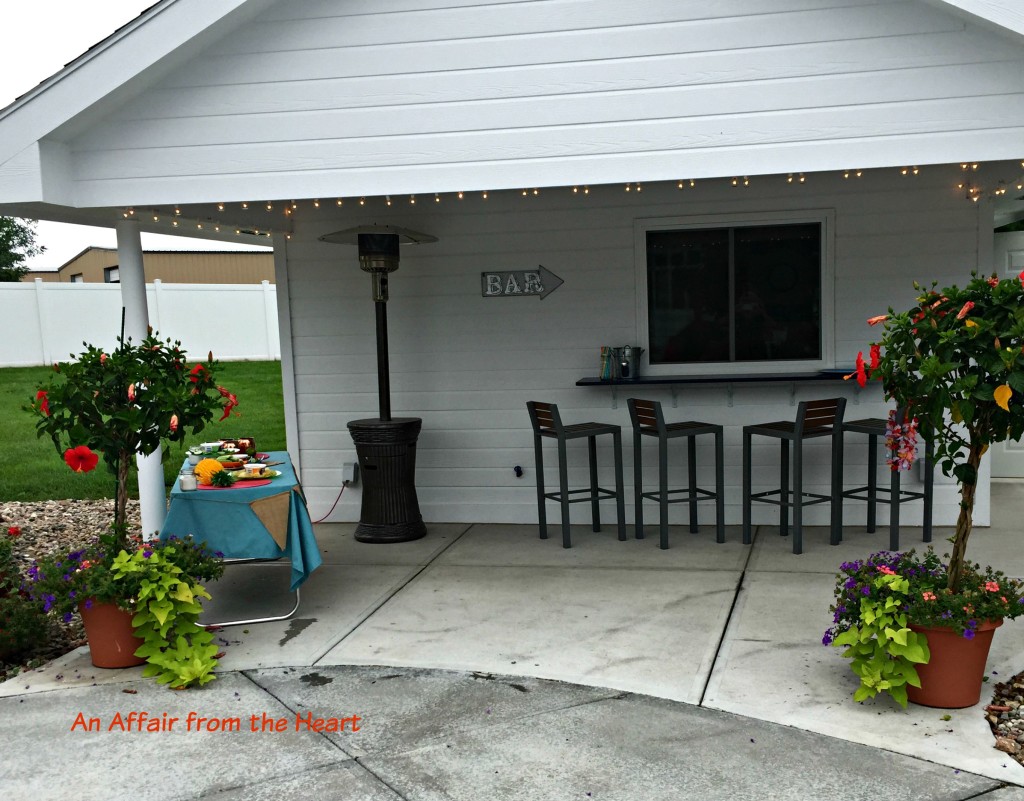 I set up a small camping table by our pool house bar, covered it with a blue table cloth, and set up the snacks, close to the pool bar where guests could grab their favorite libation, or the signature cocktail that evening, a Moscow Mule.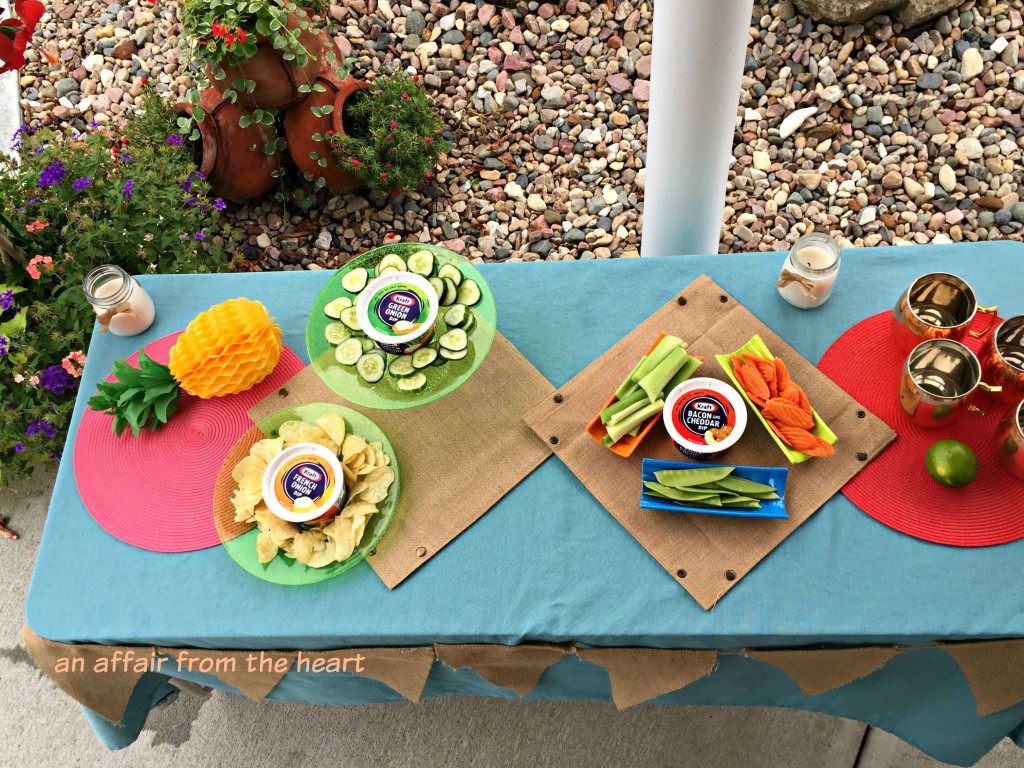 I used my burlap place mats and pennants to "cute" it up. I have been using a lot of burlap in decorations lately. It's so popular right now!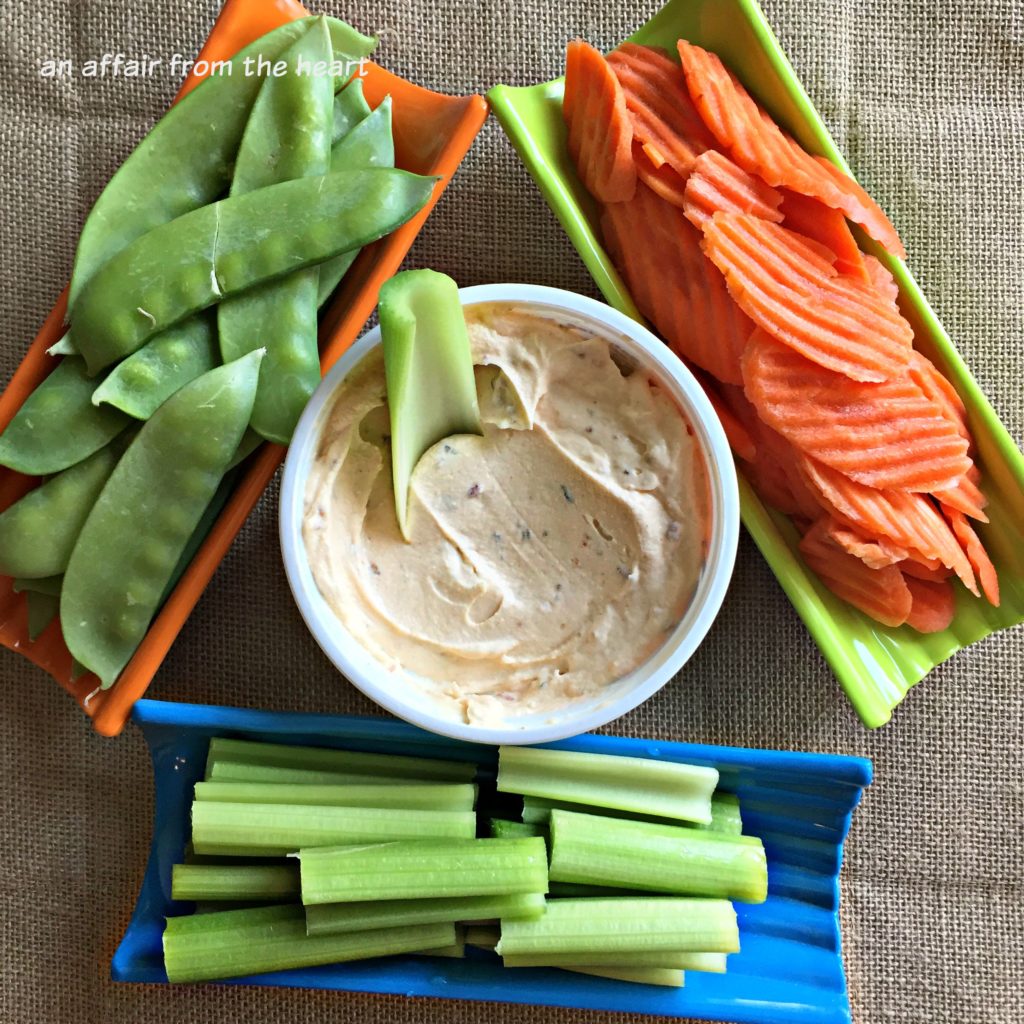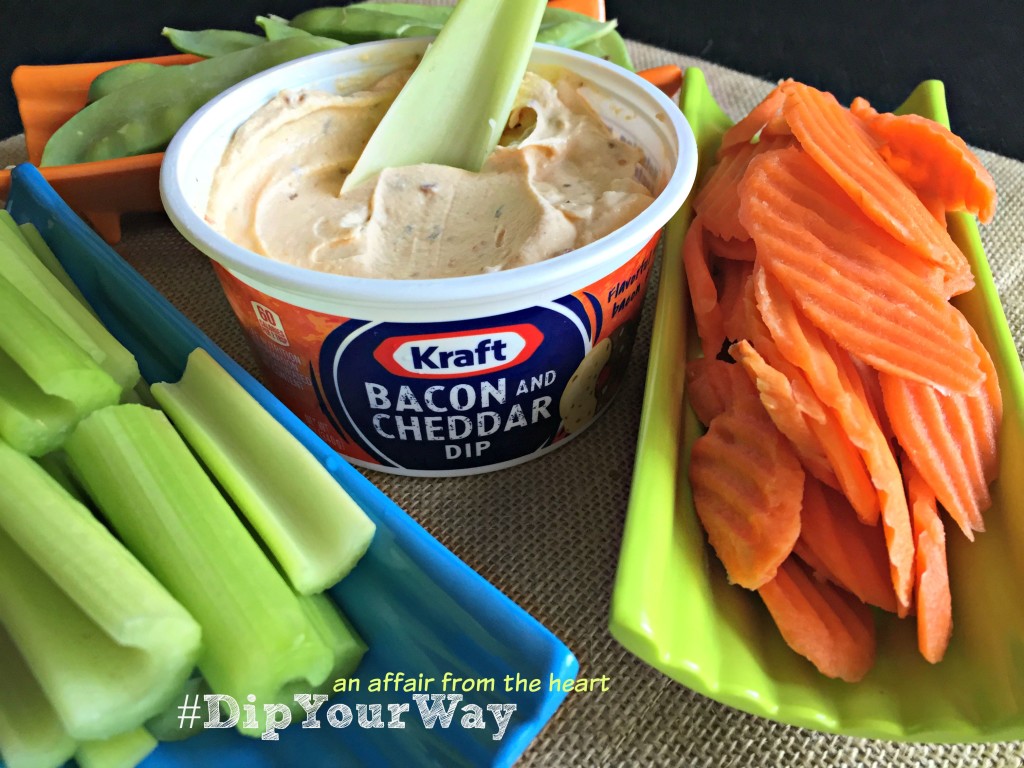 I used my fun pool themed dishes to serve up the Kraft Bacon and Cheddar Dip with some fresh veggies. I love using carrot chips!
As much as I would love to tell you I just ate veggies, I didn't. Potato chips and Kraft French Onion Dip are my MOST favorite snack! The containers the dip come in are so festive, I just popped it in the middle of a fun plate and circled the chips around the container.
Cute, right?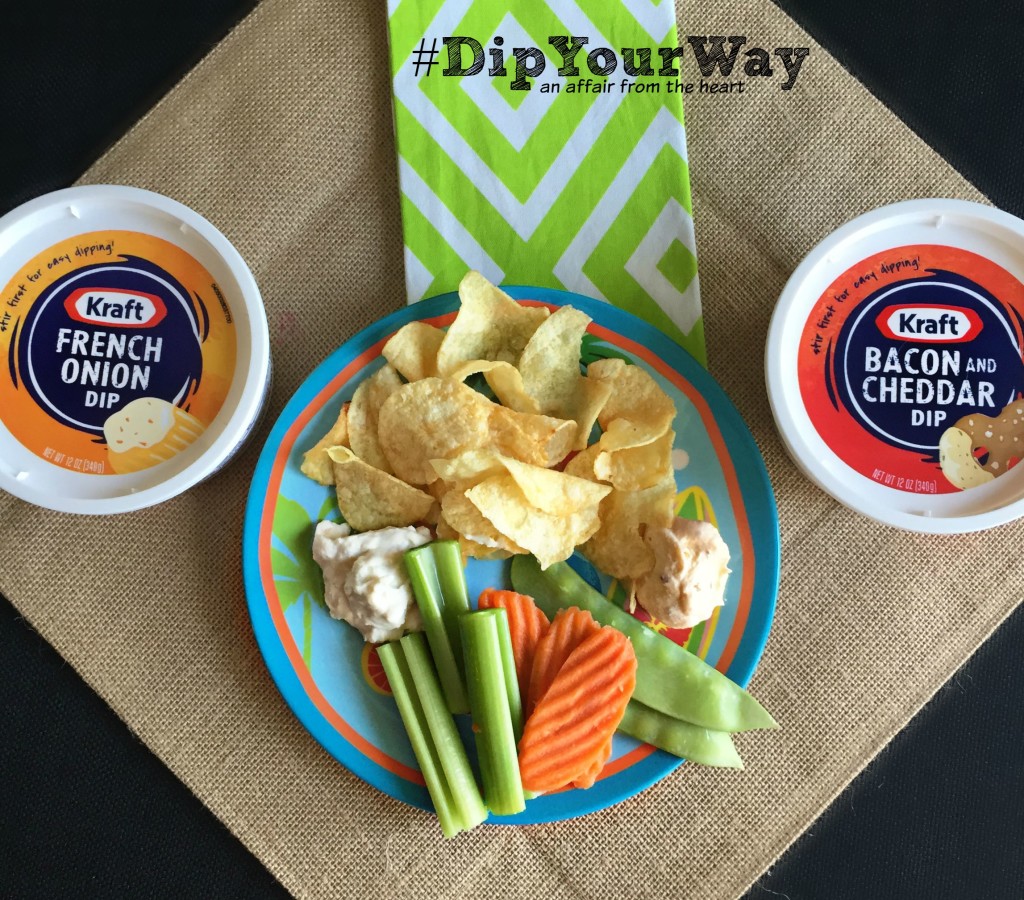 The other key to a good party, music! My husband and I love to listen to Island inspired music while relaxing in our back yard. It's soothing, enjoyable and easy on the ears. I guess we have reached the age where good conversation and a nice reggae station in the back ground beat loud music you have to holler over to hear the other person. We love to listen to Bob Marley's station on Pandora.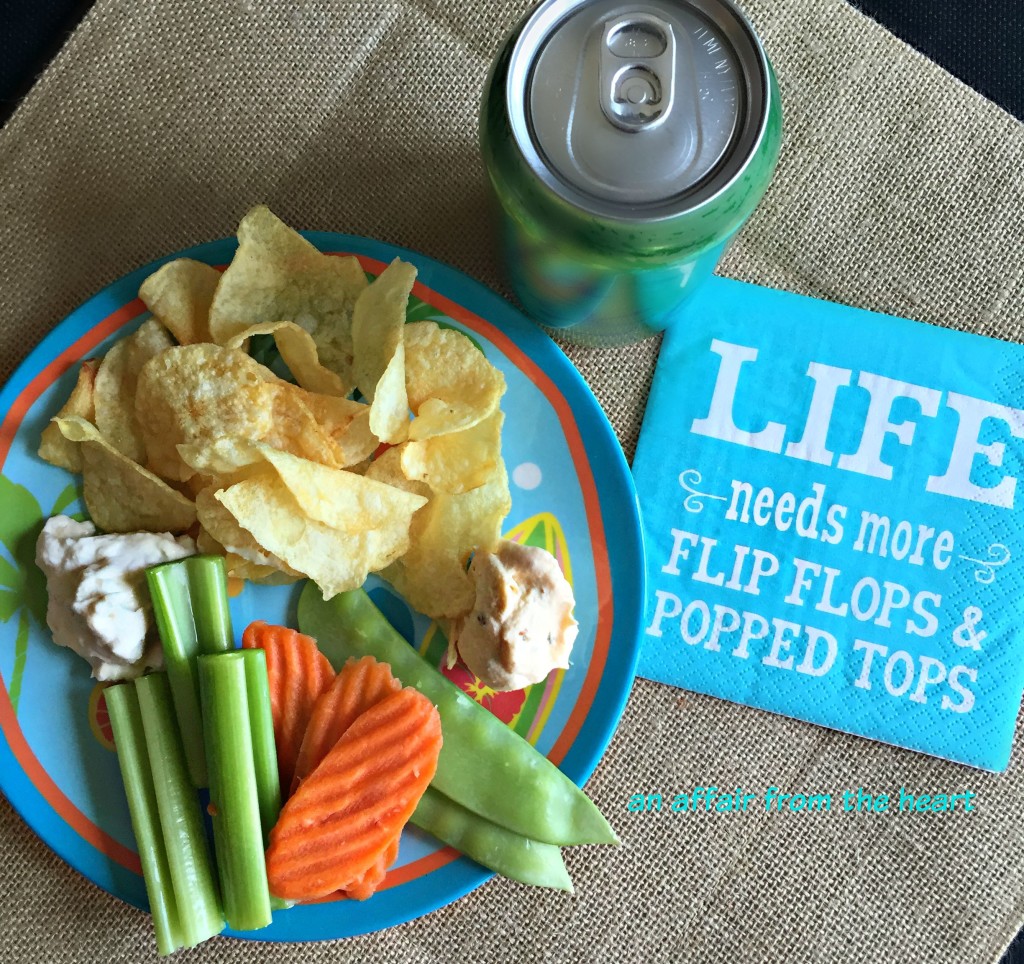 Now that we have all had a chance to visit, had a nice cocktail and some snacks, I called everyone over to the table for dinner.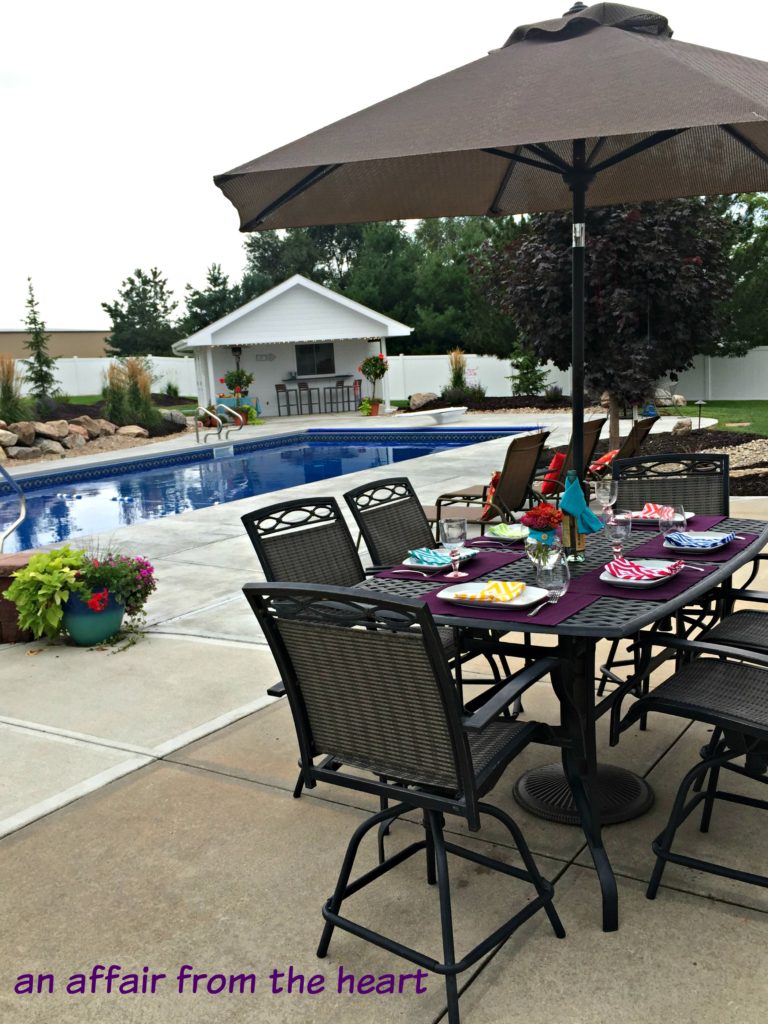 I set my bar height table for us to enjoy our meal. I continued the theme of colorful linens. I am a firm believer in plastic bar ware by the pool. Guests tend to walk around with their glass, but when it comes to plates, I prefer them not to be paper. Unless I am entertaining families with children, then I am all for it.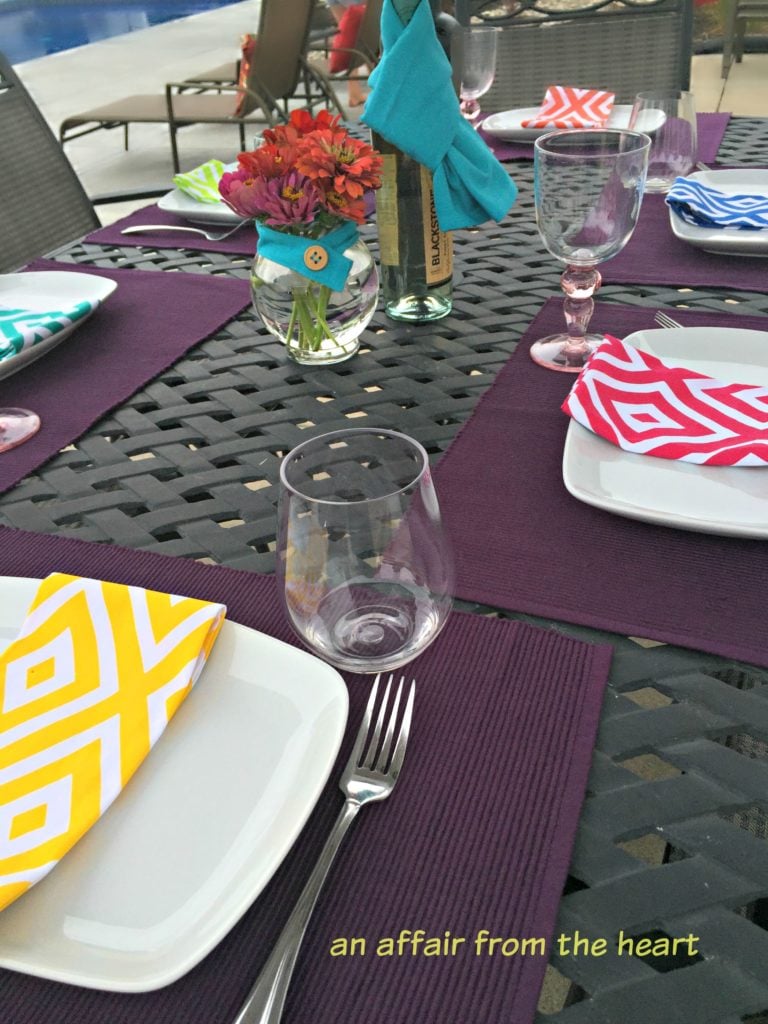 I set stemless plastic wine glasses for the men, and my pink girly ones for the gals. I like to seat everyone boy-girl-boy-girl around the table, so the conversation is between all present. It seems that even as adults we tend to sit with the guys or the gals and then the conversation seems divided.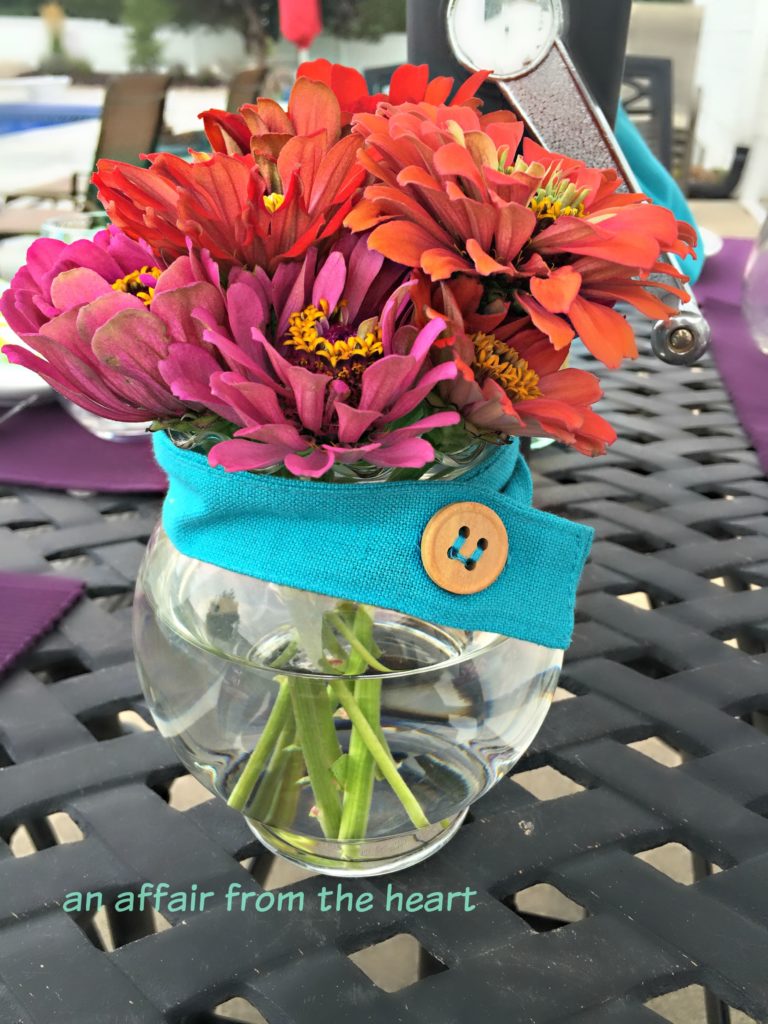 No need for super fancy centerpieces! I had my daughter cut these Zinnias right from the garden, we took the leaves off, cut them short and put them in a vase. I added a pop of the blue color around the top, and I had a centerpiece that I could leave on the table, because it was low enough to chat over.
Our meal consisted of a light salad and some of this ever so tasty pasta, made with Kraft Green Onion Dip.
This pasta comes together in a snap. A quick sear on the chicken in the skillet, add in Baby Bella Mushrooms and onions, saute for a bit, then add in the Kraft Green Onion Dip, some chicken stock a few seasonings and the sauce simmers til the chicken is tender. Meanwhile you have your pasta cooking, toss it all together and BAM! Dinner is done. We all agreed this would also be wonderful over rice.


A light mixed baby greens salad on the side, and dinner was served! I love to cook for my guests, but I don't want to be stuck in the kitchen while everyone else is enjoying the party. This was easy to make ahead, and serve when we were ready. Clean up was a snap, too. Who wants to be doing dishes when everyone else was swimming and sitting by the fire pit? Not I!
The night came to a close after a light dessert of berries and whipped cream, a night swim, some story telling by the fire pit and a night cap.
Cheers to good memories and good friends!
—
Yield: 6
Creamy Chicken with Green Onions & Mushrooms #DipYourWay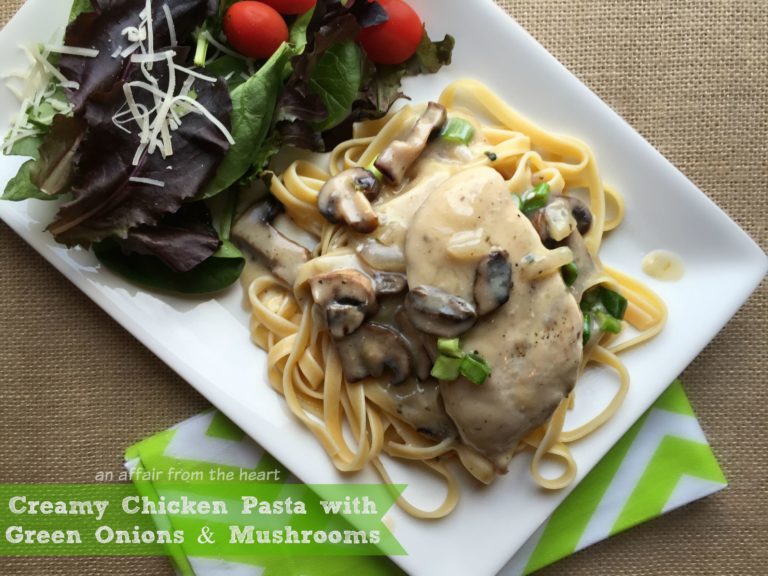 Chicken, baby bella mushrooms, green onions and Kraft green onion dip make this creamy pasta sauce that will be an instant family favorite!
Ingredients
4-6 Boneless Skinless Chicken Breasts (about 1.5 pounds)
2 Tablespoons Olive Oil
1 medium onion, chopped (about 1/2 cup)
8 ounce package of baby Bella mushrooms, rough chopped
3 cloves garlic, minced
1 Tablespoon dried Oregano
2-3 green onions, sliced
1 cup Kraft Green Onion Dip
2 cups chicken stock
1/4 cup corn starch dissolved in 1/2 cup water
Salt & Pepper
1 pound Fettuccine pasta
Fresh Parmesan cheese, for topping
Instructions
Sprinkle chicken breasts on both side with salt and pepper.
Boil a pot of water and prepare pasta according to package instructions. Drain. Set aside.
In a skillet over medium-high heat, add oil, when it's hot add chicken breasts. Sear on each side about 2-3 minutes. Remove from pan, set aside.
To the drippings add mushrooms and onions. Saute until tender, about 3-5 minutes.
Add into pan: chicken stock and Kraft Green Onion Dip, whisk until smooth. Return chicken to pan and cover, reduce heat to med-low, and simmer for 10 minutes. Stirring occasionally.
Add cornstarch/water mixture to thicken sauce up.
Toss with pasta, top with green onions and fresh Parmesan cheese.
Notes
This would be equally as delicious served over a bed of rice.
Recommended Products
As an Amazon Associate and member of other affiliate programs, I earn from qualifying purchases.
Nutrition Information:
Yield:
6
Serving Size:
1
Amount Per Serving:
Calories:

481
Total Fat:

12g
Saturated Fat:

3g
Trans Fat:

0g
Unsaturated Fat:

8g
Cholesterol:

107mg
Sodium:

336mg
Carbohydrates:

44g
Fiber:

3g
Sugar:

5g
Protein:

46g
Nutrition isn't always accurate.
—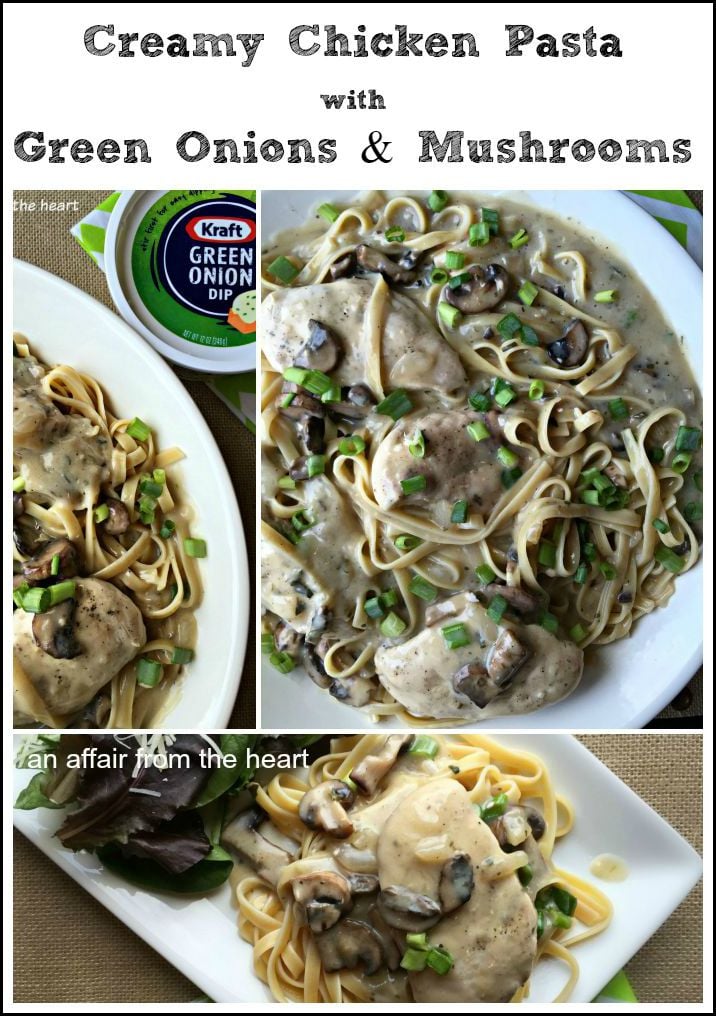 —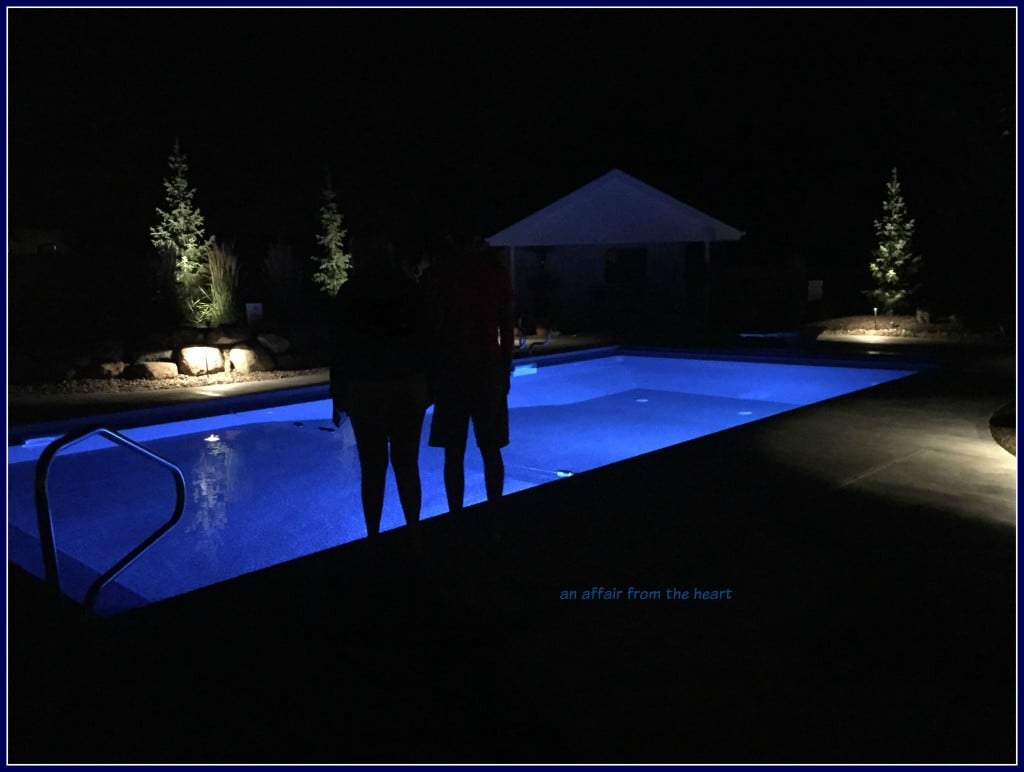 So the next time you are planning a party for your friends, or even just a fun family dinner, don't get all worked up! It's as easy as a little planning, a quick trip to Walmart and some delicious Kraft dips!
Find more recipes on Kraft.com — which one are you making first?