Pepper Steak
As an Amazon Associate and member of other affiliate programs, I earn from qualifying purchases.
This Pepper Steak is incredibly flavorful, tender, and comforting! Made with tomatoes, fresh bell peppers, black pepper, and minute steak, this delicious shortcut recipe is an easy and quick way to have dinner on the table for a weeknight meal.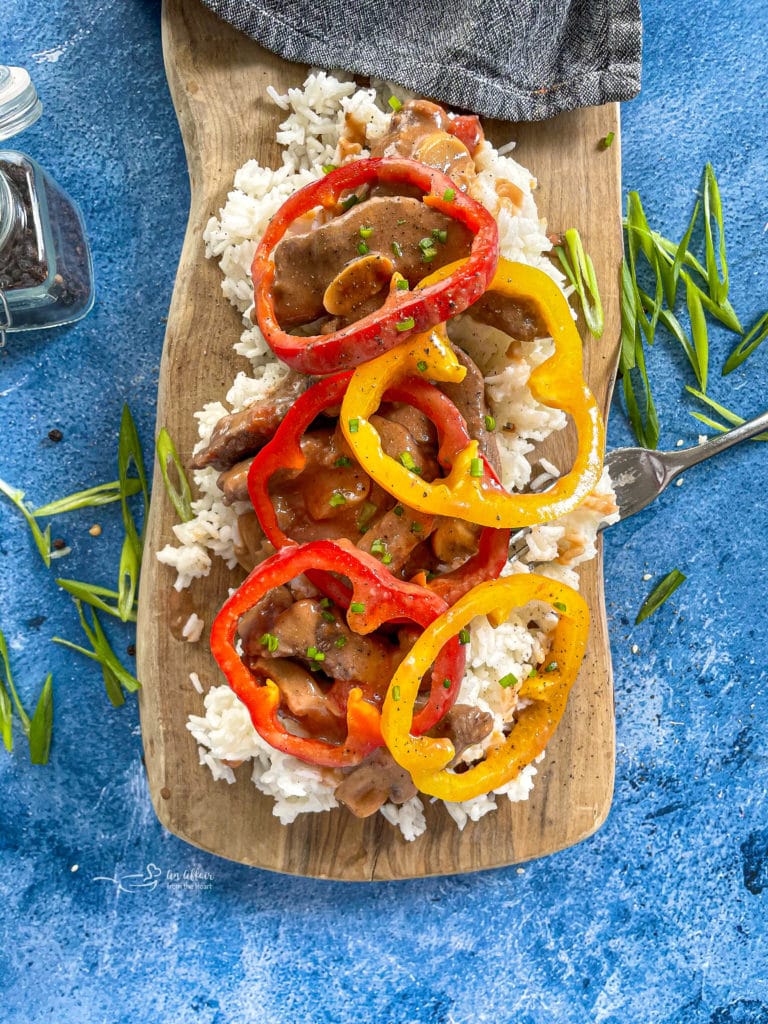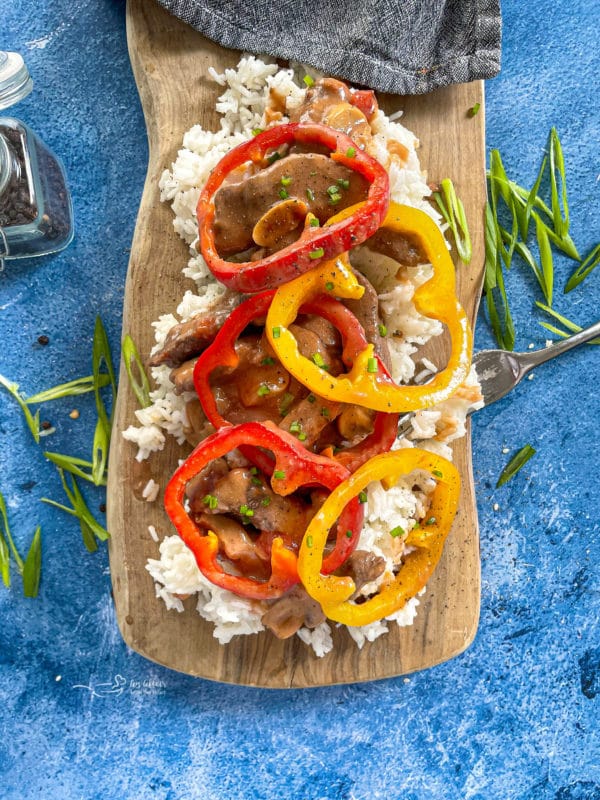 Do you ever think back to grandma's pepper steak recipe that you enjoyed as a kid that was served on a bed of rice with a comforting gravy? What about the pepper steak from your favorite Chinese restaurant? All of these recipes have something in common: savory and yummy flavors.
If you're looking for a way to make your favorite recipe, but don't want to go through all of the extra work, then you may just love this steak with pepper sauce. With just some easy steps, you'll have a protein-filled dish ready for dinner in no time.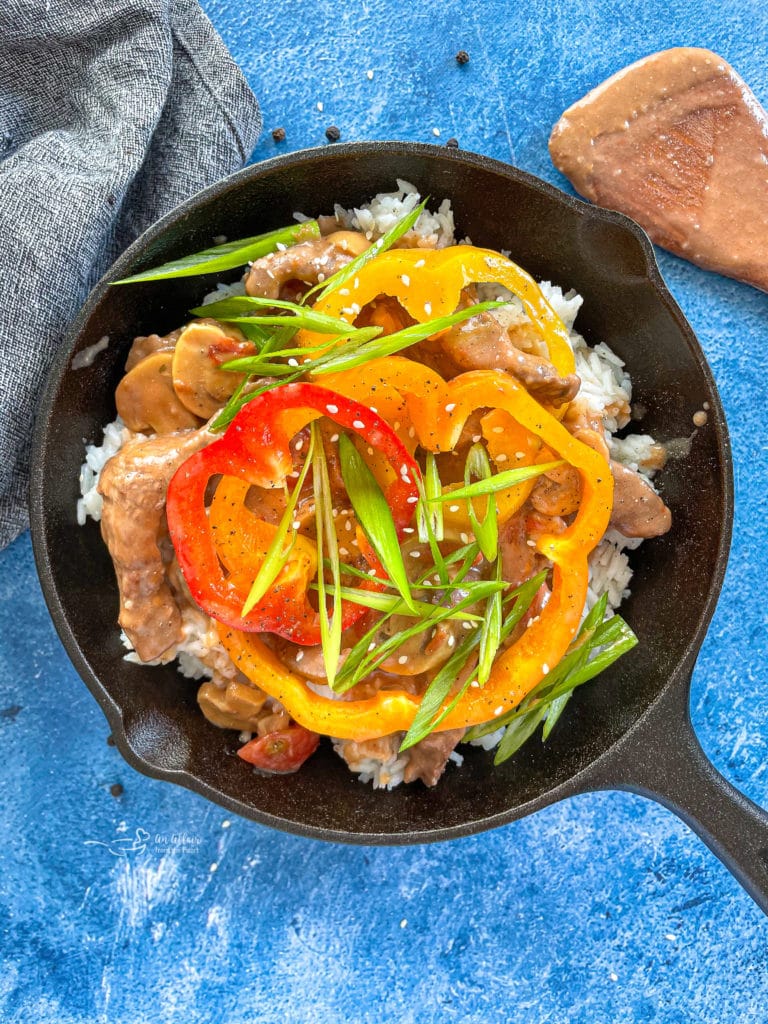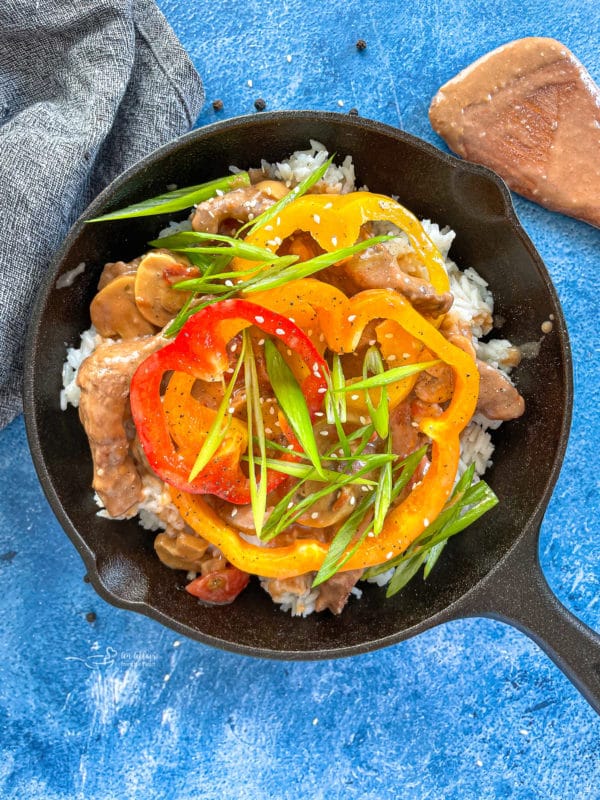 Busy Weeknight Pepper Steak Recipe
Pepper Steak is a family favorite at our house. Oh, sure there are intricate recipes for it, but this one's so darn good, and takes such little time to make! It makes a great weeknight dinner when life gets busy., and my life is always busy it seems, so we have this a lot!
This recipe makes a big batch, because, well, I have a big family. But it's easily cut in half, and the leftovers are fantastic, too!

Why You're Going to Love This Pepper Steak Stirfry
Simple: If you're anything like me, then you love to have dinner on the table before it gets too late. This pepper steak and rice recipe comes together in a jiffy, and it's just so easy to prepare. You will love these simple steps.
Basic ingredients: With just some basic pantry ingredients a couple of items from the refrigerator, you'll have a hearty and delicious meal ready to be enjoyed!
Full of flavor: The cream of mushroom soup mixed with the tomatoes and soy sauce create a yummy sauce that coats the pepper steak. Perfectly tender and easy to bite into!
Ingredients
Don't miss the full measurements– scroll down to the recipe card!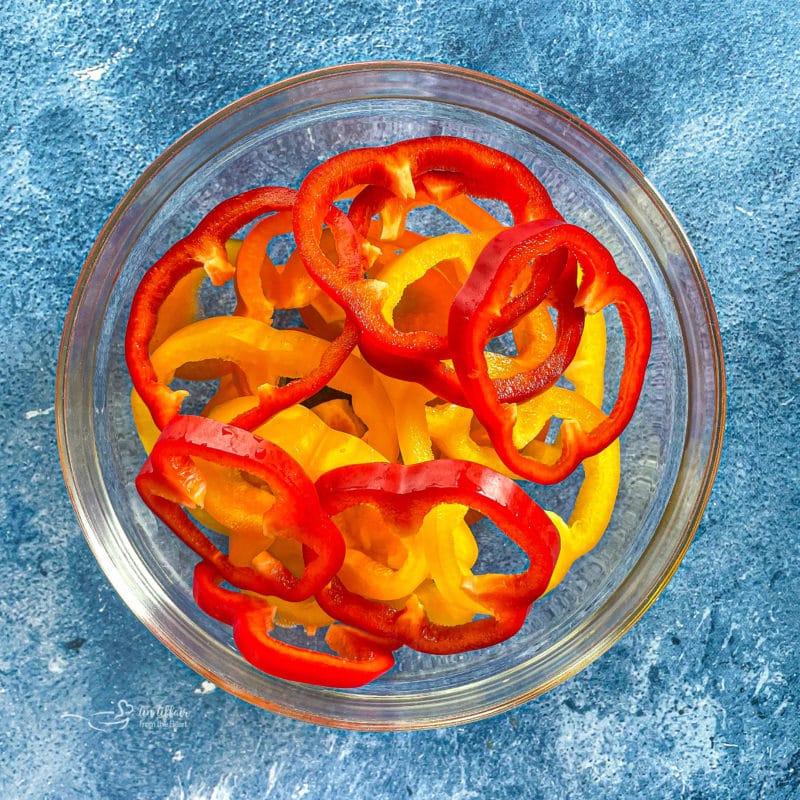 Steak: You will need a tenderized round cut of sirloin also known as minute steak.
Flour: I used all-purpose flour.
Salt and pepper: Essential ingredients for this pepper steak beef!
Oil: Any type of oil is fine such as avocado, grapeseed, or any other vegetable oil.
Cream of mushroom soup: If you don't have canned cream of mushroom soup, then you can make your own. I like using canned mushroom soup because I like to take a shortcut!
Mushrooms: Either canned or freshly sliced mushrooms will work.
Tomatoes: Diced. Freshly diced or canned tomatoes are okay.
Soy sauce: If you do not have soy sauce, then you can use coconut aminos.
Beef bouillion: Dissolve granules or cubes of beef bouillon in water for the gravy.
Bell peppers: Sliced into rings. I used a variety of colors for my pepper steak recipe.
Rice: Cooked.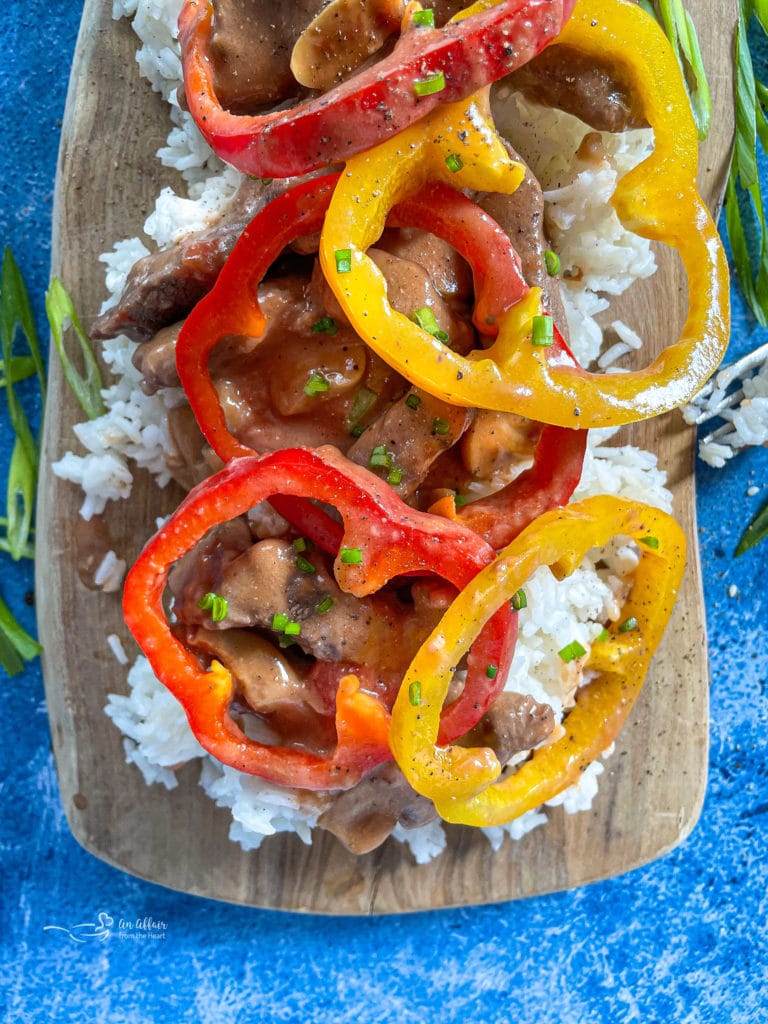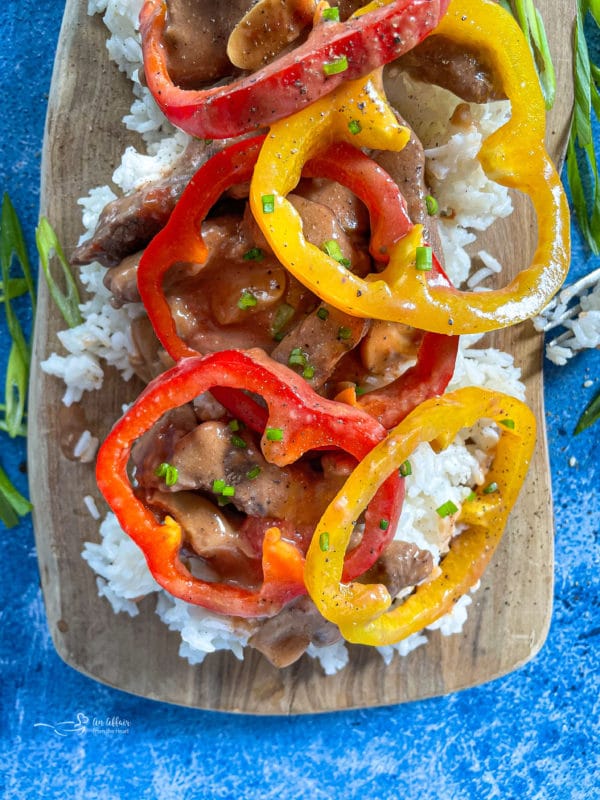 Is minute steak the same as cube steak?
Both minute and cube steak refer to tenderized round cuts of meat that are usually from the top sirloin. Tenderized with a meat tenderizer, minute steak is usually left with indentions from the tenderizer that gives the steak its name. Cube and minute steak tend to be tender and are used in all types of American comfort food dishes.
How do you make pepper steak from scratch?
This is one of the easiest pepper steak recipes out there! You will love this fool-proof way of making your favorite comfort meal.
Step 1
Dip steak in flour: First, dip the slices of steak in a container of flour, salt, and pepper.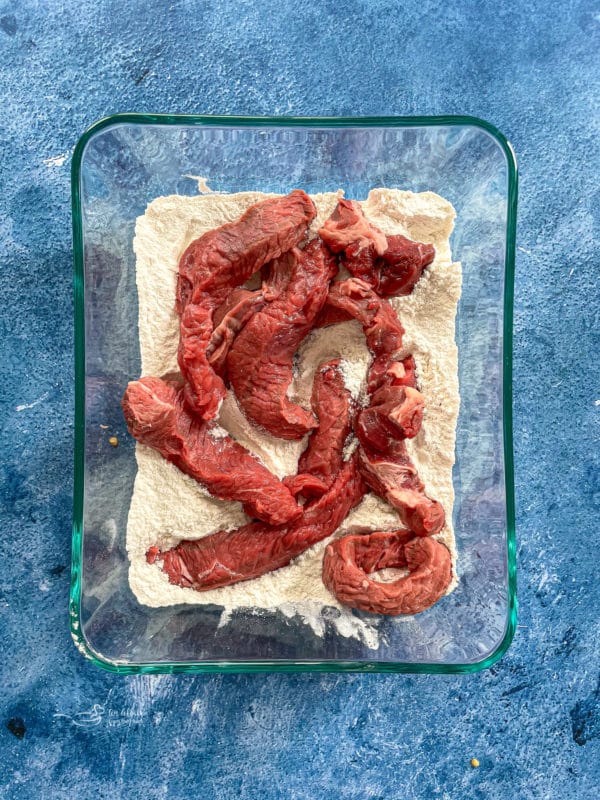 Step 2
Cook the steak: Next, place the steak in heated oil in a pan over medium heat. Then, cook the steak until browned on both sides.
Step 3
Combine ingredients: Next, add the cream of mushroom soup, sliced mushrooms, tomatoes, soy sauce, and beef broth to the steak. Stir, cover, and simmer for 30-40 minutes.
Step 4
Top with bell peppers: In the last five minutes of simmering, place the sliced peppers on top and cover with a lid. The peppers should be firm.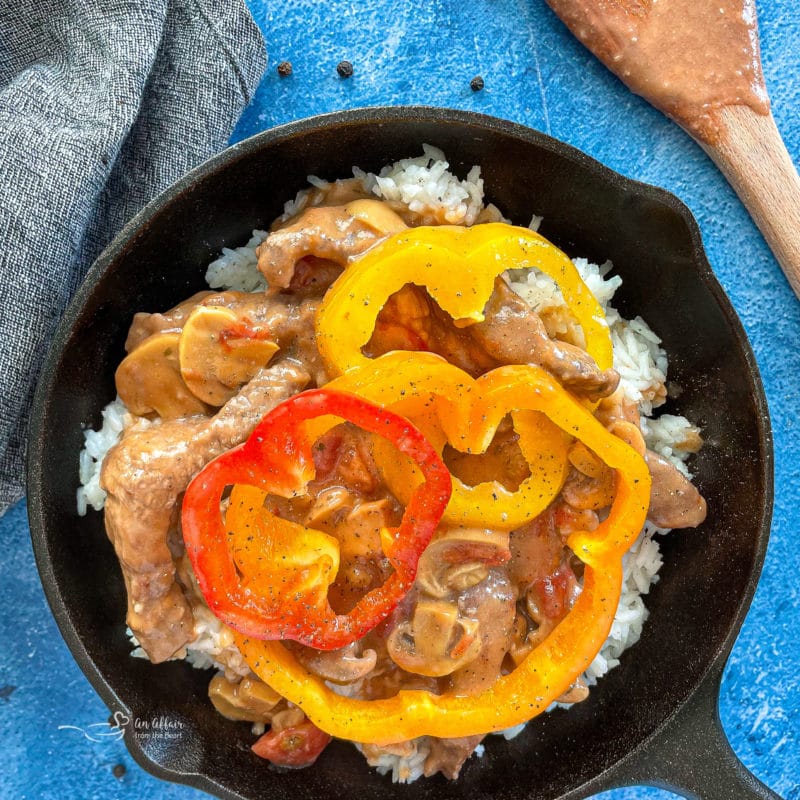 LOVE IT? PIN IT!
Make sure to save this recipe on your Pinterest board before you go! Keep it for your next dinner idea!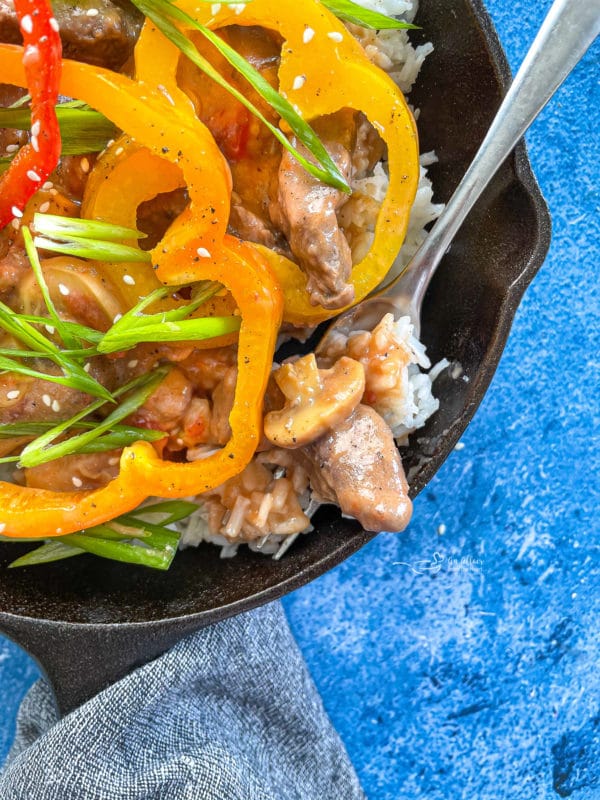 Why is my pepper steak tough?
If you chose a different cut of meat other than minute or cube steak or overcook the steak, then the pepper steak may get tough.
How do you make steak tender?
Tenderize the meat! Cook the meat long and slow so that it doesn't overcook. Don't forget the salt!
Tips
Store the leftovers in an airtight container in the refrigerator for up to four days.
Let the meat come to room temperature prior to cooking.
Serve the pepper steak and bell peppers over rice when serving.
More Recipes You Will Love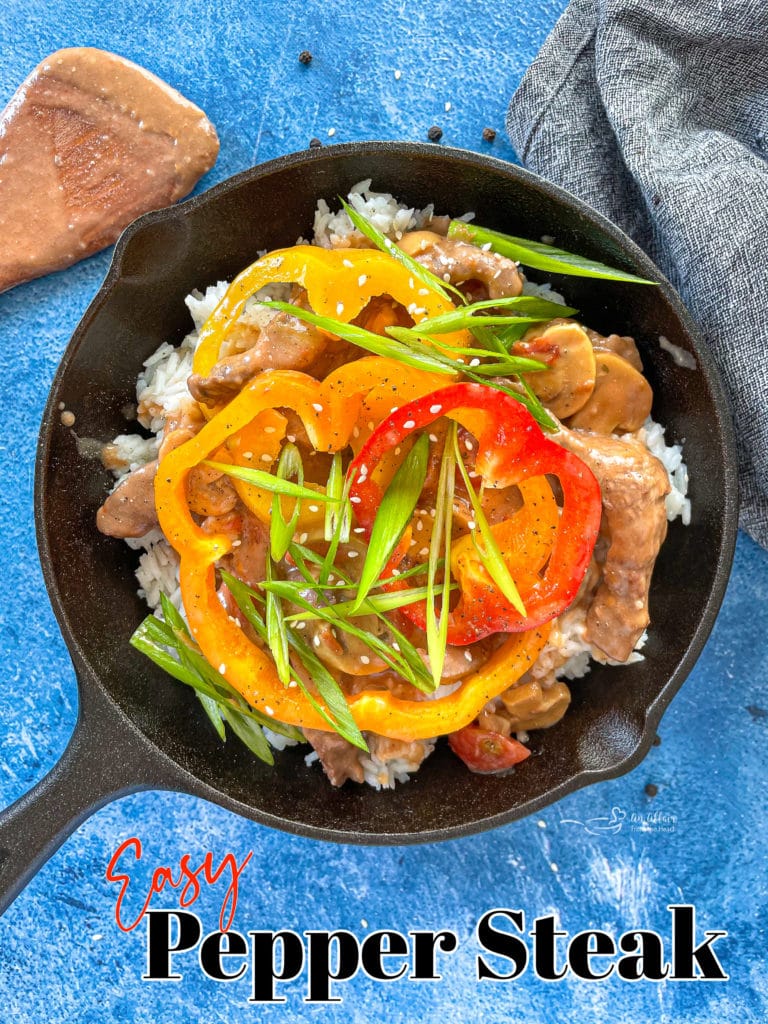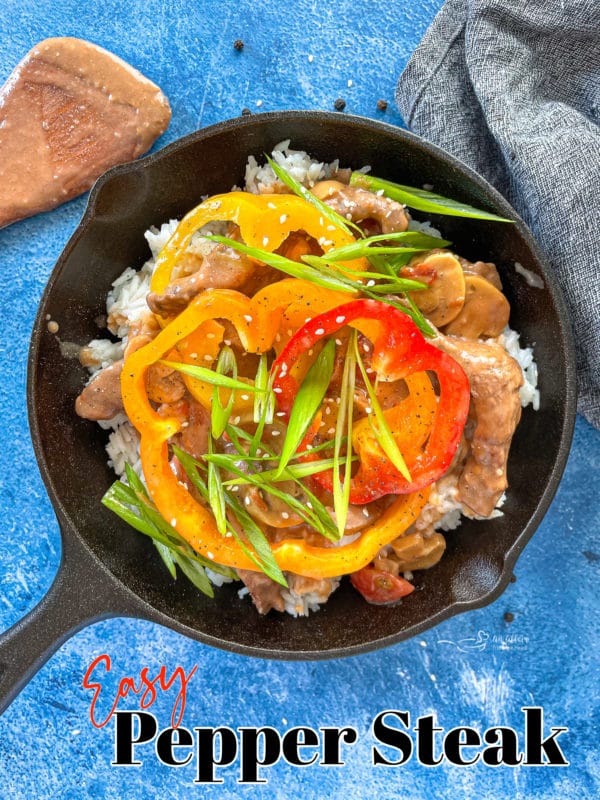 You'll love this quick weeknight meal! Here is the recipe for the simple Pepper Steak!

Yield: 8 servings
Pepper Steak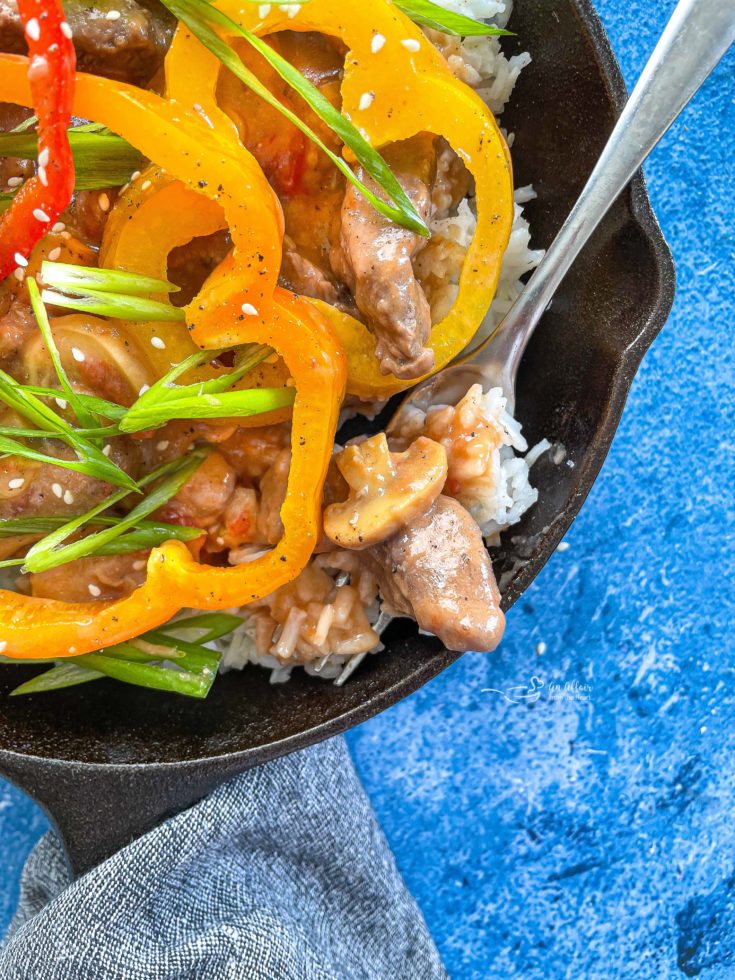 Pepper Steak makes a great weeknight dinner when life gets busy.
Ingredients
8 (4-6 ounce) cube steaks (minute steaks)
flour, salt and pepper for dredging
4 Tablespoons vegetable oil
2 cans of Cream of Mushroom soup
2 (4 ounce) cans of mushrooms, drained (or fresh if you have them on hand)
2 cans of diced tomatoes
2 Tablespoons of soy sauce
2 teaspoons of beef bouillon granuals or 2 cubes dissolved in 2 cups of water
3 bell pappers sliced into rings, (I used one of each, red, green and yellow for this meal)
4 cups uncooked Minute Rice, prepared according to the package
Instructions
Dredge minute steaks in flour, salt and pepper. Place in heated oil in your frying pan, brown them until they are golden brown on both sides.
To the meat add the soup, mushrooms, tomatoes, soy sauce and beef broth. Combine, cover and simmer on low, for about 30 minutes, stirring and flipping the meat occasionally so they don't stick to the bottom of the pan.
For the last 5-7 minutes of simmering, place the peppers on top and cover again. This way they will be firm when you serve it.
Serve over rice.

Recommended Products
As an Amazon Associate and member of other affiliate programs, I earn from qualifying purchases.
Nutrition Information:
Yield:
8
Serving Size:
1
Amount Per Serving:
Calories:

410
Total Fat:

18g
Saturated Fat:

4g
Trans Fat:

0g
Unsaturated Fat:

12g
Cholesterol:

33mg
Sodium:

1023mg
Carbohydrates:

45g
Fiber:

2g
Sugar:

6g
Protein:

15g
Please note that nutrition is not guaranteed accurate.
This recipe was originally posted on March 14, 2013 and has been updated to improve user experience and re-shared on June 9, 2021.