Creamy Chicken Penne Pasta
As an Amazon Associate and member of other affiliate programs, I earn from qualifying purchases.
Creamy Chicken Penne Pasta is a delightful and comforting dish that combines tender pieces of chicken with perfectly cooked penne pasta, all coated in a rich and creamy sauce. Pasta lovers will enjoy the creamy savory flavors, and busy people will love that this one-pot meal will be ready to serve in about 30 minutes.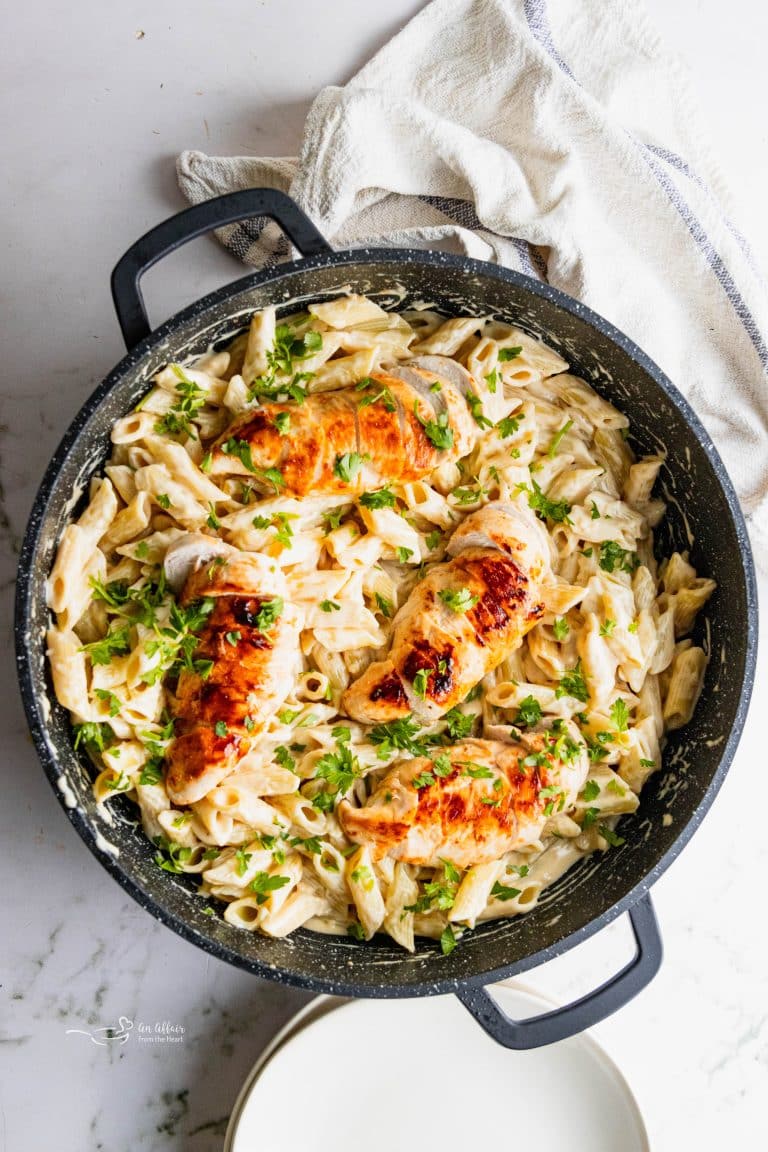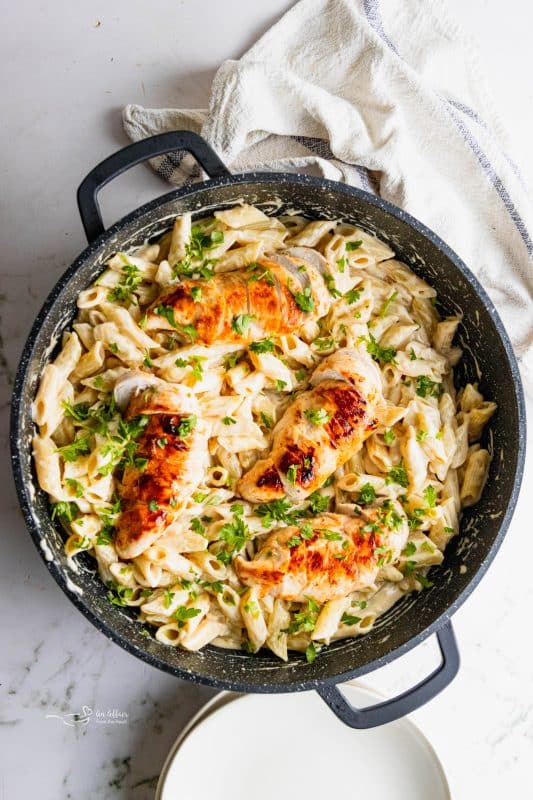 Are you in search of a satisfying and flavorful meal to please your entire family? Look no further than our creamy chicken penne pasta recipe. This dish combines tender chicken, al dente penne pasta, and a luscious creamy sauce that is sure to leave everyone asking for seconds. Whether you're cooking for a busy weeknight or hosting a gathering, this easy skillet meal will become a family favorite in no time.

Easy Weeknight Meal
It seems like once the 4th of July is behind us, the rest of the summer just flies by! I am committed to creating recipes for my readers that will make busy weeknights a little simpler, and keep the family around the kitchen table and out of the drive-thru. Even on the busiest nights.
Try my Pad Thai Wonderpot, Skillet Lasagna, Tuna Tetrazzini, or my Instant Pot Fettuccini Alfredo on another busy night!

Chicken Penne Pasta
The beauty of this creamy chicken penne pasta recipe is its versatility. You can customize it to your liking by incorporating different ingredients or making slight modifications. For instance, if you're a fan of sun-dried tomatoes, they can be a wonderful addition, providing a burst of sweetness and tanginess. You can also add some green beans or baby spinach to introduce a touch of freshness and color to the dish.
Leftovers of this creamy chicken penne pasta can be stored in an airtight container in the refrigerator for 3-4 days. Simply reheat in the microwave or on the stovetop for a quick and satisfying meal. It's a great option for meal prepping or as a make-ahead dish for busy days when you don't have a lot of time to spend in the kitchen.

INGREDIENTS IN CHICKEN PENNE PASTA
You will find the complete printable recipe and ingredients at the bottom of this post.
Penne Pasta – swap penne with other pasta shapes such as fusilli, rigatoni, farfalle (bowtie), or spaghetti noodles.
Chicken Breasts – or you can sub boneless skinless chicken thighs, cooked and shredded rotisserie chicken, diced cooked ham, or cooked shrimp for a seafood twist.
Salt and Pepper
Olive Oil
Butter
Garlic cloves
All Purpose Flour
Heavy Cream – If you prefer a lighter version, you can replace heavy cream with half-and-half, whole milk, or a combination of milk and Greek yogurt. Keep in mind that the texture and richness of the sauce may vary slightly with these substitutions.
Chicken broth – vegetable broth can be used.
Parmesan cheese – If you don't have Parmesan cheese on hand, you can use a combination of grated Romano cheese or a blend of shredded mozzarella and Asiago cheese for a different flavor profile.
How to Make This Chicken Penne Pasta Recipe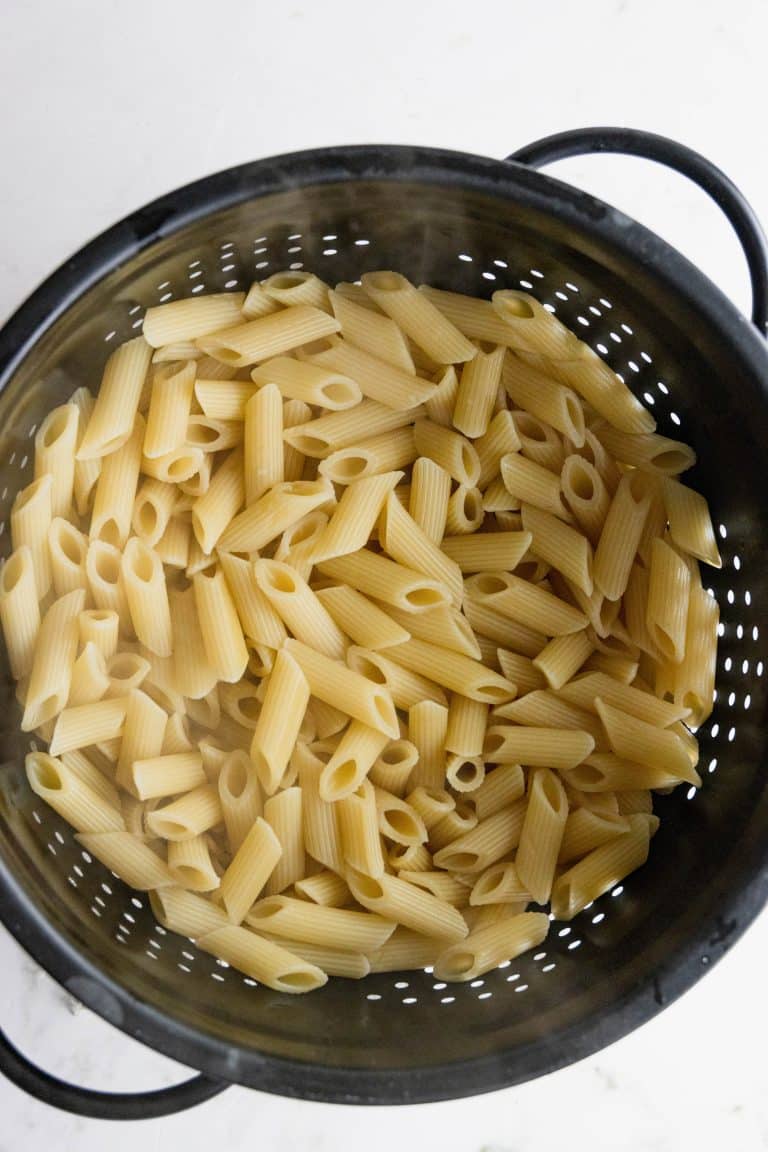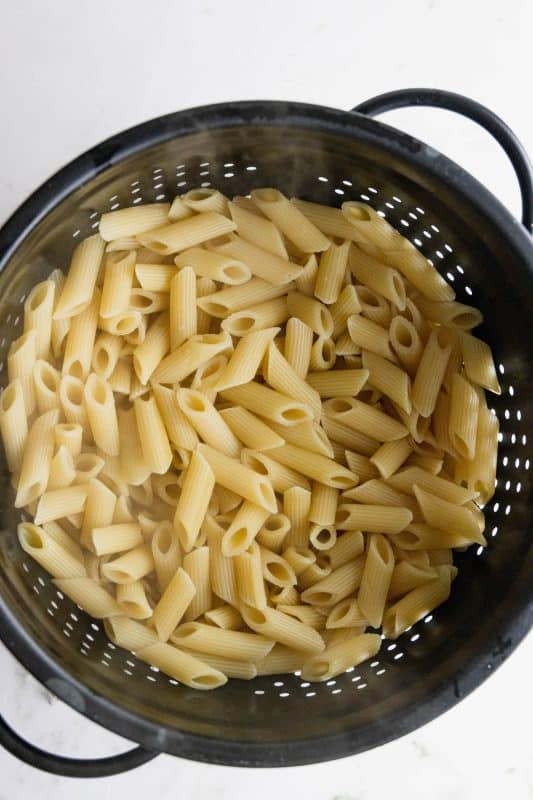 To make this dish, cook the penne pasta al dente, a firm, yet tender texture.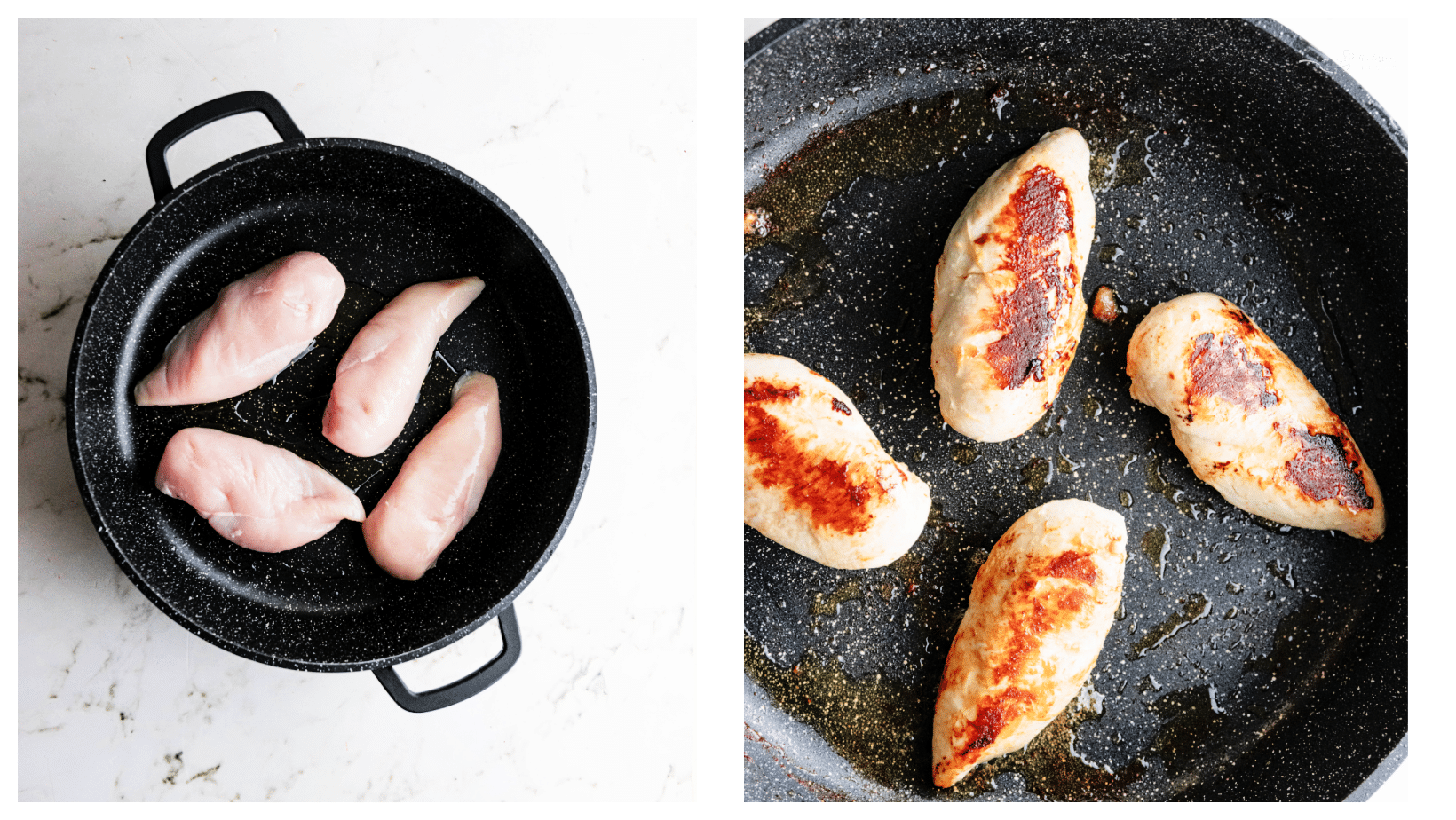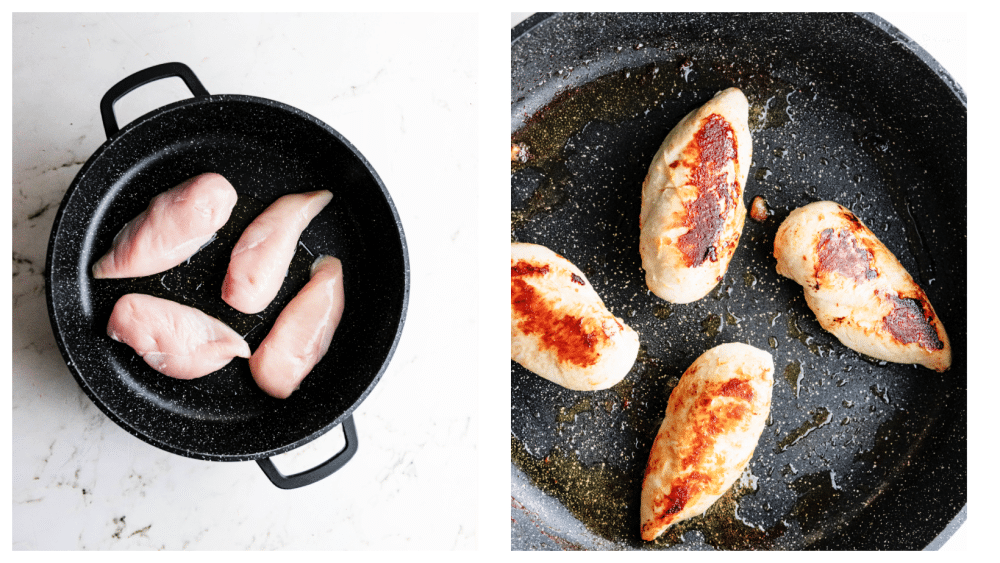 While the pasta cooks, you sear chicken breasts in a skillet until they turn a beautiful golden brown and are cooked through. This step ensures that the chicken remains juicy and flavorful.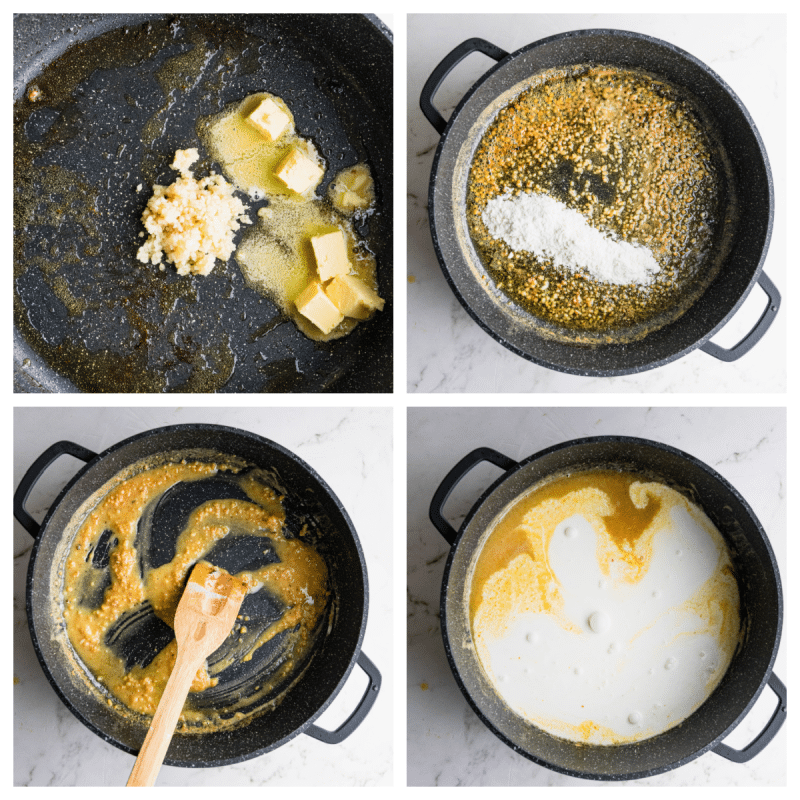 Next, a luscious creamy sauce is prepared in the same skillet. A combination of heavy cream, chicken broth, and Parmesan cheese combine to create a velvety and indulgent sauce. The addition of garlic, Italian seasoning, and other herbs and spices adds layers of aromatic flavors that enhance the overall taste.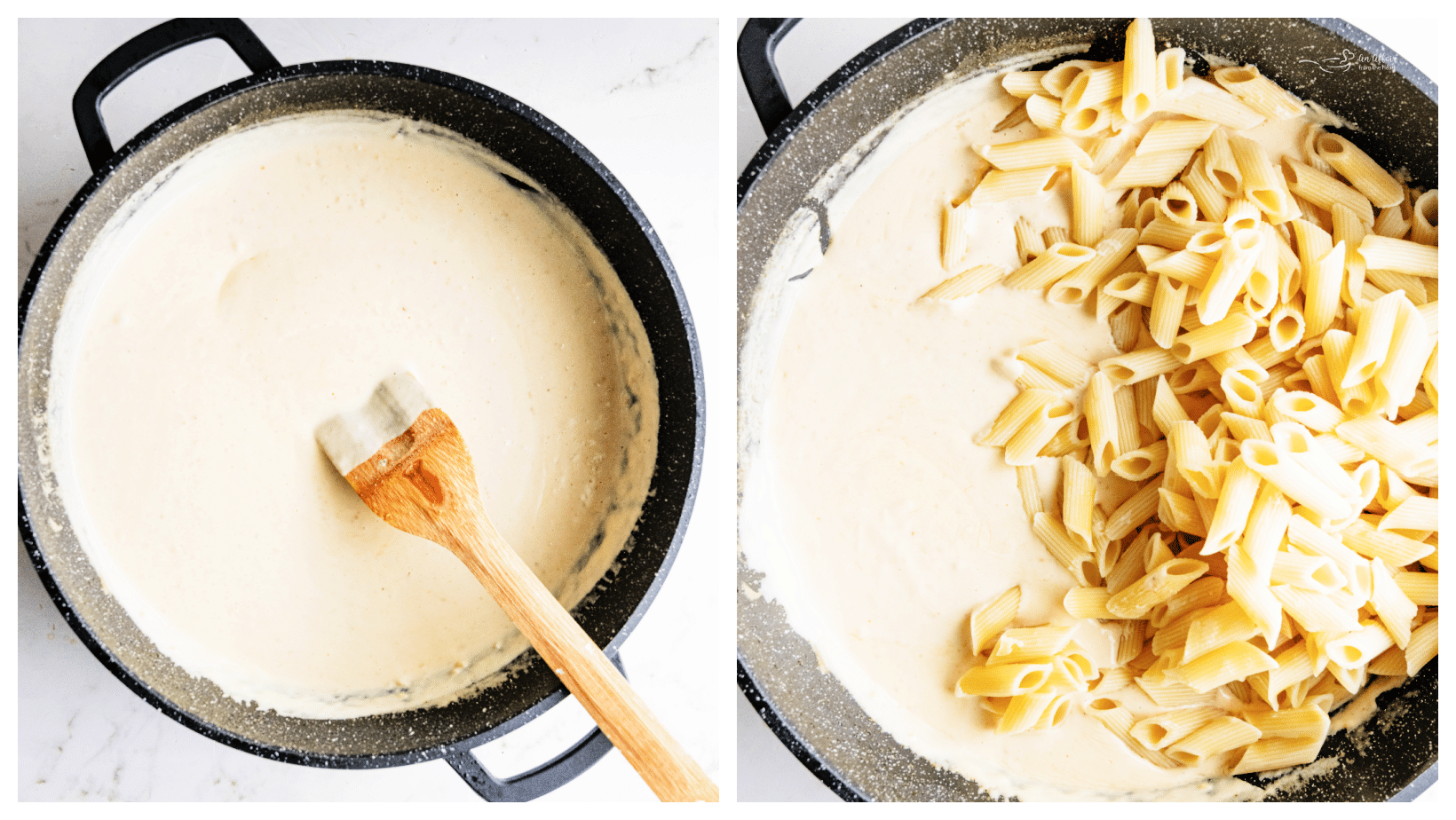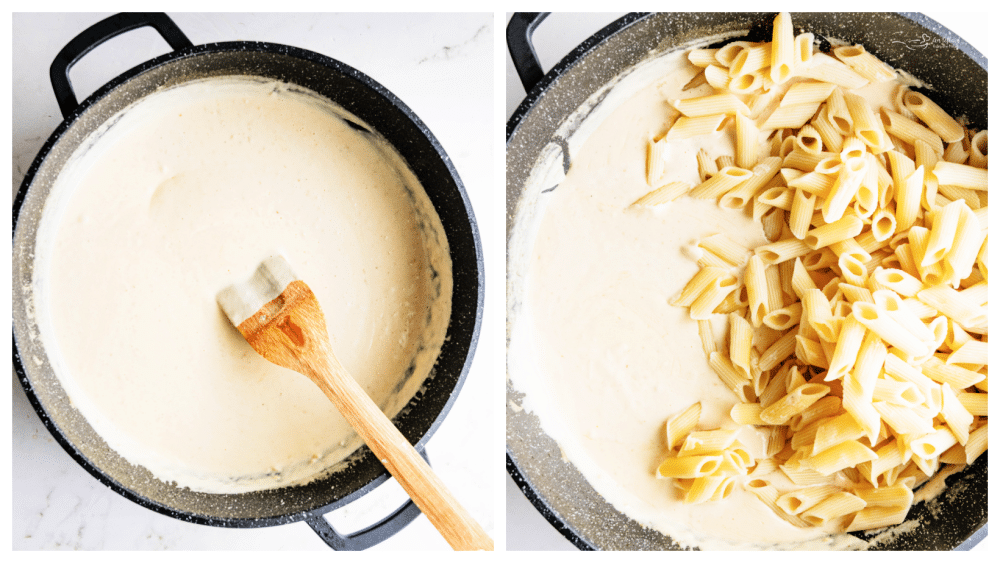 Once the sauce is ready, the cooked penne pasta is added to the skillet and gently tossed until it is fully coated in creamy goodness.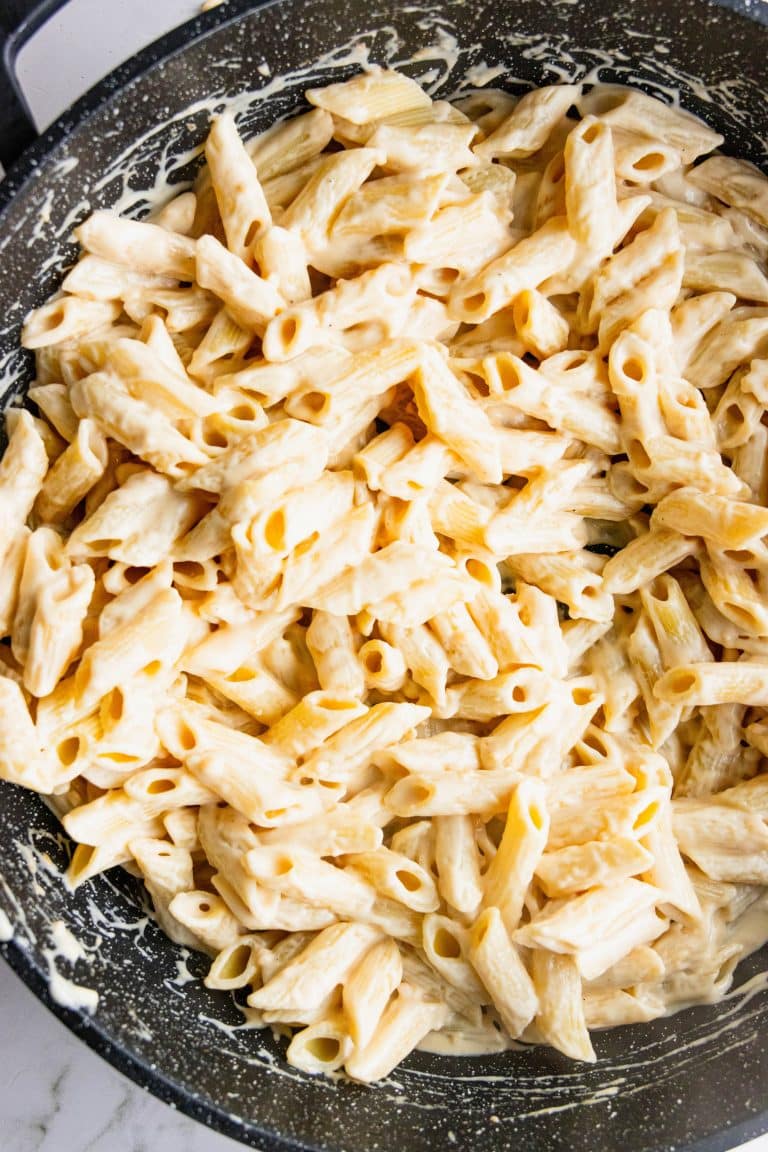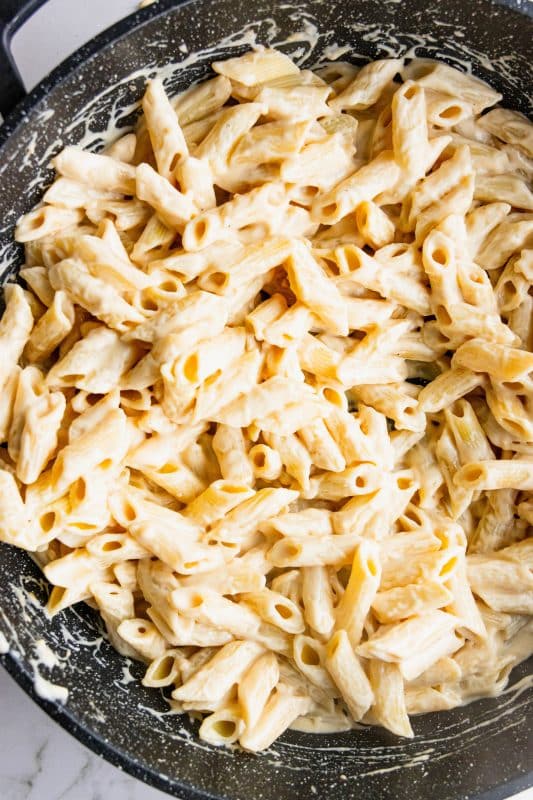 The dish comes together beautifully as the pasta absorbs the flavors of the sauce, creating a harmonious blend of textures and tastes.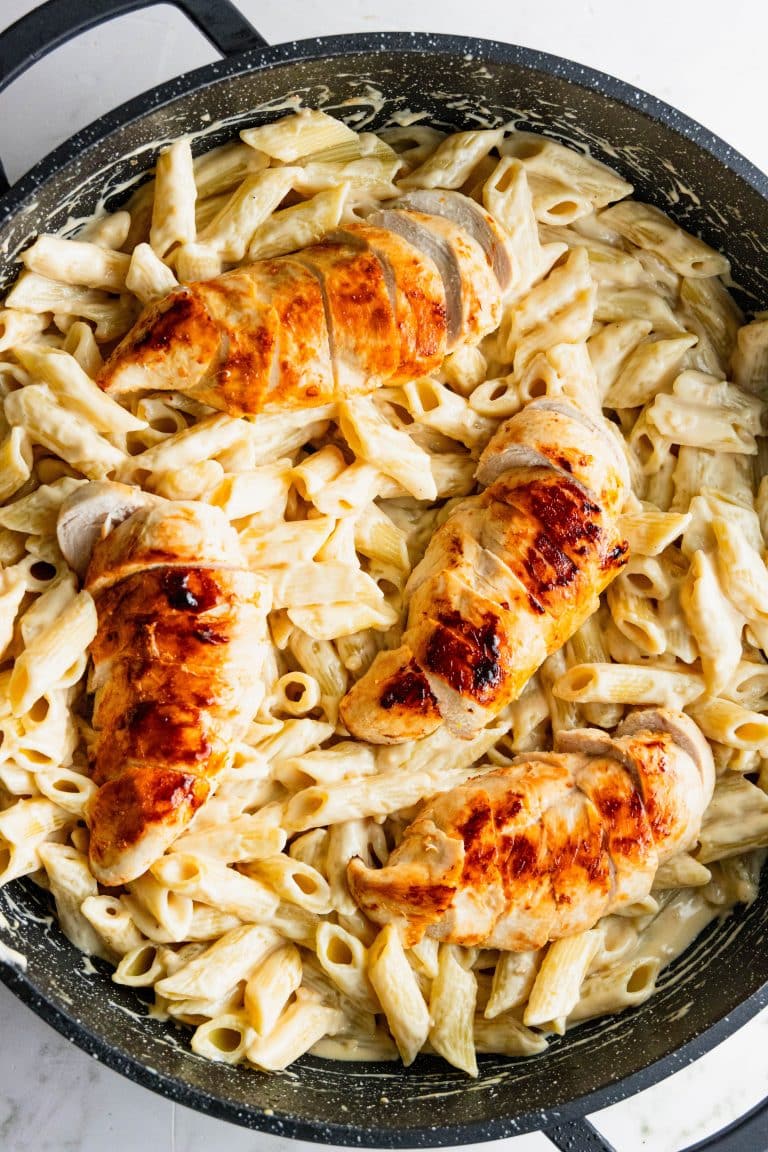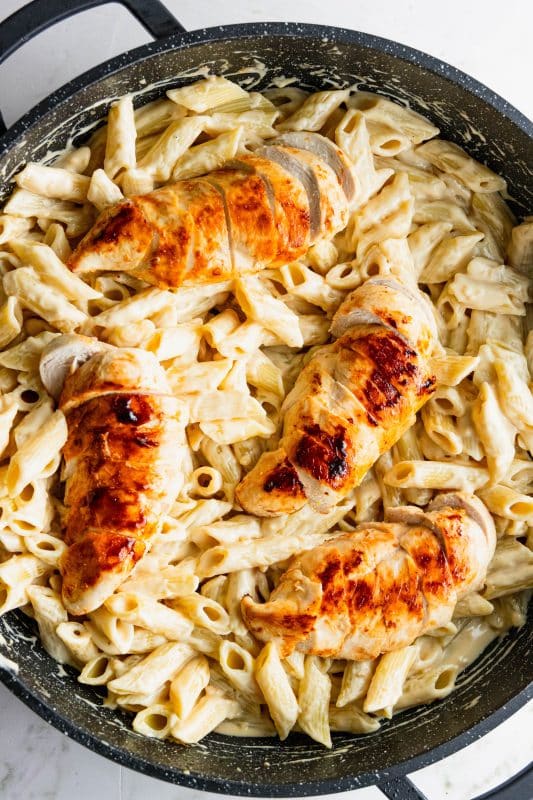 Place the cooked and sliced chicken breasts over the top of the creamy pasta.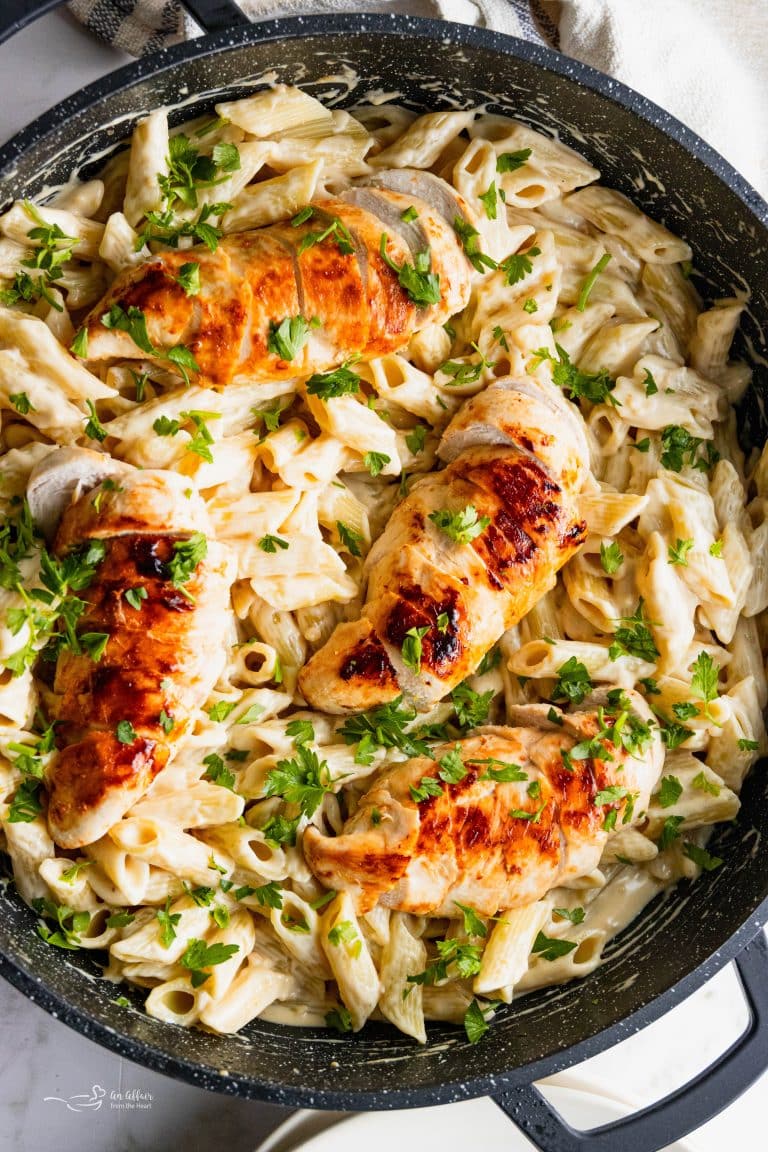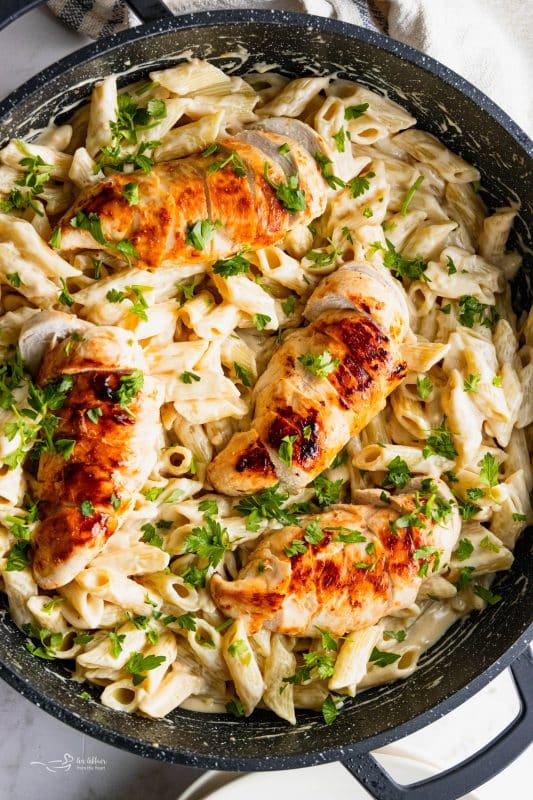 To serve, the creamy chicken penne pasta is topped with freshly chopped parsley for a pop of freshness and vibrant color.
The Creamy Chicken Penne Pasta can typically be stored in the refrigerator for up to 3-4 days.

Love it? Pin It!
Make sure to save this recipe for Creamy Chicken Penne Pasta to your favorite Pinterest Board before you go so you can find it easily.
Can I use lighter ingredients to make a healthier version?
Yes, you can make adjustments to create a lighter cream sauce. Consider using lighter cream options, such as half-and-half or whole milk, instead of heavy cream. Additionally, you can reduce the amount of butter and cheese if desired. Experiment with different brands and combinations to find the perfect balance between flavor and health-conscious choices.

Can I use pre-shredded cheese instead of grated Parmesan?
Pre-shredded cheese can be used as a convenient alternative, but keep in mind that freshly grated Parmesan cheese will yield the best results in terms of flavor and texture. Pre-shredded cheese may contain additives that can affect the final outcome. If using pre-shredded cheese, look for high-quality options or grate your own for optimal taste. Read more on the benefits of grating your own cheese.

More FAQs about Creamy Chicken Penne Pasta
Can I use a different type of pasta? Absolutely! While penne pasta works beautifully in this recipe, you can easily substitute it with your preferred pasta shape. Whether it's spaghetti noodles, whole wheat pasta, or gluten-free options, feel free to adapt the recipe to your taste and dietary needs.
Can I make this recipe in an Instant Pot? While this specific recipe is designed for stovetop cooking, it's possible to adapt it for an Instant Pot. Sear the chicken using the sauté function, then follow the recipe instructions, adjusting the cooking times and liquid amounts accordingly. However, be mindful of the pasta's cooking time, as it may require additional adjustments in an Instant Pot.
Can I add vegetables to the dish? Absolutely! This recipe provides a great opportunity to incorporate vegetables into your meal. Consider adding sautéed mushrooms, bell peppers, or even roasted cherry tomatoes for added flavor and nutritional value. Just ensure that the vegetables are cooked to your desired tenderness before adding them to the dish.
Can I substitute the chicken with another protein? Certainly! If you prefer a different protein, such as shrimp or diced cooked ham, you can easily substitute them for chicken breasts. Adjust the cooking times accordingly to ensure that the protein is fully cooked and integrated into the dish.
Can this pasta recipe be frozen? Yes! Freeze the cooled pasta in an airtight container for up to 3 months.
How can I reheat leftovers? Leftovers can be reheated in the microwave or on the stovetop. Add a splash of chicken stock or cream to the pasta while reheating to prevent it from drying out. Stir occasionally to ensure even heat distribution. Adjust the reheating time based on personal preference and the number of leftovers.

What to Serve with Chicken Penne Pasta
We l love to serve this dish with warm, crusty garlic bread and a fresh green salad or a Caprese Salad on the side. These Air Fryer Brussels Sprouts would also be a wonderful addition.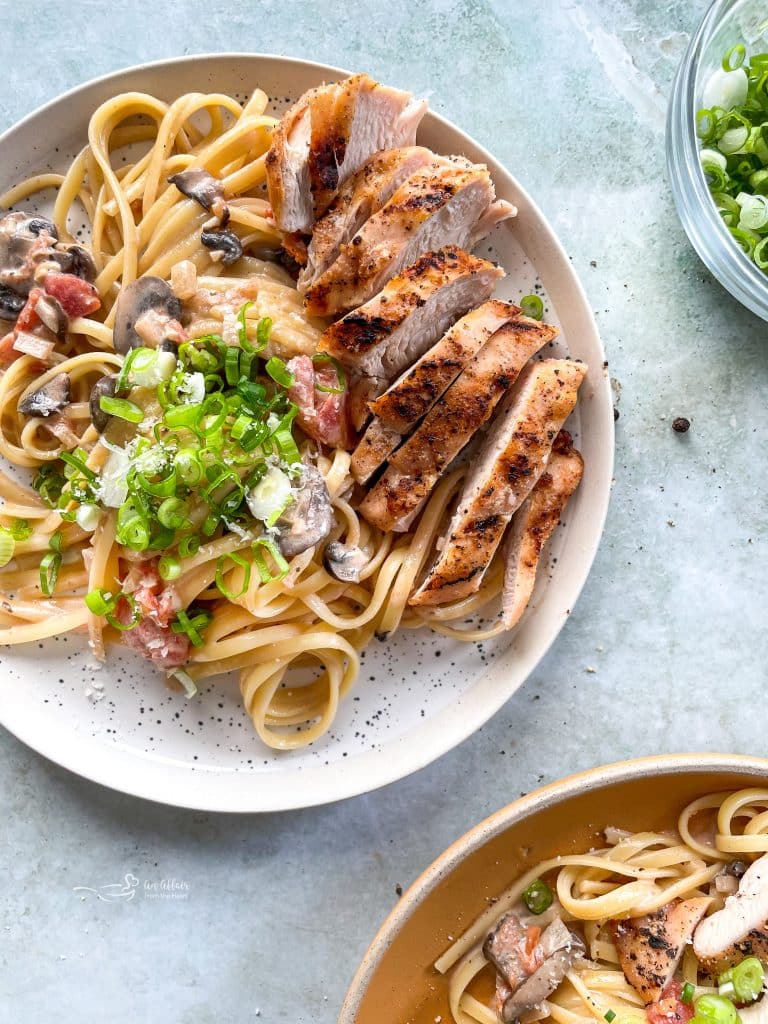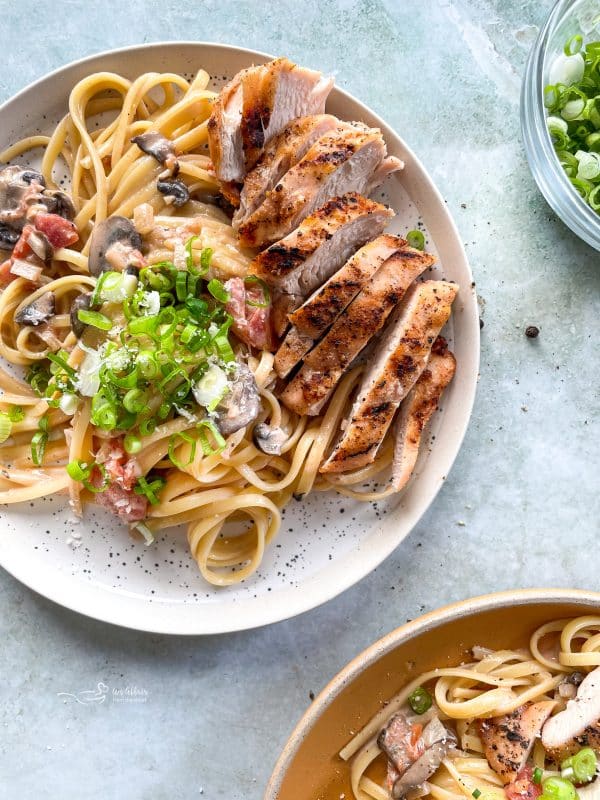 Easy Pasta Recipes
Chicken pasta is a go-to for us on busy nights, but there are all sorts of ways to enjoy a simple, yet wholesome pasta meal with all sorts of proteins: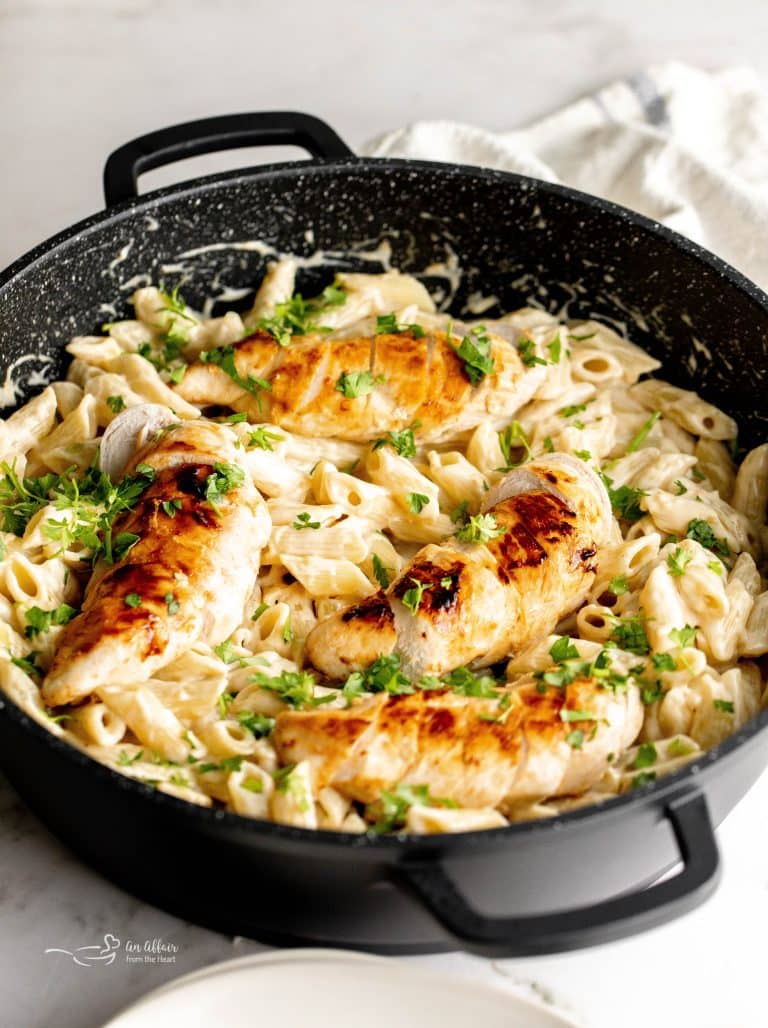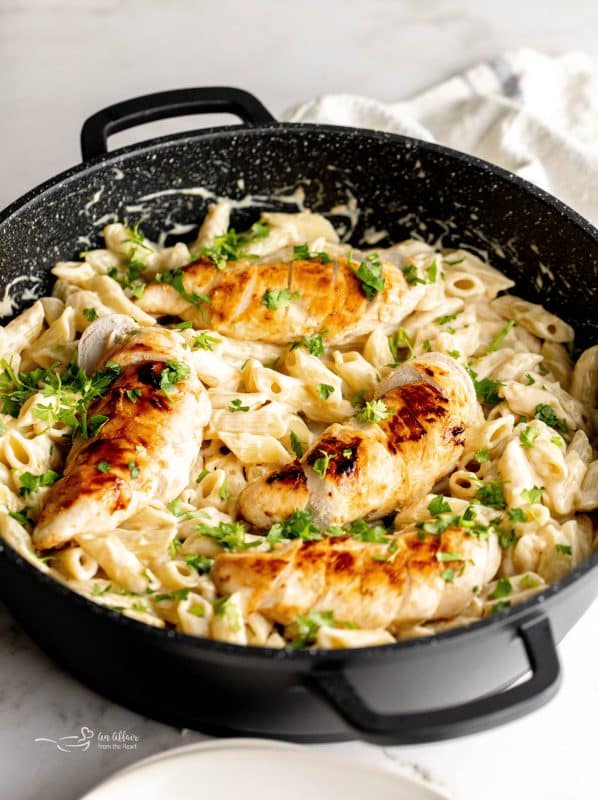 In conclusion, our creamy chicken penne pasta recipe is a complete meal that checks all the boxes: delicious, comforting, and easy to prepare. It's a family favorite that will please even the pickiest eaters. With its creamy garlic sauce, tender chicken, and perfectly cooked pasta.

Yield: 8 servings
Creamy Chicken Penne Pasta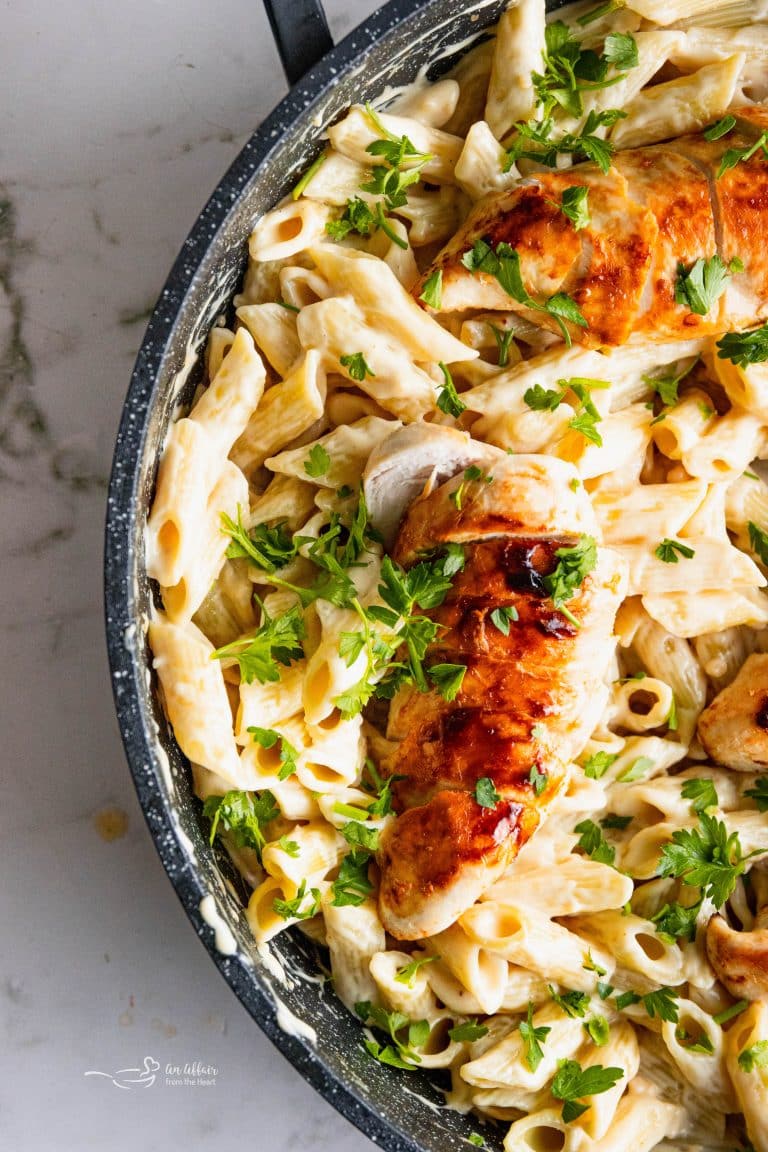 Tantalize your taste buds with mouthwatering Creamy Chicken Penne Pasta! This yummy dish combines tender chicken, perfectly cooked penne pasta, and a smooth, creamy sauce. It's a simple, comforting one-pot meal, ready in 30 minutes!
Ingredients
1 pound penne pasta, cooked al dente
4 large chicken breasts
1 teaspoons salt
1 teaspoons black pepper
1 Tablespoons olive oil
1/2 cup butter, cubed
6 garlic cloves, minced
2 Tablespoons flour
1 1/2 cups heavy cream
1 cup chicken broth
3/4 cup parmesan cheese, grated
Instructions
Cook the penne pasta according to the package instructions, then drain and set it aside.
Heat a large skillet over medium heat and add the olive oil. Place the chicken breasts in the skillet and cook them until they turn golden brown and are cooked through. Remove the chicken from the pan and set it aside.
Add the minced garlic and cubed butter to the skillet, and cook for about 1-2 minutes.
Sprinkle the flour into the skillet and cook it for about 30 seconds, stirring continuously.
Pour in the heavy cream, chicken broth, and grated parmesan cheese. Stir everything together until well combined, and let the mixture simmer for a few minutes until it thickens slightly.
Add the cooked penne pasta into the creamy sauce and stir until the pasta is fully coated.
Slice the cooked chicken breasts and serve them on top of the pasta. You can garnish with freshly chopped parsley if desired.
Recommended Products
As an Amazon Associate and member of other affiliate programs, I earn from qualifying purchases.
Nutrition Information:
Yield:
8
Serving Size:
1
Amount Per Serving:
Calories:

509
Total Fat:

35g
Saturated Fat:

20g
Trans Fat:

1g
Unsaturated Fat:

12g
Cholesterol:

141mg
Sodium:

698mg
Carbohydrates:

23g
Fiber:

1g
Sugar:

2g
Protein:

27g
Please note that nutrition is not guaranteed accurate.