Easy Weeknight Chicken Parmesan Bake (5 ingredients!)
As an Amazon Associate and member of other affiliate programs, I earn from qualifying purchases.
This Easy Chicken Parmesan recipe is perfectly tender, robust, savory, cheesy, and everything comforting! Family-friendly and ready within minutes, this baked weeknight chicken parmesan is the best! With a jar of spaghetti sauce, frozen breaded chicken tenders, and cooked pasta, you'll have a super delicious dinner ready to be enjoyed in no time!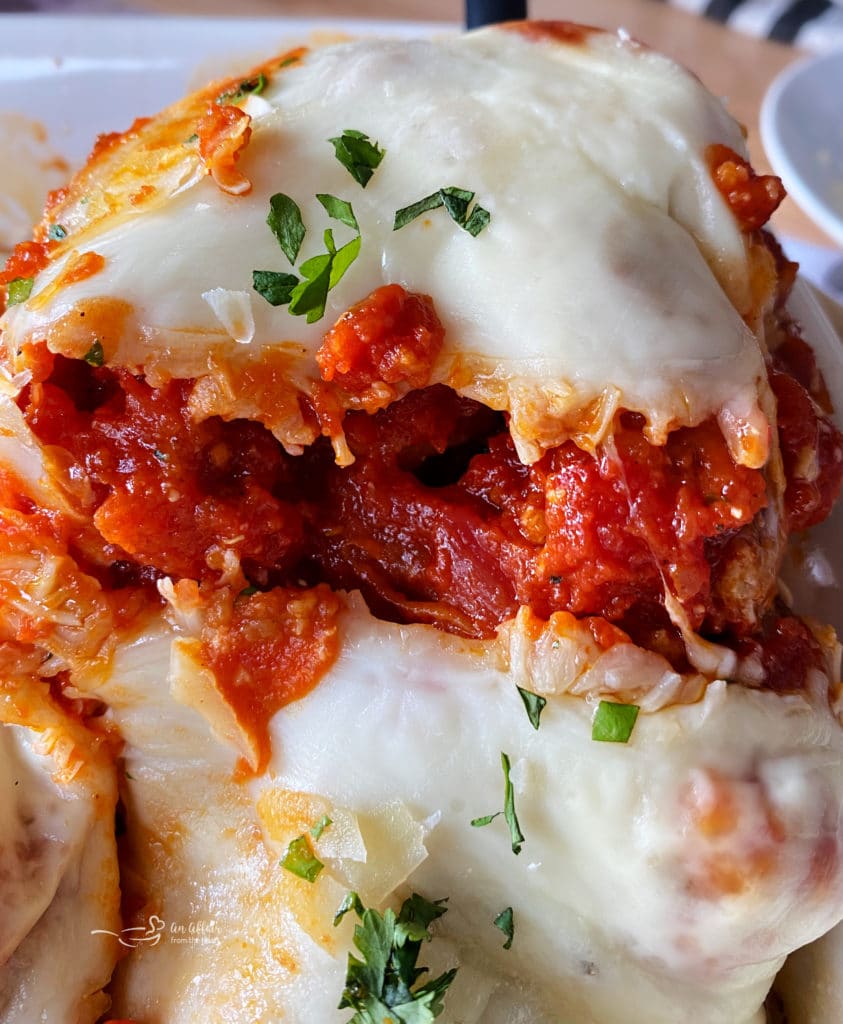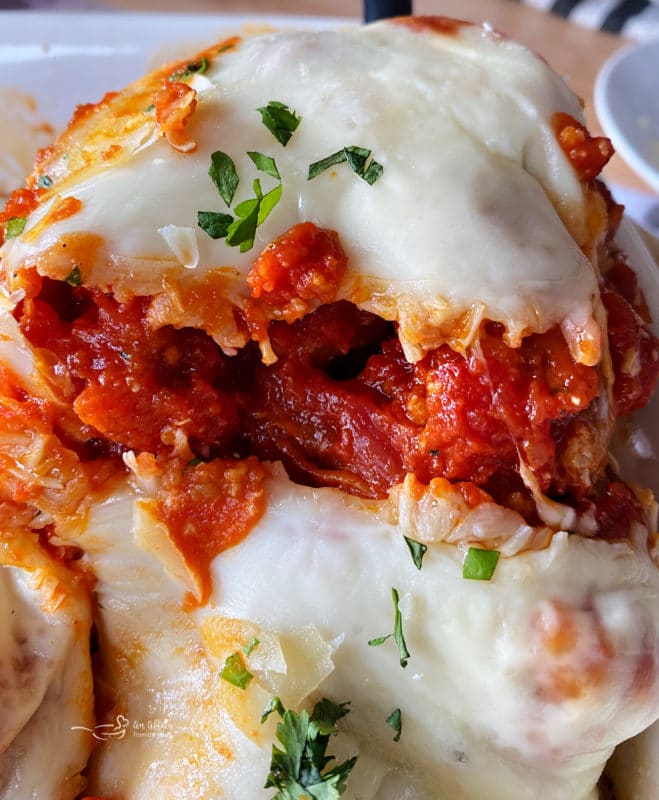 Best Weeknight Parmesan
Is it just me, or is there something incredible about melted mozzarella cheese mixed with tomato sauce and tender chicken? I like to use my homemade marinara sauce for this incredible chicken parmesan for extra flavor and an added touch of love. This recipe is so easy because it's made with frozen chicken tenders that can be prepared within minutes!
This cheater chicken parmesan recipe is one of my favorites because it's filled with rich cheeses that pair perfectly with tomato sauce and chicken. Not only does this recipe come together in less than 40 minutes, but it's just so simple to prepare, too!
Easy Weeknight Meals for the Win
Fall and back to school has parents everywhere filling their calendars up with activities and wondering "What's for dinner?" Easy weeknight meals like this Easy Weeknight Chicken Parmesan Bake are a staple in most homes during the school year. It's still a homemade, hot meal, not fast food, and it's on the table in about 35 minutes from prep to serving!
Back in the day, when I first made this recipe, I was one of those Moms that was so grateful for simple meals like that. Having the family around the dinner table is one of our family's favorite times of the day. Yes, we all get busy, and yes, there were nights when we couldn't all be together due to school, sports activities, and jobs, but my kids knew we will have dinner every night as a family for who is able to be there. Connecting with my kids over dinner makes my heart happy.
Crockpot meals and one-pot meals made our lives simpler and give us that time to spend together. Aside from the pasta this whole meal cooks in one 9×13 baking dish!
Easy to Make for Two
These days, we are adjusting to "empty nest syndrome," and I have to tell you that cooking for two people when you are most comfortable cooking for 6+ is a huge adjustment! But this chicken parmesan recipe is super easy to make for two people, too. Just reduce the amount of chicken, cheese, and sauce, the baking time is the same.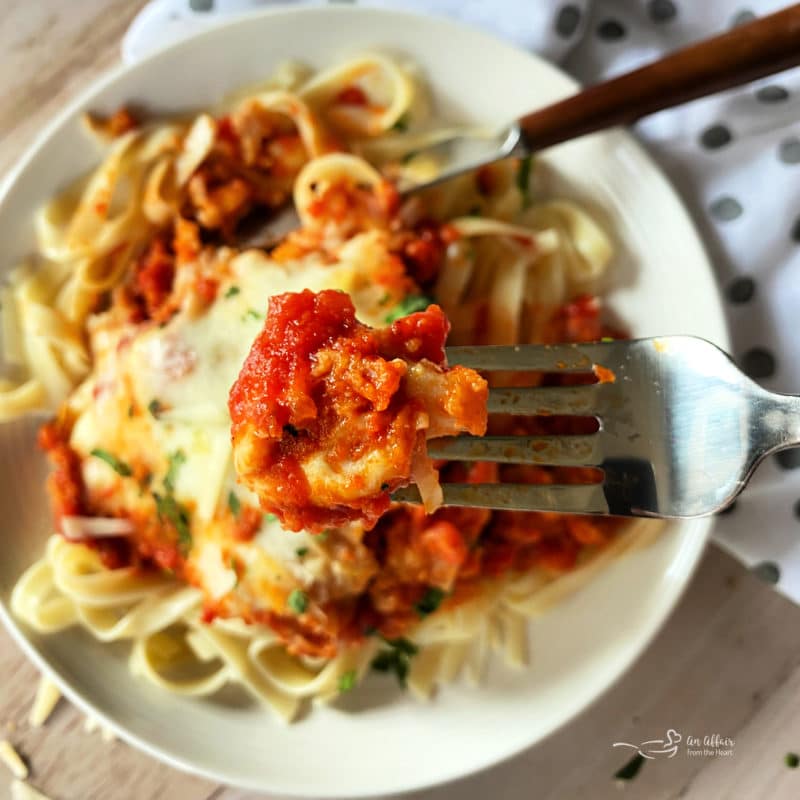 Why This Recipe Works
Easy: With only a few steps, this easy chicken parmesan recipe will be ready in no time! This is one of my ALL TIME favorite recipes to cook on the busiest of weeknights when I need to quickly get dinner on the table!
Delicious: The warm and smooth tomato sauce makes the chicken tenders juicy and full of flavor. Parmesan and mozzarella cheeses are melted to perfection create a creamy sauce with the tomatoes and pasta.
Classic: Whenever you're craving a classic Italian recipe that is mouthwatering and delicious in all types of ways, this recipe definitely hits the spot! Serve this chicken parmesan with your choice of noodles for a classic Italian meal.
Ingredients
Spaghetti Sauce– Storebought spaghetti or marinara sauce makes this recipe super simple to make. For an extra bit of love and a homemade touch try it with my own homemade marinara sauce.
Chicken– I like to use Tyson's Frozen Breaded Chicken Tenders because they're easy to prepare and taste SO delicious! You would never guess they're frozen!
Parmesan Cheese– I like to use freshly grated parmesan cheese because it adds the perfect amount of cheesiness. There are so many positives about grating your own cheese–aside from being more economical, it melts so much nicer, too!
Mozzarella Cheese– I used sliced mozzarella this time, but shredded mozzarella works, too!
Pasta– Get creative here! You can use ANY kind of pasta just make sure it's cooked! Feel free to use bowtie, penne, spaghetti, shells, etc.
How to Make the Best Chicken Parmesan
This recipe is incredibly easy and perfect for those nights when you don't have a lot of extra time to cook! The family will LOVE this classic comfort dish!
Be sure to follow the steps from left to right and top to bottom for the best results.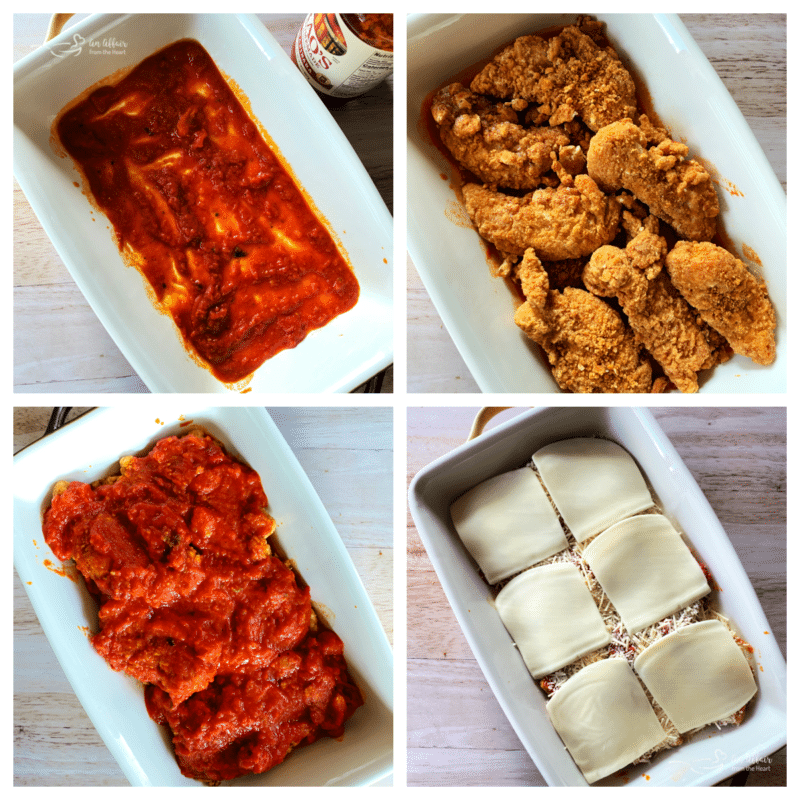 Step One – Sauce the Pan
First, preheat the oven to 375 degrees Fahrenheit and spray a 9×13-inch baking dish with non-stick cooking spray. Be sure to cover the entire surface so the chicken parmesan doesn't stick!
Step Two – Layer the Frozen Breaded Chicken Tenders
Next, layer the frozen chicken on top of the tomato sauce. Pour the rest of the sauce over the chicken. You want to make sure to coat all of the chicken with the sauce so the chicken stays moist and soaks up all those tomato flavors.
Step Three – Cover with Cheese and Bake
Finally, cover the chicken parmesan with parmesan and mozzarella cheeses. Cover the dish with aluminum foil and bake the chicken for 20 minutes.
Uncover the parmesan chicken and bake for an additional five to eight minutes until the cheese is nice and bubbly.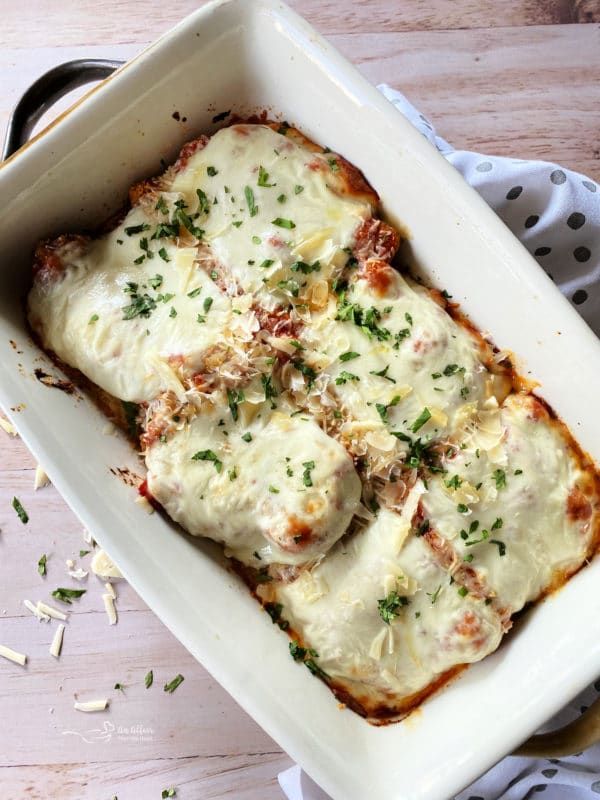 Finally, serve the finish over cooked pasta and sprinkle with additional parmesan cheese if desired.
Enjoy with the family for a classic Italian meal! The kids will love it, too!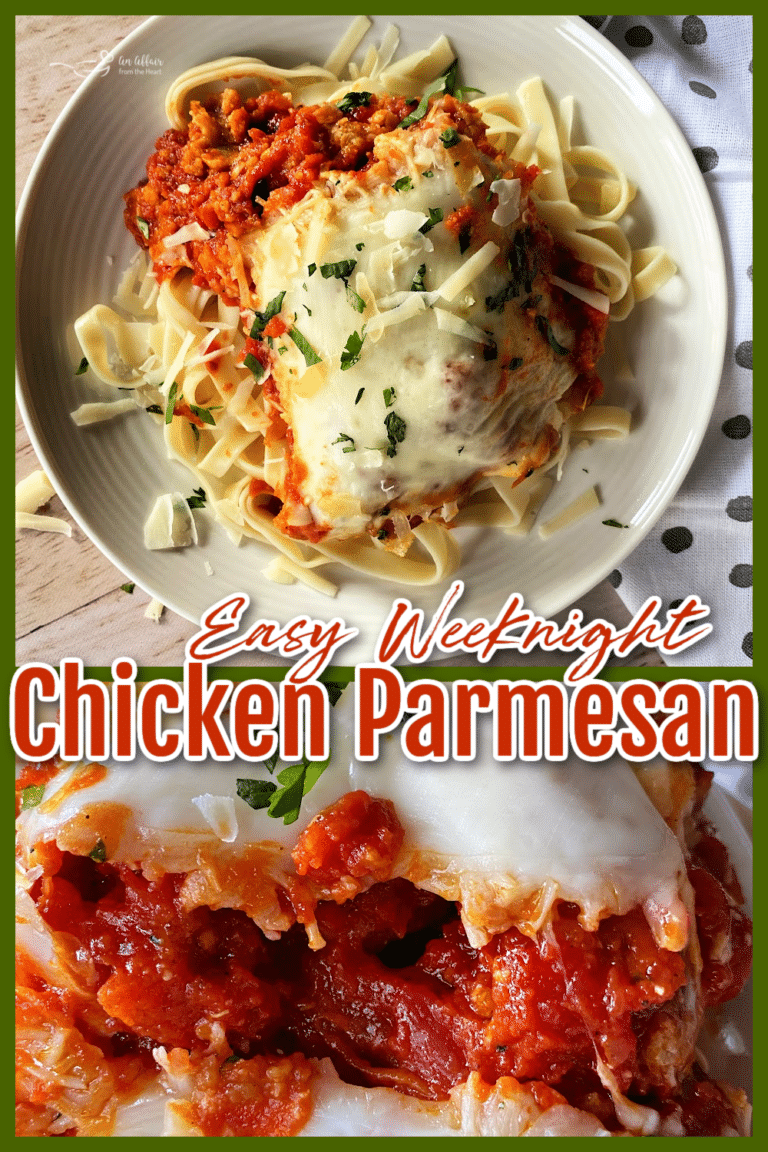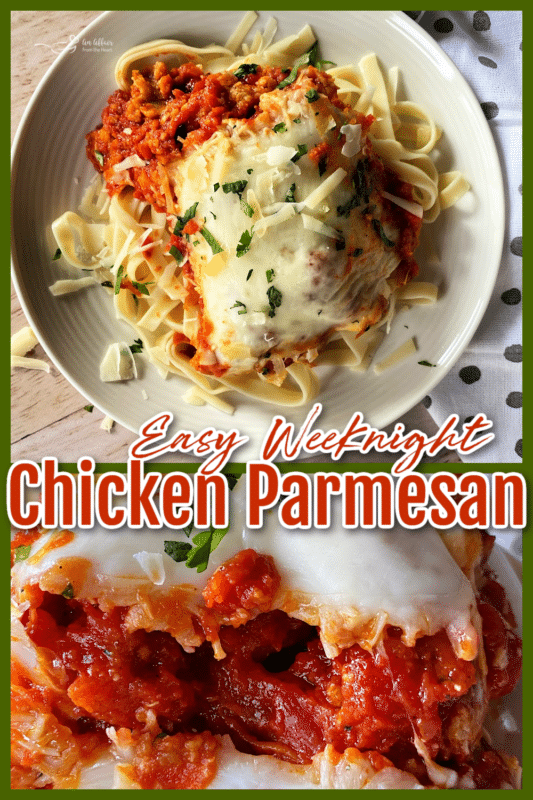 Want to Make Baked Cheater Chicken Parmesan? Pin it for Later!
If you want to save this recipe and serve it to yourself and your loved ones, then be sure to save this chicken parmesan recipe for later! Seriously, you won't regret it!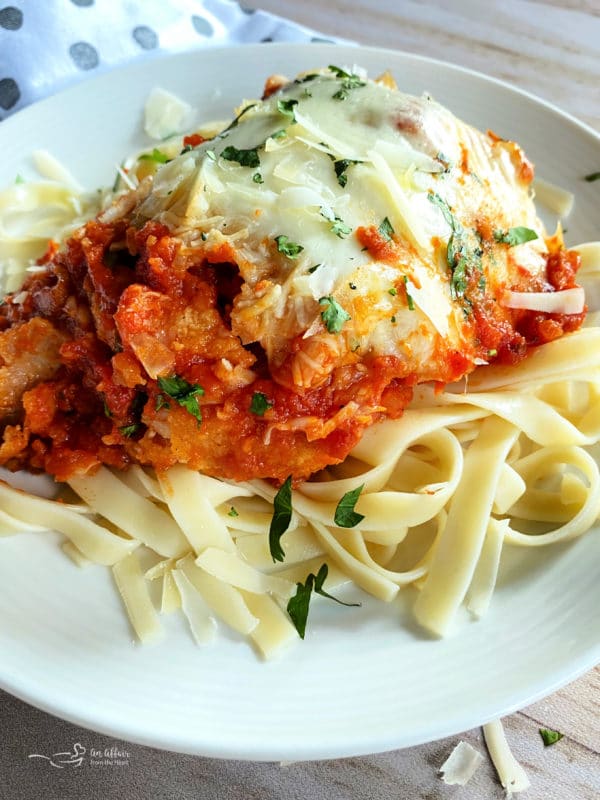 Tips
To make sure the chicken is fully preheated and cooked, be sure to use a meat thermometer to check the internal temperature of the frozen tenders.
Serve this recipe with freshly chopped parsley for extra flavor.
Store the leftovers in an airtight container in the refrigerator for up to four days.
Instead of frozen chicken tenders, use cooked chicken breasts.
Be sure to use my homemade marinara sauce for extra flavor, but to save on time, use a jar of spaghetti sauce.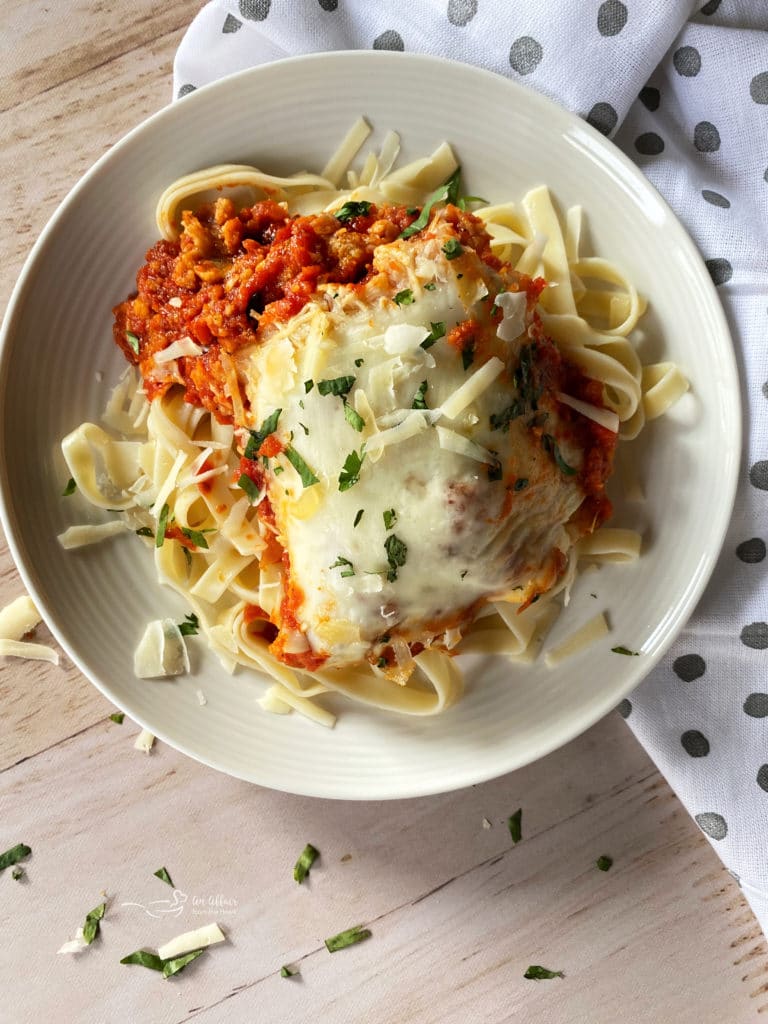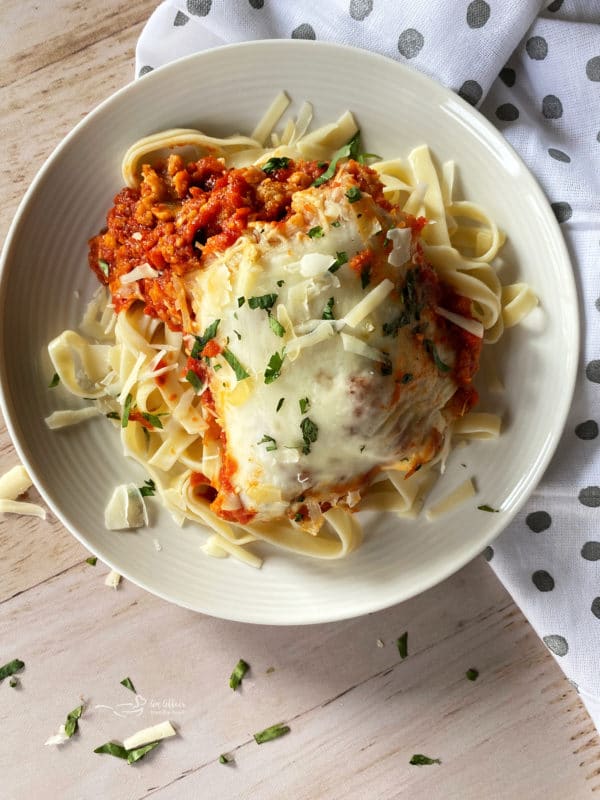 What to Serve with This Recipe
We love to enjoy this baked chicken parmesan with my four-cheese roasted garlic bread, toast, or homemade or store-bought dinner rolls. Serve this chicken recipe with a variety of side dishes, veggies, and salads. There are so many options! My favorite side dishes to serve with this recipe are my three cheese-fried risotto balls or a nice green salad with Italian dressing served in my Parmesan Cheese Bowls!

More Easy Recipes You Will Love
Love Chicken Recipes?? Here's a great "Family Favorites – Chicken Recipe Roundup" for you to browse!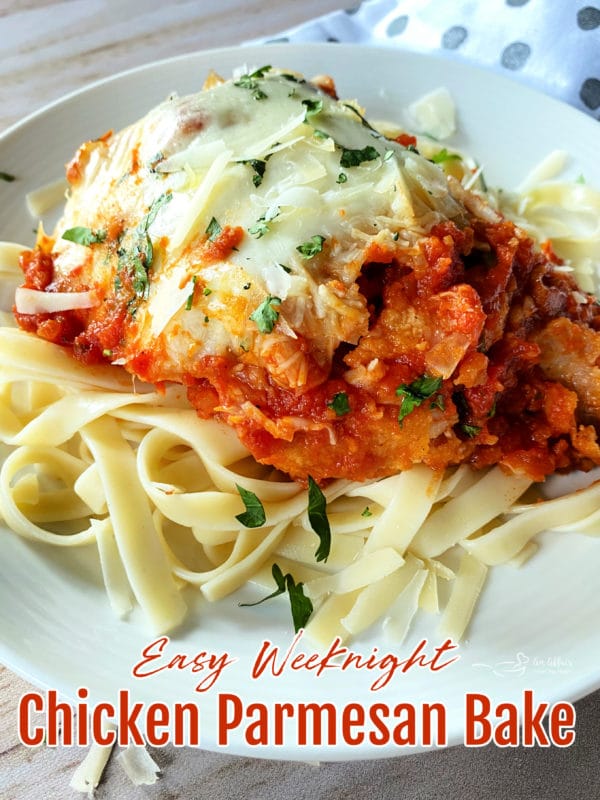 Let's bake up this simple meal, and gather our family around the table!

Yield: 6
Easy Weeknight Chicken Parmesan Bake (5 ingredients!)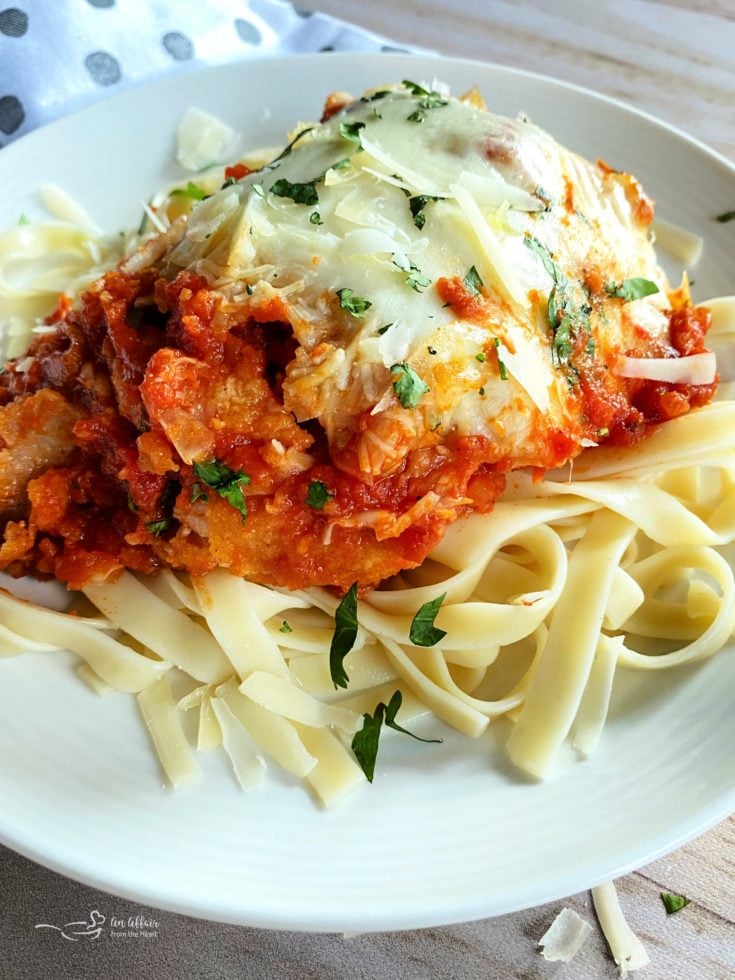 From prep to table in less than 45 minutes this 5 ingredient Easy Chicken Parmesan Bake is a winner for those busy weeknights!
Ingredients
1 (2#) jar spaghetti sauce
1 (25 oz) Bag Frozen Breaded Chicken Tenders (I used Tyson)
1 cup fresh shredded Parmesan cheese
6 slices Mozzarella cheese
1 (16 oz) pasta noodles, cooked, drained and rinsed
Instructions
Preheat oven to 375 degrees.
Spray a 9x13 baking dish with non-stick cooking spray.
Pour a small amount of sauce in the bottom of your dish and spread to cover.
Lay frozen chicken on top of the sauce.
Pour the rest of the sauce over the chicken.
Sprinkle with Parmesan cheese.
Top with sliced Mozzarella cheese.
Cover with foil and bake for 20 minutes, uncover and bake for an additional 5-8 minutes or until cheese is bubbly.
Serve over pasta. Sprinkle with additional Parmesan if desired.
Recommended Products
As an Amazon Associate and member of other affiliate programs, I earn from qualifying purchases.
Nutrition Information:
Yield:
6
Serving Size:
1
Amount Per Serving:
Calories:

203
Total Fat:

12g
Saturated Fat:

6g
Trans Fat:

0g
Unsaturated Fat:

4g
Cholesterol:

35mg
Sodium:

549mg
Carbohydrates:

10g
Fiber:

1g
Sugar:

2g
Protein:

14g
Nutrition isn't always accurate.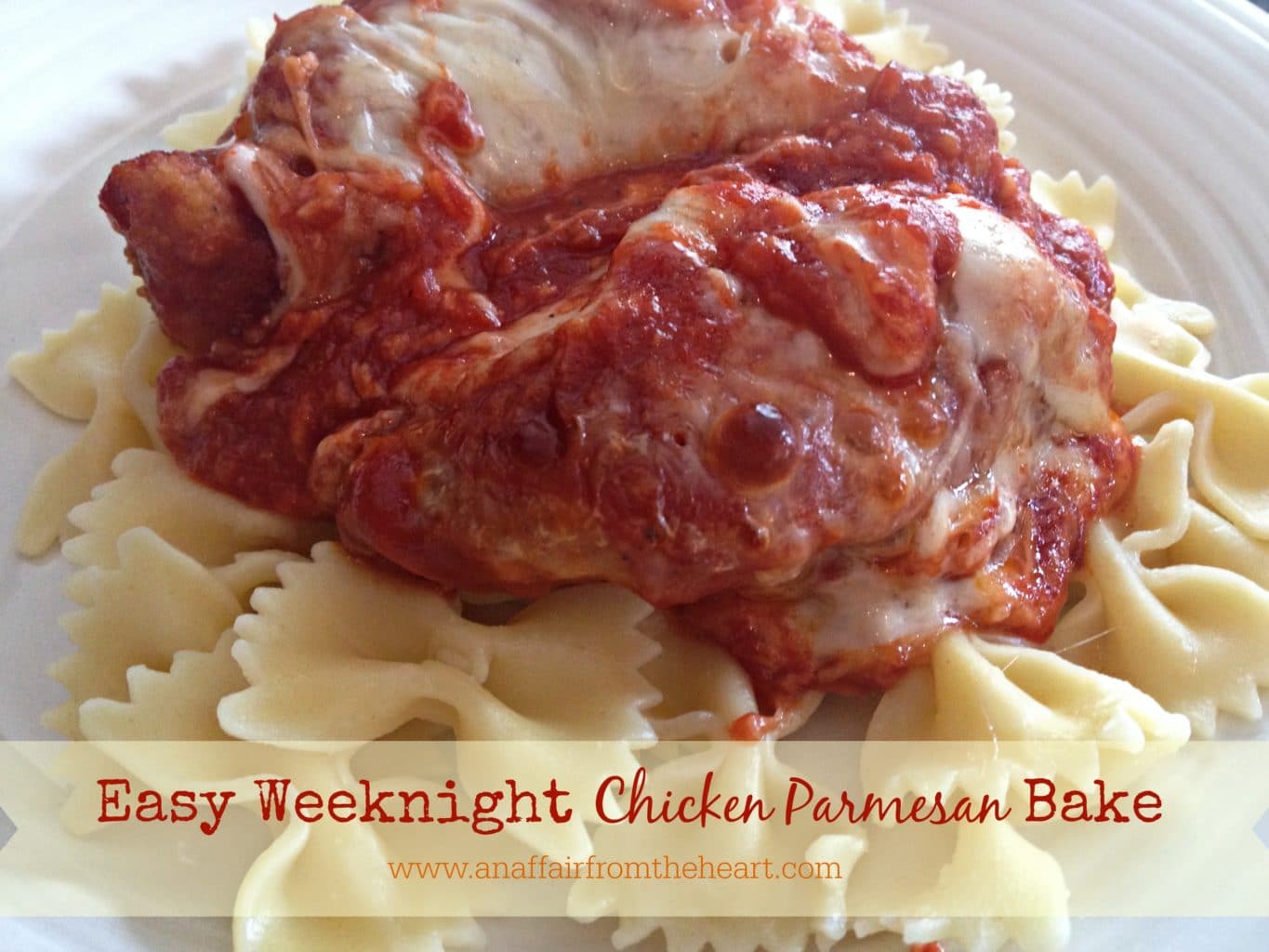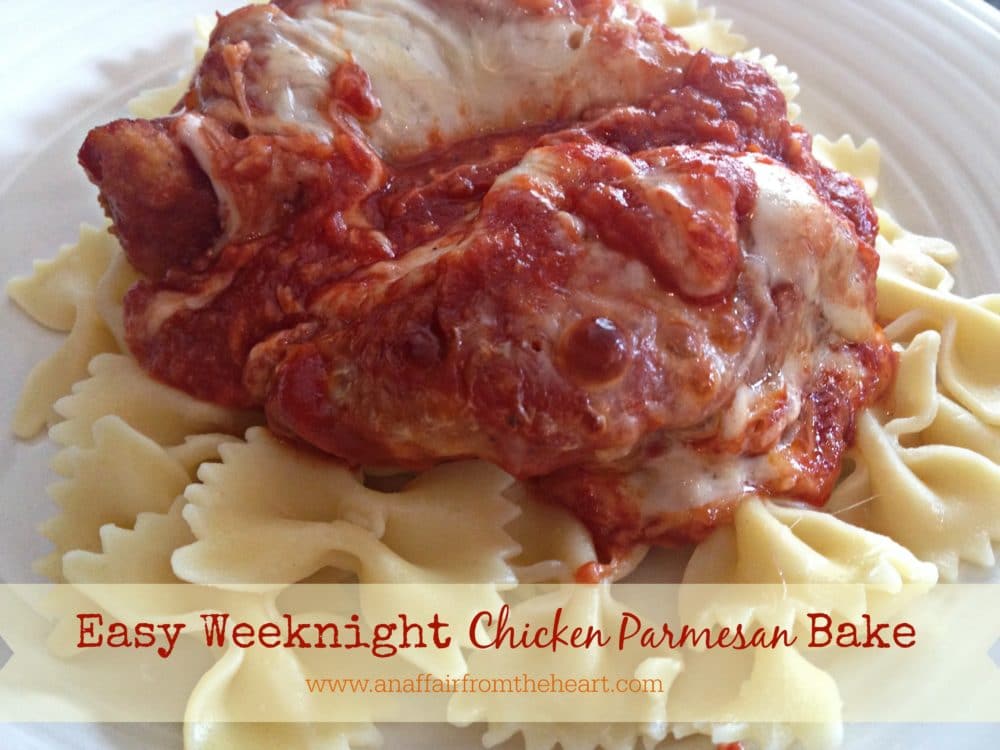 This recipe was originally posted on August 8, 2014. It was updated to improve user experience and reshared on October 26, 2021.