French Onion Soup
As an Amazon Associate and member of other affiliate programs, I earn from qualifying purchases.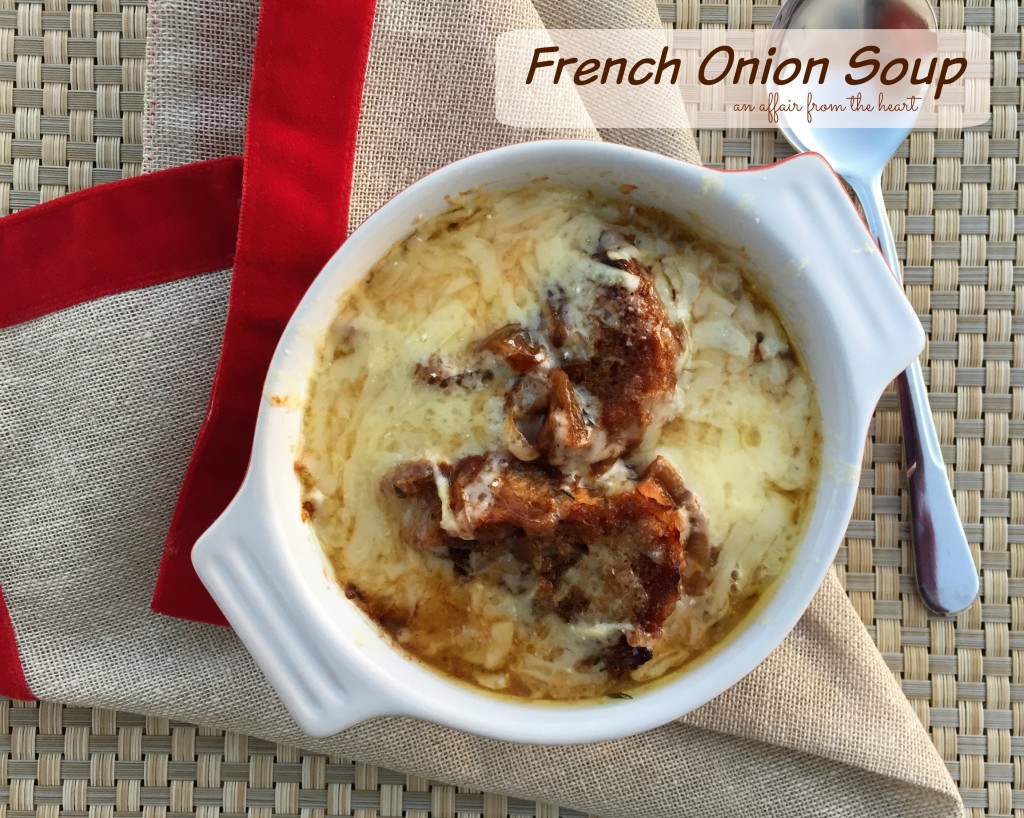 If you have followed me for long, you know that we love soup. We eat it year round, and usually once per week at least. There is just something so comforting to me about a steaming bowl of homemade soup. French Onion Soup has always been a favorite of mine. It always has such a pretty presentation — and aside from a while for sauteing – really isn't "hard" to make. It really only has a few, pretty basic ingredients.
Lots of onions, I used six for mine, that cook down to a caramelized coat of deliciousness in the bottom of the pan, beef stock, dry sherry, Gruyere Cheese, French baguette and a few spices.
I always add a little Kitchen Bouquet to mine to richen up the broth. If you have never used it, pick some up and try adding to your dark sauces, broths and gravies. I initially purchased it when I made Salisbury Steak Meatballs, but also added to my Vegetable Beef, Barley and Mushroom Soup and my Philly Cheese Steak Sloppy Joe's. I love how it just adds a little something extra!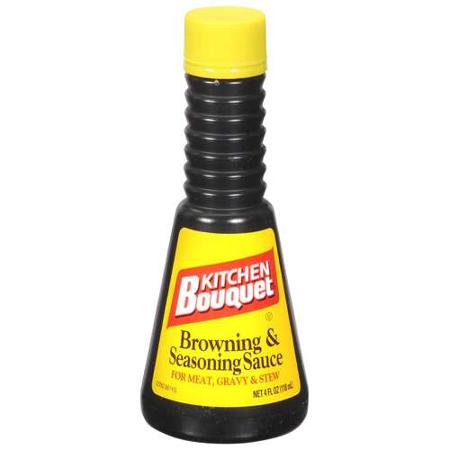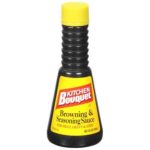 This is what you're looking for.
A couple of years ago I bought some fun little crocks to make this soup in. They are brightly colored on the outside and white on the inside, and sort of shallow, so the bread gets that perfect "toast" to the top, surrounded by that melty Gruyere Cheese!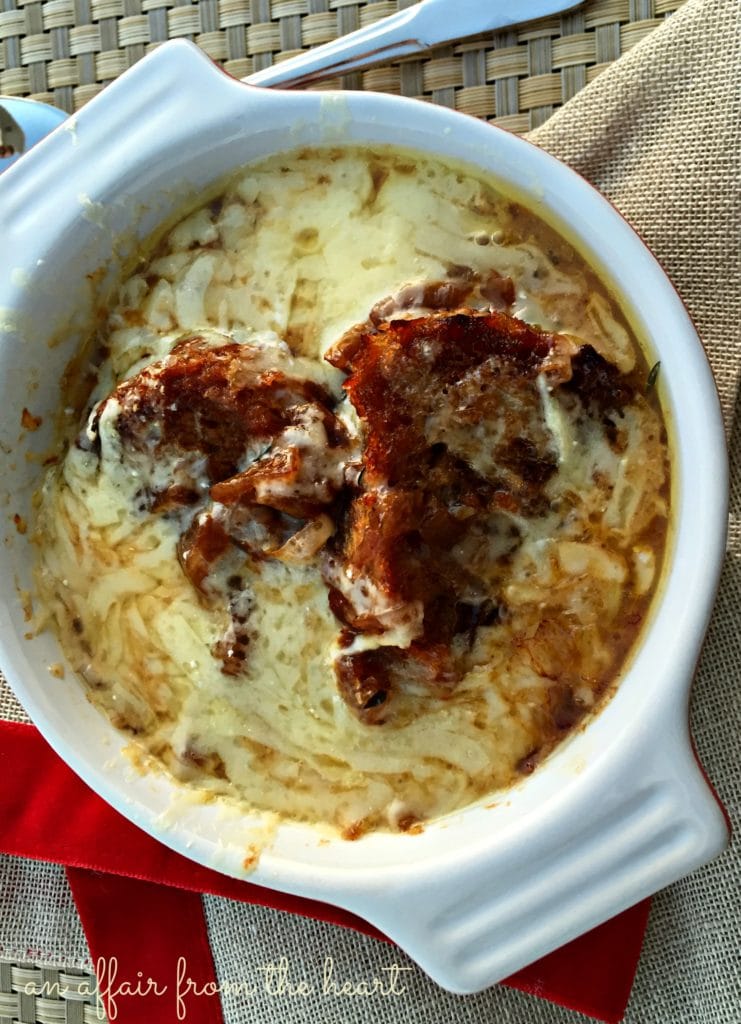 For some reason though, I never took the time to take the photos or blog the recipe to share. Well, that is, until now.
So, whether you are having a dinner party, or a Thursday night meal for your family (like we did here), this is a great addition to your recipe file. It makes a great meal, or a preface to one. Aside from the broiling at the end, everything can be made ahead.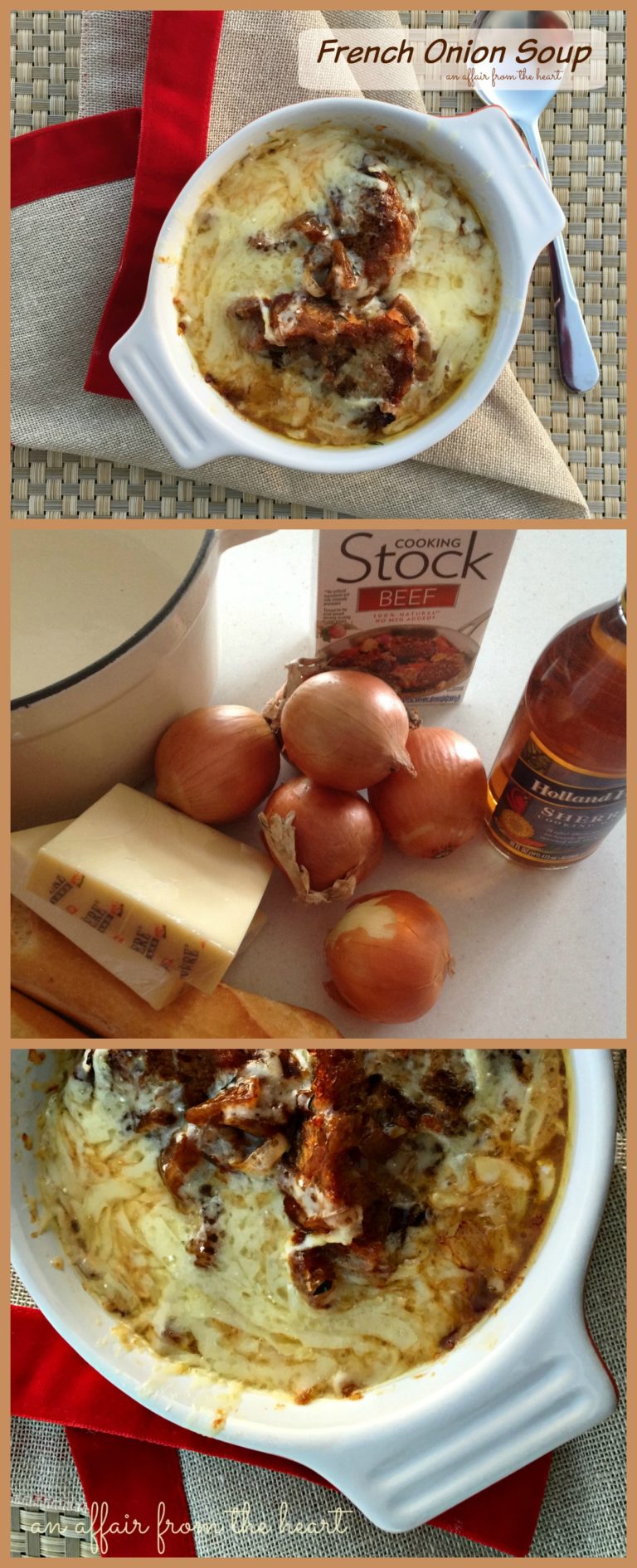 Yield: Serves 6
French Onion Soup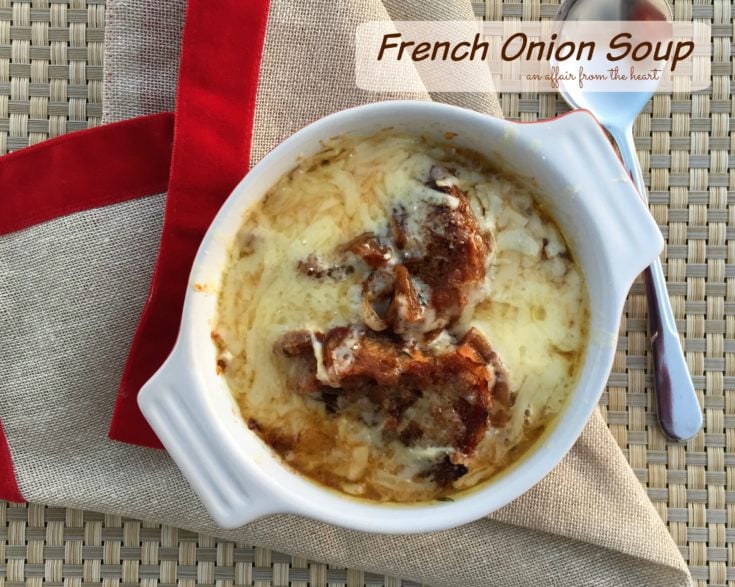 Classic French Onion Soup is made easily at home using basic ingredients. It bakes up to a bubbly cheesy perfection with toasted French bread.
Additional Time
40 minutes
Total Time
1 hour
55 minutes
Ingredients
2 Tablespoons butter
3 Tablespoons Olive Oil
6 small yellow onions, sliced, and separated into rings
2 Tablespoons dry Sherry
1 Tablespoon Worcestershire Sauce
1 Tablespoon Kitchen Bouquet
1/4 teaspoon dried thyme
1 1/2 teaspoon salt
1/2 teaspoon pepper
2 (32 ounce sized) Beef Stock
French baguette bread sliced into 1/2" pieces. (2-3 slices per bowl)
10 ounces Shredded Gruyere Cheese
Instructions
In a stock pot, or dutch oven over medium heat, heat oil and butter. Add onions and cook for about 15 minutes stirring frequently. Onions will become caramel colored. Reduce the heat to medium low, cover the pot, and continue cooking for another 20 minutes or so, stirring occasionally.
Add sherry to pot, cook over high heat until sherry evaporates.
Stir in Worcestershire Sauce, Kitchen Bouquet, beef stock, thyme, salt and pepper. Simmer, covered for 20 minutes.
Add sliced bread to a baking sheet and spritz with a little spray butter on each side. (or lightly butter) Bake in oven on 350 degrees for about 10-15 minutes. Until bread is golden brown and toasted, turning it over once, half way through. Cool.
Ladle soup into oven safe crocks or bowls, arranged on a baking sheet. Add 2-3 pieces of bread, top with cheese, and place in oven, about 6" beneath broiler, set to high broil and broil for about 2-5 minutes. Tops will become brown and bubbly.
Serve immediately.
Nutrition Information:
Yield:
6
Serving Size:
1
Amount Per Serving:
Calories:

500
Total Fat:

29g
Saturated Fat:

14g
Trans Fat:

0g
Unsaturated Fat:

14g
Cholesterol:

67mg
Sodium:

1355mg
Carbohydrates:

38g
Fiber:

2g
Sugar:

6g
Protein:

22g
Nutrition isn't always accurate.
Come back and tell me if you try it! I love to hear your feedback!