Slow Cooked Chicken Enchilada Soup
As an Amazon Associate and member of other affiliate programs, I earn from qualifying purchases.
Slightly spicy and full of robust flavor, this Chicken Enchilada Soup is easy to make and will warm you from your head to your toes!
This post is sponsored by Taste of Home in conjunction with Blog Meets Brand, and I have been compensated for my participation. All opinions are my own.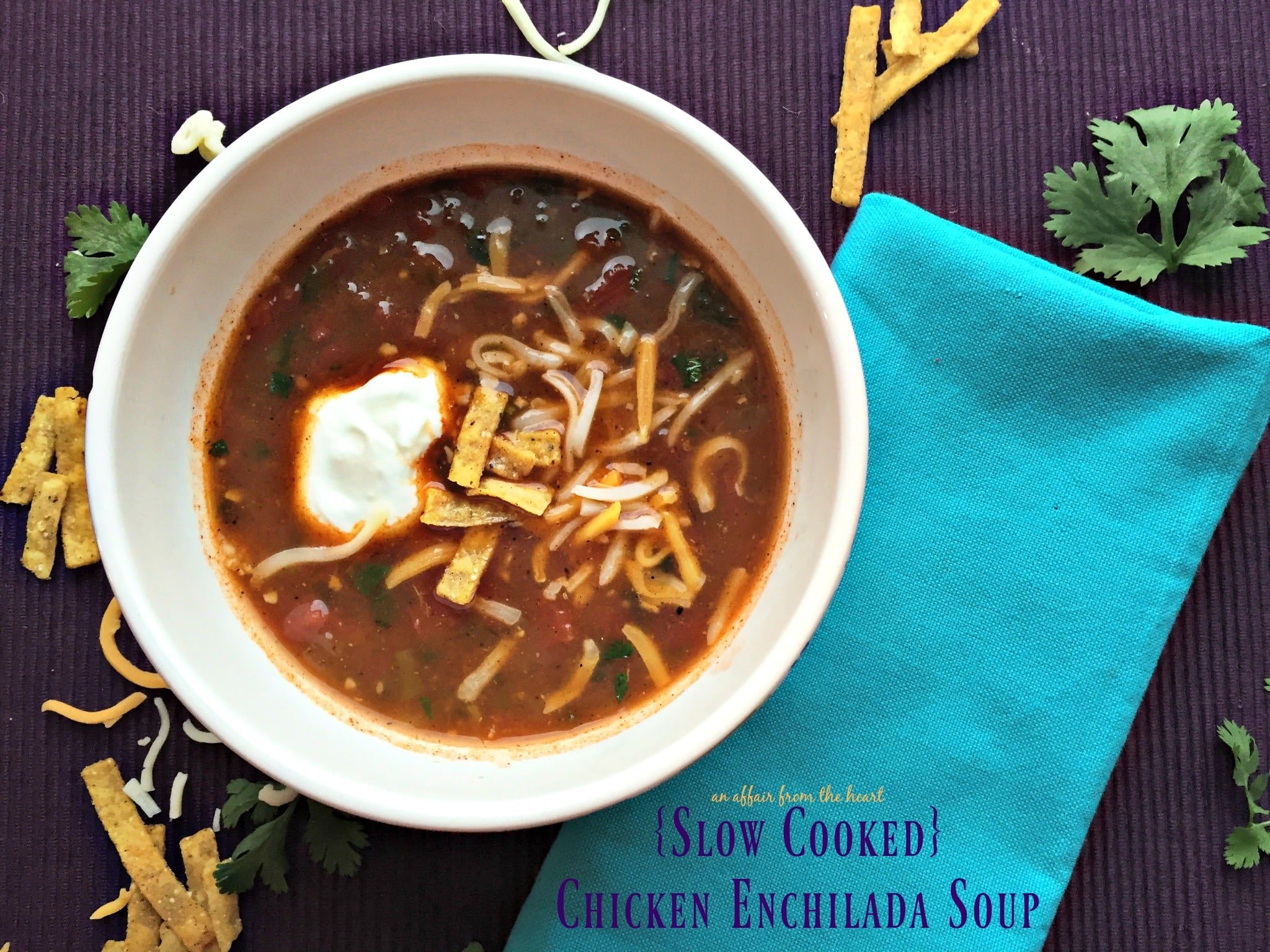 "Hello, my name is Michaela, and I am a self-proclaimed soup addict."
Seriously, it doesn't take cooler temps to get my stomach hungry for soup. I am one of those people that eats it year 'round. However … my husband isn't really one of those people, so the cooler temps make it more acceptable to him. I mean, it doesn't bother me a bit to eat a steaming bowl of chili when it's 105 outside, but him, not so much.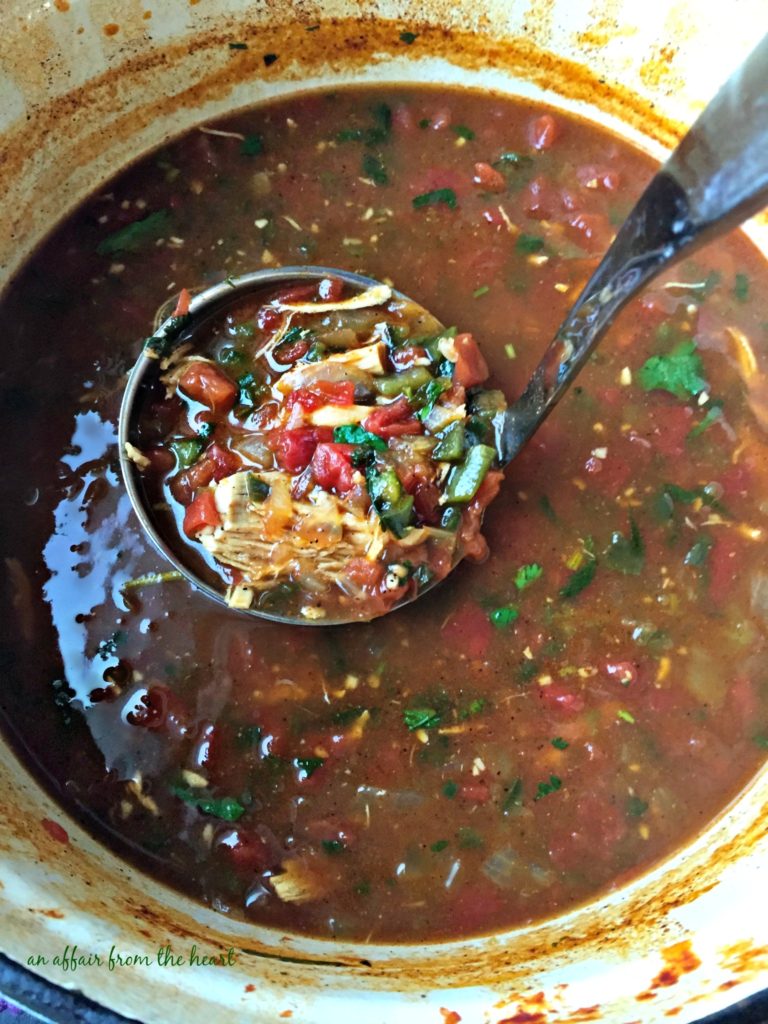 Now that the evenings are cooler, and Fall is starting to make it's move, I will have soup on the menu a couple times per week. So, when I can find a new one to throw into the rotation, I am all for it!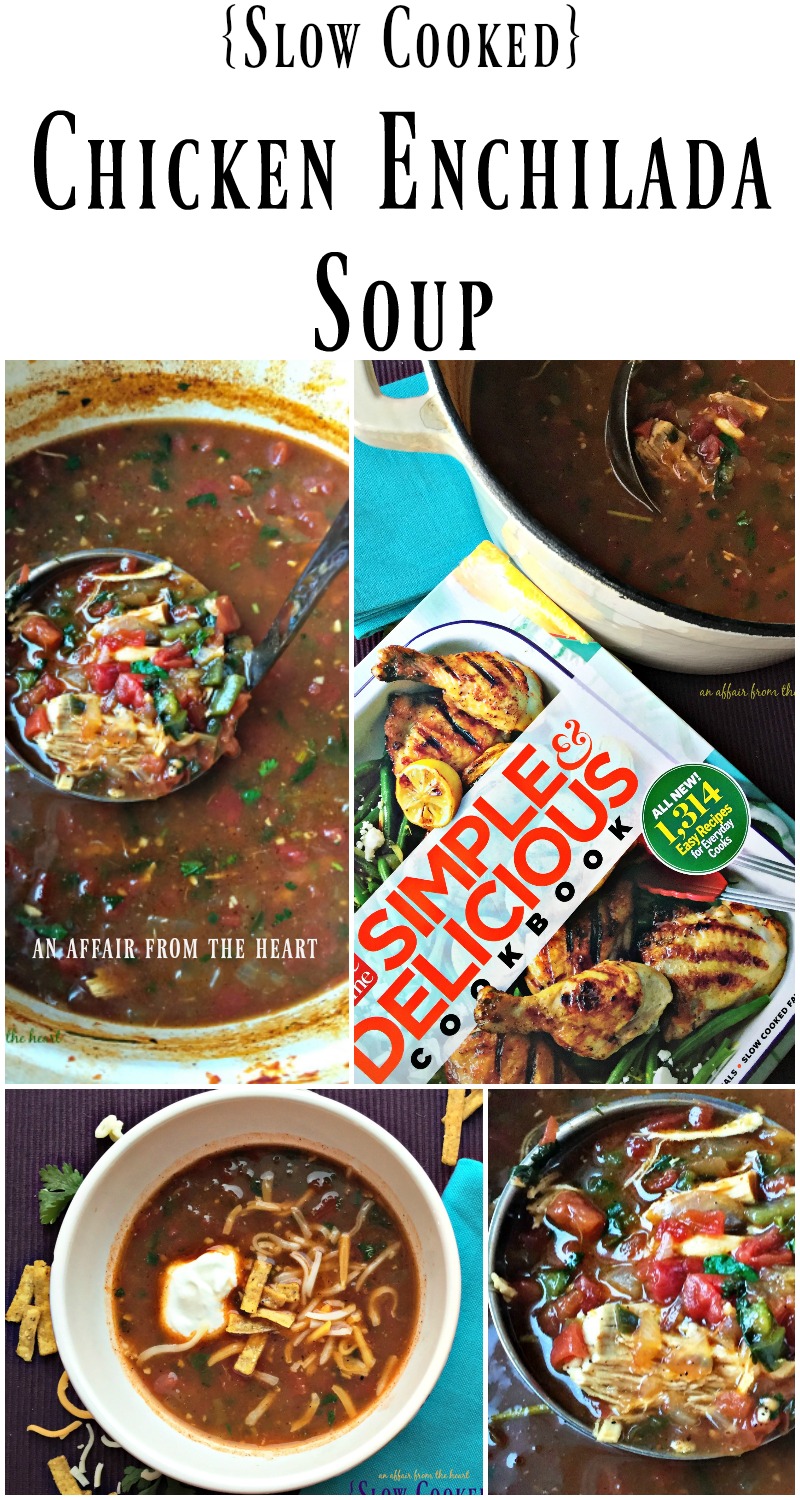 Recently I was given the opportunity to review a new cookbook called Simple & Delicious by Taste of Home. I have subscribed to their magazines for years, and I knew I couldn't pass up the chance. As of yesterday, September 13, 2016, it's available to the public, too. I highly recommend you grab a copy!
Even the cover is appetizing! I loved it right away, when I opened it to reveal all of the fun categories. Sure, there are the basic categories most cookbooks offer, breads, casseroles, side dishes, desserts, etc. But mixed in between you will find sections like Cook once- Eat twice, Finished in 15, Make Ahead Magic and Potluck Perfect — just to name a handful. The recipes are family friendly, and the ingredients are pretty basic to most kitchens.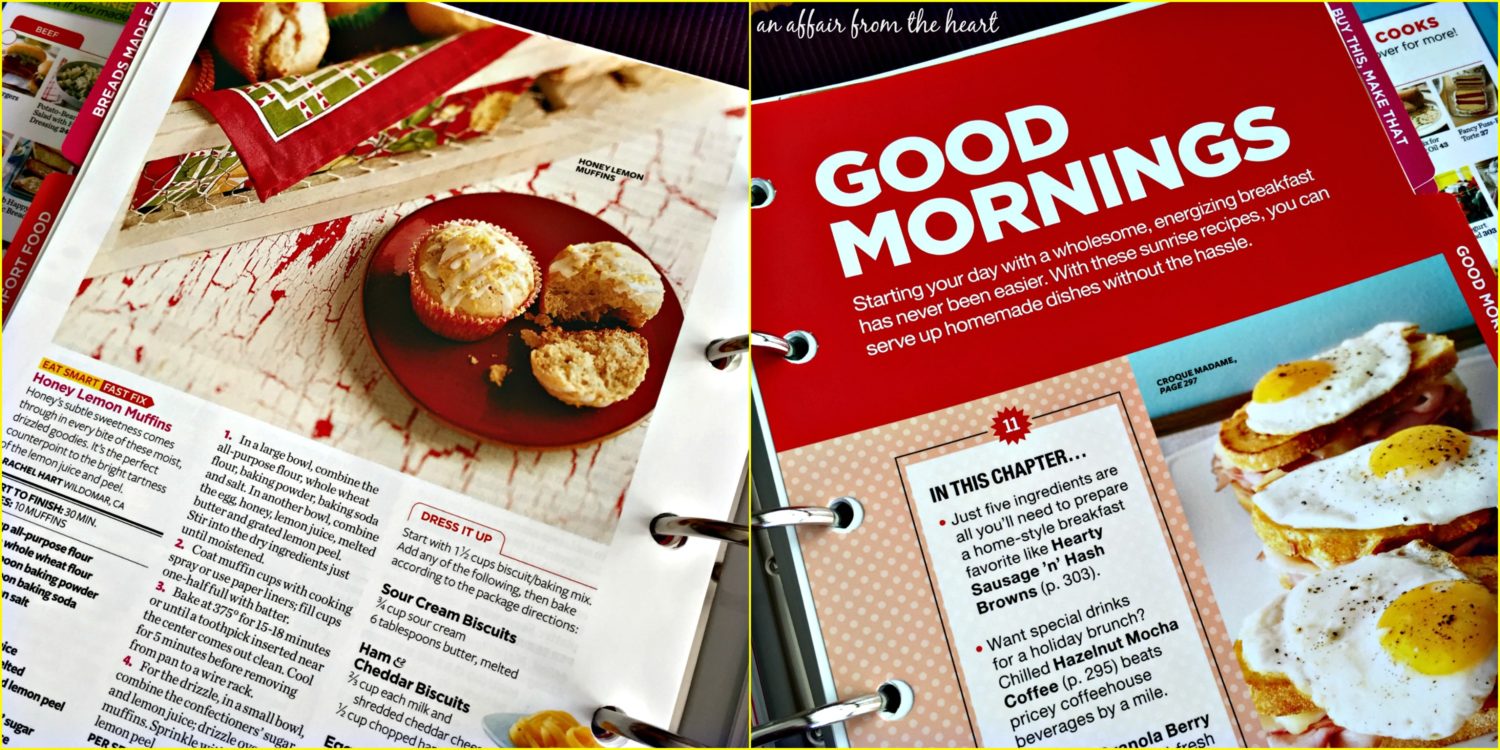 Aside from the huge assortment of recipes, I love all of the color and photos that go along with the fantastic recipes. I don't know about you, but I am a visual girl. I like to see what something is supposed to look like before I try the recipe.


Tucked away in the back behind all of the yummy recipes, you will find great reference materials, like measurement and food equivalents, ingredient substitutions, cooking terms and a guide to cooking with herbs and also a step by step tutorial on stocking a kitchen for cooking with ease.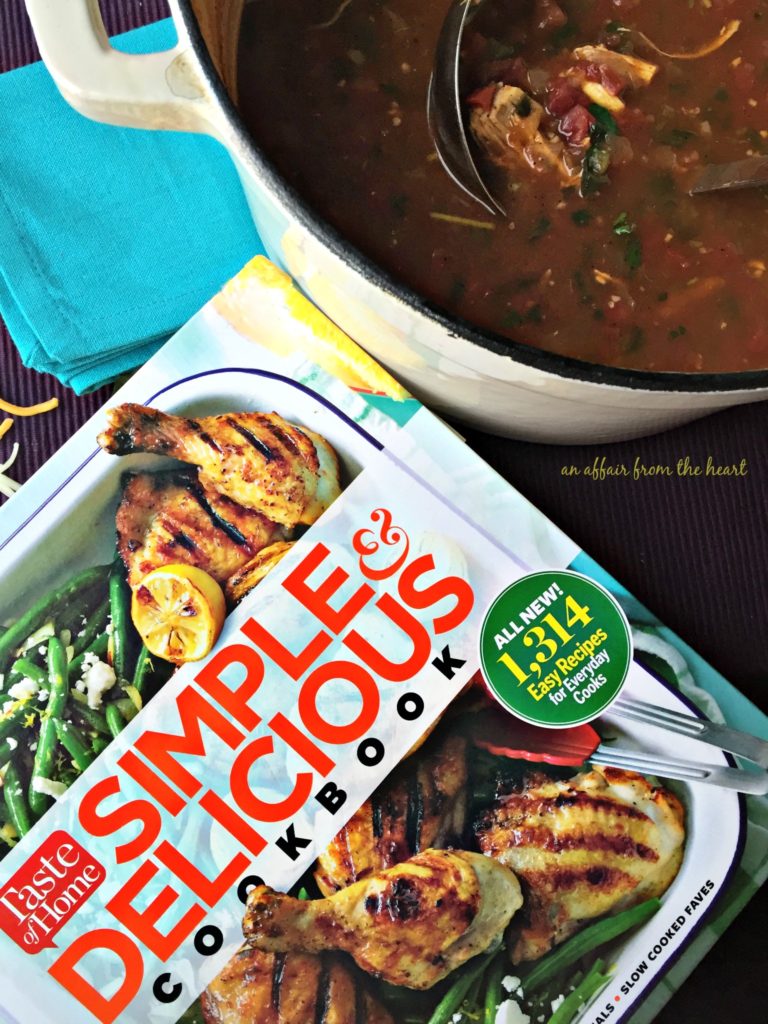 I flipped through the cookbook a couple of times sitting and watching tv in the evening, marking pages of recipes I would like to share with you with a post-it note. You should have seen the book when I was through! It was nothing but a sea of yellow paper. I had to narrow it down.
Back to school means many things to many of us. Sure the kiddos are out of the house, giving us some freedom during the day, but the evenings and weekends are jam packed with school events, sports and just plain running ragged.
I have four kids of my own, two in college and these two are in Middle School. For these two that means football, cheer, show choir, musical — plus, college football games held on the weekends.
Make ahead meals are key. Meals that are ready in 30 minutes or less or made in the crock pot — are life savers!
I narrowed my list down to three things, this Slow Cooked Chicken Enchilada soup, Bake Sale Lemon Bars and Burrito Pie. My love of soup and Mexican won out!
---
Yield: 8
Slow Cooked Chicken Enchilada Soup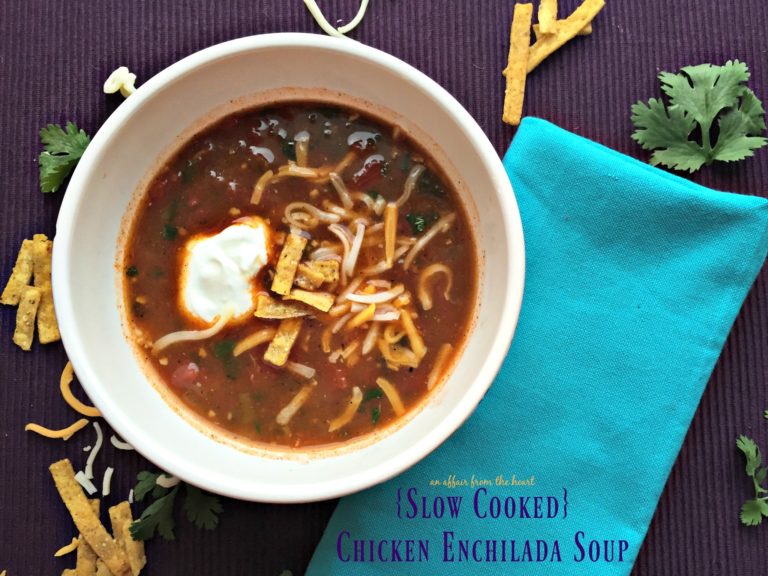 Slightly spicy and full of robust flavor, this Chicken Enchilada Soup is easy to make and will warm you from your head to your toes!
Additional Time
9 hours
54 minutes
Total Time
10 hours
10 minutes
Ingredients
1 Tablespoon canola oil[i] (I used olive oil)[/i]
2 Anaheim or Poblano peppers. finely chopped [i](I used one large Poblano pepper)[/i]
1 medium onion, chopped
3 garlic cloves, minced
1 pound boneless skinless chicken breasts
1 carton (48 ounces) chicken broth
1 can (14-1/2 ounces) Mexican diced tomatoes, undrained [i](I used two cans of Rotel)[/i]
1 can (10 ounces) red enchilada sauce
2 Tablespoons tomato paste
1 Tablespoon chili powder
2 teaspoons ground cumin
1/2 teaspoon pepper
1/2 to 1 teaspoon chipotle hot pepper sauce, optional [i](I ommited this - it was plenty spicy without it)[/i]
1/3 cup minced fresh cilantro
Toppings for Serving: shredded Mexican cheese, cubed avocado, sour cream and crispy tortilla strips
Instructions
In a large skillet, heat oil over medium heat. Add peppers and onion; cook and stir 6-8 minutes or until tender. Add garlic; cook 1 minute longer.
Transfer pepper mixture and chicken to a 5- or 6-qt. slow cooker. Stir in broth, tomatoes, enchilada sauce, tomato paste, seasonings and, if desired, pepper sauce. Cook, covered, on low 6-8 hours or until chicken is tender (a thermometer should read at least 165°).
Remove chicken from slow cooker. Shred. Return to slow cooker. Stir in cilantro. Serve with toppings as desired.
Freeze option: Freeze cooled soup in freezer containers. To use, partially thaw in refrigerator overnight. Heat through in a saucepan, stirring occasionally and adding a little water if necessary. Yield: 8 servings (3-1/4 quarts).
Stove top: Follow all of the instructions for slow cooker method, preparing on stove top in a dutch oven. Start to finish the soup took about 45 minutes.
Notes
I have made this soup in the crock pot as well as on the stove top (pictured here) It's fantastic both ways!

I made a few slight adaptions, find these next to the original recipe

Recipe from Taste of Home - Simple and Delicious Cookbook
Nutrition Information:
Yield:
8
Serving Size:
1
Amount Per Serving:
Calories:

167
Total Fat:

7g
Saturated Fat:

2g
Trans Fat:

0g
Unsaturated Fat:

4g
Cholesterol:

53mg
Sodium:

308mg
Carbohydrates:

7g
Fiber:

3g
Sugar:

3g
Protein:

20g
Nutrition isn't always accurate.
---
So make sure you grab yourself a copy of Simple & Delicious today! You will love it, just like I did!