Creamy and rich, this Reuben Mac 'n Cheese is pure comfort food. Cellentani pasta noodles with all of the components of a Reuben sandwich, Swiss cheese, corned beef, sauerkraut, all mixed together with all of the deliciousness of the best macaroni and cheese has to offer. Baked until hot and bubbly, topped with fresh rye bread crumbs. The best of both worlds in one amazing pasta meal.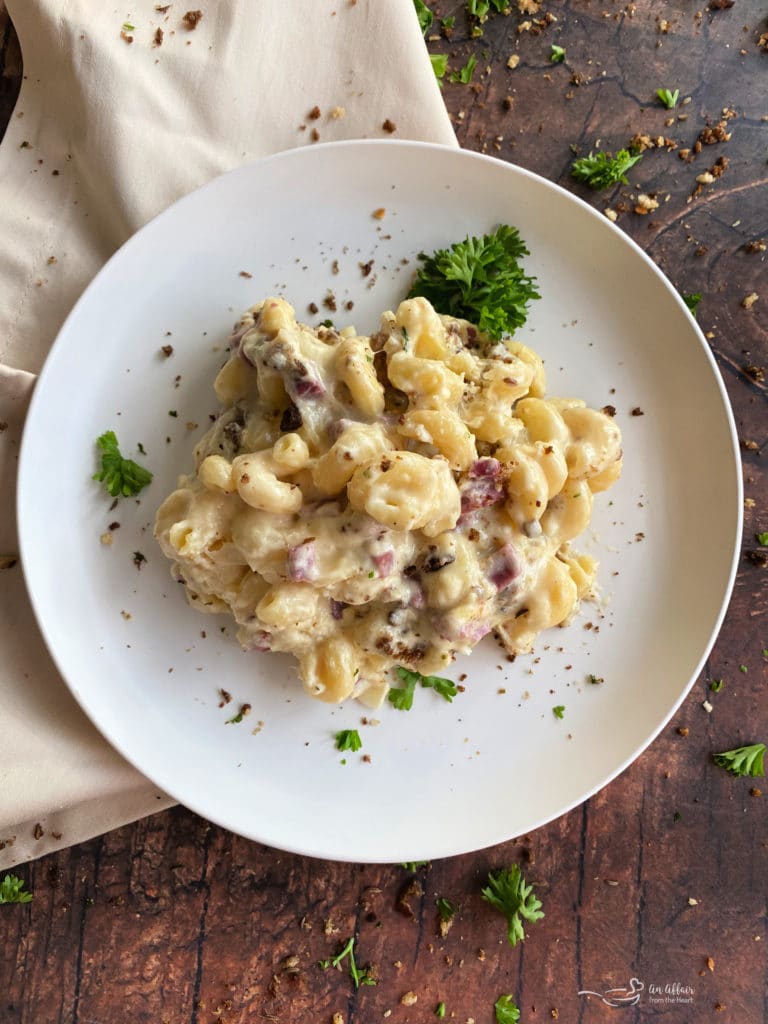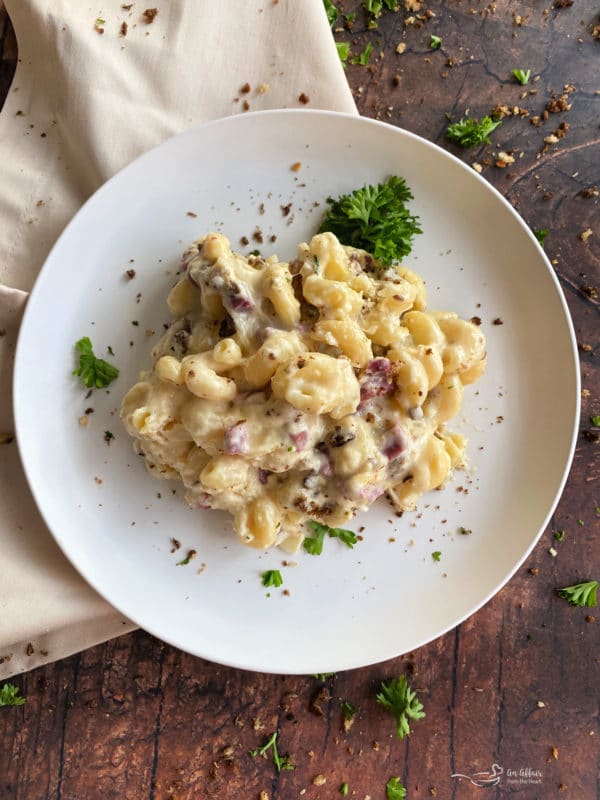 How do I know this Reuben Mac 'n Cheese recipe is a winner?
We gauge favorite meals in our house by a couple of statements. I am sure you do, too. Asking "what did you think?" and the response is "It's fine." That means if it never hit the kitchen table again nobody would be upset about it.
"It's good! I'd eat this again." means it would be a welcome part of the rotation. But one phrase means that I knocked it out of the park, friends. That statement? "I want this for my birthday dinner!" When that phrase comes into play, I know that I have a recipe winner.
And that was how this recipe was received by my youngest daughter. My son-in-law couldn't wait to try it, and I told him that she said that, and he was like "wow! it must be really good!" He messaged me the day he had it for lunch and said "I can see why she wants it for her birthday dinner, it's seriously amazing!"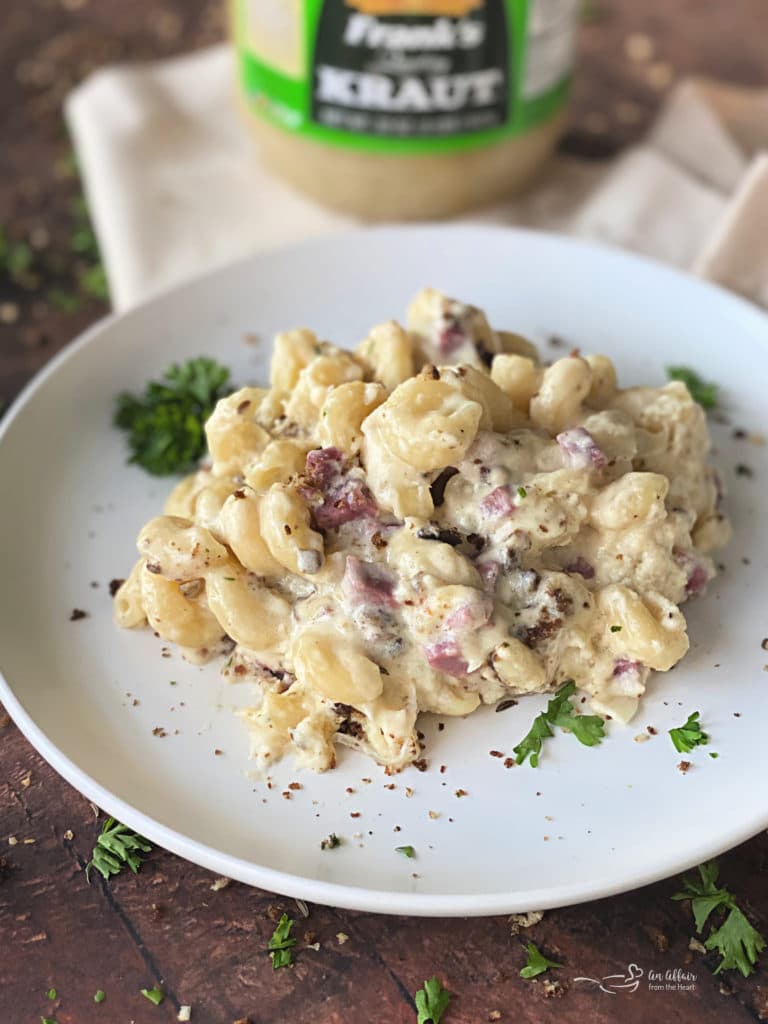 This recipe is sponsored by Frank's Kraut, but my lifelong love of their sauerkraut and the opinions here are all my own.
SOME OF THE ITEMS BELOW CONTAIN AFFILIATE LINKS; I AM A PARTICIPANT IN THE AMAZON SERVICES LLC ASSOCIATES PROGRAM, AN AFFILIATE ADVERTISING PROGRAM DESIGNED TO PROVIDE A MEANS FOR US TO EARN FEES BY LINKING TO AMAZON.COM AND AFFILIATED SITES. I AM ALSO AN AFFILIATE FOR OTHER BRANDS. HOWEVER, I ONLY PROMOTE THINGS THAT I LOVE AND THINK YOU WILL LOVE, TOO. FOR MY ENTIRE DISCLOSURE POLICY PLEASE

CLICK HERE

.
Reuben Mac 'n Cheese – Comfort Dish Extraordinaire
I have done polls many times on my facebook page that ask "What is your favorite comfort food?" Every time Mac and Cheese and pasta recipes in general are always at the top of the list. I kept just this in mind when I set out to make my annual comfort food recipe for Frank's Kraut.
If you have been with me for a bit, you know that I can pretty much Reubenize just about any food. I have oodles of Reuben recipes on my website, but I was missing Mac and Cheese! How dare I?
I put my thinking cap on and planned out my Reuben pasta recipe. It's as simple as combining my favorite baked macaroni and cheese recipe with all of the ingredients of a traditional Reuben sandwich. And I did that, right down to the Rye bread it's served upon!
Ingredients in Reuben Macaroni & Cheese
The ingredients that made the rich creamy mac and cheese are cellentani pasta, half and half, butter, sour cream, cream cheese and eggs.
Ingredients to Reubenize it: Corned beef, Frank's Kraut, Swiss cheese, Thousand Island dressing and Rye bread.
(find the complete list of ingredients and instructions at the bottom of this post in the printable recipe card)
Begin by cooking pasta al dente. Mix in cream cheese, Swiss and Provolone cheese and Half and Half, and melt it all together on the stove over low heat.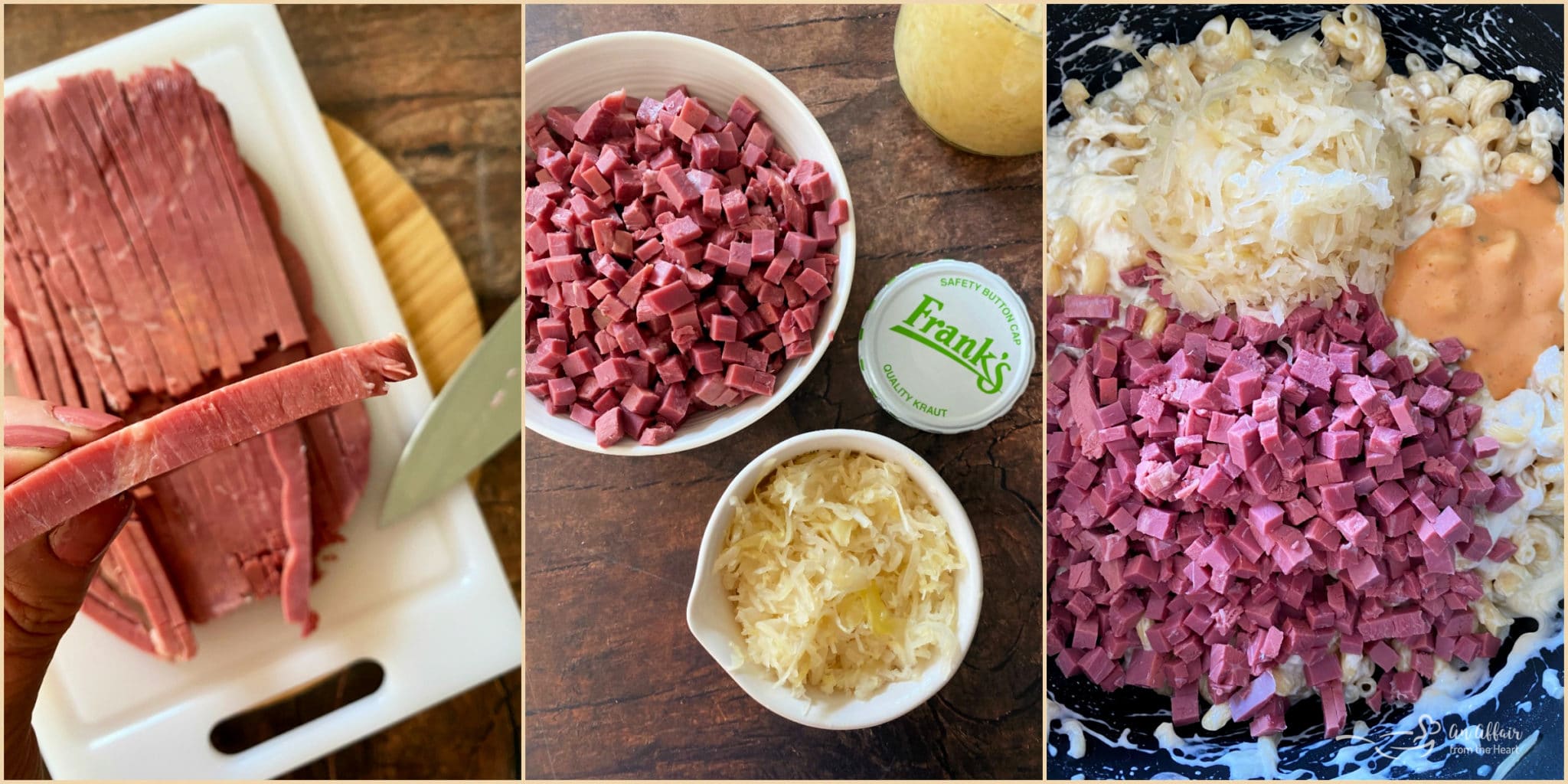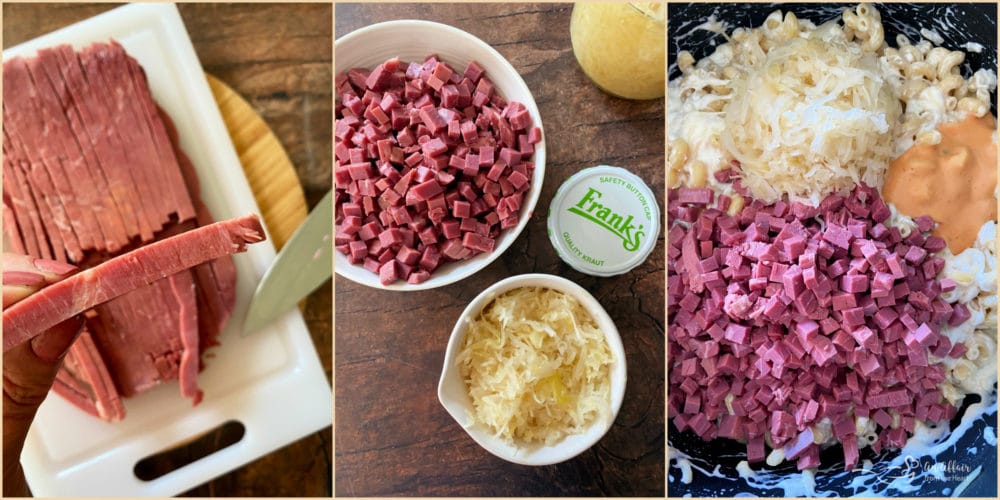 I had the deli counter cut me two thick pieces of corned beef, each was about 1/2 pound. Of course, you can use leftover corned beef for this pasta, too. Cube the corned beef, and drain your sauerkraut, just to get the majority of the liquid off of it. No need to squeeze it or anything.
Mix Frank's Kraut, corned beef and Thousand Island dressing into the pasta and cheese.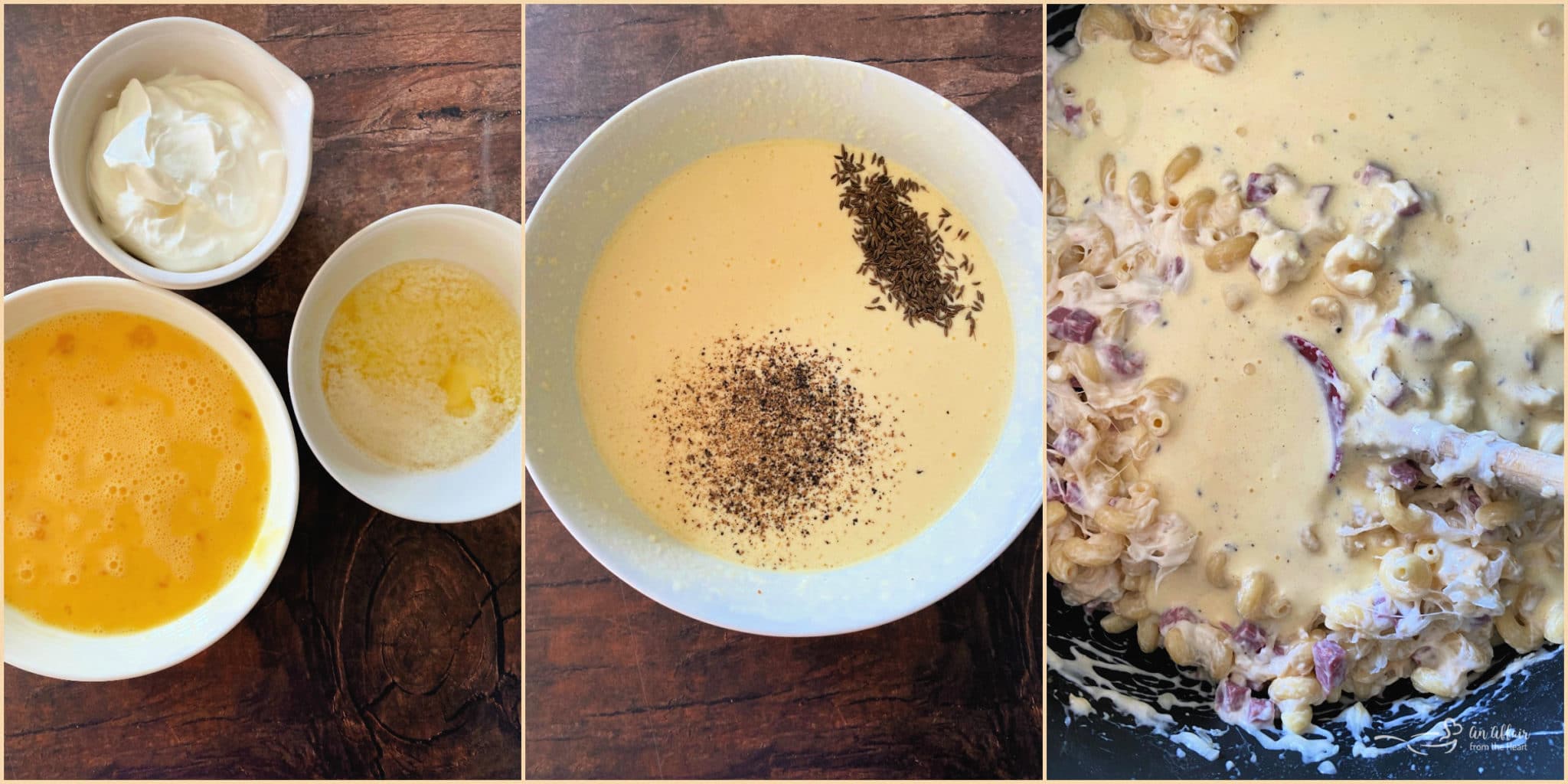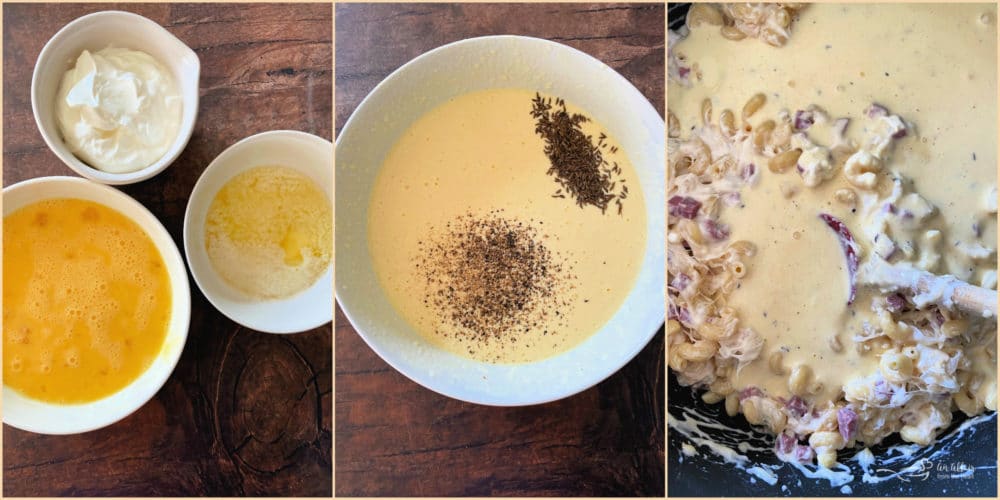 Whisk together eggs and sour cream. Combine it with melted butter, freshly cracked black pepper and caraway seeds. Add it to the pasta.


Time to make your bread crumb topping! Toast 3-4 slices of Rye bread, cube it up and toss it in your food chopper along with some butter and fresh parsley. Give it a whir and you have buttery homemade Rye bread crumbs!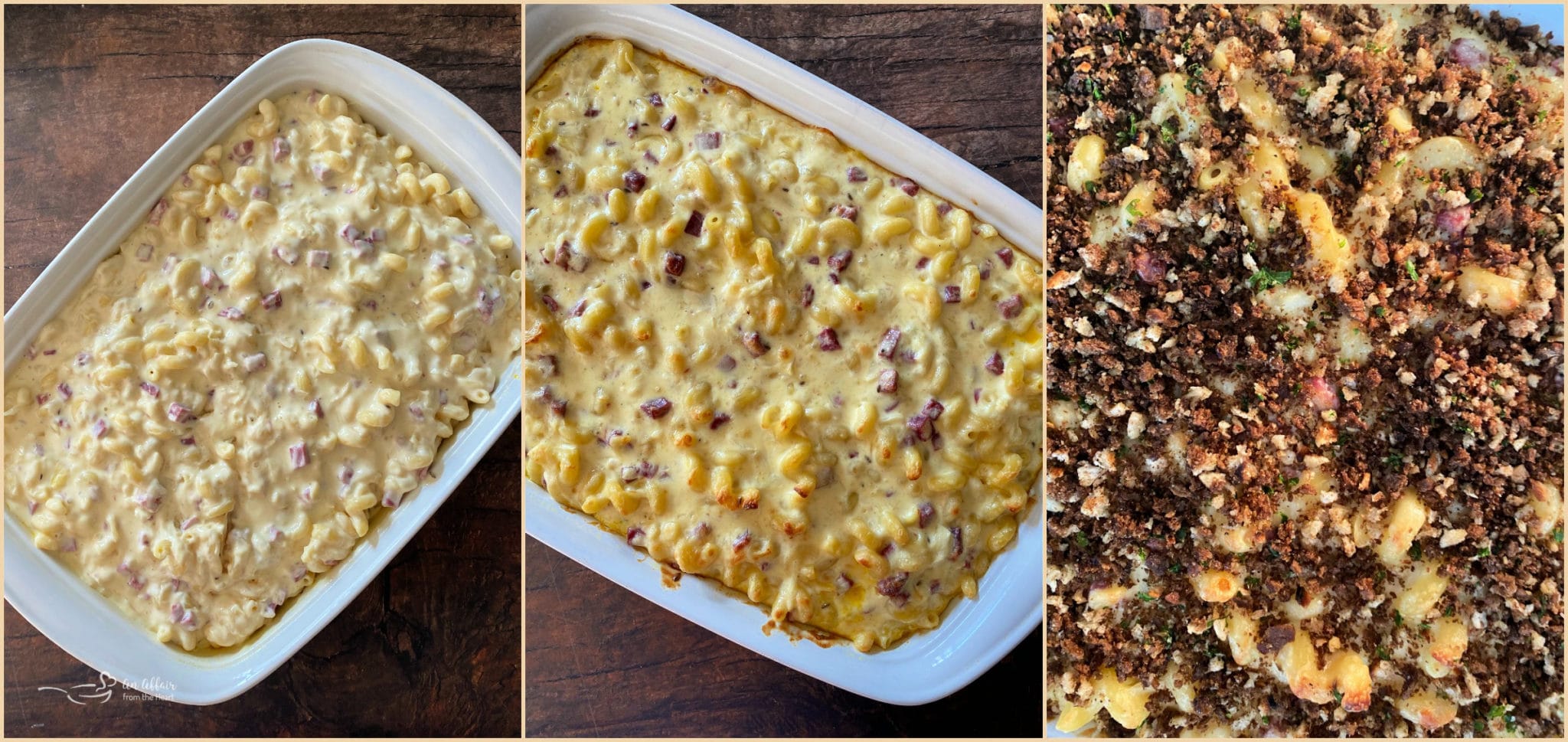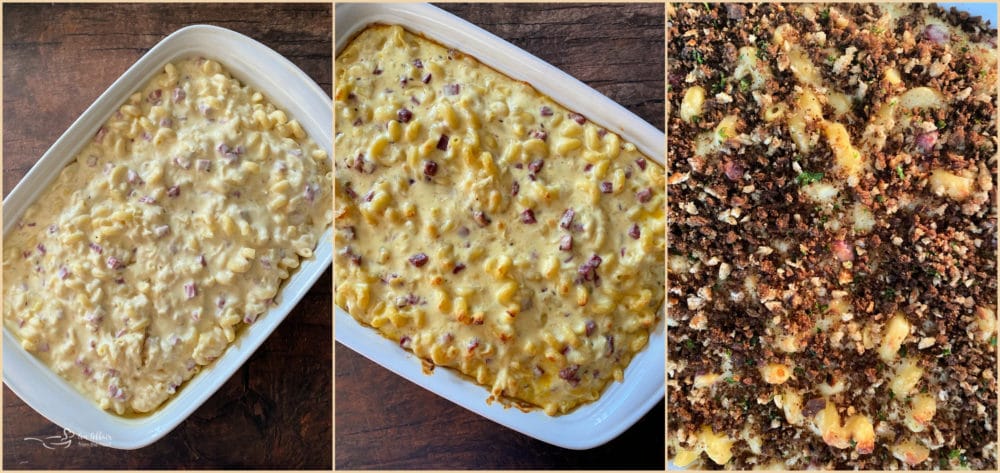 Spread mixture into a baking dish, and bake for about 30 minutes. Top with bread crumbs and bake for another 15-20 minutes.
Remove from the oven and let stand for about 10 minutes before serving. The waiting is the hardest part!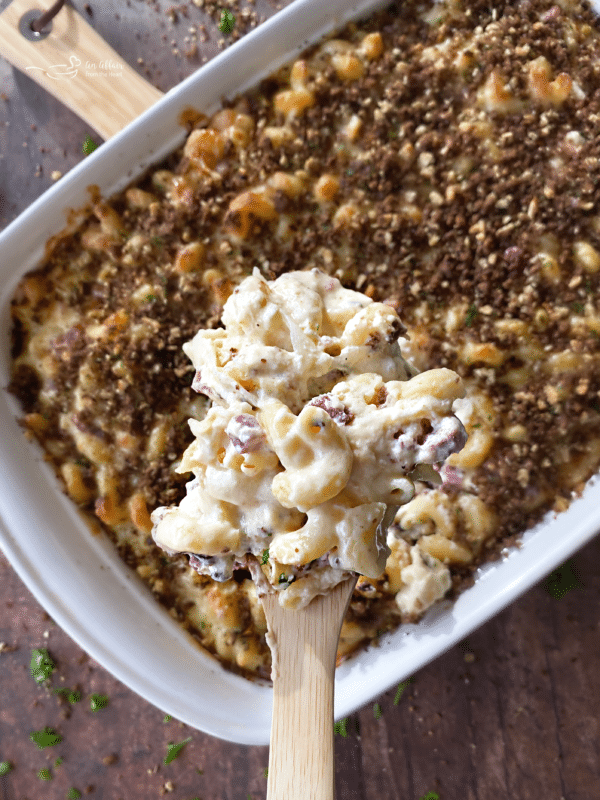 Just look at that! Rich, creamy, packed with Reuben flavor. A Reuben casserole like no other.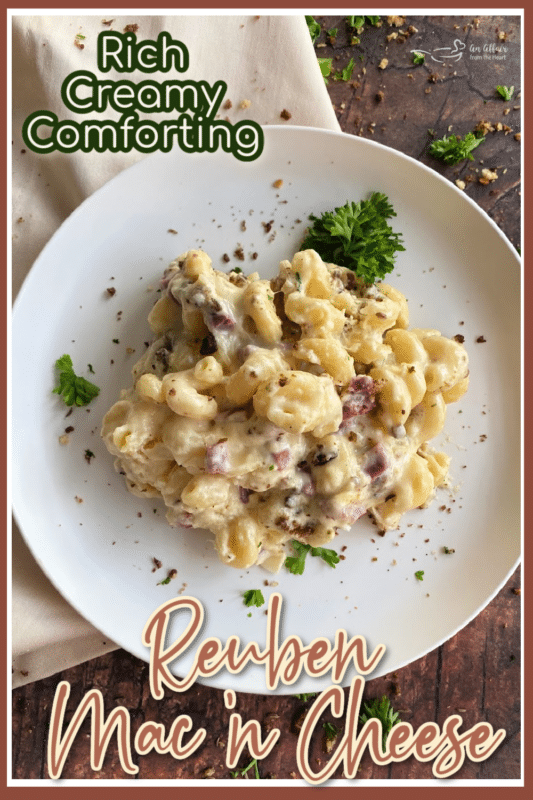 Love it? Pin it!
Don't lose this recipe! Pin it to your favorite Pinterest recipe board before you go so you can find it easily!
Elevate your Mac and Cheese
My kids love that mac n cheese in the box. They always have. I was one of those weird kids that hated it. In fact, my mom always took a little bit of the noodles out with just butter on them for me. I could just never get behind that whole powdered cheese. Ack.
But as I got older, I tried what I like to refer to as "Adult Mac and Cheese." I have shared a couple of those with you in the past, Alaskan Snow Crab Macaroni and Cheese, Loaded Mac and Cheese (mmm bacon…) and this Chili Cheese Mac are my favorites! These kinds of mac and cheese recipes I am happy to partake in!

Frank's Kraut – The BEST Sauerkraut on the Planet
My relationship developing recipes for Frank's Kraut has spanned the last six years, but my love affair with their sauerkraut has spanned my lifetime. You see, with my Polish and German heritage, sauerkraut has had a place of honor on our table for my whole life.
As I grew up, I realized that it wasn't just good, it was good for me. Did you know that sauerkraut is considered to be a superfood?
Health Benefits of Sauerkraut
One of the not so secret benefits of sauerkraut is the boost it gives to the immune systems. Packed with vitamins and minerals, sauerkraut has been used as a lay immune booster for centuries. Sauerkraut contains phytochemicals which are created during the fermentation process.
These naturally occurring, beneficial by-products of sauerkraut help boost the immune system which leads to a decrease in a number of health problems. The common cold, skin problems, weight gain and tainted blood are all fixed by a healthy functioning immune system.
Going into cold and flu season, who couldn't use a tried and true immune system booster?
Sauerkraut Pasta Recipes
I have lots of pasta recipes that I have made with Frank's Kraut. There is truly something for everyone.
Kluski noodles, onion, sauerkraut and celery fried in butter and then baked to make up a traditional meatless Polish Noodles & Sauerkraut casserole (Kluski Kapusta Kiszona or Polish Haluski) and this Homemade Chicken Noodle Soup with Sauerkraut, like grandma always said chicken soup can help with colds, but adding a superfood like sauerkraut? The healing powers will boggle your mind!
Made on stovetop or on the grill, my Creamy Kraut & Mushroom Noodles is fantastic served with brats. This one makes a great camping recipe. And I would be remiss if I left out my Traditional Reuben Casserole.
Be sure to follow along with Frank's Kraut on their website and their social media to get delicious recipes all year long.
Follow them on Facebook, Twitter, Pinterest and Instagram for all things sauerkraut!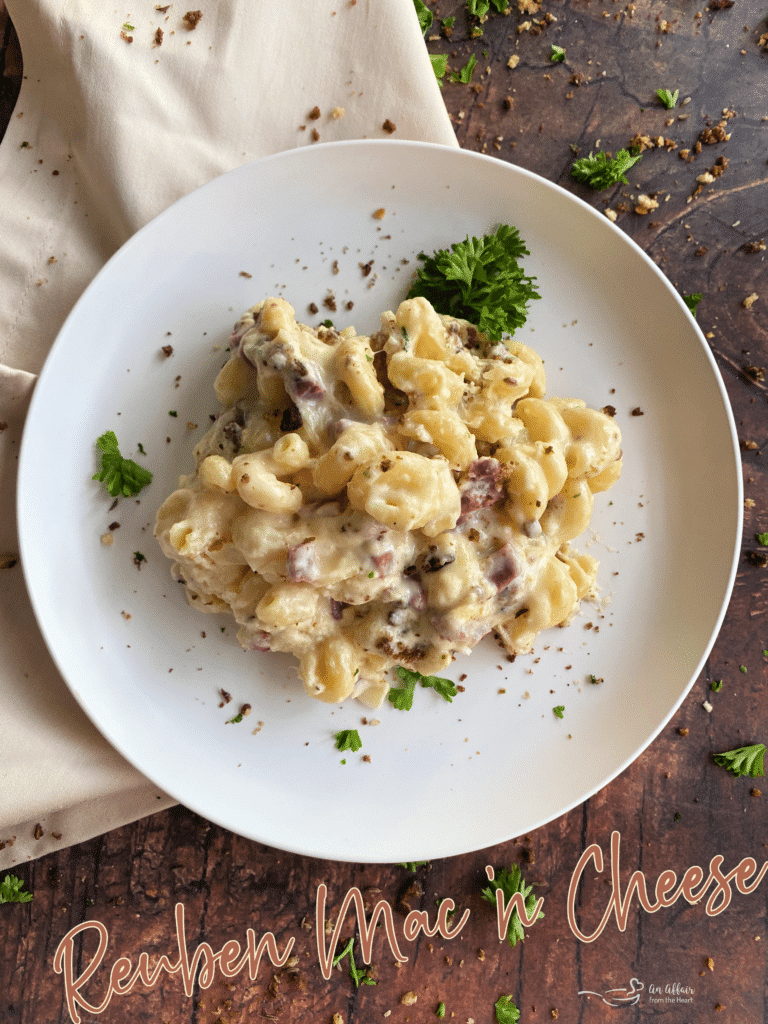 I can't wait to eat! Let's grab the recipe for this Reuben Mac 'n Cheese!

Yield: 12
Reuben Mac 'n Cheese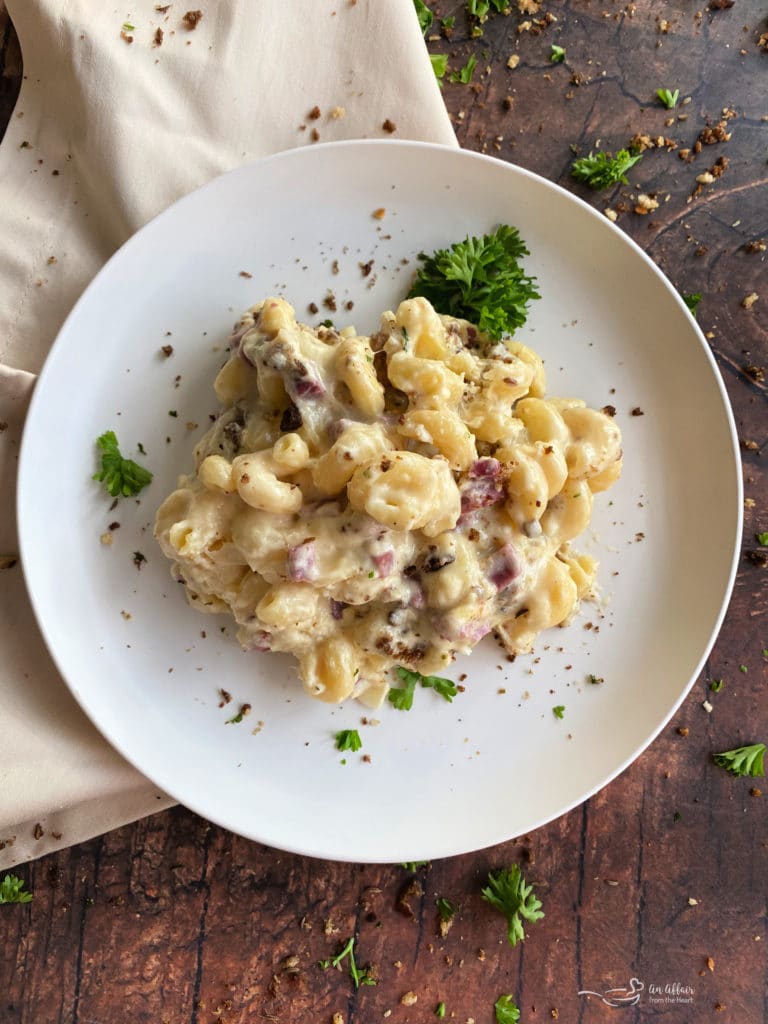 Creamy and rich, this Reuben Mac 'n Cheese is pure comfort food. Cellentani pasta noodles with all of the components of a Reuben sandwich, Swiss cheese, corned beef, kraut, all mixed together with all of the deliciousness of the best macaroni and cheese has to offer. Baked until hot and bubbly, topped with fresh rye bread crumbs. The best of both worlds in one amazing pasta meal.
Ingredients
1 (1 pound box) cellentani pasta, cooked al dente
1 ½ cups half-and-half
16 ounces Swiss cheese, shredded
6 ounces Provolone cheese, shredded
6 large eggs, lightly beaten
3/4 cup sour cream
8 ounces cream cheese, softened
1 stick (8 Tablespoons) butter, divided
1/2 teaspoon caraway seed
½ teaspoon cracked black pepper
1 pound corned beef, cubed
1 cup Frank's Kraut, drained
1/4 cup Thousand Island dressing
4 small slices Rye bread, toasted
1/4 cup fresh parsley
Instructions
Preheat oven to 350 degrees. Spray a 3-quart baking dish with non-stick spray; set aside.
In a large pot, cook pasta according to package directions just until al dente; drain. Return pasta to pot. Stir in half-and-half, cream cheese, Swiss cheese and Provolone. Cook on low heat until cheese is melted.
Melt 6 Tablespoons butter. In a medium bowl, whisk eggs together with sour cream until combined. Add in melted butter, mix. Mix in caraway seeds and fresh ground black pepper.
Cube corned beef into small pieces, and drain liquid from the kraut. Add both of these plus the Thousand Island dressing into the pasta/cheese mixture.
Stir in egg mixture into pasta mixture in pot.
Spread mixture in prepared dish. Bake, uncovered, for 30 minutes.
Add cubed up toasted rye bread, parsley and remaining 2 Tablespoons of butter to a food processor and pulse until bread crumbs are achieved.
Sprinkle bread crumb mixture over pasta and bake 15 to 20 minutes more or until golden brown and bubbly. Cool for 10 minutes before serving.
Notes
I didn't use all of the bread crumbs. You can put them on as heavy as you like.
Recommended Products
As an Amazon Associate and member of other affiliate programs, I earn from qualifying purchases.
Nutrition Information:
Yield:
12
Serving Size:
1
Amount Per Serving:
Calories:

561
Total Fat:

44g
Saturated Fat:

22g
Trans Fat:

0g
Unsaturated Fat:

17g
Cholesterol:

225mg
Sodium:

936mg
Carbohydrates:

12g
Fiber:

1g
Sugar:

5g
Protein:

30g
Nutrition isn't guaranteed accurate.

If you make this recipe, I'd love to know! Snap a picture, share the photo on social media with the hashtag #AnAffairFromTheHeart – I'd love to see what you made! – Michaela