Thai Chicken Noodle Soup
As an Amazon Associate and member of other affiliate programs, I earn from qualifying purchases.
This warm, healthy Thai Chicken Noodle Soup recipe is a bit of an Asian twist on traditional Homemade Chicken Noodle Soup, made with rice noodles, spiced up with a little red curry, garlic, ginger, and red pepper flakes. A rich, aromatic Asian-style soup that is ready in about 30 minutes and will warm you from the inside out!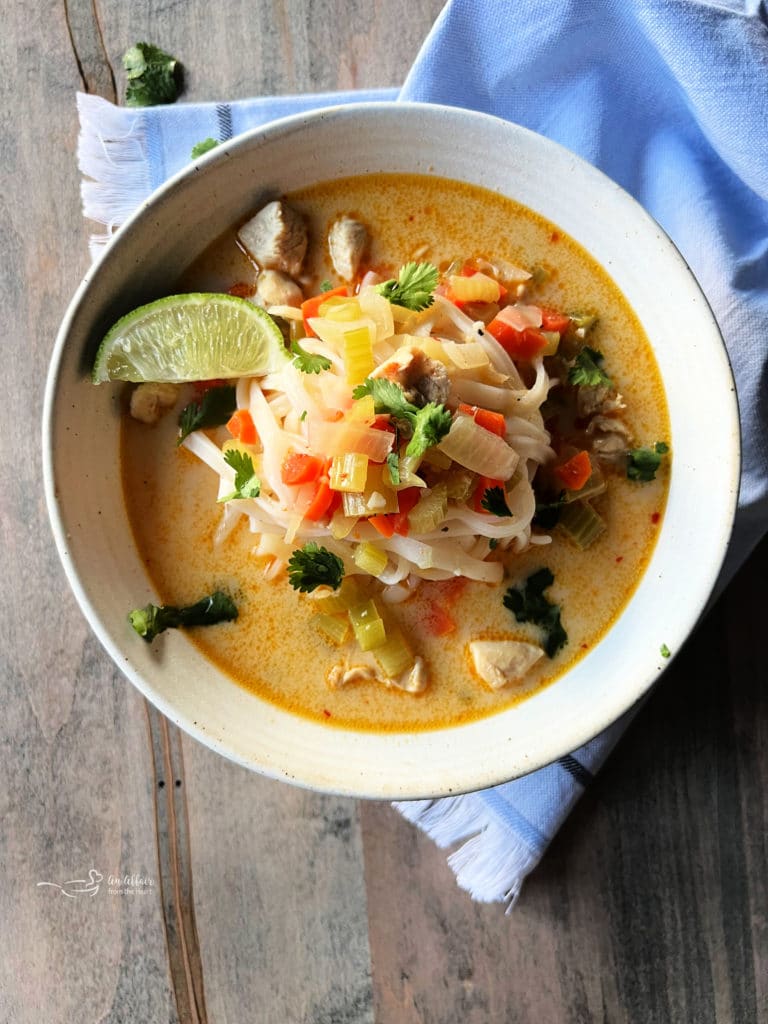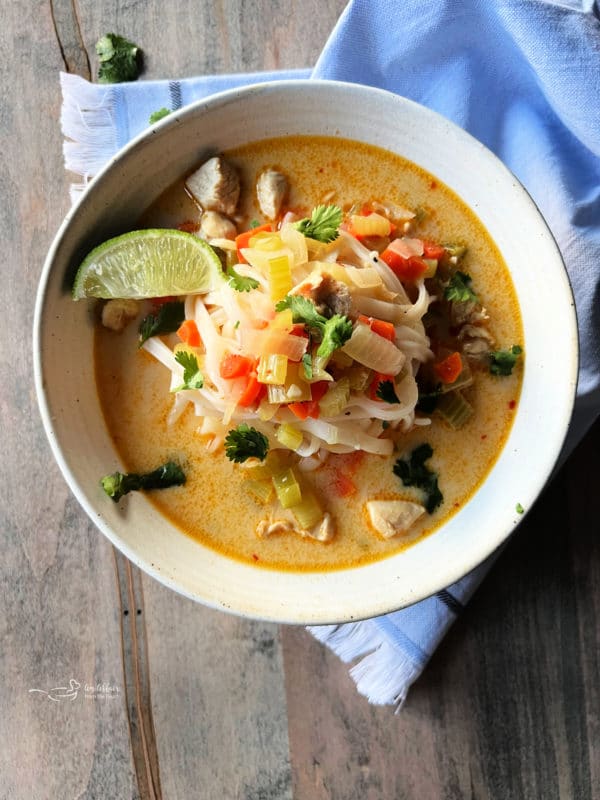 Homemade Chicken Noodle Soup is my absolute number one comfort food and has been since I was a kid. I like to give my favorites a little twist now and then, and that is exactly what this Thai Chicken Soup recipe is. I took my classic recipe, switched up the noodles, and added a little heat for a recipe that brings a little Thai spice to a chilly day!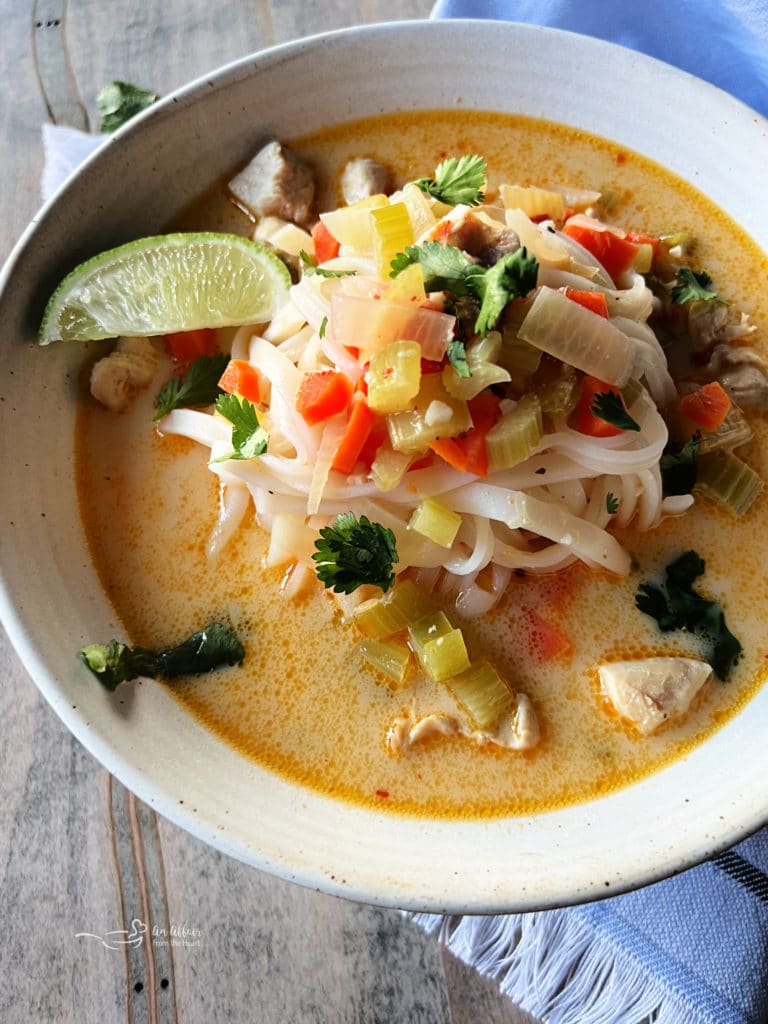 Silky, spicy, Thai noodle soup with chicken is loaded with protein and fresh ingredients like celery, carrots, onion, and garlic that will have the house smelling so lovely while it simmers on the stovetop. This filling red Thai soup delivers a little bit of heat but a ton of cozy flavors you and the family will love! Spicy red curry paste shines through this rich creamy soup for a yummy, warm meal that will have anyone begging for more.
The recipe for this healthy Thai soup calls for heavy cream but is also super delicious with coconut milk. You can't go wrong either way.
The soft savory rice noodles absorb the yummy aromatic broth and create the perfect combinations with fresh cilantro and lime juice. Bold and tasty!
WHY THIS ASIAN CHICKEN NOODLE SOUP IS THE BEST
Healthy: Since this soup recipe is made with fresh ingredients and chicken breast it is much healthier than canned and boxed soups! The great thing about this Thai curry soup is that you get a serving of fresh veggies without any extra work.
So Simple: This soup recipe is SO easy to make! Just sauté your vegetables and prepare the other ingredients for the easiest soup recipe you've ever encountered. I love to make this whenever I don't feel like going overboard for dinner but still want to deliver all the best flavors to my family.
Flavorful and Filling: Creamy rich chicken broth is soaked up by tender cooked chicken breasts and allows this to be a hearty fresh soup that is warm and satisfying. Red pepper flakes and butter add extra layers of textures and notes.
Hot and Comforting: Hot soup is the best whenever you need to sit down and warm yourself up! Whether you have a craving for soup randomly or want to stay warm during winter, this soup is so versatile and fresh you can enjoy it all-year-'round.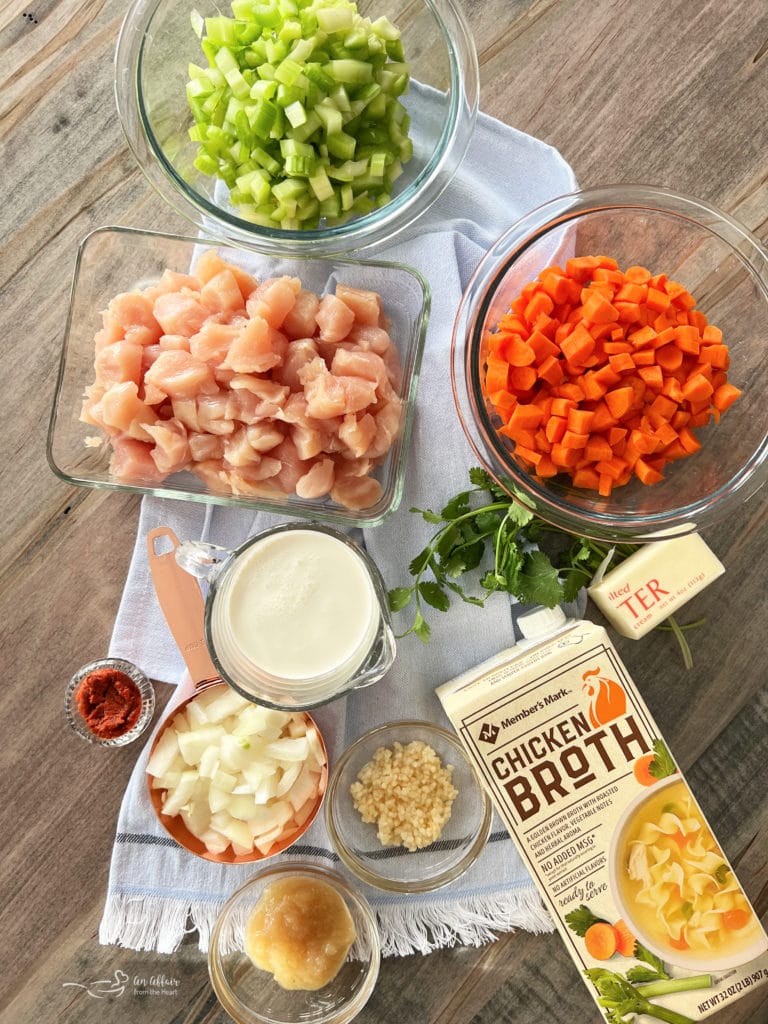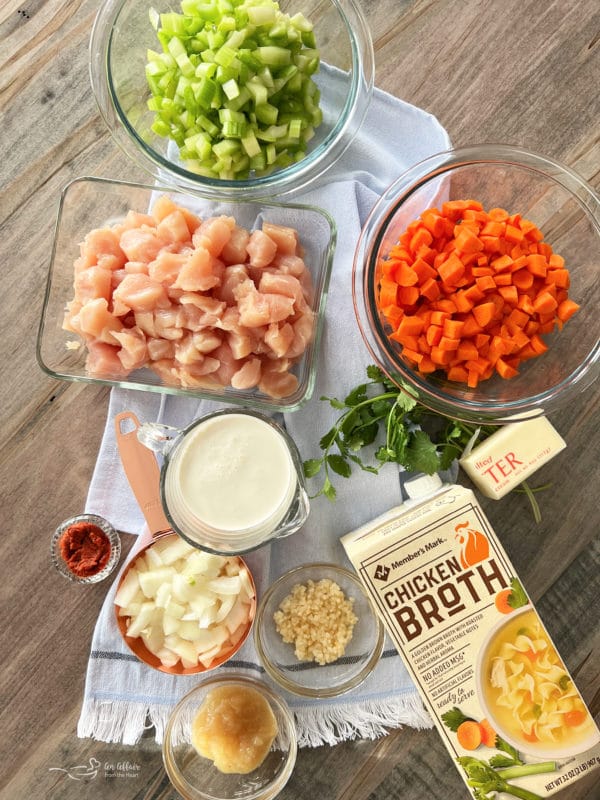 INGREDIENTS
Butter: Butter is sautéed with diced onion to create a rich savory base for the soup that is fragrant and classic.
Chicken: You will need diced boneless skinless chicken breasts to make this soup hearty and filling. You can use chicken thighs, too! Another great option for this soup would be to use a leftover roasted whole or Rotisserie chicken.
Onion: Yellow or white onion gives this soup enough flavor that makes it taste perfect with the fresh garlic.
Garlic: Savory garlic is minced and sautéed until just right to make this soup well-rounded and nothing short of flavor.
Celery: Fresh celery provides a little bit of crunch to this Asian chicken noodle soup and makes it smell extra good!
Red Curry Paste: Red curry paste is a rich slightly spicy paste that gives this soup a bit of heat. You can find this ingredient in the ethnic aisle at most grocery stores.
Ginger Paste: Using ginger paste is way easier than using grated ginger in my opinion, but feel fresh to use fresh if you have it. The ginger paste can be found in the produce sections near the herbs.
Carrots: Crunchy fresh carrots are added to this soup to make it a little colorful and extra bright. You can use any kind of carrots for this soup!
Broth: I use chicken stock to make it have extra rich chicken flavors, since this is chicken soup after all. Make your own broth or use a good quality storebought kind.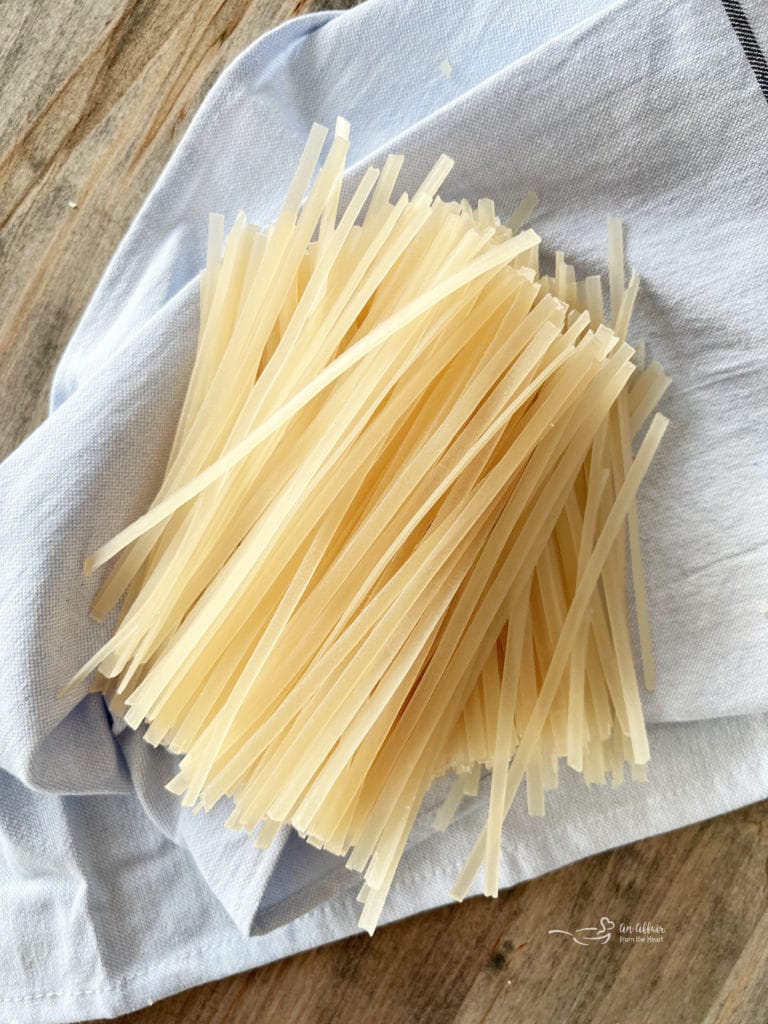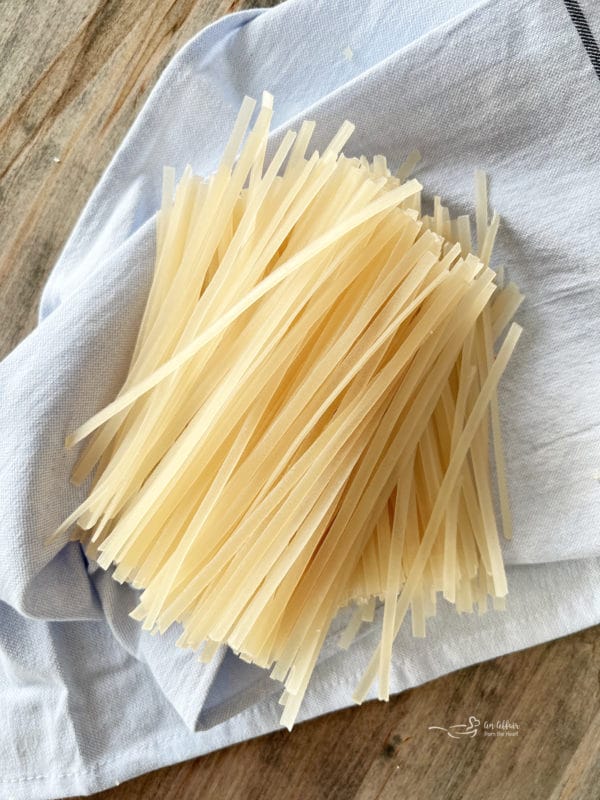 Rice Noodles: Silky rice noodles absorb all the flavors of the broth just before serving and make this soup soo delicious. You can find these types of noodles in the pasta aisles or with the Asian foods in your grocery store. Rice noodles are gluten-free, too!
Cream: Regular heavy cream is perfect for this recipe, or for a dairy-free version, use coconut milk!
Red Pepper Flakes: Hot red pepper flakes give this soup a little bit of an extra kick but are totally optional. I felt it needed a little extra heat, but be sure to taste it before you add them if you aren't able to tolerate that extra spice!
Salt: Season this soup until you are content with the flavors!
Lime: Fresh lime is a delicious option for serving atop this soup just before enjoying it. You will love the fresh citrus flavors.
Cilantro: Leafy green cilantro is a bright and lovely garnish for the top of the soup. Definitely an option, but we love it!
HOW TO MAKE HEALTHY THAI CURRY CHICKEN NOODLE SOUP
You know those nights whenever you wish you could just have your favorite soup from your favorite Asian restaurant? This Asian chicken noodle soup checks all the boxes for a hot authentic soup so be sure to try it whenever you want to make a restaurant-style soup at home! Not only is this soup delicious but it comes together so easily which is perfect for those evenings whenever you are in a time crunch.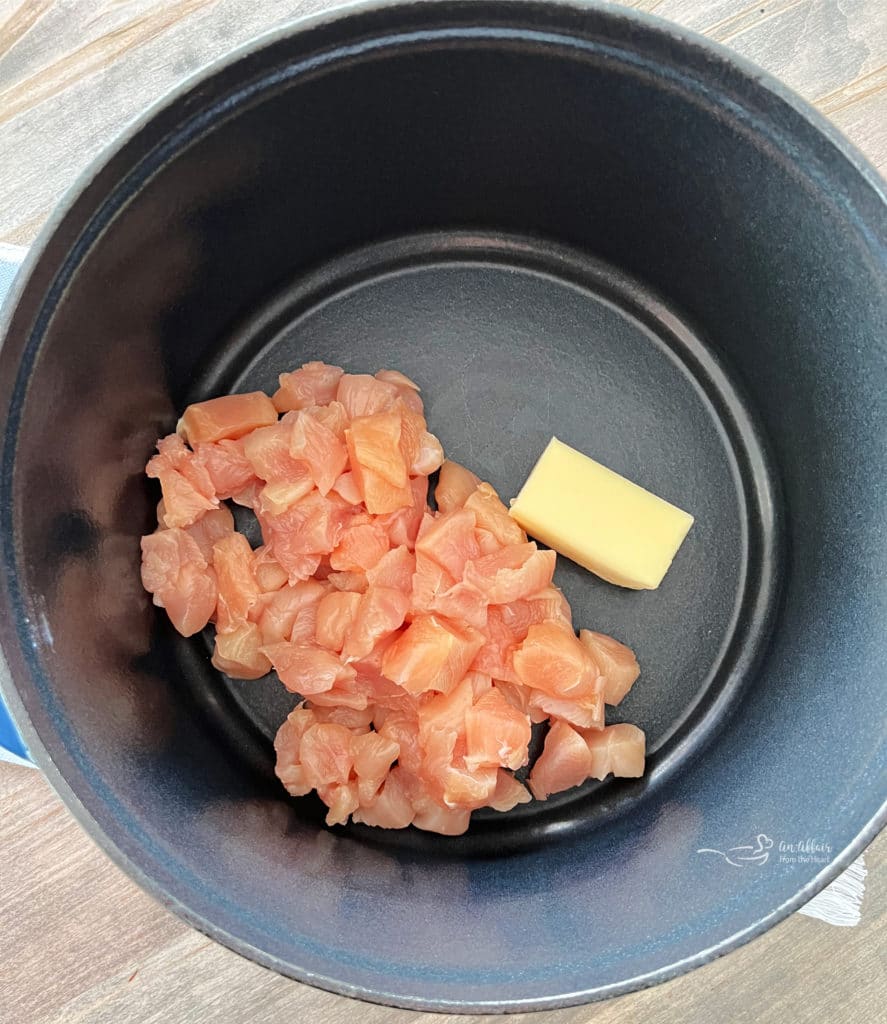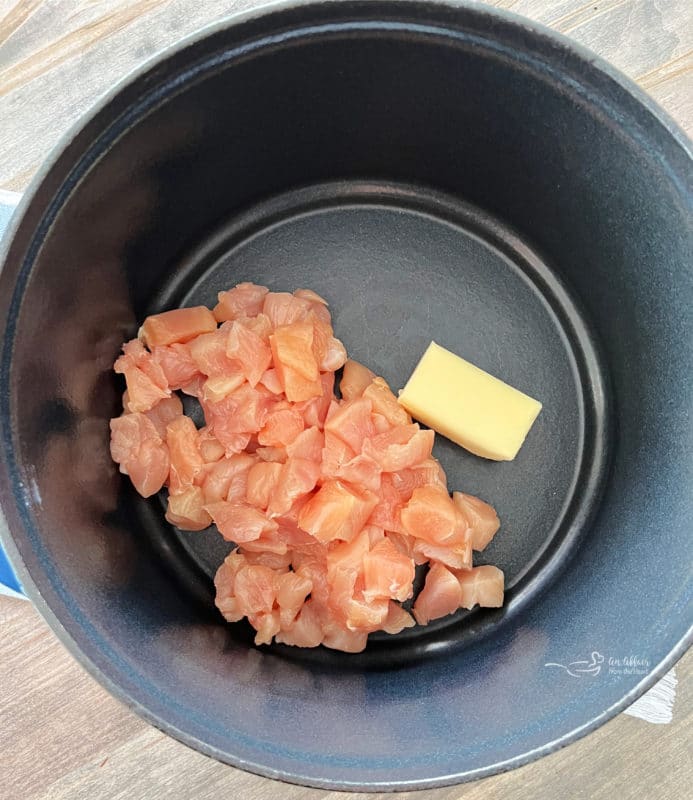 First, melt the butter in a Dutch oven over medium heat, then add the diced chicken. Sauté the chicken on both sides until about halfway cooked.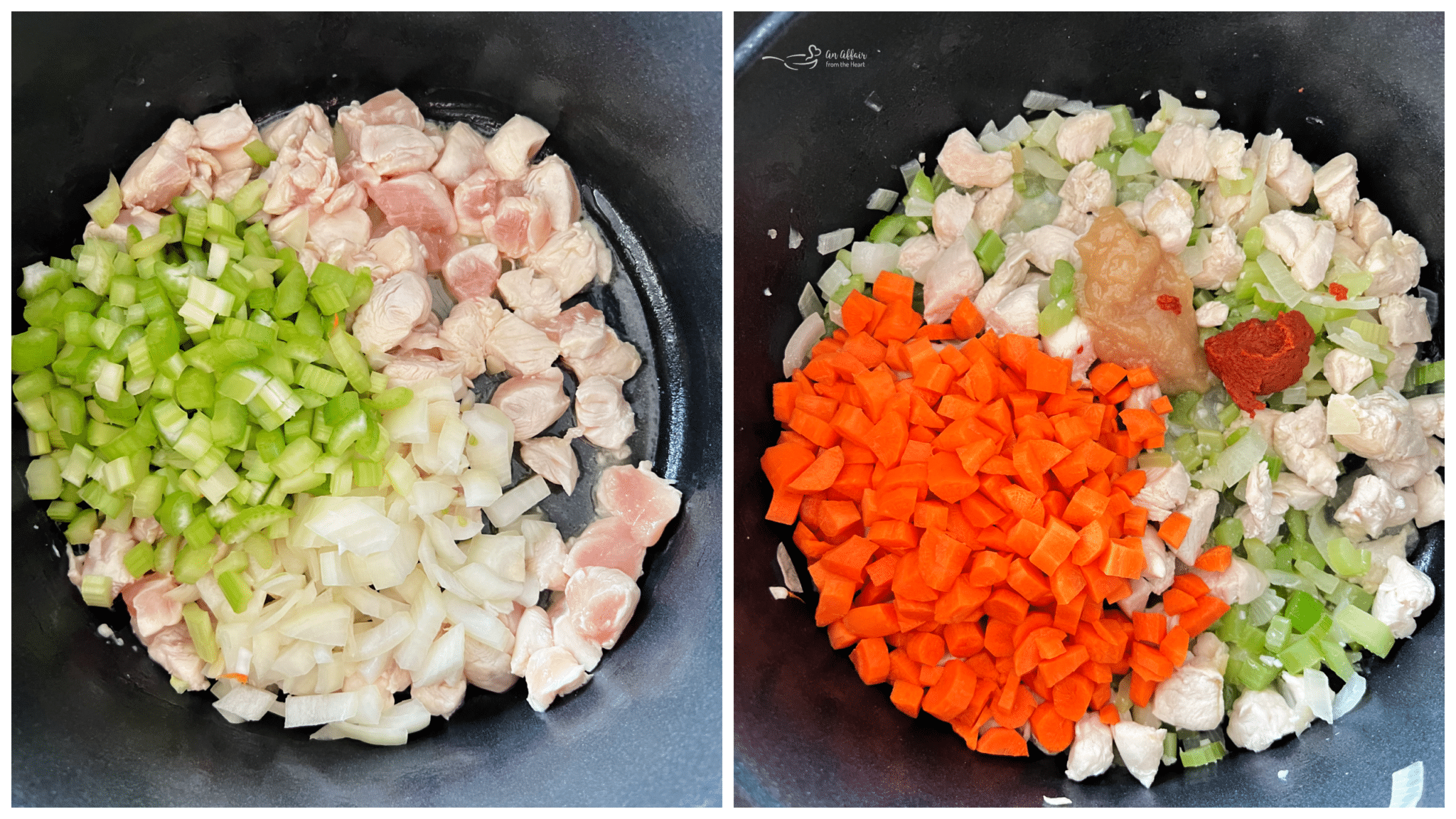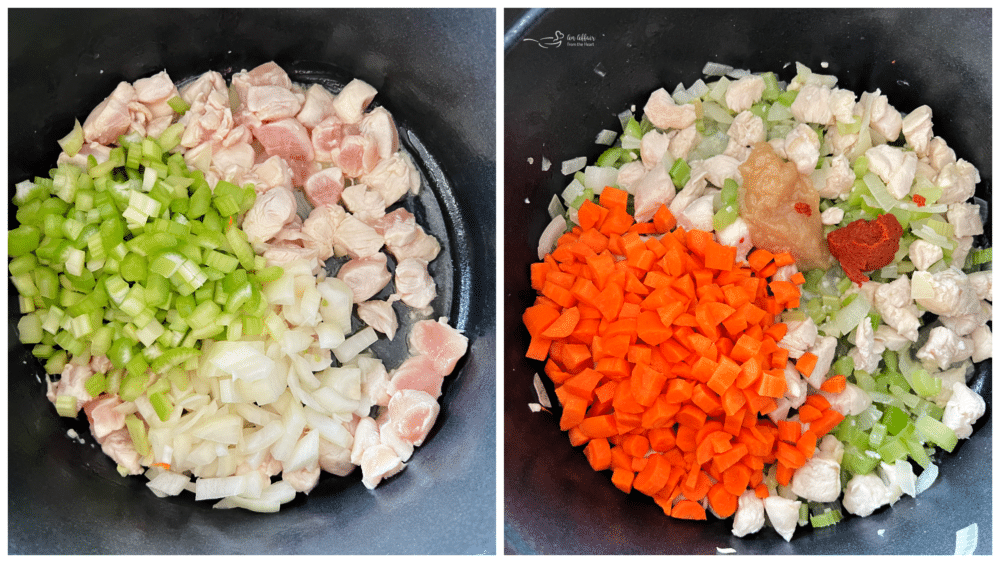 Next, add the diced onion, celery, and garlic to the pot and continue to cook the chicken until it is no longer pink. You can check to make sure the internal temperature is at least 165 degrees Fahrenheit.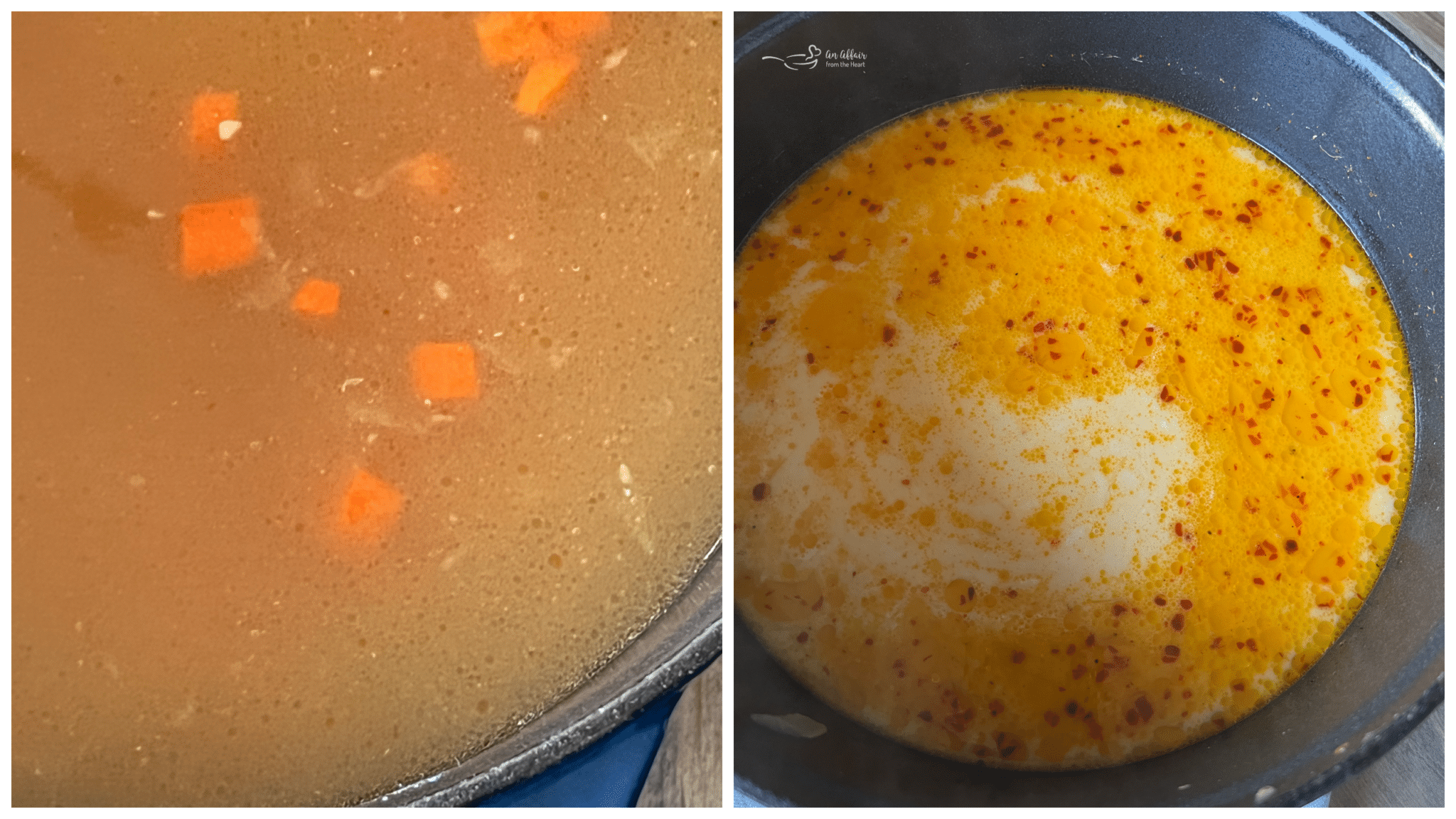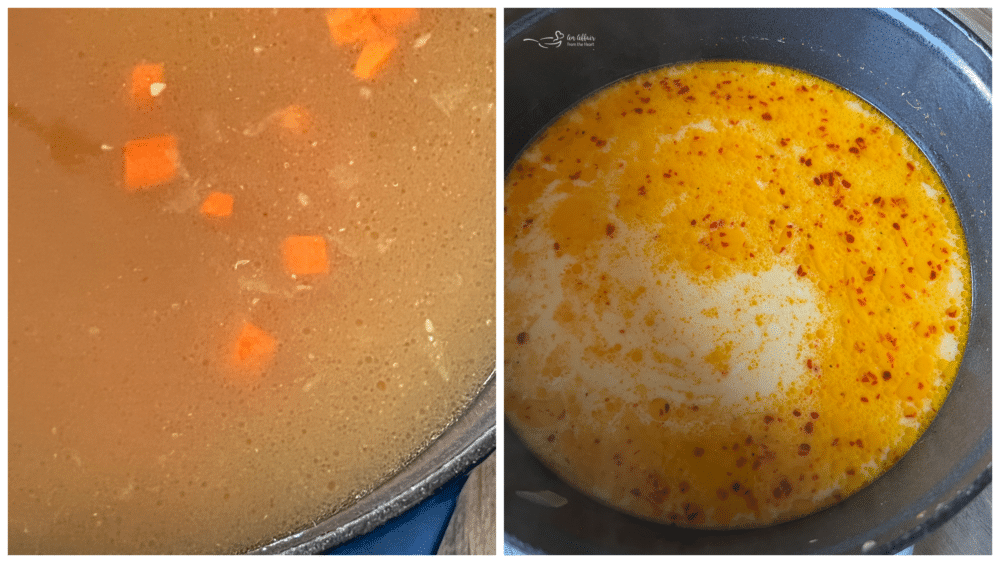 Add the red curry paste, ginger paste, carrots, and broth. Cover the pot with a lid and allow the soup to simmer for at least thirty minutes to allow all the flavors to mix together.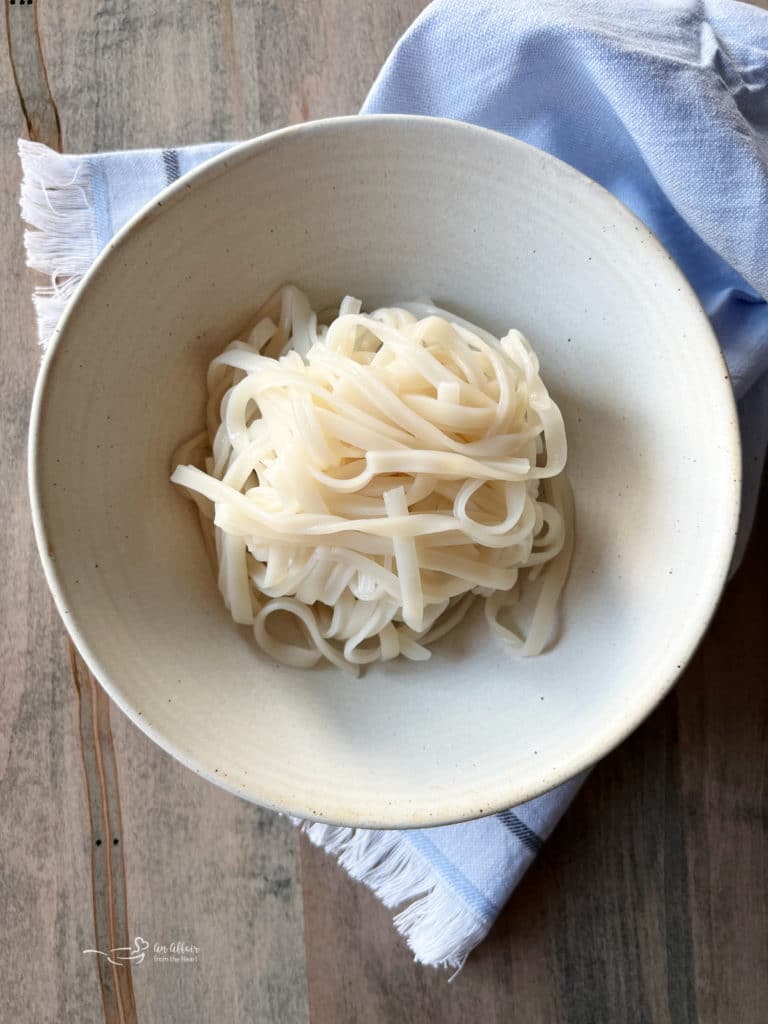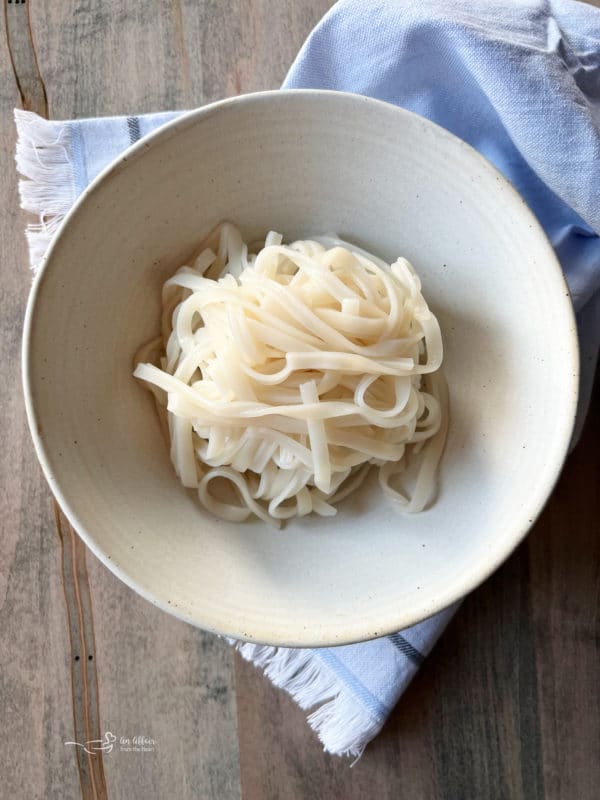 Meanwhile, prepare the rice noodles per the package's instructions. Rinse the noodles after they have been drained to prevent them from sticking together.
Next, stir the cream into the soup and sprinkle red pepper flakes into the soup if desired.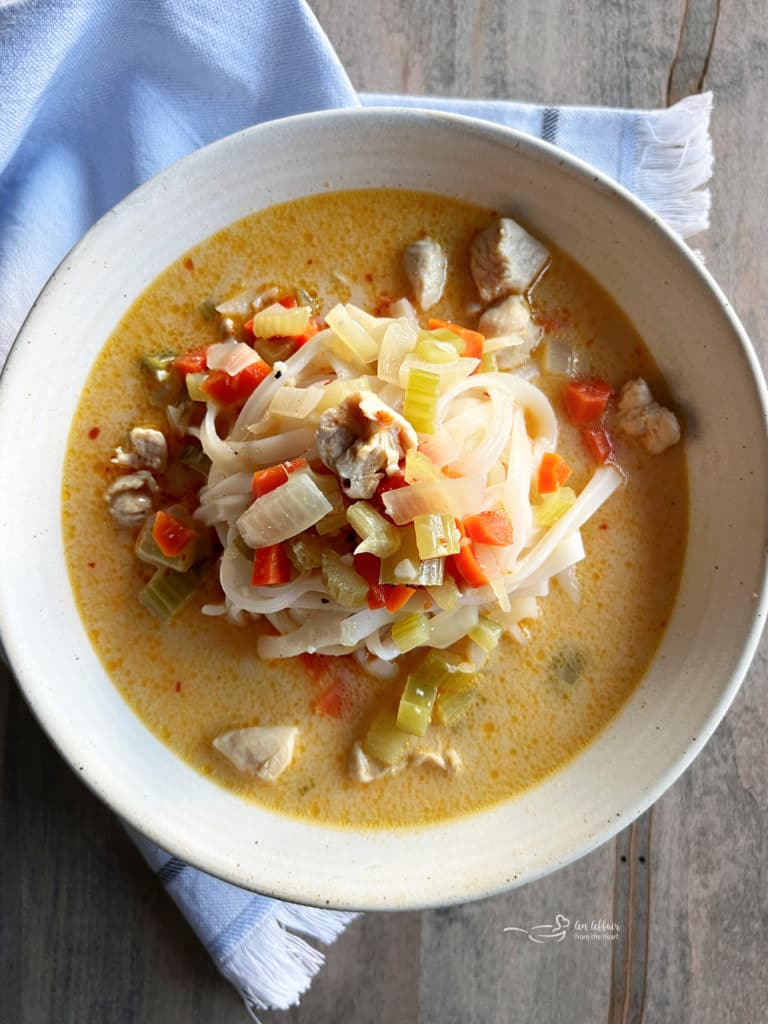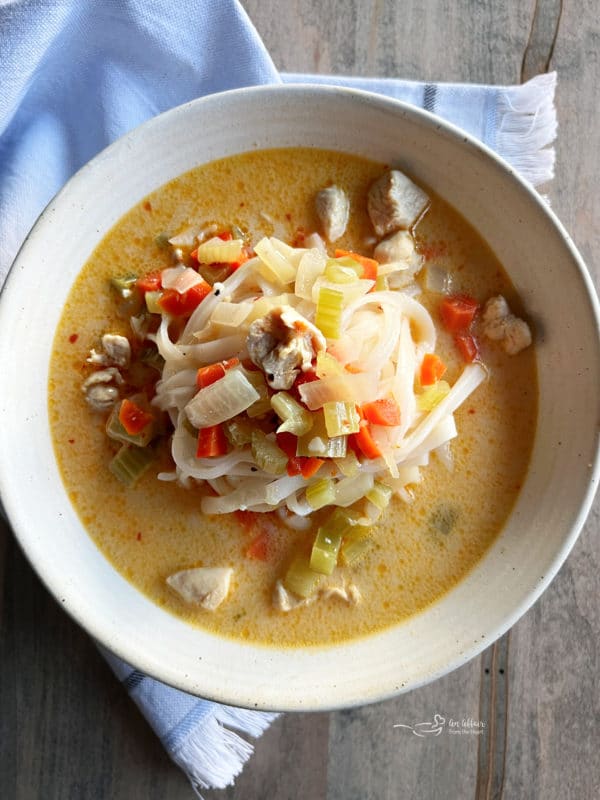 Serve the soup in bowls and top with fresh cilantro and a spritz of lime juice!
NOTES AND TIPS
Store the leftovers in an airtight container in the refrigerator for up to four days. I recommend storing the leftovers separate from the noodles, they will absorb the broth really fast.
Freeze the soup in a freezer-safe sealable bag or container in the freezer for three months. When ready to enjoy the soup, allow it to thaw in the refrigerator, then reheat on the stovetop.
To make this healthy Thai soup vegetarian, leave the chicken out and add cooked tofu if preferred. Be sure to use plant-based butter and vegetable broth.
Instead of rice noodles, you can serve this Thai noodle soup recipe with rice, cauliflower rice, zoodles, etc.
Add extra veggies like zucchini, squash, broccoli, cauliflower, bell peppers, mushrooms, potatoes, kale, spinach, etc.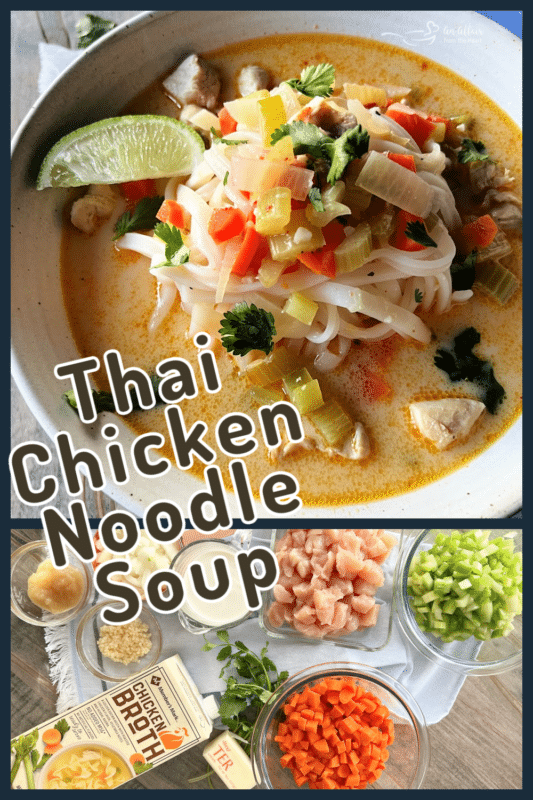 LOVE IT? PIN IT!
Be sure to save the pin for this healthy Thai chicken soup on your Pinterest board! Pin this soup to your favorite soup and dinner recipes to keep on hand for an upcoming dinner at home!
WHAT TO SERVE WITH THIS SOUP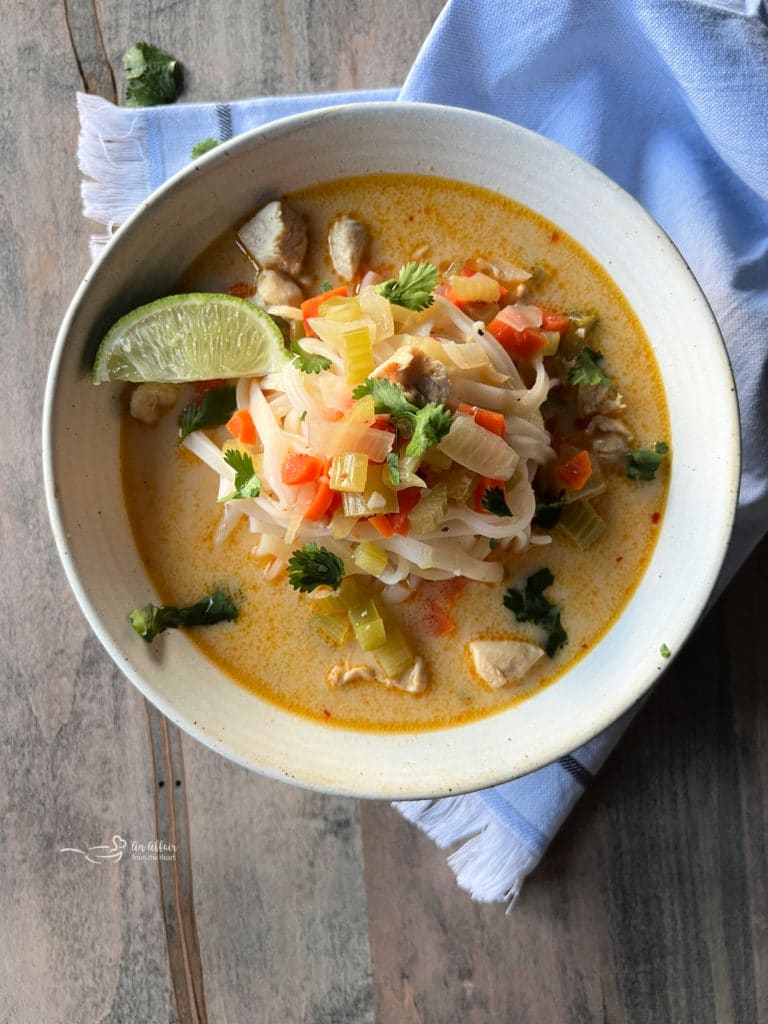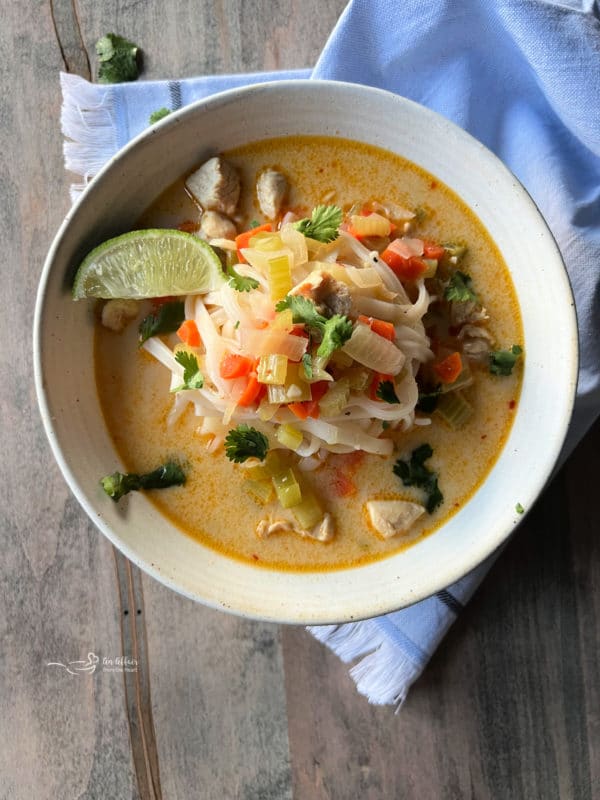 OTHER HEALTHY RECIPES YOU WILL LOVE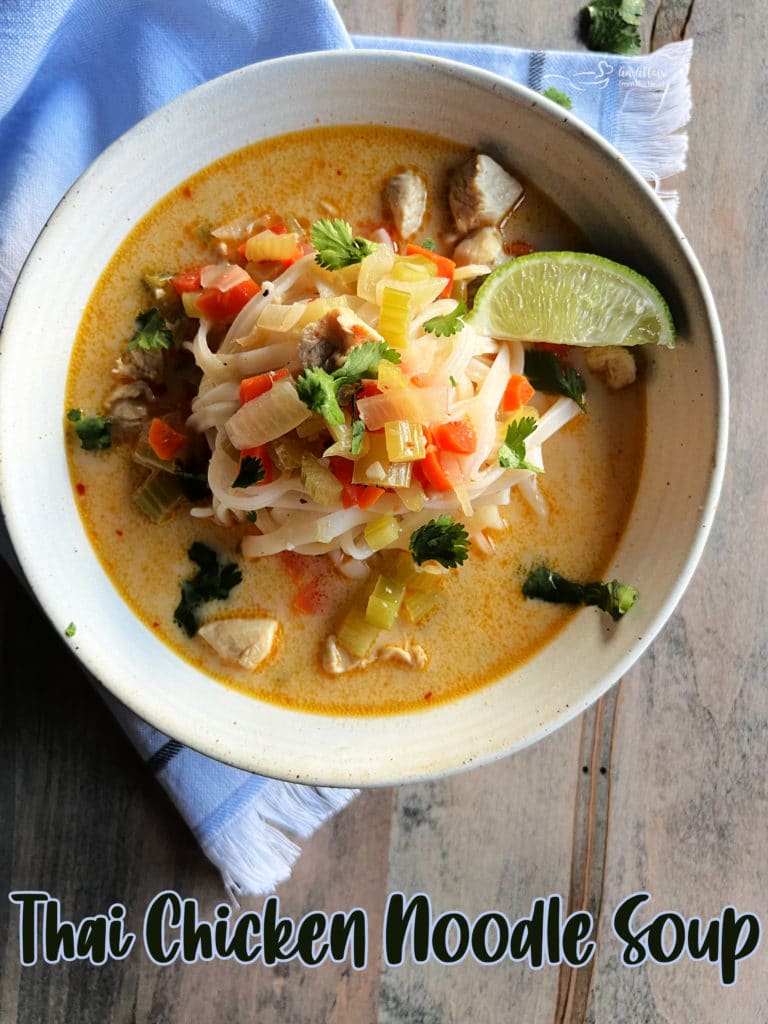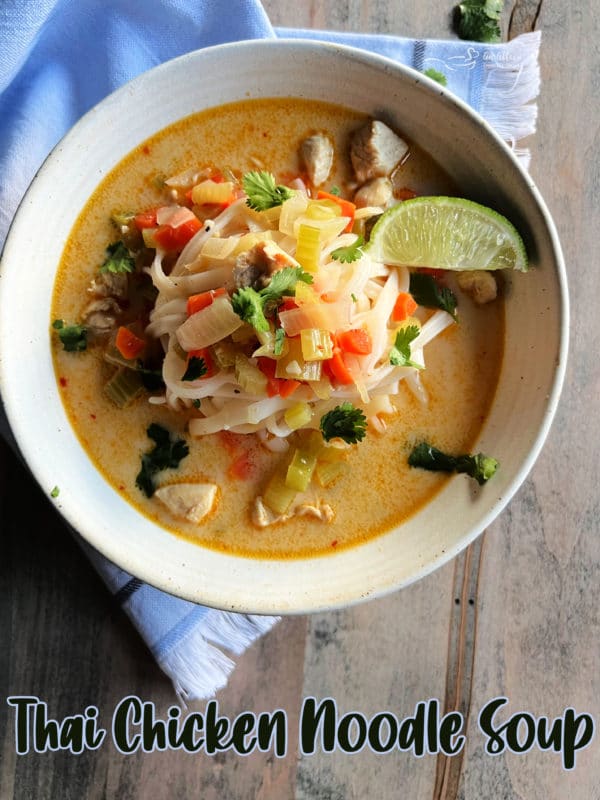 It's time for a warm and comforting bowl of Thai Chicken Noodle Soup!

Yield: 6 servings
Thai Chicken Noodle Soup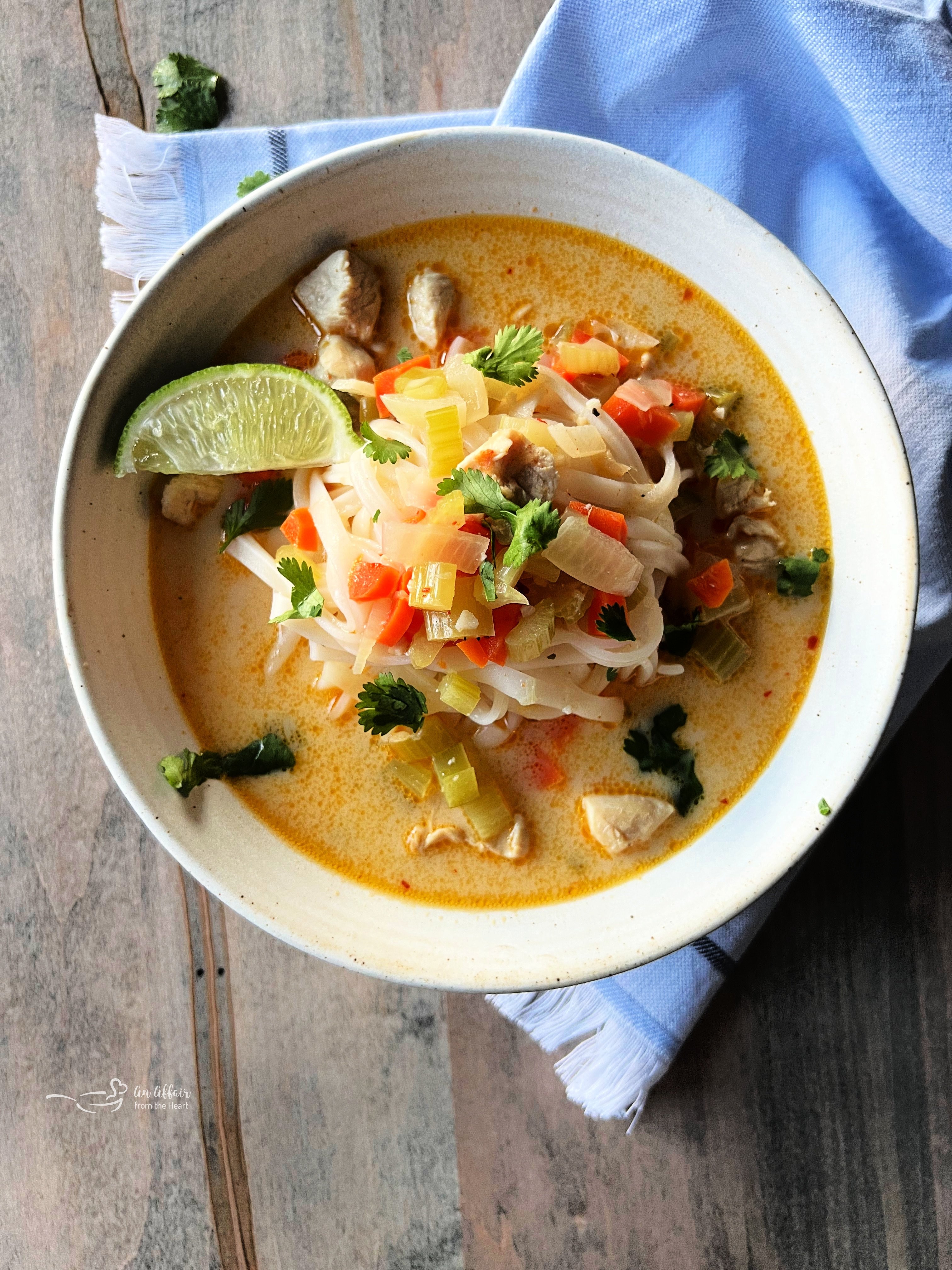 Ingredients
1 1/4 pounds boneless skinless chicken breasts, diced
4 Tablespoons butter
1 medium sized onion, diced
2 cups celery, diced
2 cups carrots, diced
5 cloves garlic, minced
2 teaspoons red curry paste
3 teaspoons ginger paste, or freshly minced ginger
2 quarts (64 ounces) chicken stock
1/2 cup heavy cream
Sprinkle of red pepper flakes, optional
16 ounces rice noodles, prepared according to package
fresh cilantro, fresh lime for serving
Instructions
In a Dutch oven, saute the chicken and butter.
When the chicken is about halfway cooked, add in the onion, garlic, and celery. Continue cooking until the chicken is no longer pink.
Next, add in red curry paste, ginger paste, carrots, and broth. Cover and simmer for about 30 minutes, or until veggies are your desired tenderness.
While the soup is simmering, prepare your noodles according to the package instructions. Rinse in cold water and set aside.
Stir the cream into the soup. If you want to add some more spice, give the soup a sprinkle of red pepper flakes. Salt to taste.
To serve: Place the noodles in the bowl and ladle the soup over the top. Garnish with fresh lime and cilantro if desired.