Baked King Cake Donuts
As an Amazon Associate and member of other affiliate programs, I earn from qualifying purchases.
Fluffy, Baked King Cake Donuts are incredibly soft with sweet flavors of cinnamon and sugar. This Mardi Gras donut recipe is super easy to make in the oven in a matter of only 12 minutes! These baked cake donuts will have you feeling like you just stepped off Bourbon Street in New Orleans with their colorful shimmery hues of green, gold, and purple.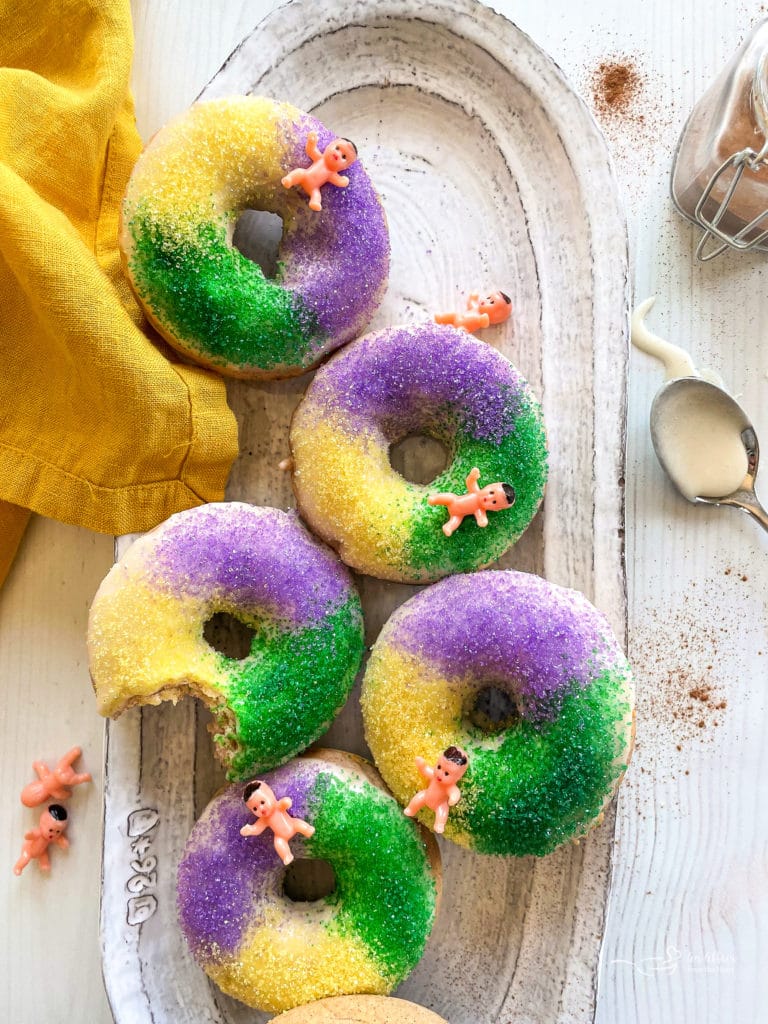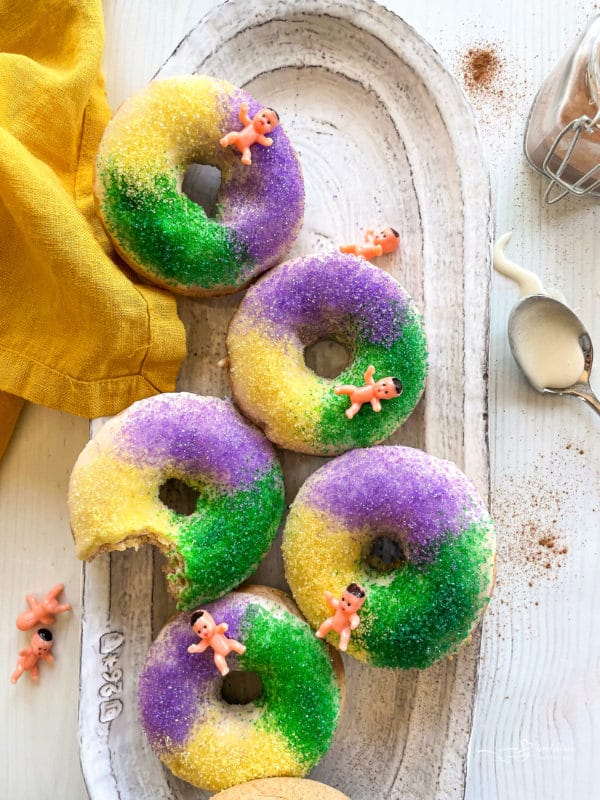 Fat Tuesday is in a few days, and that means Mardi Gras is in full swing and these King Cake Baked Donuts are the perfect way of celebrating! Attending Mardi Gras has always been on my bucket list of trips, but the older I get the more I think I will stay home and bake these festive donuts instead. Pretty sure they won't give me a headache in the morning either! Ha!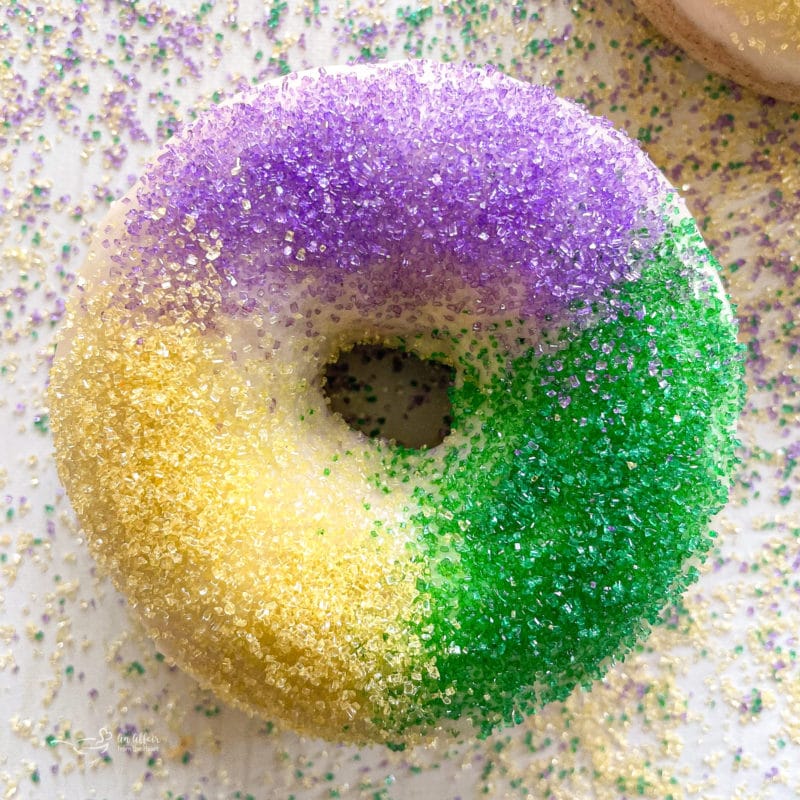 You are going to love this New Orleans-style baked doughnut twist on the traditional King Cake! Baked King Cake-style doughnuts don't have that yeast element that a customary King Cake has, but the vanilla cinnamon flavor is all packed in there in a lighter, fluffier baked donut that is dipped in a sweet glittery glaze.
These glazed cinnamon-vanilla donuts are accented with flavors and traditions that are joyful to many. There is nothing quite like the excitement behind festive king cakes!

THE KING CAKE TRADITION
Every January sixth, sweet King Cake is eaten in honor of the Epiphany holiday which represents the physical appearance of Jesus Christ to the Gentiles. These baked goods are traditionally garnished with a miniature plastic baby to signify the arrival of the wise men who traveled to Bethlehem to give Jesus his gifts.
In New Orleans, King Cakes are traditionally served to celebrate Mardi Gras and have been common delicacies since the 1700s! Another common practice of king cakes was that whoever found the baby in the slices of cake was allowed to act as king for the day.

WHAT IS KING CAKE?
This colorful dough-based dessert is a traditional staple in Mardi Gras, New Orleans, and Catholic cultures and is commonly celebrated by many every January to early March! King cakes kick off the carnival fun in New Orleans and are swirls of sweet baked dough that are drizzled in a sticky sweet cinnamon and sugar glaze. The glaze is usually coated in sparkles of golds, purples, and greens to signify justice, power, and faith so this is a colorful recipe!
These king cake doughnuts are just like king cake except they are slightly different because again, they do not contain yeast. But if you enjoy the lightness of baked cake donuts, then you will love the flavors of these moist Mardi Gras donuts!
WHAT DOES KING CAKE TASTE LIKE?
King cakes have sweet, pleasant, and aromatic flavors of warm cinnamon, dusty powdered sugar, gooey icing, vanilla, and moist soft dough that is baked to perfection. The flavors of this recipe for cake donuts are scrumptious!

WHAT DOES IT MEAN WHEN YOU GET THE BABY IN A KING CAKE?
Traditionally, each King Cake is usually stuffed with a miniature plastic baby to signify prosperity and good luck to whoever discovers it while enjoying the tasty flavors of the cake. This symbolic practice and tradition originated in the Christian faith to symbolize Jesus Christ and has been used to celebrate Epiphany and Mardi Gras ever since. Whoever finds the baby in a king cake is believed to be destined for great luck so be sure to keep an eye out for the plastic baby!
*Note: I place the baby on top of the donuts vs. inside of the donuts. In a smaller treat like this, some may consider them a choking hazard.

INGREDIENTS FOR THIS DELICIOUS RECIPE
Egg: One large egg at room temperature is whisked with the sugar and buttermilk to create a frothy base layer for the dry ingredients. The egg allows the donuts to be moist with a soft crumb.
Sugar: White granulated sugar allows these donuts to be as sweet as they can be! Add more sugar if you want them sweeter, but I personally think they taste amazing with the amount of sugar the recipe calls for!
Buttermilk: Baking with buttermilk allows these baked goods and dough to be pillowy soft and easy to bite into. If you do not have buttermilk, no worries! Use this easy buttermilk substitute.
Flour: All-purpose flour is perfect for these donuts and allows them to be just like cake donuts should be!
Cinnamon: Warm aromatic cinnamon is used to give these donuts a hint of spiced sweetness. Without the cinnamon, these just would not be king cake donuts!
Baking Powder: The baking powder activates with salt and flour and allows the donuts to rise while baking. Definitely do not skip this ingredient!
Salt: Just a tad bit of salt is used to balance everything out and activate with the other dry ingredients.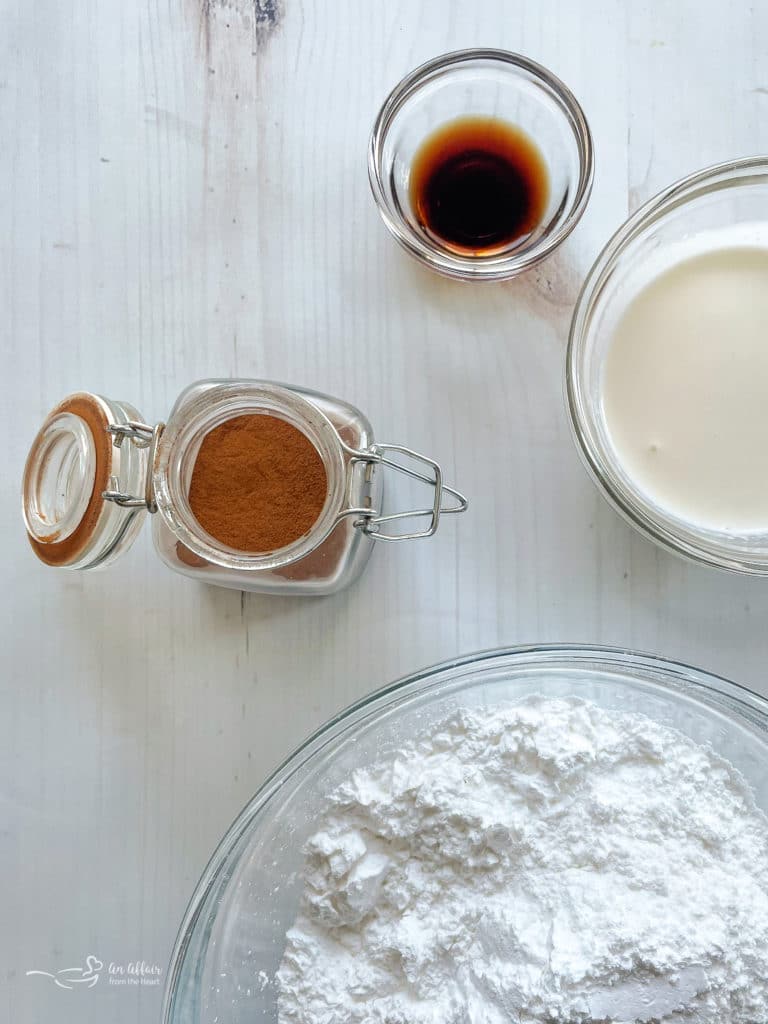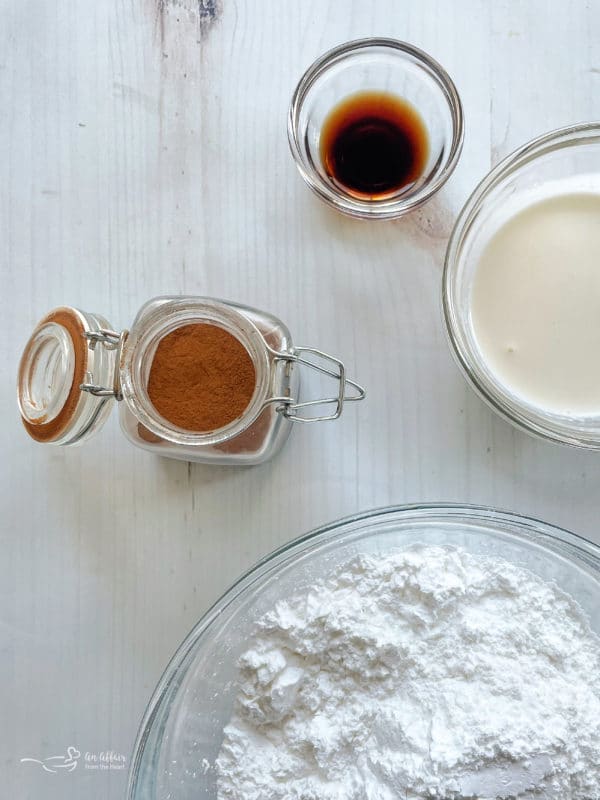 THE GLAZE
Cream: Dairy milk or heavy cream is fine for the glaze and allows it to be creamy and smooth.
Powdered Sugar: Confectioners' sugar is used to sweeten the glaze and is the right consistency because the granules are so fine they blend in with the cream.
Vanilla Extract: Rich notes of vanilla are mixed within the sweet glaze and give these donuts their yummy vanilla flavors.
Cinnamon: A little more cinnamon is folded into the glaze to give these baked king cake donuts the classic flavor of the icing.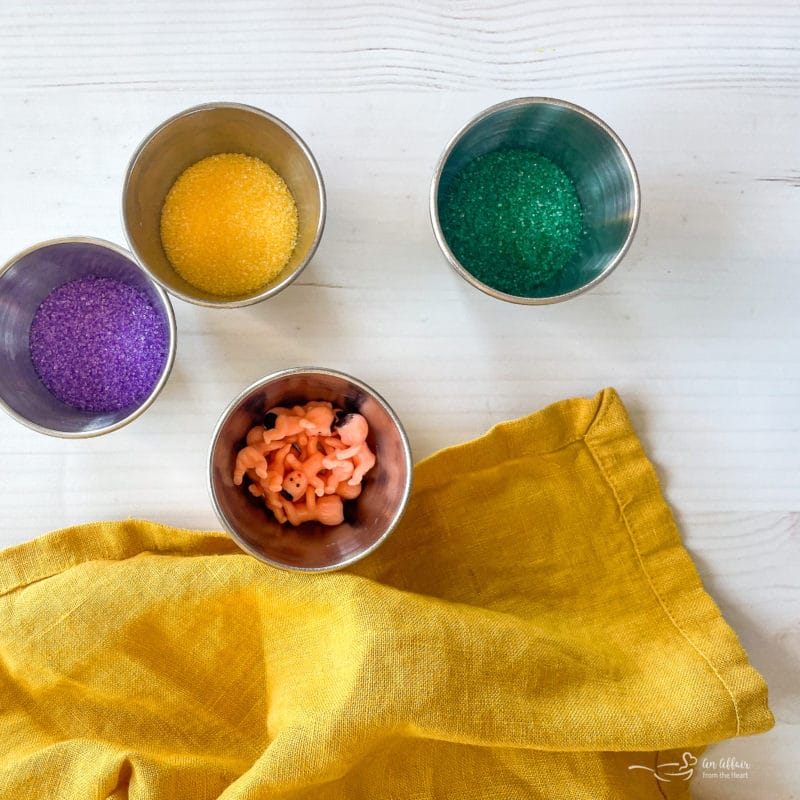 Sparkling Sugar: Colored sparkling sugar is used to decorate the king cake. Common traditional colors for king cake include purple, gold, and green hues. Mix them together or use them individually as I did here.
Plastic Babies: I bought mine on Amazon. I actually used them for a baby shower game called "my water broke," and kept them for the purpose of these very donuts!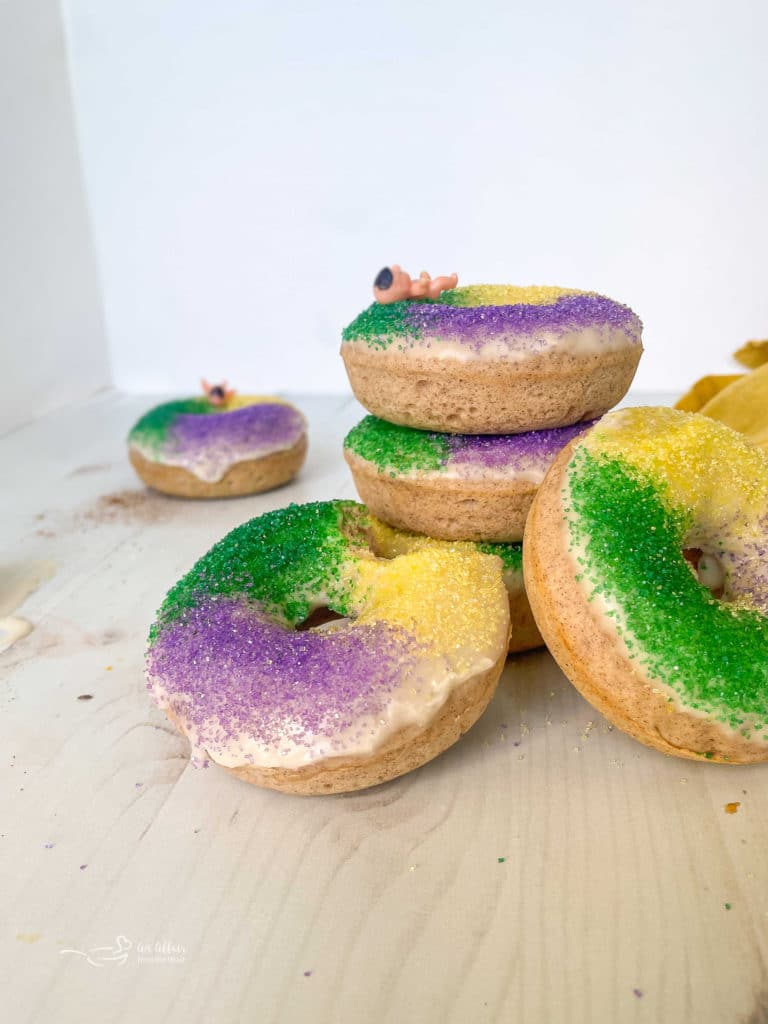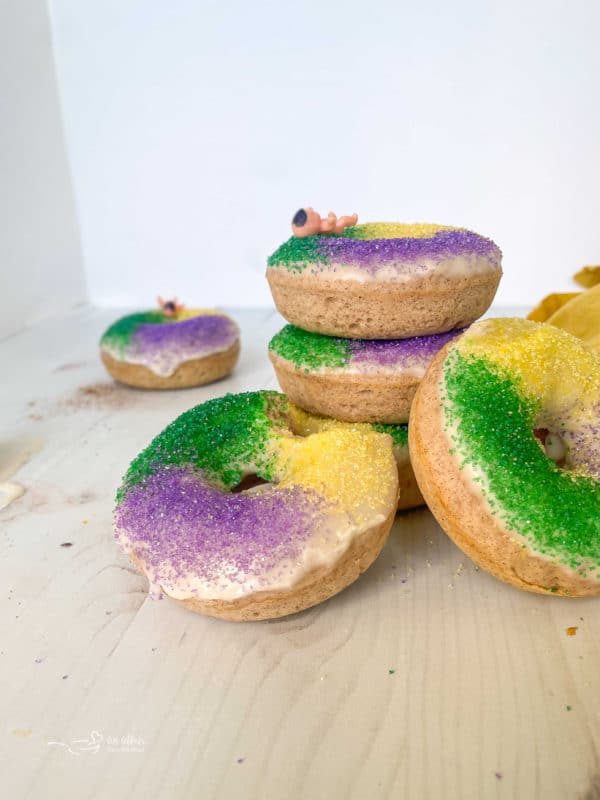 HOW TO MAKE HOMEMADE NEW ORLEANS STYLE KING CAKE DONUTS
Be sure to scroll down to the recipe card to read the full details of this easy donut recipe!
GREASE THE PAN
First, grease a six-hole donut pan with nonstick cooking spray. Set the pan aside until you are ready to use it. Meanwhile, preheat the oven to 325 degrees Fahrenheit.
In a bowl with a hand mixer, cream together the egg, sugar, and buttermilk.
MIX DRY INGREDIENTS AND COMBINE
Next, sift the flour with the cinnamon, baking soda, and salt into the bowl with the egg mixture. With a rubber spatula, lightly mix the batter until just combined.

BAKE THE KING CAKE DONUTS
Finally, you're ready to bake the donuts! Evenly distribute the doughnut batter among each donut well–there should be six total.
Make sure all of the donut wells are evenly filled so each king cake donut comes out similarly shaped.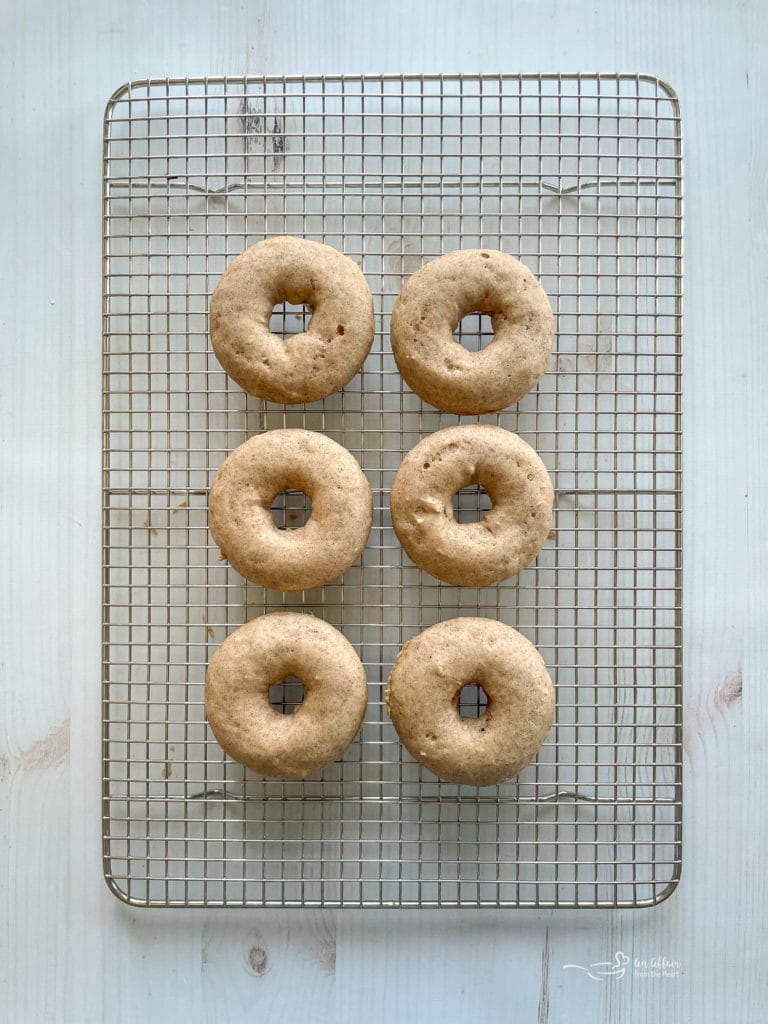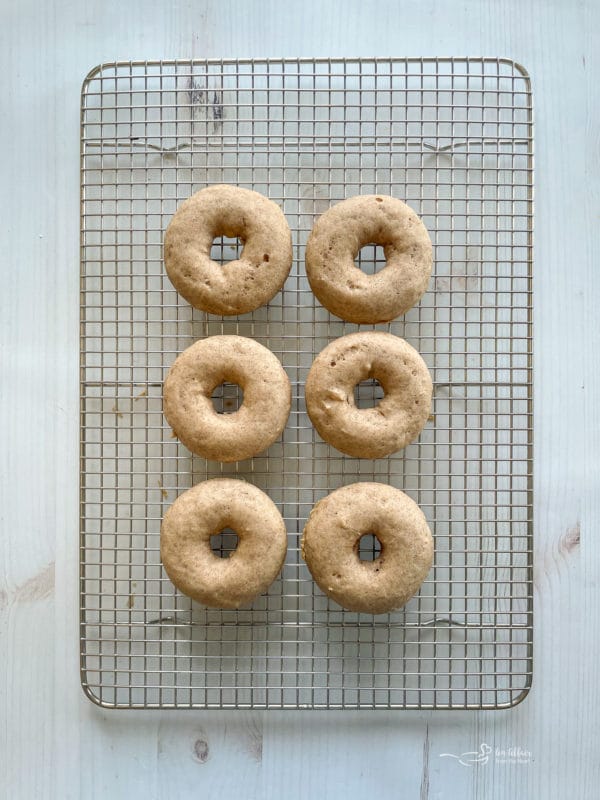 Bake the donuts in the preheated oven for twelve to thirteen minutes depending on how hot your oven gets. You want to make sure the baked cake donuts are a light golden brown color before removing them from the oven.

COOL
Carefully, place each donut on a wire rack to cool for around five minutes until they are cool enough to grab with your hands.
Then, prepare the sweet donut glaze by beating the cream, powdered sugar, vanilla extract, and a hint of cinnamon with a hand mixer in a bowl. Mix the glaze until it has a smooth shiny consistency.

Dip
Finally, dip the cooled donuts into the glaze and place them back on the cooling rack to allow the glaze to harden before serving.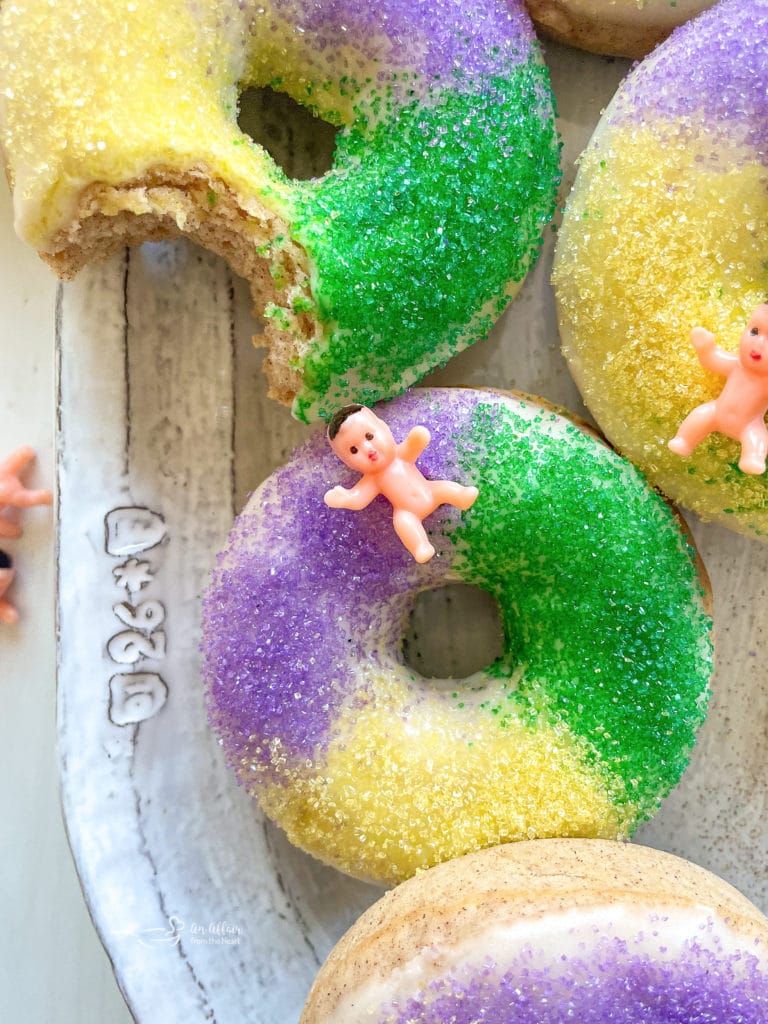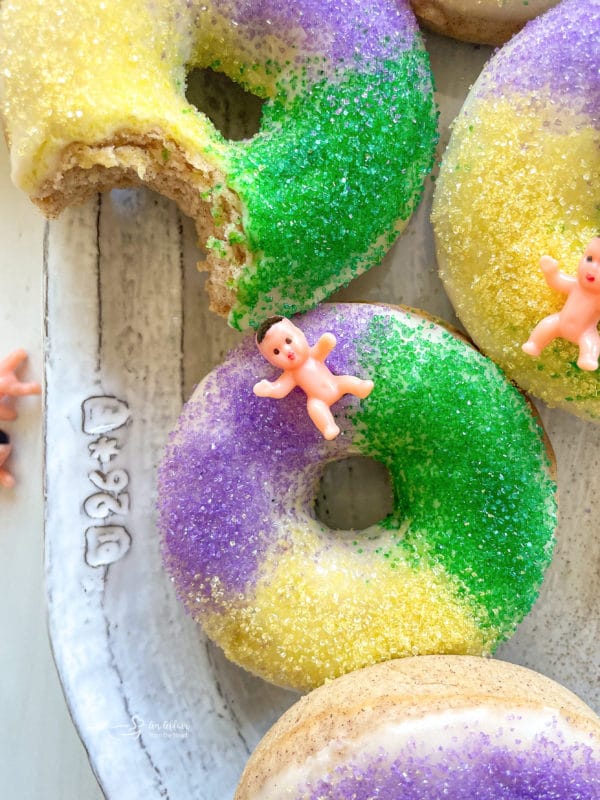 SERVE
While the donuts are on the rack, decorate them with colored sugar in tones of gold, purple, and green.
Also, don't forget to top the donuts with the plastic toy baby! Enjoy!

LOVE THEM? PIN Them!
Don't lose sight of this festive king cake recipe! Save these donuts to your favorite Mardi Gras-themed or baked goods boards! The whole family will love this idea of baked king cake donuts.

Vanilla Cinnamon Baked Donuts
These baked donuts are all dressed up for Fat Tuesday, but they are easily left plain with just the glaze, or decorated in any way you choose. Don't wait until Mardi Gras to enjoy them!
TIPS
Avoid overmixing the batter or the doughnuts will not fully rise while they are baking in the oven.
Serve king cake donuts with tea, coffee, a glass of milk, or your favorite warm beverage!
Be sure to eat King Cake on January 6th if you are celebrating Epiphany!
Store the leftovers in an airtight storage container at room temperature for three days.
Freeze the king cake donuts by freezing in a single layer in a ziplock bag in the freezer for three months. When ready to eat the donuts, allow them to fully defrost in the refrigerator before enjoying them again.

MORE SWEET DONUT RECIPES YOU WILL LOVE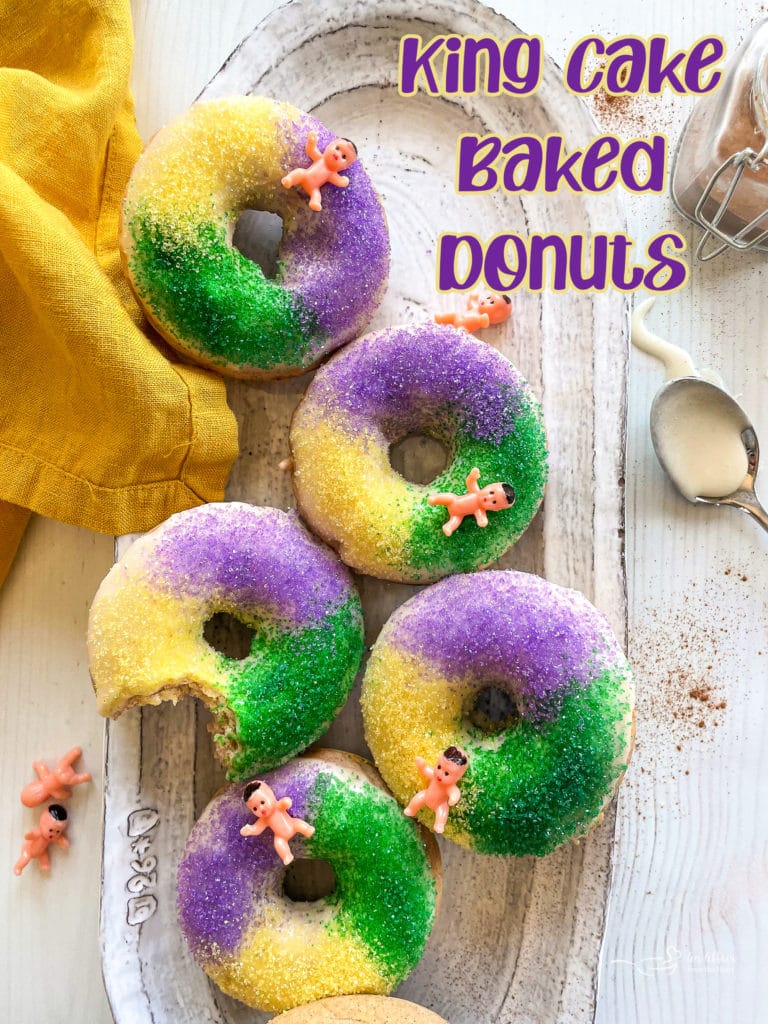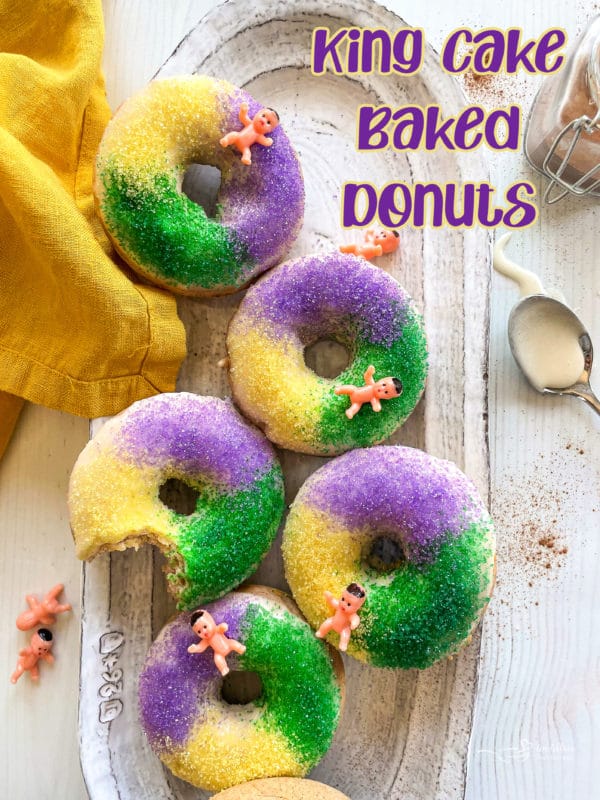 Fat Tuesday is coming! Let's bake some King Cake Donuts!
Yield: 6 DONUTS
Baked King Cake Donuts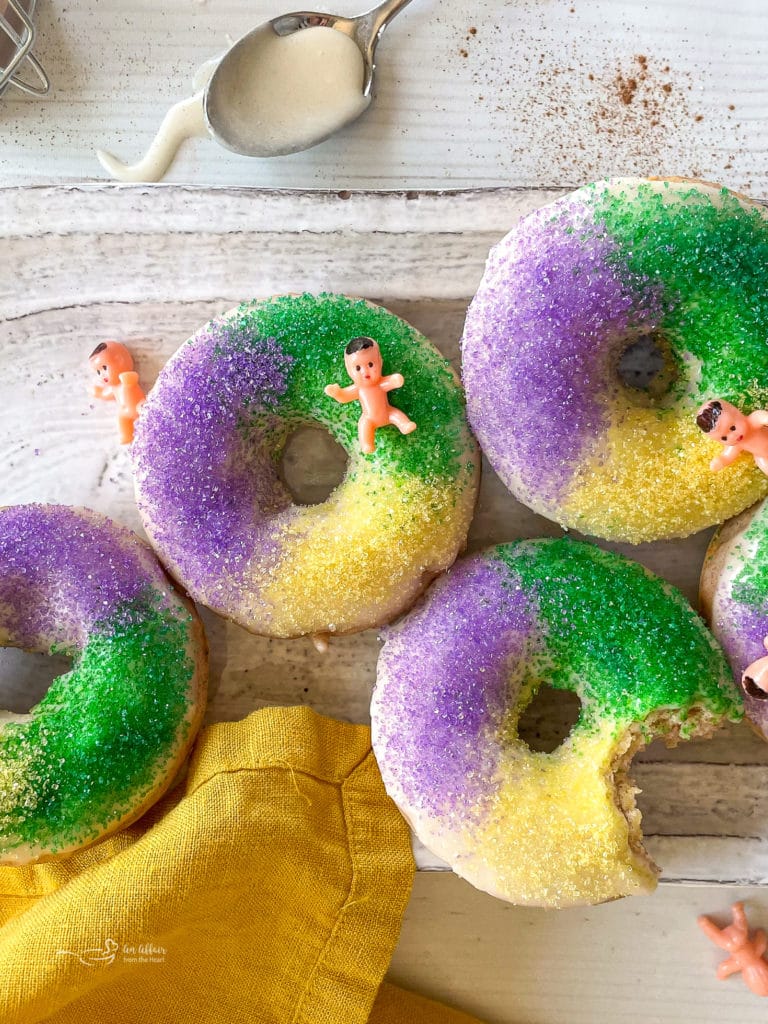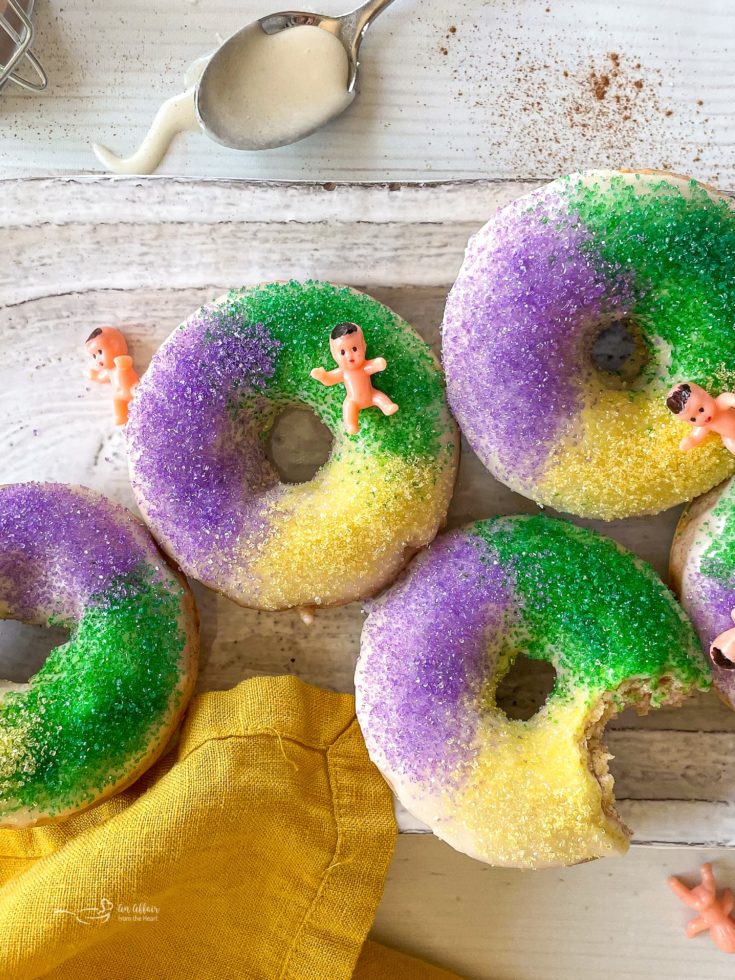 These Baked King Cake Donuts are a fun and simple twist on a traditional Mardi Gras King Cake! Baked cake donuts flavored with vanilla and spiced with cinnamon. Glazed with vanilla cinnamon icing before sprinkling them in purple, green, and gold sugar.
Ingredients
For the Donuts:
1 cup flour
1 teaspoon baking powder
¼ teaspoon salt
1 teaspoon ground cinnamon
¼ cup sugar
1 large egg, room temperature
½ cup buttermilk
For the Glaze:
1 ½ cups powdered sugar
2-3 Tablespoons cream
1 teaspoon vanilla extract
Pinch of cinnamon
Plastic babies, Green, Gold, and purple colored sugar for decorating
Instructions
Preheat the oven to 325 degrees F and spray the donut pan with non-stick cooking spray. Set Aside.
With a mixer, combine egg, sugar and buttermilk.
Sift flour, cinnamon, baking powder and salt into the egg mixture.
Divide batter evenly between each donut well.
Bake for 12-13 minutes, or until donuts are light golden brown, and spring back to the touch. Turn onto a cooling rack, cool.
Beat cream, powdered sugar, vanilla extract, and a pinch of cinnamon together until smooth and glaze is your desired consistency.
Dip the cooled donuts into the glaze and return them to the cooling rack.
While the glaze is still wet, decorate them with each of the 3 colors of sugar. Add a baby to the top.
Enjoy!
Notes
Store in an airtight container for up to 3 days.
I always put the baby on top, not inside. With a small donut, that always seemed like a choking hazard.
Recommended Products
As an Amazon Associate and member of other affiliate programs, I earn from qualifying purchases.
Nutrition Information:
Yield:
6
Serving Size:
1
Amount Per Serving:
Calories:

267
Total Fat:

4g
Saturated Fat:

2g
Trans Fat:

0g
Unsaturated Fat:

1g
Cholesterol:

40mg
Sodium:

223mg
Carbohydrates:

54g
Fiber:

1g
Sugar:

37g
Protein:

4g
Please note that nutrition is not guaranteed accurate.