This Crab and Shrimp Pasta is truly incredible! Made with crab meat, shrimp, garlic, and tomatoes while being tossed in a delicious buttery sauce and topped with fresh Parmesan cheese. As a result, you get an outstanding flavor!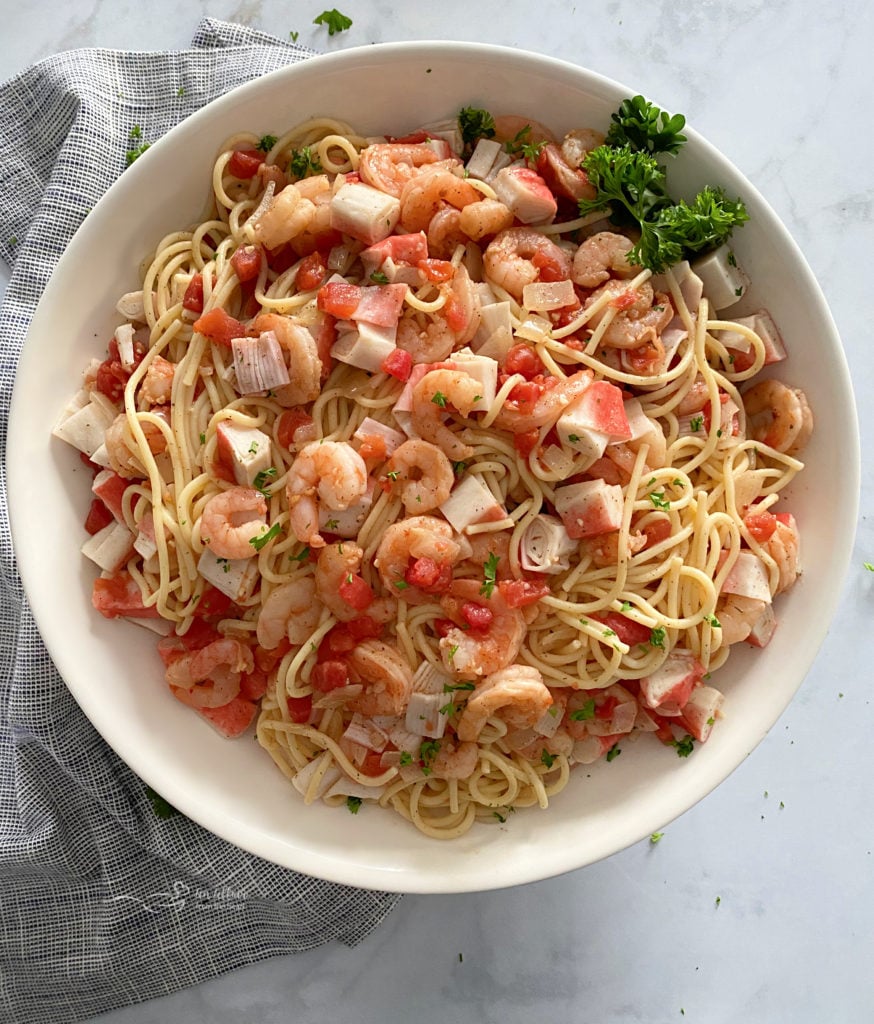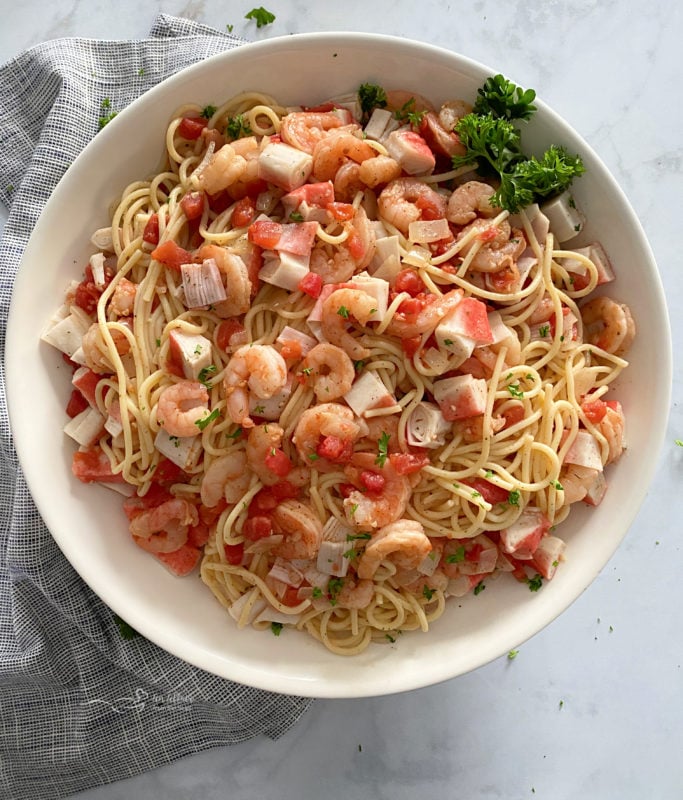 Shrimp and Crab Pasta is hands down my kids' most requested meal. It's chosen for birthdays and made for special occasions. It sounds fancy and difficult, but honestly, the whole meal comes together in less than 30 minutes. Able to make any old weeknight seem special.
This is one of my very favorite imitation crab and shrimp pasta recipes. Tender pasta cooked to perfection with cooked shrimp and crab make the ultimate meal to create a dinner that'll have an everlasting effect. Know what's even better? Crab and shrimp pasta leftovers!
Butter, garlic, savory Parmesan, and tomatoes are ingredients that truly make this easy dinner recipe shine, and you'll impress anyone you serve this recipe to. We like seafood pretty often in our home, but especially crab. We like to use either fresh or imitation crab, and I keep a couple of recipes in rotation: my
Slow-Cooker Crab Dip
, these
Maryland Crab Cakes
, and
Alaskan Snow Crab Macaroni and Cheese
. If you like crab and cheese together, then you're really going to love these recipes.

Crab and Shrimp Pasta
There's just something amazing about pasta and seafood. Ever have a craving for delicious pasta, but don't want to leave your home? This crab and shrimp pasta recipe is an easy way to make a gourmet five-star meal right in your own kitchen. Not only is this recipe a fan family favorite, but also the kids love it! That's a winner in my book.
This shrimp and crab pasta recipe isn't heavy like alfredo and has a much more rich flavor in my opinion all thanks to the shrimp, imitation crab, and tomatoes. Creamy, cheesy, in addition to silky… This easy weeknight dinner recipe is a must. Tomatoes and Parmesan cheese equal perfection.
Ingredients for Pasta with Shrimp and Crab
Pasta– I like to use spaghetti noodles for this recipe, but honestly, any time of pasta will work like macaroni elbow noodles, fettucini, or egg noodles. So many different types of pasta will work for this recipe!
Olive oil- The classic robust flavor of olive oil compliments this shrimp and crab pasta recipe very well, but any type of oil will work such as avocado oil, coconut oil, or grapeseed oil.
Butter– The butter is used to amplify the rich flavor in the garlic and onion sauce. You'll definitely want to use butter for this recipe! Both salted and unsalted butter will work.
Mrs. Dash Seasoning– I used the tomato, basil, and garlic blend. You can find this at your local grocery store or online.
Onion– Fresh onions are used for extra flavor and texture. Yellow onions will work in addition to white onions!
Garlic– Freshly minced garlic for a flavor that is rich and savory. If you don't have fresh garlic, then you can try garlic powder.
Shrimp– Precooked or thawed shrimp will work in this recipe, but just make sure the shrimp get cooked all the way through!
Tomatoes– Canned diced tomatoes are used for this pasta recipe, but fresh tomatoes will work, too.
Crab– Imitation crab meat is what I used for this recipe, but fresh crab meat will also be delicious.
Parmesan Cheese– A wedge of Parmesan is best for freshly grated cheese, but pre-grated Parmesan is okay to use here, too!
How to Make Crab and Shrimp Pasta
You'll love how quickly this recipe comes together.
This shrimp and crab pasta is so easy to make!
First, boil your pasta according to the package's instructions, then drain it pasta once al dente. Set it aside.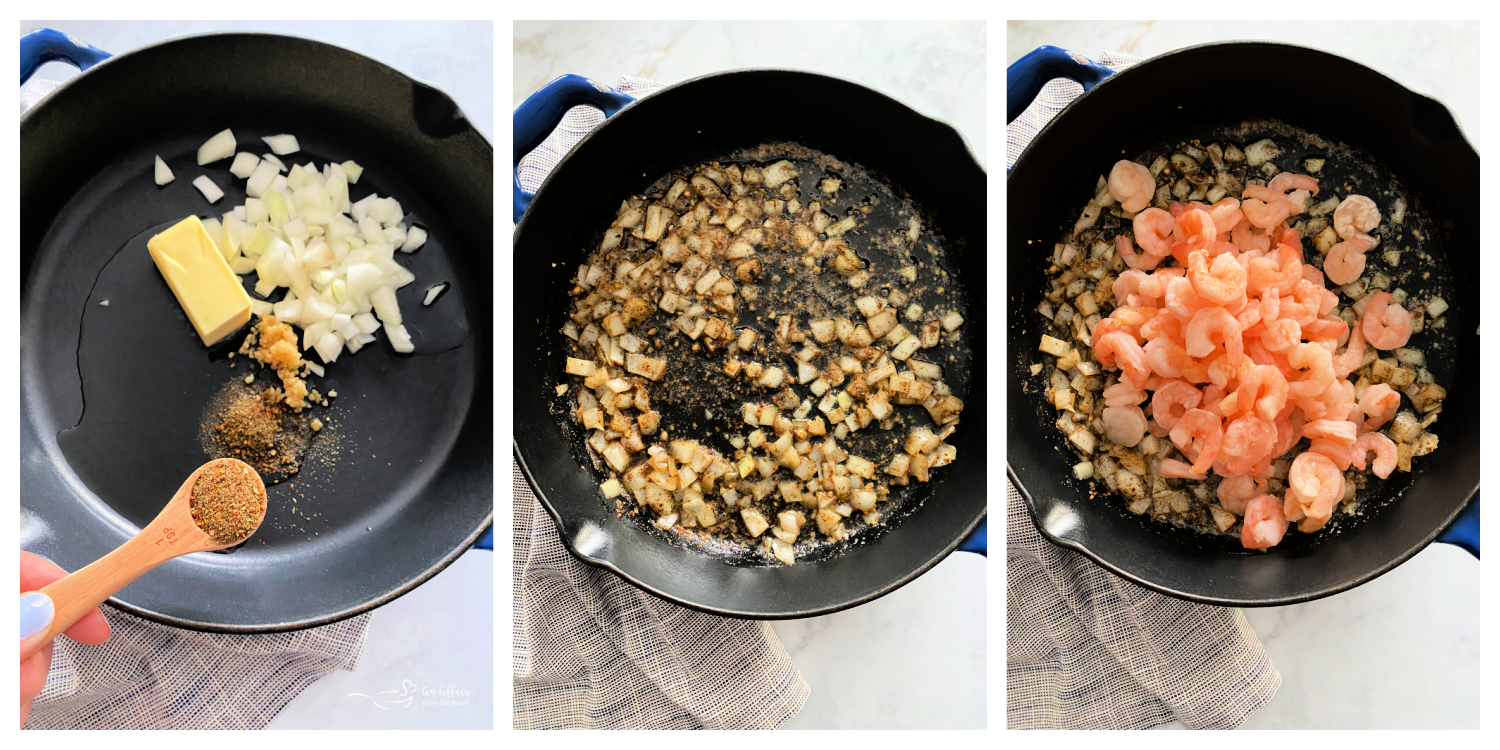 Meanwhile, in a large skillet, add three tablespoons of olive oil, 1/4 cup (1/2 of 1 stick) of butter, Mrs. Dash's seasoning, diced onion, and minced garlic. On medium heat, first melt the butter and spices together, cooking for about three minutes, or until your onion becomes translucent.
Add the butter mixture to the shrimp and stir to fully coat.
Next, add in the diced tomatoes, then stir in crab meat. Finally, sprinkle with sea salt to taste.
Add the cooked pasta and remaining butter, then toss the ingredients together. When the butter is melted and the pasta is warm, serve in a pasta bowl. Finally, serve with freshly grated Parmesan cheese.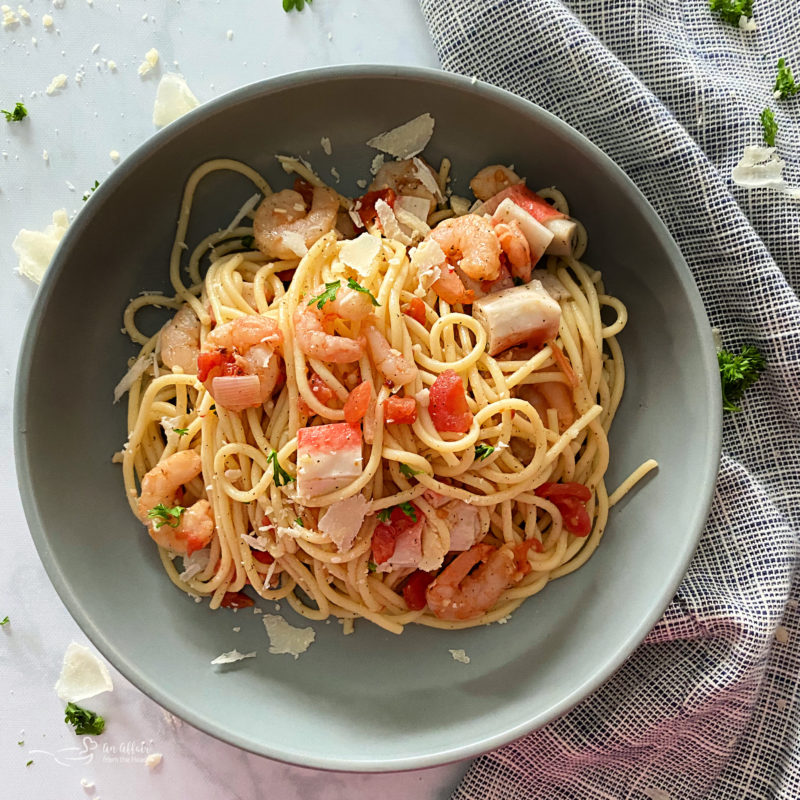 Tips for this Recipe
Don't overcook the pasta because if you overcook it, it will not have a very good texture!
This shrimp and crab recipe is perfect for leftovers! Just simply transfer the leftovers in a storage container and refrigerate for three to four days.
Lastly, serve this pasta with wine, garlic bread, rolls, or any other type of bread.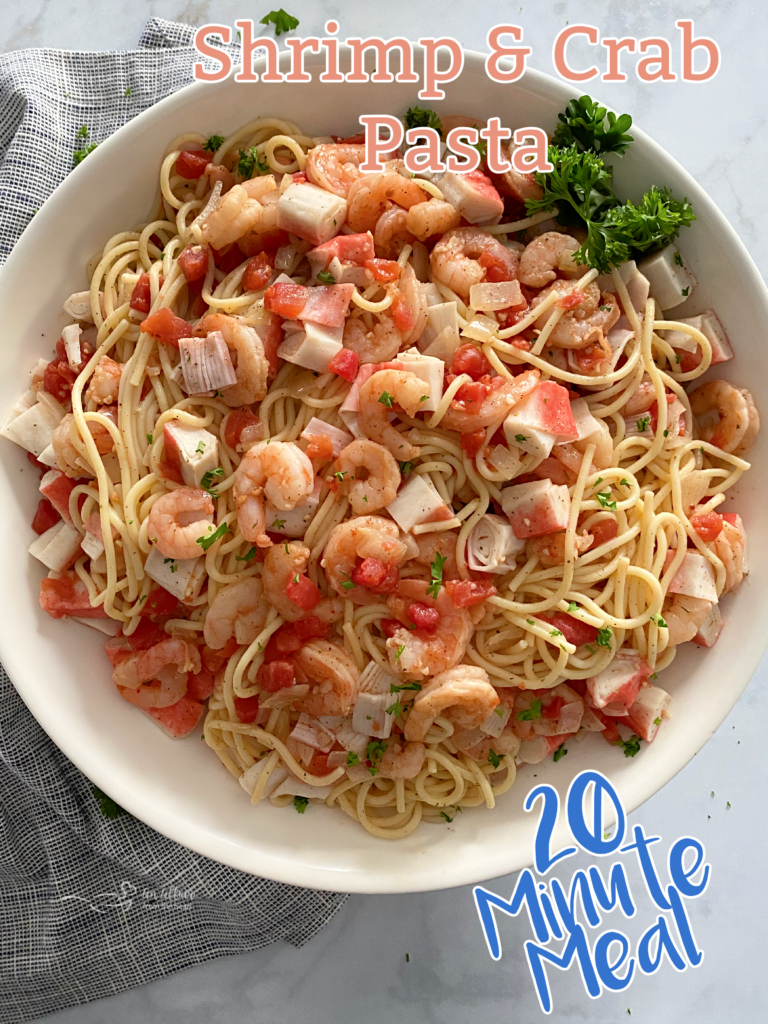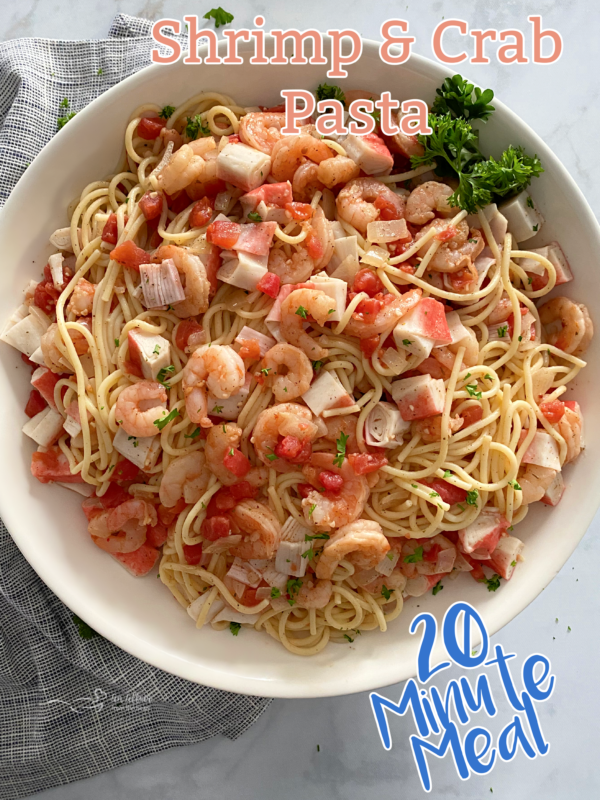 Love it? Pin it!
Don't forget where you found this simple Shrimp & Crab Pasta recipe! Pin it to your favorite Pinterest recipe board before you go!
Other Pasta Recipes You'll Love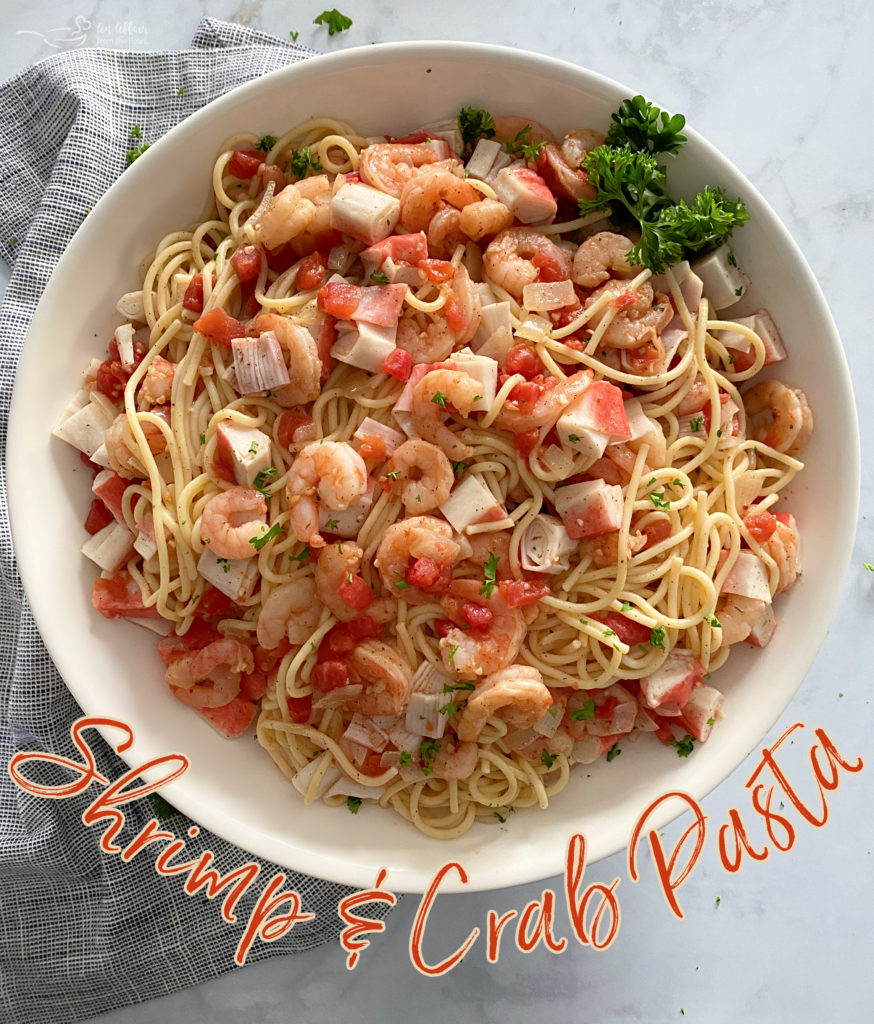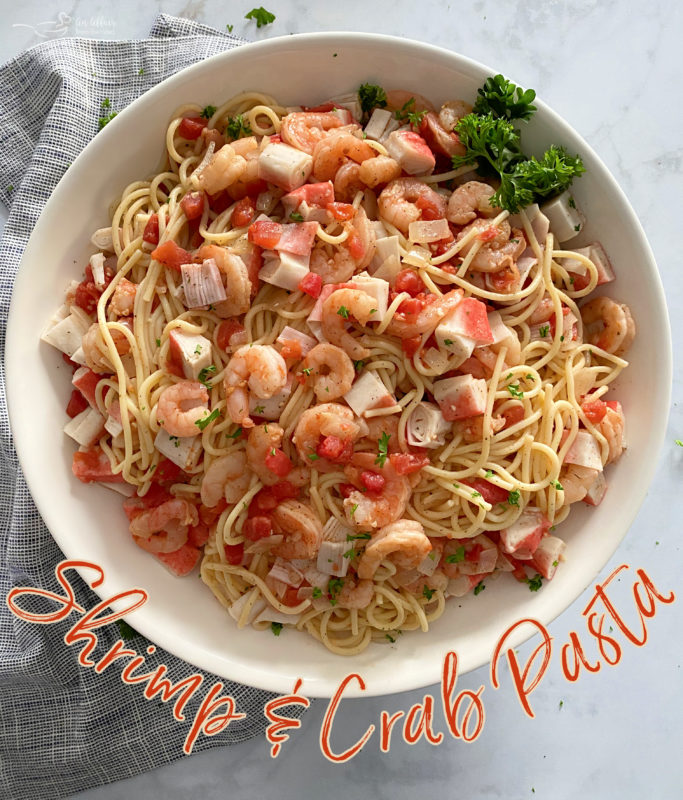 Let's make some seafood pasta!

Yield: 8-10 servings
Shrimp and Crab Pasta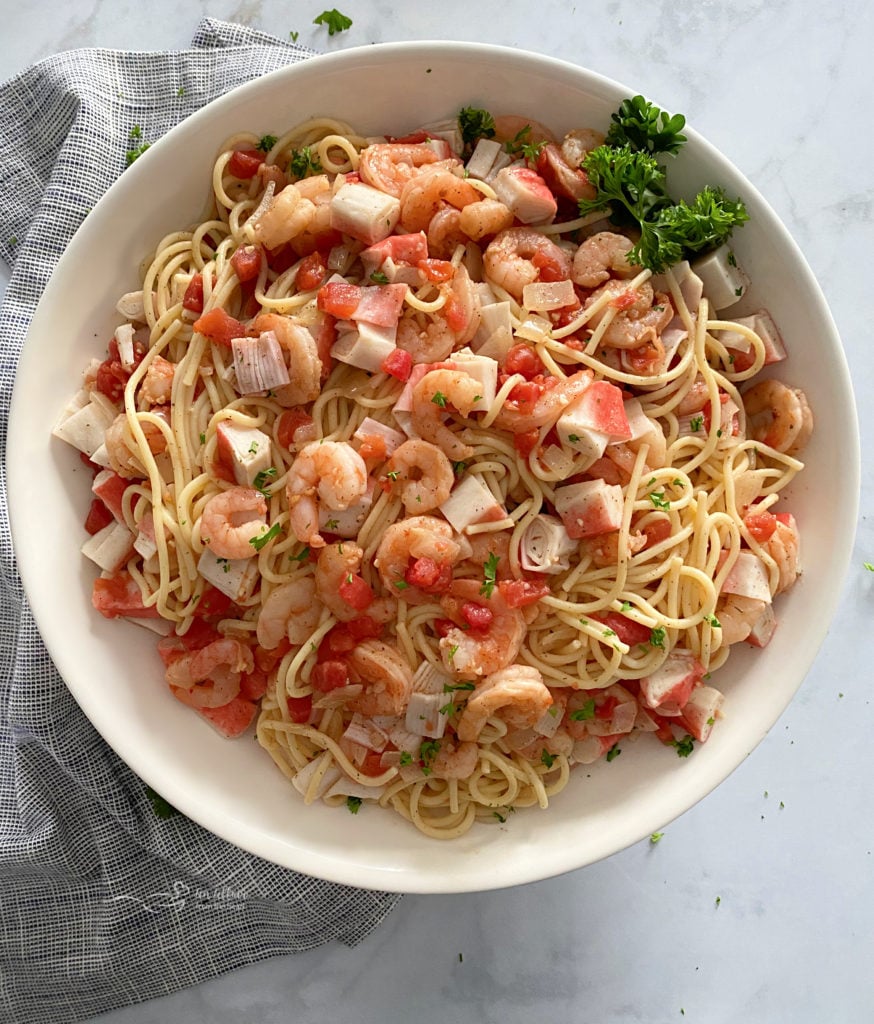 A quick pasta dish full of crab and shrimp.
Ingredients
3-4 Tablespoons Olive oil
2 teaspoons Mrs. Dash Tomato, Basil and Garlic Seasoning
1 stick of butter (1/2 cup) divided
1 (14 ounce) can of diced tomatoes, with juice
1 clove garlic, minced
sea salt to taste
1/2 cup onion, diced
12 - 16 ounces of cooked shrimp, peel and tails removed, defrosted if frozen
1 (16 ounce) package of imitation crab meat (or the real thing) cut in chunks
1 (16 ounce) package thick spaghetti (or other pasta)
fresh Parmesan cheese, for garnish
Instructions
Boil your pasta and drain it, set aside.
In a skillet, add 3 Tablespoons of olive oil, 1/4 cup (1/2 of 1 stick) of butter, Mrs. Dash, onion and garlic. On medium heat, melt butter and spices together, cooking for about 3 minutes, until your onion becomes translucent.
Add to this your shrimp, stir. Add in tomatoes. Stir in crab meat. Sprinkle with sea salt to taste. Warm through.
Add pasta and remaining butter, toss. When butter is melted and pasta is warm, place in a pasta bowl and top with fresh Parmesan cheese.

Recommended Products
As an Amazon Associate and member of other affiliate programs, I earn from qualifying purchases.
Nutrition Information:
Yield:
10
Serving Size:
1
Amount Per Serving:
Calories:

751
Total Fat:

15g
Saturated Fat:

4g
Trans Fat:

0g
Unsaturated Fat:

10g
Cholesterol:

1150mg
Sodium:

5340mg
Carbohydrates:

20g
Fiber:

1g
Sugar:

5g
Protein:

126g
Please note that nutrition is not guaranteed accurate.
This recipe was originally posted on October 5, 2011. It was one of the very first recipes on my website! It was updated to improve user experience in February of 2021.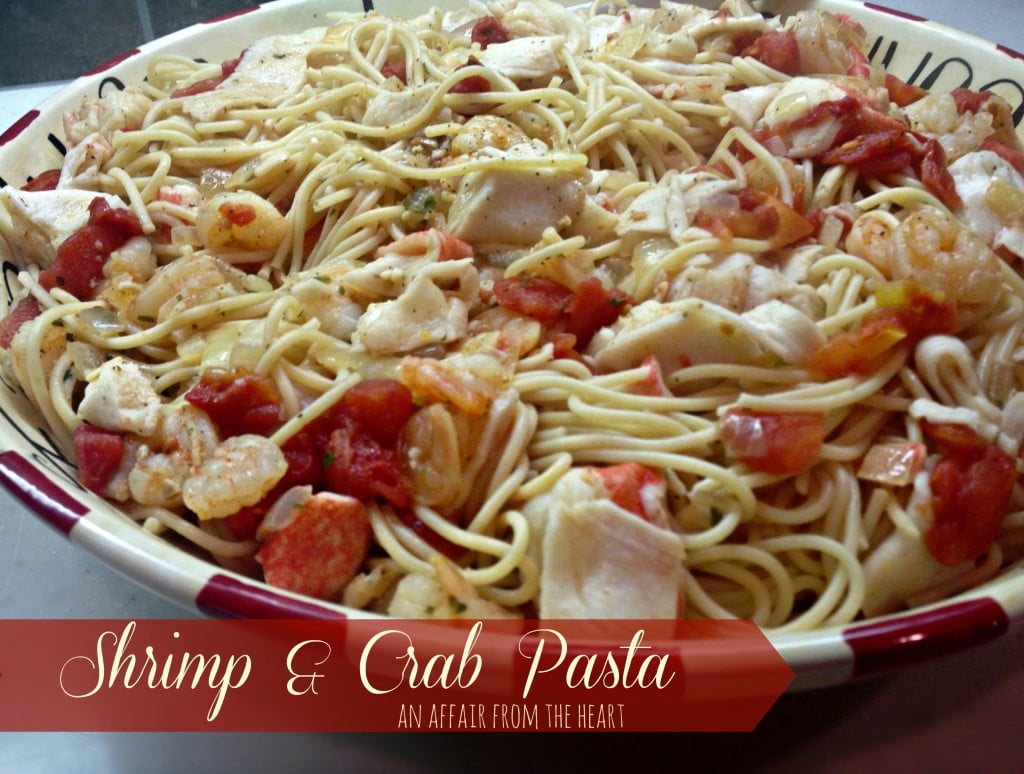 If you make this recipe, I'd love to know! Snap a picture, share the photo on social media with the hashtag #AnAffairFromTheHeart – I'd love to see what you made! – Michaela