Love the fish sandwiches at McDonald's? It's mostly about that tartar sauce! Now you can make them at home!
We try to not eat a lot of fast food. Face it though … sometimes you get a craving. When Lent rolls around, we always have to make a trip to McDonald's for fish sandwiches.
It's my hubby and youngest daughter's FAVORITE thing on the menu.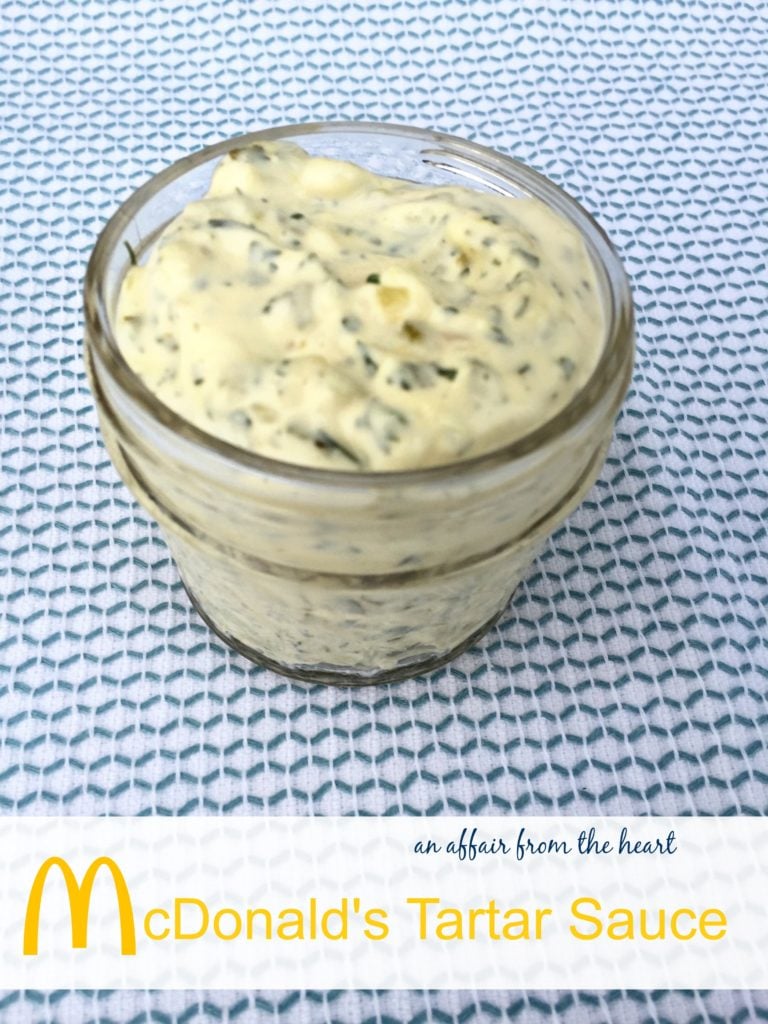 Let's face it … a lot of what's to love is the SAUCE! Nothing beats a good tartar sauce.
A while back my mom told me she had been using a copy cat recipe for their tartar sauce for years.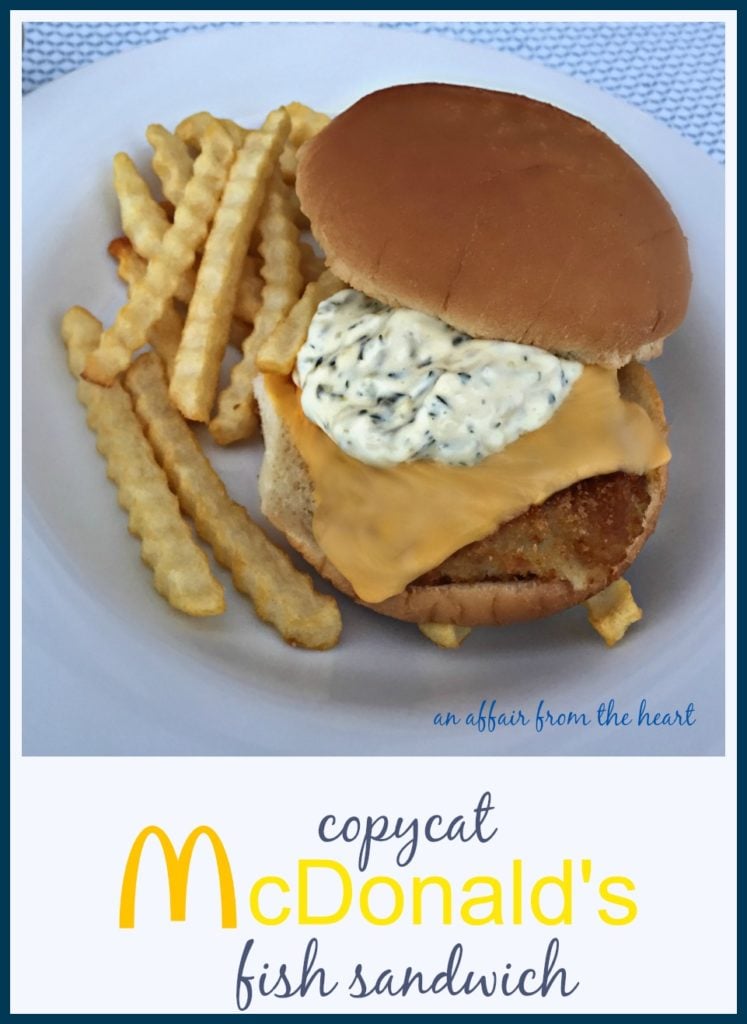 Excuse me, Mother?? How am I just hearing about this NOW?!
I promptly had her text it to me, and I set out to mimic their whole sandwich.
If you ask my daughter what she likes most, she will tell you the bun. So, I did some research to find out how it's always so soft. I read they steam them. Brilliant! I steam tortillas all of the time, that would be easy. So, I had the bun, I had the sauce, the cheese is basic American slices. Now the fish. Many people claimed to use Mrs. Paul's fish fillets. No offense to them, but I was raised on Van de Kamp's. Growing up Catholic, we ate it plenty over the years. I decided to take a look and see what they had that would be a good fit for the bun. They had one that was square shaped, and I decided to go for it. They now carry one that is called "Hearty Bun Sized" that would have filled up the bun a little better than what I had to work with, I will get those next time. 😉
Steaming the bun was easy. I simply placed them in a plastic bag with a damp paper towel and microwaved them for about 30 seconds. Perfectly steamed. The fish was baked, topped with the cheese when hot, slathered with some tartar sauce and placed the steamed bun on top. Of course, french fries were in order.
Dinner was made.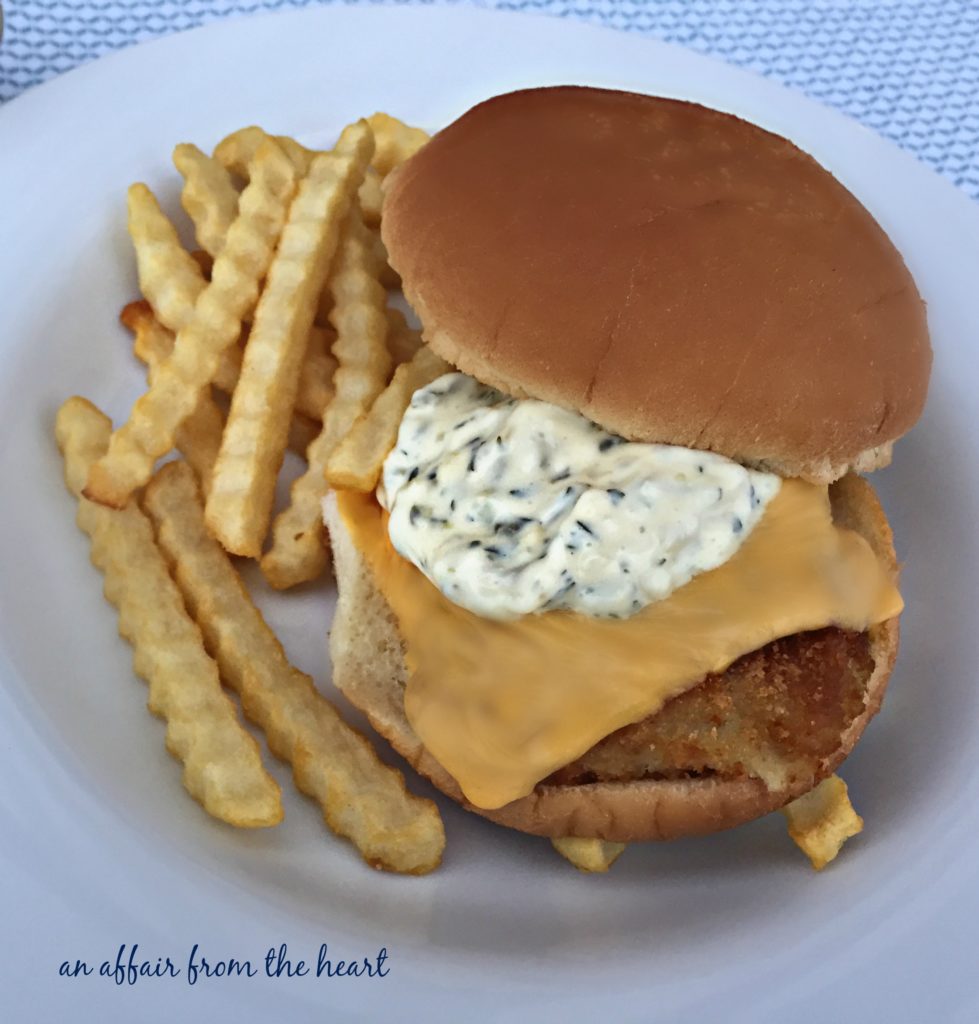 —
Yield: 1 cup tartar sauce
Copy Cat McDonald's Tartar Sauce & Fish Sandwich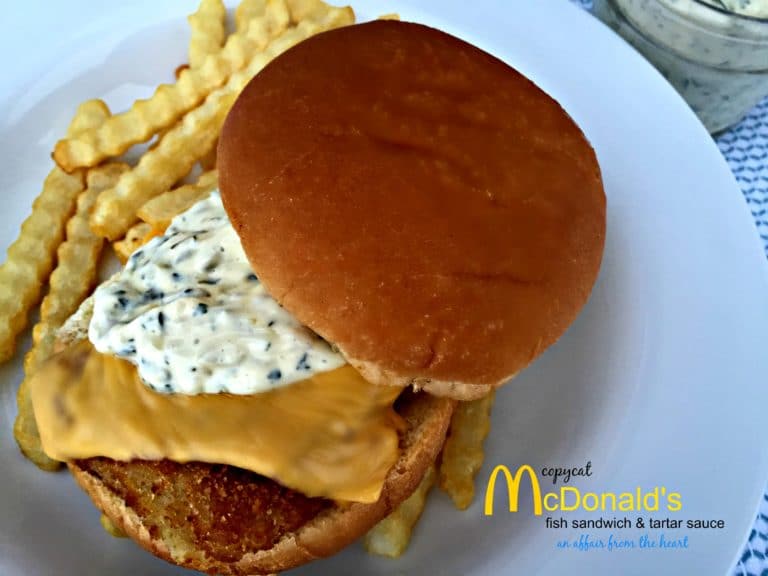 Love the fish sandwiches at McDonald's? It's mostly about that tartar sauce! Now you can make them at home!
Ingredients
For the Tartar Sauce:
1/2 cup Mayonnaise
1/4 cup Vlasic Dill Pickle Relish
12 capers, minced
2 teaspoons dried minced onion
2 teaspoons milk
1 teaspoon parsley flakes
1/2 Teaspoon lemon juice
[b]1/8 teaspoon granulated sugar
For the Sandwiches:[/b]
White hamburger style buns
Fish Fillets, square in shape, I use Van de Kamp
American cheese slices
Instructions
Combine all of the ingredients in a container with a lid. Refrigerate for at least one hour.
To assemble the sandwiches: Bake fish fillets according to the box. Top with a slice of American cheese while hot. Steam buns by placing in a plastic bag with a damp paper towel. Microwave for 30 seconds to steam. Place fish, topped with cheese on bun, add tartar sauce. Enjoy!
Nutrition Information:
Yield:
1
Serving Size:
1
Amount Per Serving:
Calories:

1704
Total Fat:

118g
Saturated Fat:

27g
Trans Fat:

0g
Unsaturated Fat:

84g
Cholesterol:

334mg
Sodium:

5064mg
Carbohydrates:

77g
Fiber:

5g
Sugar:

11g
Protein:

84g
Nutrition isn't always accurate.

If you make this recipe, I'd love to know! Snap a picture, share the photo on social media with the hashtag #AnAffairFromTheHeart – I'd love to see what you made! – Michaela