Mexican pizza from Taco Bell is so good! No need to make a run for the border – you can make Taco Bell's Mexican Pizzas right in your own kitchen!
Typically when I go to Taco Bell I order the same thing #1 no sour cream on the tacos…. burrito yes, taco…no.
If I sway…it's for a Mexican Pizza.
Dang, they are just so good.
I have seen many versions of them on other people's blogs, and on Pinterest, and couldn't decide which one to try, so like usual, I just ran with it.
They were a HUGE hit at our house!!
(and it was SUB ZERO outside and I didn't have to leave to "make a run for the border!")
What is Taco Bell Mexican Pizza?
If you have never tried the Taco Bell Mexican Pizza then you are missing out on a fast food stroke of genius.
The Mexican pizza from Taco Bell takes a couple of corn chalupa style tortillas to act as the crust. These tortillas are a bit thicker and stand up to the ingredients the way a typical pizza crust should.
Then, a layer of seasoned taco meat and refried beans are added to the bottom "crust". The next tortilla layer is added. On top of that, the melted cheese, jalapenos, green onions, and olives are added. Melt that cheese and they are ready to eat! You can leave off the jalapenos if those are too hot.
What Ingredients Does Taco Bell Feature In Mexican pizza?
Taco Bell allows you to build your own custom Mexican Pizza so of course you can do the same at home. In fact, you can get every bit as creative with your toppings as a regular pizza.
At Taco Bell, they offer a jalapeno sauce, guacamole, sour cream, vegetarian style "beef" which is similar to the soy products used for "meatless" patties. They also have options like chicken, lettuce, rice, seasoned Doritos, black beans, Fritos, and chopped onions.
What Ingredients Do I Recommend For Mexican Pizza?
All of those are awesome. But the fun doesn't need to stop there. If you want, go ahead and use classic Italian pizza toppings like pepperoni or seasoned sausage. Crumbles of blue cheese are great too.
Really, any thing that you would do on an Italian style pizza will work great on a Mexican pizza too!
You can even easily create your own "jalapeno sauce" by using a processor to blend together some jalapeno peppers with some mayo.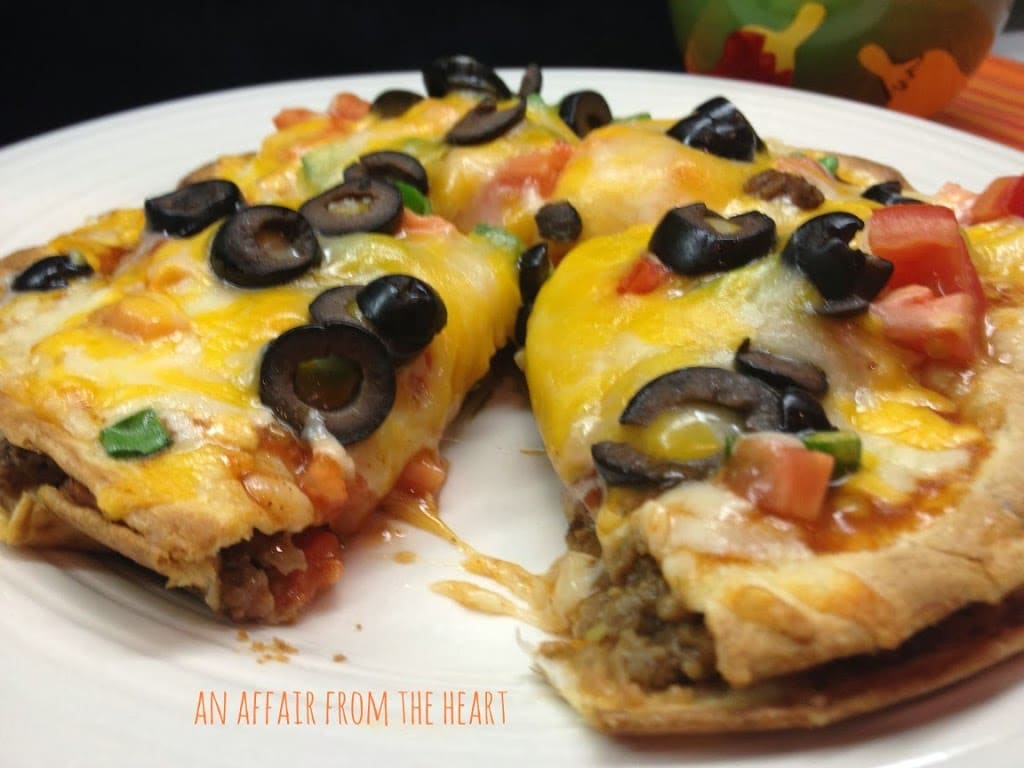 ooey gooey cheese.
What else can I serve with Mexican Pizza?
You can make Mexican pizza work as a main course and work it in to lunch or dinner no problem. You can also cut them up and serve smaller portions as a great snack or appetizer.
If you want to serve them as part of a larger meal, then I can suggest a couple recipes in the same vein.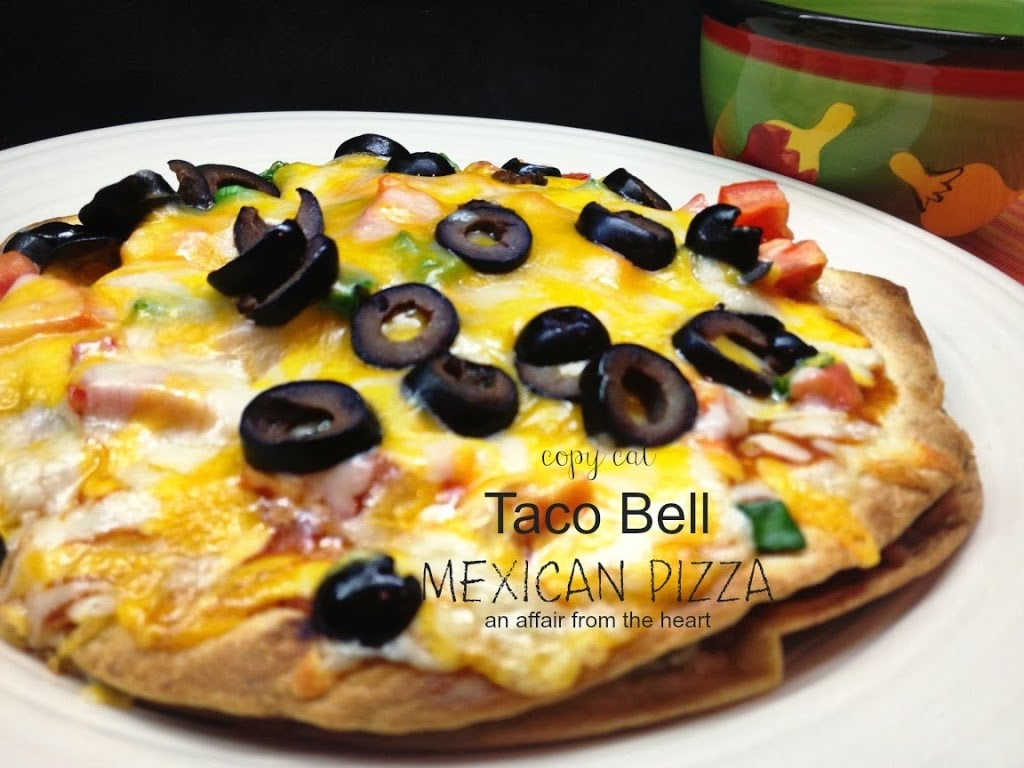 My family doesn't like olives… (Whhhhat?!) so this one is MINE!
Grab the recipe and stay home … Top yours however you please!
___
Yield: 4 servings
Copy Cat Taco Bell Mexican Pizza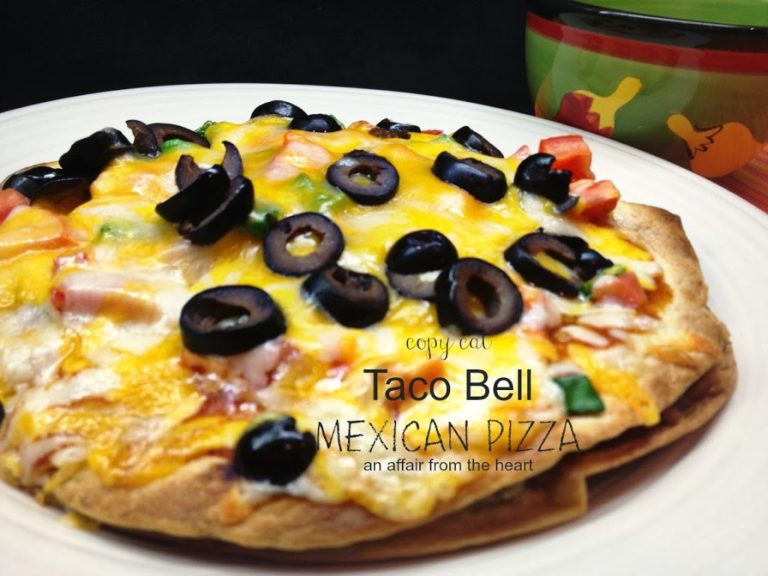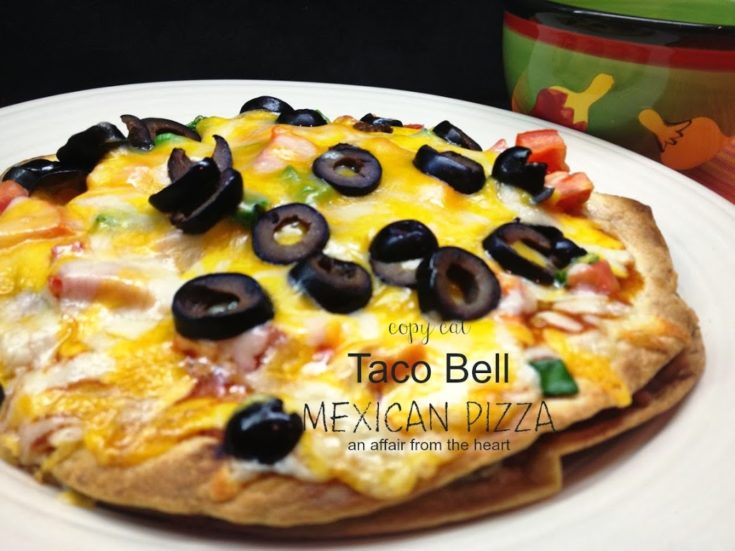 No need to make a run for the border – you can make Taco Bell's Mexican Pizzas right in your own kitchen!
Ingredients
1-1 1/2 pounds lean ground beef
1 small onion, diced
2-3 cloves of garlic, minced
Salt and Pepper to taste
1 15 ounce can Fat-Free refried beans (I love the old El Paso spicy ones!), warmed
Salsa or taco sauce, your choice, we buy the Taco Bell Taco Sauce in a bottle
8 - 9" flour tortillas, soft taco size
2 cups Shredded Mexican Cheese, divided
tops of 4 Green Onions, sliced
4 Roma sized tomatoes, diced
Sliced black olives (optional)
Non-Stick Cooking Spray
Instructions
In a skillet brown your ground beef with onions and garlic, salt and pepper to taste, drain, add taco seasoning packet and 1/4 cup water and simmer for about 10 minutes.
Set Aside.
Spray a small skillet with non-stick cooking spray and place on stove over medium heat.
Place a tortilla in skillet and let it slightly brown, and flip it to do the other side.
The kids got a kick out of watching the big bubbles!
Place them on a paper towel until you're ready to "build" your pizzas.
We made 4 pizzas, so you will need 8 tortillas browned on both sides.
Now it's time to BUILD your pizzas.
Place about 1/3 cup of refried beans and top with about 1/2 cup beef mixture, spread to coat.
Top with other tortilla.
Place under broiler set on low for about 5 minutes.
Remove from oven.
Spread with 2-3 Tablespoons of salsa/taco sauce.
Sprinkle with tomatoes, green onions and cheese.
Top with olives.
Broil on high for 3-5 minutes, or until cheese is melted.
Remove from oven, plate, slice and dig in!
Nutrition Information:
Yield:
4
Serving Size:
1
Amount Per Serving:
Calories:

1228
Total Fat:

53g
Saturated Fat:

22g
Trans Fat:

1g
Unsaturated Fat:

24g
Cholesterol:

221mg
Sodium:

2040mg
Carbohydrates:

101g
Fiber:

14g
Sugar:

9g
Protein:

85g
Nutrition isn't always accurate.
____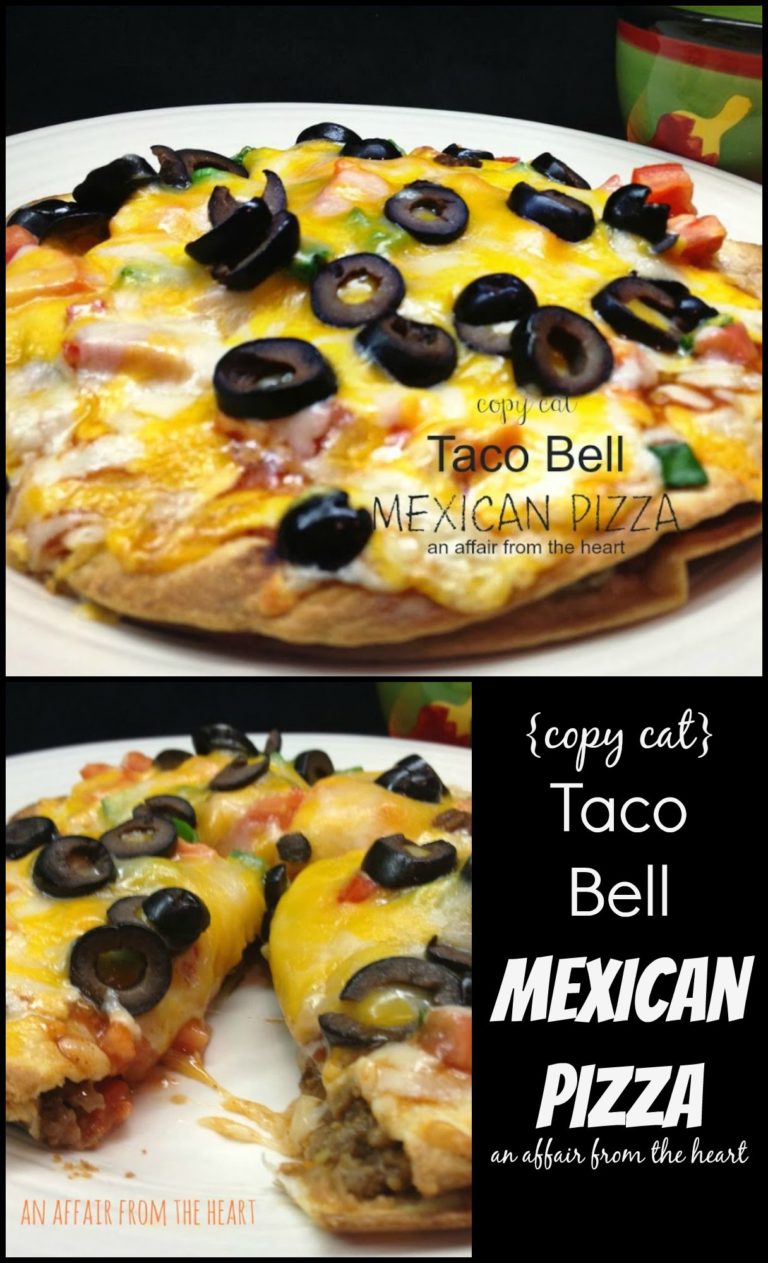 If you make this recipe, I'd love to know! Snap a picture, share the photo on social media with the hashtag #AnAffairFromTheHeart – I'd love to see what you made! – Michaela