Copy Cat Wendy's Original Taco Salad
As an Amazon Associate and member of other affiliate programs, I earn from qualifying purchases.
Wendy's Original Taco Salad, with their famous chili over lettuce, tortilla chips, tomatoes and cheese.
My first job was at Wendy's. I was that girl in the blue and white stripped uniform you saw first who asked you "Is this for the dining room today?"
As a kid, I had never eaten at Wendy's. We rarely ever ate out, and it was even more rare to eat fast food. The "Now Hiring" sign went up at our neighborhood Wendy's though, and I decided to apply. At the time the $3.25 cents per hour (minimum wage back then) sounded WAY better than the $1.00 an hour I was making babysitting!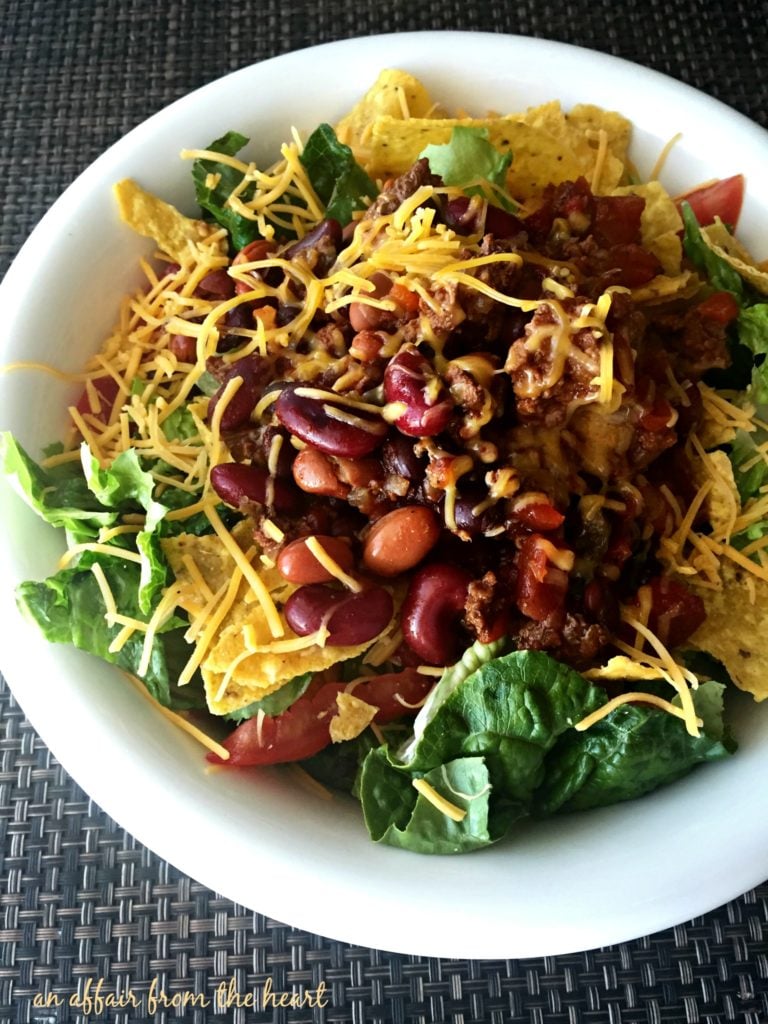 I quickly had my favorites. Back then, Wendy's had a great salad bar. Gone now. They also had apple dumplings with this cinnamon sauce — to die for — now gone. They had a chicken ala king potato, gone. I am starting to think I am jinxing my favorites at Wendy's?
I typically always order the same things at Wendy's, chicken sandwich, chili, baked potato with bacon and cheese or a taco salad.
Well, a while ago, they made a "New and Improved" Taco salad, which just isn't the same. I truly LOVED the original. You got a pre-made bowl of lettuce, topped with tomatoes and shredded cheese. It came with a small bowl of chili (get that hot chili packet, too!) a package of tortilla chips and a sour cream packet. Crunch up the tortilla chips, sprinkle them over the salad, pour the warm chili over it, and top it with sour cream, which I rarely did. It was SO GOOD! I decided I would have to take matters into my own hands and make them myself, right at home.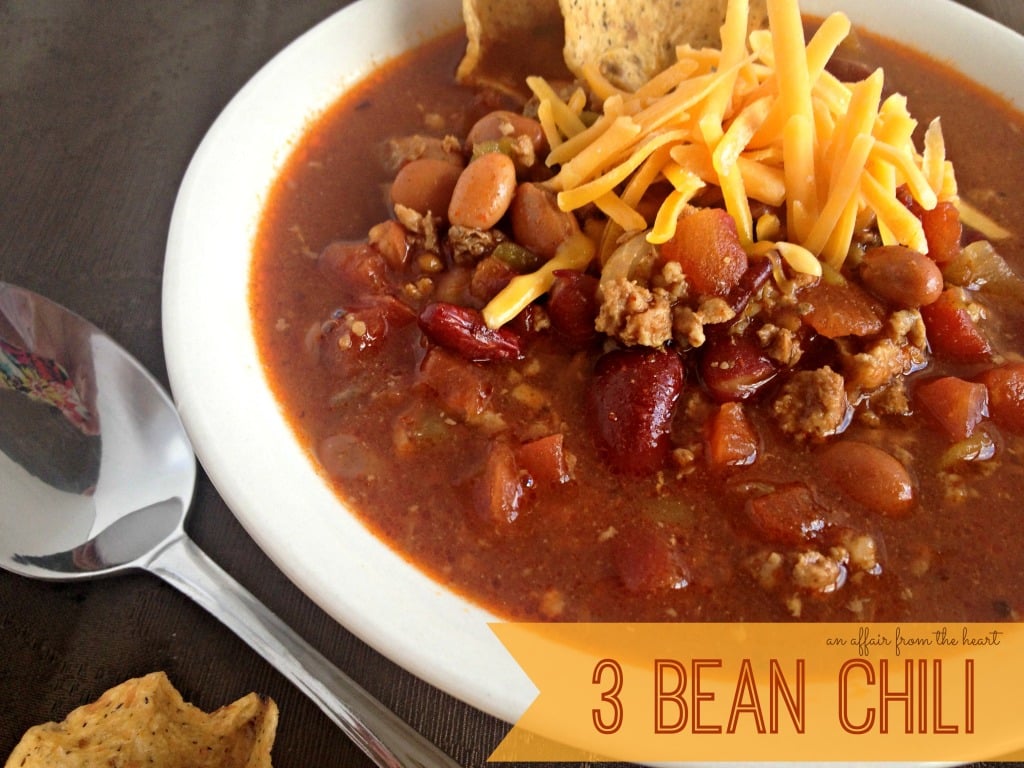 We love chili, so make up a batch, and build your own taco salads. I don't claim that my chili is just like Wendy's — but let me tell you, folks, it's darn good! 😉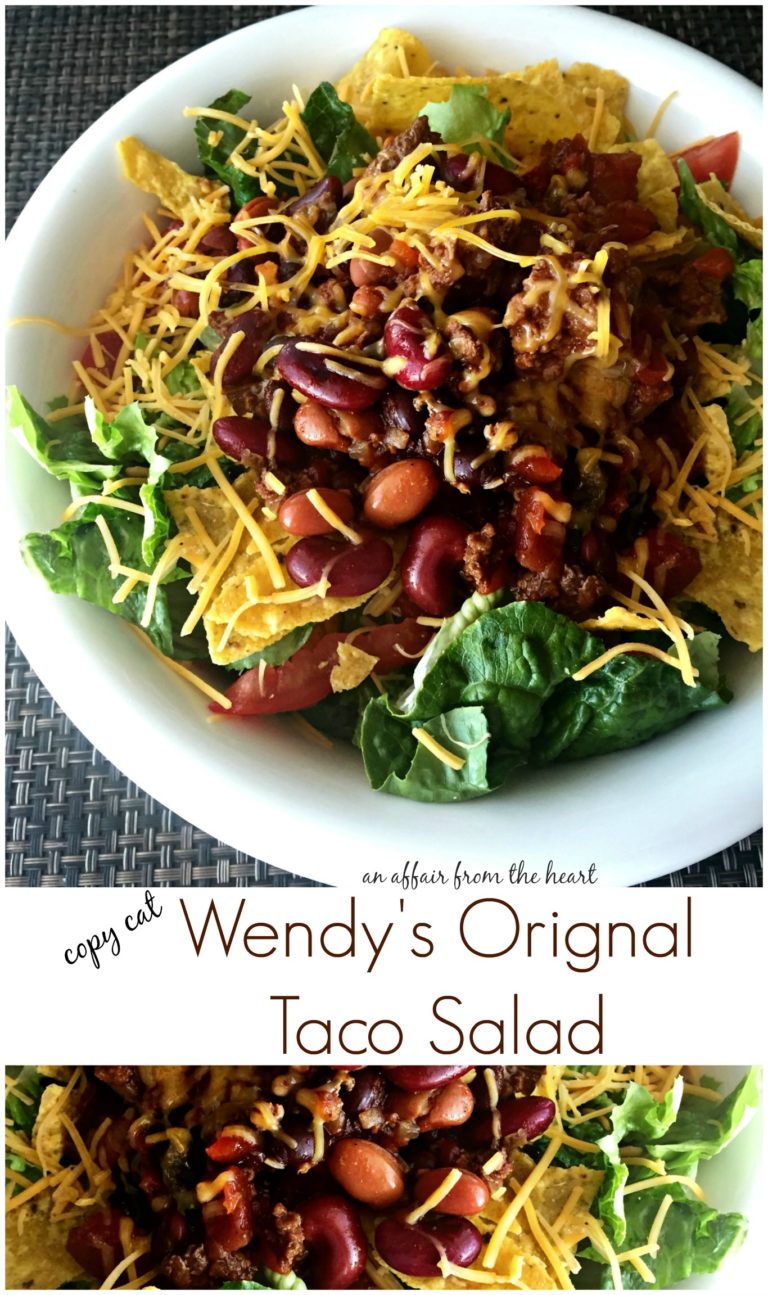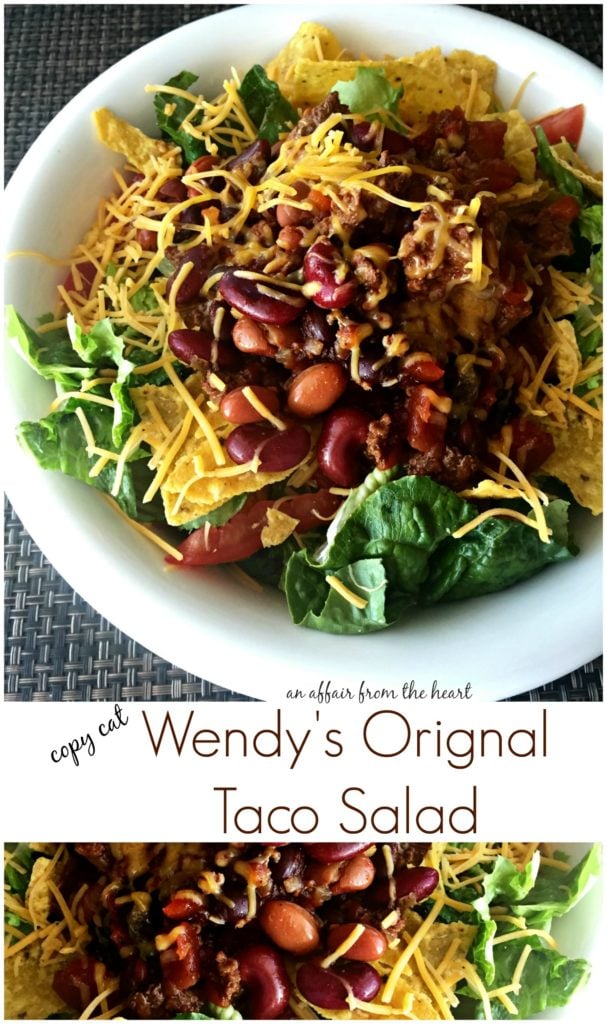 ---
Yield: 1
Copy Cat Wendy's Original Taco Salad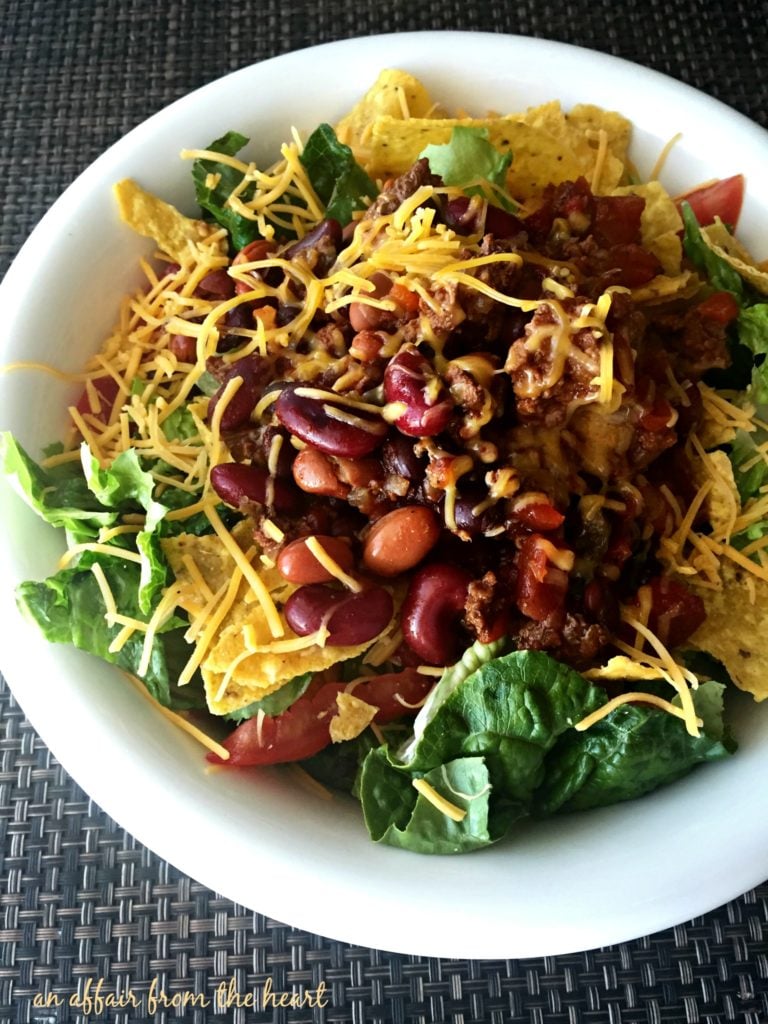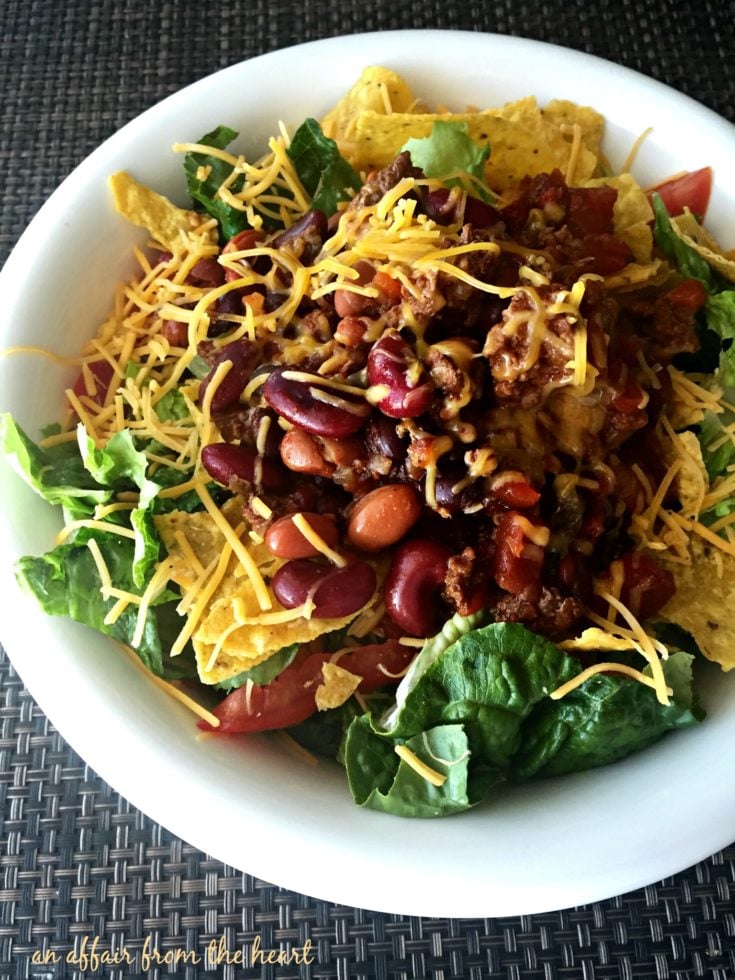 Wendy's Original Taco Salad, with their famous chili over lettuce, tortilla chips, tomatoes and cheese.
Ingredients
Lettuce - combination of Romaine and iceberg
Shredded cheddar cheese
Chopped tomatoes
Corn tortilla chips
sour cream
Instructions
Place a couple of good handfuls of cold lettuce in a bowl or on a plate. Sprinkle with cheddar cheese and chopped tomatoes.
Top with a big handful of broken corn tortilla chips, and pour a cup of chili over the top.
Top with a dollop of sour cream if you desire.
Nutrition Information:
Yield:
1
Serving Size:
1
Amount Per Serving:
Calories:

305
Total Fat:

15g
Saturated Fat:

7g
Trans Fat:

0g
Unsaturated Fat:

6g
Cholesterol:

35mg
Sodium:

267mg
Carbohydrates:

34g
Fiber:

17g
Sugar:

13g
Protein:

17g
Nutrition isn't always accurate.
---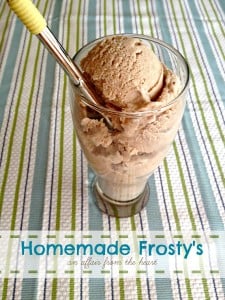 For dessert, have a Frosty! I mean, you had salad for dinner, right? 😉