The Best Chili Cheese Dogs
As an Amazon Associate and member of other affiliate programs, I earn from qualifying purchases.
Topping your favorite hot dogs with this amazing chili will have your whole family singing your praises! Summertime comfort food at its finest – thick chili, gooey cheese, and your favorite toppings all atop tasty hot dogs right from the grill. These are The BEST Chili Cheese Dogs!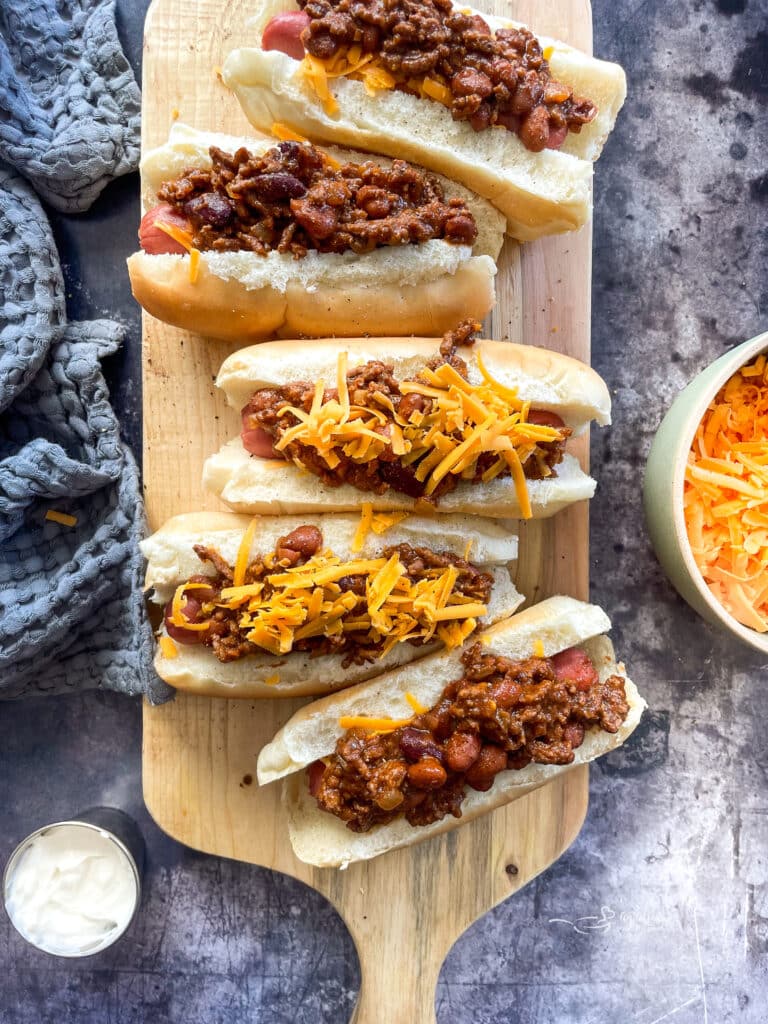 Chili cheese dogs are a summer staple that is quick, easy, and impressive. You can throw hot dogs on the grill and the kids can hop in the pool while you prepare this easy homemade chili for hot dogs recipe. A bite of these chili hot dogs is so satisfying for a hot summer day full of baseball, swimming, and good times.

WHY YOU WILL LOVE THIS EASY CHILI HOT DOG RECIPE
This recipe is perfect for the long summer days and warm nights. We use our grill multiple times per week, and I love coming up with new spins for our family favorites.
One thing we never tire of is hot dogs. All beef hot dogs taste the best for classic chili dogs. Whether you are enjoying your favorite condiment, some sauerkraut or dressing them up with the best chili cheese we are grinning from ear to ear. We grilled up hot dogs outside on my hubby's prized grill. I love my hot dogs just a little burnt, how about you? We serve it up hot, over the shredded cheese so it gets all melty.
Many people ask what chili cheese dogs pair well with. They can go alongside any traditional American barbecue side. Potato salad, tater tots, onion rings, or just some good ol' tortilla chips! Chili cheese dogs are also a great recipe to serve to a large crowd. You can easily double the recipe and serve a large party. So invite your best friends over and grill up some chili cheese dogs this summer!
Digging the Chili Dogs? Check out these Spicy Grilled Cheese Chili Dogs and my Smoked Hot Dogs with Kraut!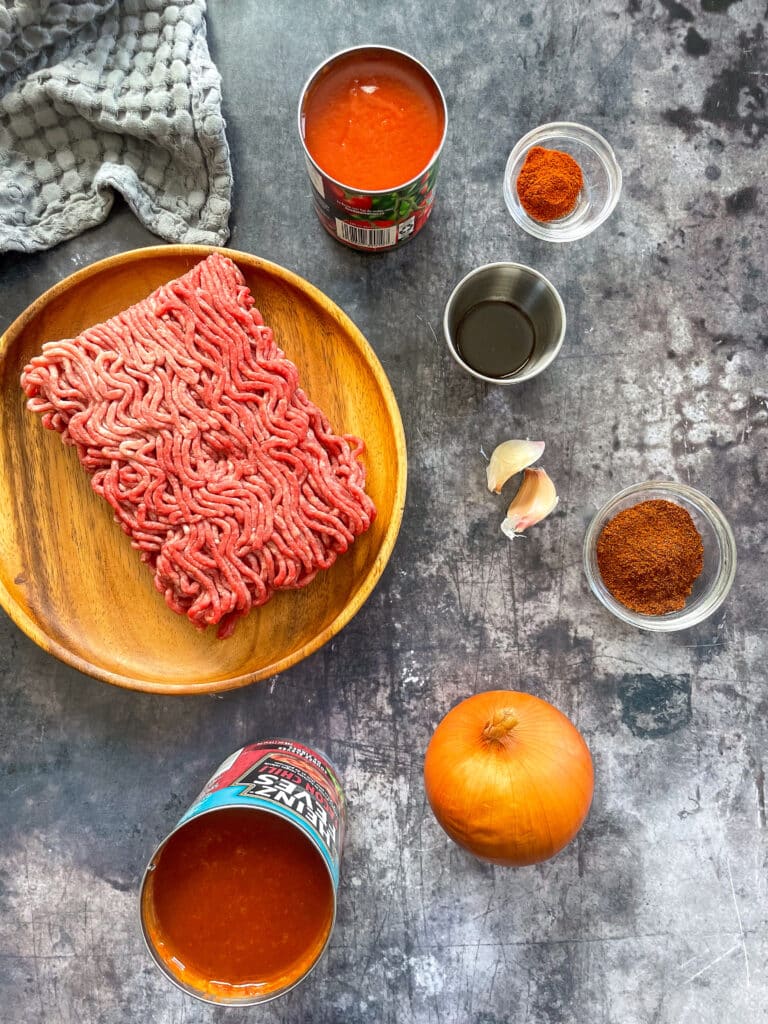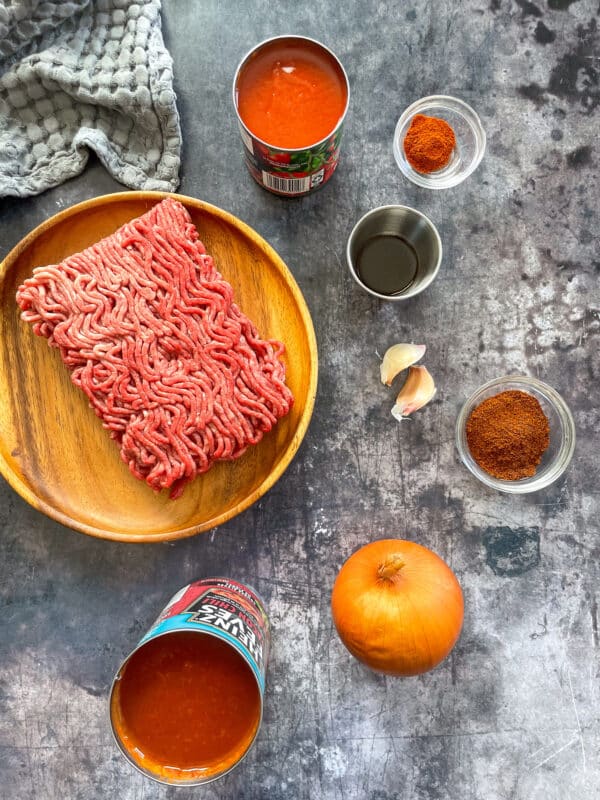 INGREDIENTS NEEDED FOR HOMEMADE CHILI FOR HOT DOGS
You will find all of the ingredients and exact measurements in the printable recipe card at the bottom of this post.
Lean ground beef – You can use any ground meat.

Onion – White, Yellow, or red onions will do or you can use shallots.

Salt & Pepper

Garlic – Fresh minced garlic is always best.

Chili powder – Chili powder is best for this recipe, but you can use any spice made from chilis.

Paprika

Worcestershire sauce – You can use soy sauce in a pinch.

Canned tomato sauce – You can use your favorite brand of sauce or watered-down tomato paste.

Canned chili beans in sauce – You can also use pinto beans or red beans.

Sharp Cheddar Cheese – For a spicy kick, use jalapeno jack cheese.

Hot dogs – Beef dogs are best in my opinion, but use any type you prefer.

Hot dog buns

HOW TO MAKE HOMEMADE CHILI CHEESE DOG RECIPE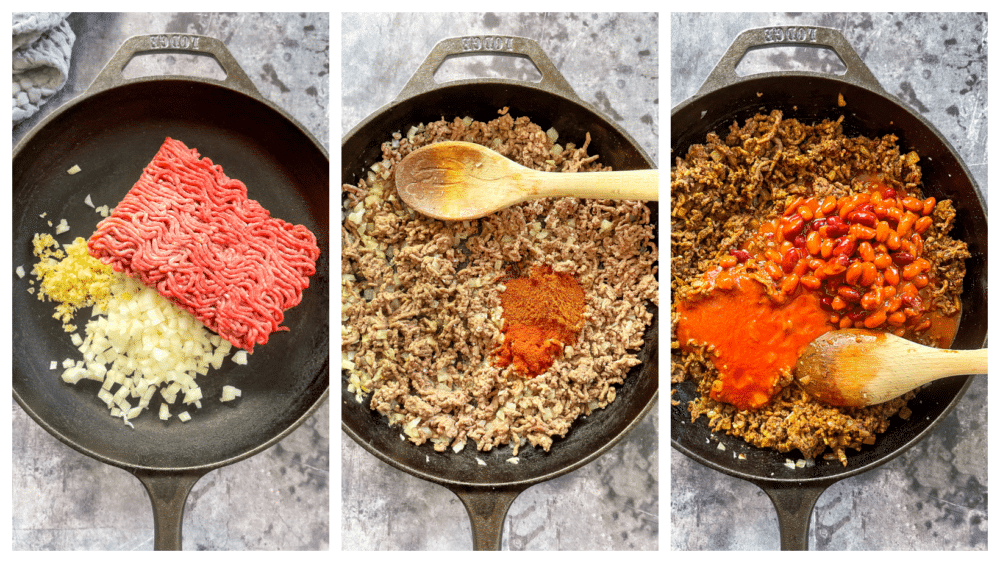 FIRST: Cook your ground meat of choice in olive oil along with all garlic, onion and spices until fully browned.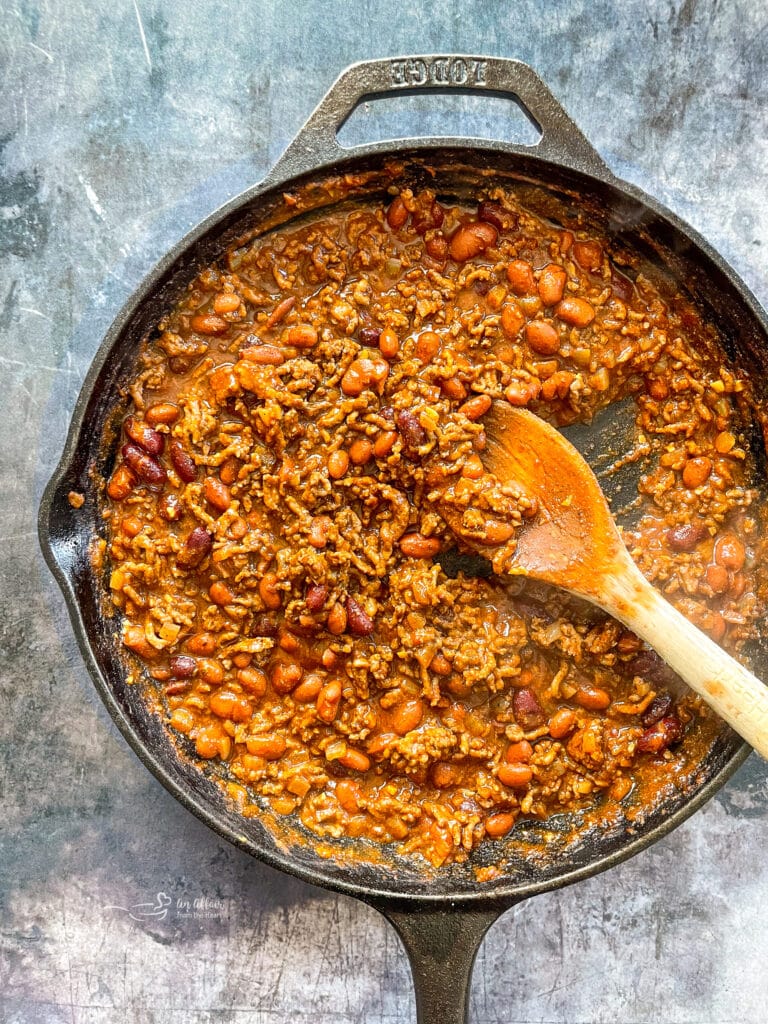 SECOND: Add in Worcestershire sauce and mix until combined. Pour in tomato sauce and canned chili beans and simmer on medium heat for 15 minutes.
THIRD: Prep your hot dog and bun. Line them up on a baking sheet, top them with cheese, and then the hearty chili to melt the cheese.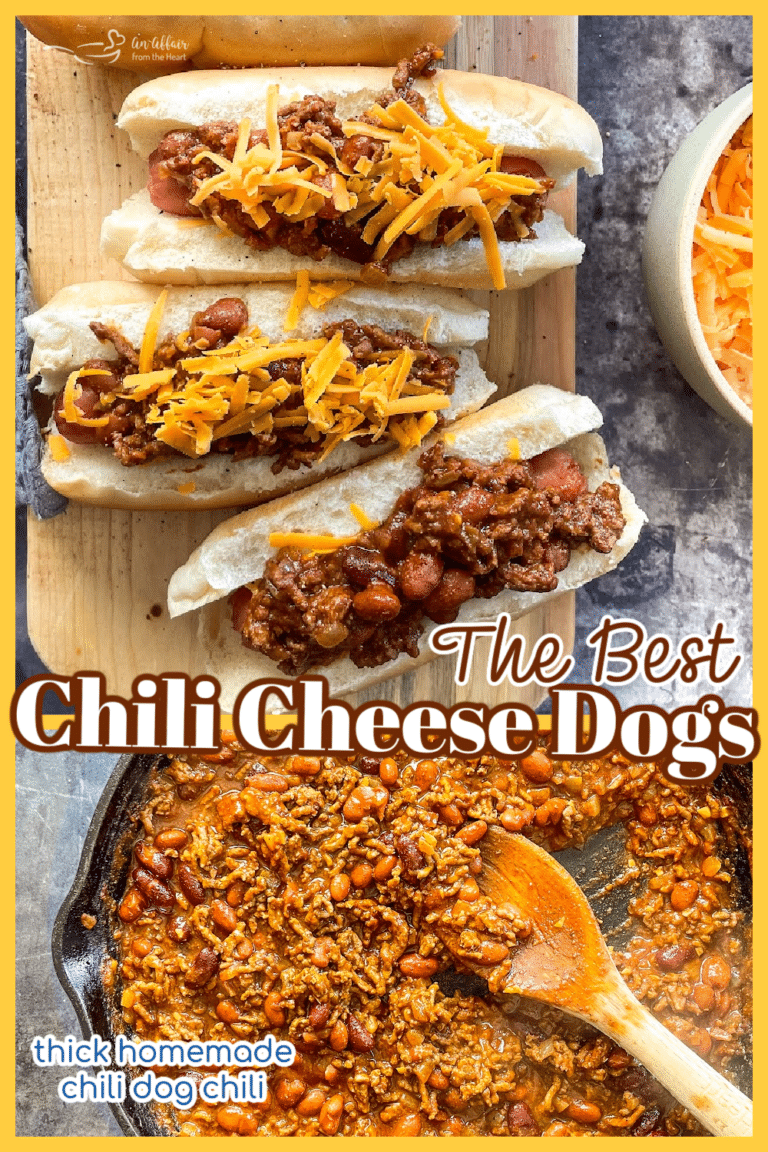 Love them? Pin them!
If you love this easy recipe for Chili Dogs make sure that you don't lose it! Pin it to your favorite Pinterest recipe board before you go!

What kind of cheese is used in chili cheese dogs?
Traditionally, shredded cheddar cheese is best, however, it is up to the chef to use mild, medium or sharp cheddar or even Monterey Jack. However, for extra spice, you can use pepper jack cheese. For an authentic Mexican flavor, queso blanco cheese would be delicious to crumble over the top. American cheese is another great option because it melts beautifully. Grate your favorite cheese and make them your own!

Can I use leftover chili for chili dogs?
Sure! I have a great regular chili recipe and we use the leftovers from time to time for chili dogs. I find that it isn't quite as thick as this chili dog chili recipe though. Feel free to use your favorite chili recipe if you have some leftovers.
FAQs
What is the difference between a chili dog and a cheese coney? The difference between these two dogs is all in the chili topping. A cheese coney is topped with beanless chili, meaning it is an all-meat topping. Other popular toppings for coneys are white diced onions and yellow mustard. A chili dog is thicker and contains beans, and lots and lots of cheese. Coney sauce and chili are very similar in flavor but one is a loose meat sauce (coney) and the other is a dense bean and meat mixture (chili).
What kind of spices should be in chili? I have a great recipe for chili seasoning https://anaffairfromtheheart.com/homemade-chili-seasoning-recipe/ Traditionally chili seasoning contains chili powder. Some think chili powder is all you need for chili seasoning, however, the other spices give the seasoning an extra boost of flavor. You can add more cayenne pepper or paprika to make a spicier seasoning.
What is the best meat for chili & how do I cook it? The best meat for chili is traditionally ground beef. However, any other ground meat can be used as well. Ground turkey or ground chicken are two leaner options and as long as they are seasoned well, you can achieve the same flavor! People have also used shredded chicken or pork which is still delicious but creates a different texture. To cook ground meat, add olive oil to a frying pan and cook until all meat is completely browned.
SUBSTITUTIONS:
Ground beef: For a leaner option, use ground turkey. If you prefer a different texture, you can use shredded chicken.
Worcestershire sauce: If this is not on hand, you can substitute with soy sauce! If you want to make a homemade Worcestershire sauce, mix 1 tablespoon of ketchup, 1 tablespoon of white wine vinegar, and ½ tablespoon of soy sauce.
Canned tomato sauce: Tomato paste that has been watered down can also be used. If you prefer a chunkier chili texture, you can use canned or fresh diced tomatoes.
Canned chili beans in the sauce: If you cannot find chili beans in sauce, you can substitute with pinto beans. To achieve the chili flavor, sprinkle on some chili powder and add a little hot sauce.
Add more veggies to the chili – bell peppers are a great way to do that!
TIPS & TRICKS
For hosting, you can make the chili ahead of time and store it in the fridge for a day or 2 or freeze. Heat up when you are ready to serve the dogs!

For the best-cooked hot dog, grill your hot dogs.

While grilling your hot dogs, throw your buns on the grill to achieve a toasty texture.

Add toppings like sour cream, green onions, jalapeño peppers, crushed Fritos, or nacho cheese sauce to jazz up the homemade chili dogs.

Any extra chili that is leftover can be frozen and used again for more homemade chili cheese dogs! The best way to freeze chili is to cool it to room temperature and transfer it into a freezer-sized zip-lock bag or an airtight container. You can freeze chili for up to six months. When it comes to reheating the chili, thaw the chili overnight in your fridge. Dump chili into a pot and reheat! Add a little water to ensure the mixture is moist and prevent it from drying out.

MORE GRILLING RECIPES PERFECT FOR SUMMER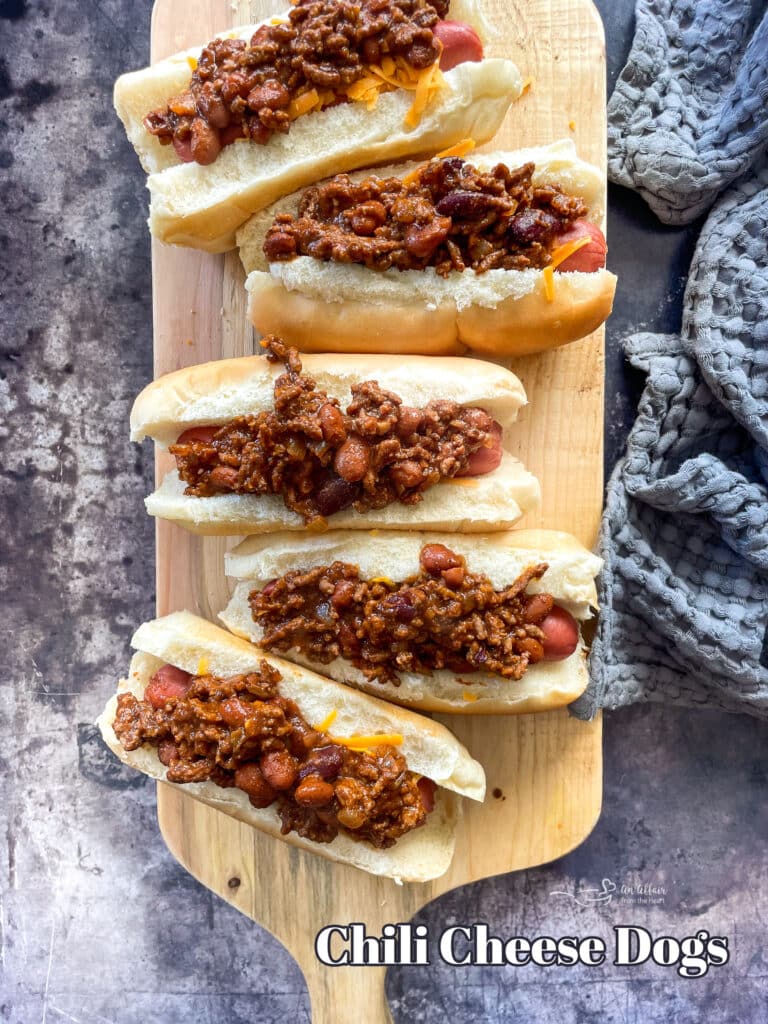 Make these chili cheese dogs for a backyard cookout! It is a recipe that is guaranteed to make happy hearts and full stomachs. Enjoy this American classic with your favorite side and a cold beer.

Yield: 10 servings
The Best Chili Cheese Dogs
Topping your favorite hot dogs with this amazing chili will have your family singing your praises! These are the BEST Chili Cheese Dogs!
Ingredients
1 pound lean ground beef
1/2 cup onion, chopped
Salt & Pepper
2 cloves garlic, minced
1 1/2 Tablespoons chili powder
1/2 teaspoon paprika
1/2 Tablespoon Worcestershire sauce
1 (8 ounce) can tomato sauce
1 (15.5 ounce) can chili beans in sauce
Shredded Sharp Cheddar Cheese
Instructions
In a skillet, brown ground beef with onion and garlic. Season with salt and pepper. Add to it the paprika, chili powder and Worcestershire sauce. Stir. Add in tomato sauce and chili beans, simmer on low for 15 minutes.
Place hot dog in bun, sprinkle generously with cheese, spoon hot chili over the top. Enjoy!
Notes
Makes enough chili for 10 hot dogs.
Recommended Products
As an Amazon Associate and member of other affiliate programs, I earn from qualifying purchases.
Nutrition Information:
Yield:
10
Serving Size:
1
Amount Per Serving:
Calories:

157
Total Fat:

7g
Saturated Fat:

3g
Trans Fat:

0g
Unsaturated Fat:

3g
Cholesterol:

43mg
Sodium:

513mg
Carbohydrates:

8g
Fiber:

2g
Sugar:

4g
Protein:

15g
Nutrition isn't always accurate.
This recipe was originally posted on August 14, 2015, as part of a sponsored conversation written by me on behalf of Ball Park. The opinions and text are all mine.
This post was updated to improve user experience and re-shared on May 22, 2023.