I use cream of mushroom soup in lots of stuff that I make. This homemade cream of mushroom soup is nothing like it. It's rich, insanely creamy and worthy of the bowl. Sure, you can freeze this in jars and use it like you would the canned stuff, I mean I am sure it would push your recipes over the top, we never seem to have any left to freeze. Someday I need to JUST make it for that reason. Yesterday, however was not that day. My youngest son, is easy to read when he likes something. He would never come right out and say that something I made wasn't going to enter the hall of fame for my recipes, he's just not like that. (to his future wife, "You're Welcome!") I can tell when he loves something because it falls into the "I think this is what I am going to request for my birthday dinner this year" category. Which gets really interesting because he has a twin sister and typically what they both choose for dinner, is nothing most people wouldn't serve together. Think Old Country Buffet style, Fried Chicken, Mac 'Cheese, Pizza, Homemade Chicken Noodle Soup, French Silk Pie and Peanut Butter Cup Ice Cream Cake. This year she has already assured me that her choice is going to be Salmon with Lemon Caper Sauce and Zucchini and Tomatoes. (I know right… quite the pallet for an almost 12 year old!) #FoodBloggersKid — this could just work with that!
<
p style="text-align: center;">
My twin food critics on the first day of school this year.
~~~
<
p style="text-align: center;">
Yield: 6 servings
Cream of Mushroom Soup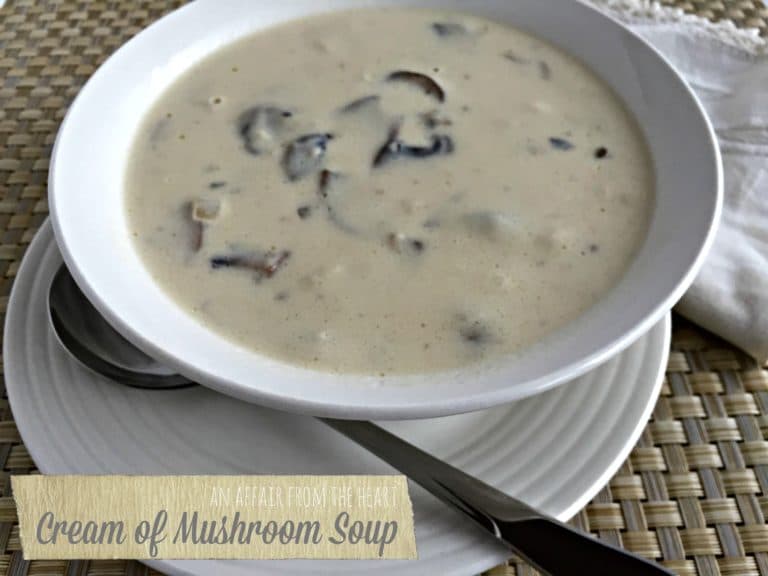 This is nothing like that canned cream of mushroom soup you are used to. This Homemade Cream of Mushroom Soup is bowl worthy, so rich and creamy!

Prep Time 5 minutes

Cook Time 40 minutes

Total Time 45 minutes
Ingredients
1 medium onion, chopped
3 sticks of butter, divided
2 (8 ounce) packages of fresh mushrooms, sliced (white or baby portabella or both!)
1/2 cup flour
1 quart Half & Half or Cream (both work great!)
1 quart rich chicken stock
2 teaspoons salt
1/2 teaspoon pepper
Instructions
In a skillet over medium heat melt 1 stick of butter and add the onion. Saute until onion is tender and translucent. (5-10 minutes)

Add mushrooms and cook until liquid begins to come out. Remove from heat.

In a dutch oven over medium heat, melt 2 sticks of butter.

Whisk in flour, to form a roux.

Add cream, and continue whisking. Let thicken for about 10 minutes, stirring occasionally.

Add chicken stock, mushroom mixture, salt and pepper to dutch oven.

Warm for another 15-20 minutes. Soup will thicken a little more while warming. Stir occasionally so it doesn't stick, and avoid bringing to a boil.
Nutrition Information:
Yield:
6
Serving Size:
1

Amount Per Serving:

Calories: 726 Total Fat: 66g Saturated Fat: 42g Trans Fat: 3g Unsaturated Fat: 22g Cholesterol: 188mg Sodium: 1398mg Carbohydrates: 24g Fiber: 1g Sugar: 10g Protein: 11g

Nutrition isn't always accurate.

<
p style="text-align: center;">
~~~
I made the mistake of purchasing cream instead of Half & Half this time, but what a happy accident! It was SO RICH! I added not only the white mushrooms that I usually do, but added in some baby bellas, too. Whoa Baby Bella!! We served it up with some crusted Asiago cheese bread — perfect for dipping.
So, whether you want to make it and freeze it, or make it and slurp it down… I hope that you do make it — and come back and tell me what you thought!
Until next time!

If you make this recipe, I'd love to know! Snap a picture, share the photo on social media with the hashtag #AnAffairFromTheHeart – I'd love to see what you made! – Michaela