Peasant Bread
As an Amazon Associate and member of other affiliate programs, I earn from qualifying purchases.
You're going to fall in love with this buttery soft, artisan Peasant Bread recipe. Very simple to make, crusty homemade peasant bread contains a perfectly soft center that tastes heavenly. This no-knead bread recipe makes two loaves, and bakes right inside a pyrex bowl!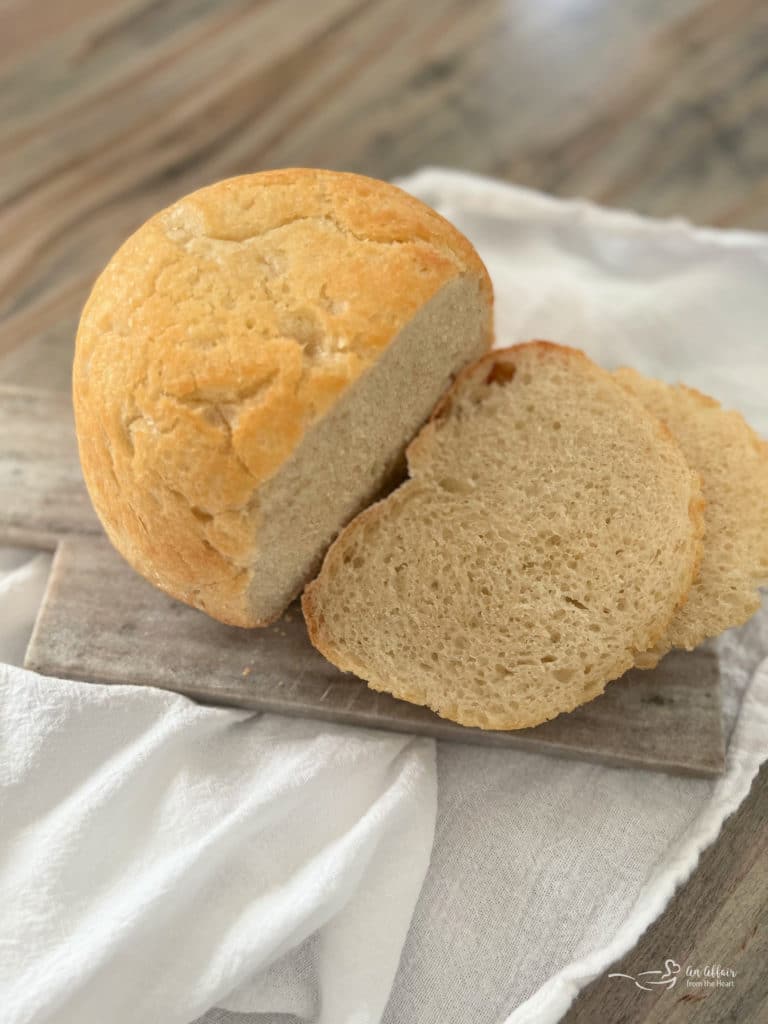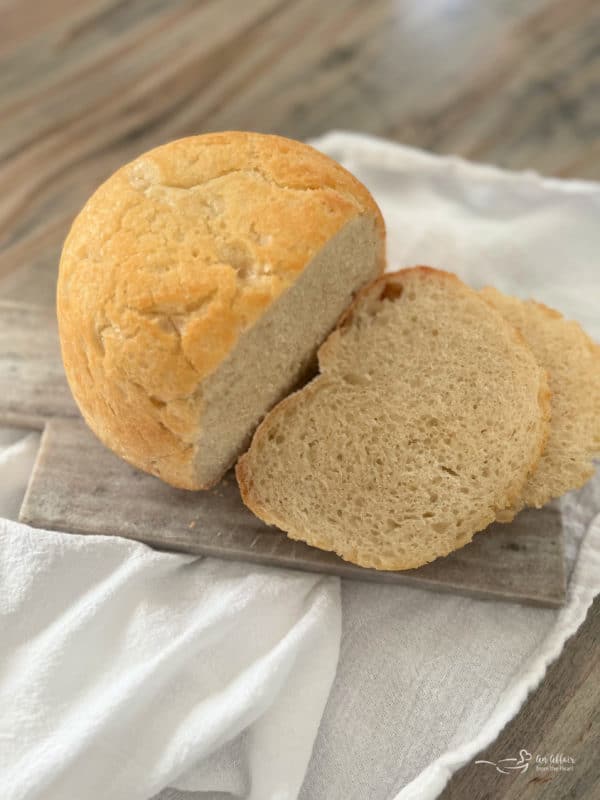 Ok people. This is a public service announcement. You absolutely, positively have to make this peasant bread!
Back in 2016, this recipe showed up in my Facebook newsfeed. A friend had shared it, and as soon as I set my eyes on it I knew I had to try it!
I used to be intimidated by recipes using yeast, I have no idea why? I loved to bake bread but it was typically more of the quick bread variety, you know, like my Banana Bread recipe. (the last one you will ever need, by the way…)
Until then, I had never really made a yeast-type bread from scratch, then I made No Knead Crusty Dutch Oven Bread. Oh, my stars! I wouldn't have thought I could make another bread quite that yummy. Until now.
This bread is made with simple ingredients, it's got the most buttery outside and soft inside … and you bake it right in a pyrex bowl! It makes two small loaves, and I'll confess, I made it twice that first day!

PEASANT-STYLE BREAD FOR BREAD LOVERS
If you're anything like us, you love homemade bread! This homemade, no-knead peasant bread is the perfect solution to your bread needs at home because it is super easy to make with very basic steps!
Artisan bread is my favorite to make because the different types are buttery soft on the inside and divine to enjoy just by itself, but it makes amazing sandwiches, too! In fact, my husband said it was the best grilled cheese he'd ever eaten.
This rustic crusty bread is wonderful and so delicious to dip in hot savory soups for a meal filled with well-rounded comfort. My favorite soups to pair this easy bread with are my homemade Cheesy Potato Soup, Sauerkraut, Bratwurst, and Potato Soup, and yummy Hamburger Soup recipes just to name a few options!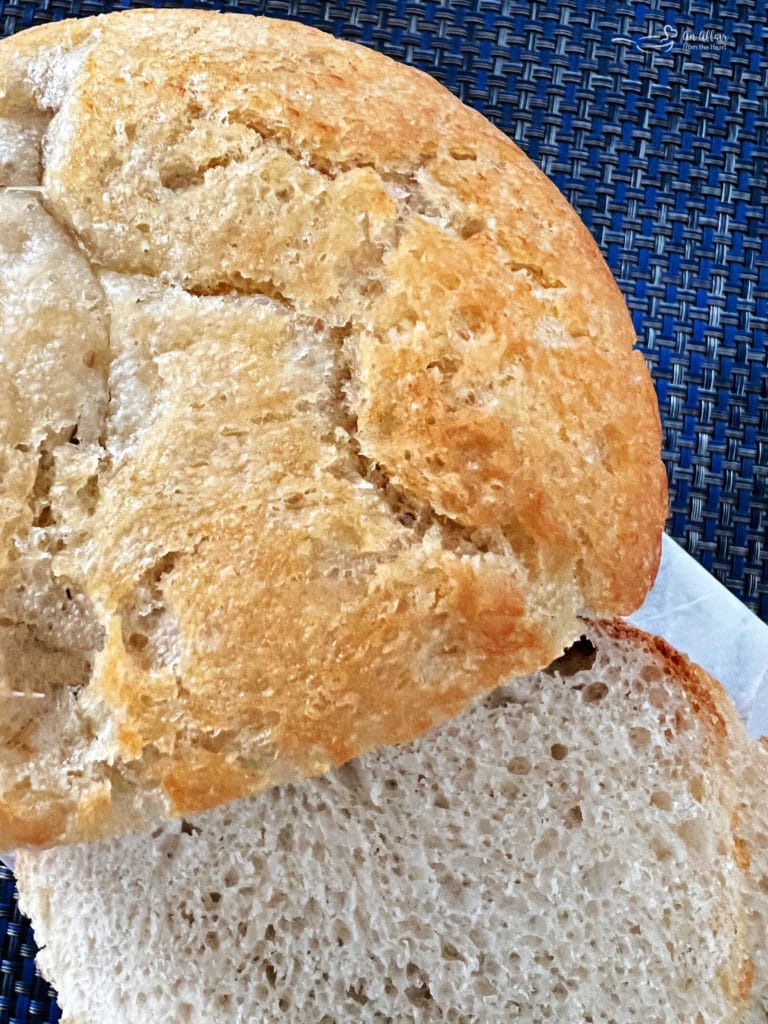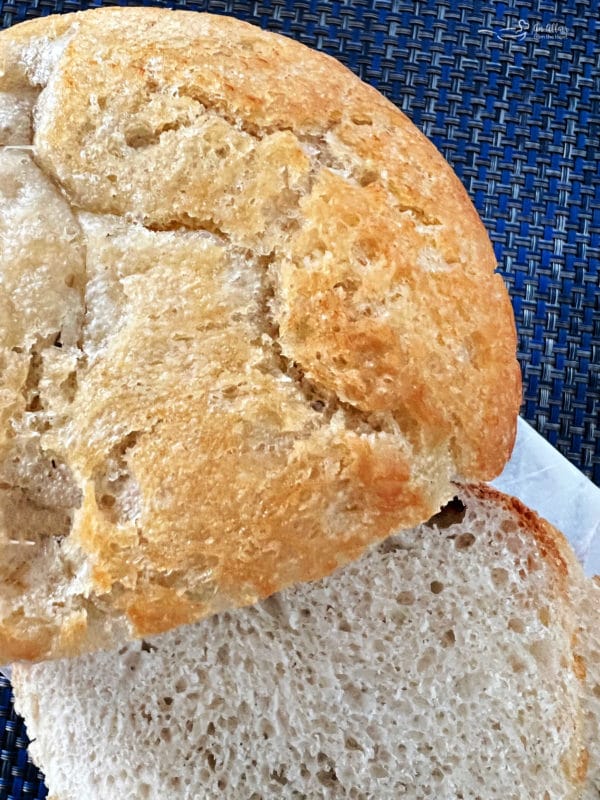 WHY IS IT CALLED PEASANT BREAD?
This homemade artisan bread is referred to as peasant bread because it is made the same way European peasants used to prepare their rustic bread–with very few steps and simple ingredients. Peasant-style bread is often made with whole grains and used for everyday bread for breakfast, lunch, dinner, and appetizers.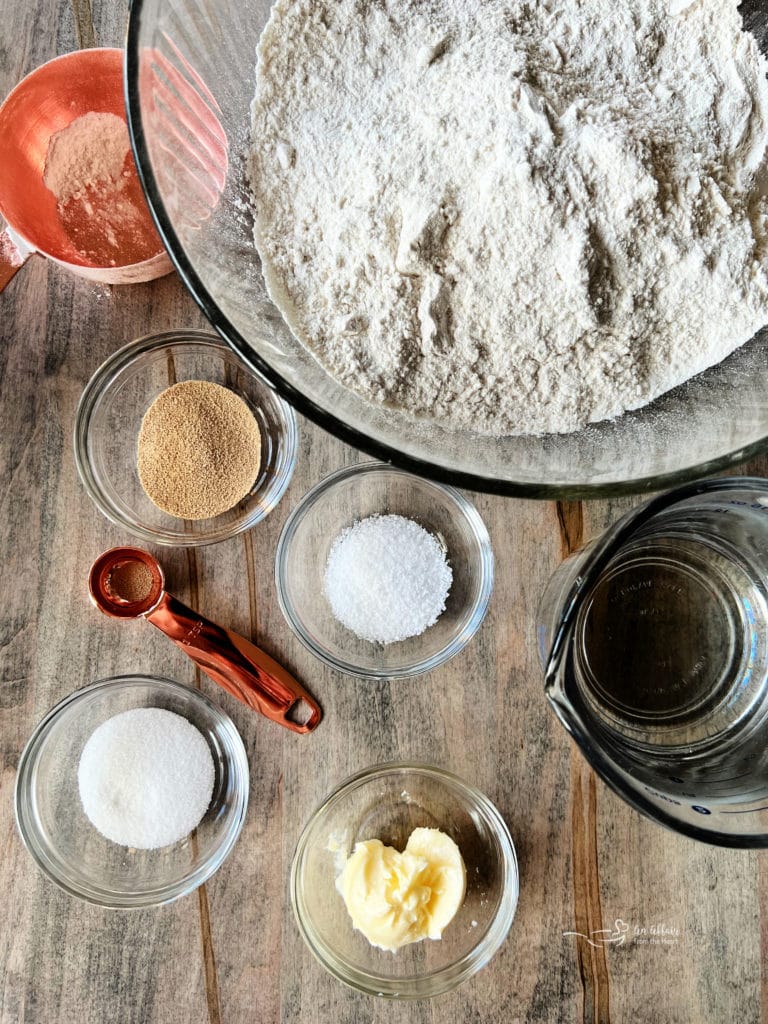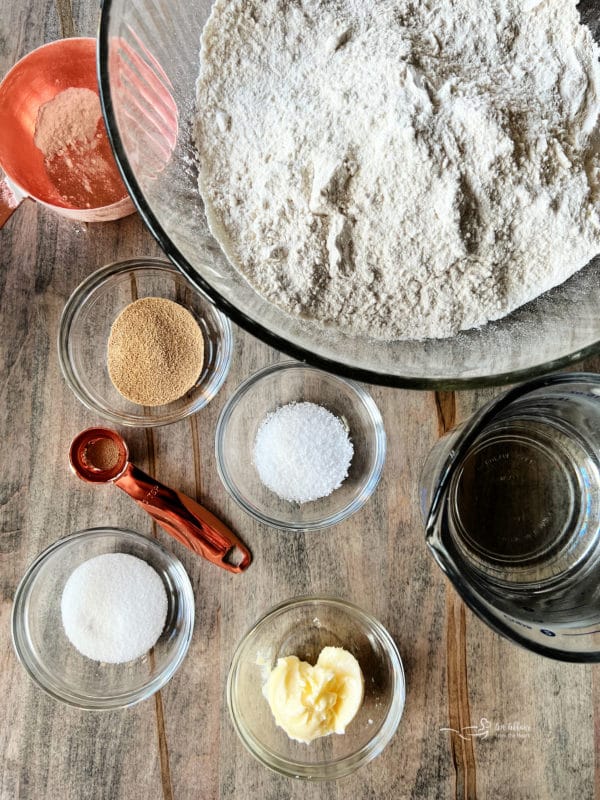 INGREDIENTS FOR THIS RUSTIC AND CRUSTY BUT SOFT BREAD
Yeast: I use active-dry yeast because I do not mind waiting for my bread to rise, but I have included steps for making this peasant bread recipe with instant yeast, too.
Sugar: A little bit of granulated sugar is used to mix with the yeast if you're using the active-dry type.
Water: Lukewarm water is used for allowing the yeast to activate. To get the perfect temperature of the water, mix cold water with boiling water. (see recipe card)
Flour: All-purpose flour is an easy white flour to use for all kinds of baking recipes! Easy peasy!
Salt: Kosher salt is used to give this bread plenty of flavor and to balance out the flour while baking.
Butter: Softened butter is used to grease the Pyrex dishes to make sure this no-knead bread comes out buttery and perfect.
HOW EASY IS BAKING BREAD IN A PYREX BOWL?
Baking bread in a Pyrex bowl is very easy because you do not need to preheat the bowl or anything but grease it with butter! Baking bread in a glass bowl in the oven allows it to bake to an even brown color that is crusty and crunchy on the outside. Be sure to follow any safety measures listed on the glass bowl's care sheets.
HOW TO MAKE BUTTERY, HOMEMADE PEASANT BREAD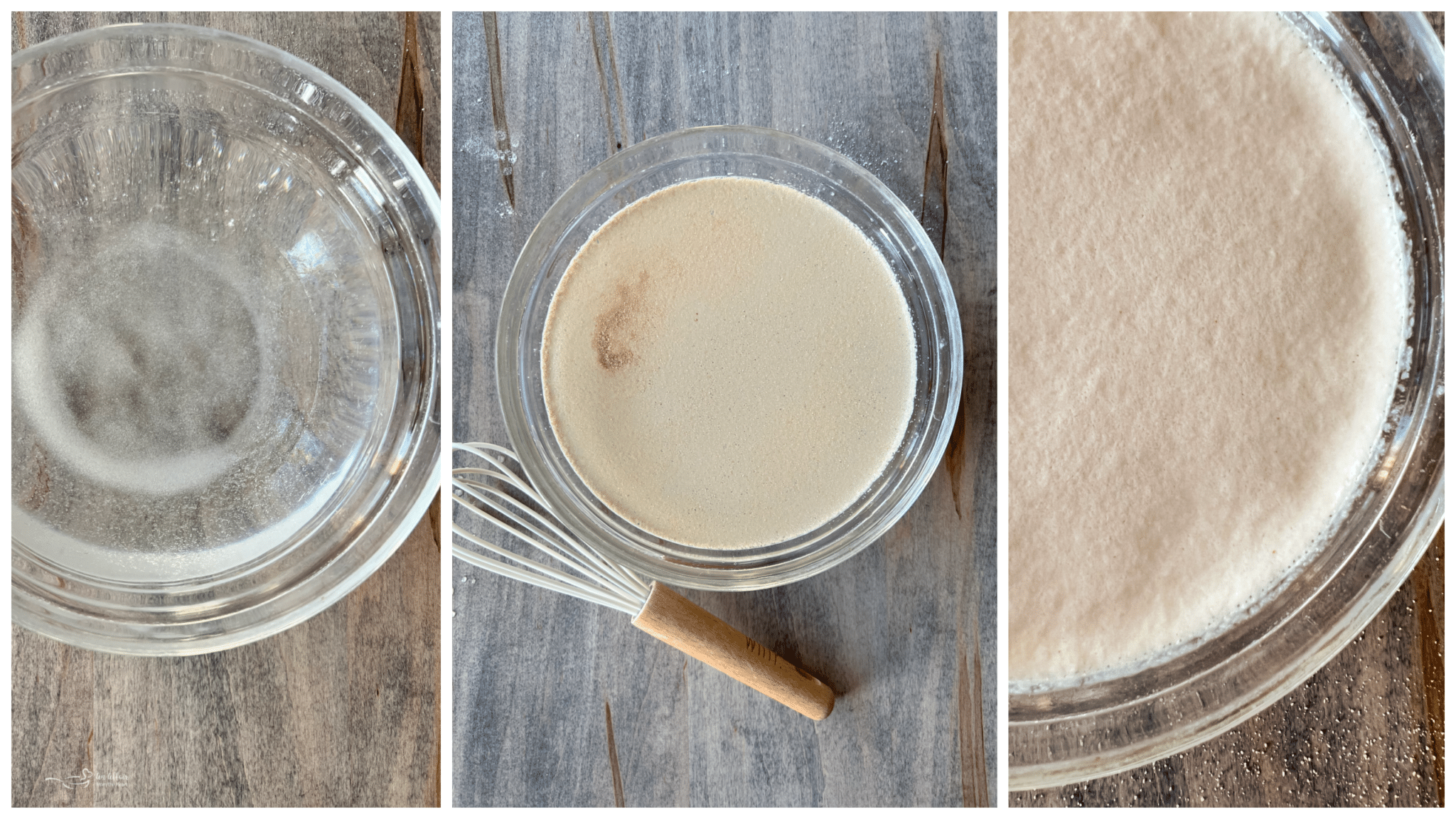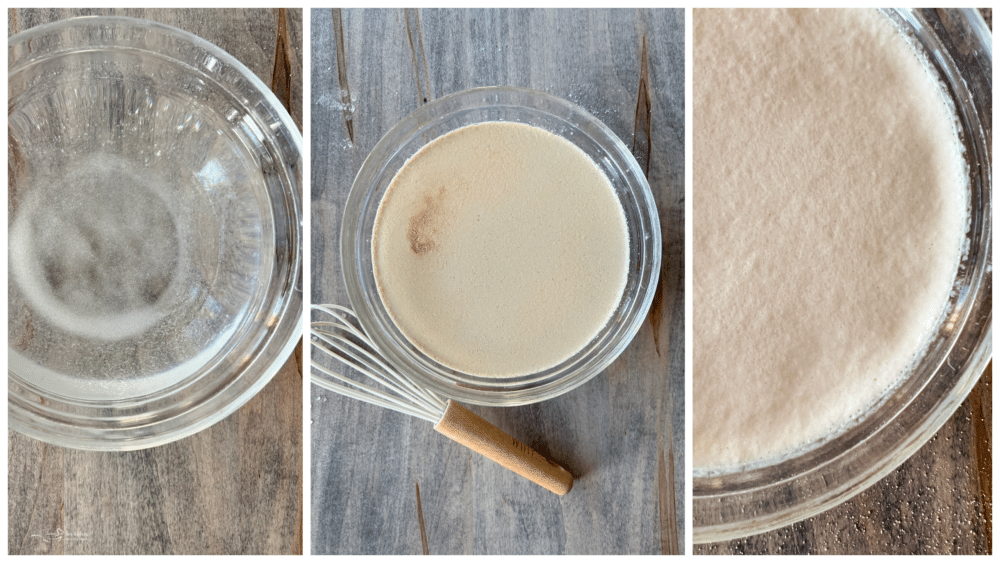 Activate the Yeast
Combine the sugar and lukewarm water in a bowl until the sugar is dissolved. Sprinkle the active dry yeast on top. (don't mix it together) Let stand for 10-15 minutes, the yeast will become frothy, and that lets you know it's activated.
There is a tip from the original blogger on how to get the water to the perfect "lukewarm" temperature in the printable recipe card.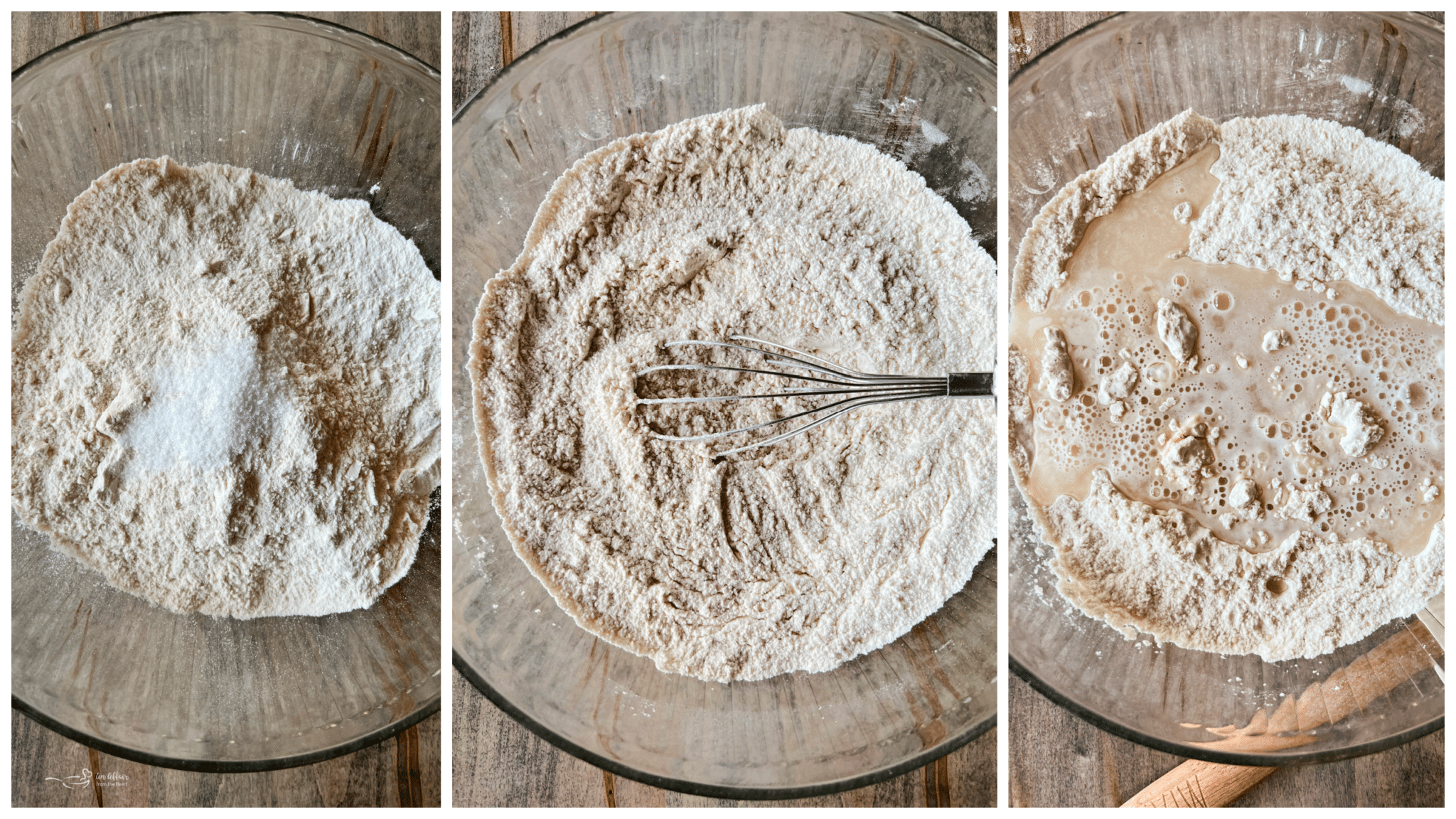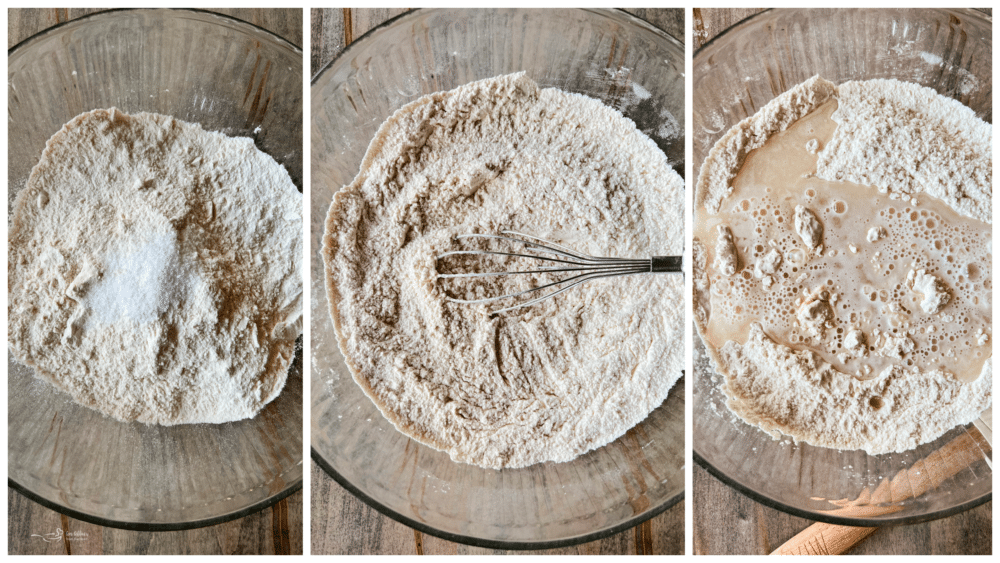 Make the Dough
In a large bowl, combine the flour and salt to create a nice base. Next, pour the yeast mixture into the bowl of flour and mix until well combined.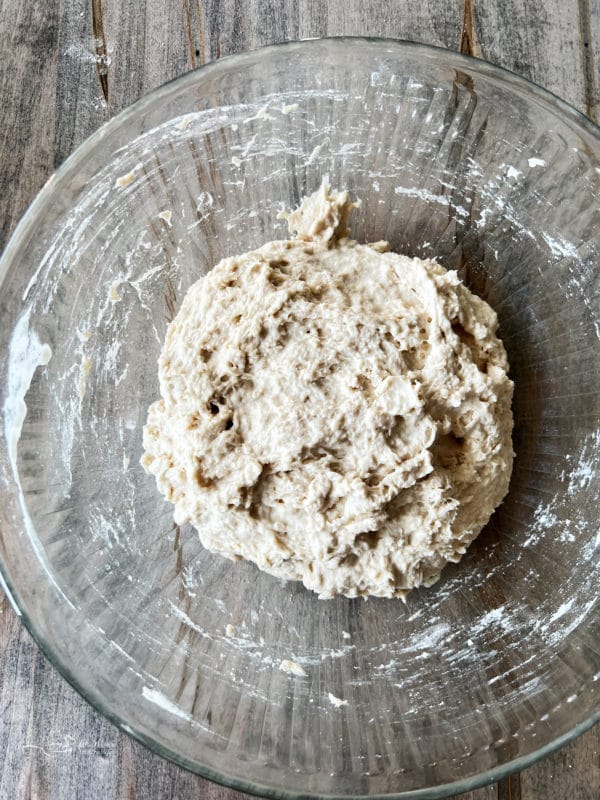 ALLOW THE DOUGH TO RISE
Once the flour has been absorbed, it is time for the dough to rise.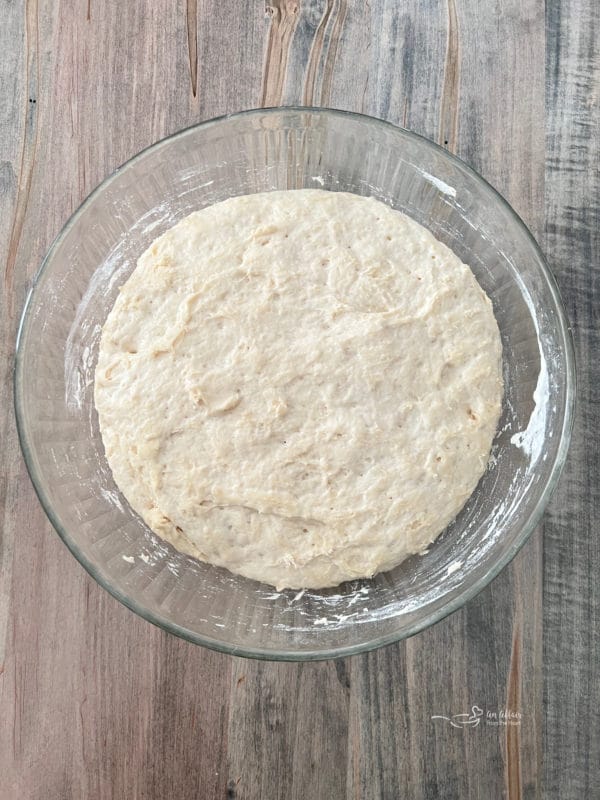 Cover the dough with a tea towel or plastic wrap and set it aside in a warm and humid area. The bread will take anywhere between one to one and a half hours to rise if in a warm area and up to two hours if placed in a cool setting.
DIVIDE THE DOUGH

Next, preheat the oven to 425 degrees Fahrenheit to prepare to bake the bread. Grease two oven-safe glass bowls such as a one-quart Pyrex dish with butter to create a nice buttery layer on the bread.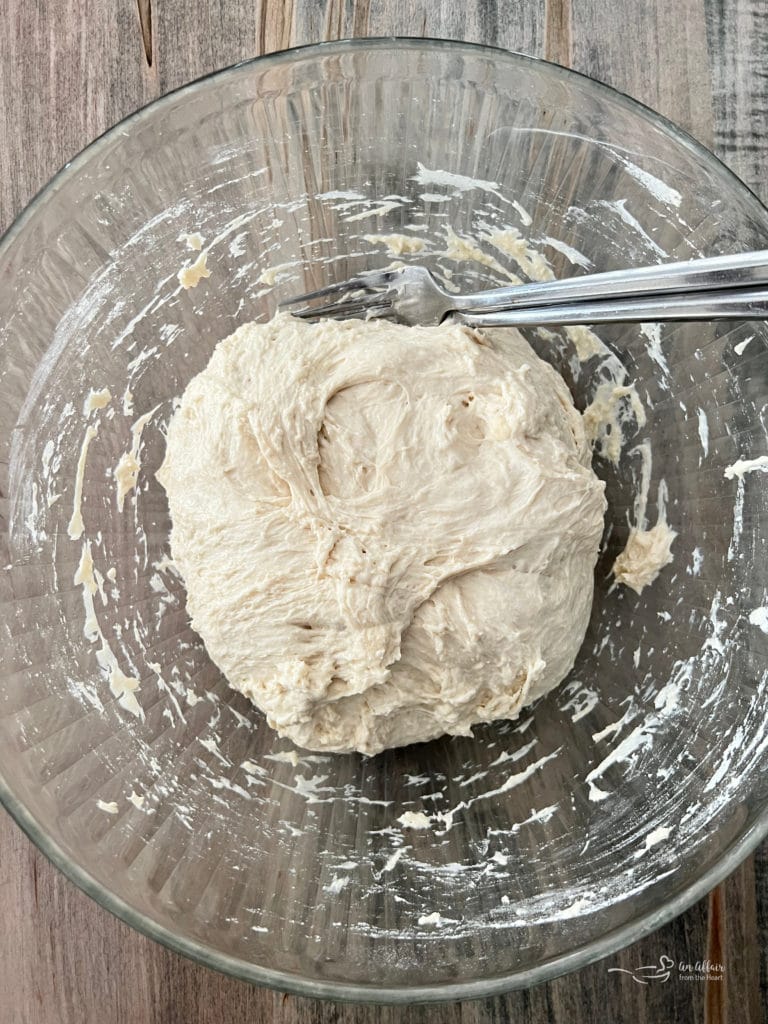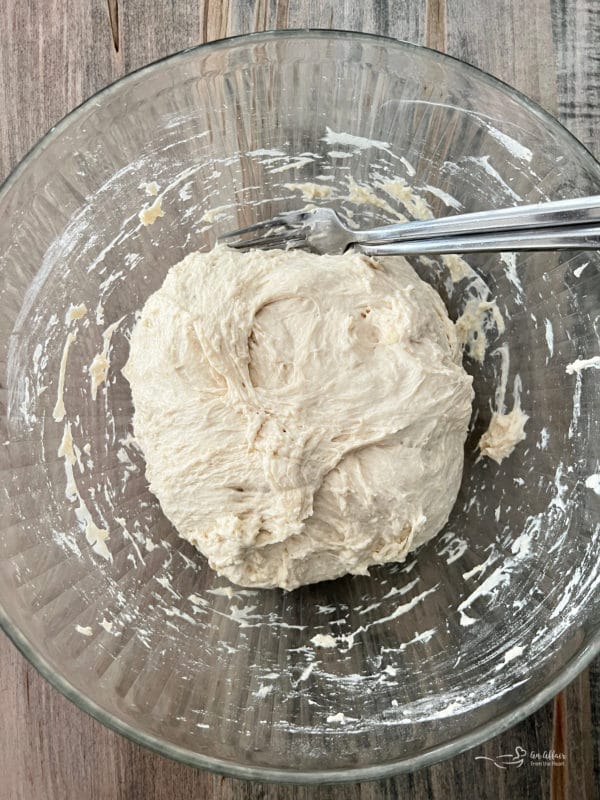 Using two forks, push down the dough and scrape the sides of the bowl to make sure all of the dough is intact. Turn the dough onto itself towards the middle of the bowl.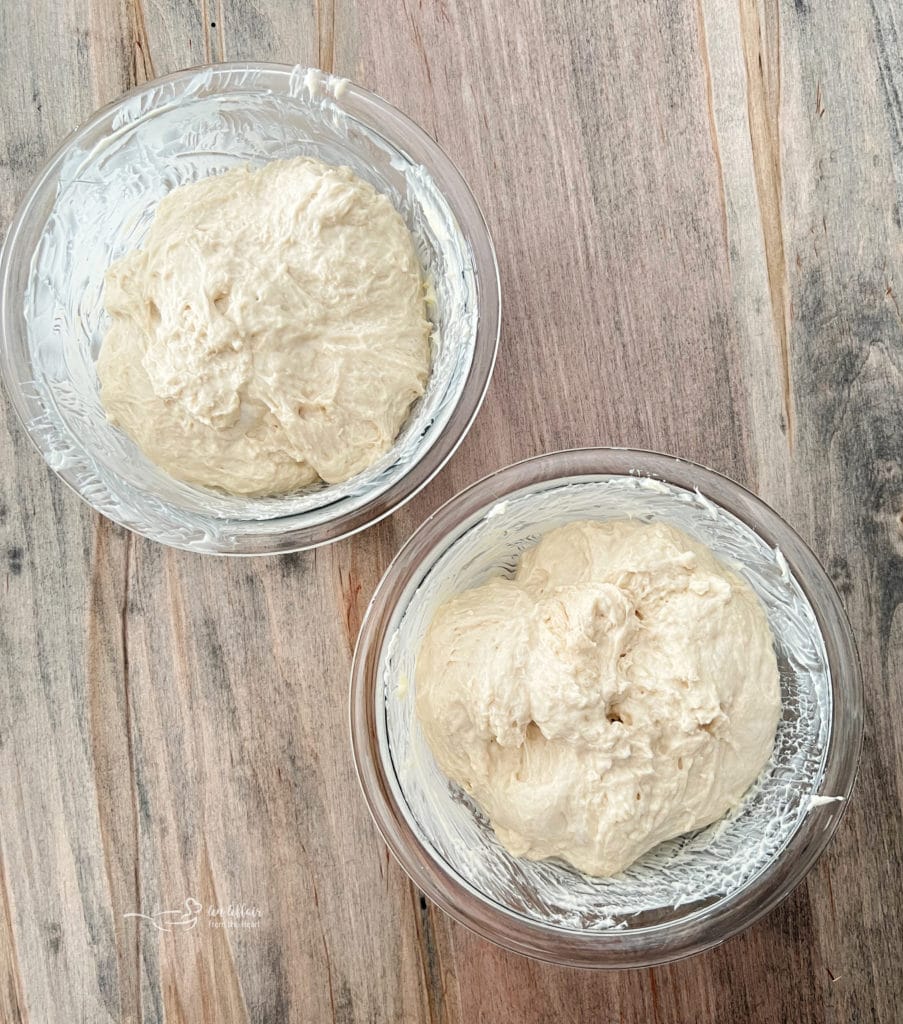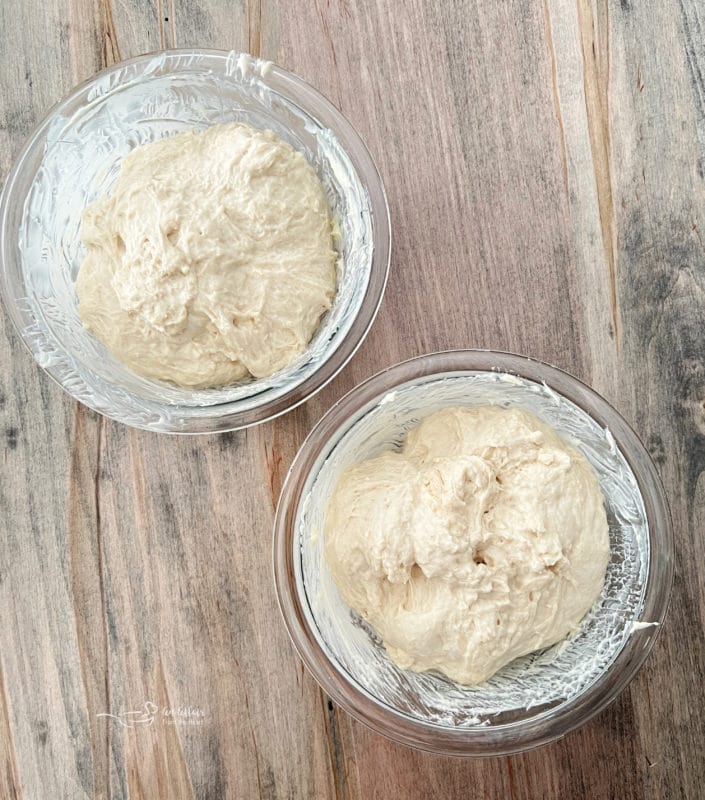 Next, loosen the dough from the bowl and divide the dough into two equal portions with the two forks. Place each half of the dough into the greased bowls.
THE SECOND RISE
A second rise allows the bread to be fully fluffy and extra soft.
Allow the dough to rise for the second time in a warm area. The dough will need to rise for twenty to thirty minutes.
A great place for the dough to rise is the stovetop on top of your preheated oven or right next to it. Let the dough rise until it is at or slightly above the tops of the bowls you are using.

BAKE THE CRUSTY PEASANT BREAD
Place the bowls with the dough into the preheated oven. Bake the dough for fifteen minutes.
Reduce the oven to 375 degrees Fahrenheit and bake for fifteen minutes longer. This ensures the crumb of the bread stays moist and soft.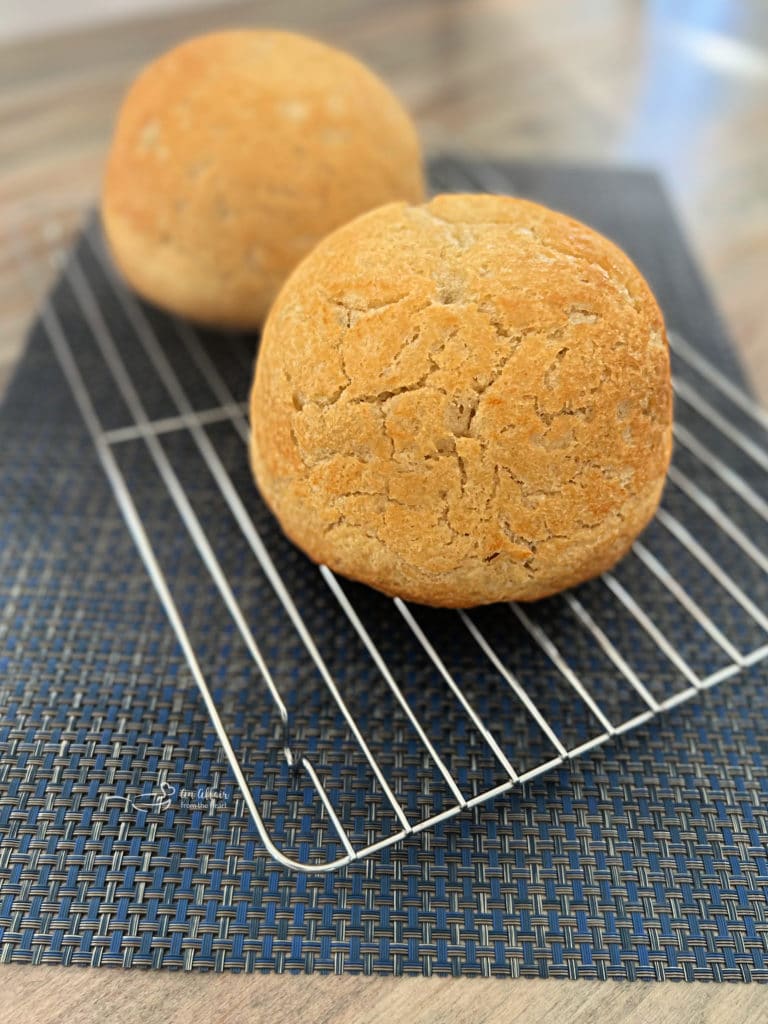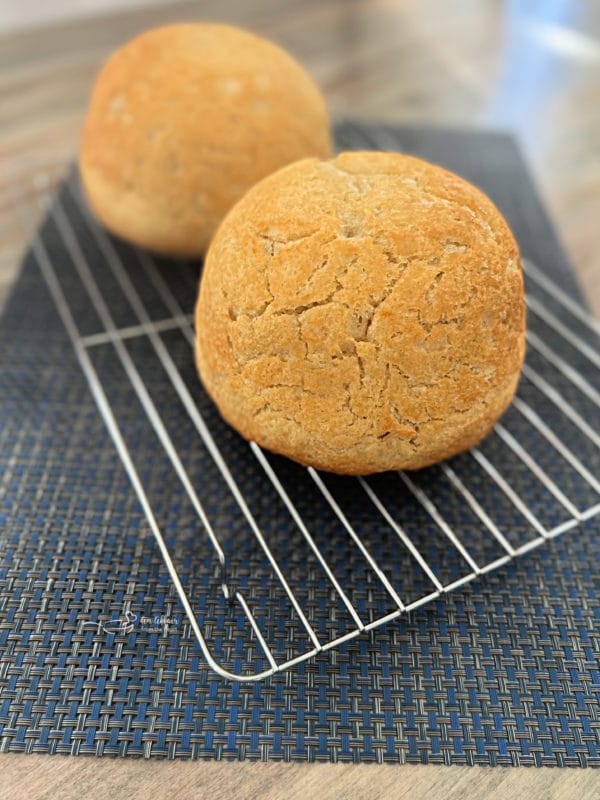 Finally, remove the bread from the oven and turn the loaves on cooling racks. Allow the bread to cool for at least ten minutes before slicing to make sure it doesn't crumble.
The easiest, most buttery, delicious bread, baked in a pyrex bowl. It's quite possibly the most perfect bread.
TIPS
Enjoy this homemade soft bread recipe with your favorite jams, jellies, or preserves, honey and butter, and other types of spreads.
You can use this no-knead bread for avocado toast, PB&Js, your favorite french toast, and bread for simpy toasting!
Make your very own homemade croutons by using any leftover peasant bread you may have.
Store the leftovers in an airtight container at room temperature for four days.
Freeze any leftover slices of peasant bread in a freezer-safe bag for three months. When ready to reheat the bread, allow it to thaw in the refrigerator overnight first.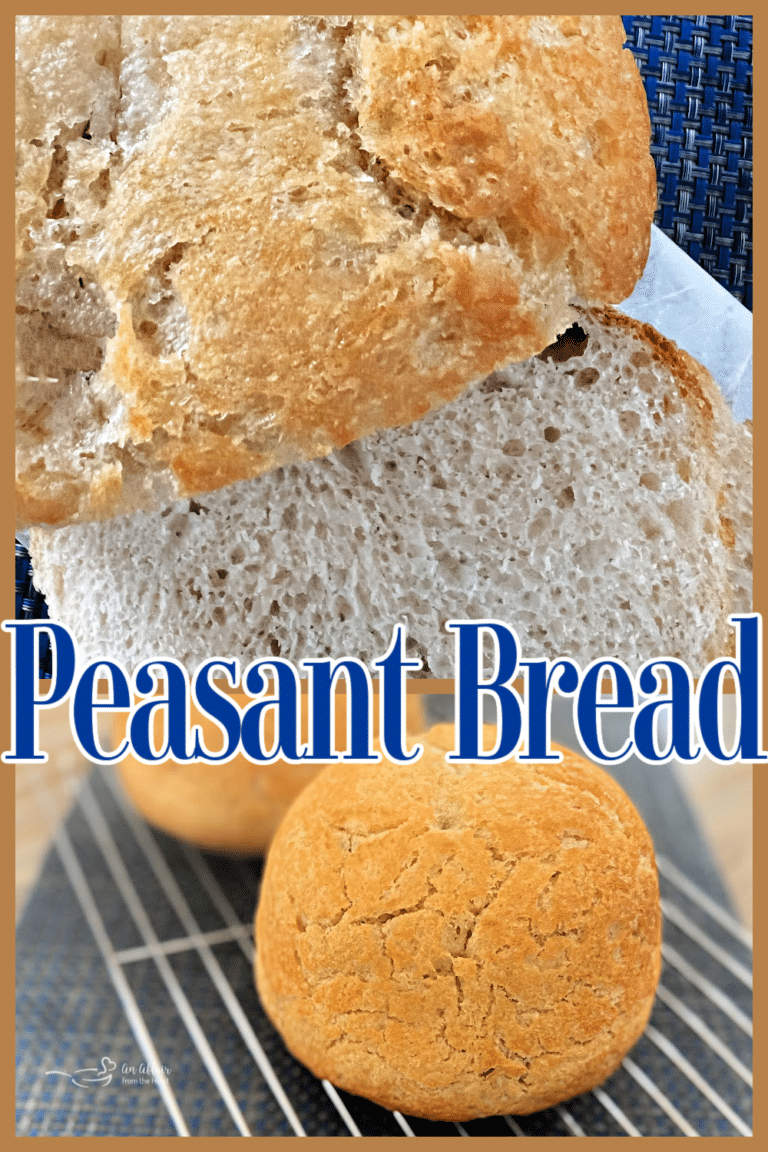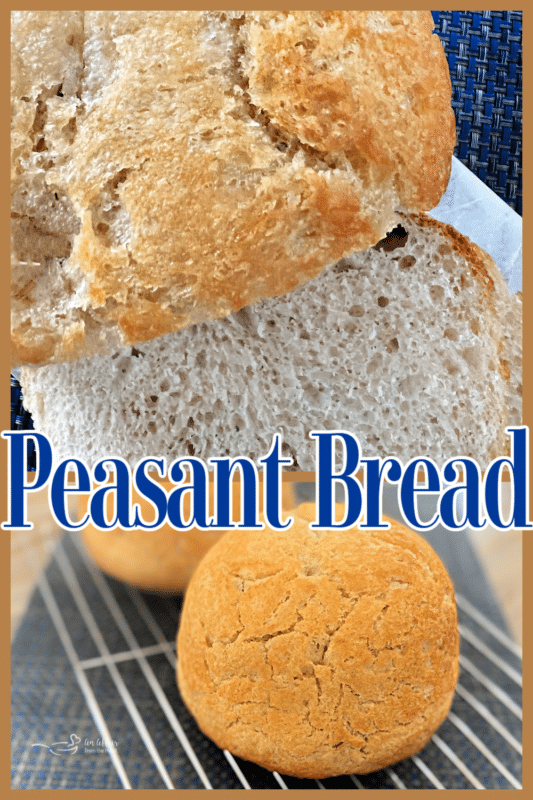 LOVE It? PIN IT!
Make sure you can find the recipe when you want to mix up some of this yummy peasant bread! Pin it to your favorite Pinterest board before you go!
When I first posted this recipe I shared this picture and in the baking instructions, I said to "Pause momentarily to kiss the nose of your audience."
This is our boxer, Theo. He was 12 weeks old here and has always been my kitchen sidekick. He's got a nose for all things food, but he is especially curious when I make whipped cream and when I make bread.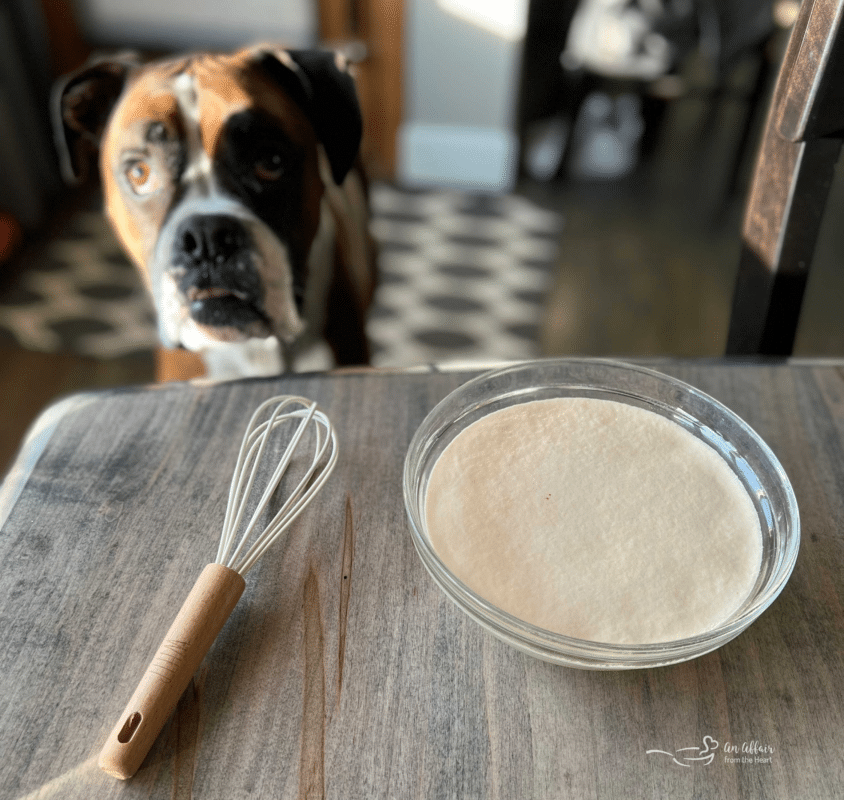 Here he is 6 years later. Guarding that yeast for Mom. He's such a good boy!
MORE BREAD RECIPES YOU WILL FALL IN LOVE WITH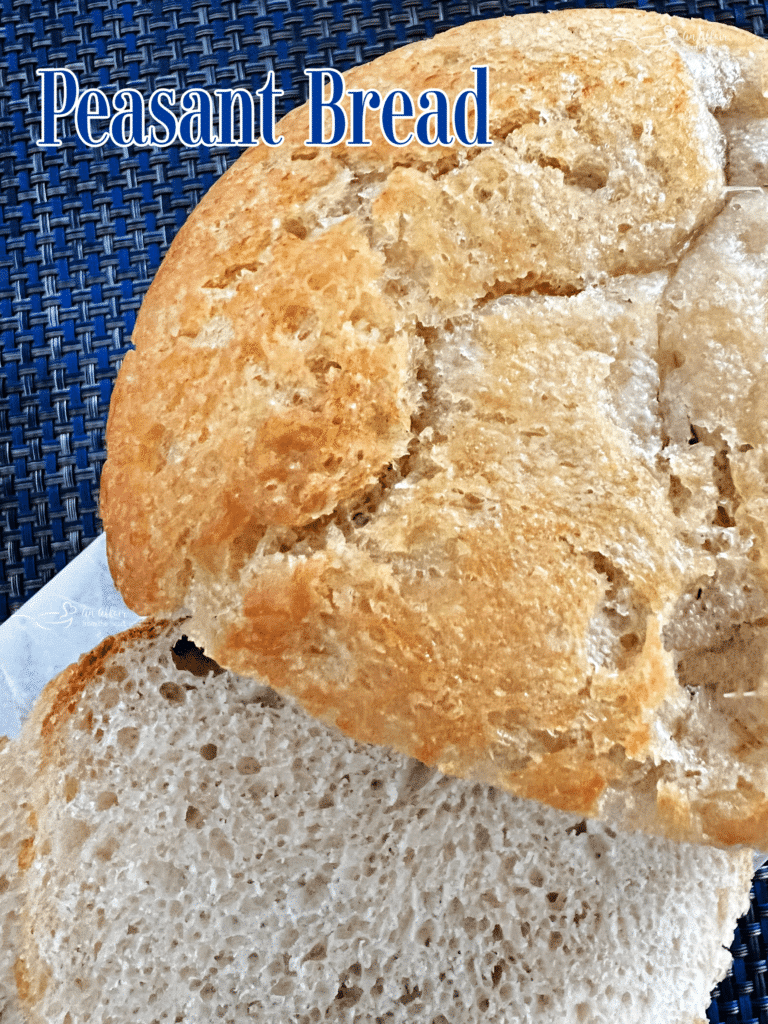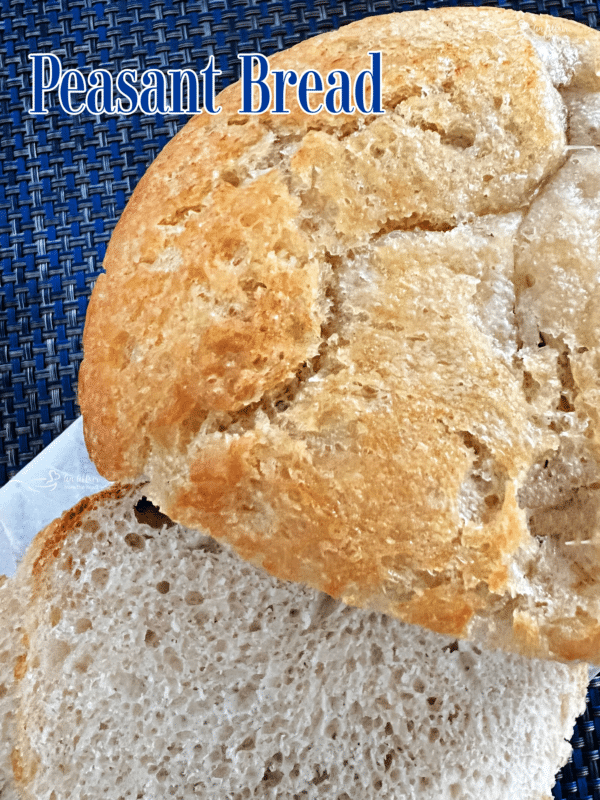 Let's make some Peasant Bread!

Yield: 2 loaves
Peasant Bread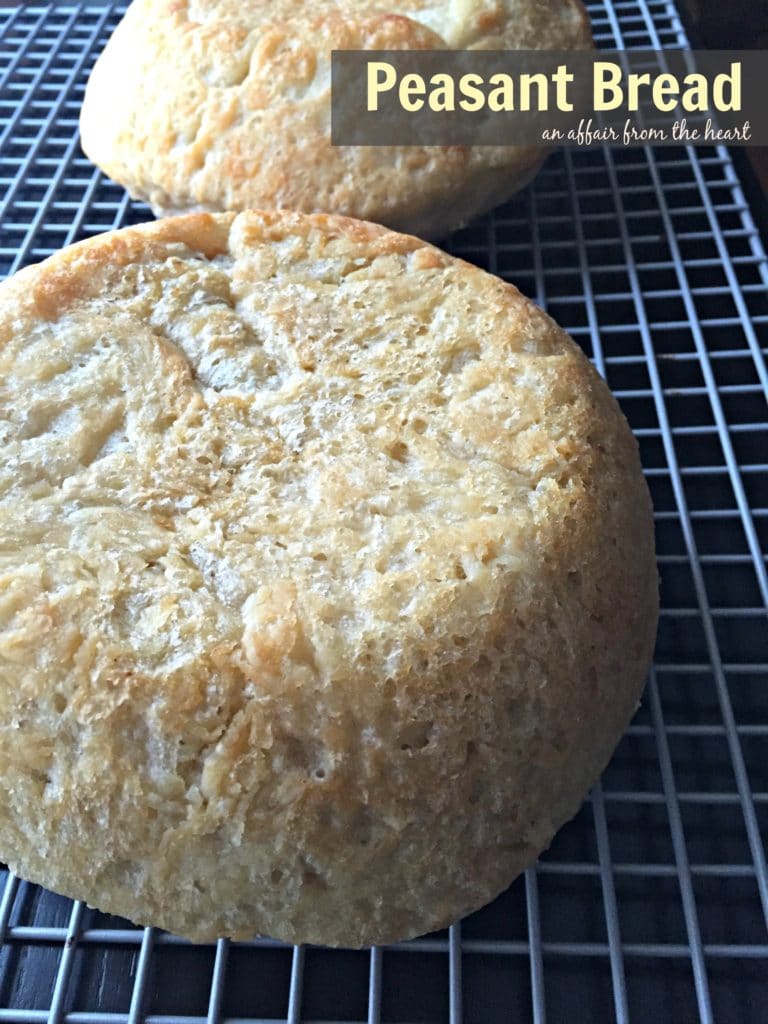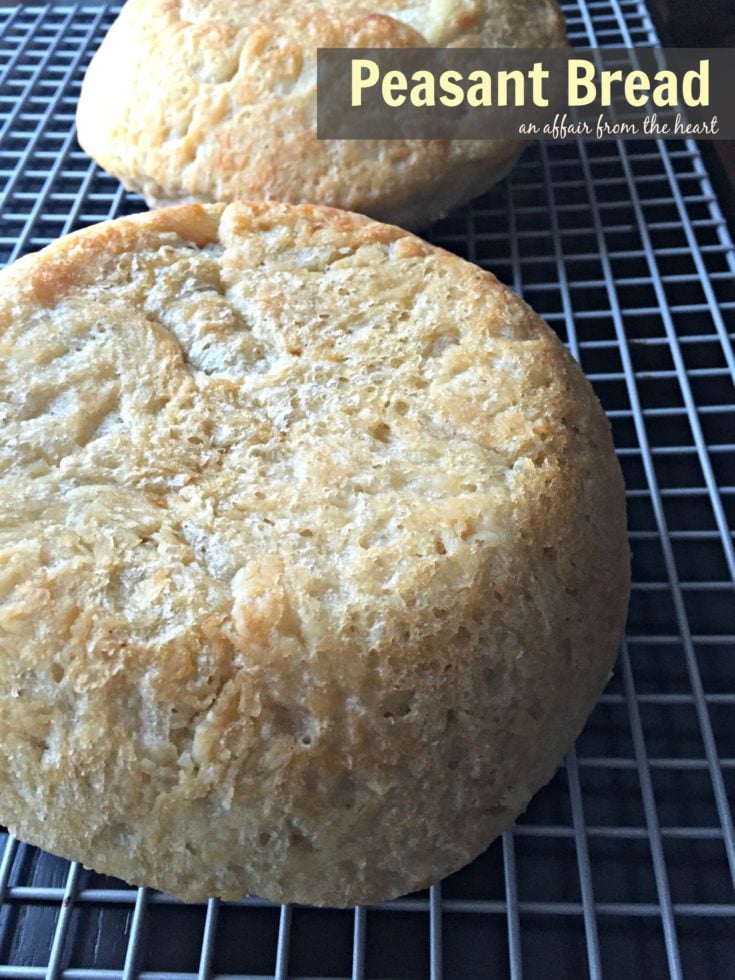 The easiest, most buttery, delicious bread, baked in a pyrex bowl. It's quite possibly the most perfect bread.
Additional Time
3 hours
18 minutes
Total Time
3 hours
50 minutes
Ingredients
4 cups all-purpose UNBLEACHED Flour
2 teaspoons kosher salt
2 cups lukewarm water (**Tip from Alexandra: add 1 1/2 cups cold water to 1/2 cup boiling water to have the perfect temperature)
2 to 3 teaspoons sugar (I used 2 1/2)
2 teaspoons active-dry yeast
2 Tablespoons butter, room temperature
Instructions
Mixing the dough: If using active-dry yeast: Dissolve the sugar into the water, in a small bowl. Sprinkle the yeast over top. (no need to stir) Let it stand for about 10 to 15 minutes or until the mixture is foamy. — this step ensures that the yeast is active. In a large bowl, whisk together flour and salt. When yeast/water/sugar mixture is foamy, stir it up, and add it to the flour bowl. Mix until the flour is absorbed. ** If you are using instant yeast: In a large mixing bowl, whisk together the flour, salt, sugar, and instant yeast. Add the water. Mix until the flour is absorbed.
Rising Dough: Cover bowl with a tea towel or plastic wrap and set aside in a warm place to rise for 1 - 1 1/2 hours. (If you are letting the bread rise in a cool place, it can take as long as two hours to rise.) ** Tip from Alexandra: Create a slightly warm spot for your bread to rise by turning the oven on to 350 degrees for a minute, then turn it off. Note: Do not allow the oven to heat for more than 1 minute — it will be too hot. Place bread in warm(ish)oven to rise.
Dividing Dough: Preheat the oven to 425ºF. Grease two oven-safe glass bowls (such as a 1 quart pyrex) with about a tablespoon of butter each. Using two (smaller sized) forks, punch down your dough and scrape it from the sides of the bowl. Turning dough onto itself towards the middle. Loosen entirely from the sides of the bowl. Using your two forks, divide the dough into two equal portions — scoop up each half and place into your buttered bowls.
Second Rise: Let the dough rise for about 20 to 30 minutes (uncovered) in a warm place. (If your stove top is over your oven place it on your stove top, this will work great. I have a wall oven, so I just placed mine on the counter next to the oven) Let it rise until just below or slightly above (depending on what size bowl you are using) the top of the bowls.
Baking the bread: Place bowls in oven, and bake for 15 minutes. Reduce the heat to 375º and bake 15 minutes longer. Remove from oven and turn loaves onto a cooling rack. Cool for 10 minutes before slicing..
Notes
original recipe from Alexandra's Kitchen
Nutrition Information:
Yield:
2
Serving Size:
1
Amount Per Serving:
Calories:

1049
Total Fat:

14g
Saturated Fat:

8g
Trans Fat:

0g
Unsaturated Fat:

5g
Cholesterol:

31mg
Sodium:

2232mg
Carbohydrates:

199g
Fiber:

8g
Sugar:

7g
Protein:

28g
Nutrition isn't always accurate.
This bread recipe was originally posted on January 23, 2016. It has been updated to improve user experience and reshared on January 21, 2022.