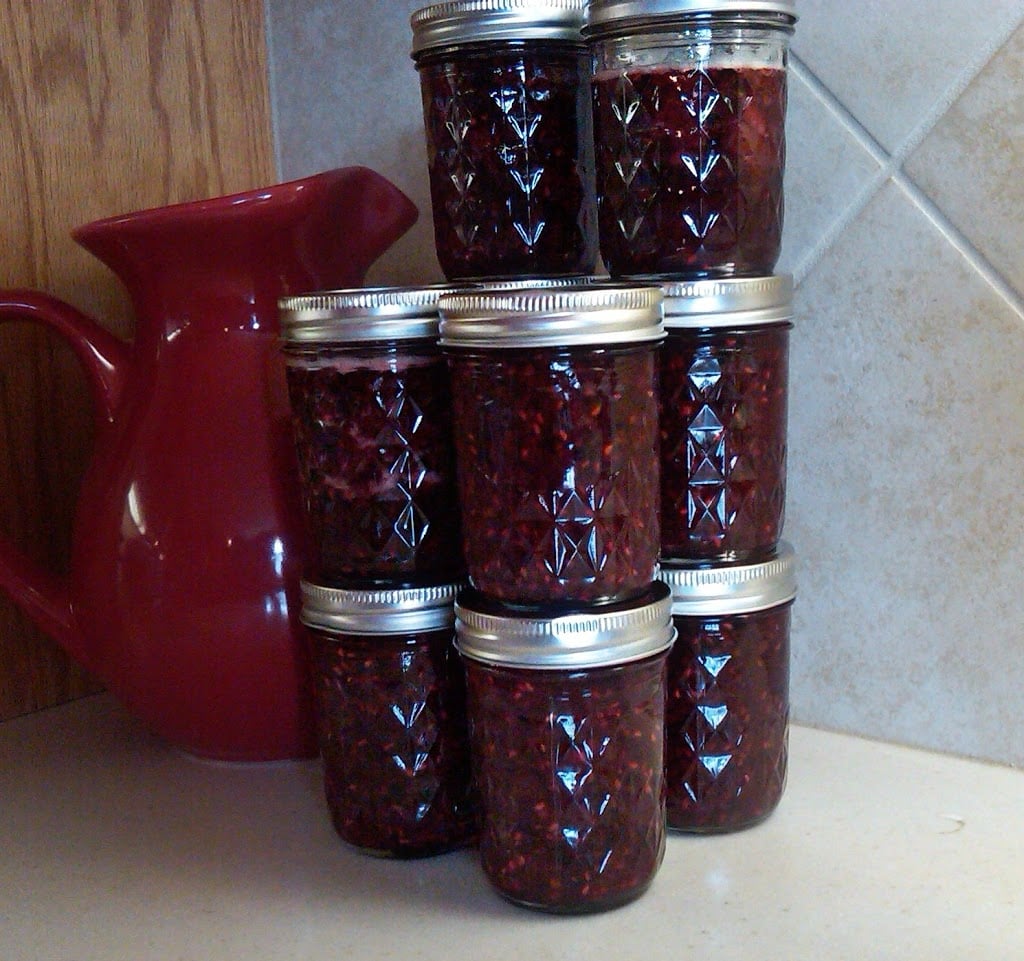 triple berry preserves
After canning tomatoes, and having such great success, I thought I would try my hand at fruit.
I found a recipe for triple berry preserves and broke out my new canning set!
Triple Berry Preserves
(Makes about 10 cups)
4 cups crushed strawberries (about 4 pints)
2 cups crushed raspberries (about 2 pints)
2 cups crushed blackberries (about 1 1/2 pints)
1 (1 3/4 ounce) box Sure-Jell
4 1/4 cups sugar, divided use
1 teaspoon margarine
1 orange, zest of
Directions:
Wash your jars and screw bands in hot, soapy water; rinse with warm water. Pour boiling water over the flat lids in medium saucepan off the heat. Let stand in hot water until ready to use.
To crush your berries, use a hand potato masher. Add strawberries, raspberries and blackberries to a saucepan.
Blend 1/4 cup of sugar with the Sure-Jell powder and stir the mixture into the fruit in the pan.
Add the margarine and orange zest and bring to a full rolling boil (this means it doesn't stop bubbling when stirred) over high heat.
Stir in the rest of the sugar and return to a full rolling boil.
Let the mixture boil for exactly 1 minute, stirring constantly.
Immediately and quickly ladle the very hot mixture into the clean 1-cup jam jars (filling to within 1/8-inch of the top) while wiping jar rims and threads.
Turn jars upside down after the band has been screwed tightly.
After 15 minutes, turn jars upright.
** COOKS NOTES**
This recipe tastes amazing. I know that the consistency of preserves is not like jelly, so I wasn't expecting it to be thick. But I also wasn't expecting it to be quite so thin, either.
I would recommend that you boil this longer until it thickens up to where you would like it.
Make sure that you wipe the tops of your jars down before adding the lids. This recipe is nice in the fact that you do not need a water bath. I had two jars that didn't seal when I flipped them over, I turned them upside down again for a few more minutes and they sealed right up!
Again, it was thinner then I had anticipated, but let me tell you, we have had this one ice cream and used in place of syrup on french toast and pancakes and it fabulous!

If you make this recipe, I'd love to know! Snap a picture, share the photo on social media with the hashtag #AnAffairFromTheHeart – I'd love to see what you made! – Michaela