Air Fryer Bacon
As an Amazon Associate and member of other affiliate programs, I earn from qualifying purchases.
Air Fryer Bacon is made quickly, easily, and more healthily. Crisp, and perfectly cooked for breakfast and sandwiches.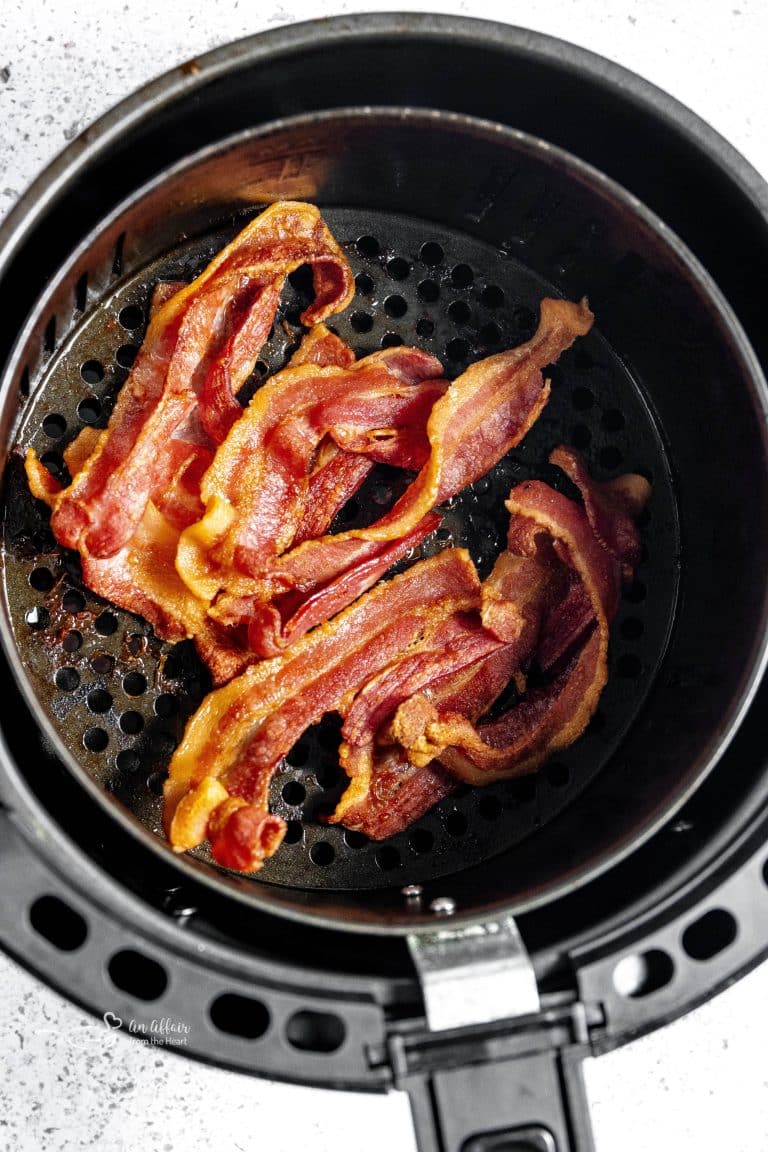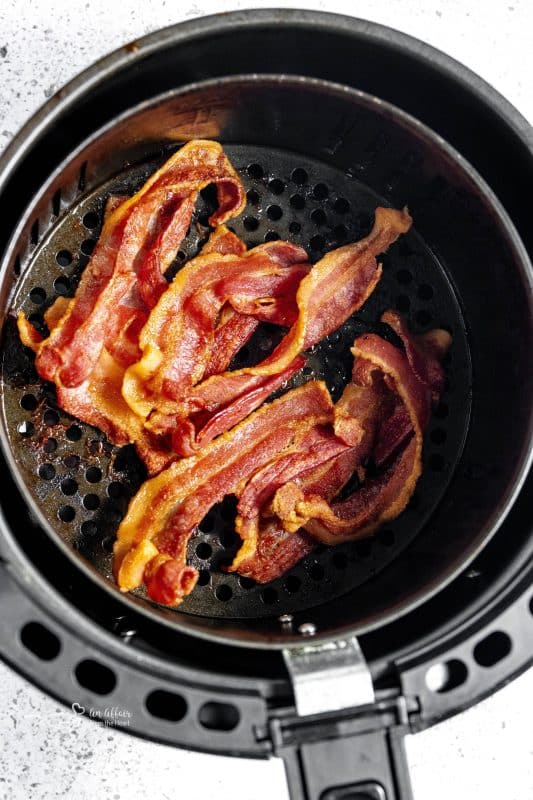 I am not always a morning person however if I smell bacon I can pop right out of bed. I love my bacon crispy. This air fryer bacon is a crispy bacon lover's dream and my new favorite way to prepare this breakfast treat.
AIR FRYER BACON
Forget tending to the stove or taking your bacon out of the oven to flip sides or dealing with all that excess grease. This air-fried bacon is a one-stop shop that only takes ten minutes. Now you can enjoy your favorite air fryer breakfast food that is just as easy as popping a piece of bread in the toaster. You have to try this delicious bacon in the air fryer in a fraction of the time it takes to make it in the oven or stovetop.

MORE ABOUT AIR FRIED BACON
When air fryers first came out, everyone went crazy. It's only been a decade since they hit the market. The recipes keep coming and people are becoming more and more creative with what you can whip up. This air fry bacon has to be one of the best uses for the air fryer. Not only are these crispy bacon strips ready in minutes but they also are a healthier alternative to pan frying or oven-baked bacon.

Bacon Recipes to Love
Who doesn't love bacon? I have loads of bacon recipes on my website, from salads to mac and cheese and burgers, bacon always makes things better. Check out those air fryer bacon-wrapped Brussels sprouts above. I could eat that whole plate myself! Wrapping food in bacon is always a special treat. Check out these pork ribs, chicken, and these brats, too!

WHY YOU WILL LOVE CRISPY AIR-FRIED BACON
Although I keep referring to bacon as a breakfast food, let's be real, bacon can appear in any meal. How about a BLT for lunch or using bacon bits in that wedge salad for dinner? I add bacon to so many dishes – even meatloaf!
Bacon makes everything better and you can never have enough bacon, right? You can make these crispy bacon pieces ahead of time and have them ready during the week to use in your favorite recipes. And the best part of bacon is you don't even need to prep it. The salty, fatty meat has all the flavor it needs, no prep, no seasonings.
Pop the raw bacon in your basket and have the crispiest bacon in less time! Also, this air fryer method is less messy and easy cleanup!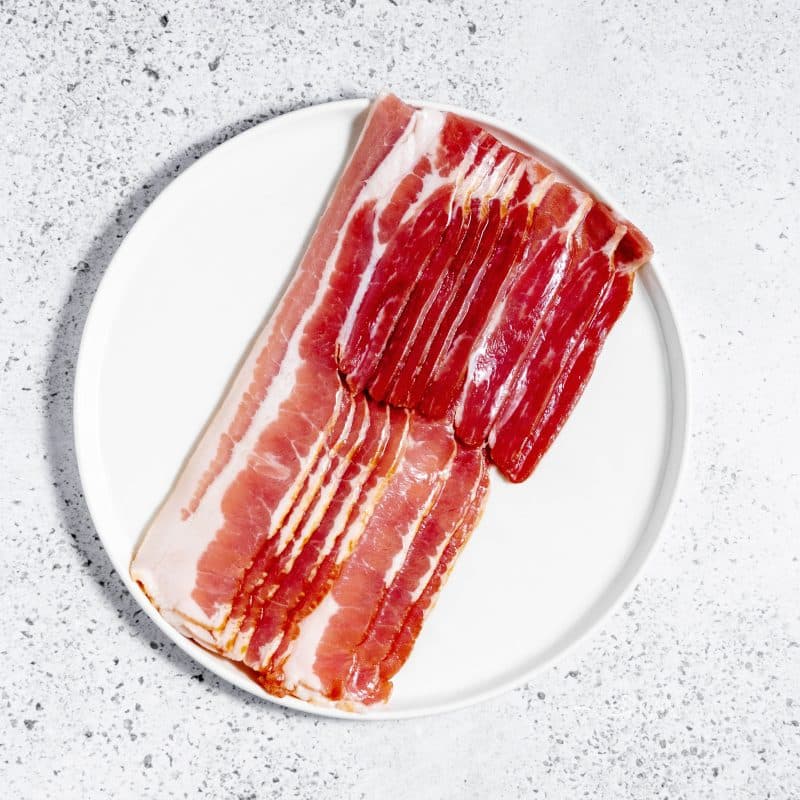 INGREDIENTS FOR BACON IN THE AIR FRYER
For complete ingredients and instructions scroll to the bottom of this post for the full printable recipe.
Bacon:

The star of the show!

Water

: Helps keep bacon tender.
HOW TO MAKE THIS EASY AIR FRYER BACON RECIPE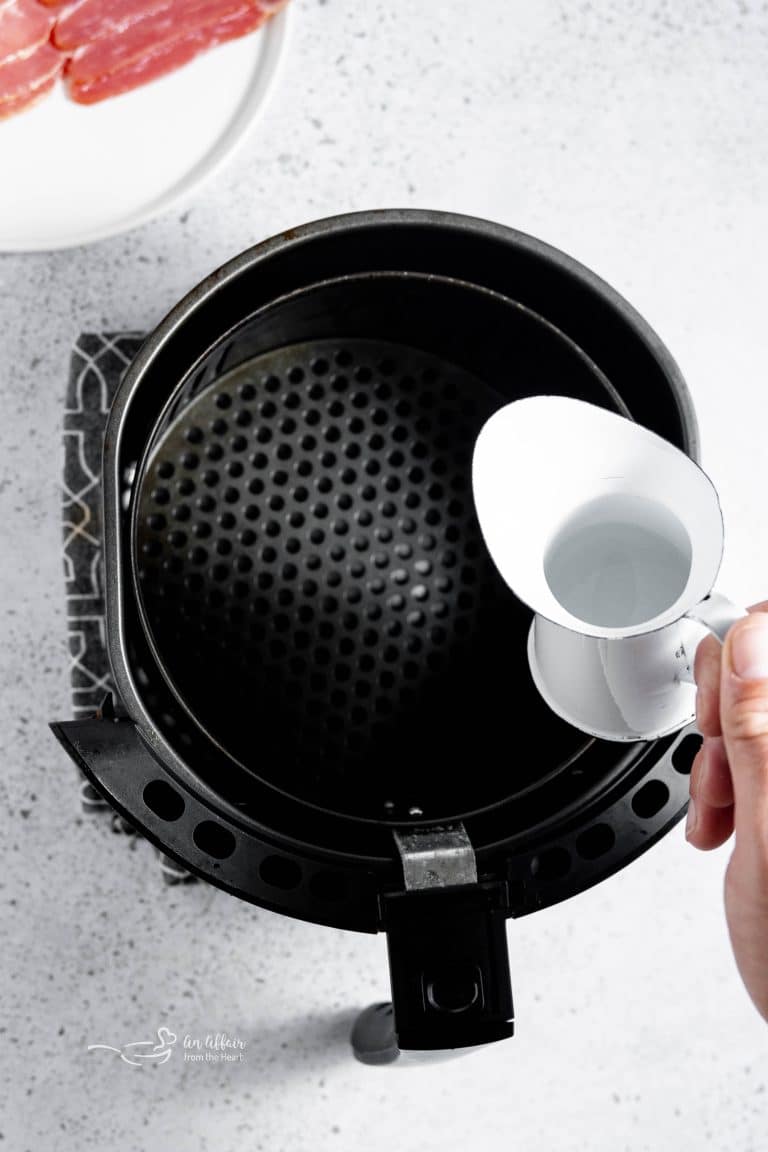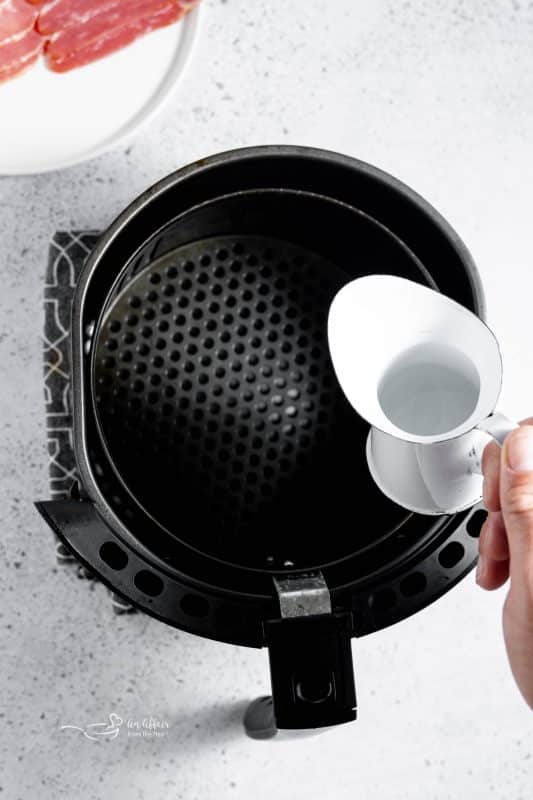 FIRST: Preheat the air fryer to 350 degrees. Add a splash of water to the bottom of the air fryer.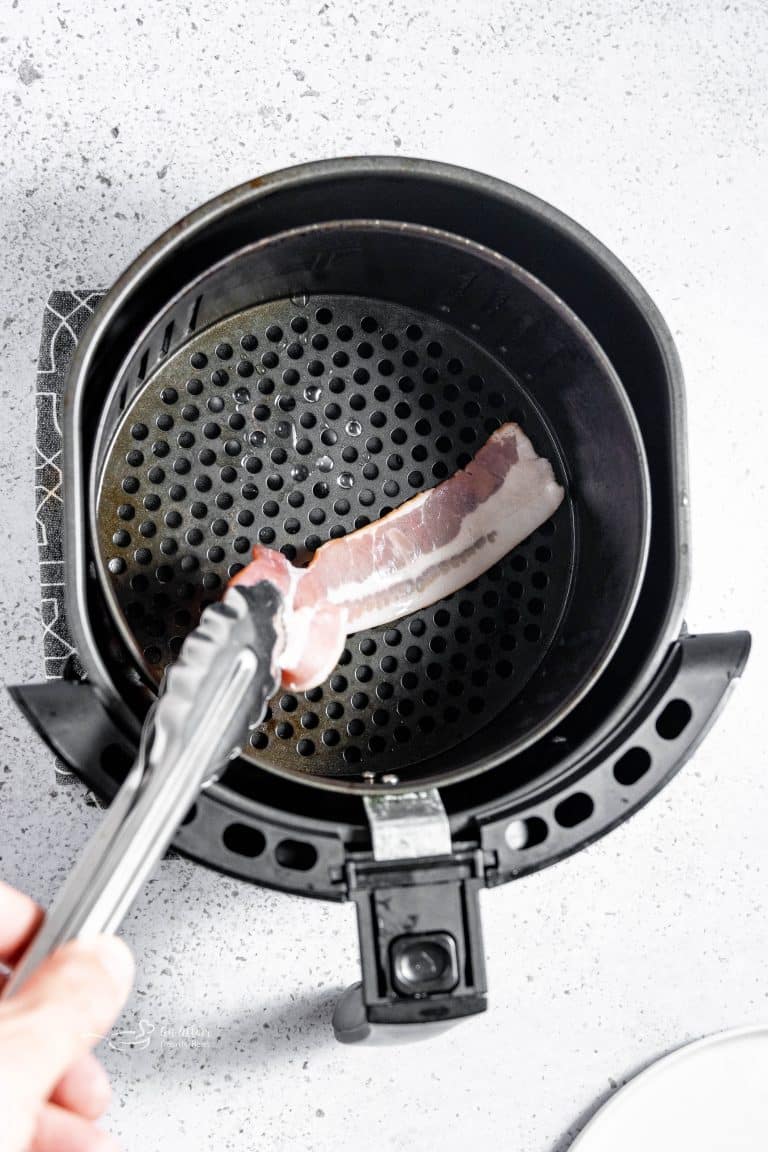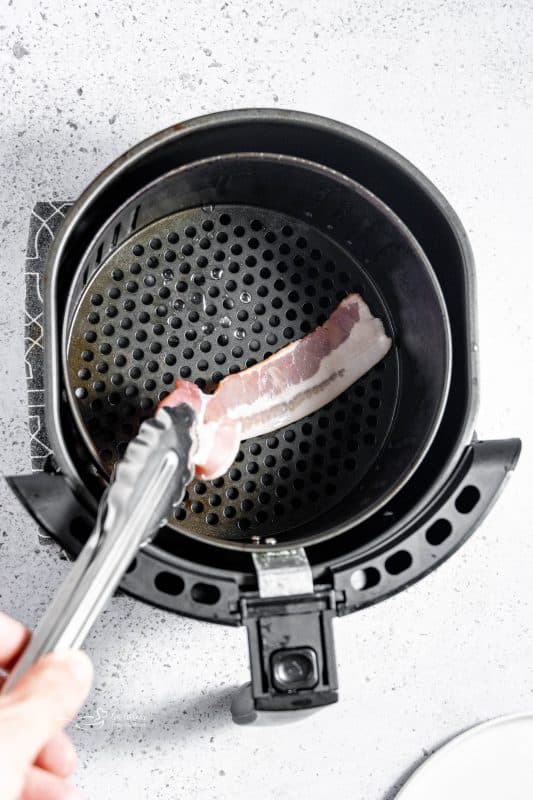 SECOND: Place bacon in a single layer in the air fryer.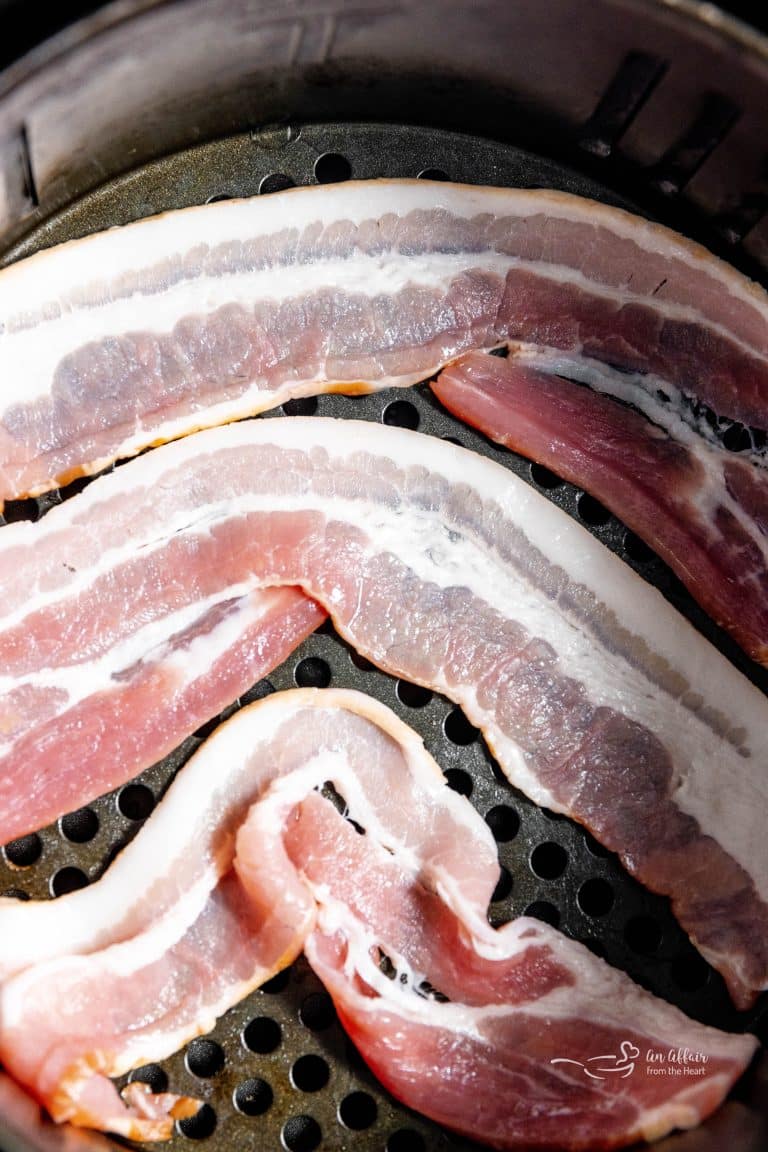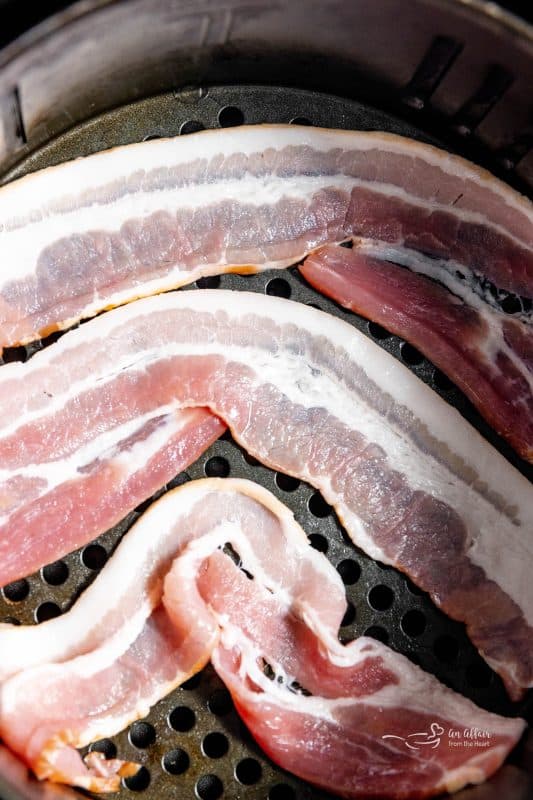 THIRD: Bake for eight to ten minutes or until crispy. Serve and enjoy!
LEFTOVER BACON:
You can store leftover bacon in an airtight container or baggie for up to five days in your refrigerator.

You can store leftover cooked bacon in the freezer for two to three months.

You can microwave bacon to reheat it on a microwave safe plate lined with paper towels. Reheat 30 to 60 seconds (start with 30) and make sure you're not cooking your bacon again!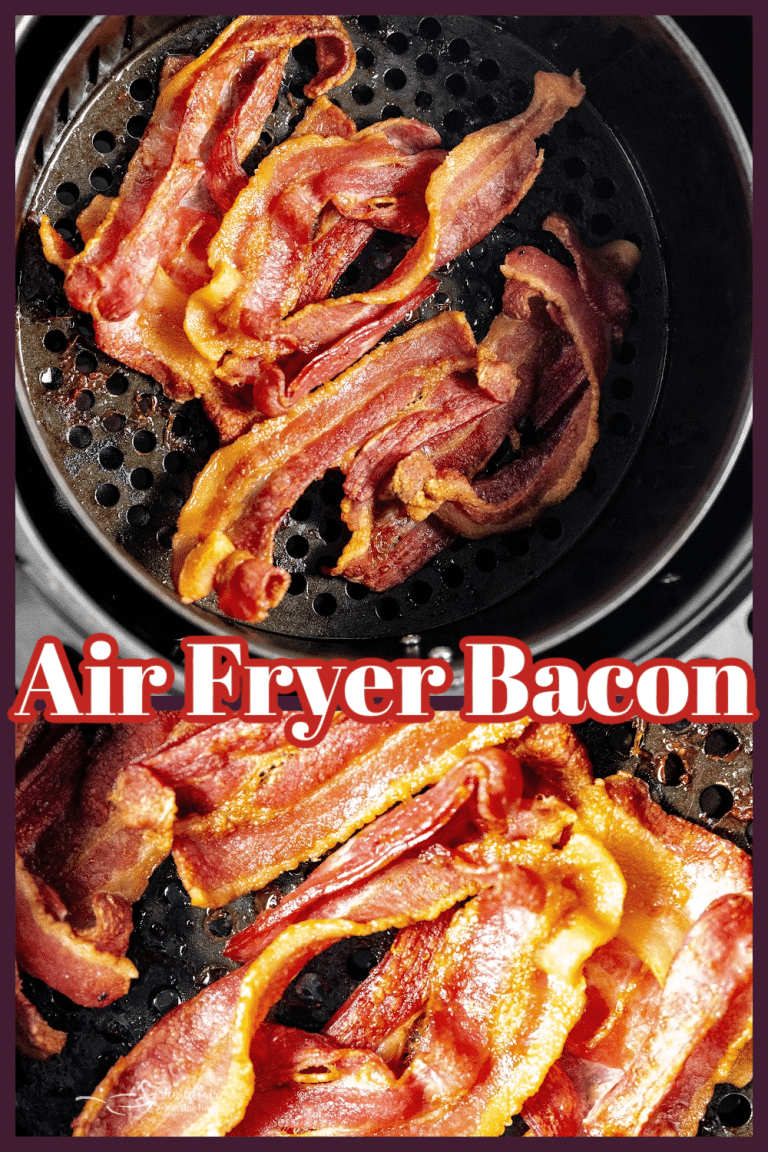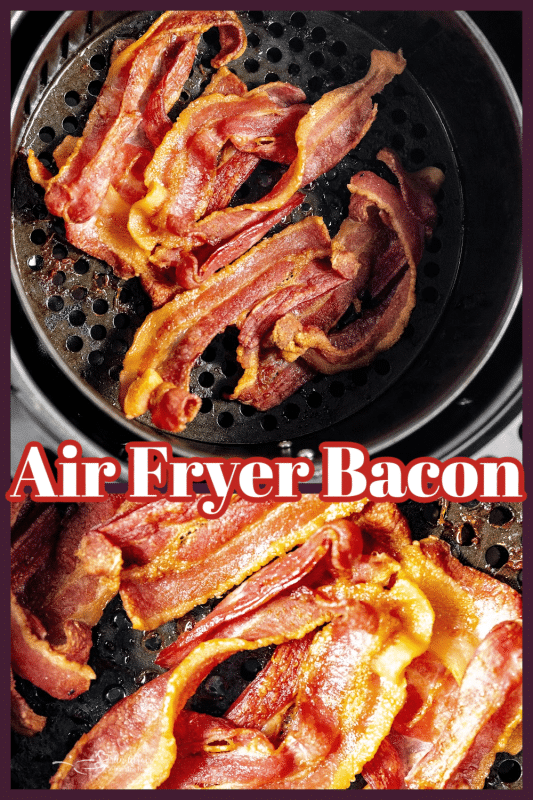 LOVE IT? PIN IT!
If you love this CRISPY AIR FRYER BACON RECIPE make sure that you don't lose it! Pin it to your favorite Pinterest recipe board before you go!

FAQs ABOUT AIR FRYER BACON
How long can I cook bacon in the air fryer? It depends on the thickness of the bacon. If you like a chewier, softer bacon then cook in an air fryer for 350 degrees for seven minutes. For crispy regular-cut bacon, follow this recipe. For thicker bacon, follow the same protocol but add two or three minutes (soft & chewy: 9 minutes, crispy 11 minutes). For thin bacon, you will need less cook time. Be careful to not overcook…overcooked bacon can become bitter.
Can you put raw bacon in an air fryer? Yes, you can. The beauty of an air fryer is there is no need to flip the bacon halfway through. The air fryer circulates air to all sides as the bacon cooks ensuring that it is perfectly cooked and crispy!
Is it healthier to air fry bacon? Air fry bacon is significantly healthier than stovetop or oven-cooked bacon. This is because lots of fat drips off the bacon into the air fryer basket while cooking. Whereas, in a pan or in the oven, the bacon sits and soaks up its grease. This recipe in particular is also healthy because you use no excess oil. You can always pat your bacon dry with a paper towel after cooking to remove excess oil.
Do you need to put oil on bacon in the air fryer? There is no need to use oil in the airfryer with bacon. Bacon itself is full of fat so it does not need the extra oil. The only reason you may want to put a little bit of oil in your air fryer is to keep the bacon from sticking. However, I do find that water helps bacon not stick.
SUBSTITUTIONS
Bacon

: There is really no substitution for bacon, but feel free to use any type of bacon such as plant-based or turkey bacon for a healthier alternative and less excess fat. This recipe would also work well for prosciutto, which is a thinner, saltier meat that is similar to bacon.
TIPS & TRICKS
You can line your air fryer basket to avoid cleaning a mess of rendered bacon grease. Place a piece of aluminum foil or parchment paper at the bottom of the basket. Make sure it is secure and not near the heating element.

If you do not have liners, you can clean your air fryer, once it is cooled, with warm water and soap.

To doctor up your bacon slices, you can add maple syrup, brown sugar, honey, or balsamic vinegar. Really anything to match your flavor preferences!
Click here for my Air Fryer Printable Cheat Sheet!

More Amazing Air Fryer Recipes to Love
This crispy, warm, salty treat is perfect for BLTs, salads, or just breakfast. This air fryer bacon is the best bacon and it's so easy, you will never want to make it another way!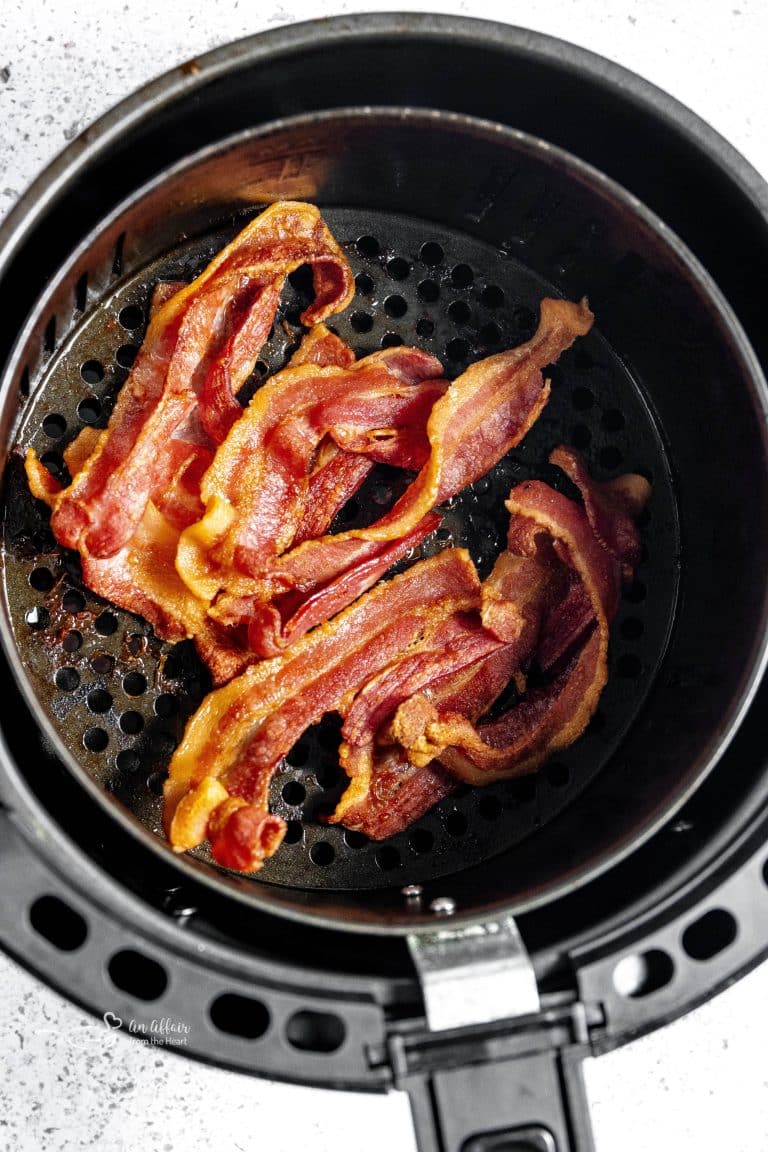 Air Fryer Bacon made quickly, easily and more healthy. Crisp, and perfectly cooked for breakfast and sandwiches.
Ingredients
8 - 10 slices bacon
Water
Instructions
Preheat the air fryer to 350oF and add a splash of water to the bottom of the air fryer.
Place the bacon slices in the air fryer basket, ensuring that the basket is not over crowded.
Air fry for 8-10 minutes or until crisp.
Serve and enjoy.
Recommended Products
As an Amazon Associate and member of other affiliate programs, I earn from qualifying purchases.
Nutrition Information:
Yield:
4
Serving Size:
1
Amount Per Serving:
Calories:

135
Total Fat:

10g
Saturated Fat:

3g
Trans Fat:

0g
Unsaturated Fat:

6g
Cholesterol:

28mg
Sodium:

487mg
Carbohydrates:

0g
Fiber:

0g
Sugar:

0g
Protein:

10g
Please note that nutrition is not guaranteed accurate.