Ever made a recipe that called to " pre-bake your crust" and you made the crust, put it in the pan, baked it, and it slide down the side of the pie pan into the bottom.
So, you maybe cussed a little, then sprinkled it with cinnamon and sugar and baked it the rest of the way, ate it to heal your ego, bought a pre-made crust and used it instead?
No?
Errrrrr….. me either?
Now… in case you need to pre-bake a crust, here's the super easy way to do it correctly! (And here is a crust recipe if you want to start from scratch)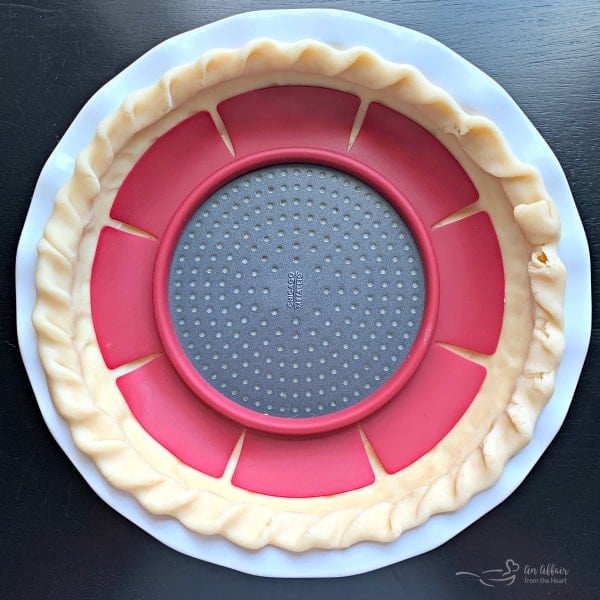 How To: Pre-Bake a Pie Crust
Bake at 450 degrees for 4 minutes.
Cool.
Fill with whatever your pie loving heart desires!!
How to Blind Bake a Pie Crust
To blind bake a crust, first you must get a dark scarf and blindfold yourself… Just kidding! Only try that when you can make a pie crust with your eyes closed. When you blind bake a crust, you want to just lightly bake the crust first and there are some tricks to help make it cook evenly and perfectly.
What does blind baking mean?
The term "blind baking" a pie crust comes from old English baking recipes and it refers to pre-baking the crust lightly first empty of other ingredients. Blind baking the crust simply means the crust is free of any ingredients – so it is "blind" to whatever might be used as a filling. I know that sounds weird, but remember, England is the same country where a car trunk is called the "boot".
How to Pre-Bake a Pie Crust
The trick to blind baking a pie crust is making sure it cooks very lightly and very evenly. The goal is to not cook it too much, but just enough. After all, you will be cooking it more when you add the ingredients to it most likely. Of course, you also don't necessarily need to cook it and can use other ingredients, like
ice cream
for example.
How to Par Bake a Pie Crust
With blind baking, you essentially are par baking the dough. Just like parboiling, par baking means lightly cooking something as high heat for a limited amount of time. Again, you are cooking just long enough to cook the pie dough and form a crust, but not so much that it becomes crusty and crumbly.
What temp to blind bake your crust?
The key to blind baking isn't just what temperature you bake it at, but also what temp you START with for the crust itself. The uncooked pie crust should be chilled in a fridge first before tossing it in the oven. Why chill it first? If you chill it first, then the butter in the crust firms up enough to help hold the crust's shape and thickness. This will also help prevent the crust from shrinking as you cook it. Pre-heat the oven to 375 degrees Fahrenheit, then it is ready to go.
How long to blind bake a pie dough crust?
You will want to keep an eye on it, but it should be ready within 20 minutes. If you are using a small oven, like a toaster oven, or convection oven, then it might cook more quickly. However, once you dial in your first blind baked crust, then you will be set for any future crusts.
How to you blind bake/pre bake a crust without weights?
There are actual "pie weights" you can buy to help form the crust, but don't feel like you have to run to the store for them. (Of course you can order them online too). But, in a pinch, you can use workarounds like my foil method shown here or other tricks as well. Cutting a piece of parchment paper, then placing it on the crust and laying dried beans on top or even pennies works too. Except make sure you wash them first. Especially the pennies… you don't know who has been touching those.
Is blind baking a pie crust necessary?
So, the simple answer is yes. Going back to what I said in the beginning…
If you don't want a slumped out lump of dough that doesn't look like a pie crust but more like a loaf of bread fail, then blind baking the crust is the only way to go. Pre-baking the crust helps set the shape, keeps the thickness correct, and makes adding ingredients, hot or cold, much easier.
How to pre-bake a store bought crust?
So, don't feel like a cheater if you want to use a pre-made crust either. Those work well and simplify life when needed too. You might find pre-made crusts either frozen or un-frozen at the grocery store and either is fine. The only difference is how you treat them for blind baking them. With a frozen raw crust, it is preferable to let it thaw first, but still keep it chilled in the fridge.
Then the bake time is the same as for an unfrozen pie crust and you don't have to worry as much about overcooking the edge.
Pie recipes
Yield: 1 single pie crust
How to: Blind Bake a Pie Crust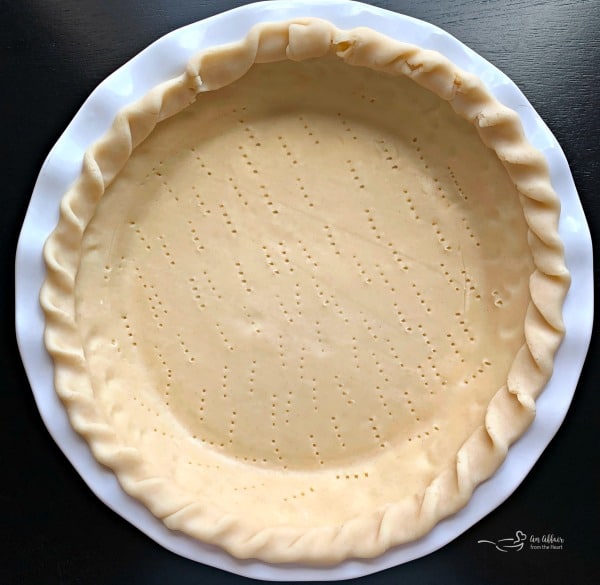 If you make this recipe, I'd love to know! Snap a picture, share the photo on social media with the hashtag #AnAffairFromTheHeart – I'd love to see what you made! – Michaela