Key Lime Slab Pie is a delicious and fun way to enjoy the classic flavor of Key Lime Pie. A fresh custard made with both Key Lime zest and juice baked into a flaky, from scratch crust, topped with whipped cream. A beautiful presentation and a wonderful way to brighten up any day.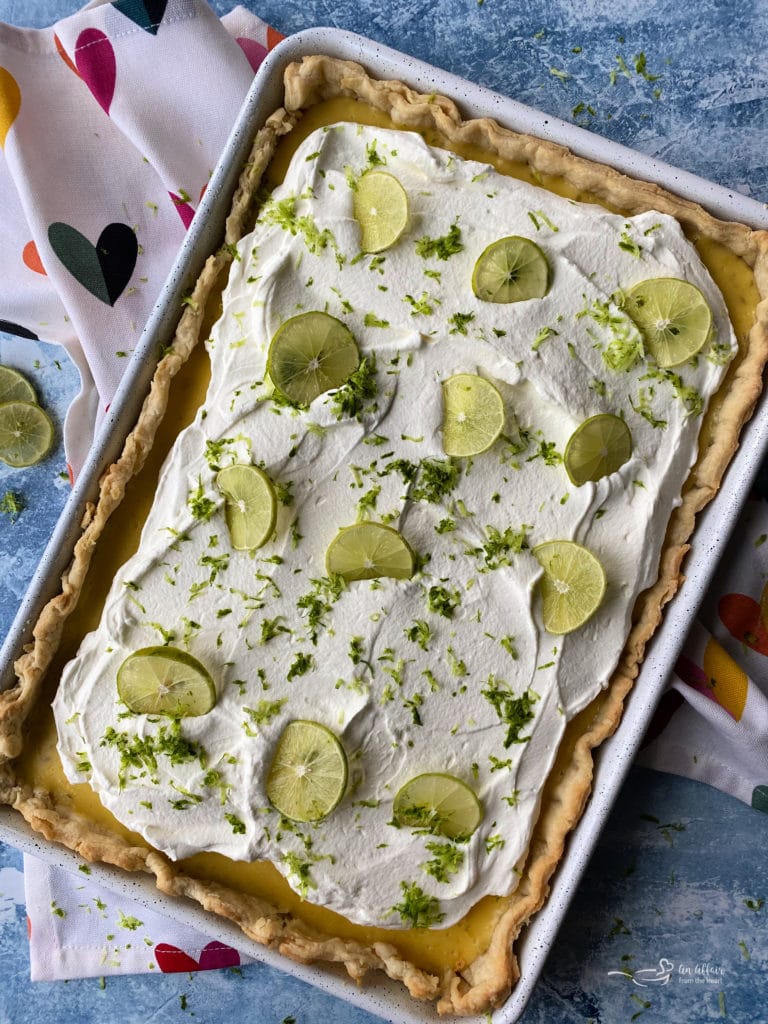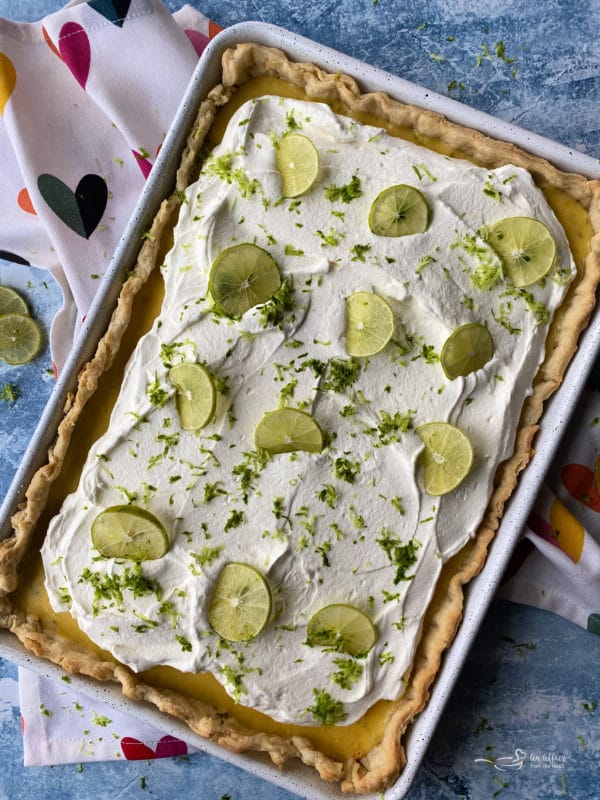 Key Lime Slab Pie
Truth be told, I have yet to get to Key West for a "real" slice of Key Lime Pie, but I hope that changes in my lifetime. Not just because Key Lime pie is delicious, or that it is claimed to have originated there, but how about the fact that every photo I have ever seen of Key West or the Florida Keys, in general, are pretty much breathtakingly beautiful? All solid reasons to add this destination to my ever-growing bucket list of places to travel.
Now, I know that authentic Key Lime Pie recipes are made with a graham cracker crust, and this particular recipe could easily be switched up to accommodate that, but I have been working on perfecting my homemade pie crust making skills, to make my grandmas and my Aunt Carol proud. Hence the flaky traditional crust here in this Key Lime Slab Pie recipe.
Best Key Lime Slab Pie Recipe
Isn't it pretty? This pie was literally the bright sunny spot in an otherwise cold and dreary January week. I added some fresh raspberries to the top before I served it, just adding to the non-traditional look of it all. (wink)
Some people think that key lime pie is green – but did you know that real key lime pie is actually yellow because of the color of the key lime itself? Yep. If you are looking at a green key lime pie, you are most likely looking at one that has some food coloring added to it.

Where did Key Lime Pie Originate?
The common theory is that Key Lime Pie originated in Key West, Florida. That was until the Borden Milk Company came in and debated that, saying that they actually made the first Key Lime Pie in their New York City test kitchen in 1931 as a way of selling more sweetened condensed milk. Floridians were outraged and began trying to show they were the originators of the key lime custard confection.
It's still out for debate, and most likely, depending on who you ask, always will be. I can relate, as we here in Omaha have the same debate with NYC about where the Reuben sandwich originated. Clearly, everyone knows that Reubens originated at the Blackstone Hotel in Omaha, but that is a story for another recipe.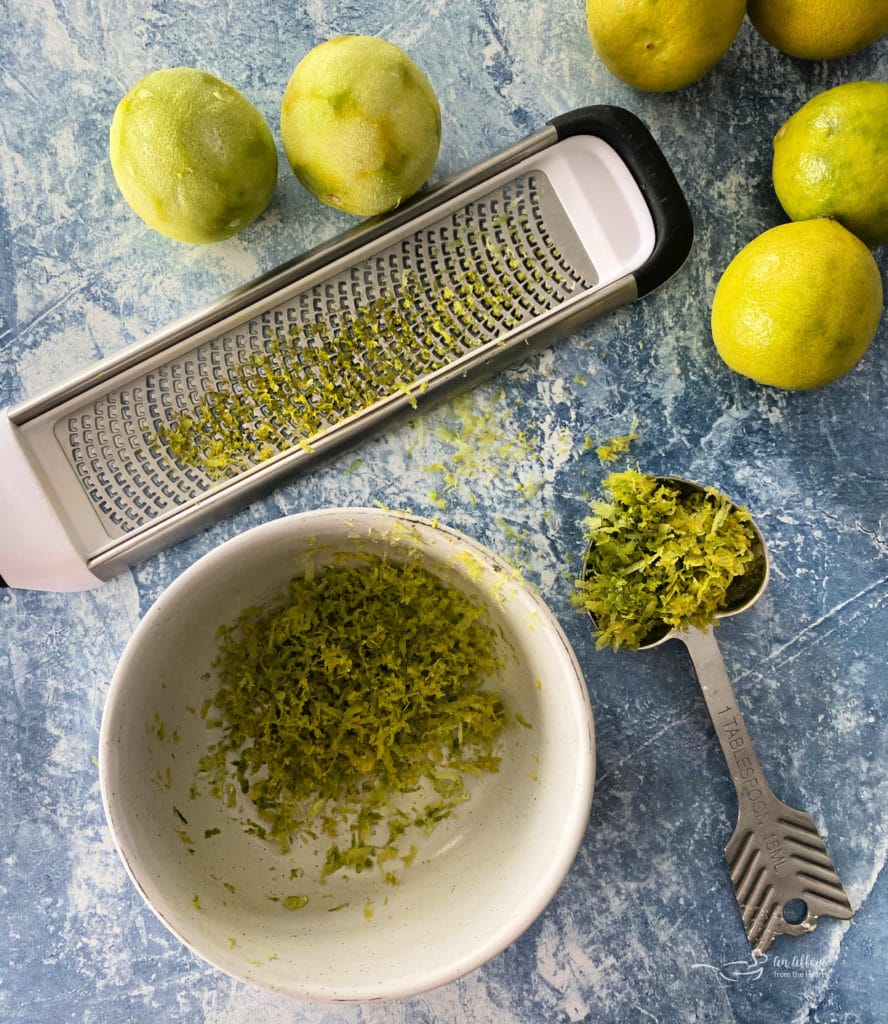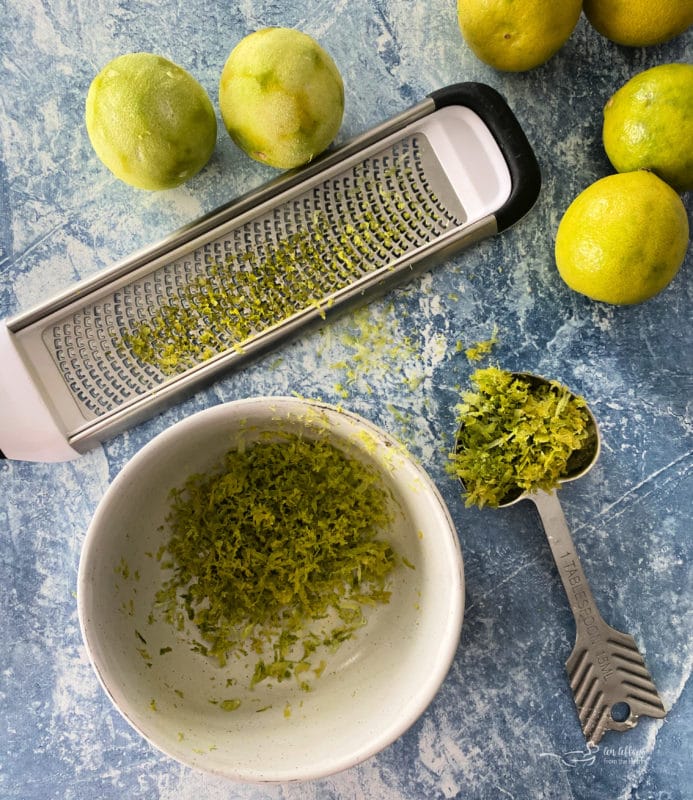 What is the difference between Key Limes and Limes?
Key Limes are smaller in size than a regular Persian lime, but don't let their smaller size fool you! They are more fragrant and have way more flavor. Their skin is thinner, they have more seeds and are more yellow in color, but they are known to contain more juice than regular limes.
Key limes are more common all over the world than they are here in the US, where many of the commercial crops in the Florida Keys were wiped out during a hurricane in the 1920s, replaced with Persian lime crops. Key Limes are also known as West Indian or Mexican limes.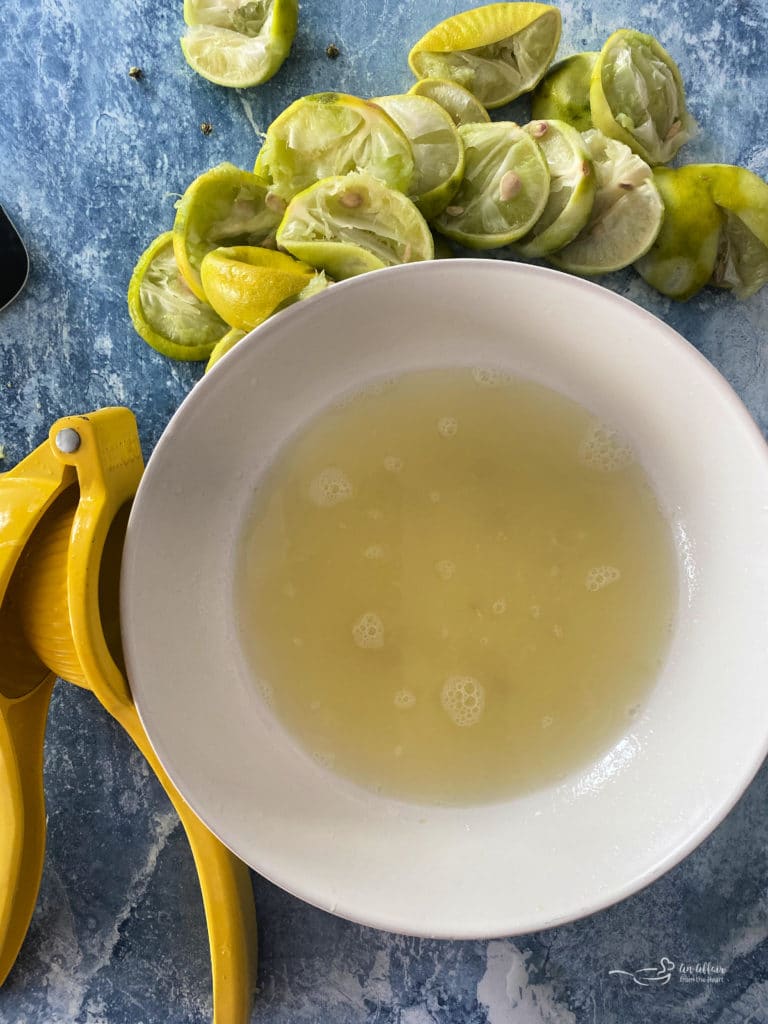 Can you use Lime Juice in place of Key Lime Juice?
So, truthfully, yes. You can use lime juice in place of key lime juice, I mean, there is no Lime Police that will come and knock it out of your hand if you try, but if you can avoid it, do.
Key lime juice is sweeter, they are picked when they are immature fruits, green in color. As they ripen, their color becomes more yellow, and they lose their acidity making them sweeter and so much better for dessert recipes like Key Lime Pie!
If you do try to use lime juice, it's best to use half lime juice and half lemon juice. But if you can, always reach for the key limes! You'll be thankful that you did.

Ingredients in Key Lime Slab Pie Crust
To make this flaky slab pie crust, you'll need all-purpose flour, a little sugar, a pinch of salt, shortening an egg yolk and some milk.
Begin by combining your shortening, flour, milk and sugar in a mixing bowl with a pastry blender or your fingers. Whisk egg yolk and milk together and add to the flour mixture.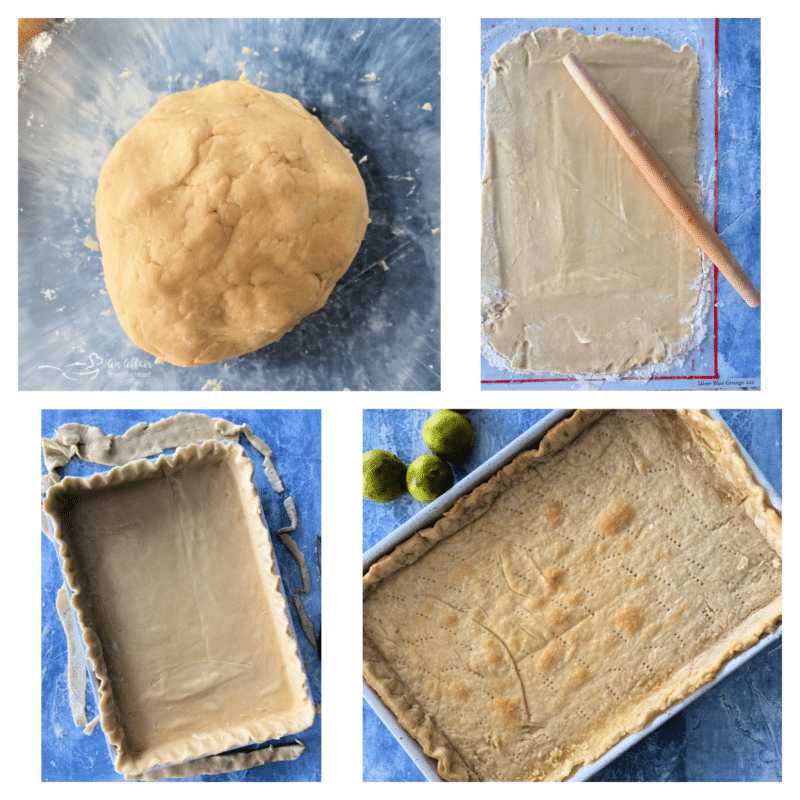 Form a ball. Turn the dough ball out onto a floured surface and roll out. Line your sheet pan and form your crust edges. Prick holes in the bottom and the sides of the crust before baking until a light golden brown. Cool.
Ingredients in Key Lime Pie Custard
The custard contains egg yolks, sweetened condensed milk, key lime juice and key lime zest.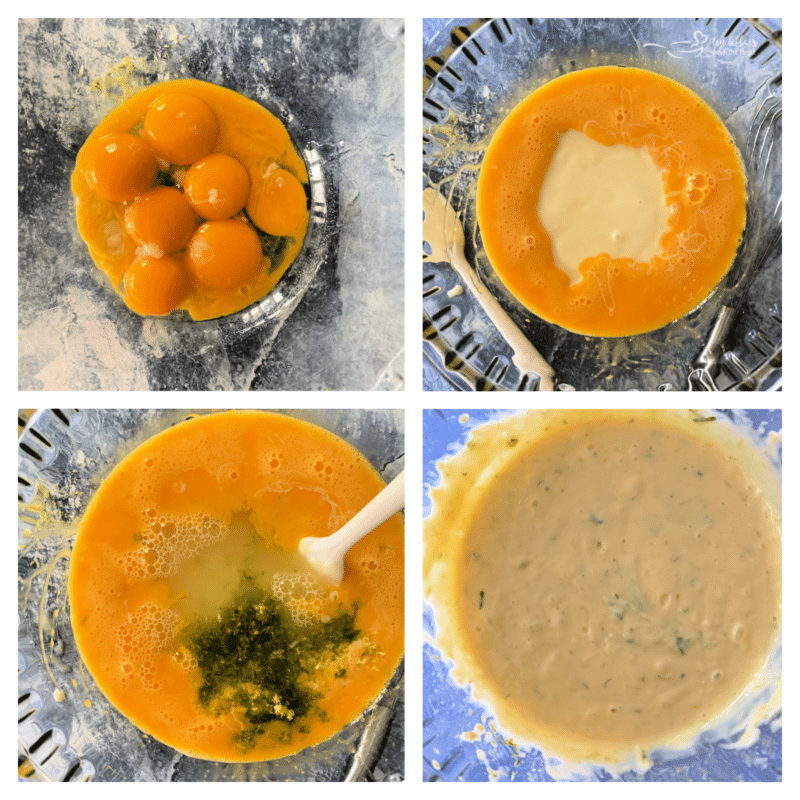 To prepare the key lime pie custard, whisk egg yolks together until smooth. Add in sweetened condensed milk, lime juice and zest and stir until combined.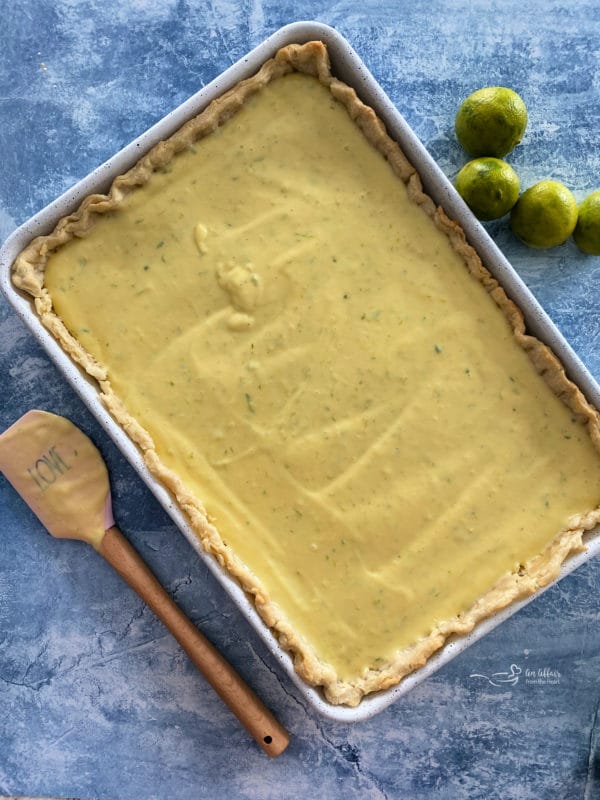 Next spread the key lime filling into the prebaked crust, and bake until set. Cool slightly before placing it in the fridge for about 3 hours.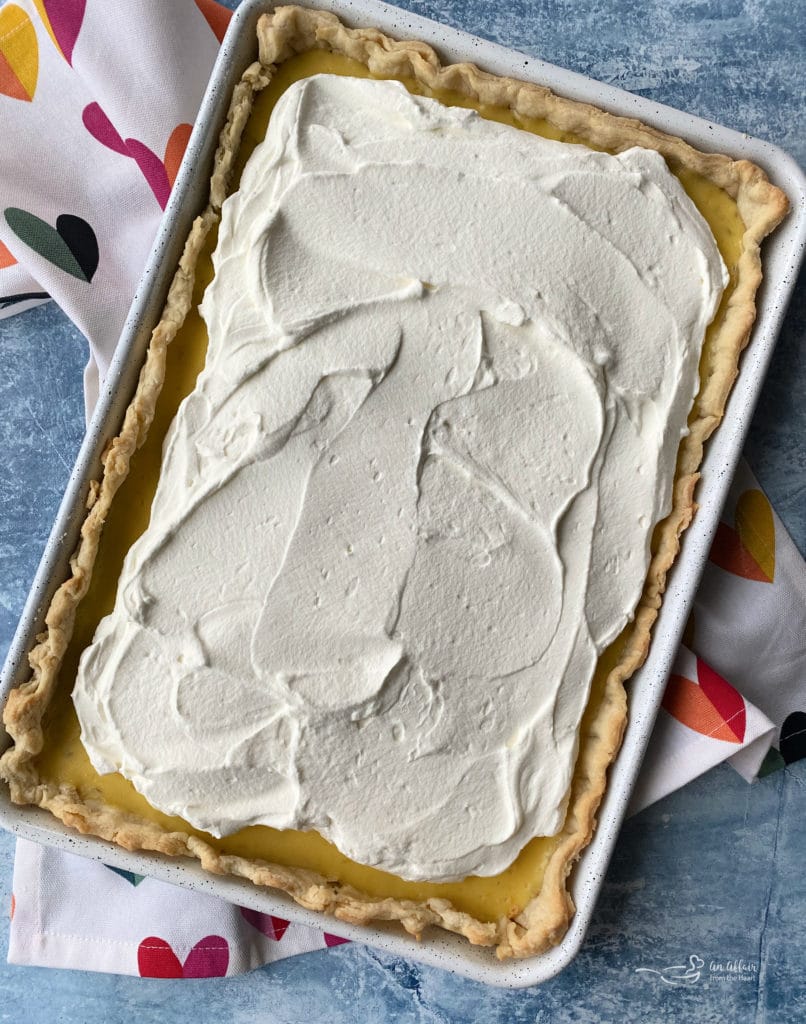 Whip the heavy whipping cream with some powdered sugar, and spread over cooled slab pie.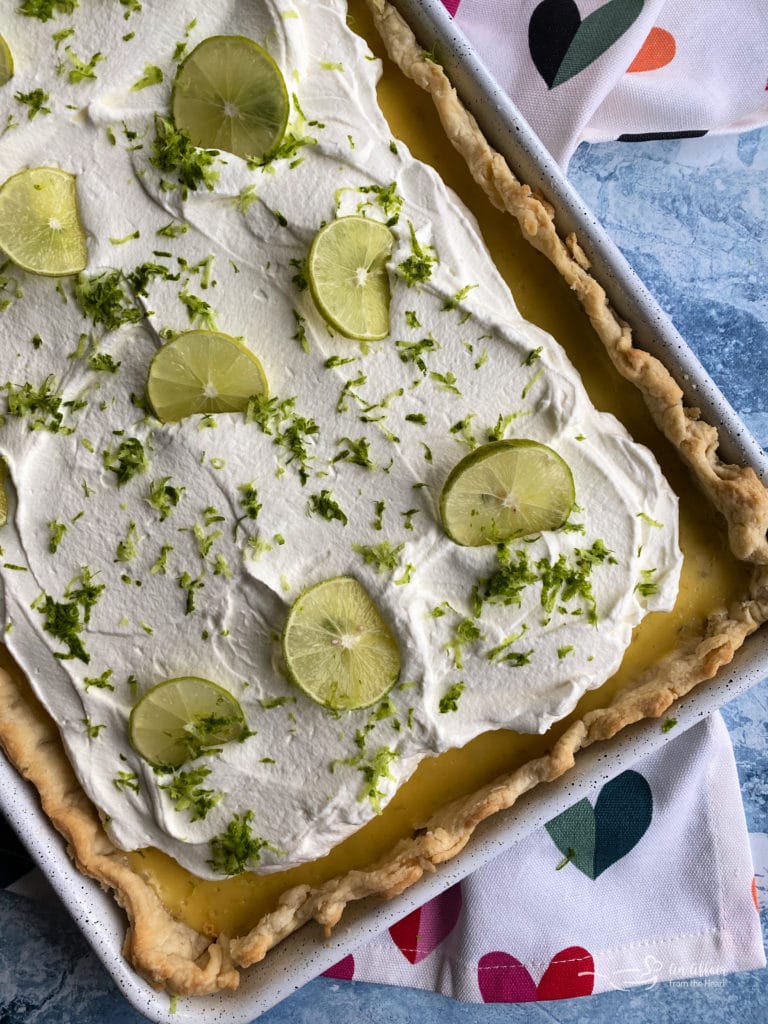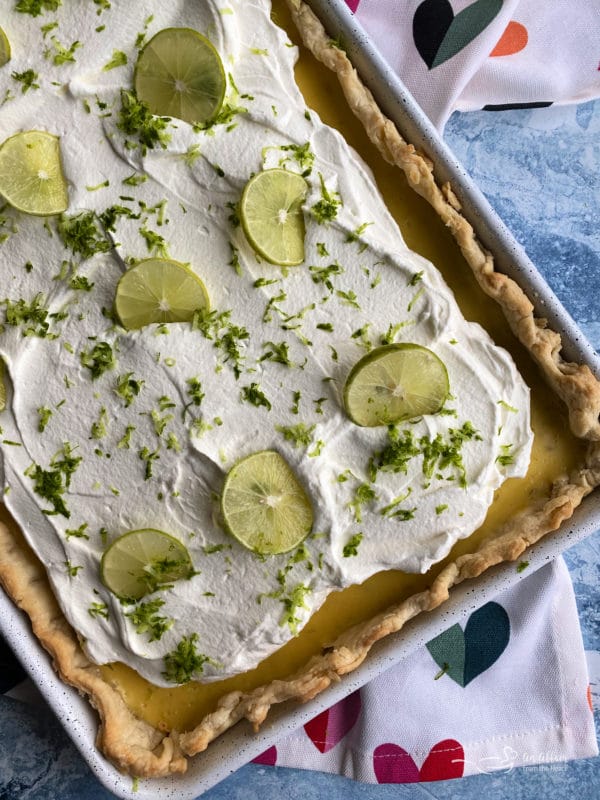 Garnish with lime zest and lime slices if desired.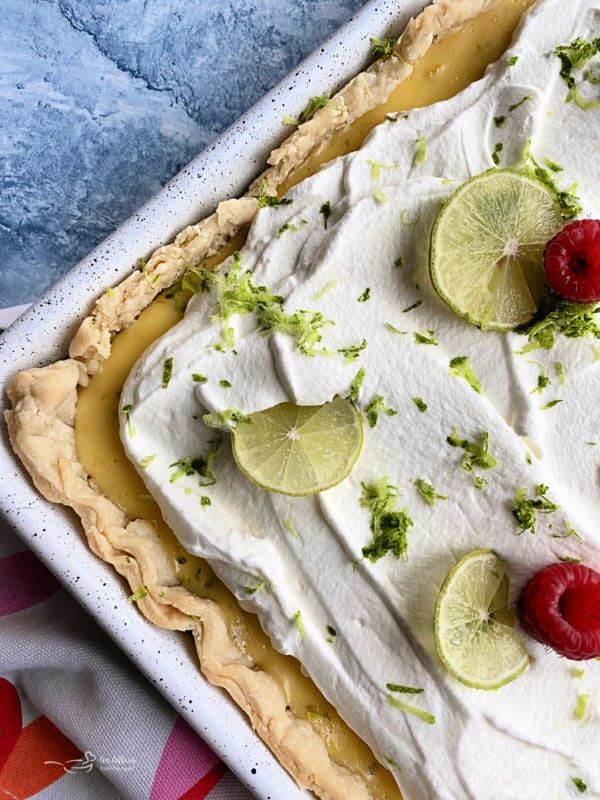 Add some fresh raspberries, too, if you like!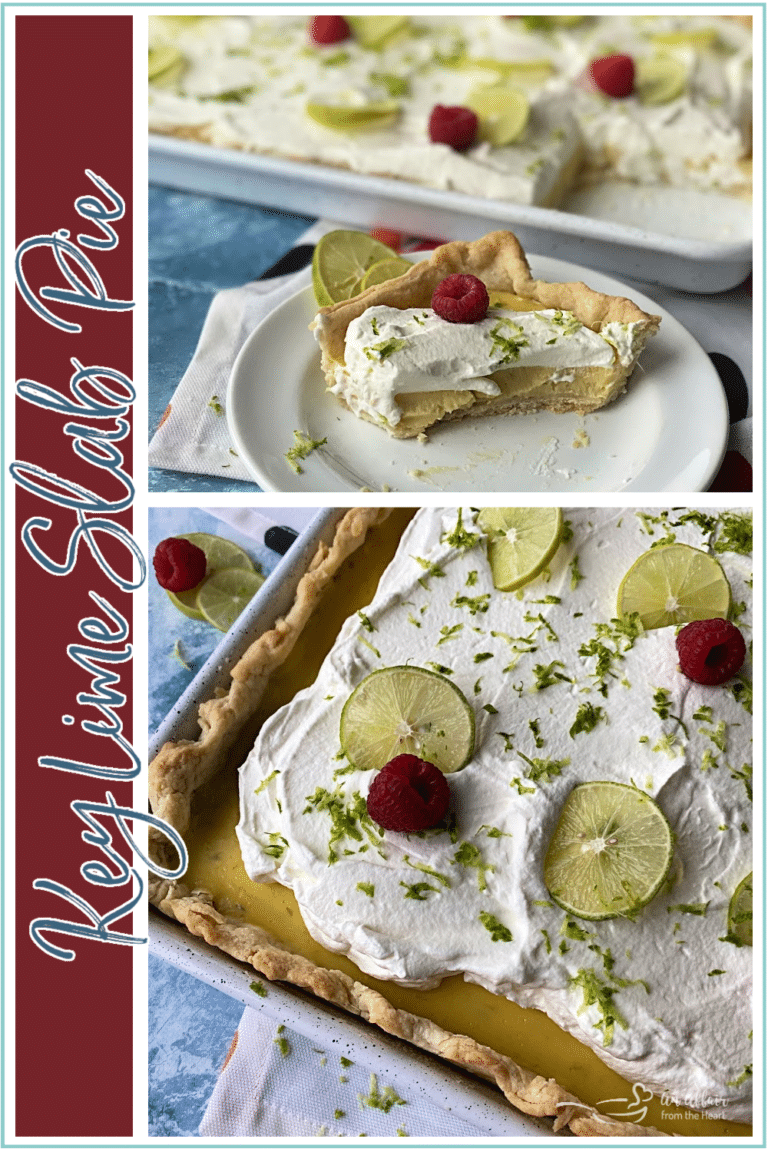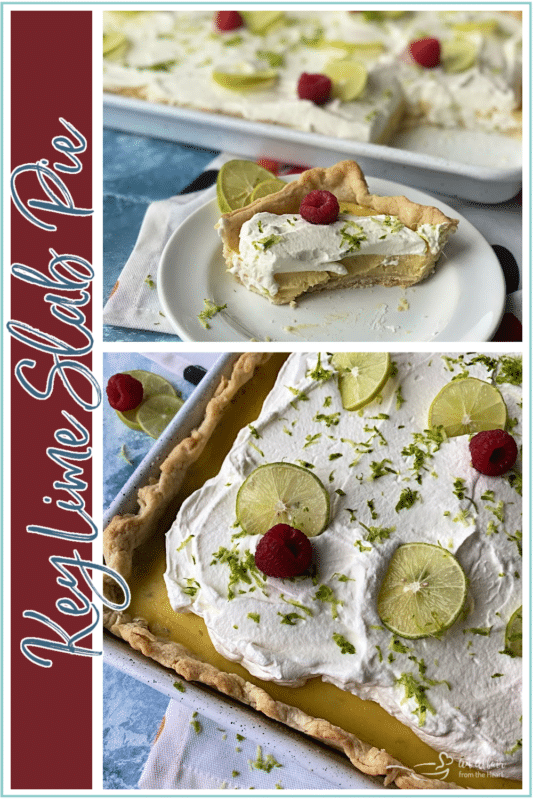 Love it? Pin it!
If you are like me, you'll be so excited to make this recipe – so don't forget where you found it. Pin it to your favorite Pinterest recipe board before you go!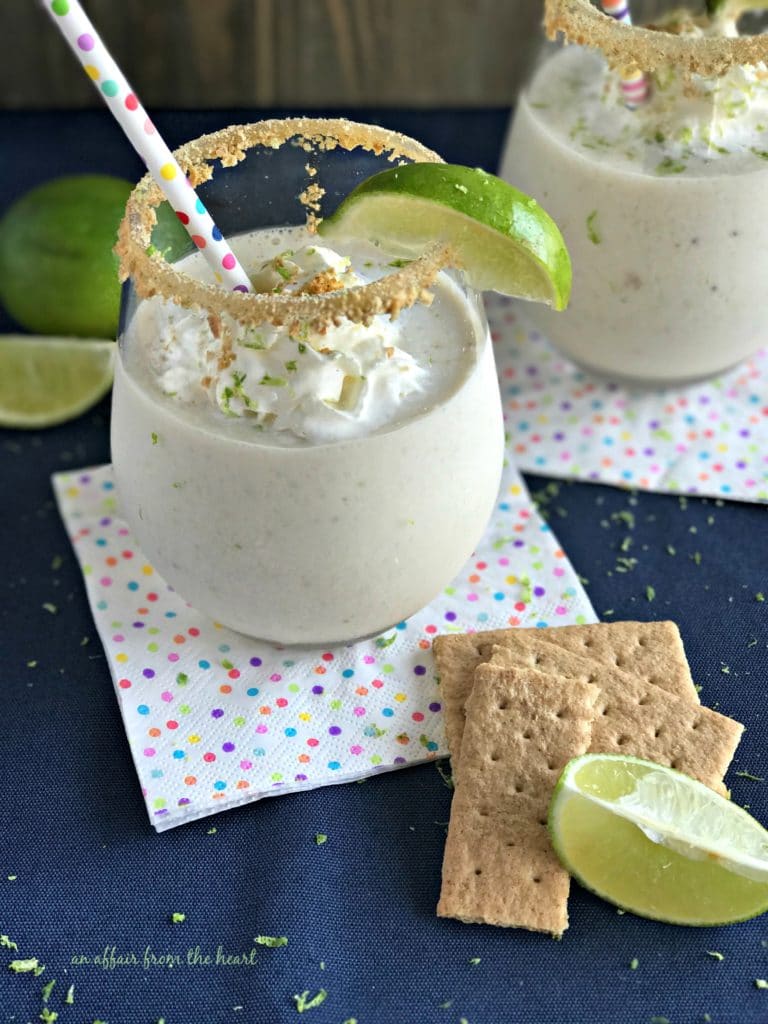 For the Love of All things Lime
If you love #AllTheLimeThings, too, I have more lime and key lime recipes for you to try! Here are some of my favorites: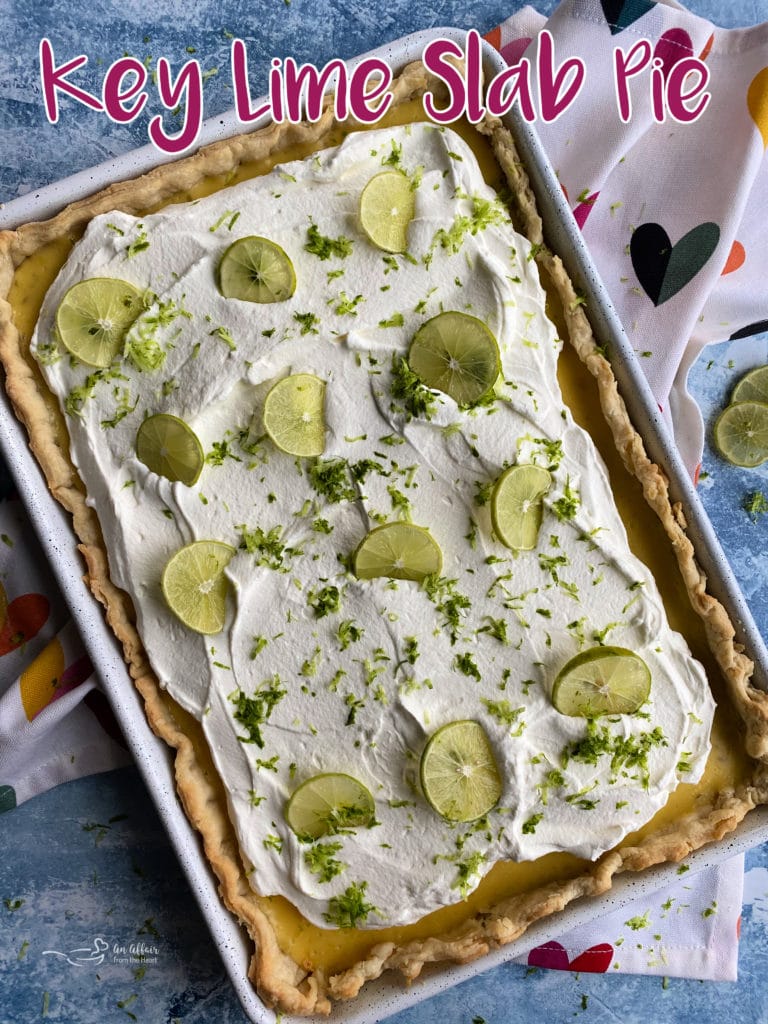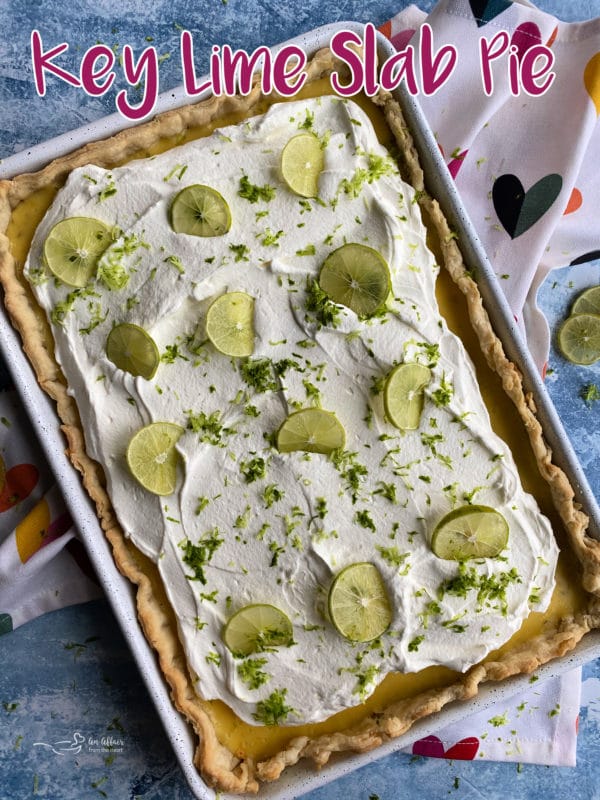 But for now, let's dream of the Florida Keys and get to making this albeit non-traditional, super sensational Key Lime Slab Pie!

Yield: 12 servings
Key Lime Slab Pie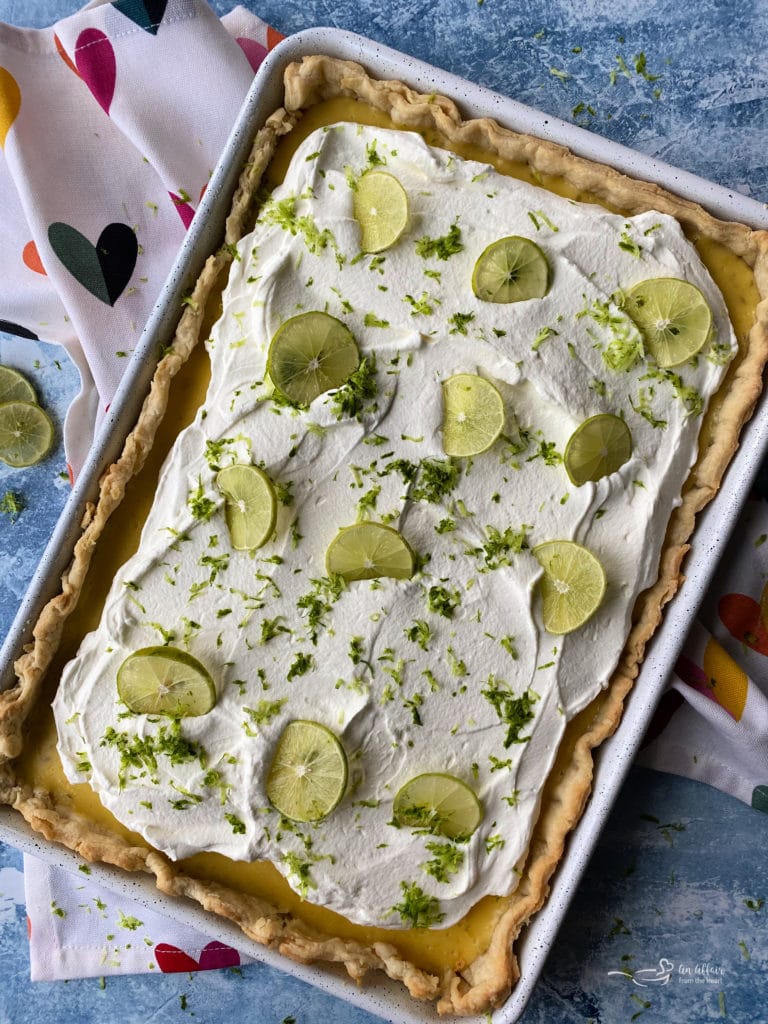 Key Lime Slab Pie is a delicious and fun way to enjoy the classic flavor of Key Lime Pie. A fresh custard made with both Key Lime zest and juice baked into a flaky, from scratch crust, topped with whipped cream. A beautiful presentation and a wonderful way to brighten up any day.
Total Time
3 hours
45 minutes
Ingredients
For the Crust
2 1/2 cups flour
pinch of salt
1 Tablespoon sugar
1 cup shortening
1 egg yolk
1 cup milk
For the Key Lime Custard
8 egg yolks
2 (14 ounce) cans sweetened condensed milk
3/4 cup juice from fresh Key Limes
3 Tablespoons Key Lime Zest (+ more for garnishing)
1 1/2 cups Whipping cream + 1/2 cup powdered sugar
Sliced key limes and fresh raspberries for garnish, if desired
Instructions
Preheat oven to 425 degrees.
To make the pie crust: In a bowl combine flour, sugar, salt and shortening with a pastry blender or your hands until it's all incorporated. Add the egg yolk to a measuring cup, then add enough milk to make 2/3 cup. Whisk together. Pour the egg/milk mixture into the flour mixture and combine with your hands. The dough will be a little sticky. Form dough into a ball. Place dough ball on a floured surface and roll out into a rectangle measuring about 19x14". Carefully fold the dough into sixths to make it easier to move onto a 15x10x1" sheet pan. Trim crust at the pan's edge and form a crust edge. Prick holes into the bottom and sides of the crust with a fork. Bake for 10-15 minutes, or until light golden brown. Remove and let cool.
Reduce oven to 325 degrees.
Prepare the custard: Whisk egg yolks in a mixing bowl. Add to them the condensed milk, lime juice and lime zest. Mix well, and spread into cooled pie crust. Bake for 20 minutes, until custard is set. Cool on the counter for about 30 minutes then place in the fridge for about 3 hours.
Whip cream and powdered sugar with your mixer, with a whisk attachment until stiff peaks form. Spread over the custard. Garnish with lime slices and zest, raspberries if desired.
Keep in the fridge.
Recommended Products
As an Amazon Associate and member of other affiliate programs, I earn from qualifying purchases.
Nutrition Information:
Yield:
12
Serving Size:
1
Amount Per Serving:
Calories:

443
Total Fat:

32g
Saturated Fat:

15g
Trans Fat:

0g
Unsaturated Fat:

15g
Cholesterol:

184mg
Sodium:

50mg
Carbohydrates:

32g
Fiber:

1g
Sugar:

10g
Protein:

7g
Please note that nutrition is not guaranteed accurate.

If you make this recipe, I'd love to know! Snap a picture, share the photo on social media with the hashtag #AnAffairFromTheHeart – I'd love to see what you made! – Michaela