This dip is loved by all, and disappears in a flash! What's not to love? It's full of spicy Italian Sausage, Rotel tomatoes with green chilies, onions, Velveeta and cream cheese, baked smooth and served in a hot cast iron skillet. Of course, it works beautifully in a slow cooker as well. However you prepare it, I hope that you give this recipe a try – your tortilla chips will thank you for it!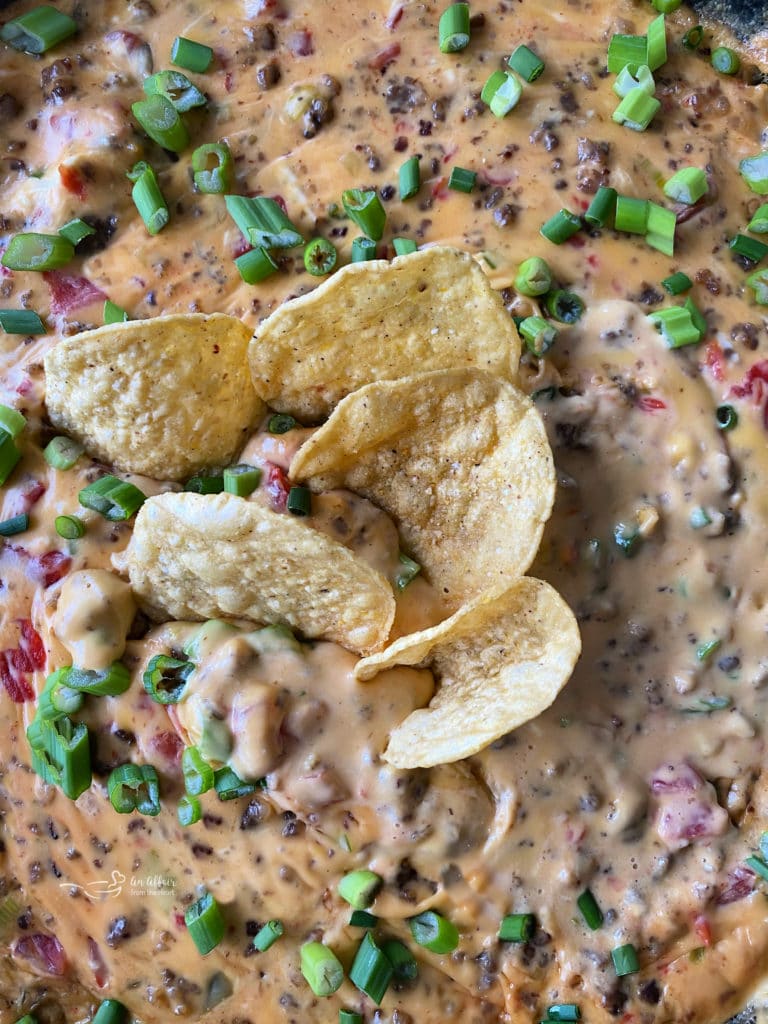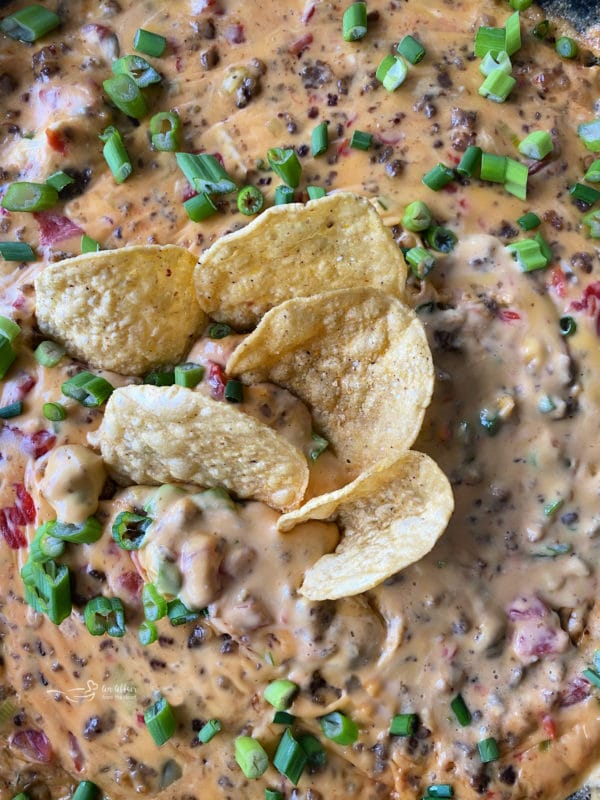 Sausage Cheese Dip With Rotel Tomatoes
Get ready for the big game with a super big bowl of yummy sausage cheese dip with Velveeta and cream cheese. Sausage cream cheese dip with Rotel tomatoes wins big with everyone. Because you can dial it up or down on the spicy side, you can easily set out a fiery version and tame one. Just make sure the practical joker in the family doesn't swap them.
If your family loves hamburger dip as much as mine does – they are sure to love this spicier version made with Italian sausage!
A Great Skillet Cheese Dip
I like making this dip in a single cast iron skillet. You can easily move a skillet from the stovetop to the oven. You can even use it as the serving bowl as long as you have a heat-safe way of putting it out on a table.
However, if you want to make it in a slow cooker or even a microwave, instructions are included in the recipe card.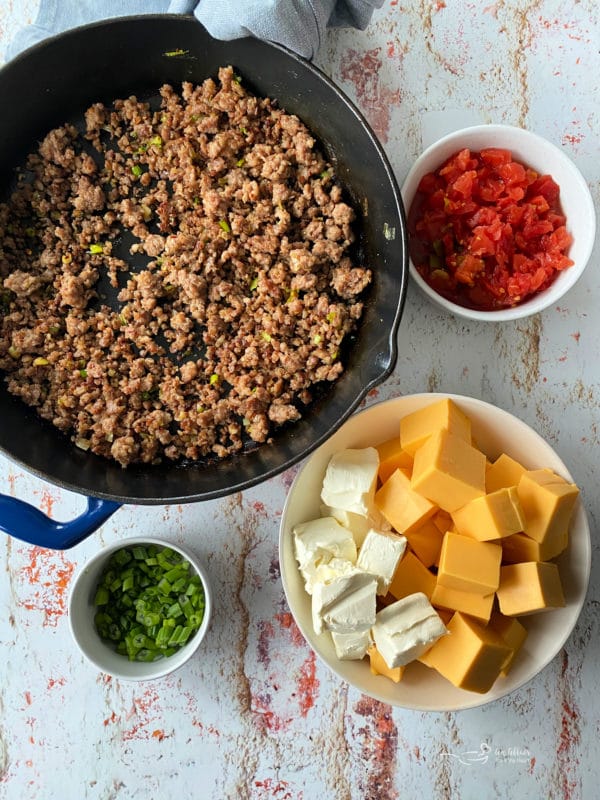 Ingredients in Sausage Cheese Dip
ground Italian Sausage (mild, sweet, hot, whatever is your liking)
Velveeta cheese
cream cheese
green onions
Rotel (diced canned tomatoes with green chilies)
How to make a Skillet Oven Baked Sausage Cheese Dip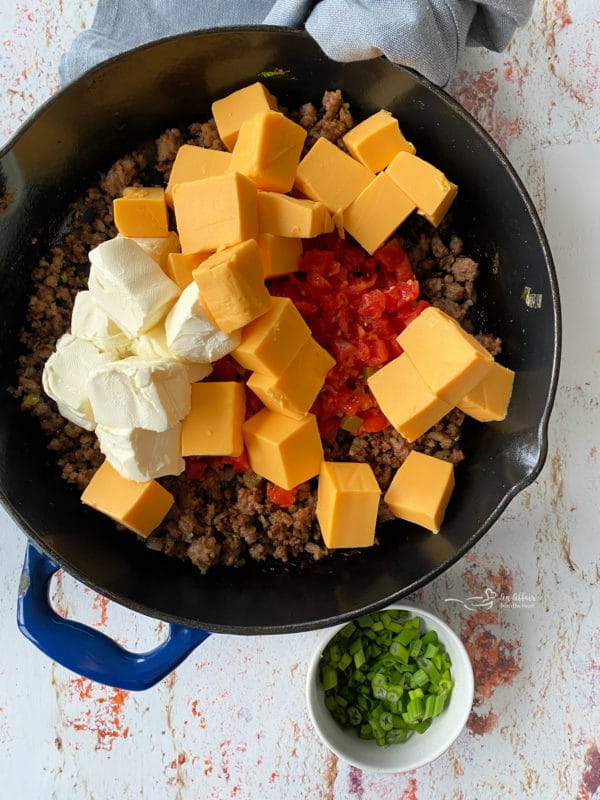 Preheat oven to 350 degrees F. In a cast-iron skillet on the stovetop brown Italian sausage with onion until sausage is no longer pink. Drain any excess grease. Add cubed cheese and Rotel to the sausage.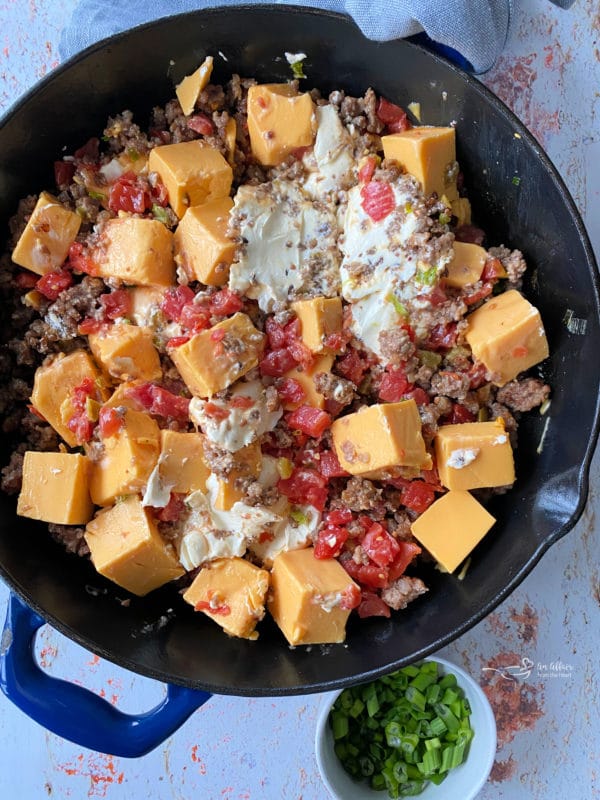 Give the ingredients a stir. Place in oven and bake for 10 minutes.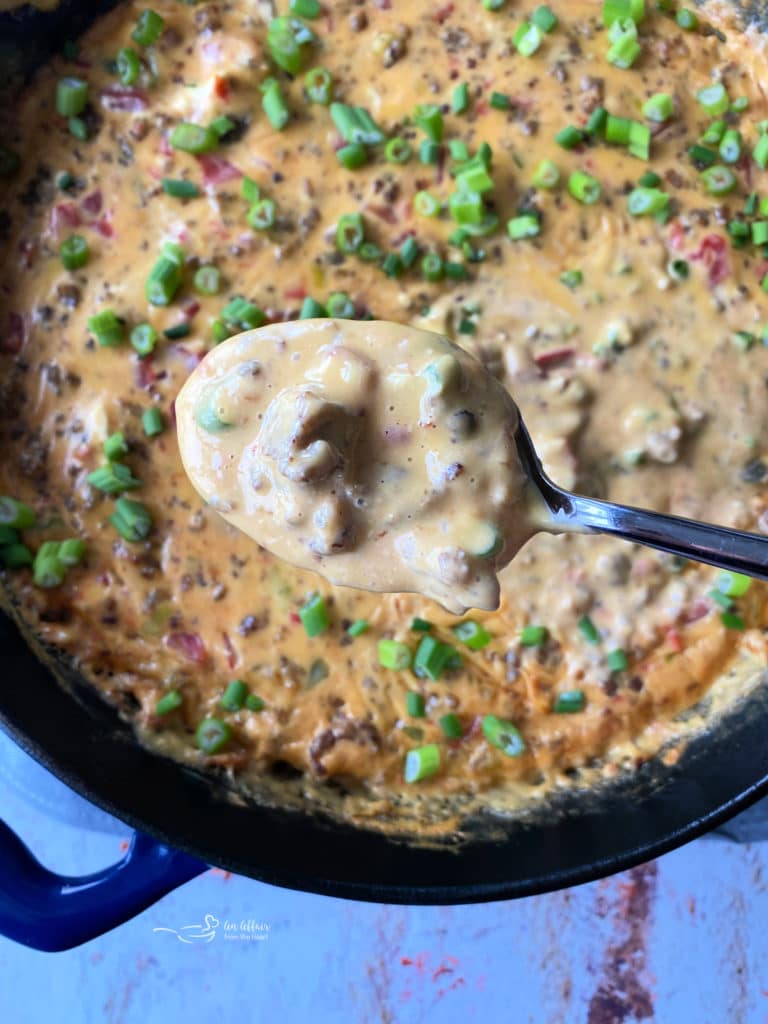 Stir until smooth, bake for an additional 10 minutes, remove from oven, garnish with green onion tops and serve from the hot skillet with tortilla chips.
Love it? Pin it!!
Don't worry about finding this recipe when you're ready to make it – pin it to your favorite Pinterest recipe board before you go!
How Do You Prevent Rotel Velveeta Dips From Hardening?
As long as you keep the heat low, then the dip will stay smooth and dip worthy. If the cheese appears to be hardening or thickening too much, then use a tablespoon or two of evaporated milk, or plain old water to thin it back to dipping consistency. Make sure to stir it in well and fully.
If it does harden, just get the heat back up and keep stirring. Add the extra liquids as necessary.

What Are Rotel Tomatoes?
You can find Rotel tomatoes in most big grocery stores. The are canned vine ripened tomatoes seasoned with green chilies. You can find hot, mild, original recipes. Rotel has incredible flavor and makes the dish.
However, don't worry if you can't find it on the shelf by other canned tomato products. If worse comes to worst, you can always use a store brand and or create your blend with a can of diced tomatoes and a can of diced green chilies.
Some have roasted chilis, others hotter chilis like habaneros are used. They make a lime seasoned version too. So many to choose from! But if you want to keep it simple, then go with the original or the mild green chile style. You can't go wrong with those
Using Hot Or Mild Italian Sausage In Cheese And Sausage Dip
So, just like you can use any type of Rotel spiced tomatoes, you can use all kinds of spiced sausage. The mild or the spicy Italian sausage for velveeta and cream cheese dip works wonderfully. That style of sausage includes those extra spices and herbs too, like garlic, basil, and pepper. Which is part of the reason I recommend it. Takes a lot of the guesswork out of getting those extra seasoning layers in there.
But, great spiced pork breakfast sausage also does the dip justice.
Storing Sausage And Velveeta Cheese Dip
Many dips don't necessarily store well. Especially if someone is guilty of the infamous double dip… But as long as that isn't the case, then storing this dip is easy. Just keep it in a lidded container. You are good to go in the fridge for up to a week.
When you warm it, then you might need to give it a few stirs, but it just improves in terms of flavors melding together. Freezing is actually possible too, and it will keep for a month like that.
Not sure that will ever be necessary though. This is the sort of cream and Velveeta cheese dip that you will run to the store for more chips before you need to worry about freezing leftovers.
More Great Skillet And Slow Cooker Dips To Make Your Gameday
Setting out an amazing dip for the Superbowl, World Series, Stanley Cup Finals, the Masters, or whatever your sport of choice is, never fails to win, even if your team loses. This dip can also travel to serve during an epic tailgate, too. Serve it from a crockpot or heat it in the cast iron skillet on your tailgate grill or over some coals – adding smokiness to it. Doesn't THAT sound amazing?
Here are some more dip favorites here at An Affair from the Heart: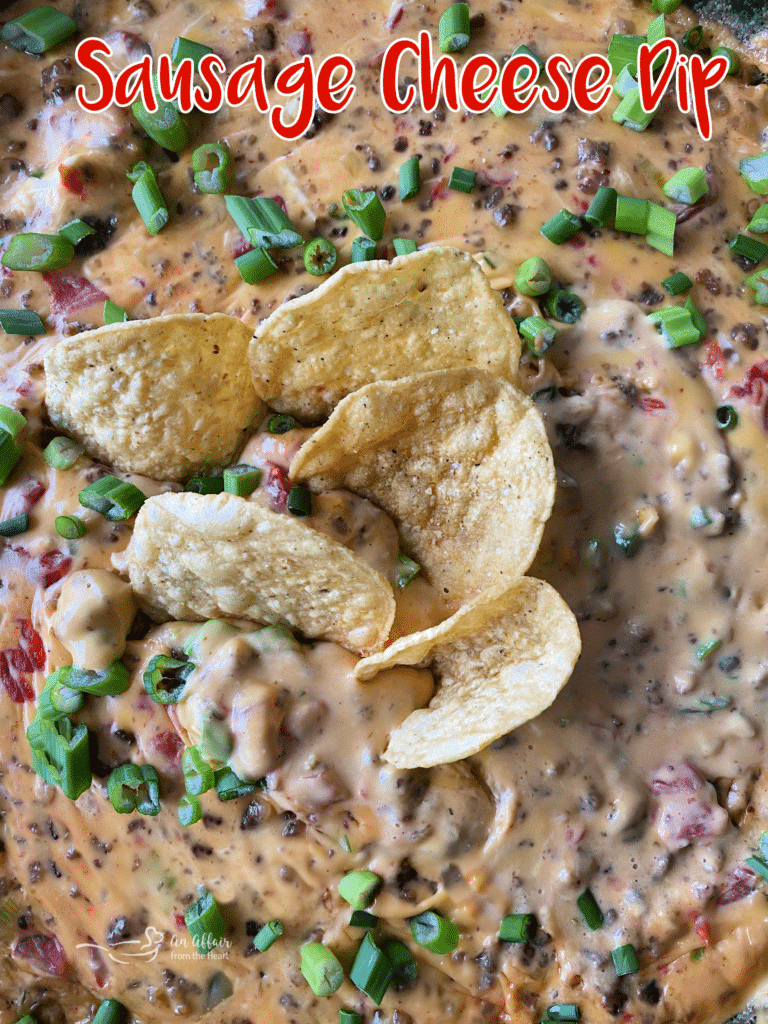 Who says you have to wait for game day? Let's make some Sausage Cheese Dip RIGHT NOW!

Yield: Serves 12
Sausage Cheese Dip
Italian sausage, two kinds of cheese, tomatoes, onions and green chilies all swirled together to make the most epic hot cheese dip!
Ingredients
1 pound ground Italian Sausage (mild, sweet, hot, whatever is your liking)
16 ounces Velveeta cheese
8 ounces cream cheese
6 green onions, sliced (tops separated from the bottoms)
1 (10 ounce) can Rotel
Instructions
Preheat oven to 350 degrees F.
In a cast iron skillet on the stovetop brown Italian sausage with onion until sausage is no longer pink. Drain any excess grease.
Add cubed cheese and Rotel to the sausage. Place in oven and bake for 10 minutes. Stir smooth and bake for 10 minutes more. Garnish with tops of green onions before serving with tortilla chips.
Notes
To prepare in the crockpot, add browned sausage to the slow cooker with cheese and Rotel, cook on high for 1 hour or low for 3 before serving.
To prepare in the microwave, add browned meat to a microwave-safe casserole dish, along with cheese and Rotel and microwave on high for 4 minutes. Remove lid, stir. Microwave on one-minute intervals until cheese is melted and you are able to stir it all smooth.
Recommended Products
As an Amazon Associate and member of other affiliate programs, I earn from qualifying purchases.
Nutrition Information:
Yield:
12
Serving Size:
1
Amount Per Serving:
Calories:

317
Total Fat:

25g
Saturated Fat:

13g
Trans Fat:

0g
Unsaturated Fat:

10g
Cholesterol:

71mg
Sodium:

1038mg
Carbohydrates:

8g
Fiber:

0g
Sugar:

5g
Protein:

15g
Please note that nutrition is not guaranteed accurate.

If you make this recipe, I'd love to know! Snap a picture, share the photo on social media with the hashtag #AnAffairFromTheHeart – I'd love to see what you made! – Michaela