Crock Pot Reuben Dip
As an Amazon Associate and member of other affiliate programs, I earn from qualifying purchases.
Crock Pot Reuben Dip served over rye crackers is the perfect fix-it-and-forget-it party food. That classic, favorite sandwich turned dip! A crowd-pleaser!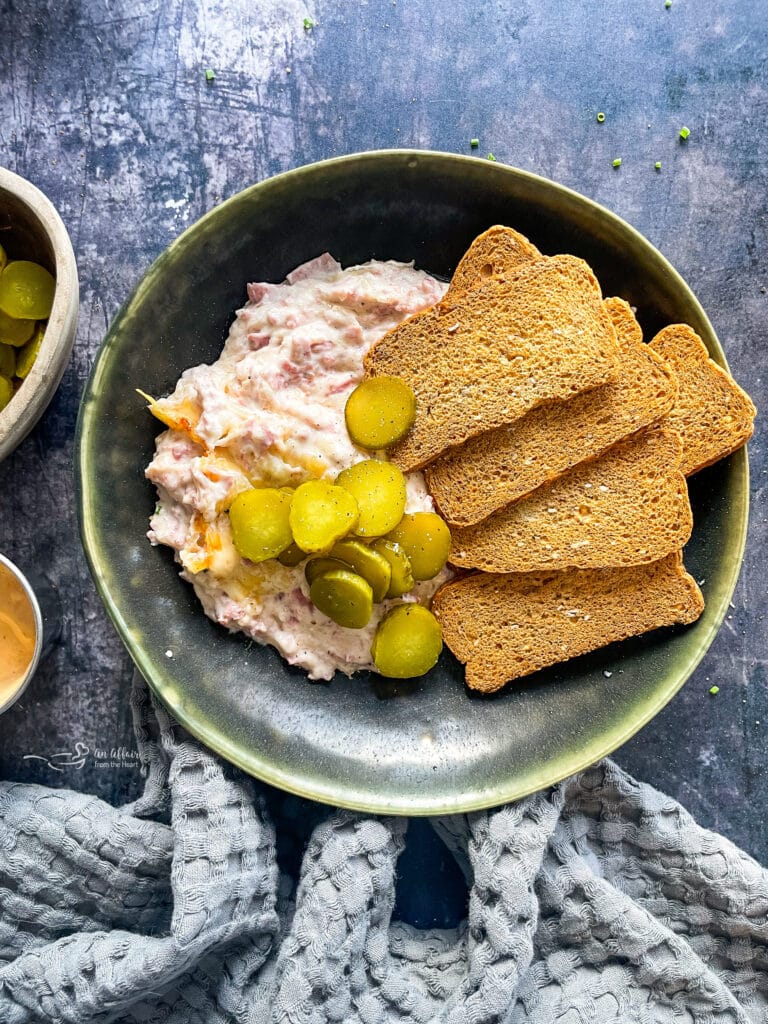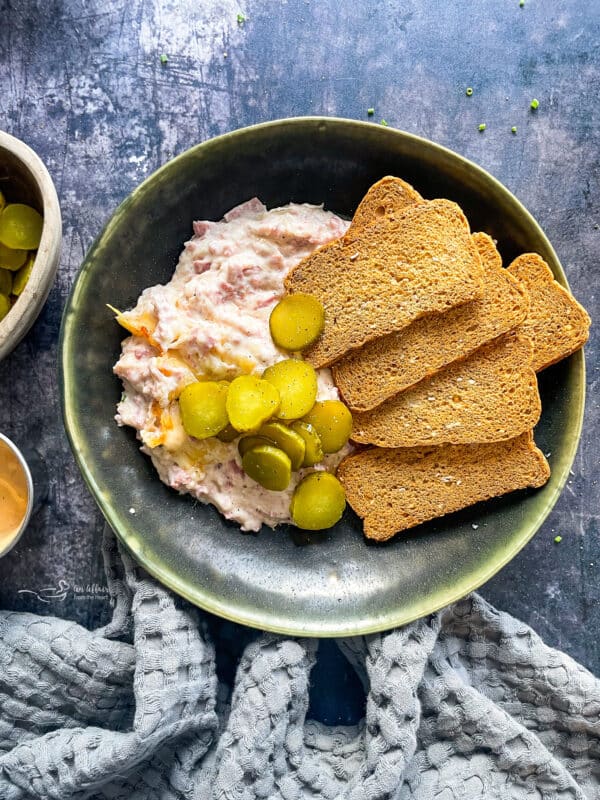 This hot Reuben dip? It's perfect for the holidays. I mean, it's perfect for any time, actually … but it's especially great for the holidays! Why is that you ask? Well, let me tell you.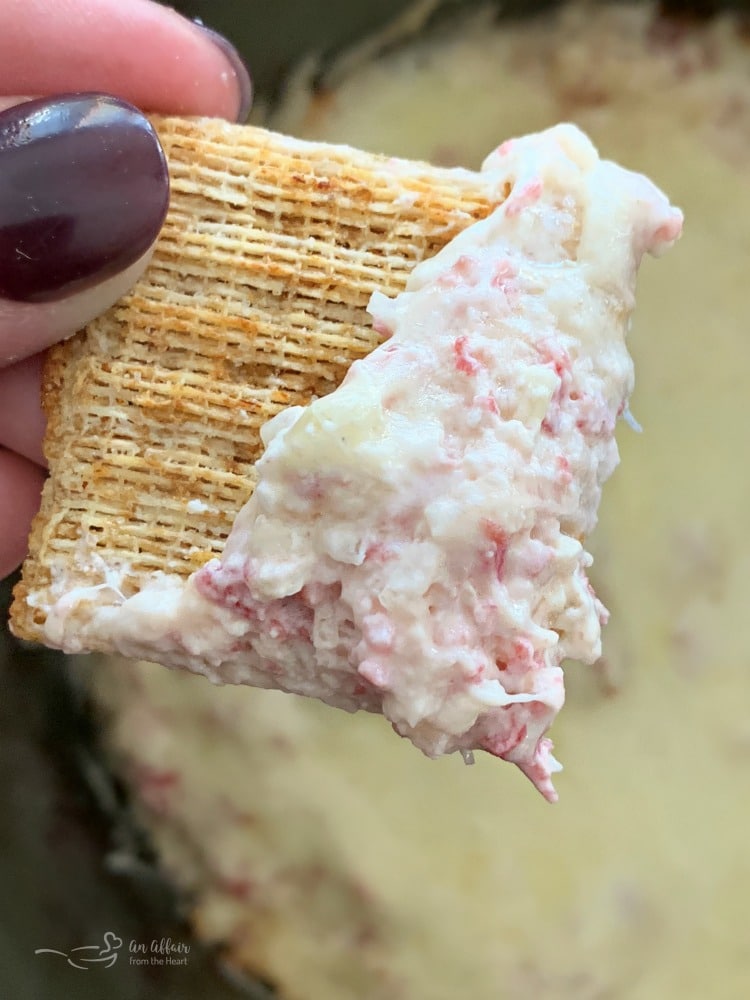 Coming from someone who loves to entertain, there is one thing I hate. I hate that I slave over the cleaning, the decorations, and the food for a party, then I get stuck fussing around with dips and containers the whole time everyone else is relaxing and enjoying themselves.
This post is sponsored by Frank's Kraut. The opinions here are all mine. Thank you for supporting my favorite companies.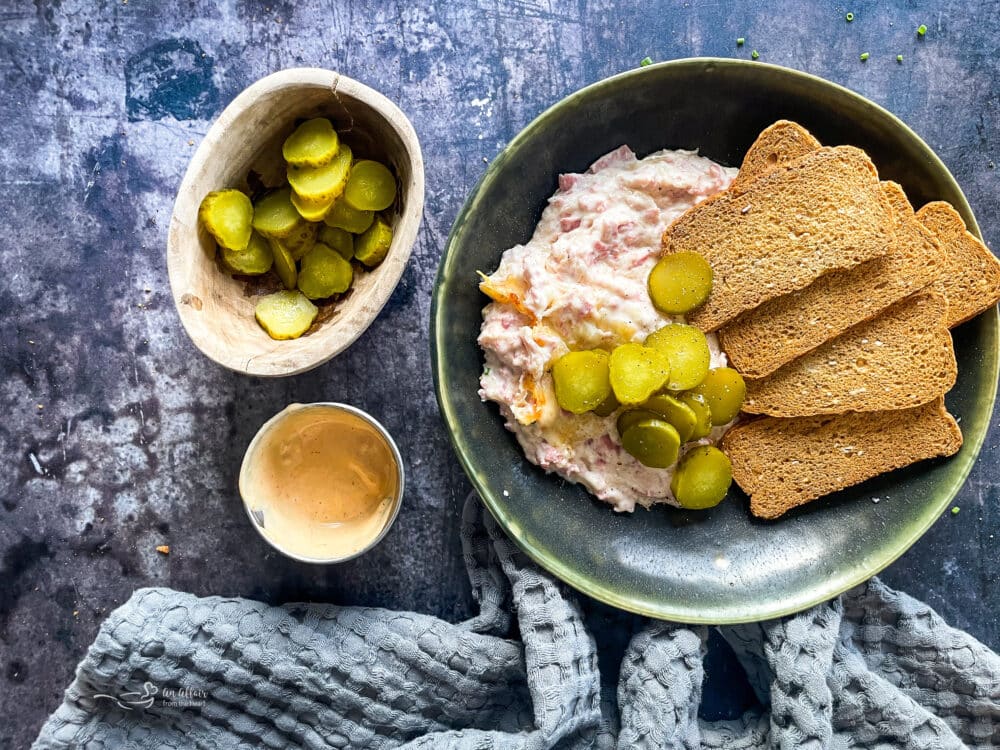 Don't get me wrong. I want everyone to relax and enjoy themselves at my get-togethers. I just want to be able to do that too! That's the beauty of this crockpot Reuben dip – the crock pot! Make it ahead of time, and it's ready to go. Just take the lid off and enjoy!
This Reuben dip in the crockpot, like most dips really, makes the perfect appetizer this time of year. They are great no-fuss options your guests can munch on until the meal is ready.
We are definitely a dipping family. I've always got a delicious dip in the fridge ready to go. Here are some of our favorite amazing dip recipes: Asian Bean Dip, Sauerkraut, Bacon and Swiss Dip, and this Fiesta Corn Dip. We love to eat them with tortilla chips, pita chips, or rye crackers but you can easily dip your favorite crackers or vegetables.
If this easy Reuben dip doesn't make it to your table this holiday season it is also great for St. Patrick's day with some green pickles or serve it on game day for the Super Bowl festivities. With just a few simple ingredients you'll have the perfect dip!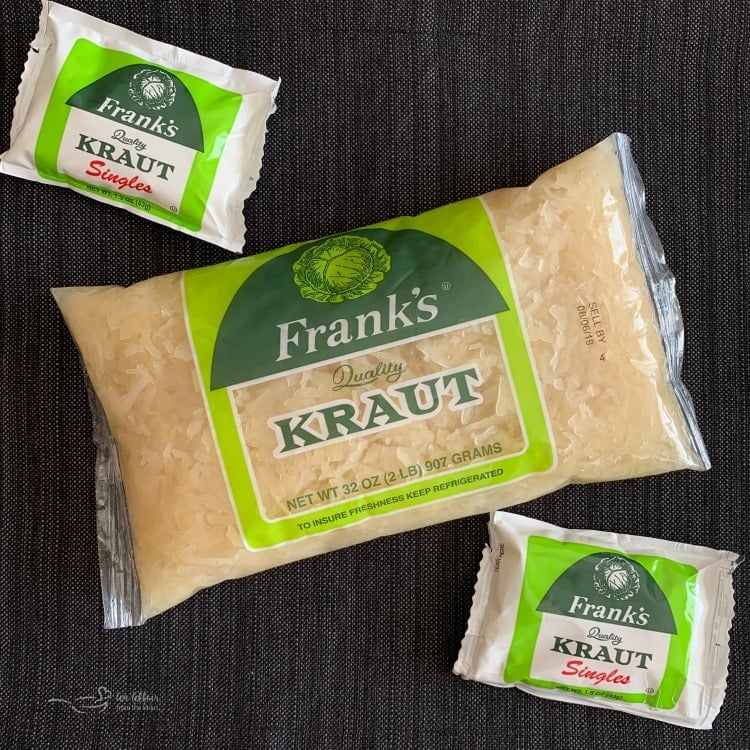 My Favorite: Frank's Kraut
Frank's Kraut comes in cans, jars, and these poly bags, which are my personal favorite. When I buy the two-pound poly bags, I always buy extra and pop them in the freezer. Once they are defrosted, I use what I need, then I place any remaining sauerkraut into a mason jar in the fridge.
Speaking of the freezer, you will think I am nuts, but have you ever tasted frozen sauerkraut? It's seriously so good!

Ingredients Needed To Make Reuben dip in the crock pot
Find the complete measurements and instructions in the printable recipe card at the bottom of this post.
Cream cheese – I used two packages of full-fat cream cheese, softened. You can use low fat but you'll lose the richness.
Swiss cheese – You'll need some of the swiss cheese for the dip mixture and some for the top.
Sour cream – Sour cream adds creaminess to the dip so don't skimp on the fat content.
Frank's Kraut – Make sure to drain the sauerkraut well.
Corned beef – Slice the corned beef thin and chop it well. Corned beef can usually be found at the deli counter at your local grocery store. You can substitute Pastrami if you like.

How to make slow cooker Reuben dip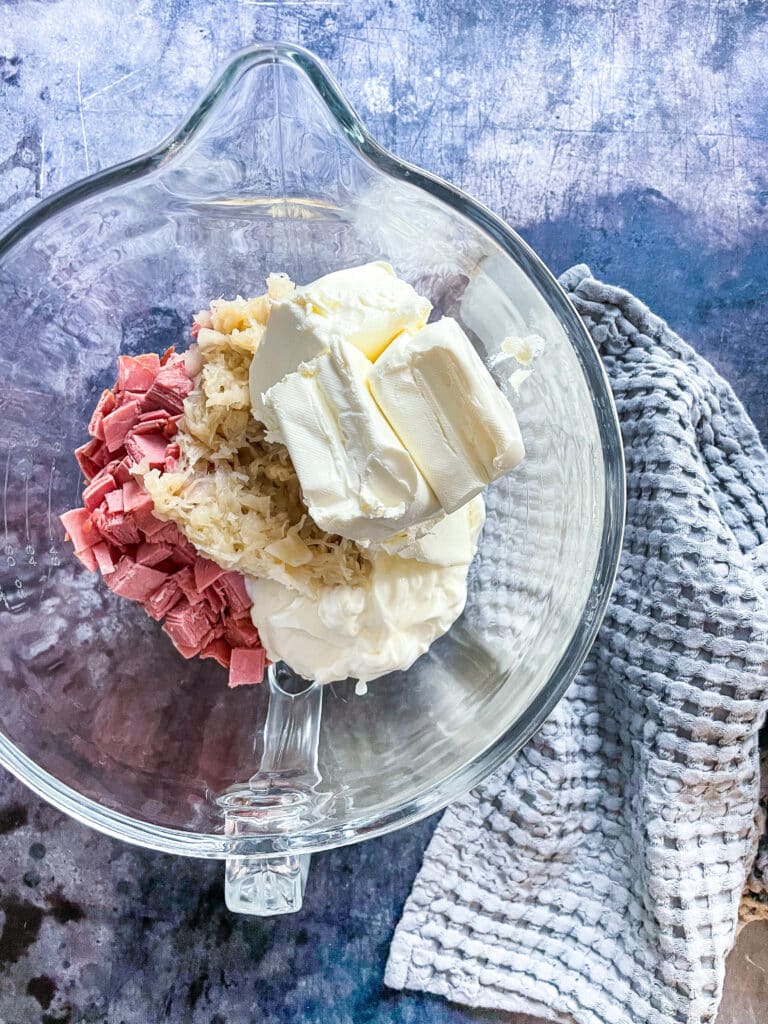 Place all of the ingredients in a large bowl, Reserving half of the Swiss cheese.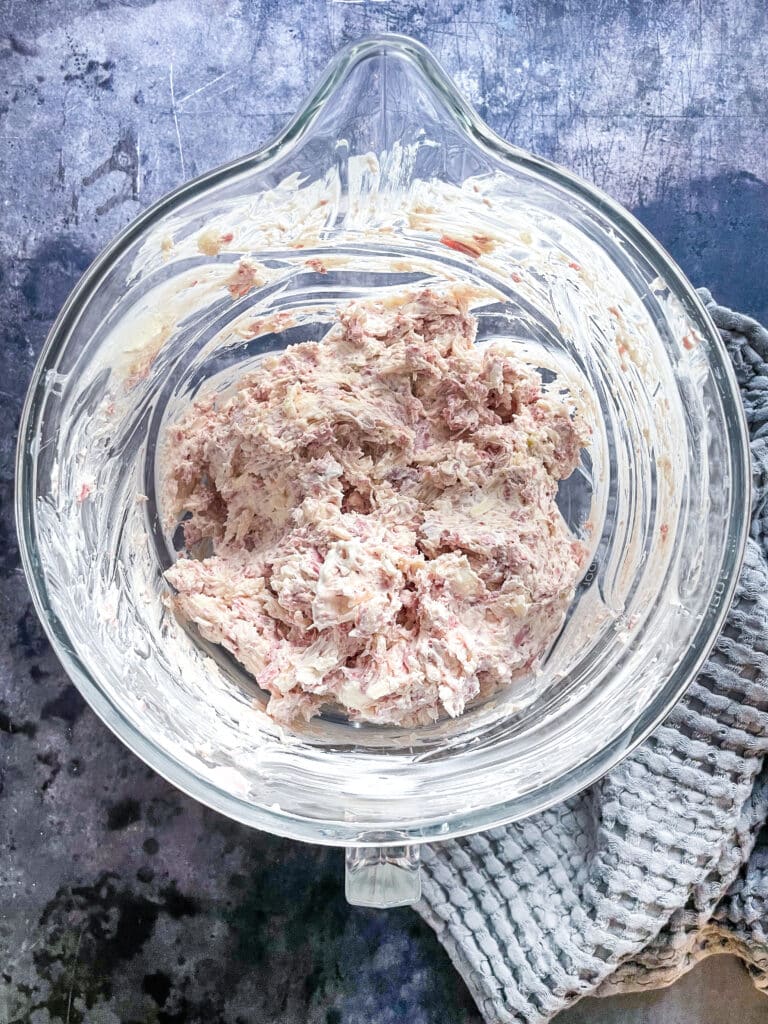 Combine with a hand or stand mixer.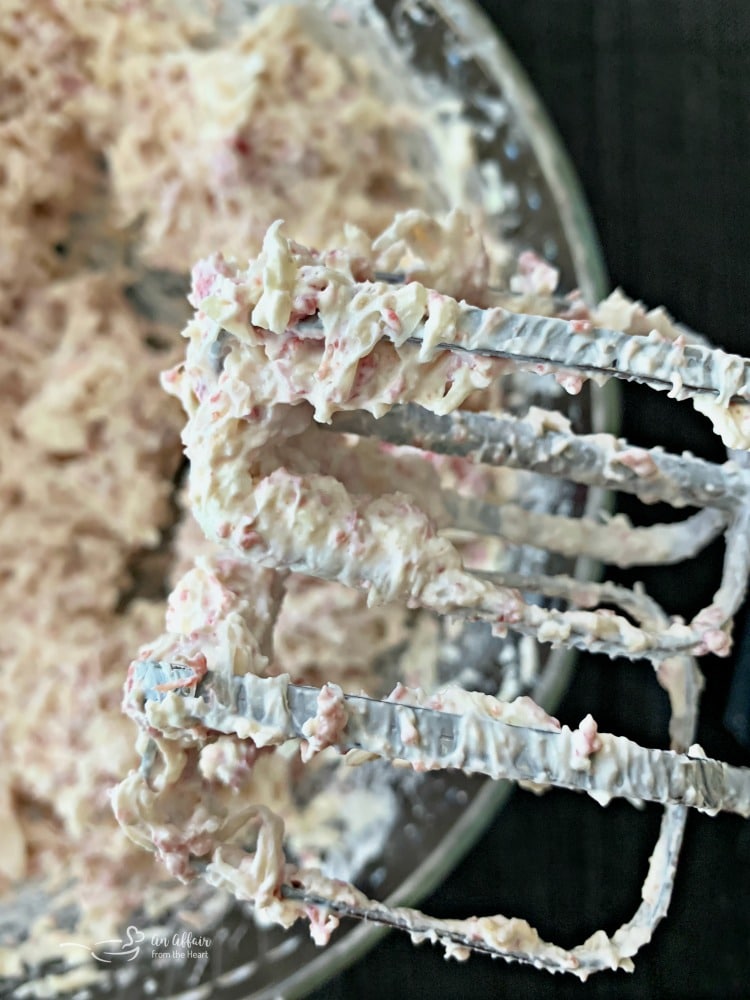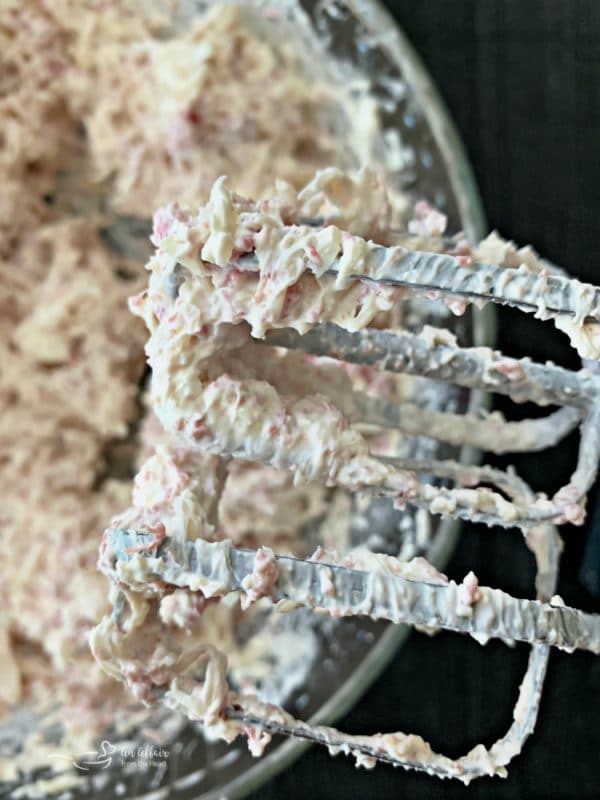 When you're done, lick the beater. (make sure it's off first. 😉 )
You could spread this dip onto crackers right now and be in heaven. It's really good cold, too!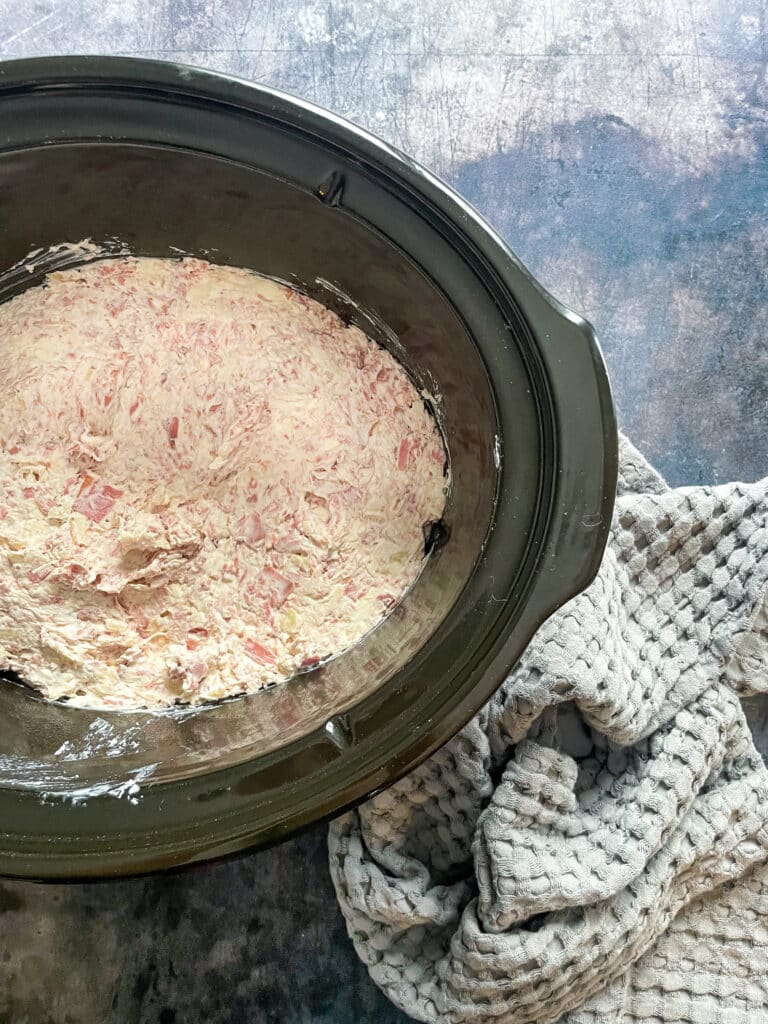 Spread into the bottom of a crock pot sprayed with non-stick cooking spray. Cover.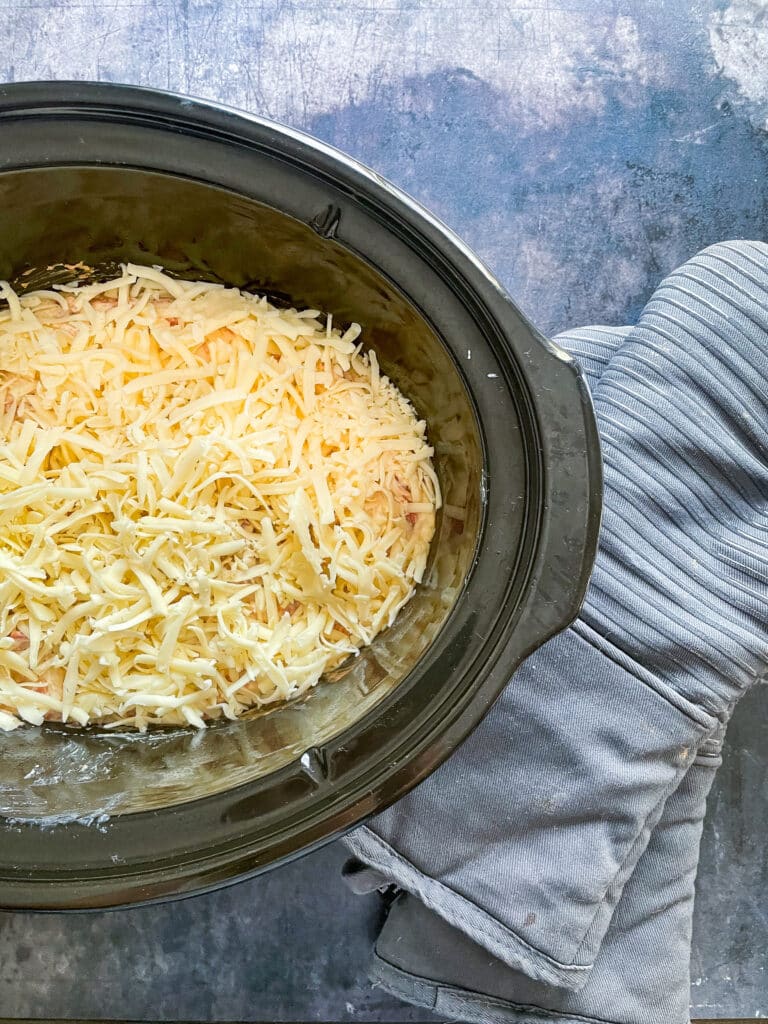 Cook on low for 2-3 hours. Uncover and add the remaining Swiss cheese to the top. Cover.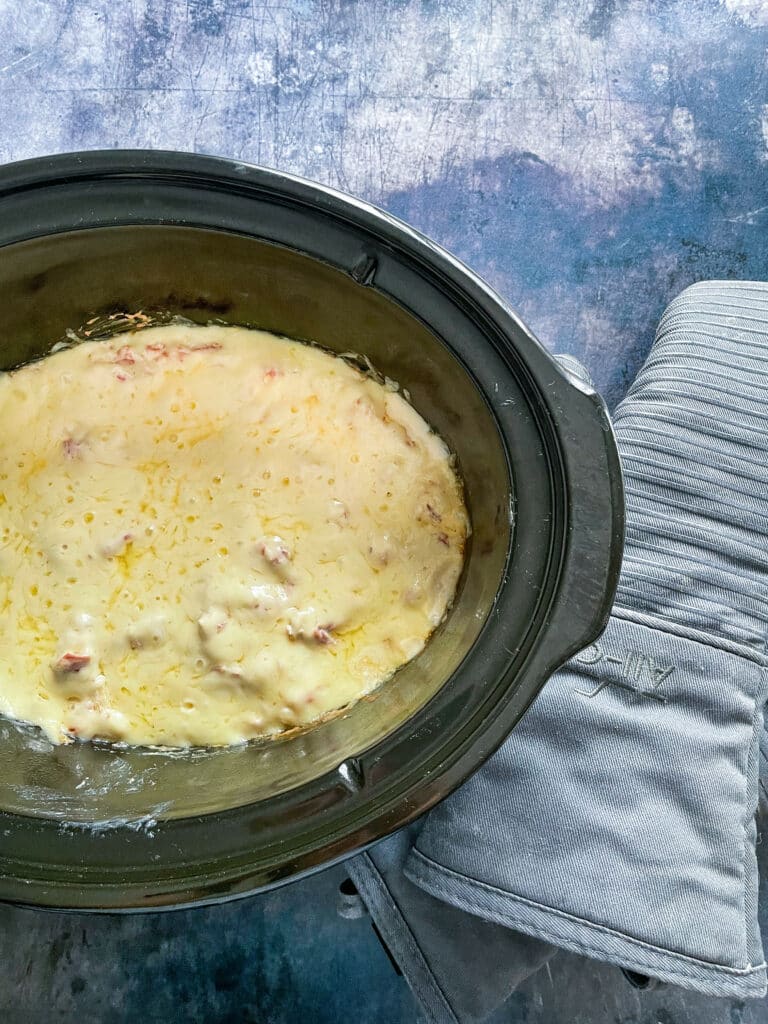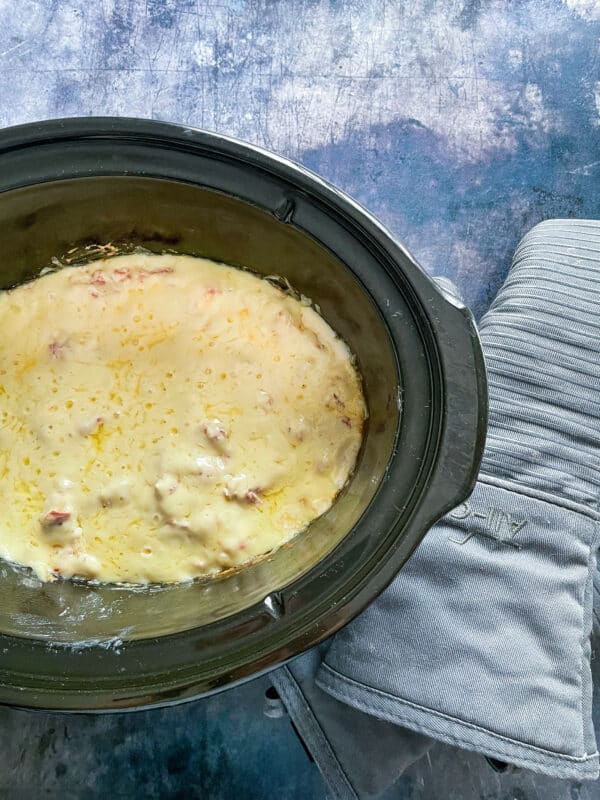 Cook for 30 minutes more.
Serve hot with rye crackers, Thousand Island Dressing, and Sweet Gherkin Pickles. Place a spoon inside the crock pot for people to place some on their plates.

Love it? Pin it!
If you love this easy Reuben dip recipe make sure that you don't lose it! Pin it to your favorite Pinterest recipe board before you go!

Can I make this hot Reuben dip in the oven?
If you don't have access to a crockpot or slow cooker you can place the ingredients in a baking dish and bake at 350 degrees until it is hot and bubbly.

FAQs
What's the difference between a slow cooker and a crockpot? A crockpot is a brand that created the first officially known slow cooker. Though similar in look and use, some research tells us that the heating element is the key difference between the two. Seems slow cookers have the heating element at the bottom while crockpots have heat from all sides.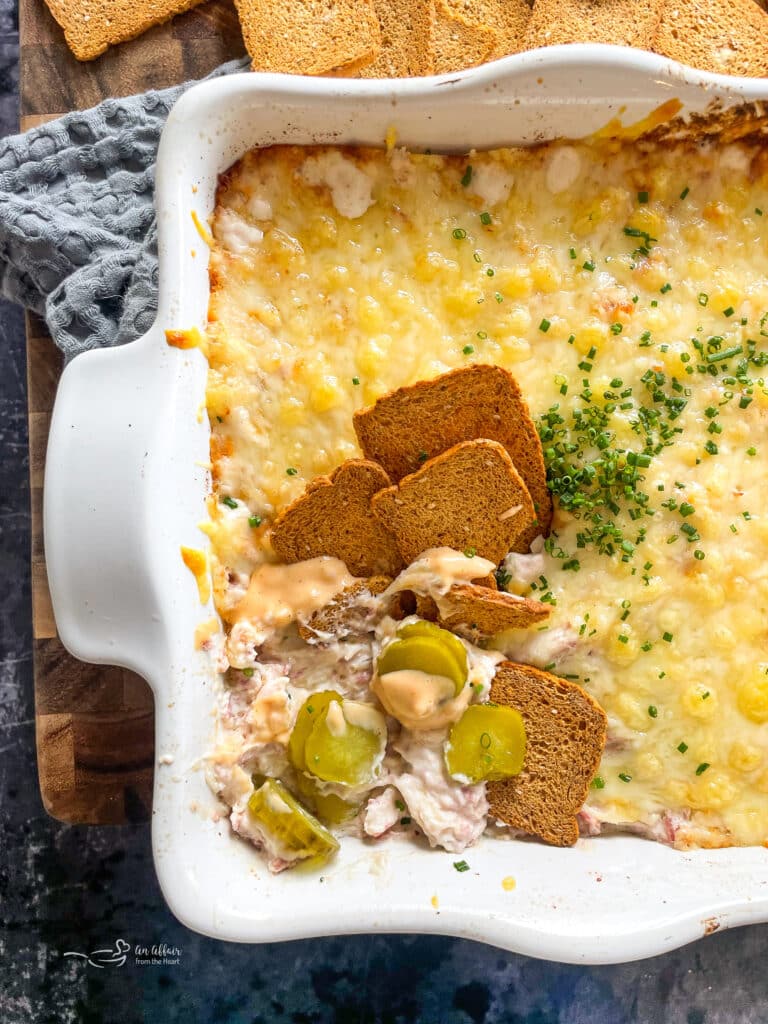 Tips & Tricks
This recipe for crockpot Reuben dip will keep well in the fridge in an airtight container for 3-4 days. Let this cheesy dip come to room temperature before placing it in the fridge.
Leave the crockpot on a warm setting so the dip stays soft and gooey while everyone enjoys it.
Sprinkle the cooked dip with chopped green onion or chives.
I know, I know. You're probably thinking this Reuben dip recipe is missing one component of an authentic Reuben Sandwich! The Thousand Island dressing. That's why I served it up with sides of dressing and sweet Gherkin pickles for the full effect! Want to make it epic? Make my Homemade Thousand Island Dressing. You can thank me later!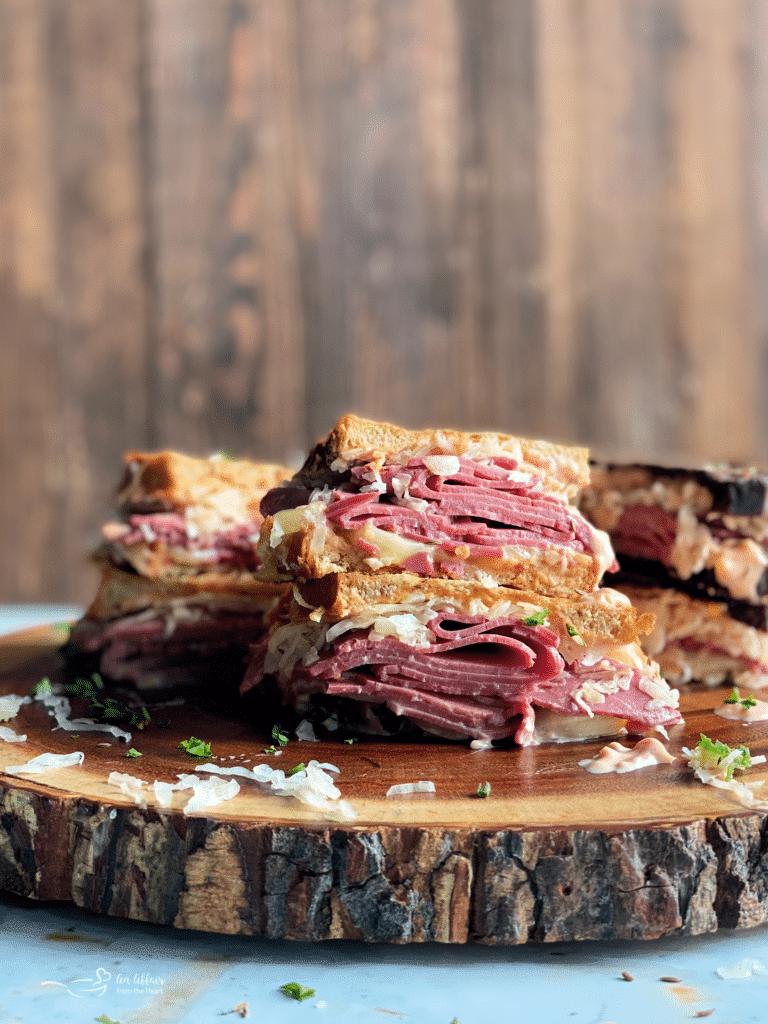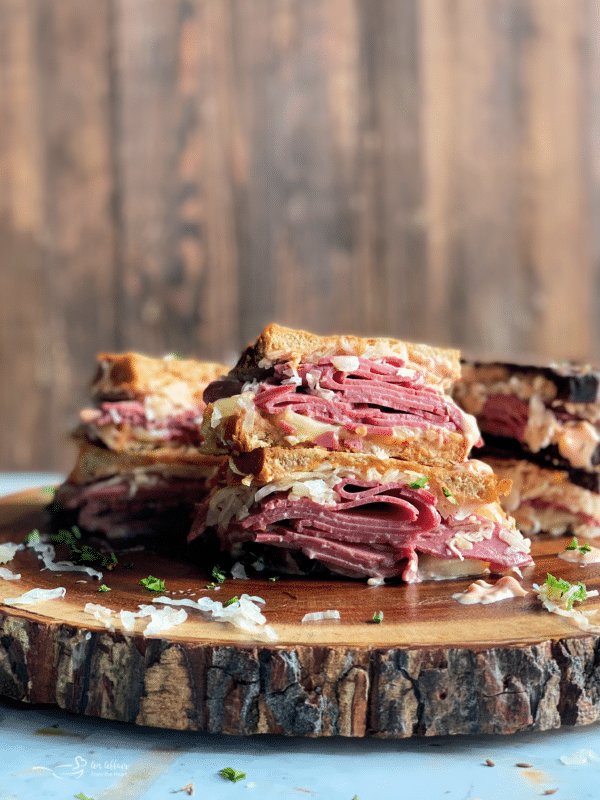 What are Reuben sandwiches?
If you are not familiar with Reuben sandwiches, they are an American sandwich that contains corned beef, Swiss cheese, sauerkraut, and either a Thousand Island or Russian dressing. The sandwich is served grilled on slices of rye bread.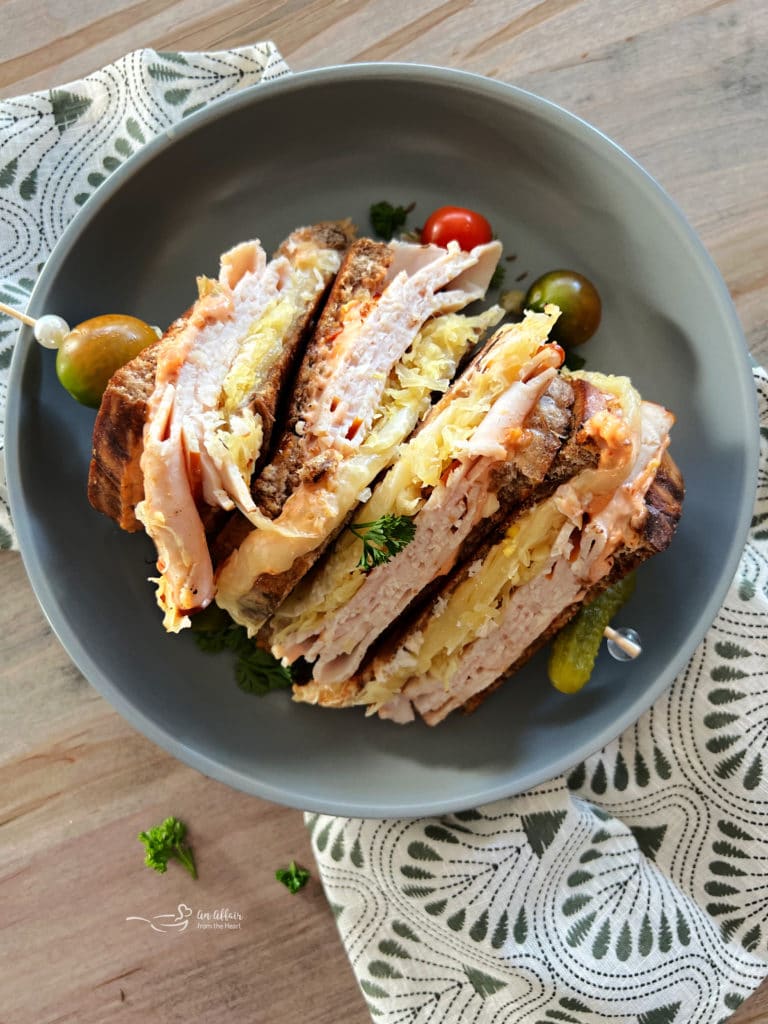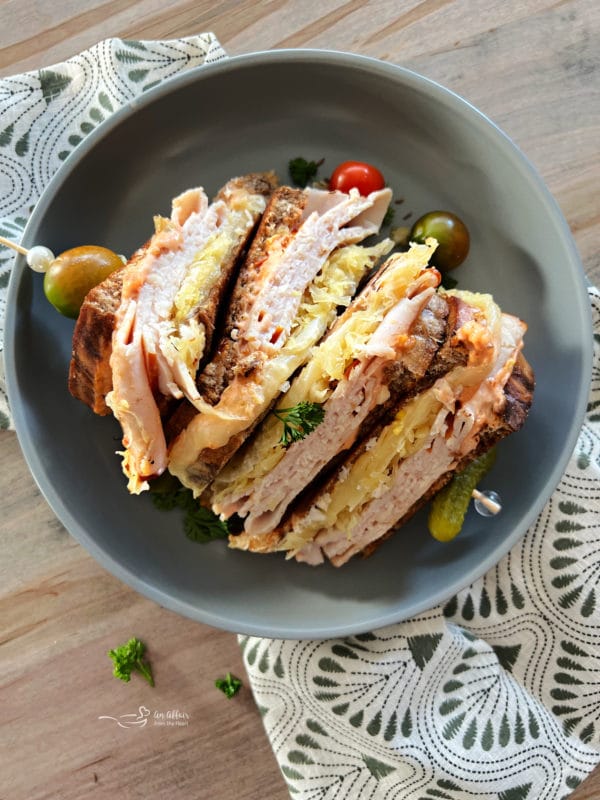 Or try a Turkey Reuben! (a.k.a. "The Rachel")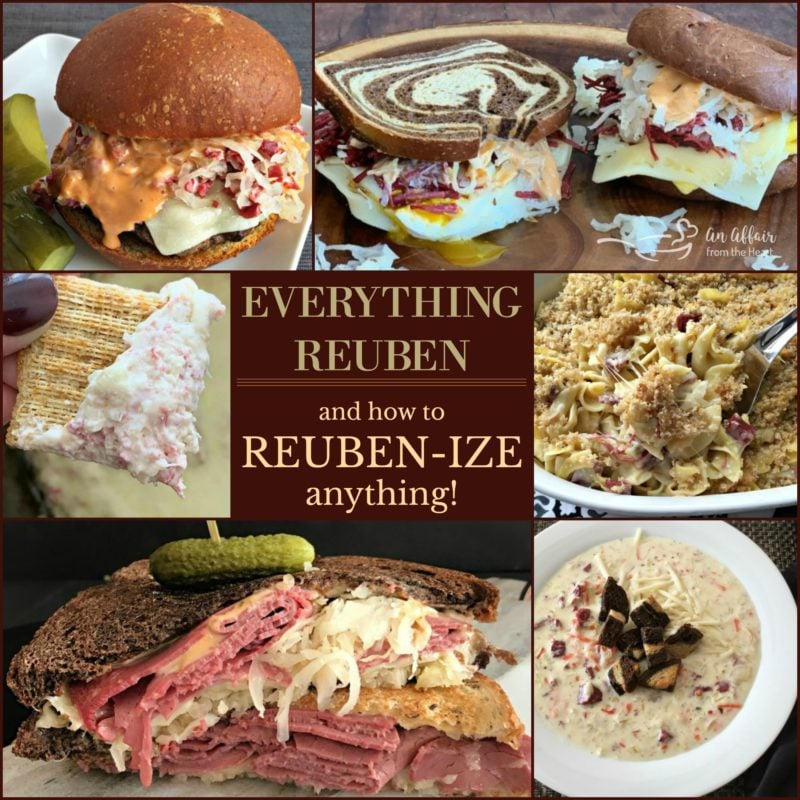 "Reubenize"
I have been Reubenizing recipes with Frank's Kraut for years now, and if you love the flavors of a Reuben I have all sorts of recipes for you! Check out my post All About the Reuben & How to Reubenize Anything, then take a peek at some of my favorite Reubenized recipes:
Take some time to visit Frank's Kraut, find out where to buy the best sauerkraut on the planet, and read about the wonderful benefits of adding it to your diet.
Follow them on Facebook, Instagram, Pinterest and Twitter to score all kinds of great recipes!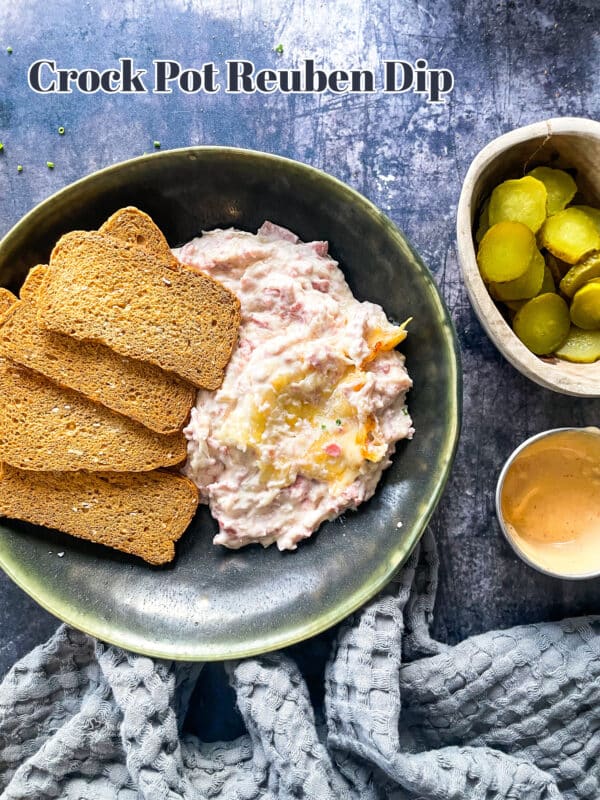 Yield: 12 servings
Crock Pot Reuben Dip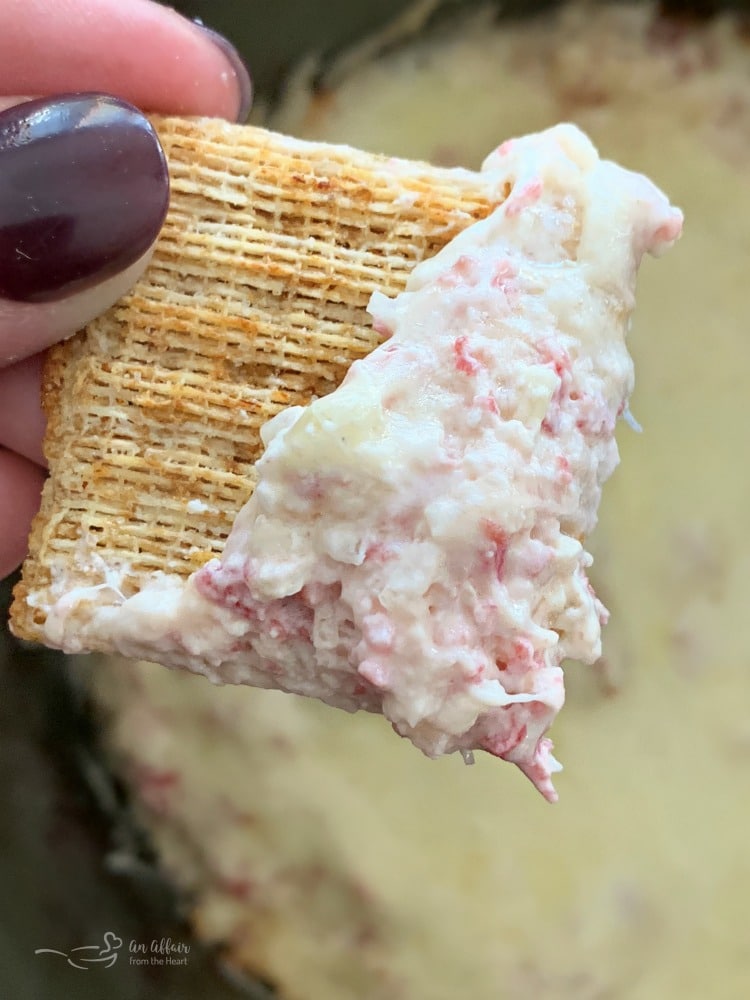 Crockpot Reuben Dip served over rye crackers is the perfect fix it and forget it party food. That classic sandwich turned dip! A crowd pleaser!
Cook Time
2 hours
30 minutes
Total Time
2 hours
40 minutes
Ingredients
2 (8 ounce) packages cream cheese, softened
1 (12 ounce) package Swiss cheese, divided
1 (8 ounce) container sour cream
1 cup Frank's Kraut, drained
12 ounces deli corned beef, sliced thin and chopped
Instructions
Place all of the ingredients in a large bowl. reserving half of the Swiss cheese.
Combine with mixer.
Spread into the bottom of a crock pot sprayed with non-stick cooking spray. Cover.
Cook on low for 2 hours. Uncover and add remaining Swiss cheese to the top. Cover.
Cook for 30 minutes more.
Serve hot with rye crackers, Thousand Island Dressing and Sweet Gherkin Pickles.
Nutrition Information:
Yield:
12
Serving Size:
1
Amount Per Serving:
Calories:

221
Total Fat:

19g
Saturated Fat:

9g
Trans Fat:

0g
Unsaturated Fat:

8g
Cholesterol:

62mg
Sodium:

577mg
Carbohydrates:

2g
Fiber:

0g
Sugar:

1g
Protein:

11g
This recipe was originally posted on November 7, 2018. It has been updated to improve user experience and re-shared on December 26, 2022.