Halloween Monster Burgers #HalloweenTreatsWeek
As an Amazon Associate and member of other affiliate programs, I earn from qualifying purchases.
Monster burgers arise! Yes, you could refer to these burgers as "monsters" based on their size alone, because these are no wimpy burgers. But these scary good burgers are actually here to get you in the mood for Halloween, so beware! Because, with nowhere to hide from the fun, you might as well just give in now, and enjoy. Be sure to ignore those screams of joy when you serve them, too!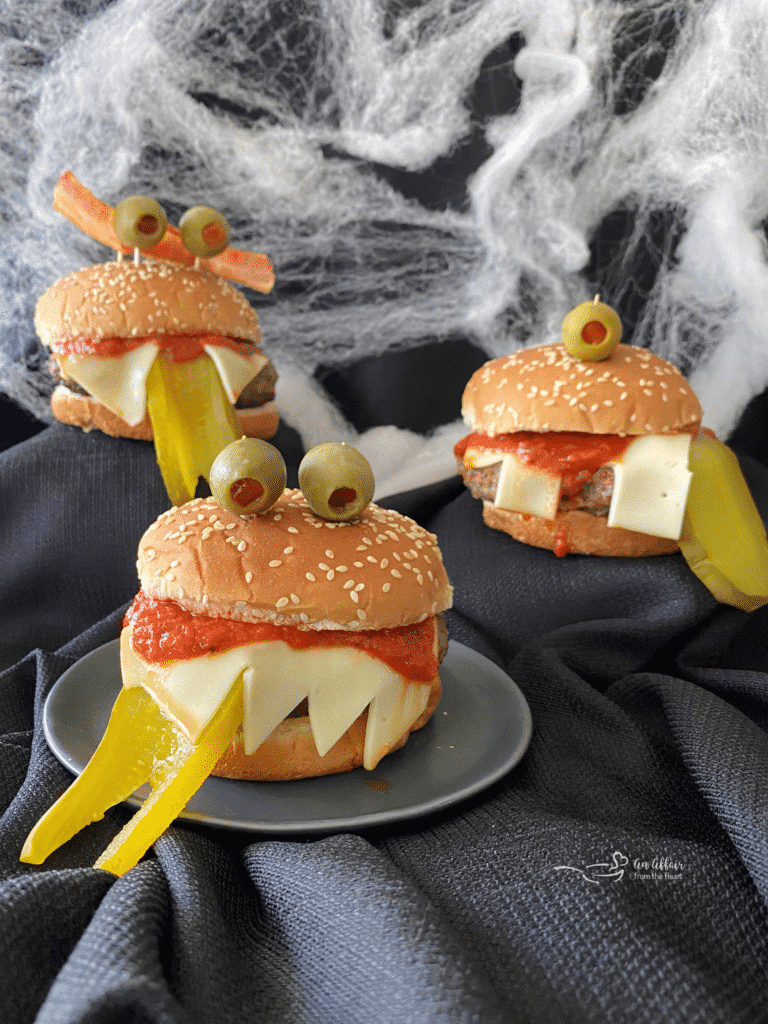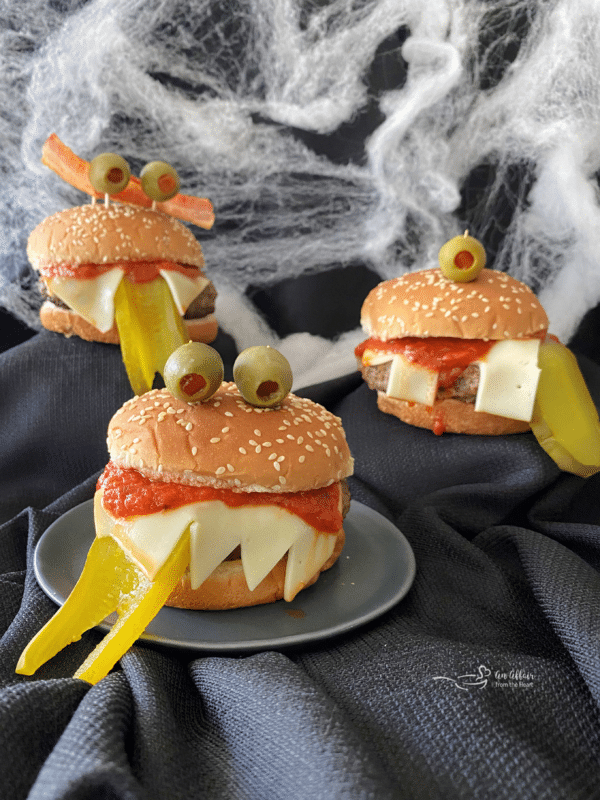 Making Halloween Monster Burgers
Perfect for a Halloween party, with bold flavors that creep up on you, the Monster Burger rises from the murk of burger recipes. It casts a long dark shadow across any other plain old, same old burgers, and the suspense builds as you create each burger. Muahahahahaha! Let your demented and deranged scientist side hang out – like an alien exploding out and scaring the dickens out of everyone hanging out. The weirder and wackier you get, the better!
This post and recipe were created for #HalloweenTreatsWeek! I was sent samples by some of the sponsor companies but as always opinions are 100% mine.
Welcome!!! It is almost Halloween which means it is time for this year's #HalloweenTreatsWeek recipe and giveaway event!!
#HalloweenTreatsWeek is a yearly Halloween blogging event that is hosted by Angie from Big Bear's Wife & it's a creepy and haunting week-long event is filled with some amazingly wicked Halloween treats, recipes, and some frightfully fun giveaways.
"When witches go riding, and black cats are seen, the moon laughs and whispers 'tis near Halloween."

The Ingredients Needed For A Halloween Monster Burger
For the Halloween monster burger, you need the following ingredients:
Ground beef

Sesame Seed Hamburger buns – those seeds are like little warty growths if you use your imagination

Bacon

Muenster Cheese (Of course it has to be Muenster, right?)

Pickle slices, the long wedges make great tongues

Olives with pimentos for eyeballs

Ketchup… lots of ketchup! Or marinara sauce if you prefer… Just so it looks like you know what!
Consider Chili Peppers For The Adult Option
For some folks, they may wish to up the scare factor and add a bit of heat to the burger. In that case, I recommend using a hatch or poblano chili to create the "tongue". It will add just enough burn and give you another option for that crazy tongue to hang out the side.

How To Form A Monster Burger
Building a monster burger is easy and fun. I recommend taking the slices of muenster cheese and stacking them first, then slicing out the "teeth" easily in one series of cuts.
Make sure your cheese droops out over the sides so it looks like the burger has fangs. You can also cut a little "V" out of the pickle tongue to make it more serpentine.
Get creative and make each monster burger uniquely scary and have fun with it!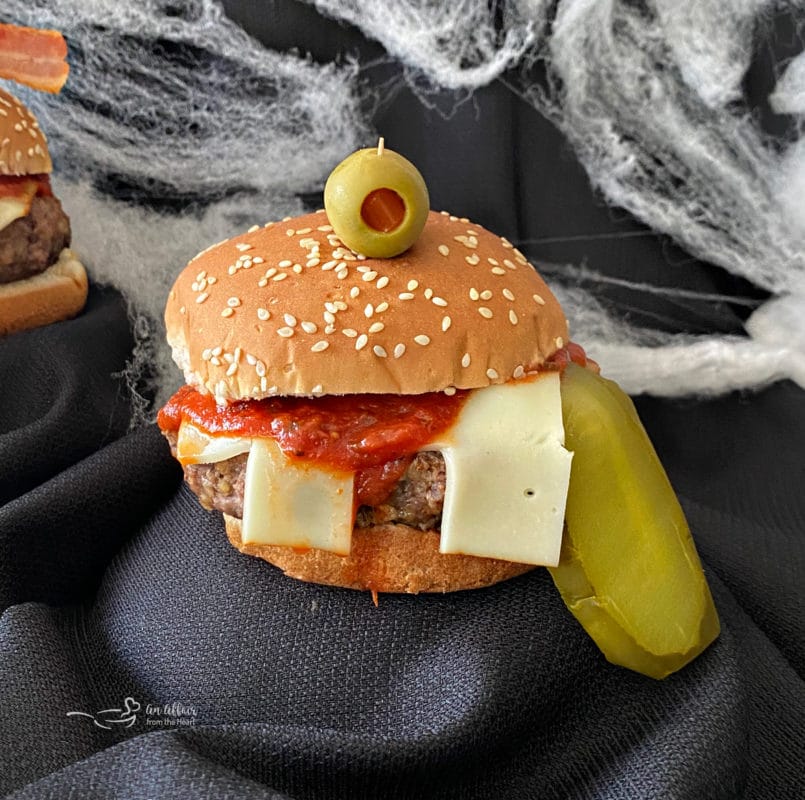 The Skeleton Key To Making Monster Burgers
When you make monster burgers, don't get anxious about making them "perfect". These burgers have personalities built into them as much as flavor, so there is no such thing as a "mistake". Also, if you want to make a perfect burger, then check out this post for tips and tricks.
In fact, feel free to get creative. You can dress them up with other things to create different types of monsters. For example, use the cut off tips of some pointy carrots to add horns. A couple of sprigs of parsley add a monster hairdo.
You can even make the serving plate a bit scarier with some well-placed plops of ketchup. Use a bit of green relish to create some icky "vomit" or weird "innards" oozing out. Olives on toothpicks can become another way to do googly eyes. Anything goes.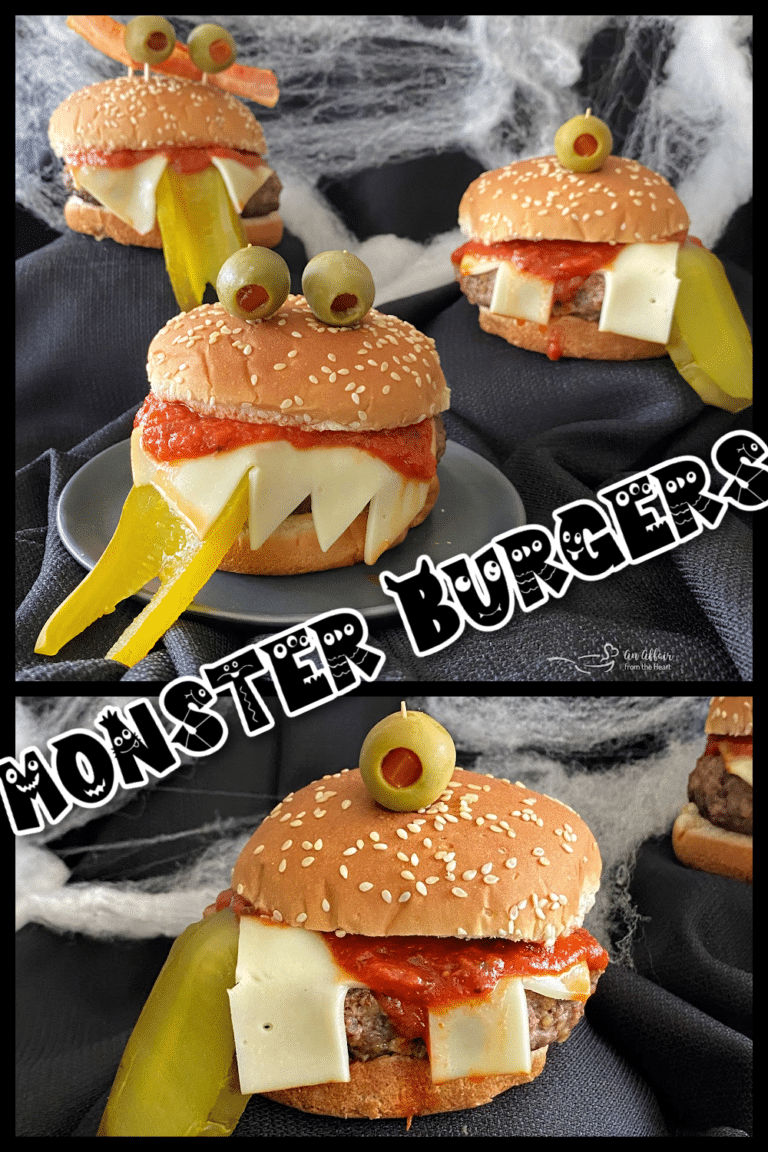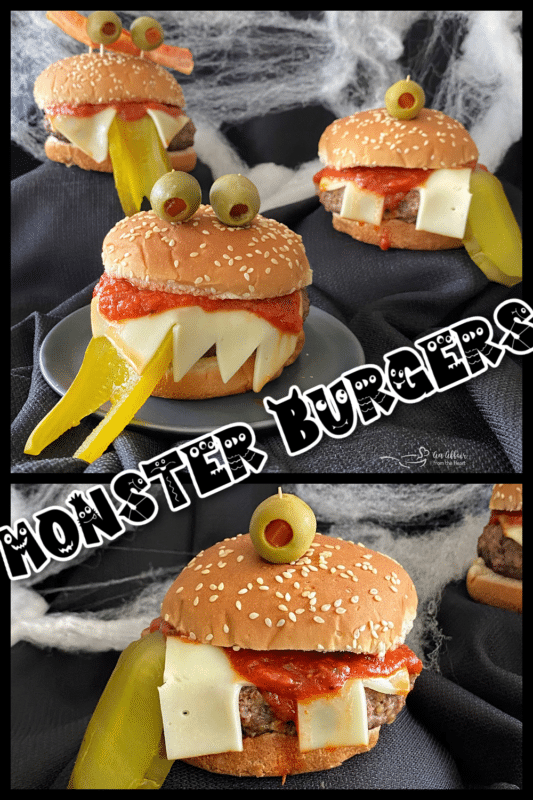 Love them? Pin them!!
Don't forget where you found out how to make these Monster Burgers!! Pin them to your favorite Pinterest recipe board to find them quickly!
Now, how about some prizes?
For the 4th annual #HalloweenTreatsWeek event we have 28 hauntingly talented bloggers that are sharing their favorite Halloween recipes throughout the week!
Follow the hashtag #HalloweenTreatsWeek on social media and look at the bottom of each post to see all of the Halloween recipes that we're sharing!
Prize #1 from Dixie Crystals
41 Pieces Silicone Bakeware Set
3 Piece Halloween Silicone Spatula Set
Nordic Ware Haunted Skull Cakelet Pan
Giveaway open to US Residents 18 years or older. All entries will be verified. No PO Boxes Please. Prizes will be sent directly from sponsor to winner, bloggers are not responsible for prizes. This giveaway runs from October 11th – October 15th at 11:59 PM EST. Winners will be selected soon afterward and contacted by e-mail. Winners will have 48 hours to respond or a new winner will be chosen. There are a total of 1 (ONE) prize pack and therefore we will have a total of 1 (ONE) winner. No purchase is necessary. Void where prohibited by law.

More Monster Recipes And Halloween Treats
Are you ready to go all out for the most Spook-Tac-U-Lar Day of the year?? I have all sorts of Halloween Recipes and Ideas for you! Here are a few of my favorites: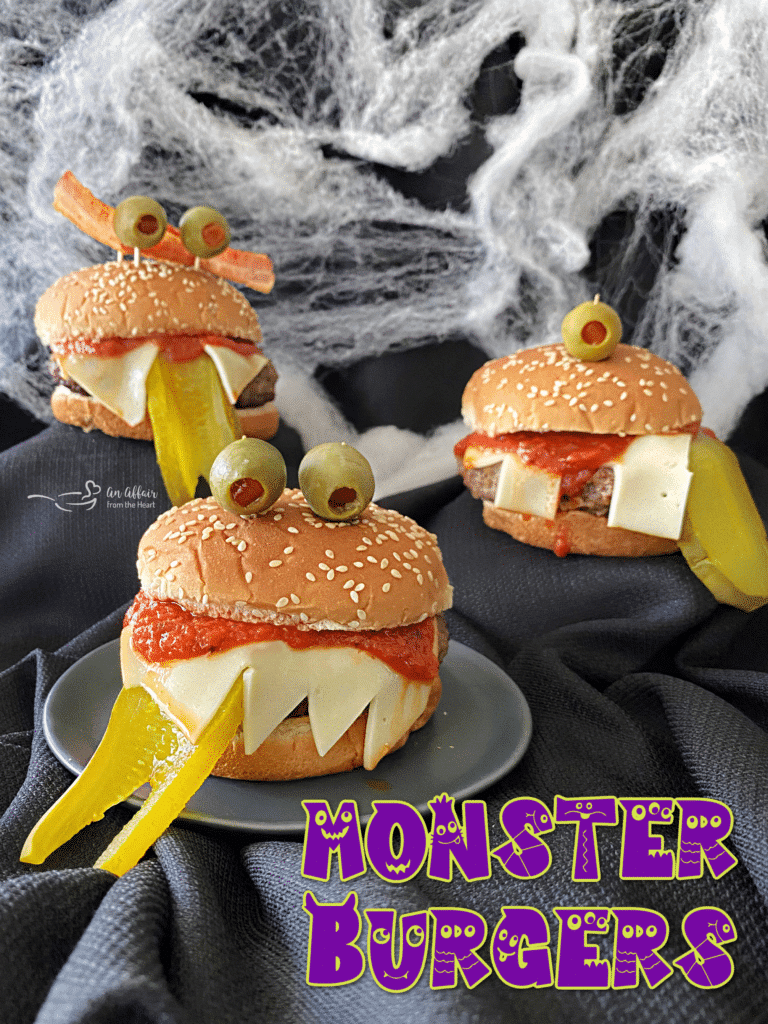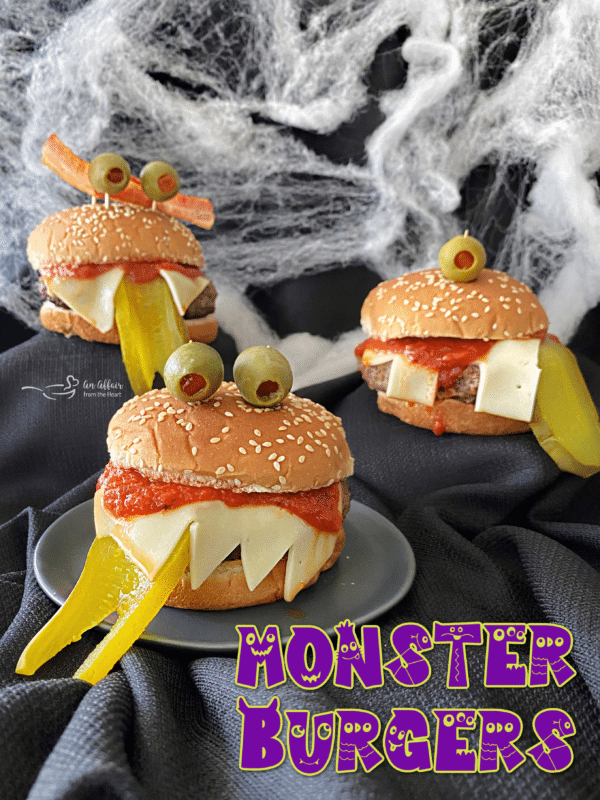 Let's dawn our white lab coats and build some Monsters! (Burgers that is!).

Yield: 3 burgers
Monster Burgers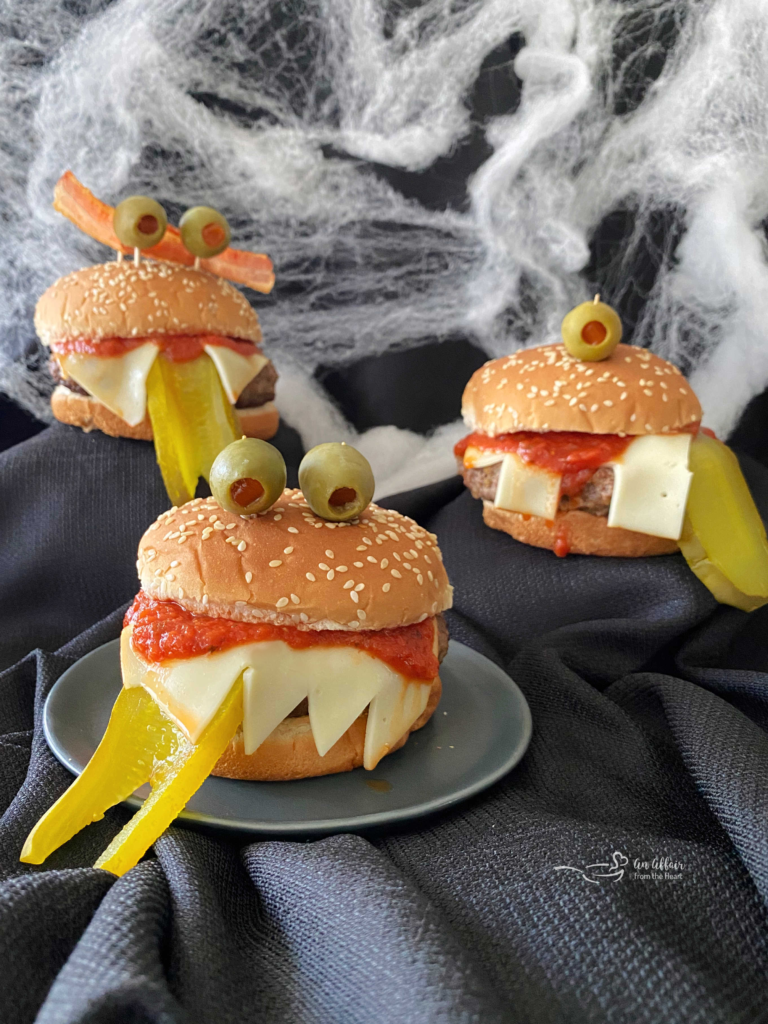 Ingredients
1 pound lean ground beef, made into 1/3 pound burgers
3 sesame seed buns
3 sandwich dill pickles
marinara sauce or ketchup
Muenster cheese, or other white cheese
Spanish olives
bacon
toothpicks
Instructions
Prepare your burgers to your liking.
Cut the edge of the cheese into "teeth."
Place large Spanish olives on toothpicks for the eyes. Do the same with 1/2 pieces of bacon for the eyebrows.
Cut the end of the pickle into a "fork tongue."
Place the burger on the bottom bun. Lay the pickle on the burger hanging off a little bit. Next, add your cheese, making the teeth hang over the side and the tongue.
Top with marinara sauce, let some ooze out. Place the top bun on the burger.
Add green olives for eyes and bacon for eyebrows.
Check out all of these great #HalloweenTreatsWeek recipes for today
Disclaimer: These posts and recipes are part of the week-long event, #HalloweenTreatsWeek but all opinions are 100% mine! We would like to thank our amazing brand sponsors: Dixie Crystals that provided a prize pack for our giveaways and also sent some samples and products to the #HalloweenTreatsWeek bloggers to use in their recipes.