Remember the Enchiritos at Taco Bell back in the day? Soft flour tortillas wrapped around taco seasoned ground beef and refried beans, topped with a flavorful red enchilada sauce and melty cheese? It's been a while since you could "make a run for the border" and order and Enchirito, but that's okay – making them at home is so much better anyway. Especially with these great tips and tricks!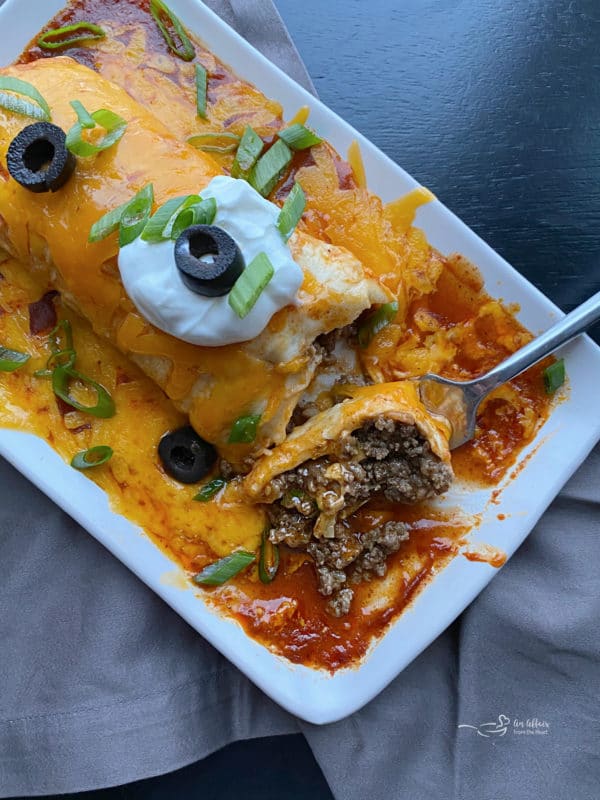 It is no secret how much I love a good restaurant copycat recipe! I have tons of them on my website here and a whole Pinterest board dedicated to them. So this Copy Cat Taco Bell Enchirito Recipe will fit right in with all of the others.
Candy bars, McDonald's, Starbucks, Olive Garden, Wendy's and more … I can't get enough of re-creating these favorites. Especially when the item is discontinued and I can't just simply drive-thru and grab my go-to menu item.
Taco Bell Discontinued Menu Items
I don't eat a lot of fast food, but if I do, I would have to say that Taco Bell has always been at the top of my list. I mean, Mexican food in general has always been my favorite. But to be quite honest, they are really kind of ticking me off these days.
I am a huge creature of habit and typically order the same thing when I go somewhere. Are you that way? Like if I am hungry for something, in particular, that's why I want to go there. Sometimes I will go between a couple of things. But there is usually not a huge variety in my choosing off of a menu. My second menu pick from Taco Bell was the Mexican Pizza.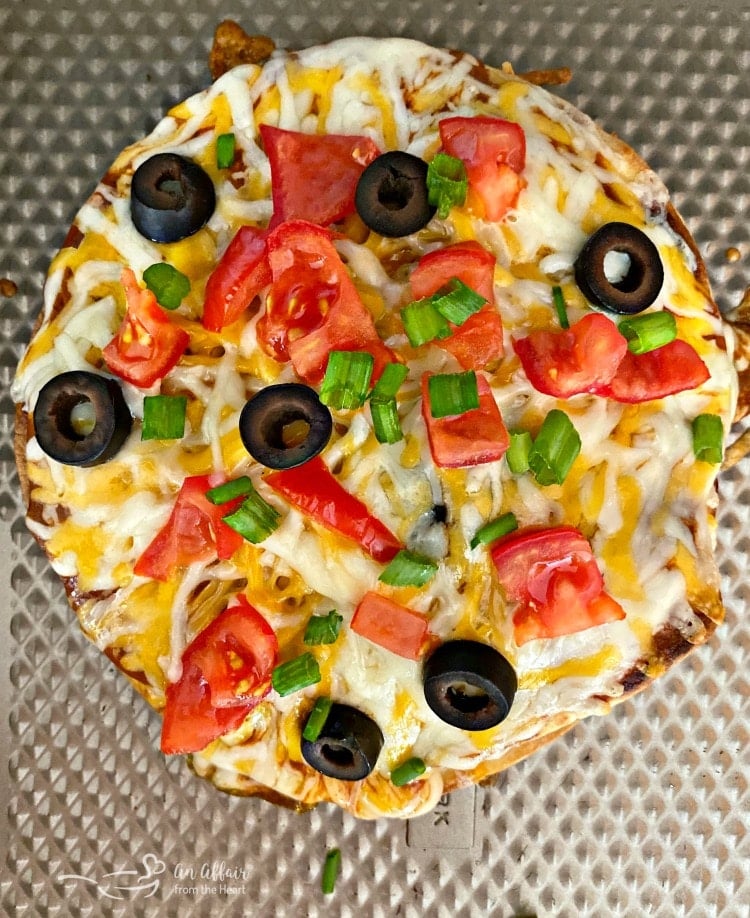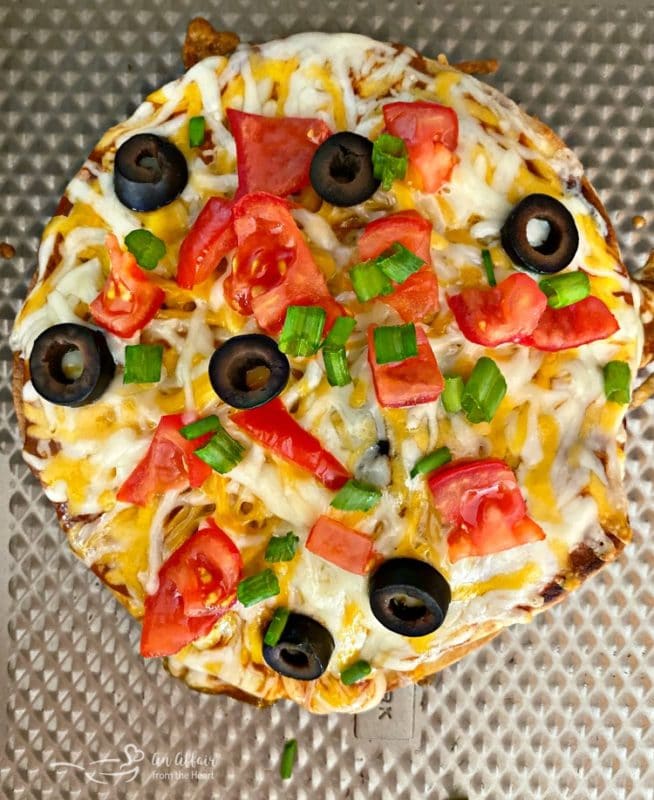 I always ordered a #1. Last year, they changed a #1 to a #3 … like wth tbell? I blamed that on 2020. Then they removed the Mexican Pizza from their menu. Sadness, but I already have a recipe for Taco Bell Mexican Pizza so it didn't sting quite as much. So, I will stick to my #3 when I go now — except I always ordered the taco that came with it "fresco style" and they added pico de gallo to the top and it was so much better than the sour cream kind. Now they discontinued that, too.
Yesterday I went to grab lunch on the way to my hair appointment with my daughter, and I was planning to grab us a taco salad. Guess what? No Taco Salads either. Taco Bell is adding on all sorts of weird food to their menu and discontinuing the classics. So that just gives me all the more reason to make their stuff at home and skip the drive thru altogether.
I will use my Air Fryer Edible Taco Bowl recipe to make my own taco salads at home, top them with my Homemade Pico de Gallo. Take that Taco Bell. Rant Over.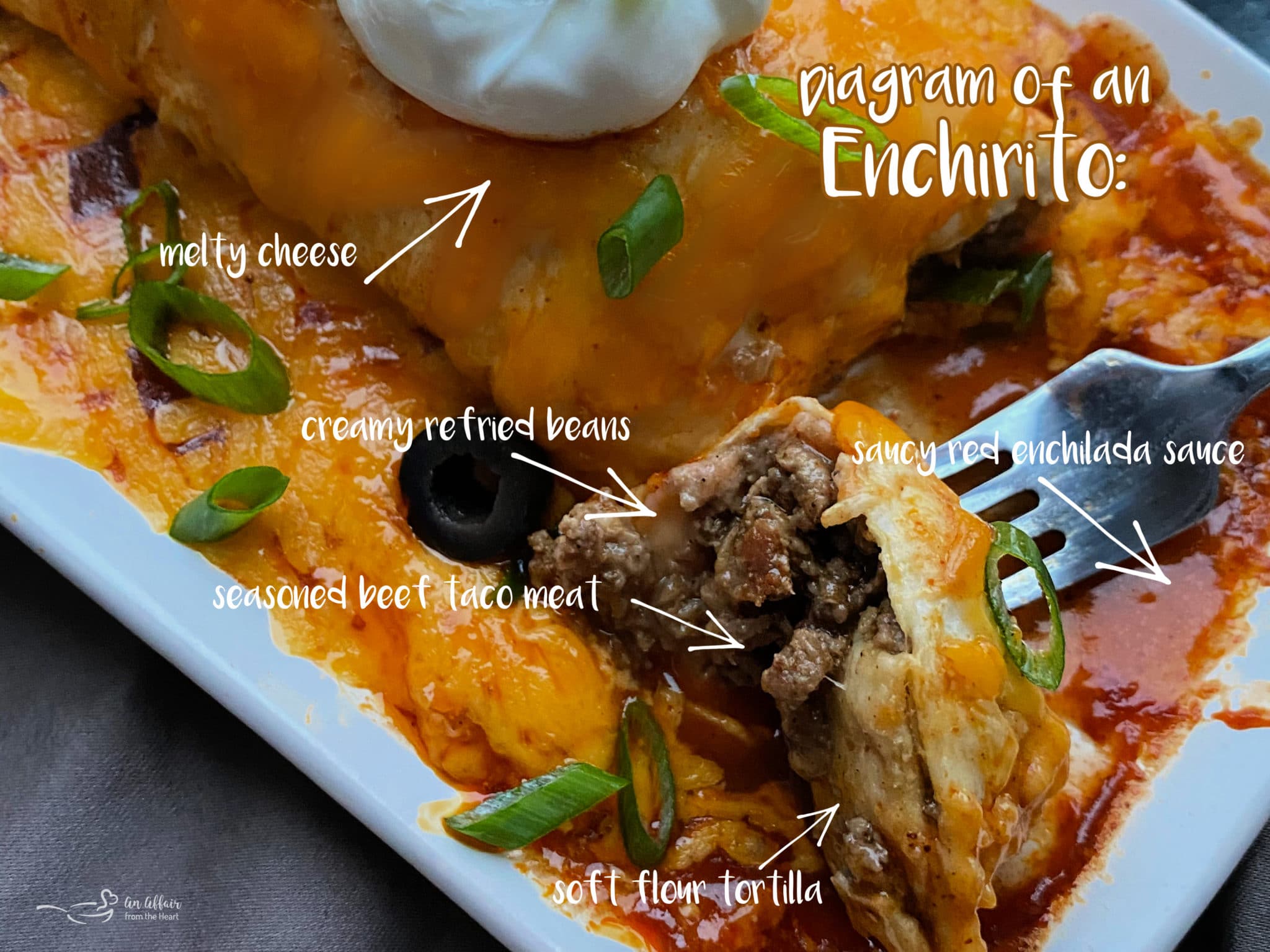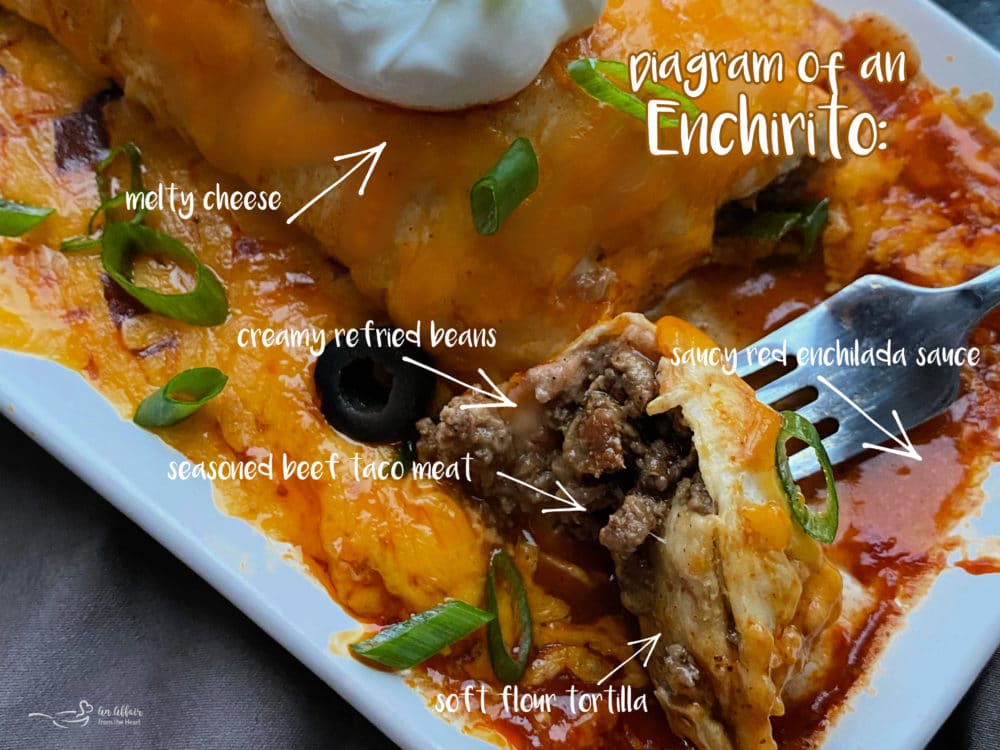 Copy Cat Taco Bell Enchirito Recipe
I have my good friend, Brandi, from Aunt Bee's Recipes to thank for this new addition to my Copy Cat recipes – her husband Kevin loved Enchiritos and was way bummed when they were discontinued, so she makes them at home, and now we do, too!
Brandi likes to make them ahead and store them in microwave containers that are perfect for her husband to microwave at work for lunch, or her two (VERY active) kiddos to zap after school or in between activities when they are famished.
That's the beauty of this recipe – it's quick, easy to make ahead, and easy to heat up when you're ready. But if you aren't just warming up one or two in the microwave, I have some cooking instructions to bake them all in the oven together. When your family is as big as mine, there would be a line at the microwave oven door if we were all wanting to eat them together. Ha!

Freaky Friday Recipes Blog Hop
You might be wondering why I am bragging about my friend Brandi a little more than usual today? Well, today is Freaky Friday! Freaky Friday is a day where a bunch of us food bloggers get together and each gets assigned one another's blogs to make a recipe from.
It's all done in secret and all at the same time on the same day we announce who we were assigned and what we made. It's a chance for our readers to see some great recipes all in one place, and to find some new blogs to follow. And that day is TODAY!
Aunt Bee's Recipes
Aunt Bee's Recipes is a place where when you visit, you'll want to have some time to sit and browse. Brandi has tons of amazing recipes and you're going to want to try them all!
I "met" Brandi virtually years ago when she had just begun blogging. We were fast friends, and for that friendship, I will be eternally grateful. Brandi has a heart bigger than anyone and loves her husband and her two children fiercely. If you look up "mama bear" in the dictionary, you'll find her face.
Brandi is a self-taught cook that knows her way around a budget. If you are trying to make meals that will nourish your family and keep you on track financially, she can show you how. I have made so many of her recipes over the years, some of them I have even shared here, a couple of my favorites are this Sausage & Crescent Breakfast Bake, her Southwest Chicken Linguine and her recipe for Copy Cat PF Changs Mongolian Beef.
More of Aunt Bee's Recipes to Love
The hardest part about getting assigned Brandi's website is trying to decide what recipe to try next! I thought about her Loaded Potato Skins or her Instant Pot Chili Con Queso then I landed on her recipe for Cookie Butter Cheesecake (O.M.G.) — that will still happen. And, I actually felt guilty about not making one of her casseroles. (she is like the QUEEN of casseroles)
But I was in the midst of being totally ticked at Taco Bell, and I landed on the Enchirito, and thought — time to have this great recipe join in the copy cat recipe fun!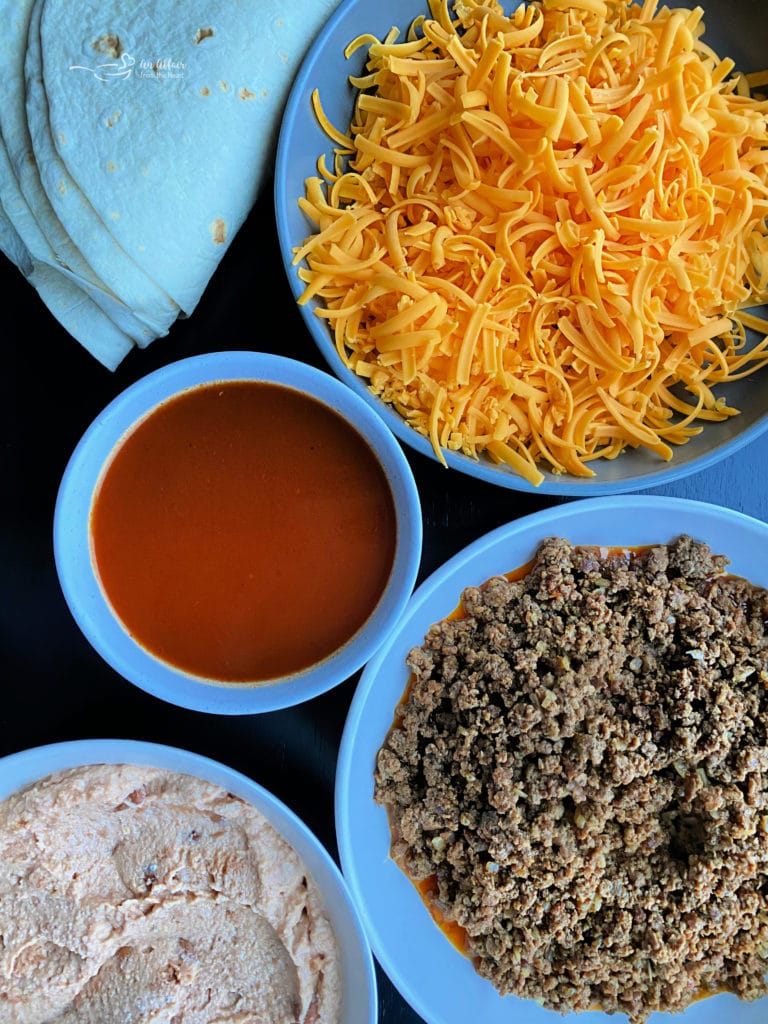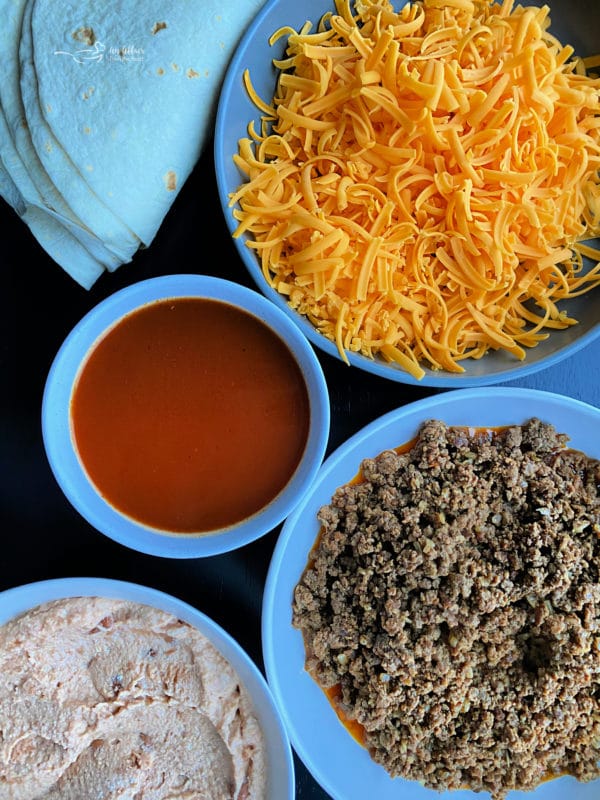 Ingredients in a Taco Bell Enchirito
canned refried beans,
lean ground beef
onion
red enchilada sauce
flour tortillas
cheddar cheese
taco seasoning
Now, if you want to make this recipe super duper simple, you can use packaged taco seasoning, enchilada sauce and refried beans right out of the can, or you can take a little advice from someone that knows how much these two tricks will change your life (and this recipe) from excellent to epic.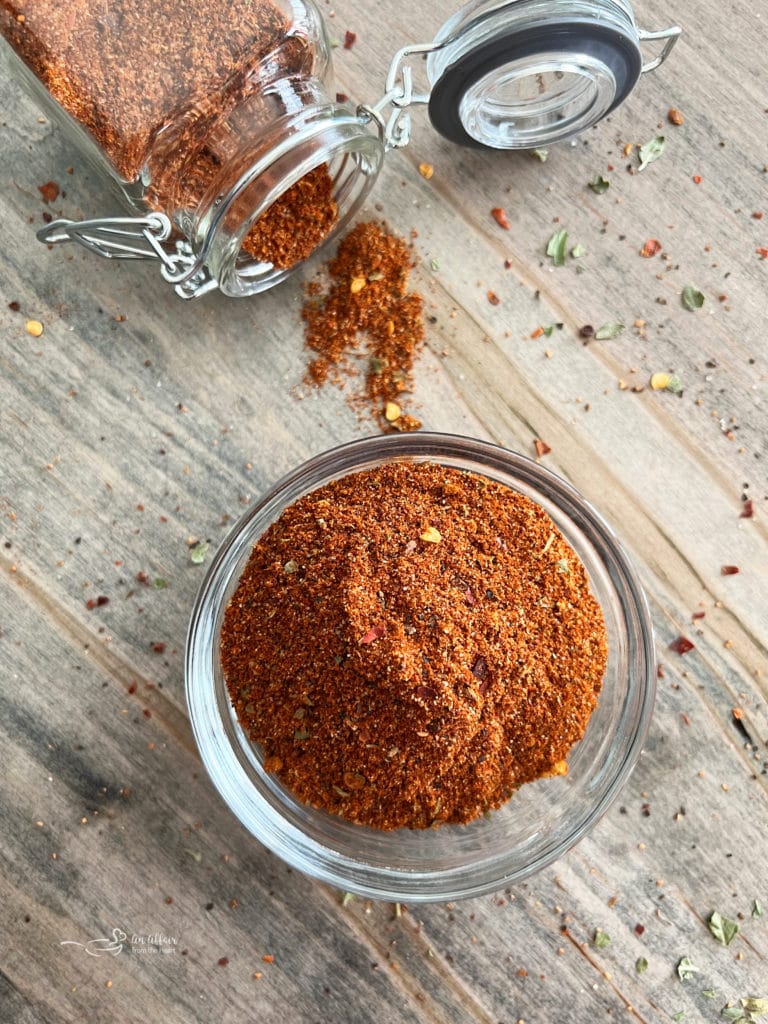 Begin this recipe by seasoning your ground beef with my Homemade Taco Seasoning. I always keep a jar on hand, then I don't need to worry about not having a packet when I need it.
First off, the refried beans. Sure you can just open the can and use them that way, but a couple of extras and you can use these restaurant-style beans instead.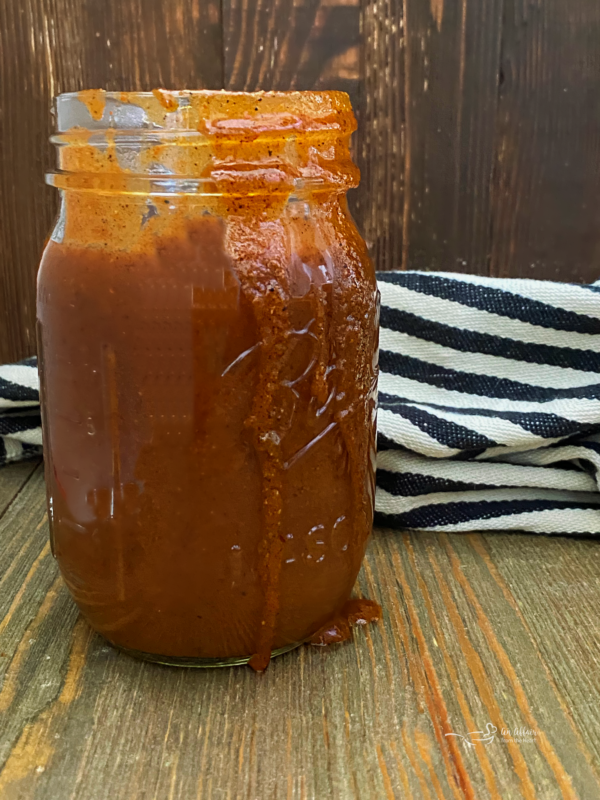 Make your own red enchilada sauce! It's so simple to make and it tastes SO much better than the canned stuff!!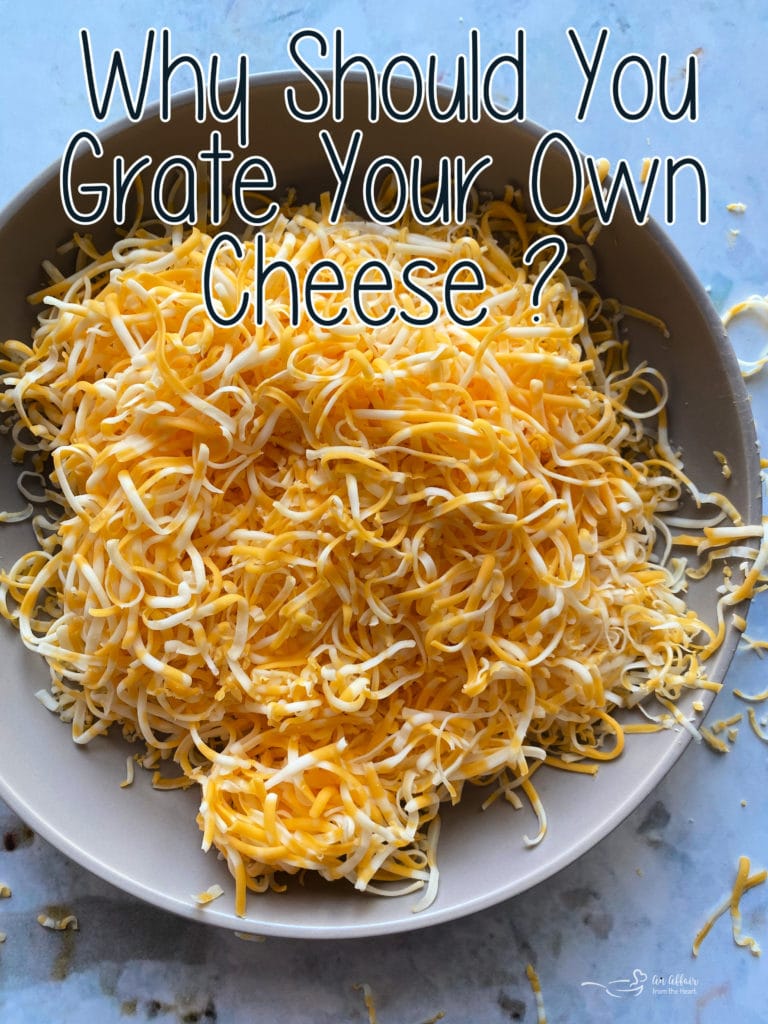 Take the extra 5 minutes and Grate Your Cheese! It makes a HUGE difference. It melts better and just plain tastes better. Plus – it's more economical.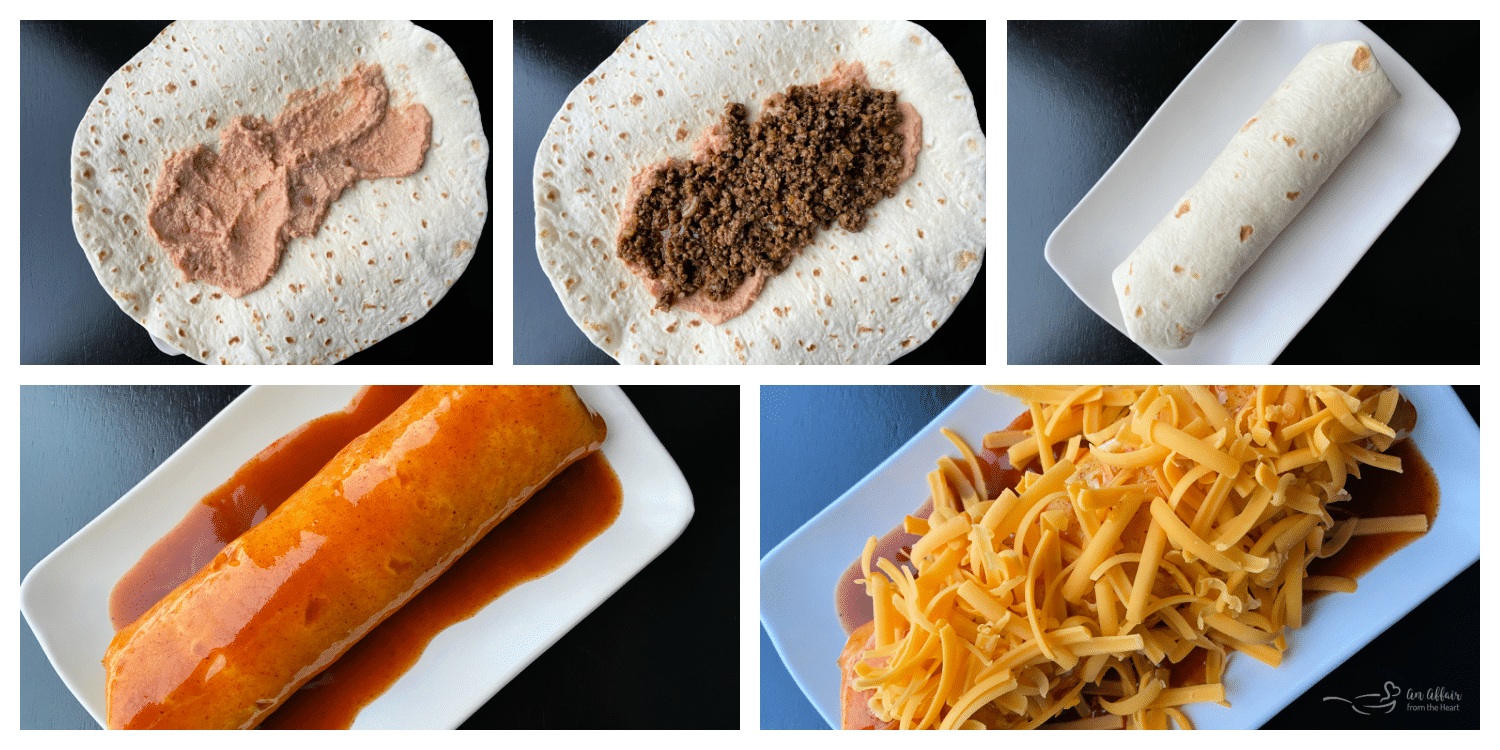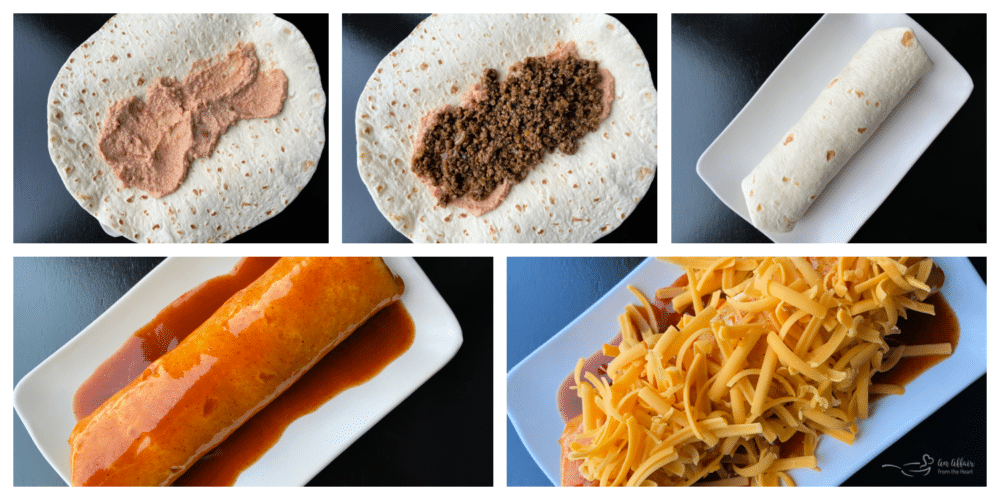 How to make Taco Bell Enchiritos
Begin by steaming your tortilla for a couple of seconds. Spread the "Dr.'d Up" refried beans into the bottom, and add the taco meat. Roll burrito style and place on a microwave-safe plate.
Spoon enchilada sauce over the top and top with shredded cheddar.
Microwave until hot and cheese is melty.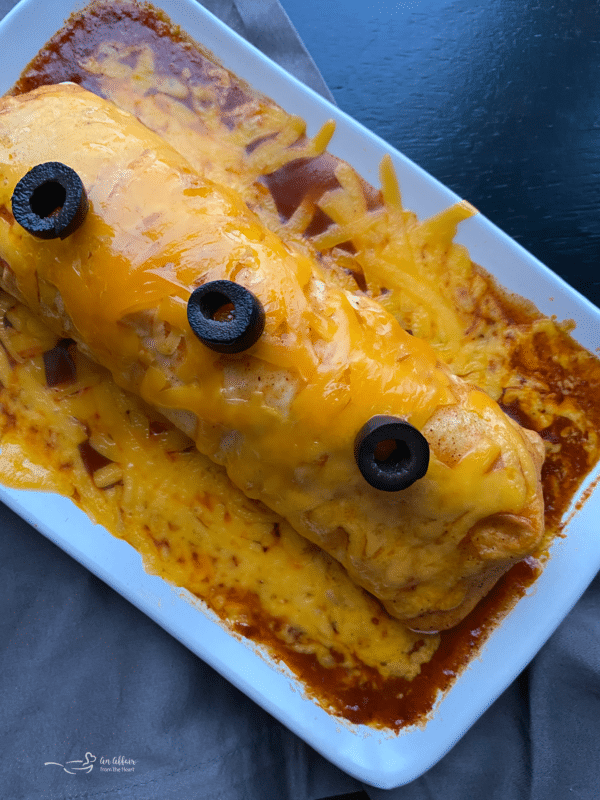 Top with black olives.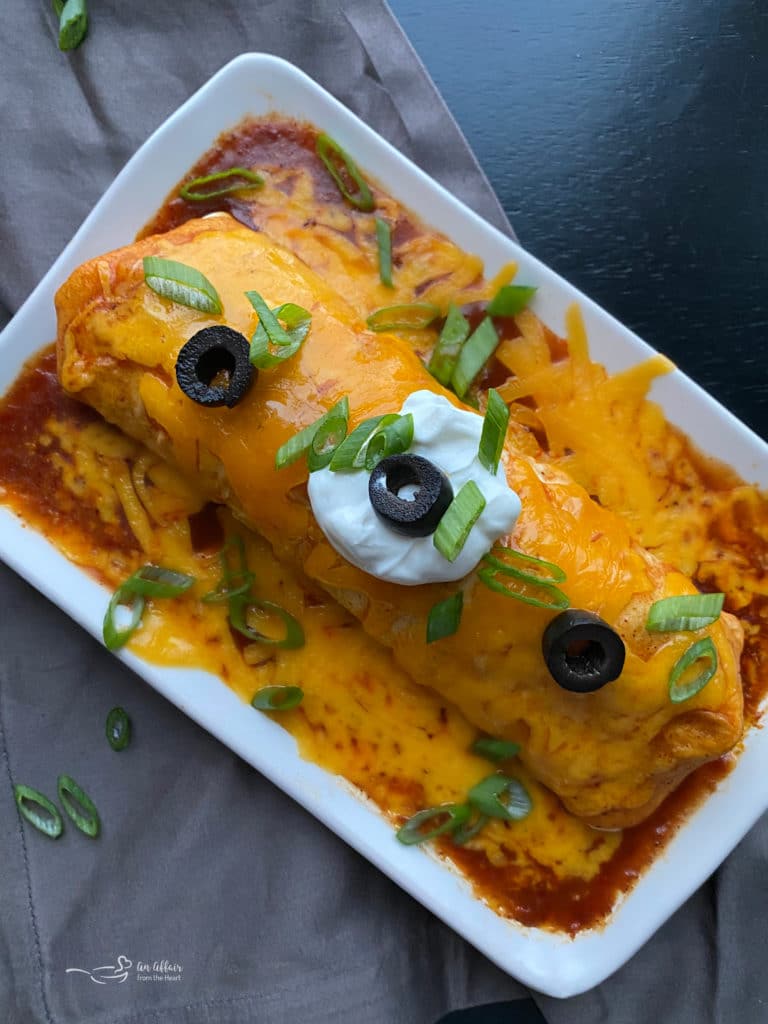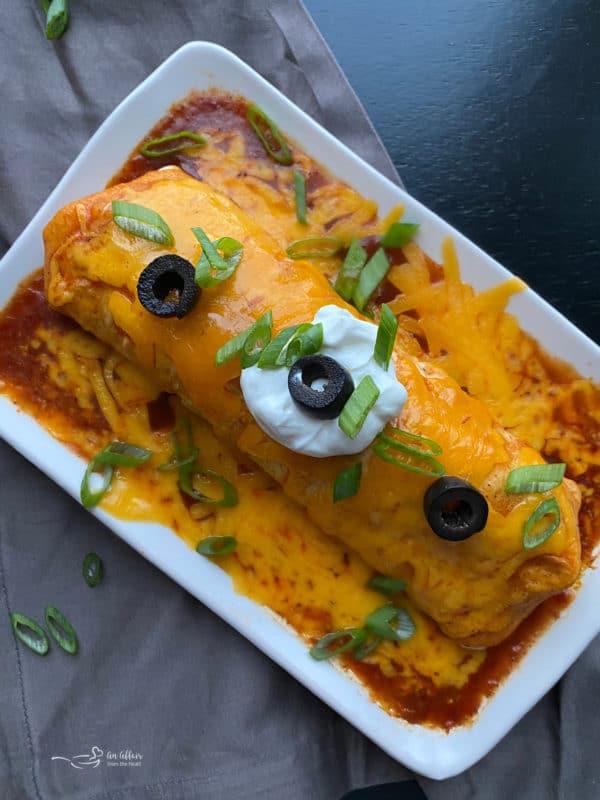 Or whatever toppings you enjoy!!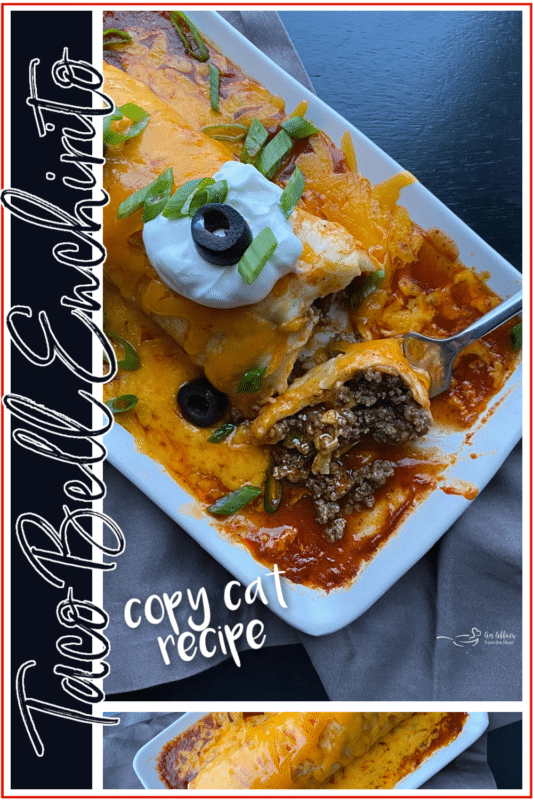 Love it? Pin it!!
Don't forget where you found this awesome Enchirito recipe! Pin it to your favorite Pinterest board before you go!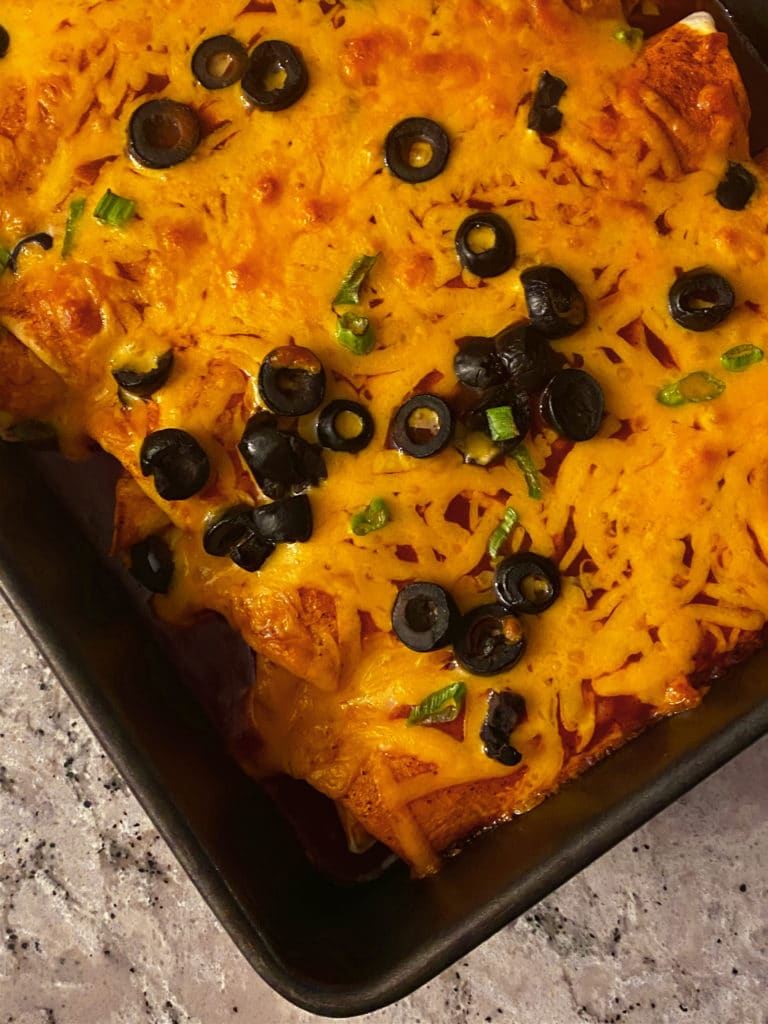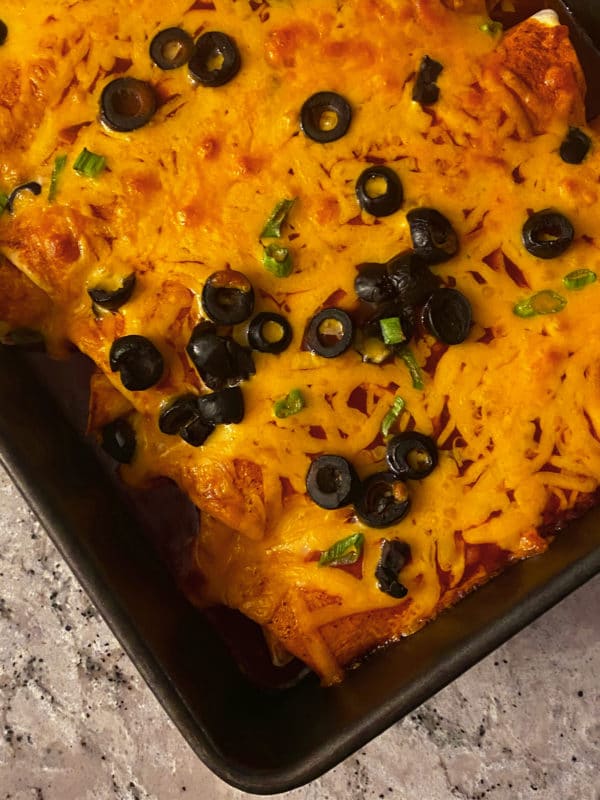 Check out the printable recipe card to see how to make a large batch of Enchiritos for a large group or your whole family!
Take a look at all of our 2021 Freaky Friday Winter Edition Recipes: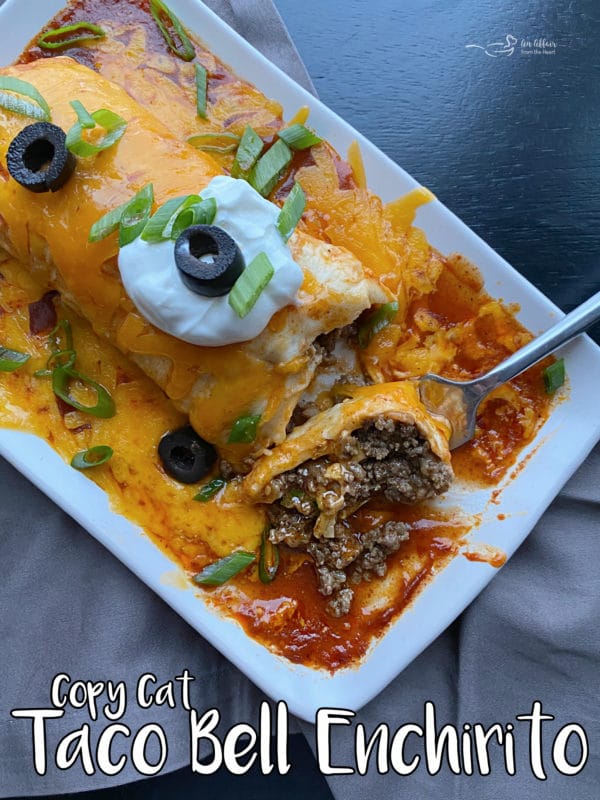 Let's show Taco Bell how to make an Enchirito, shall we??

Yield: 8
Copy Cat Taco Bell Enchirito Recipe
Remember the Enchiritos at Taco Bell back in the day? Soft flour tortillas wrapped around taco seasoned ground beef and refried beans, topped with a flavorful red enchilada sauce and melty cheese? It's been a while since you could "make a run for the border" and order and Enchirito, but that's okay – making them at home is so much better anyway. Especially with these great tips and tricks!
Ingredients
1.5 pounds lean ground beef
1 small onion, diced
1 (16 ounce) can *refried beans
2 (10 ounce) cans of *red enchilada sauce
6 burrito sized flour tortillas
12 ounces sharp cheddar cheese, shredded
Optional Toppings: black olives, green onions, sour cream, salsa, tomatoes (whatever you like!)
Instructions
Brown ground beef in a skillet with onion and salt & pepper to taste. Drain off any excess grease and mix in taco seasoning packet and 1/3 cup water, cover and simmer on low.
Warm refried beans (or make according to my Restaurant Style Refried Beans Recipe)
Place the tortillas between two damp paper towels and steam them in the microwave for about 30 seconds.
Spread a layer of refried beans into the center of one tortilla, add a layer of taco meat over the top of the beans, tuck the ends of the tortilla in and roll up, placing it seam side down on a microwave-safe plate.
Spoon red enchilada sauce over the top of the tortilla and sprinkle with shredded cheese.
Place in the microwave and heat for 1-2 minutes, or until cheese is melty.
Top with your favorite toppings if desired.
Recommended Products
As an Amazon Associate and member of other affiliate programs, I earn from qualifying purchases.
Nutrition Information:
Yield:
8
Serving Size:
1
Amount Per Serving:
Calories:

757
Total Fat:

38g
Saturated Fat:

18g
Trans Fat:

1g
Unsaturated Fat:

16g
Cholesterol:

140mg
Sodium:

1405mg
Carbohydrates:

53g
Fiber:

9g
Sugar:

6g
Protein:

50g
Please note that nutrition is not guaranteed accurate.

If you make this recipe, I'd love to know! Snap a picture, share the photo on social media with the hashtag #AnAffairFromTheHeart – I'd love to see what you made! – Michaela