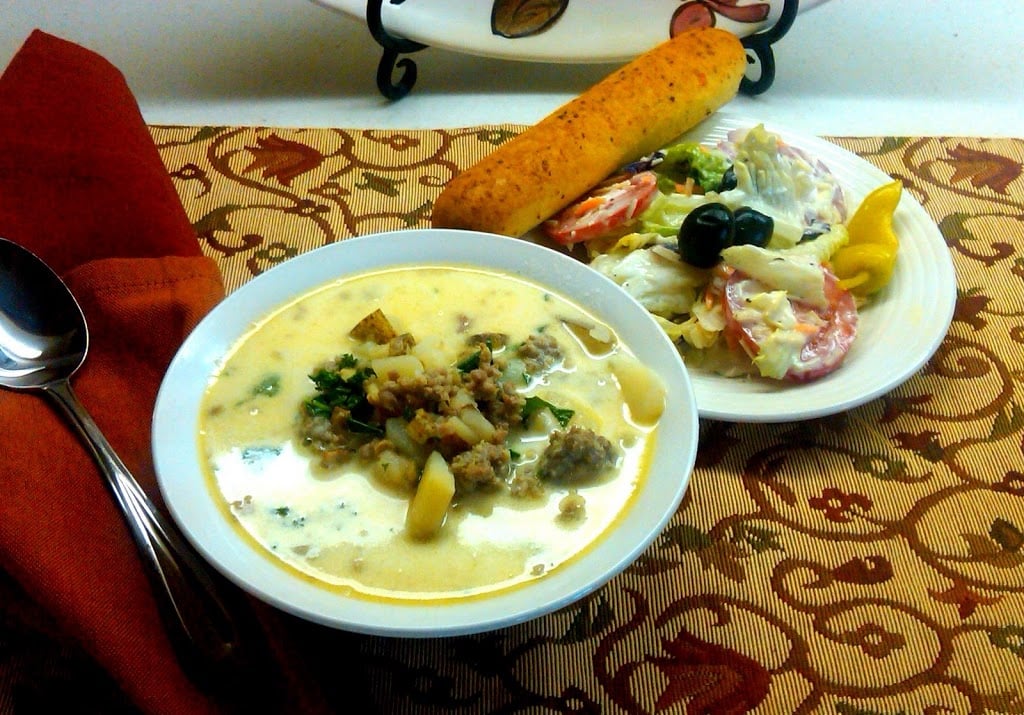 Olive Garden's Zuppa Toscana, Salad and Bread sticks
Who doesn't like the all you can eat soup, salad and bread sticks from the Olive Garden??
It's such an easy place for lunch, and it's always good!!
My niece and I used to go there quite a bit, and one time we tried the Zuppa Toscana
soup and it was so yummy!!
I had to figure out how to make it!
If you ever want to make something that you have had a restaurant, the site you need to check is copy kat recipes. Thank God for google, I found it and use it A LOT.
So, that is where this recipe came from, copykatrecipes.com It's not mine, it's not theirs,
it's the Olive Garden's.
But I am going to share this with you.
And then you need to pass it on… get it?
for other copy kat recipes click
HERE
When you make this soup, you will be instantly hungry! From the moment the Italian sausage starts to brown with the red pepper flakes, to sauteing the onion, garlic and bacon, your tummy will begin to growl!
Fall has hit our area, and we are HUGE soup eaters. This rainy, cold and gloomy Monday just called for this body warming soup!
With the spiciness of the peppers and sausage to the creaminess of the broth, it's a match made in heaven… or at least the Olive Garden!
*~*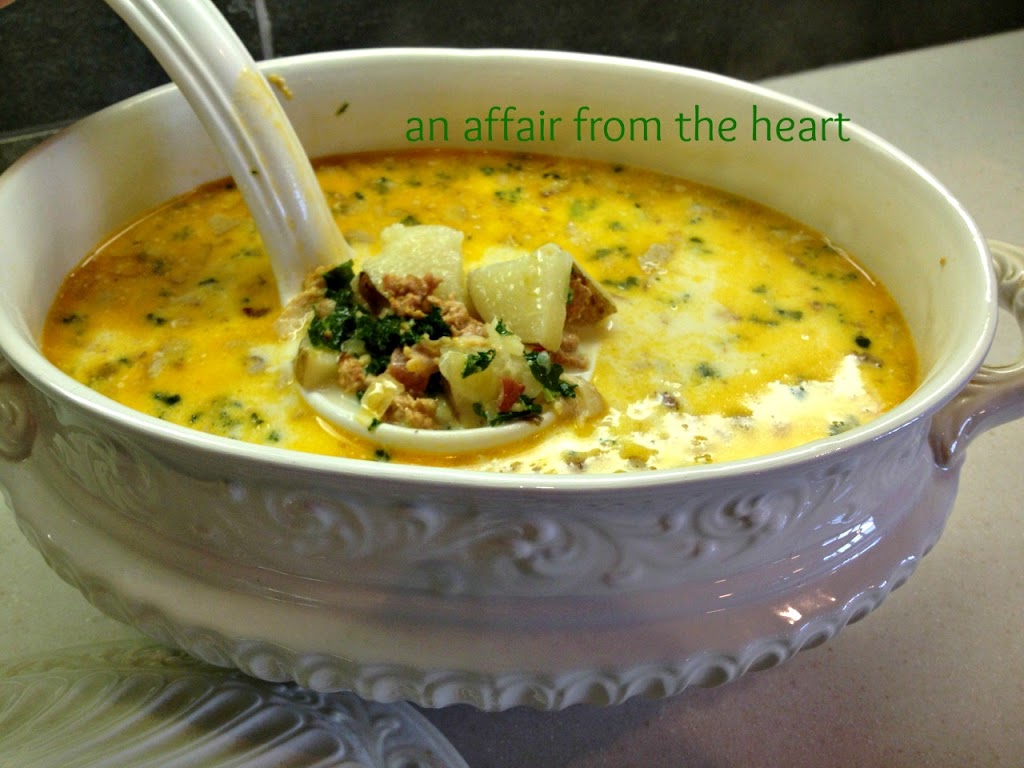 Olive Garden Salad Dressing
1/2 cup mayonnaise
1/3 cup white vinegar
1 teaspoon vegetable oil
2 tablespoon corn syrup
2 tablespoon Parmesan cheese
2 tablespoon Romano cheese
1/4 teaspoon garlic salt, or one clove garlic, minced
1/2 teaspoon Italian seasoning
1/2 teaspoon parsley flakes
1 tablespoon lemon juice
sugar (optional)
Place all ingredients in a blender until well mixed. If this is a little too tart for your own personal taste, add a little extra sugar. You can enjoy your Olive Garden salad dressing for about 10 days if stored in an airtight container in the refrigerator.
*~*
Olive Garden Salad
1 bag Dole American Blend Salad
4-5 slices red onion
4-6 black olives
2-4 pepperoncini (if you like a sweet pepper, you could use a banana pepper)
1/2 cup croutons
1 small tomato, quartered
freshly grated Romano cheese (Parmesan Cheese works well too!)
Chill one salad bowl in freezer for at least 30 minutes. Place bag of salad in bowl. Place on top of the lettuce the red onion, black olives, pepperoncinis, tomatoes, and croutons. Add some freshly grated Parmesan cheese if you like, and add plenty of Olive Garden Salad Dressing on top.
Yield: 6-8 servings
Olive Garden Night at Home! Copy Cat: Zuppa Toscana, Olive Garden Salad & Dressing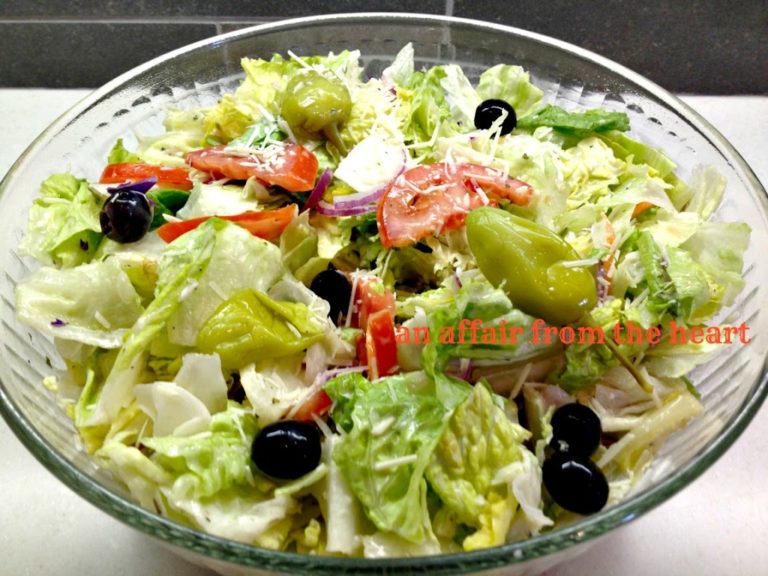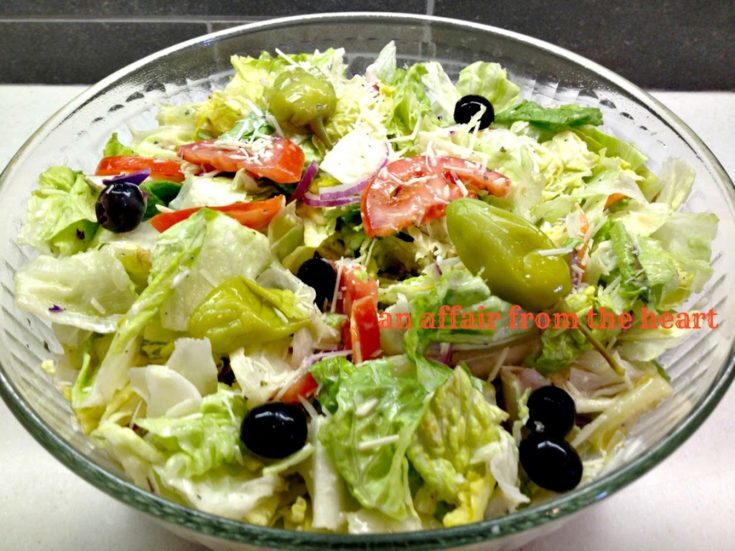 Olive Garden's classic Zuppa Toscana
Cook Time
1 hour
10 minutes
Total Time
1 hour
15 minutes
Ingredients
1 lb ground Italian sausage
1½ tsp crushed red peppers
1 large diced white onion
4 Tbsp bacon pieces (I bought the REAL bacon pieces in the salad section, worked great and not as much grease)
2 tsp garlic puree
10 cups water
5 cubes of chicken bouillon
1 cup heavy cream
1 lb sliced Russet potatoes, or about 3 large potatoes (sliced with skins left on)
¼ of a bunch of kale chopped (I used my kitchen shears)
Instructions
Sauté Italian sausage and crushed red pepper in a large pot. Drain excess fat, refrigerate while you prepare other ingredients.
In the same pan, sauté bacon, onions and garlic for approximately 15 mins. or until the onions are soft.
Mix together the chicken bouillon and water, then add it to the onions, bacon and garlic. Cook until boiling.
Add potatoes and cook until soft, about half an hour.
Add heavy cream and cook until thoroughly heated.
Stir in the sausage.
Add kale just before serving.
Nutrition Information:
Yield:
8
Serving Size:
1
Amount Per Serving:
Calories:

519
Total Fat:

30g
Saturated Fat:

14g
Trans Fat:

0g
Unsaturated Fat:

17g
Cholesterol:

75mg
Sodium:

911mg
Carbohydrates:

44g
Fiber:

5g
Sugar:

6g
Protein:

20g
Nutrition isn't always accurate.

If you make this recipe, I'd love to know! Snap a picture, share the photo on social media with the hashtag #AnAffairFromTheHeart – I'd love to see what you made! – Michaela