Cincinnati Chili can be described as being chili, but it is a unique blend of spices and ground beef, cooked without beans, and typically served atop of a pile of spaghetti noodles with a heap of shredded cheese to finish it off. There is a chain of restaurants that serve it called Skyline Chili, and this recipe is a copycat of their famous unique chili.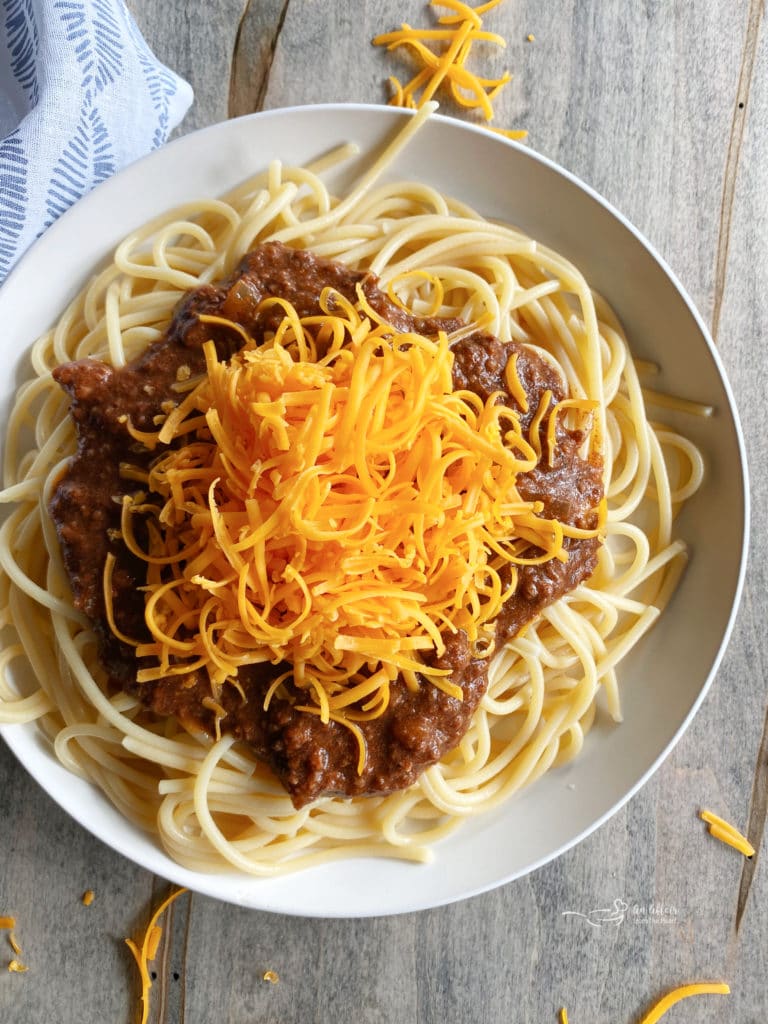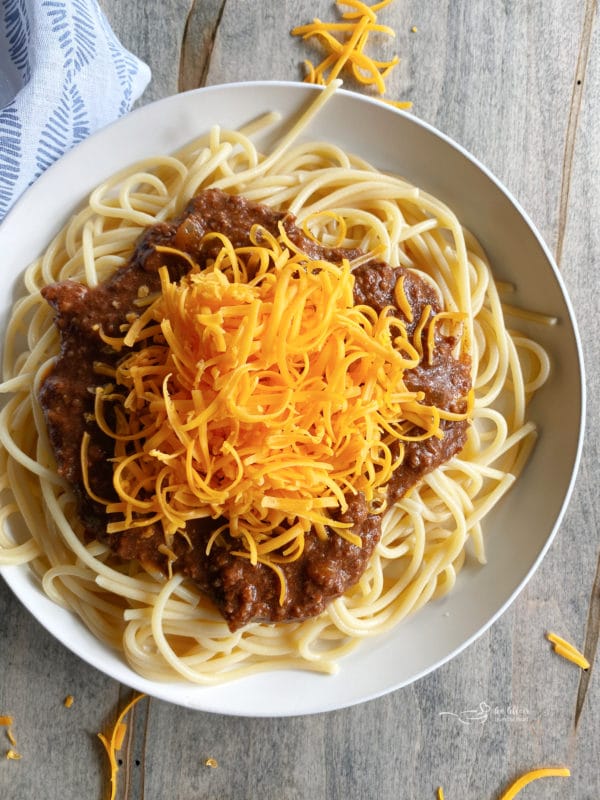 Did you know that October is National Chili Month? What kind of friend would I be if I didn't share a new chili recipe with you this month? Cincinnati Chili is unique, and I have always wanted to post a Cincinnati Chili recipe on my website, but I wanted to make sure I got it right. The real thing, like really authentic. So I messaged our friend, Joe, that lives in the Cincinnati area to see if he had a tried and true recipe he could share with me.
He told me, "I don't need one."
Thinking to myself, "that doesn't really help me much, Joe." He went on to say that he doesn't need one, because they always go to
Skyline Chili
when they crave it, because it's the best around. So now I had a starting point. But we don't have chili parlors where we live, so it was time to do some research. I started my research and this is the
copycat Skyline Chili Recipe
that we found to be as close to their secret recipe as possible.

Where Is A Skyline Chili Near Me?
The original Skyline Cincinnati chili recipe is actually a very well guarded secret. In fact, not even the Skyline franchisees know the recipe. So this required some serious detective work. There are those quiet and mysterious websites I went to in far-flung corners of the internet to do a little digging…
I wasn't going to let this one go. Only the real deal. To make it authentic. But if you want the original, then you can find one of the franchises around the country. Since there isn't one close to me, deciphering the clues of the recipe was my only option. With my husband, who has been to Skyline Chili, as my taste tester, I feel like this is a really close copycat! And if you have never eaten at Skyline Chili – then you'll just cue in those taste buds for a really great plateful of Cincinnati Style Chili!

What is Cincinnati chili?
Yes, there are people who deny Skyline chili is in fact chili. Haters always going to hate as they say. The last time I looked, and I will look again just for good measure, the recipe includes meat and chili powder. Sure, there are plenty of other ingredients, and an unusual blend of spices in there as well. But those just make it interesting chili.
So, sure, it is a bit soupier than traditional chili, and it doesn't include beans unless you wish to add them. It is often served over spaghetti, but yes, it is still chili. Call it spaghetti chili, if you like.

AUTHENTIC HISTORY OF CINCINNATI CHILI
Why is it called Cincinnati Chili? Well, although the Cincinnati Chili recipe sounds like it was invented in Ohio, that might not be totally accurate. In fact, looking at the ingredients provides some clues. The original Skyline recipe was the brainstorm of its founder, who originally called Greece home. So, while Skyline certainly looks and smells like chili, the ingredients suggest a Mediterranean-style stew.
However, because the founder, Greek immigrants Nicholas Lambrinides, not only knew how to cook, he understood good marketing. Chili was popular at the time, so I am sure given the choice of convincing people to try Mediterranean stew vs. getting them to come in for "Ohio Chili," he kept things simple.
Since he could view the Cincy skyline from his restaurant, why not call it "Skyline Chili?" Yes, it had a ring to it.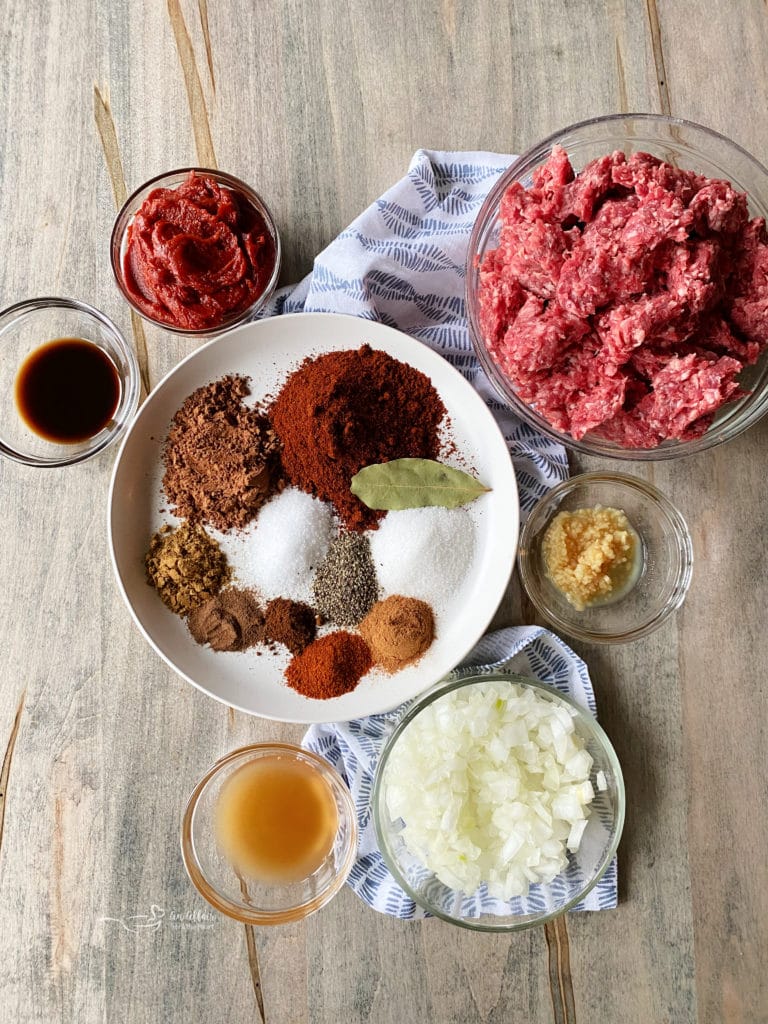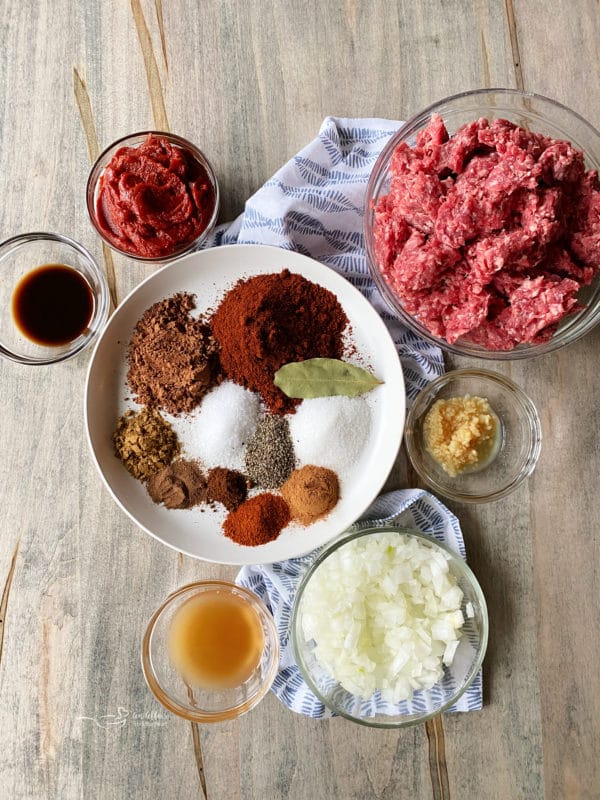 THE INGREDIENTS IN COPYCAT SKYLINE STYLE CINCINNATI CHILI
For the actual Cincinnati Chili, which is also known as "Ohio Chili," you need a few ingredients common to every chili. But, stay tuned, because there are also a few unusual ingredients in this great recipe!
FOR THE CHILI:
water
tomato paste – some prefer using tomato sauce, if you opt for it, omit the water.
ground beef – use lean ground beef
onion – white or yellow is fine
chili powder
apple cider vinegar
Worcestershire sauce
unsweetened cocoa powder – can also melt unsweetened chocolate
cinnamon
cumin
cayenne pepper – adjust to your liking of heat. My recipe is a bit on the spicier side.
allspice
cloves
garlic cloves
bay leaf
sugar or brown sugar
FOR SERVING:
Depending on how you are serving your Cincinnati chili, here are the serving toppings and options.
cheddar cheese – shredded cheddar cheese is not optional if you want authenticity.
diced raw onion – I used yellow onion, but if you prefer white onions or red onion, go for it!
red kidney beans
oyster crackers
spaghetti noodles
on top of a hot dog on steamed buns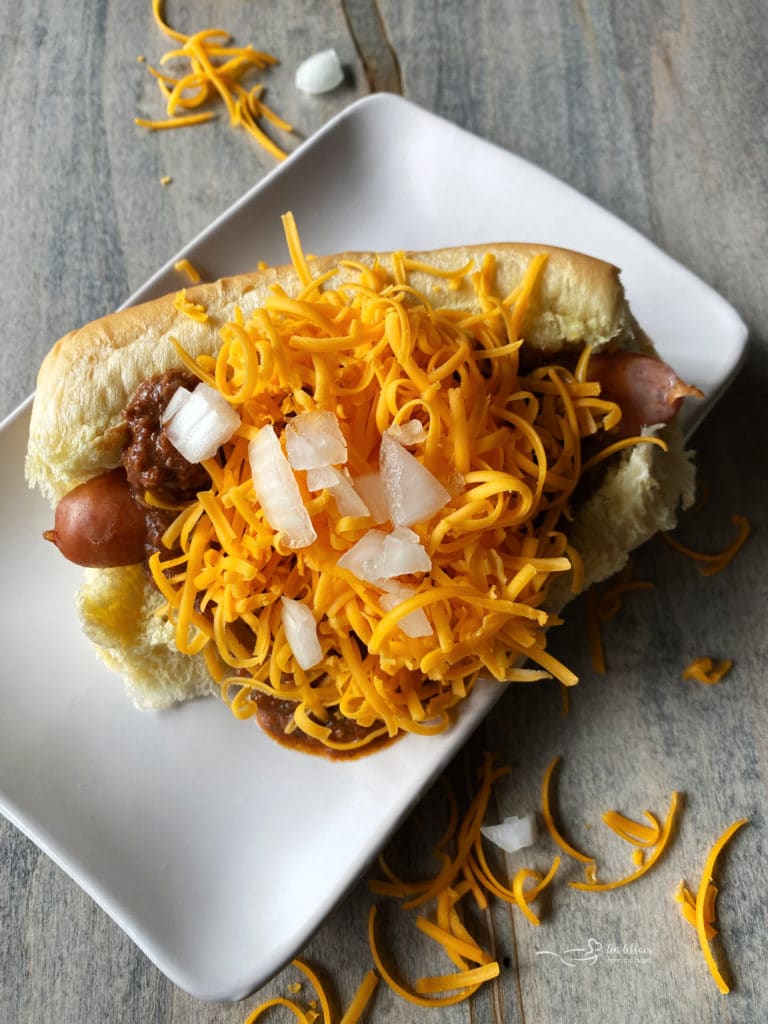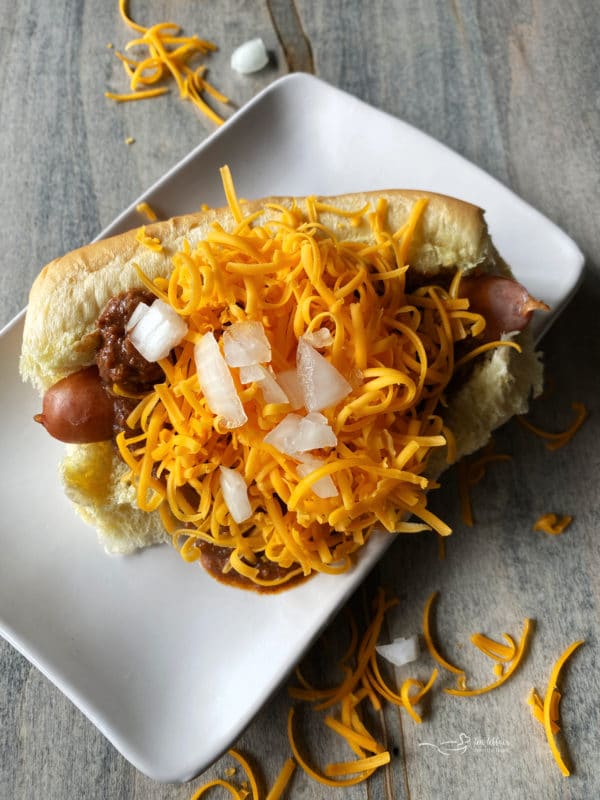 The two most popular ways to serve Skyline Cincinnati chili are over spaghetti noodles, and coney style. Which is hot dog + bun + chili + cheese, mustard + raw white onion option.
Make sure you steam those hot dog buns to make them warm and soft!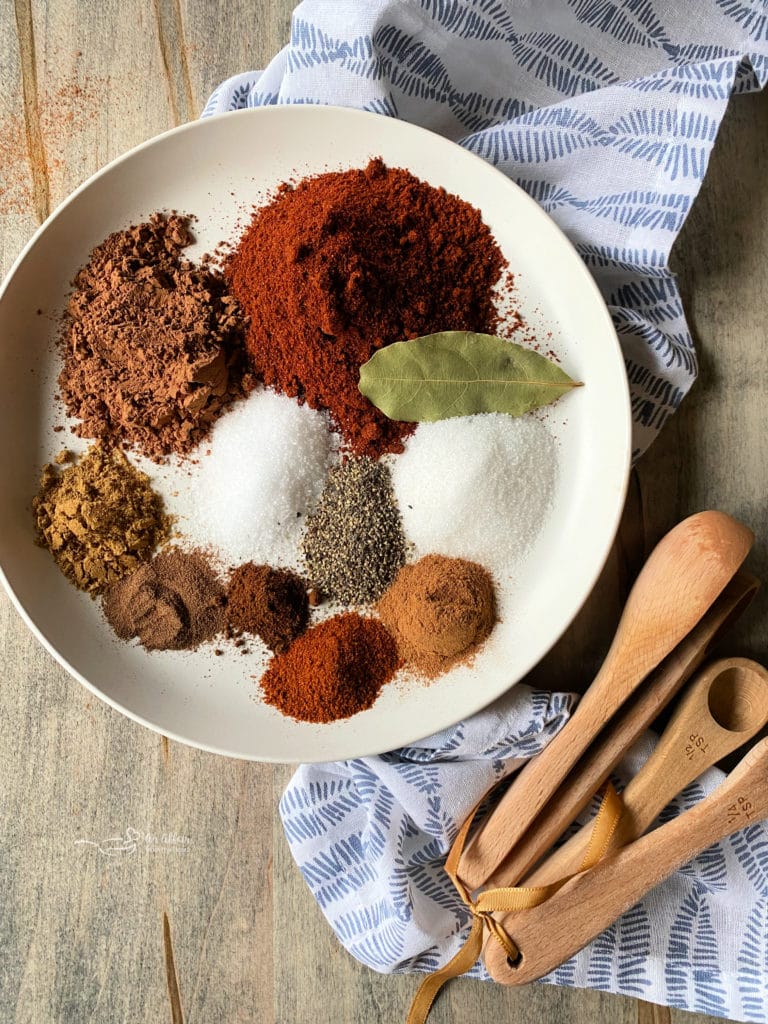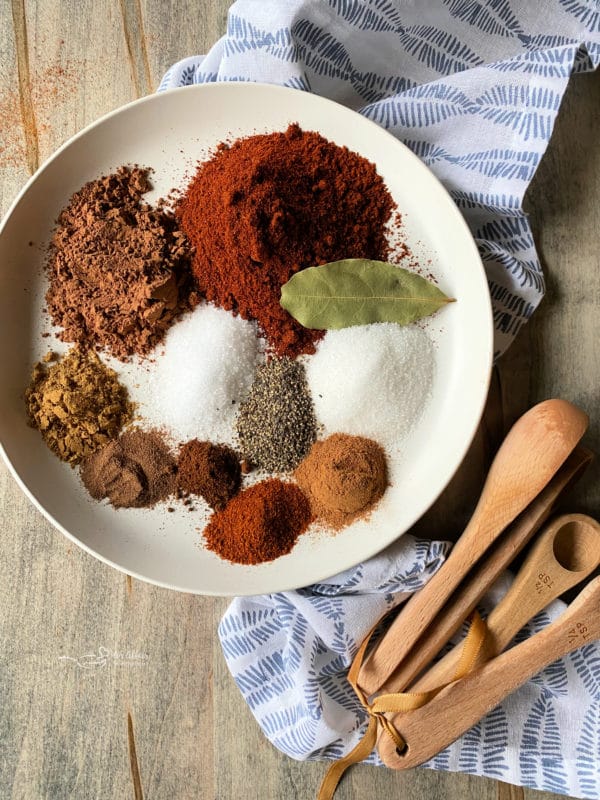 IS THERE CHOCOLATE IN THE CINCINNATI CHILI RECIPE?
There is! Cincinnati chili contains a sweetness that cuts the spicy/savory flavors of cumin and chili powder. The sweetness comes from cocoa powder or unsweetened chocolate, cinnamon, and a bit of sugar that are added in.
HOW TO MAKE CINCINNATI CHILI
Cincinnati-style chili benefits from low and slow cooking just like any other chili or stew recipe.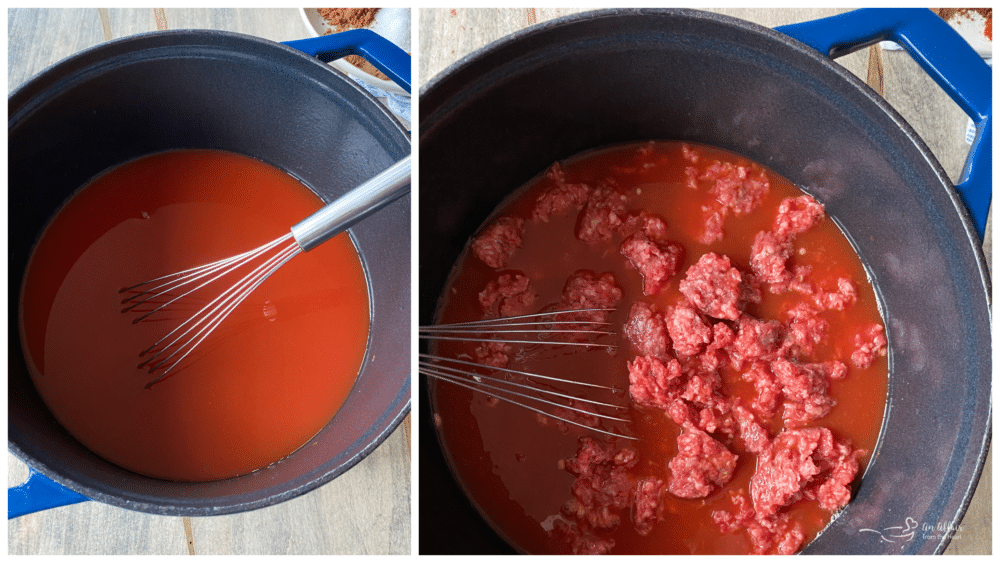 irst, In a large Dutch oven, whisk together water and tomato paste.
Add the raw ground beef to the mixture by breaking it apart and crumbling it with your fingers.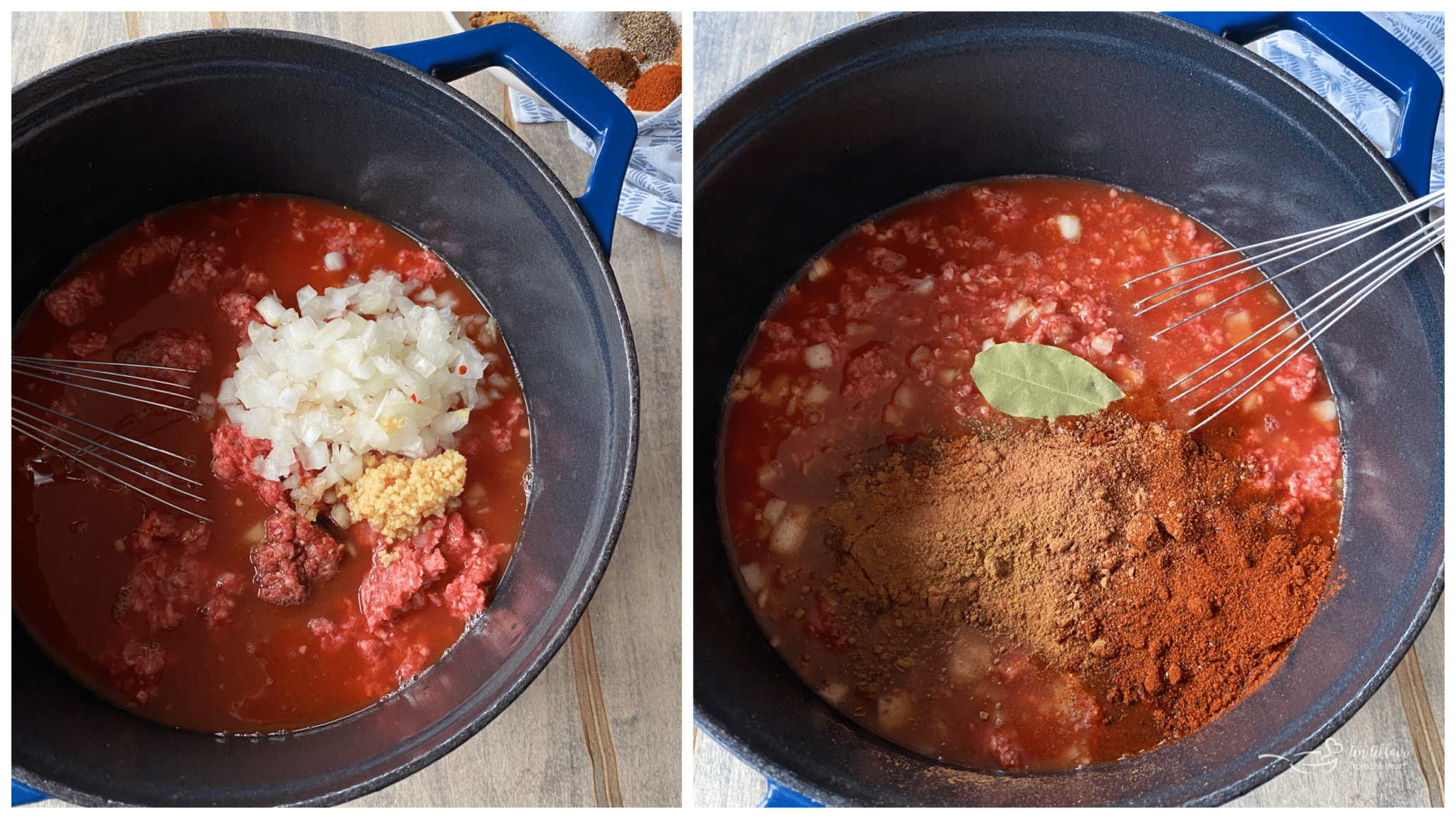 Next, add in all of the other ingredients, and stir to combine. Bring it to a boil and reduce the heat to a low simmer, cover the pot and let simmer for 2 hours, stirring occasionally.
Now, we wait. Remove the chili from the stove, and cool. Transfer the covered pot to the refrigerator, and chill overnight.
The next day, skim the grease from the top of the chili, before warming it to serve.
HOW TO SERVE CINCINNATI SKYLINE CHILI – 2 WAY, 3 WAY, 4 WAY, 5 WAY
Other unique aspects of Cincy Chili reflect in how you serve it. First off, beans are not in the chili. Those are served on the side or on top. Next, people in Ohio enjoy oyster crackers on their Cincinnati chili. A lot of grated cheddar cheese on top isn't too weird, but how about serving the Ohio chili on top of spaghetti noodles?
Pretty far out, right? But not if you are at the ballpark or the football stadium, or any of the other popular locations Skyline chili operates franchises. There, they will only look at you weird if you expect there to be beans in the chili rather than on top of it. And sure, some people order it in a bowl, but most often, it's over spaghetti, or atop hot dogs "coney style" with a whole lotta shredded cheddar cheese!
So, this combination of ingredients is popularly referred to as "2 way", "3 way", "4 way" and "5 way". And yes, I am sure there are plenty of funny looks whenever someone orders the 3 way. Let's just be adults here okay?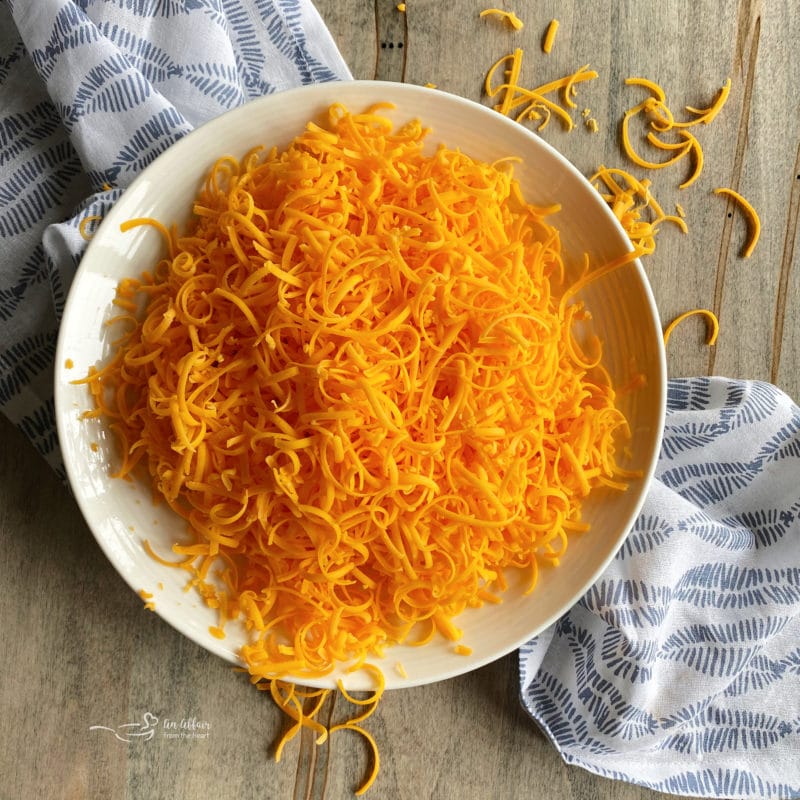 Why Should you Grate Your Own Cheese?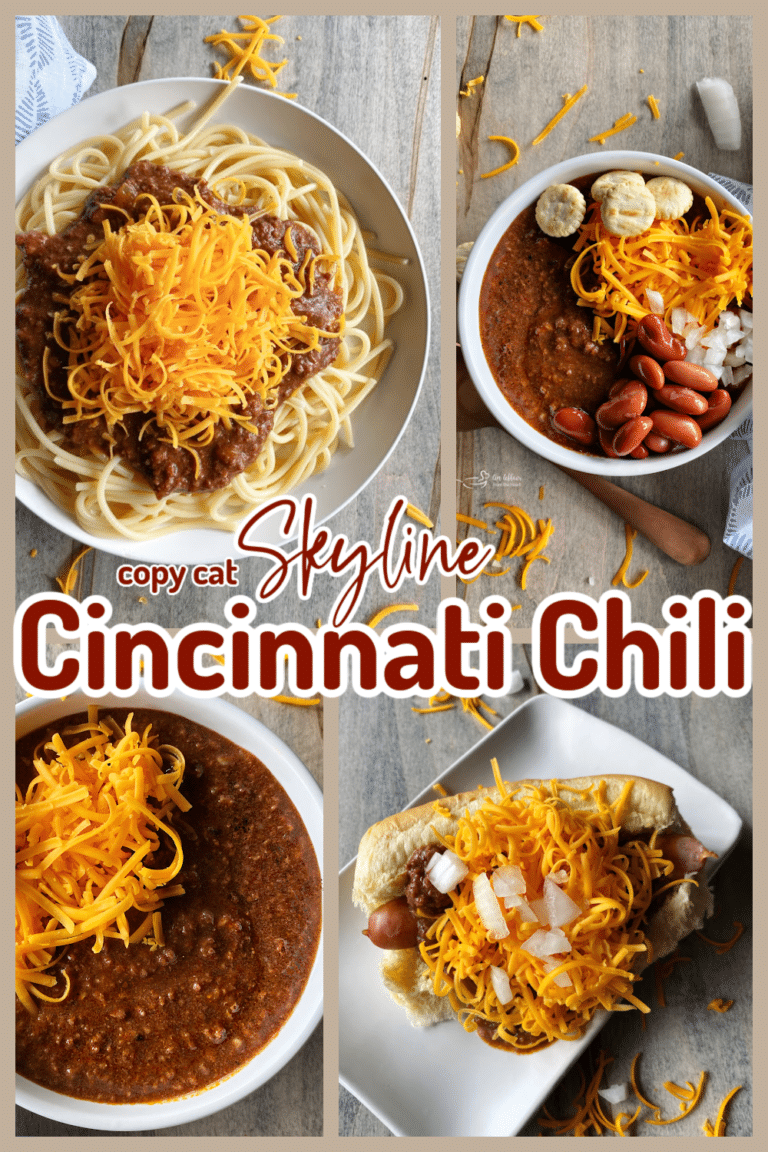 LOVE IT? PIN IT!
Can't wait to try this Copy Cat Skyline Cincinnati Chili recipe? Pin it to your favorite Pinterest recipe board before you go to find it easily!

More Chili Recipes To Check Out
I am participating in a chili cook-off today with some other blogger friends, you can find all of their delicious contributions at the bottom of this post. I have several chili recipes and recipes that use leftover chili, too, of my own right here on my website. Here are a few of my favorites: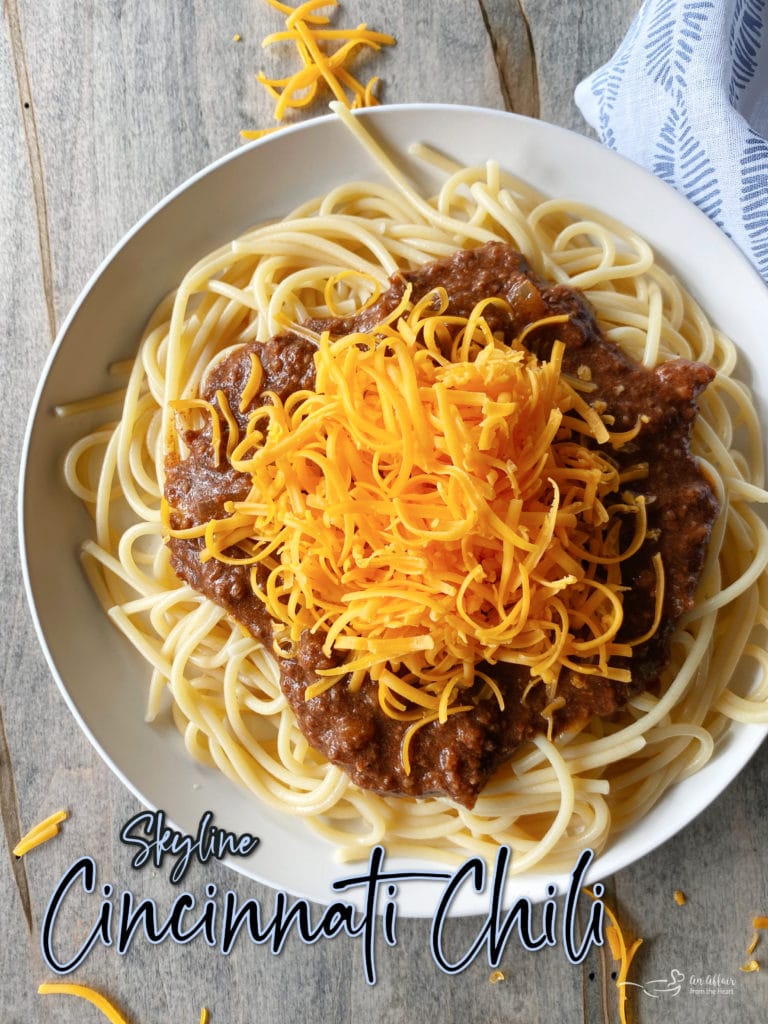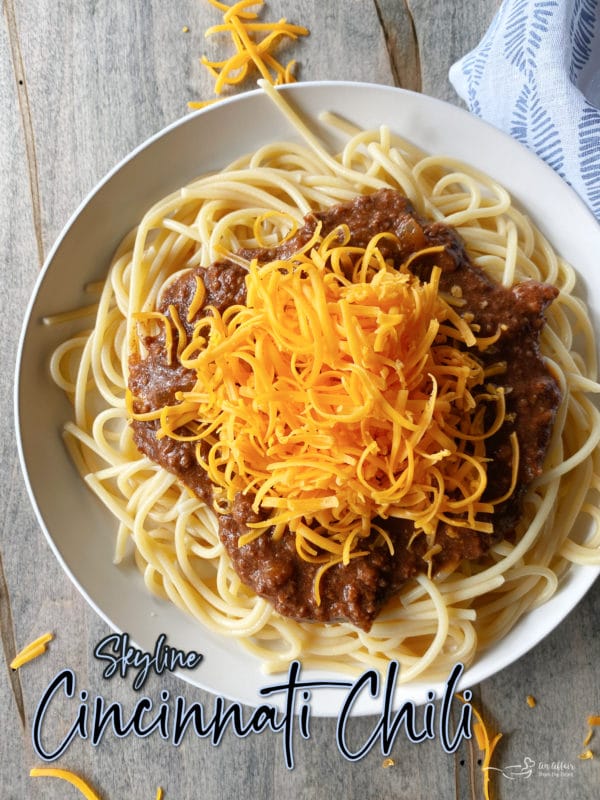 So the next time you have a craving for some chili, whip up the best chili: Cincinnati Chili, my friends!

Yield: 6-8
Cincinnati Chili (Skyline Chili Copycat)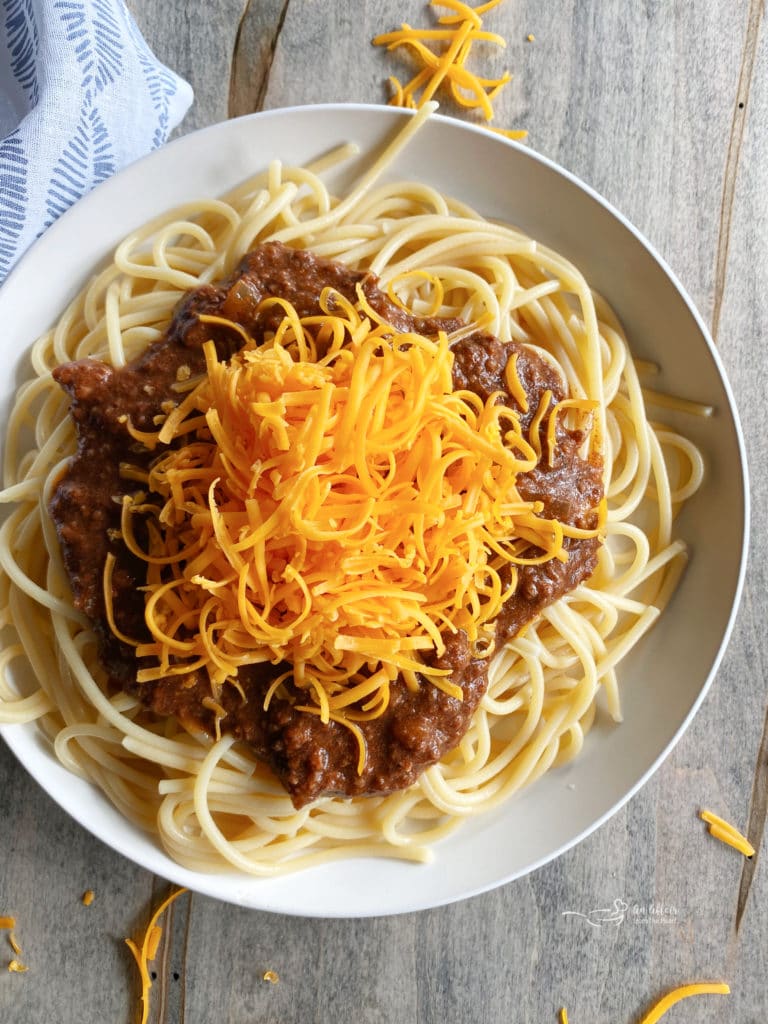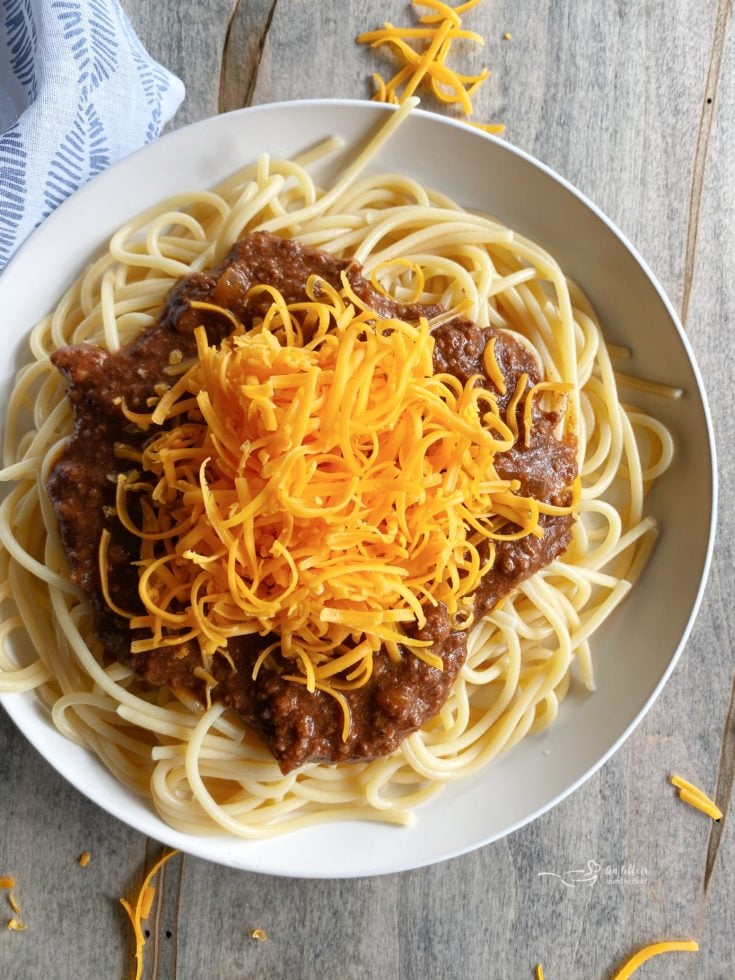 If you don't have a Skyline Chili near you and you are craving the comfort of an authentic Cincinnati Chili I have you covered with this Skyline Chili Copycat recipe!
Total Time
10 hours
10 minutes
Ingredients
1 1/2 pound lean ground beef
1 1/2 teaspoons salt
1/2 teaspoon black pepper
1 onion, diced
4 cups water
1 (6 ounce) can tomato paste
1/4 cup chili powder
2 Tablespoons apple cider vinegar
1 Tablespoon Worcestershire sauce
1 Tablespoon cocoa powder
1 teaspoon cinnamon
1 teaspoon cumin
1/2 teaspoon cayenne pepper
1/4 teaspoon allspice
1/4 teaspoon cloves
3 cloves garlic, minced
1 bay leaf
2 Tablespoons sugar or brown sugar
Toppings and Servings
Grated cheddar cheese, is a must. Other optional toppings are chopped onions, kidney beans, oyster crackers and hot chili sauce. Serve in a bowl, on a hot dog or on top of the spaghetti noodles. Optional side: a traditional Greek salad.
Instructions
In a large skillet or Dutch oven, whisk together water and tomato paste over medium-high heat.
Add the raw ground beef to the mixture by breaking it apart and crumbling it with your fingers.
Add in all of the other ingredients, and stir to combine. Bring it to a boil and reduce the heat to a low simmer, cover the pot and let simmer for 2 hours, stirring occasionally.
Remove the chili from the stove, and cool. Transfer the covered pot to the refrigerator, and chill overnight.
The next day, skim the grease from the top of the chili, before warming it to serve.
Notes
In a pinch, you can attempt to skim the grease from the top of the chili to serving it the same day, but I highly recommend refrigerating it overnight. It not only makes removing that grease easy, but it also does wonders for enhancing the flavor of the chili itself.
Chili leftovers can be stored in an airtight container in the fridge for 3 days, or frozen for up to 3 months.
To make this recipe in your slow cooker, simply follow the cooking instructions, using your crock pot and slow cook for 6 hours before refrigerating.
Recommended Products
As an Amazon Associate and member of other affiliate programs, I earn from qualifying purchases.
Nutrition Information:
Yield:
8
Serving Size:
1
Amount Per Serving:
Calories:

522
Total Fat:

31g
Saturated Fat:

12g
Trans Fat:

0g
Unsaturated Fat:

15g
Cholesterol:

115mg
Sodium:

1186mg
Carbohydrates:

24g
Fiber:

4g
Sugar:

7g
Protein:

37g
Please note that nutrition is not guaranteed accurate.
Welcome to our 2021 Chili Cook-Off!
October is Chili Cook-Off month! We have delicious recipes from across the country to get your chili-making to the next level of deliciousness!
#ChiliCookOff is an annual blogging event that is hosted by Ashley from Cheese Curd In Paradise

If you make this recipe, I'd love to know! Snap a picture, share the photo on social media with the hashtag #AnAffairFromTheHeart – I'd love to see what you made! – Michaela