Whatchamacallit Bar Recipe
As an Amazon Associate and member of other affiliate programs, I earn from qualifying purchases.
This recipe for Homemade Whatchamacallit Bars is knock your socks off good! A marshmallow peanut buttery Rice Krispy bottom, a layer of caramel, topped with melted chocolate chips. You'll have to save some for yourself or they will disappear before you can have one!
This is my homemade version of the Whatchamacallit bar. The Whatchamacallit candy bar was originally made by the great American chocolatiers, Hershey's Chocolate in 1978.
I guess the creative department was running out of ideas for what to call a new style of the chocolate bar so, they just stuck with "whatchamacallit."
I wonder how much they paid the person that sold them on that idea? No doubt, that took some creativity to convince everyone else what a good idea it would be to name something by a name you use when you can't remember what name to use.
SOME OF THE ITEMS BELOW CONTAIN AFFILIATE LINKS; I AM A PARTICIPANT IN THE AMAZON SERVICES LLC ASSOCIATES PROGRAM, AN AFFILIATE ADVERTISING PROGRAM DESIGNED TO PROVIDE A MEANS FOR US TO EARN FEES BY LINKING TO AMAZON.COM AND AFFILIATED SITES. I AM ALSO AN AFFILIATE FOR OTHER BRANDS. HOWEVER, I ONLY PROMOTE THINGS THAT I LOVE AND THINK YOU WILL LOVE, TOO. FOR MY ENTIRE DISCLOSURE POLICY PLEASE

CLICK HERE

.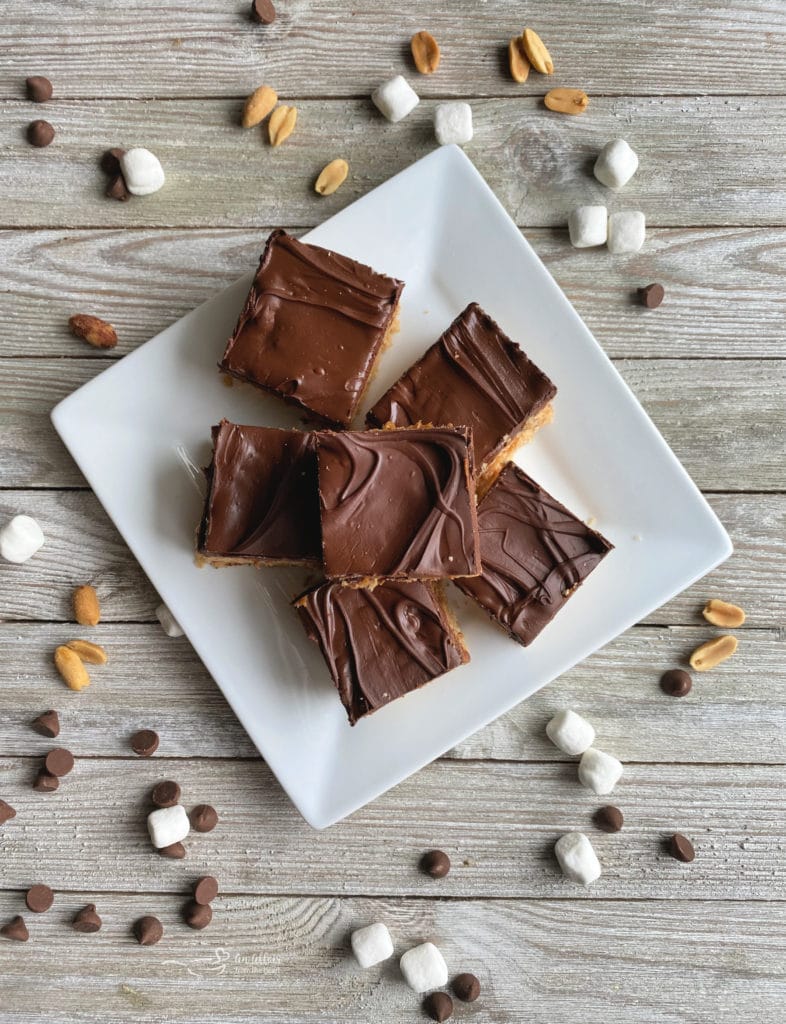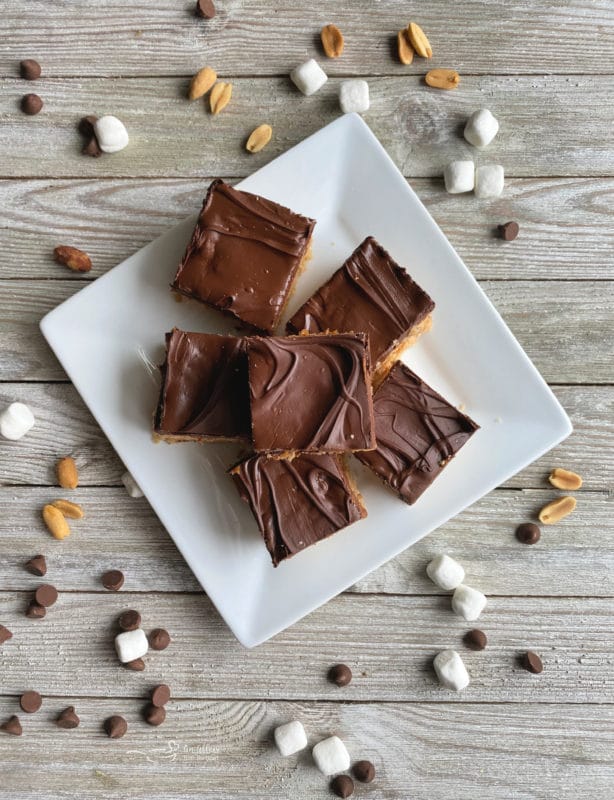 Homemade Whatchamacallit Bars
In 1978, when the original Whatchamacallit candy bar was released, the layer of caramel didn't exist. They added that in 1987.
My homemade Whatchamacallit bars build upon the timeless classic, the Rice Krispy Treat, by adding a layer of caramel over the marshmallow peanut butter Rice Krispy bar, then following that by a layer of melted chocolate on top.
You let everything cool, which is not cool… Because you really want to take a bite out of it right then and there!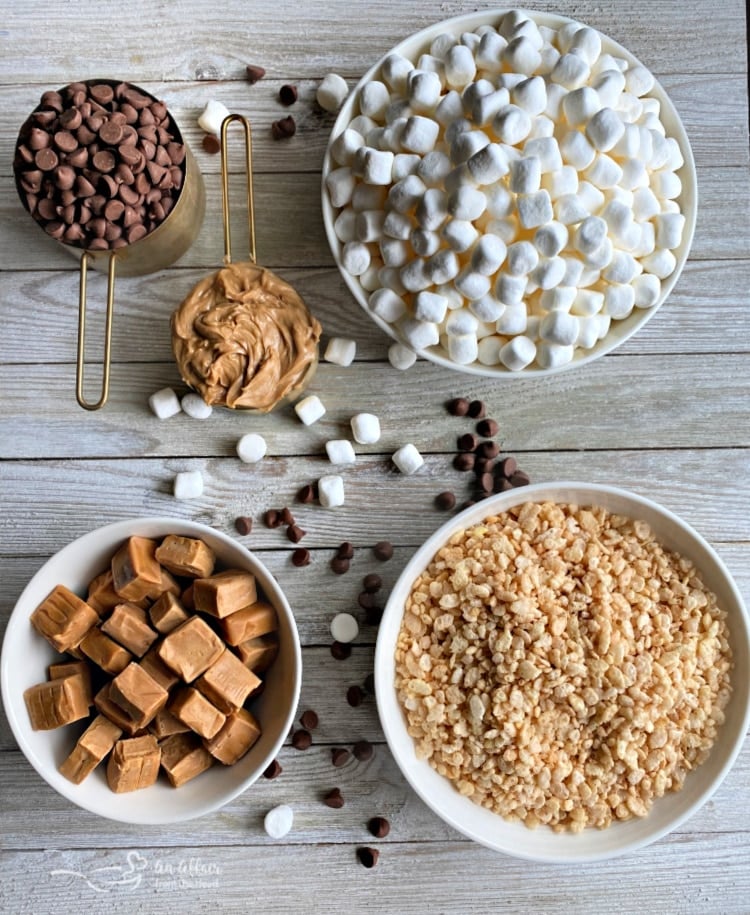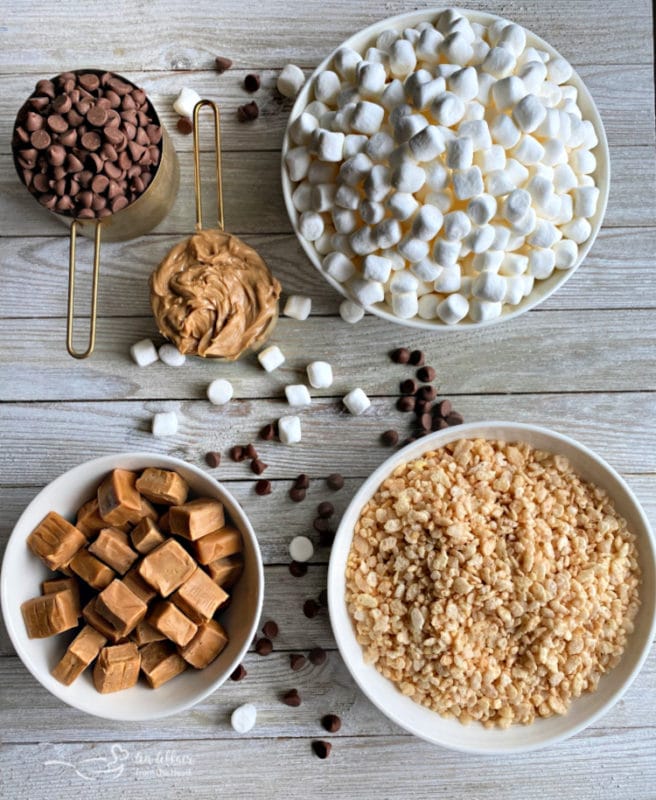 Rice Krispies
Rice Krispies definitely is the name brand standard for puffed rice. Of course, you can get generic brands, but Kelloggs Rice Krispies were the original.
Kelloggs invented them in the 1920s. Rice Krispy cereal is made by making a paste of rice and sugar, then rolling the doughy paste into rice-shaped kernels.
Those kernels are dried and toasted which causes them to puff up and become porous. (When milk is added, those hollow bubbles in the kernels go "snap, crackle, and pop"). If Rice Krispies were only good for cereal, the story would end there.
But we all know what happened next…
Rice Krispy Treats
A rare and talented genius of snacking created the melted marshmallow and puffed rice combination. I don't think there is a parent in the known universe that hasn't enjoyed making marshmallow rice crispy bars with their kids at one point in time or another.
It is so easy and you can have so much fun. There are about a million ways to get creative with it too. If you haven't tried it yet, then maybe making a whatchamacallit treat is the way to dive into it!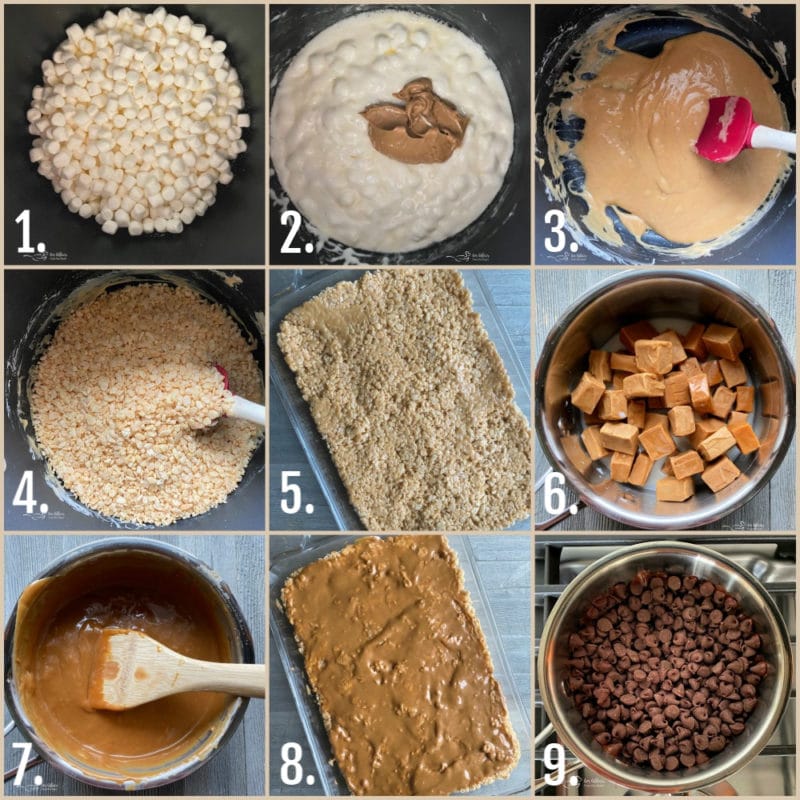 Easy Steps to Making Whatchamacallit Bars at home
1. Melt butter in a large pan on the stove. Add in marshmallows and stir until melty. 2. Add peanut butter to marshmallows, stir to combine. 3. Then stir constantly for 3 minutes.
4. Remove from heat and stir in Rice Krispy cereal. 5. Press mixture evenly into the bottom of a 9×13 baking dish. 6. Melt caramels or caramel bits on the stove with milk.
7. Stir until smooth. 8. Spread caramel over the cereal. 9. Melt chocolate chips on the stove.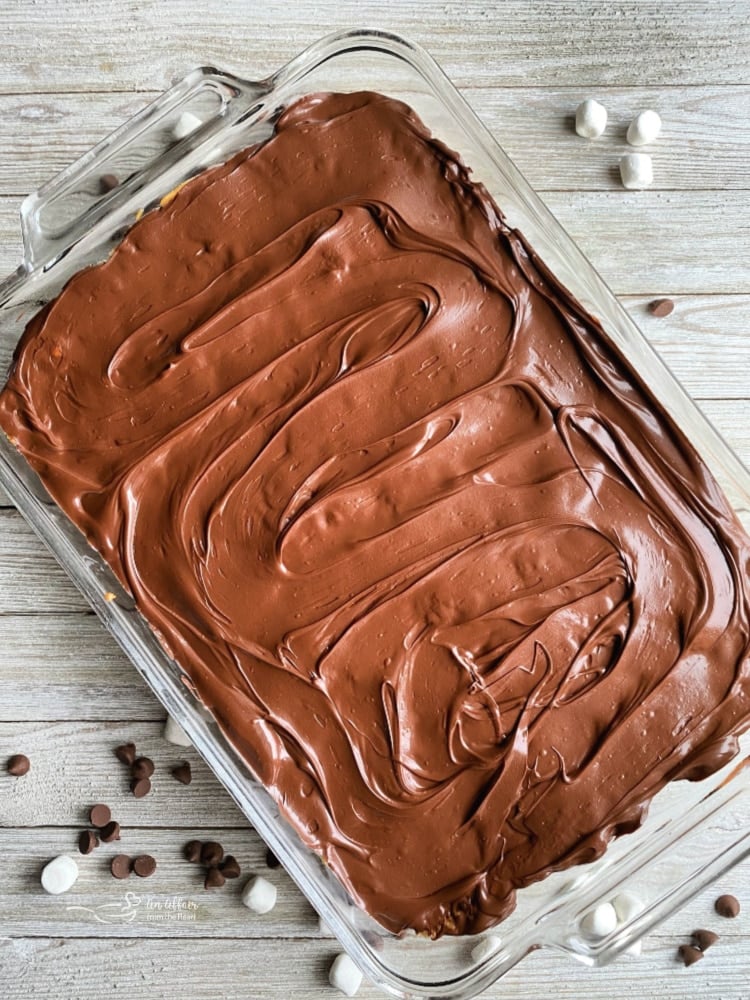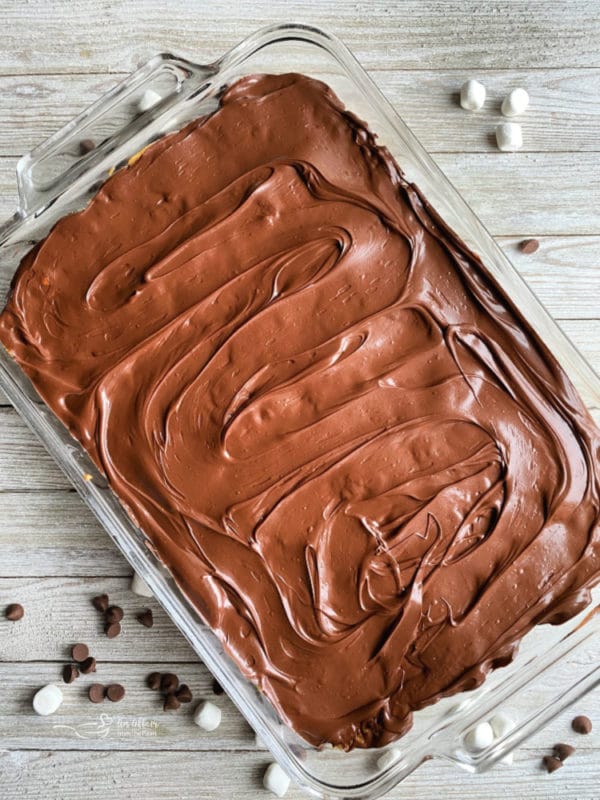 Lastly, "frost" the bars with the melted chocolate. Chill in the fridge for about 30 minutes to let the chocolate set before cutting into squares.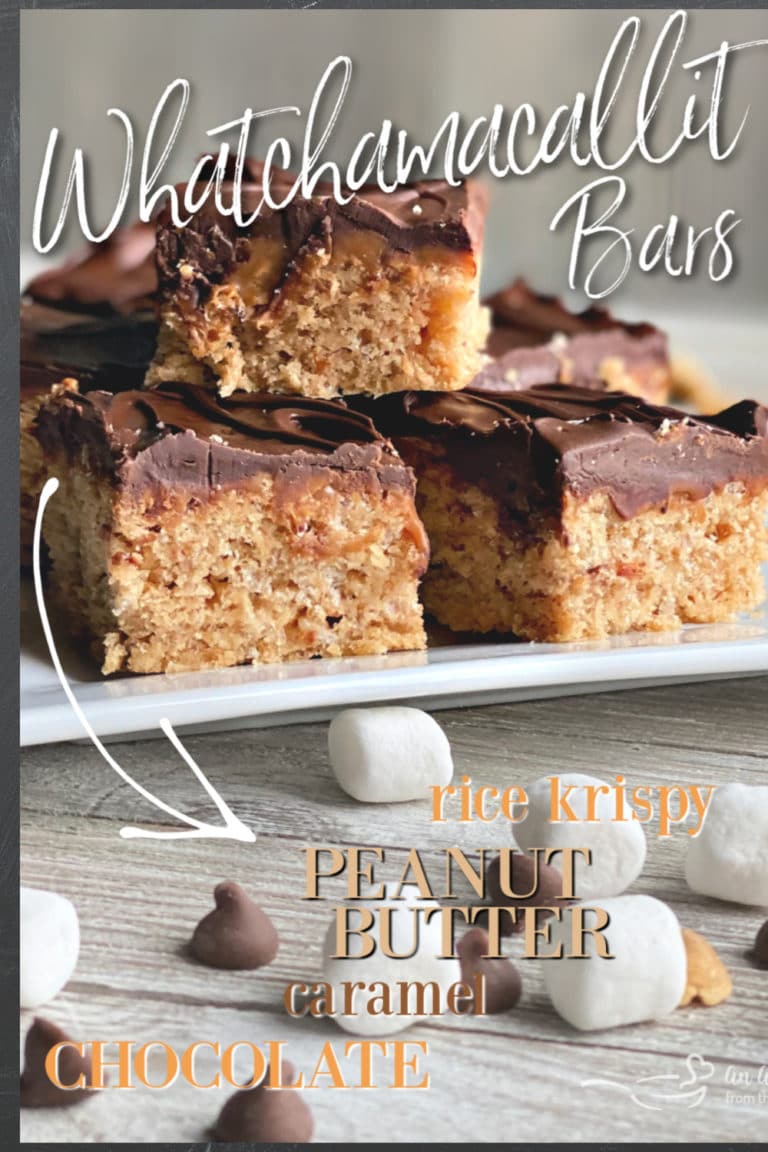 Love them? Pin them!
If you love these, and can't wait to make them, don't forget to pin them to your favorite Pinterest board so you can find them again! It would be a shame if you lost this Homemade Whatchamacallit Bar Recipe, don't you think?

What Kind Of Chocolate Morsels To Use in Whatchamacallit Bars
You can find so many different types of chocolate morsels to melt for the chocolate topping. The choice really comes down to how you like your chocolate. Bittersweet, milk, dark chocolate, all are great and can work for the chocolate.
Of course, if you really want a Whatchamacallit bar to taste like the Hershey's version, then use Hershey's Chocolate Chips.
Typically, they are easy to find in the baking aisle, but I found that not to be true during a pandemic quarantine. Has anyone else noticed how scarce the baking aisles are??
I used what I had on hand for these bars and "frosted" mine with melted semi-sweet chocolate chips. Semi-sweet is my favorite, anyway!

What Is The Difference Between The Types Of Chocolate Chips?
There is dark, semi-sweet, bittersweet, milk, and even white chocolate, so what exactly is the difference?
Semi-sweet and bittersweet are really two types of dark chocolate. The difference between dark, semi, and bittersweet comes down to the ratio of cacao and sugar.
All dark chocolate also contains milk, but not enough to be considered milk chocolate. Milk chocolate has less cacao and more sugar as well as lots more milk.
White chocolate technically is not chocolate. Chocolate has to contain cocoa solids to be real chocolate. White chocolate is the cocoa fats separated from cacao when processing the cocoa nibs to make chocolate. So it does not contain any cocoa nibs therefore it is not truly "chocolate".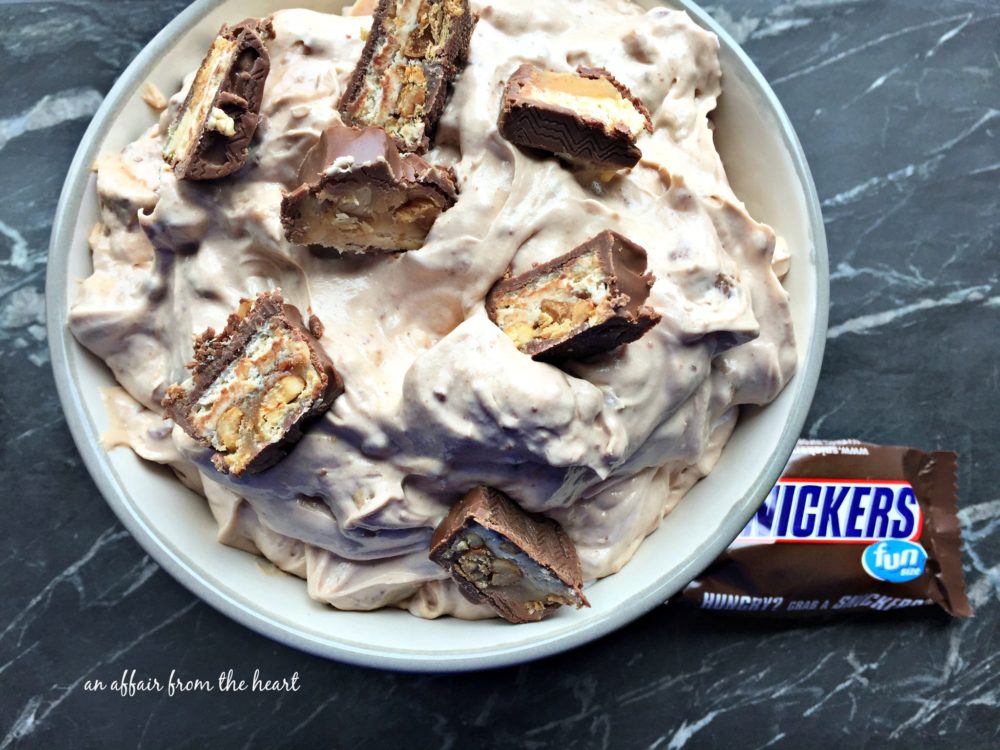 Other Candy Bar Inspired Recipes
Over the years I have acquired quite a few recipes inspired by or that use candy bars. I thought I would share them here for you!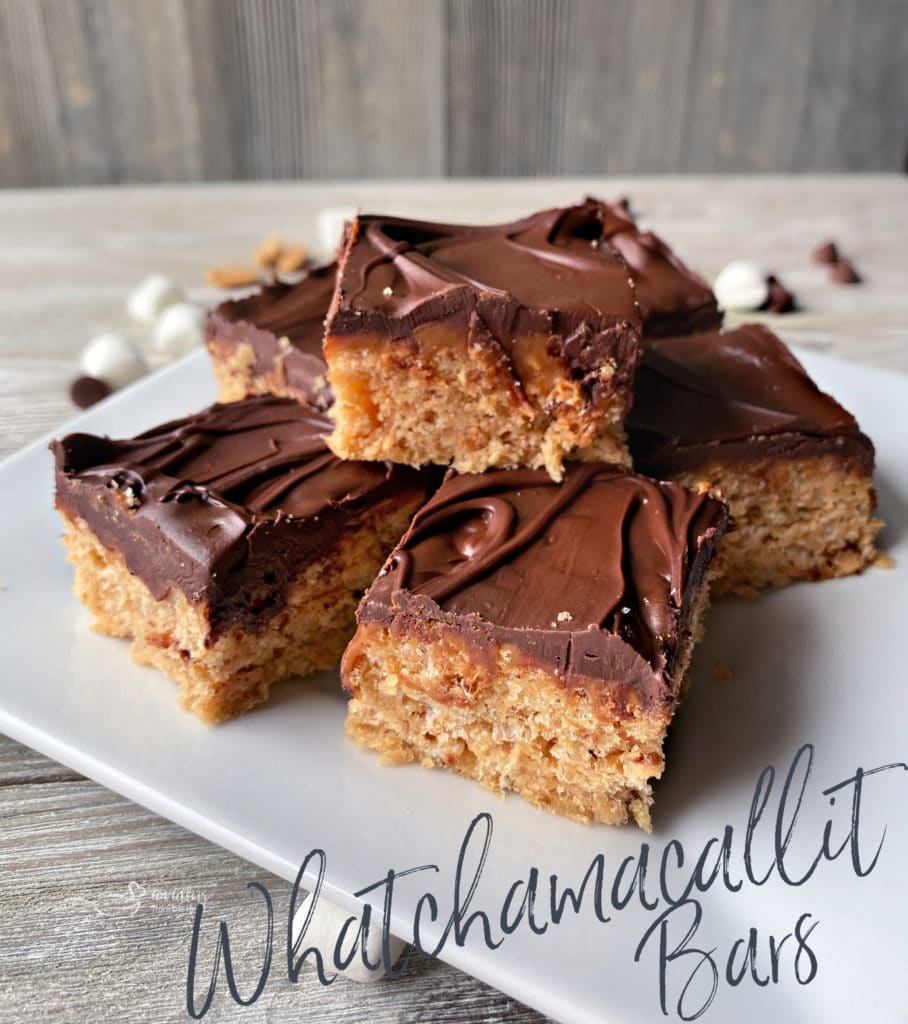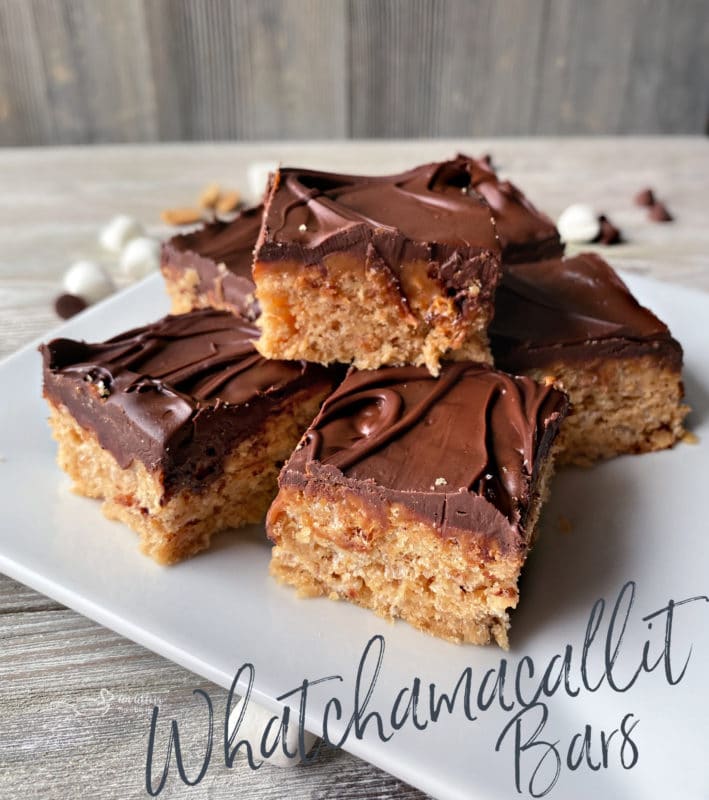 Time to get to the recipe so we can sink our teeth into one (or three!) of these Whatchamacallit Bars!

Yield: 9x13 pan
Whatchamacallit Bar Recipe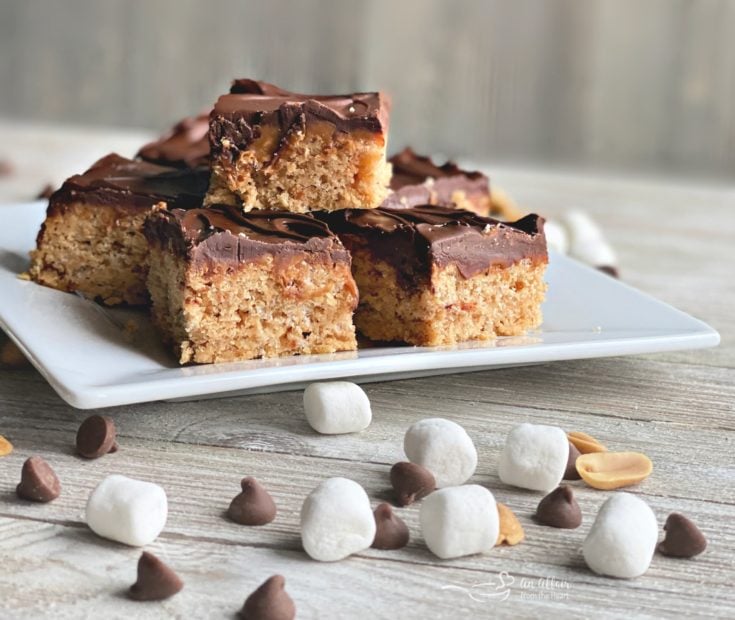 This recipe for Homemade Whatchamacallit Bars is knock your socks off good! A marshmallow peanut buttery rice Krispy bottom, a layer of caramel, topped with melted chocolate chips. You'll have to save some for yourself or they will disappear before you can have one!
Additional Time
30 minutes
Ingredients
1/4 cup butter
1 (10 ounce) package of marshmallows
1/2 cup creamy peanut butter
6 cups Rice Krispies cereal
11 ounces caramels
2 Tablespoons milk
1 1/4 cup chocolate chips (milk chocolate or semi-sweet are fine)
Instructions
Butter a 9x13 baking dish, or spray with non-stick cooking spray. Set aside.
In a large saucepan over medium heat, melt butter. Add in marshmallows and stir into butter until melted.
Reduce heat to low, and stir in peanut butter. Cook for 3 minutes, stirring constantly.
Remove from heat, stir in rice Krispies. Once incorporated and cereal is evenly covered, press evenly into the bottom of a prepared 9x13 baking dish.
In a saucepan over medium heat, melt caramels and milk, stirring frequently, until smooth.
Remove from heat and pour over Rice Krispy mixture, spreading evenly.
In a saucepan over low heat, melt chocolate chips, stirring frequently until smooth.
Spread over the top of the caramel. Refrigerate until chocolate is set. About 30 minutes.
Cut into squares for serving.
Notes
I prefer to use the caramel bits in the baking aisle, but I didn't have any this day. So I weighed out the same amount of caramel candies and it worked just fine. You may need to add a little bit more milk with the larger caramel candies while it's melting.
Recommended Products
As an Amazon Associate and member of other affiliate programs, I earn from qualifying purchases.
Nutrition Information:
Yield:
20
Serving Size:
1
Amount Per Serving:
Calories:

204
Total Fat:

10g
Saturated Fat:

4g
Trans Fat:

0g
Unsaturated Fat:

5g
Cholesterol:

7mg
Sodium:

133mg
Carbohydrates:

28g
Fiber:

1g
Sugar:

18g
Protein:

3g
Nutrition isn't guaranteed accurate.