Snicker Apple Salad
As an Amazon Associate and member of other affiliate programs, I earn from qualifying purchases.
Apple season is here and this 3-ingredient Snicker Apple Salad needs to grace your table soon. Crisp apples, fluffy Cool Whip, and Snickers candy bars all mingle together in the most delicious way. Whip up a batch in a matter of minutes and watch this sweet salad disappear!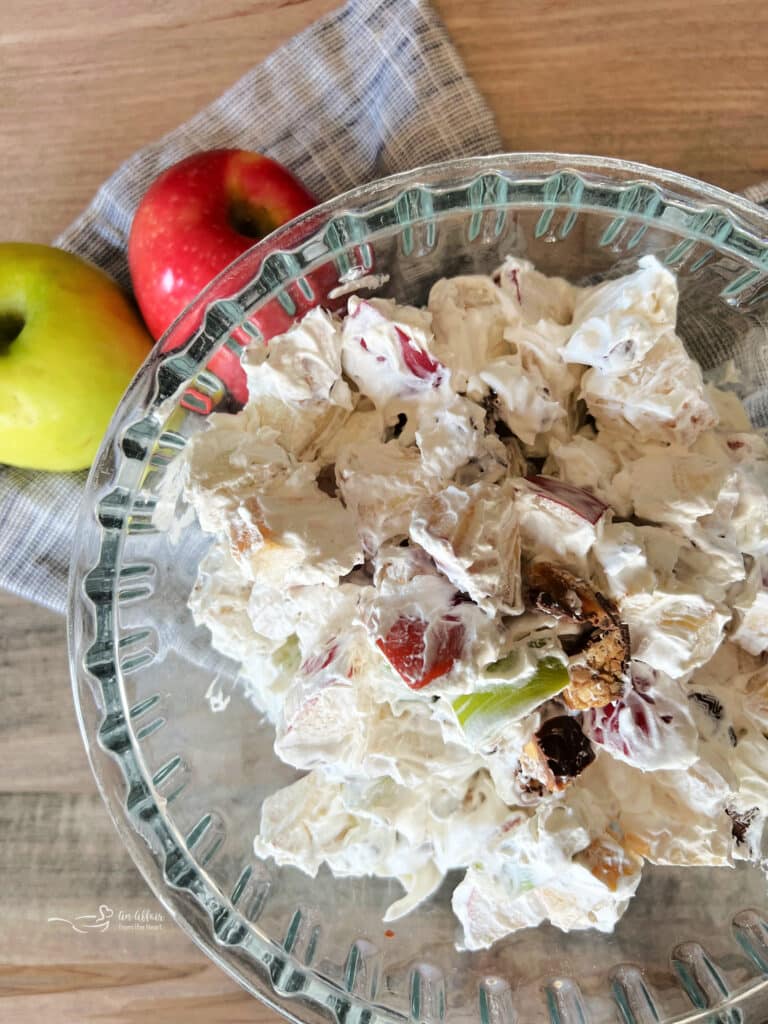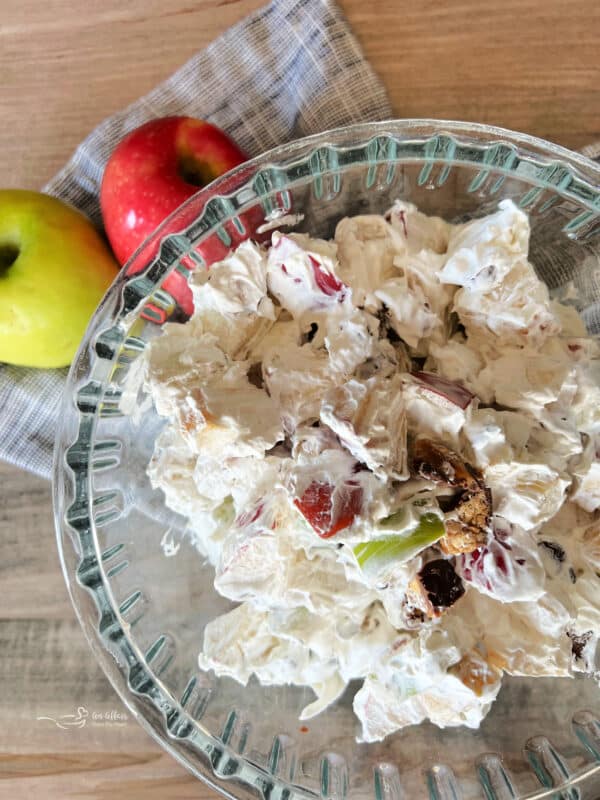 When I was a kid, apple salad was my brother's favorite salad. What kid wouldn't love a salad with Cool Whip, right? My mom always made it with just tart apples and Cool Whip which we thought was great. When I got married, I had my Mother-In-Law's candy bar apple salad, and it had Snicker Candy bars in it… SAY WHAT?!?
Snickers ranks as one of my top 3 favorite candy bars…and combining them with fresh fruit and Cool Whip and calling it a salad was Alright, Alright, Alright (insert Matthew McConaughey's voice here for full effect) in my book!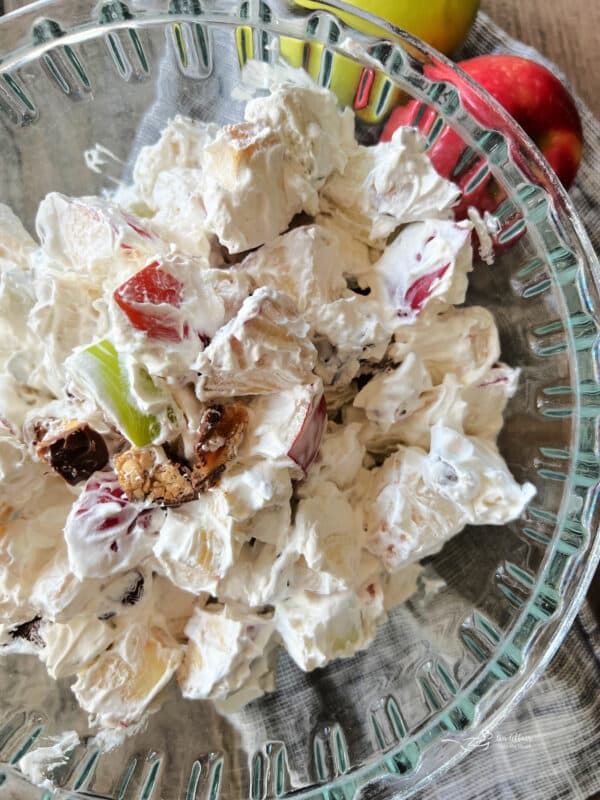 Why You'll Love This Apple and Snicker Salad Recipe
This easy recipe for Snicker apple salad is the perfect treat for family gatherings. It is also great for picnics and barbeques as a refreshing dessert or sweet side dish.
All About This Snicker Apple Salad Recipe
Snickers apple salad is a dessert salad traditionally made with Snickers bars, Granny Smith apples, and whipped cream or Cool Whip. Some versions have whipped cream or pudding. This delicious recipe for fruit salad is popular in the Upper Midwest states of the United States. It can also be known as a Caramel Apple Salad or a Snicker Salad.
It is similar in nature to a few other infamous fruit salad desserts like the Ambrosia salad and Watergate salad.

Is Snickers Salad a salad or dessert?
This is a good question! It really depends on how you like to serve it. You can serve it as a salad or side dish alongside your meal or you can serve it as a dessert after the main meal. It is a matter of personal preference.
My apple snickers salad recipe is a fun recipe for your next potluck, family gathering, or your next church event.

What are the Best Apples to Use in this Candy Bar Apple Salad Recipe
It's a personal preference really. I like to use a combination of both green and red apples. Granny Smith and Pink Lady are good-tasting and nice crunchy apples. I like that they are a bit more tart, and they counteract the sweetness of the candy bars and Cool Whip.
Use your favorite apple variety. There really isn't a right or wrong answer here.

Apple Snicker Salad Recipe Ingredients
diced apples – I like to leave the skin on, but you can peel them if you prefer to. I usually use both red and green apples.
Cool Whip – you can substitute whipped cream, but we always reach for the Cool Whip for this one.
Snicker candy bars – add more or less. You can measure them with your heart. ❤️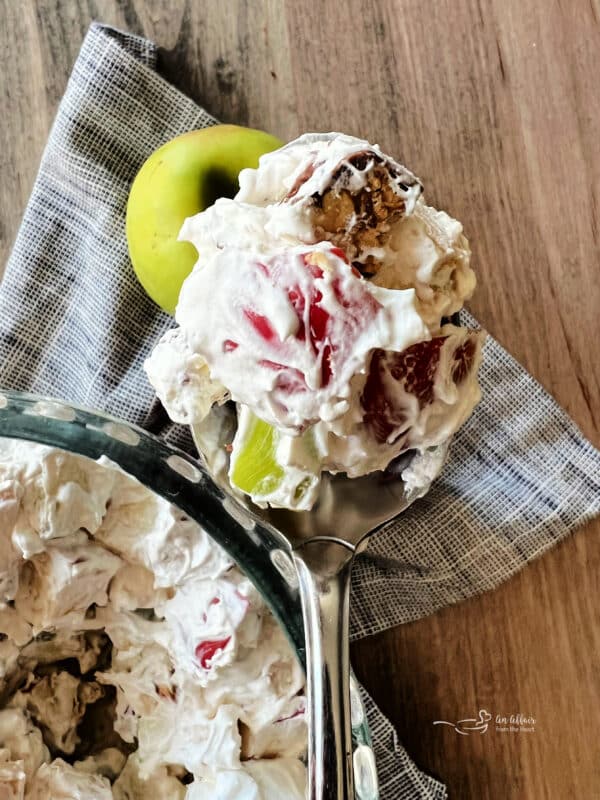 How To Make Apple Snicker salad
Step One: Wash, core, and dice apples.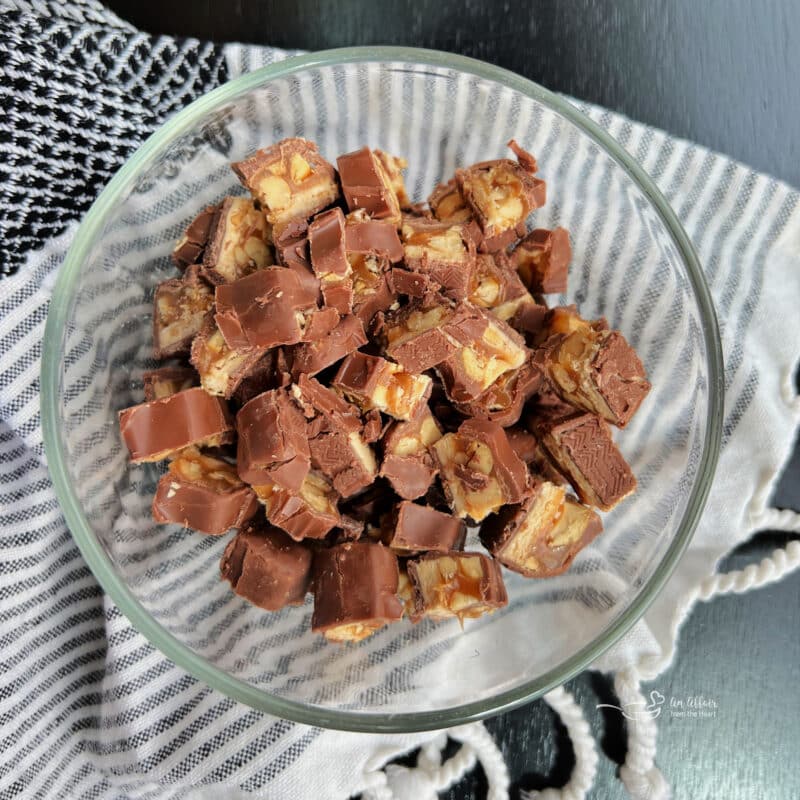 Step Two: Chop the Snickers bars. I cut mine into larger-sized pieces.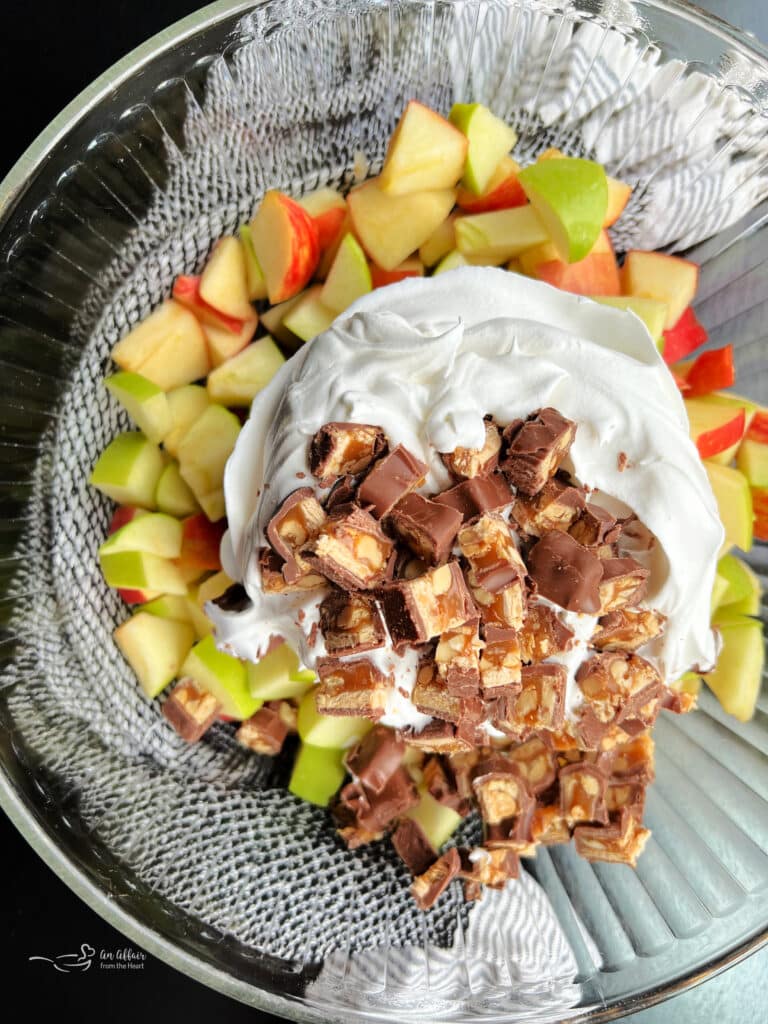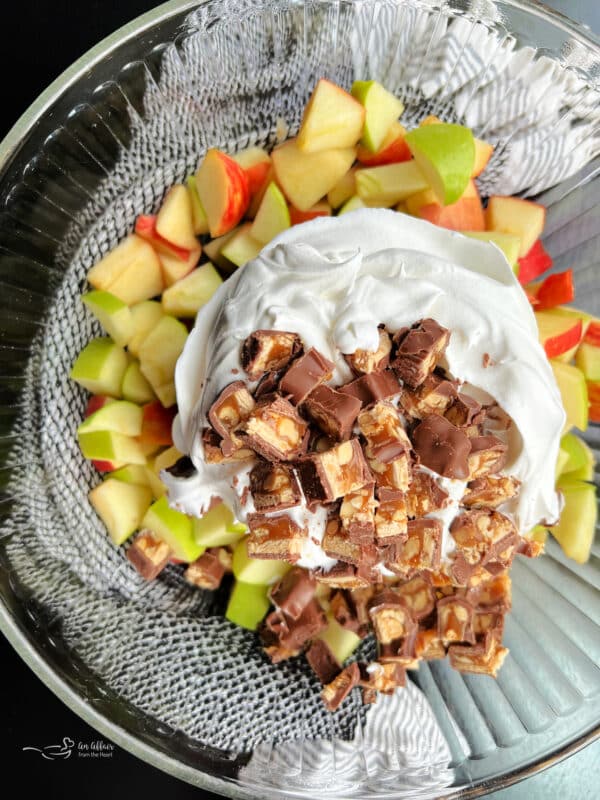 Step 3: Combine apples and candy bar pieces with Cool Whip and serve.

Love it? Pin it!
If you can't wait to make this apple salad recipe, make sure you can find it. Pin it to your favorite Pinterest recipe board before you go!
Snicker Caramel Apple Salad Variations
Use pears instead of apples or use a combination of both.
Use whipped cream instead of Cool Whip
Add nuts or seeds to the salad, toast them beforehand to enhance their flavor
Throw in some dried fruit like raisins or cranberries
Add a sprinkle of cinnamon or a drop of vanilla to the Cool Whip
Drizzle with chocolate or caramel sauce
Toss in chocolate or butterscotch chips
Add mini marshmallows
Snickers Salad Tips & Tricks
If you are making this salad in advance, drizzle some lemon juice over the diced apples so they don't turn brown. Try to keep the apples separate just until you are ready to serve the salad so the apples don't release any moisture into the salad which will change the texture and make the salad a little more watery.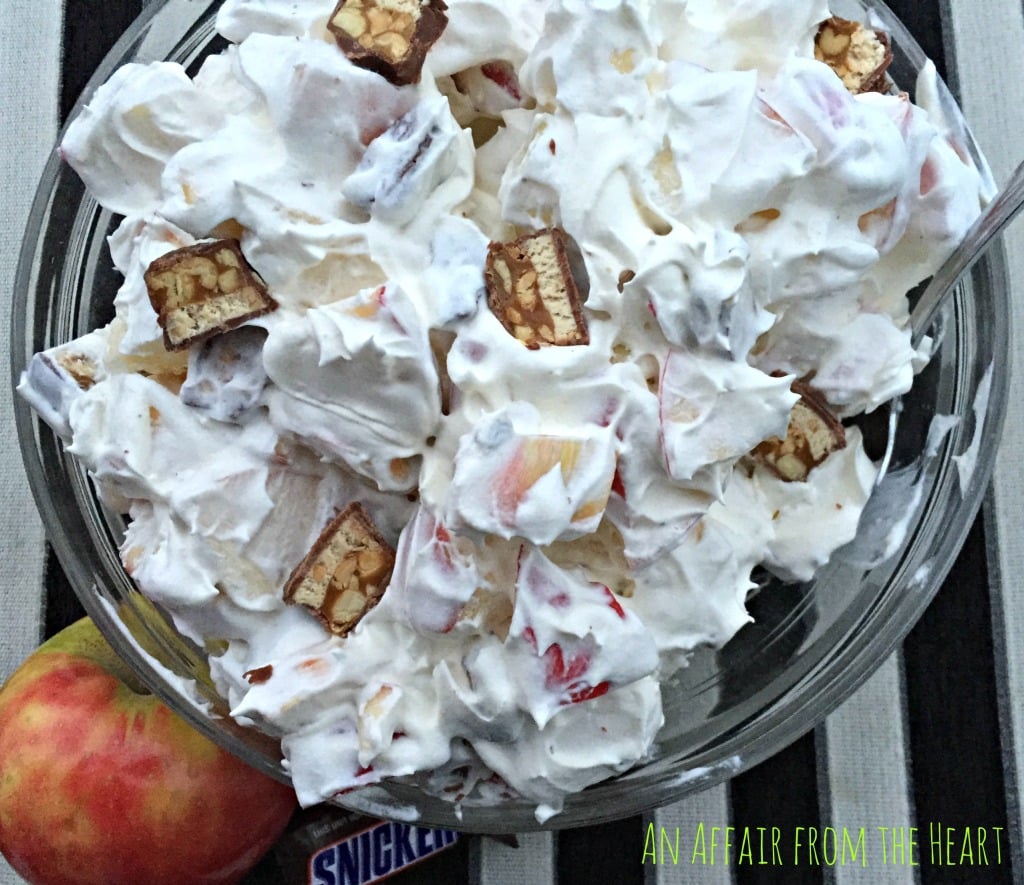 How to Store Snicker Apple Salad
You can store this salad in an airtight container in the fridge for about 3 days though the apples may start to turn brown and the salad may get a bit watery. It will still taste good but it may have a different texture.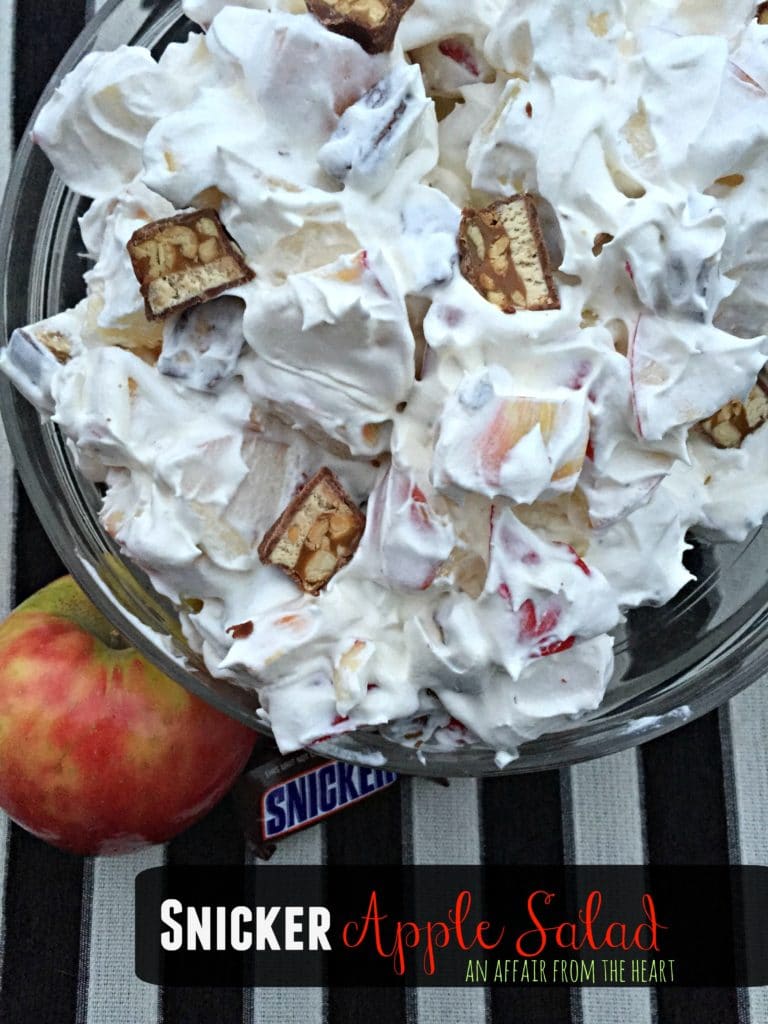 FAQs On Apple Snicker Salad
How do you make an apple Snicker salad? Apple snicker salad is very easy to make. Combined diced apples, Cool Whip and chopped Snickers bars and you've got yourself a 3 ingredient Snickers salad.
Do you peel apples for Snicker salad? The apples do not need to be peeled for this Snicker Apple salad but it is really your preference as to whether or not to peel them. If your gang isn't keen on apple peels then go ahead and peel them.
Can I use a different candy bar to make this apple salad? You most definitely can use a different candy bar for this Snicker apple caramel salad. There are all sorts of delicious candy bar options; Use Butterfingers, Milky Way, or your favorite candy bar.
Can I use any kind of apples to make this snicker apple salad? I typically use Granny smith apples but a red apple would also work. Which apple to use depends on how tart or sweet you like your apples. Granny Smith is usually tart but if you prefer you can use Fuji or Ambrosia apples which are sweeter.
Can I make this Snicker Apple Salad without pudding? If you search Snicker Apple Salad online you'll find slightly different variations of this recipe. Some call for vanilla pudding and some don't. I prefer to make it without but if pudding is your thing feel free to top your fruit salad with it.
Do I have to make this Apple Salad with Cool Whip? Some recipes for this apple Snicker salad use whipped cream instead of cool whip so the choice is yours. Either one will work well.
Is this Snickers caramel apple salad gluten-free? The Snickers label does not identify any gluten-containing ingredients but the product is not officially certified as 'gluten-free.' If you want to be absolutely certain the candy bar you choose is gluten-free make sure to search for a certified gluten-free candy bar and prepare the recipe accordingly.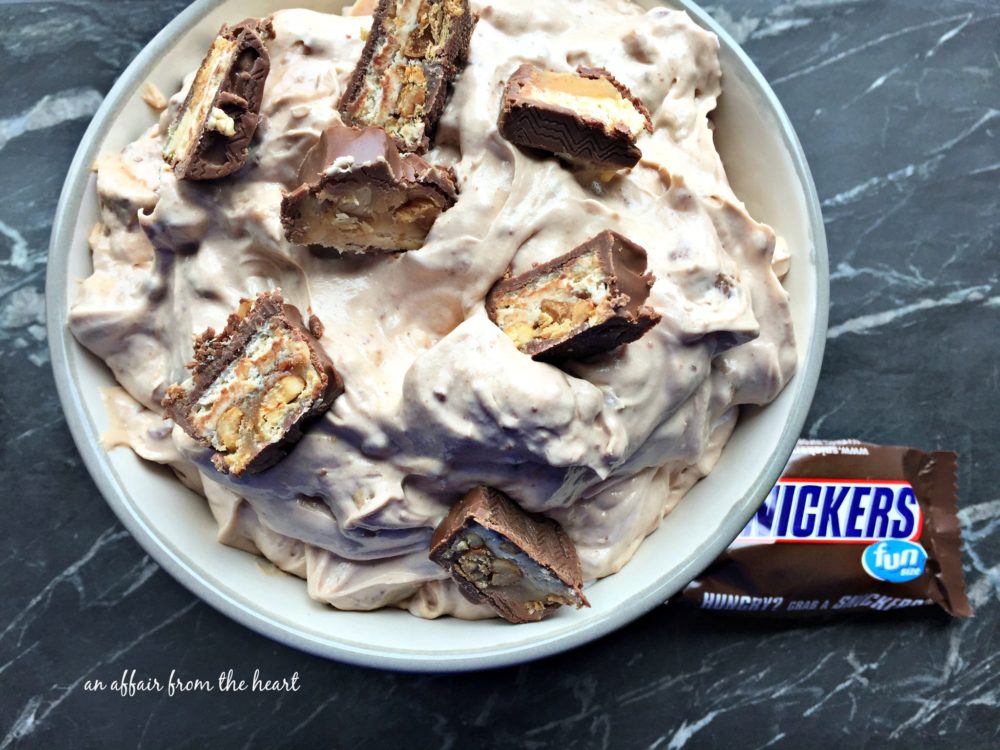 More Candy Bar & Apple Recipes to Love
I have so many recipes to share with you! I hope you browse around before you go. Here are a couple more recipes that use apples and candy bars!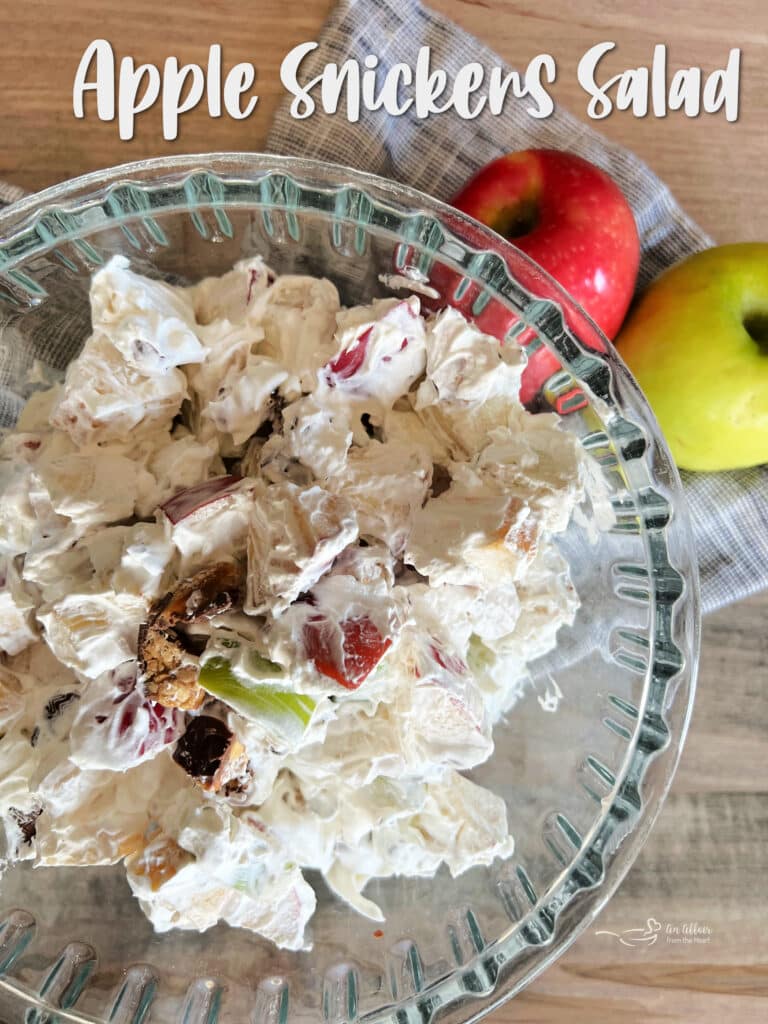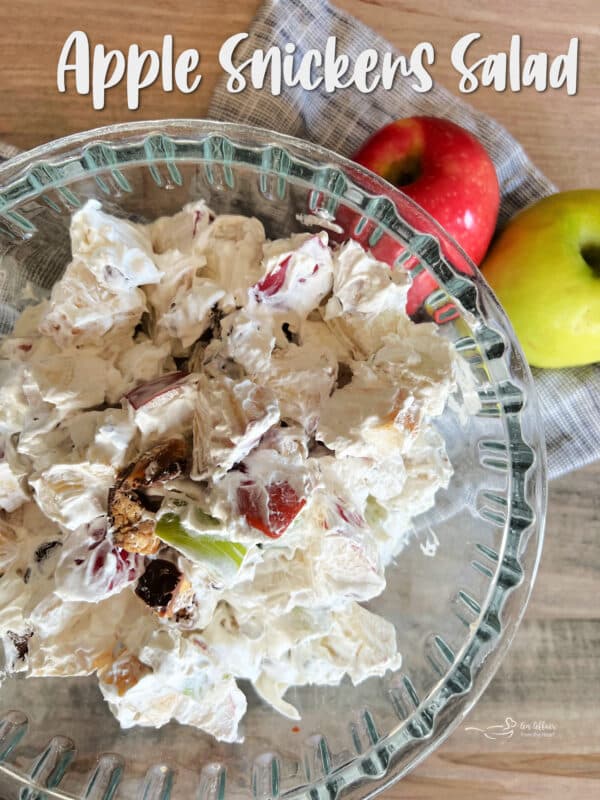 Let's get to this easy recipe! I hope you and your family enjoy this one for years to come.

Yield: 10 servings
Snicker Apple Salad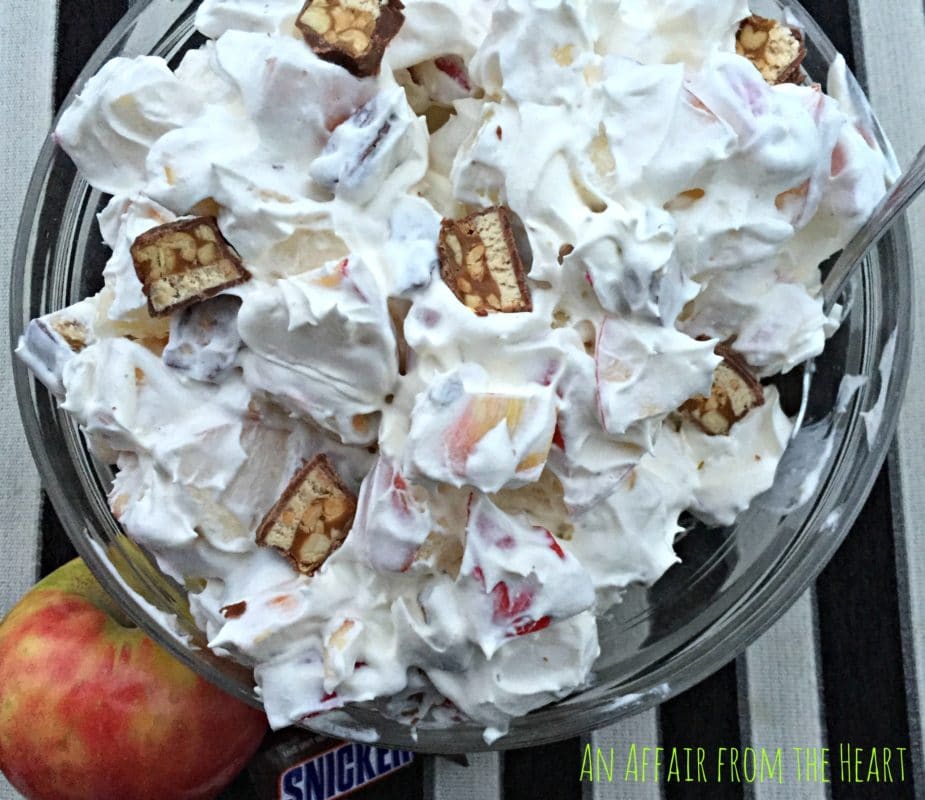 Apple season is here and this 3-ingredient Snicker Apple Salad needs to grace your table soon. Crisp apples, fluffy Cool Whip, and Snickers candy bars all mingle together in the most delicious way. Whip up a batch in a manner of minutes and watch this sweet salad disappear!
Ingredients
6-8 apples, skin on, diced
12 ounce container of Cool Whip
8 fun sized Snicker candy bars, chopped
Instructions
Wash, core and dice apples.
Chop Candy bars. I do mine in larger sized pieces.
Combine apples and candy bars with cool whip and serve.
Notes
Store leftovers in an airtight container for about 3 days. Note that apples will likely brown and the texture will get a bit watery, but it will still taste okay.
Recommended Products
As an Amazon Associate and member of other affiliate programs, I earn from qualifying purchases.
Nutrition Information:
Yield:
10
Serving Size:
1
Amount Per Serving:
Calories:

436
Total Fat:

21g
Saturated Fat:

12g
Trans Fat:

0g
Unsaturated Fat:

6g
Cholesterol:

7mg
Sodium:

133mg
Carbohydrates:

60g
Fiber:

5g
Sugar:

49g
Protein:

5g
Nutrition isn't always accurate.
This recipe was originally posted on January 14, 2015, it has been updated to improve the user experience and reshared on September 1, 2022.