Pad Thai Wonderpot Recipe (One Pot Pad Thai)
As an Amazon Associate and member of other affiliate programs, I earn from qualifying purchases.
This pad thai recipe cooks all in one pot and makes the most marvelous meal in less than 30 minutes! Pad Thai Wonderpot Recipe … You need to make it to believe just how easy and delicious it is!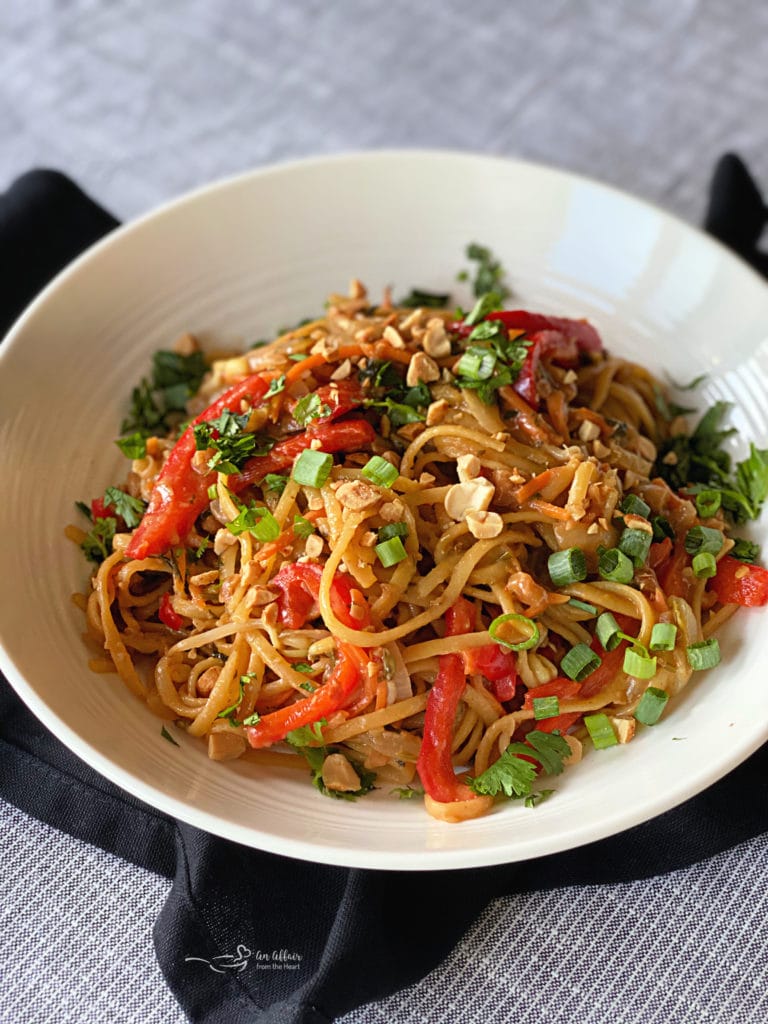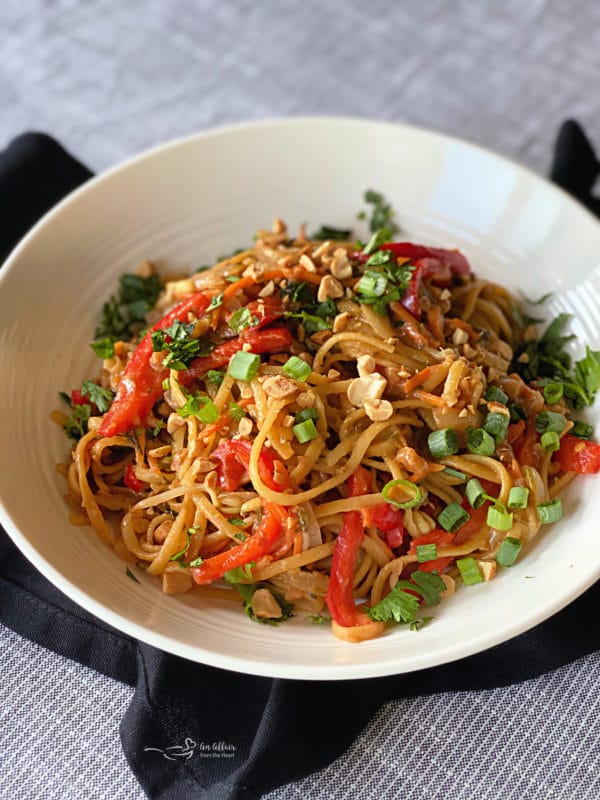 Wonderpot Recipes
The first Wonderpot recipe I ever tried was this The Italian Wonder Pot. I have been making it ever since. It's so delicious! I knew I needed more recipes like that wonder pot recipe – and that is how this Pad Thai Wonderpot recipe came to be.
I mean, have you ever see the commercials for V8? The ones where they smack themselves in the head? That's how I felt after I had made this so simple, so delicious meal for the first time. Like "duh! where has THIS been all my life?!"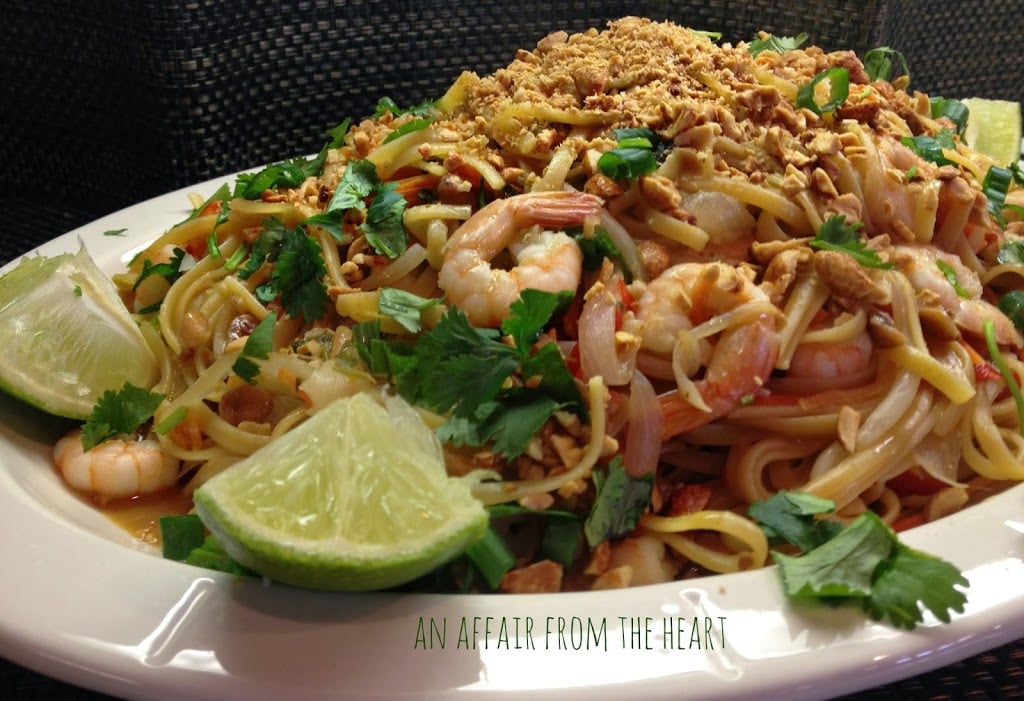 Easy Wonder Pot Shrimp Pad Thai
I began the search for pad Thai recipes that would work in this one pot/wonder pot fashion and found a couple on Pinterest that I liked the looks of. Like always, I pulled some of this and some of that from each of them and my recipe for Shrimp Pad Thai Wonderpot was born.
The first time I blogged this recipe, I added shrimp. I have also made it with chicken. You don't need to add meat to this at all, we love it meatless, as is.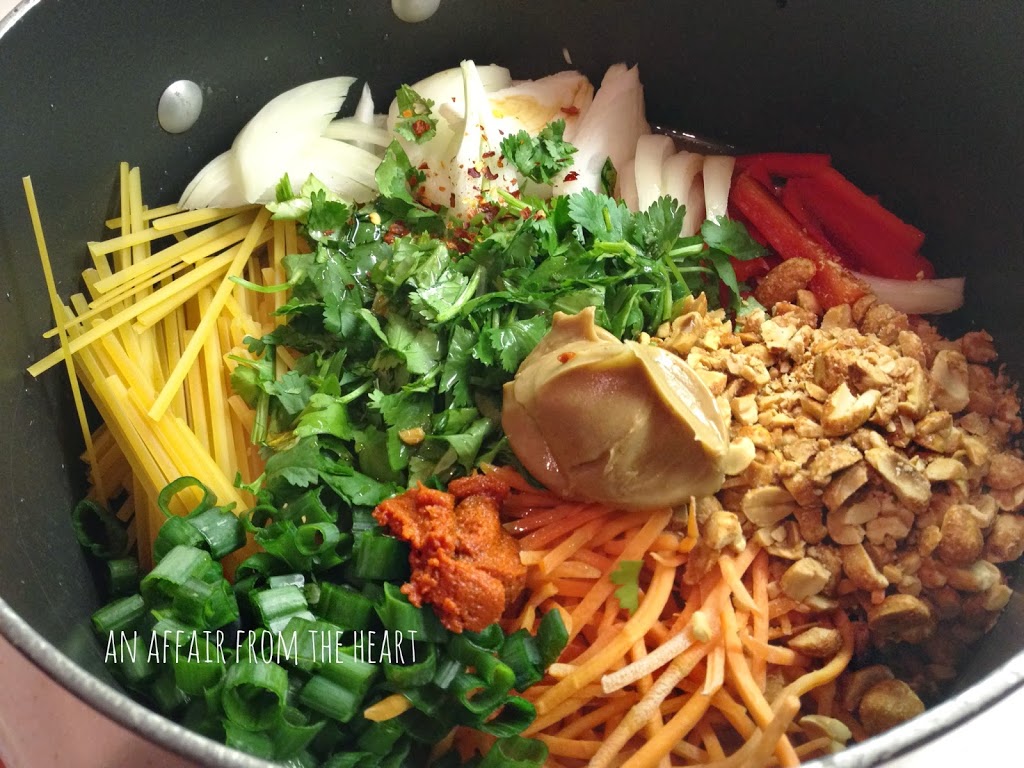 The beauty of this meal is wonder pot recipes are one-pot meals that you can easily do in 30 minutes. It is called a "wonder pot recipe" because you cook everything in one pot and wonder why didn't you ever do it anyway before. It is just that convenient to make and to clean up afterward.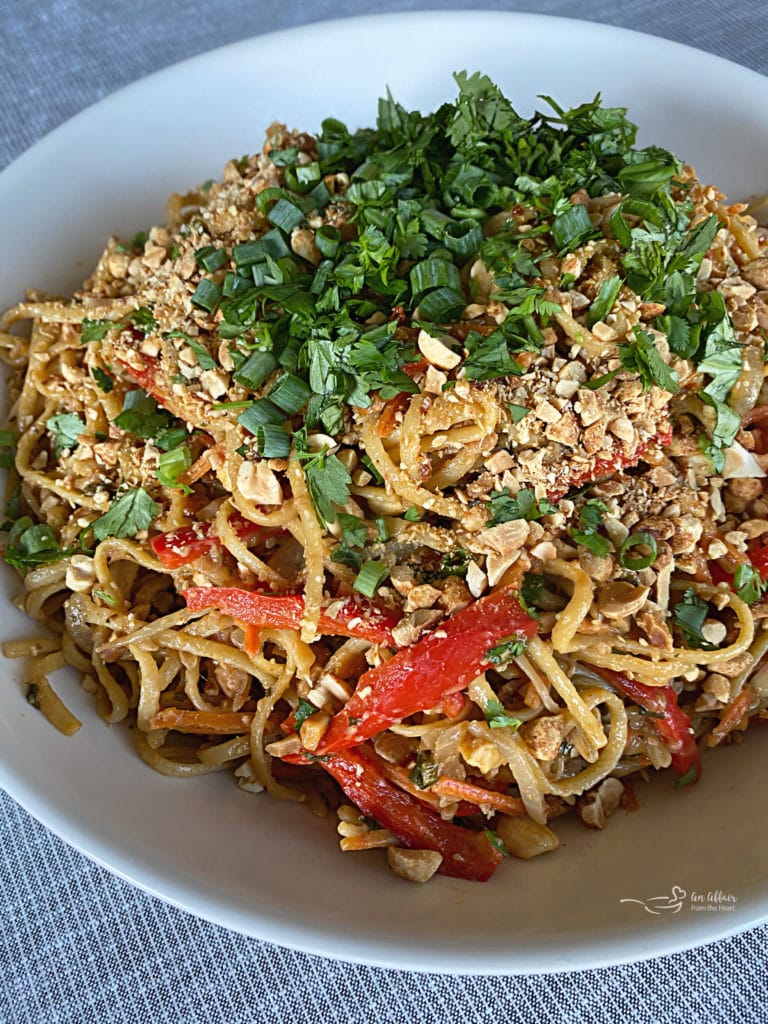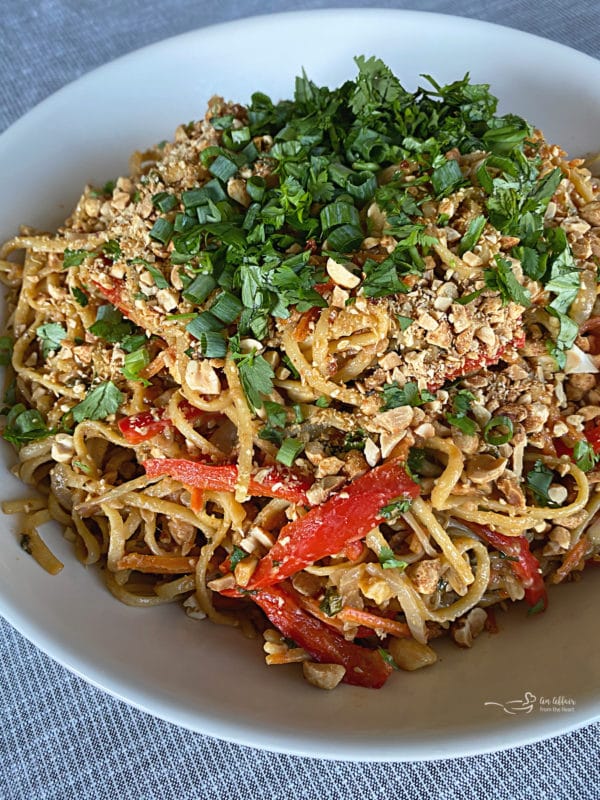 What exactly is Pad Thai?
Pretty much everyone I know loves ordering pad Thai noodles in their favorite Thai restaurant. It is seriously just one of those dishes with universal appeal. Young kids eat without being fussy about it. Old folks love it (even though they may prefer it on the less spicy side). And it is just one of those dishes that you see on every Thai menu.
It is sort of like seeing some form of spaghetti on an Italian menu or enchiladas on a Mexican menu. Pad Thai apparently pays the bills.
In essence, pad Thai is a rice noodle dish that is a little bit salty and a little bit sweet. There is a bit of nuttiness from peanut butter and umami from the soy sauce. The red pepper flakes and curry add just a touch of heat. However, no flavor outpaces any other. The goal is balance and harmony.
Wonder Pot Pad Thai noodle creates a classic "street food" dish
Contrary to commonly held beliefs, pad Thai is not an ancient Thai recipe. In fact, in food terms, it is relatively modern. It became popular as street food back in the early part of the last century.
Traditional pad Thai is classic "one pot" style cooking. The classic version of pad Thai is cooked in a wok, but I just use a suitably sized pot to contain all the ingredients.
The pasta and most of the ingredients cook together until the end when you add the shrimp, or tofu, or thin strips of chicken. Then you let those cook quickly at the end, garnish and it is ready to serve. You are ready to set up your cart on the streets of Thailand… Well, maybe don't go that far, but you are ready for a wonderful and easy pad Thai meal.

Ingredients in this Pad Thai Wonderpot Recipe
Gotta love all of those colorful veggies, right? Mung bean sprouts, sweet red bell pepper, onions, and matchstick carrots. (I cheat and buy the shredded carrots in the produce section.) Scallions, cilantro, and salty chopped peanuts top it off.
Instead of the traditional rice noodles, I use uncooked linguine pasta. You could most certainly use rice noodles if you prefer.
The heat comes from the red curry paste and the red pepper flakes, and it's super easy to adjust the spice. The way my recipe is made is not spicy at all. So if you like the heat, add in more of those pepper flakes!
Ginger paste or fresh ginger root, sesame oil, soy sauce, honey, lime juice, chicken or vegetable stock, and peanut butter make up the red of the pot.
The chopping is the only time consuming part of this whole recipe. Almost everything goes into the pot to start, adding in the bean sprouts, and any protein later. Cover it with a lid and bring it to a boil.
Reduce the heat and cook it for another 6 minutes, stirring to keep the noodles from sticking together.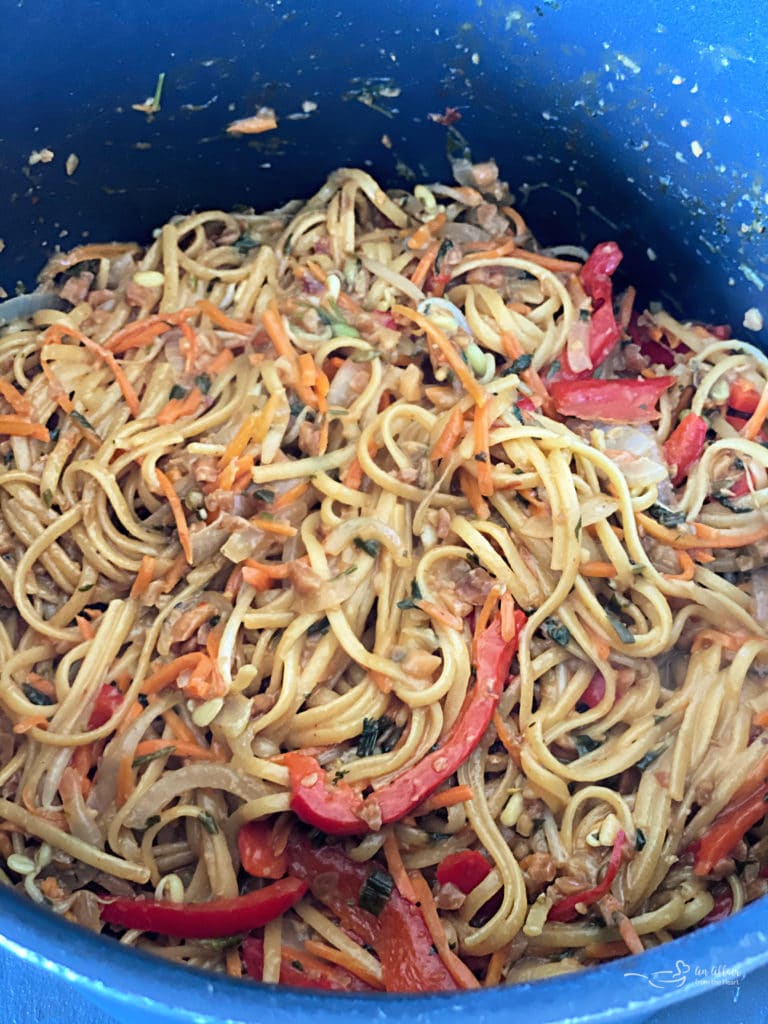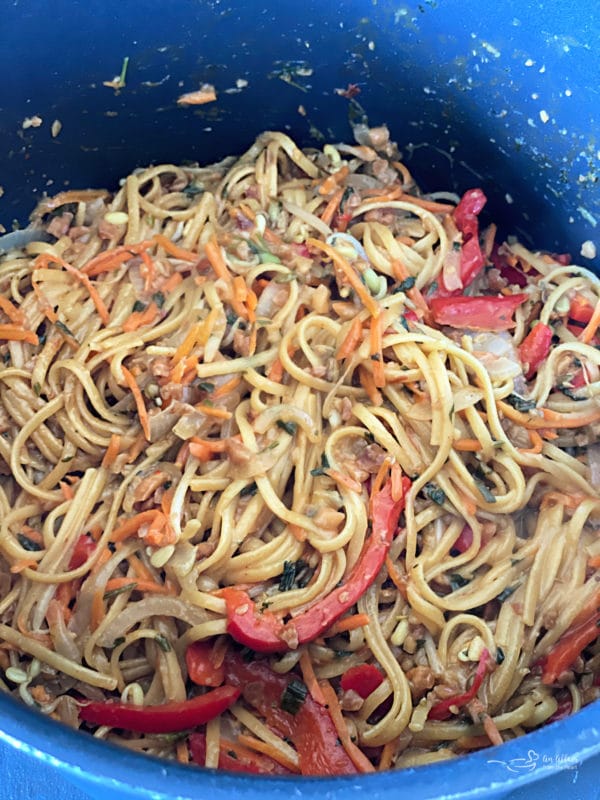 Remove the lid and Ta-Dah! Dinner is ready.

Garnish with more cilantro, scallions, and more peanuts before serving. Only one pot to clean up, too! It's a winner of a dinner!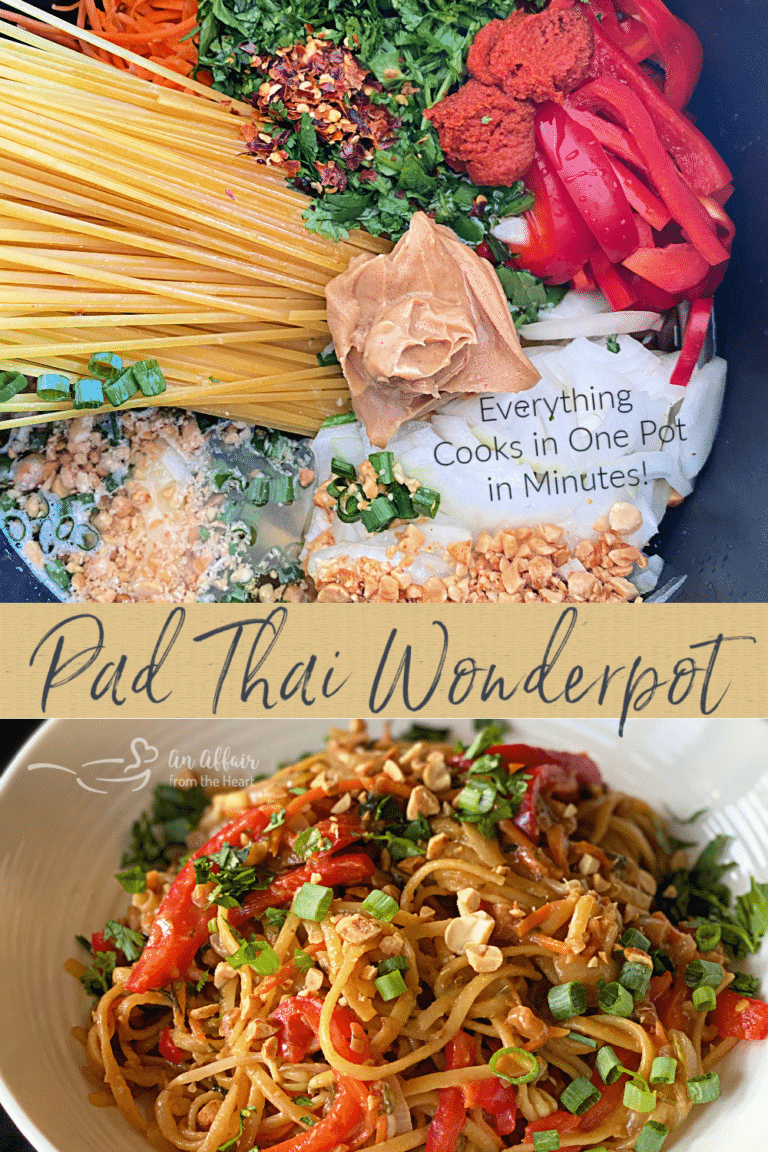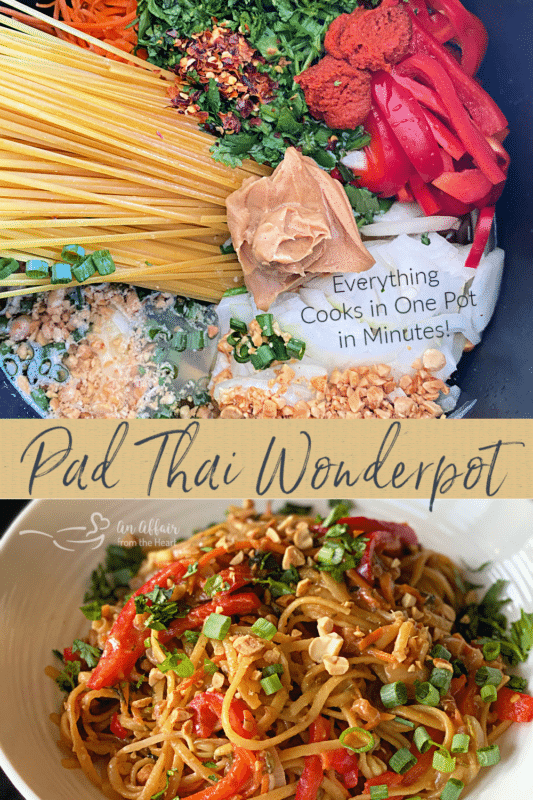 LOVE IT? Pin it!
If you love this recipe and can't wait to give it a try, pin it to your favorite recipe Pinterest board to find it easily.
Variations on Wonder Pot pad Thai
If you are allergic or have other dietary restrictions on eating shellfish, then you can always adapt this recipe easily. If you want to go with a vegetarian version, then add some cubes of tofu to add protein to it. Or, use strips of chicken breast meat or strips of lean pork too.
If you want to go gluten-free for the noodles or use any other style of linguine like spinach or tomato then those will do nicely, too.
You can also easily dial up the heat with the addition of a couple of deep red or dark green Thai chilies. Dice them in according to your heat preferences.

More Thai inspired dishes to check out
Thai food is so fresh and balances so many wonderful seasonings. You don't have to go out to the restaurant if you want to make your own. Here are a few recipes to check out inspired by Thai classics.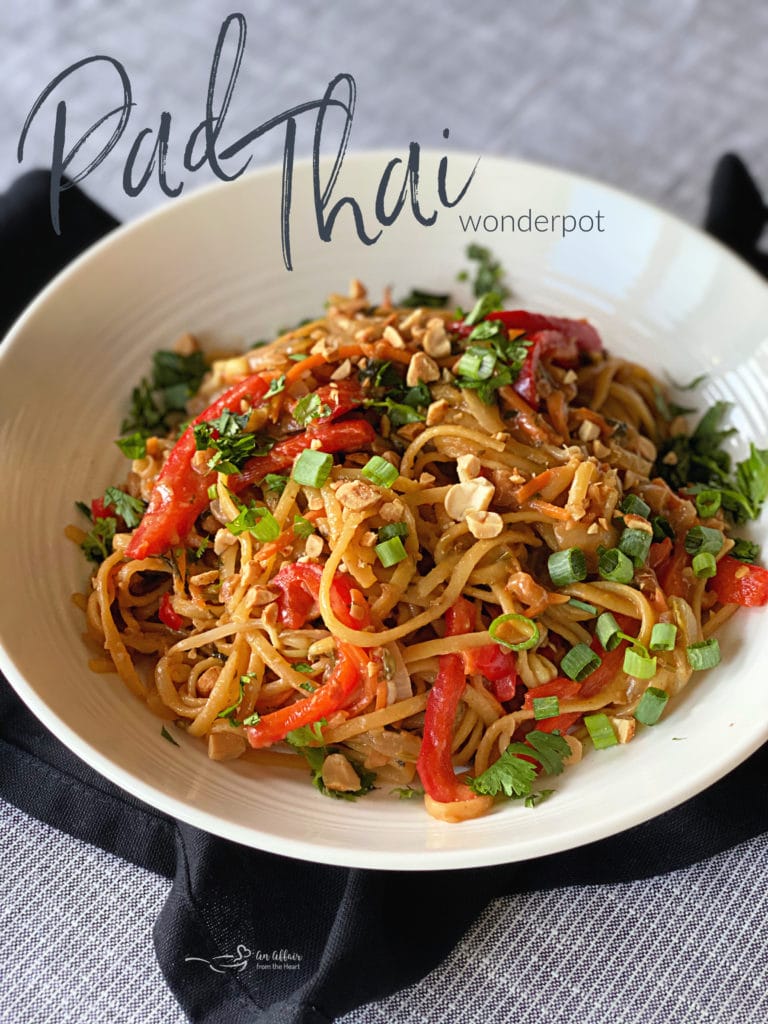 Let's get to this simple Pad Thai Wonderpot Recipe!

Yield: 8 servings
Shrimp Pad Thai Wonder Pot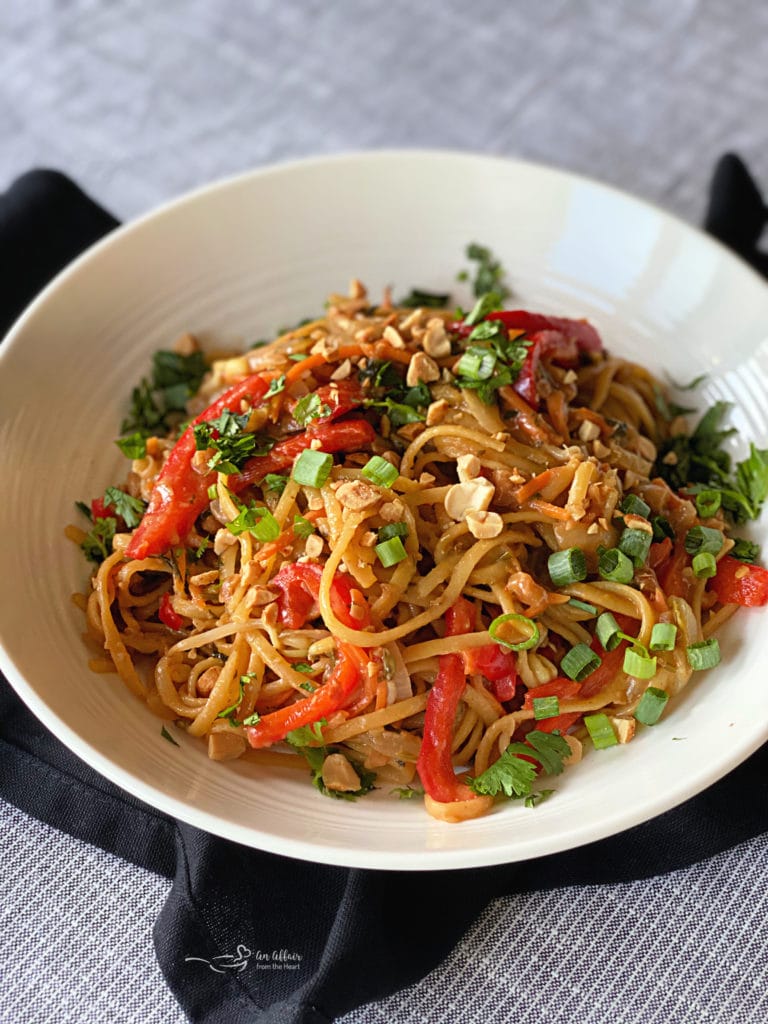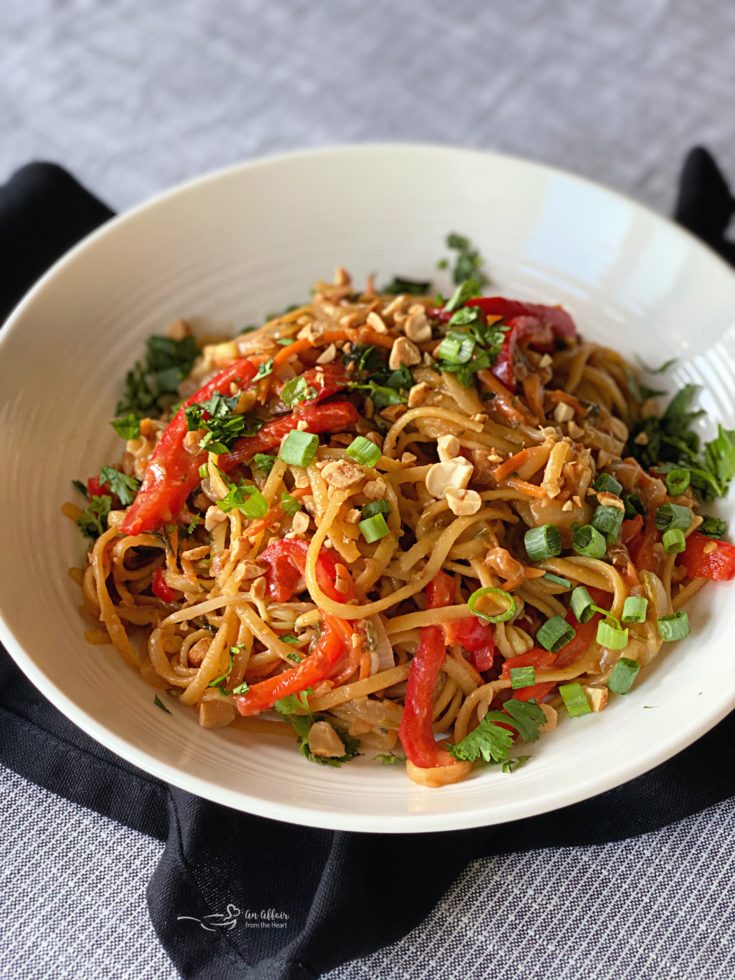 This pad thai recipe cooks all in one pot and makes the most marvelous meal in less than 30 minutes! Pad Thai Wonderpot Recipe ... You need to make it to believe just how easy and delicious it is!
Ingredients
12 ounces linguine pasta
32 ounces of chicken stock (or vegetable)
1 medium sized onion, sliced
4 cloves garlic, minced
1/2 cup water
1 red bell pepper, sliced (about 1- 1 1/2 cups)
1 1/2 cups matchstick carrots (I bought a bag of already shredded carrots, worked great!)
1 Tablespoon ginger paste, or the same fresh grated
tops of 3 green onions (scallions), divided
1 1/2 cup salted roasted peanuts, slightly chopped, divided
1 pound shrimp, cleaned, optional
1 cup cilantro, slightly chopped, divided
1/2- 1 cup bean sprouts
2 Tablespoons soy sauce
2 Tablespoons Peanut Butter
1/2 teaspoon red pepper flakes (more if your prefer it spicier)
1 1/2 Tablespoons honey
1 teaspoon sesame oil
1 1/2 teaspoons red curry paste
2 Tablespoons fresh squeezed lime juice
Fresh lime, sliced for serving
Instructions
In a large pot, pour water and chicken stock.
To this add the following: pasta, onion, garlic, bell pepper, carrots, 3/4 of both scallions and cilantro, (reserve some for serving) 1 cup of peanuts, (reserve rest for serving) soy sauce, peanut butter, red pepper flakes, honey, sesame oil, curry paste and lime juice.
Place lid on pot and turn on high. Let it come to a boil, give it a stir, and reduce to a simmer.
Cover and cook for about 6 minutes.
(stir every couple minutes, so nothing sticks.)
Dump in shrimp and bean sprouts, stir and cover, let it cook for about 6 minutes more, until shrimp are steamed, and pasta is cooked.
There will be a small amount of sauce in the bottom.
Serve topped with remaining scallions, cilantro and peanuts, with a lime slice to squeeze if desired.

Notes
If you are adding chicken, make sure it's sliced nice and thin so it cooks quickly.
Nutrition Information:
Yield:
8
Serving Size:
1
Amount Per Serving:
Calories:

417
Total Fat:

20g
Saturated Fat:

3g
Trans Fat:

0g
Unsaturated Fat:

14g
Cholesterol:

123mg
Sodium:

1103mg
Carbohydrates:

36g
Fiber:

5g
Sugar:

10g
Protein:

27g
Nutrition isn't guaranteed accurate.
This recipe was originally posted on March 5, 2014. It was updated to improve user experience and re-shared on July 21, 2020.