This traditional Homemade German Chocolate Cake Recipe can be described in one word; perfection. Spoonfuls of creamy, sweet coconut pecan frosting nestled between rich chocolate cake layers, all made completely from scratch. This old-fashioned cake recipe is the ideal dessert for all of your dessert cravings and special occasions.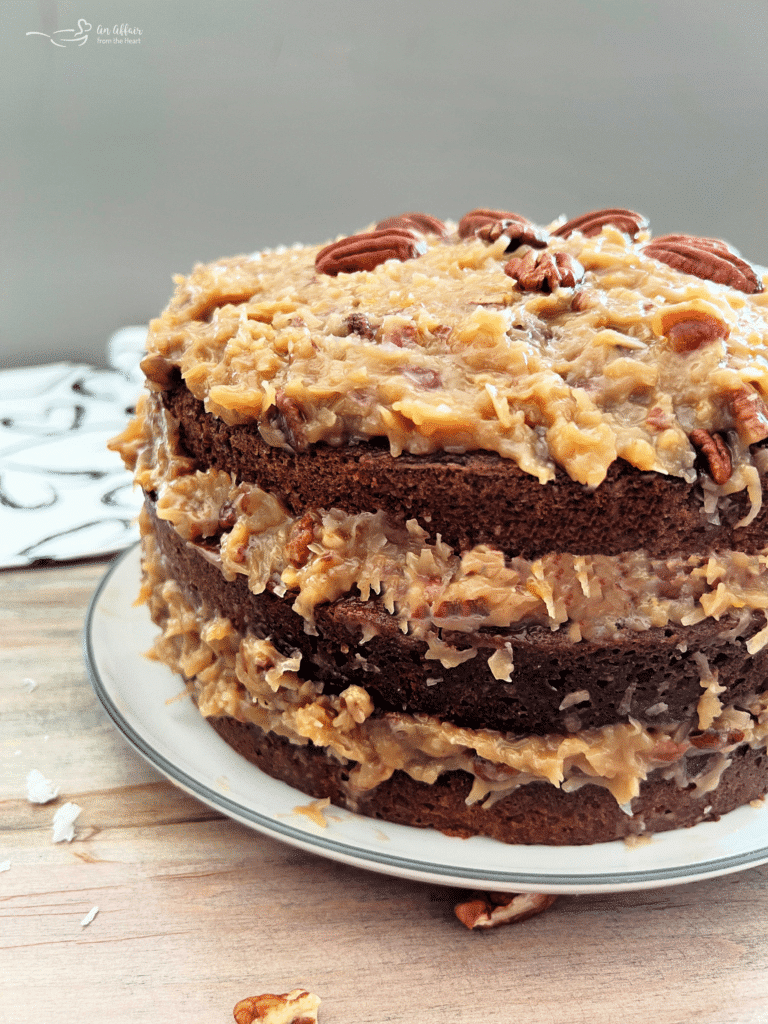 Soft and buttery sweet, this German Chocolate Cake quickly became a family favorite! I made it for the first time a little over a year ago when I asked a bunch of my favorite bloggers for a tried and true German Chocolate Cake recipe to make for a dear friend's birthday.
Years ago, I had made another recipe for my dad, and it just wasn't great. This recipe here? It's a keeper!

WHAT IS A GERMAN CHOCOLATE CAKE?
German chocolate cake is an old-fashioned chocolate cake recipe that has been around for years. Originally named, "German's chocolate cake," the qualities of the cake have always been the same: delicious and satisfying. Sweet shredded coconut and pecans are folded into buttery sweet icing and nestled between moist chocolate cake layers.
WHAT IS DIFFERENT ABOUT GERMAN CHOCOLATE CAKE?
German chocolate cake uses melted chocolate rather than dry cocoa powder and is layered with that iconic sweet coconut pecan icing. You will recognize it just by the sight of it and the taste is unforgettable.
WHAT IS GERMAN CHOCOLATE? IS THERE A SUBSTITUTE?
German chocolate is sweeter than traditional milk or dark chocolate and has milder chocolate flavors. In my opinion, the German chocolate really makes this recipe stand out and is easily why it tastes so delicious.
But, if you can't find German chocolate, and I have had this happen, there is a substitute. You can use either semi-sweet or bittersweet chocolate and add one-half Tablespoon of sugar for each ounce needed.
IS GERMAN CHOCOLATE CAKE REALLY GERMAN?
German cake was created in the United States by an Englishman during the 1950s. The chocolate cake has been popular ever since and was referred to as, "German's Chocolate Cake." The name is misleading but the flavors are so addicting!

Freaky Friday Blog Hop
I have to say though, that I can't take credit for the original recipe. It is my recipe contribution to our winter round of the Freaky Friday blog hop!
Freaky Friday is an event that I created about 7 years ago where a group of bloggers get together once a season and secretly cook/bake from each other's blogs. Then on one day, we all post the recipes and you can see who had who and what someone made from your website. That day is today!
House of Nash Eats
For this round, I was assigned House of Nash Eats, a blog run by the super sweet and mega-talented, Amy Nash. I had the pleasure of meeting Amy at a blog conference a few years ago, and she is just a delight to be around!
As I mentioned earlier, it wasn't the first time that I made this cake. Amy told me about her recipe last year when I baked this cake for our friend, Chuck's birthday cake request. When I was given her blog, I knew exactly what I would make!
More About Amy
Amy lives in California with her husband and their two adorable girls. Her blog and mine are very similar in tastes and recipes. Like me, she shares tried and true family recipes. Just because I knew what I was making, didn't mean that I didn't take the chance to nose around on Amy's website!
She has this recipe for Wisconsin Cauliflower Soup that looks crazy good! Her recipe for Miso Salmon went straight to the top of my meal plan for next week and if you are looking for a fun activity to do with the kids for St. Patrick's Day, check out her Layered Rainbow Jello!
Take some time to browse her website, I know that you will agree with me when I say that it was hard to choose just one recipe.
INGREDIENTS FOR HOMEMADE GERMAN CHOCOLATE CAKE

FOR THE CAKE
German Chocolate: This type of chocolate is the best for German cake because it is easy to melt, slightly sweet, a little creamy, and rich with pristine chocolate flavors.
Water: A little bit of boiling water is used to melt the chocolate.
Butter: One cup of butter is used for the cake. The butter can be either salted or unsalted.
Sugar: Granulated white sugar is a classic sweetener used to sweeten this cake.
Eggs: Both egg whites and yolks are added to the batter separately and allow the cake to truly shine. Separating the yolks from the whites and adding them separately allows the fats from the yolks to really shine through. A baker's secret!
Vanilla: Pure vanilla extract is used as a classic flavor for this German chocolate cake recipe. Aromatic vanilla is a classic.
Cake Flour: Cake flour allows this cake to be the fluffiest and most softly-textured cake around! Cake flour and all-purpose flour are not interchangeable.
Baking Soda: You will want to make sure you have baking soda to make sure the cake rises!
Salt: A sprinkle of sea salt balances all the flavors out and activates with the flour and baking soda as the cake bakes.
Buttermilk: The buttermilk brings a slightly tangy flavor to the cake without adding extra fat. If you don't have buttermilk on hand, you can easily make a homemade buttermilk substitute. I personally never buy buttermilk any longer. This alternative is just way too simple!
The cake is layered with traditional coconut pecan frosting that boasts aromatic notes of vanilla, browned butter, sweet coconut, and chopped pecans, this German chocolate cake is simply the best!

FROSTING Ingredients FOR THE BEST HOMEMADE COCONUT PECAN FROSTING
Sugar: Both granulated sugars, brown and white, are used to make sure the pecan frosting is as sweet as can be.
Evaporated Milk: is a shelf-stable canned cow's milk product where about 60% of the water has been removed from fresh milk, leaving it creamier than whole milk.
Butter: Butter is folded throughout the frosting for its tasty buttery flavors. The saltiness from the butter balances out the sugar.
Egg Yolks: The eggs allow the frosting to thicken.
Coconut: Shredded sweet coconut gives this cake it's distinct icing.
Pecans: Chopped pecans add the nuttiness to the frosting, making it a true German chocolate cake recipe.
Vanilla: The frosting just would not be the same without vanilla extract.
Find all of the measurements and complete instructions in the printed recipe card at the bottom of this post.

HOW TO MAKE TRADITIONAL GERMAN CHOCOLATE CAKE FROM SCRATCH

MELT THE CHOCOLATE
First, chop the chocolate into small pieces. Add the chocolate to a medium-sized bowl then pour the water over it. With a spoon or rubber spatula, mix the water and chocolate until the chocolate is smooth and melted. Set aside to cool.
Meanwhile, preheat the oven to 350 degrees Fahrenheit and grease and flour three 9″ round cake pans.
MAKE THE SWEET BASE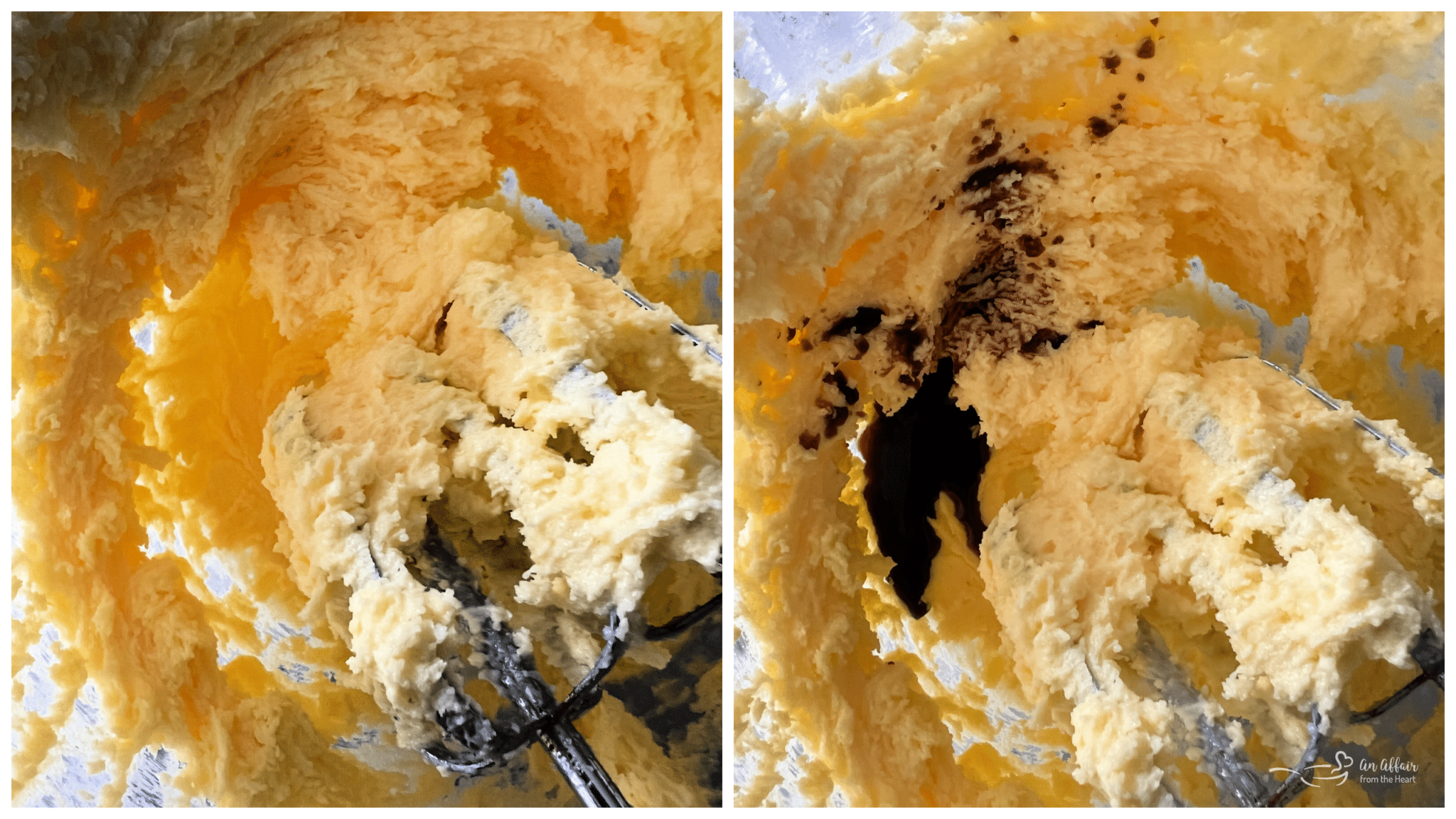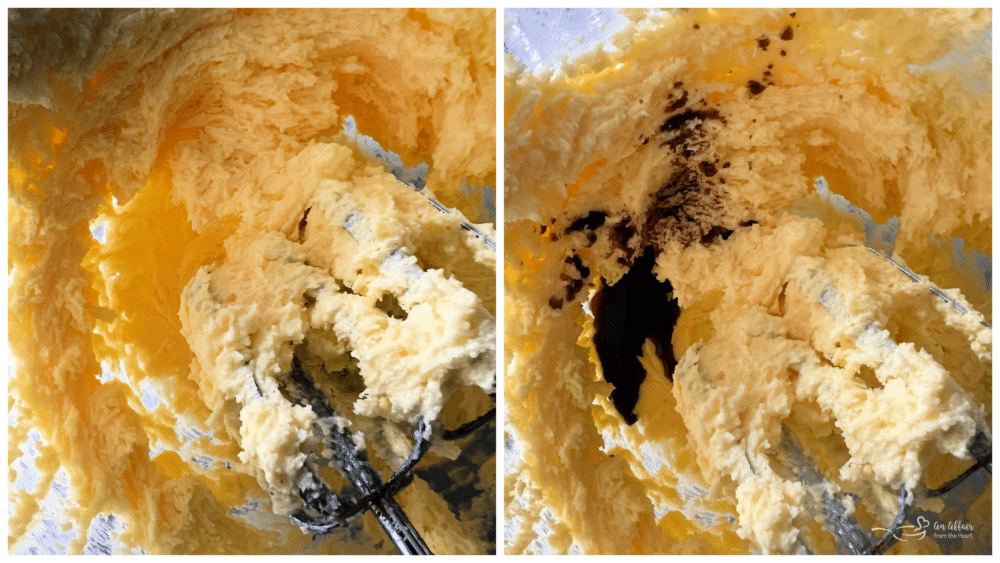 Next, in a large bowl, combine the butter and sugar and mix with a hand mixer or a stand mixer. Mix the sugar and butter until smooth and fluffy. Then, add in the vanilla.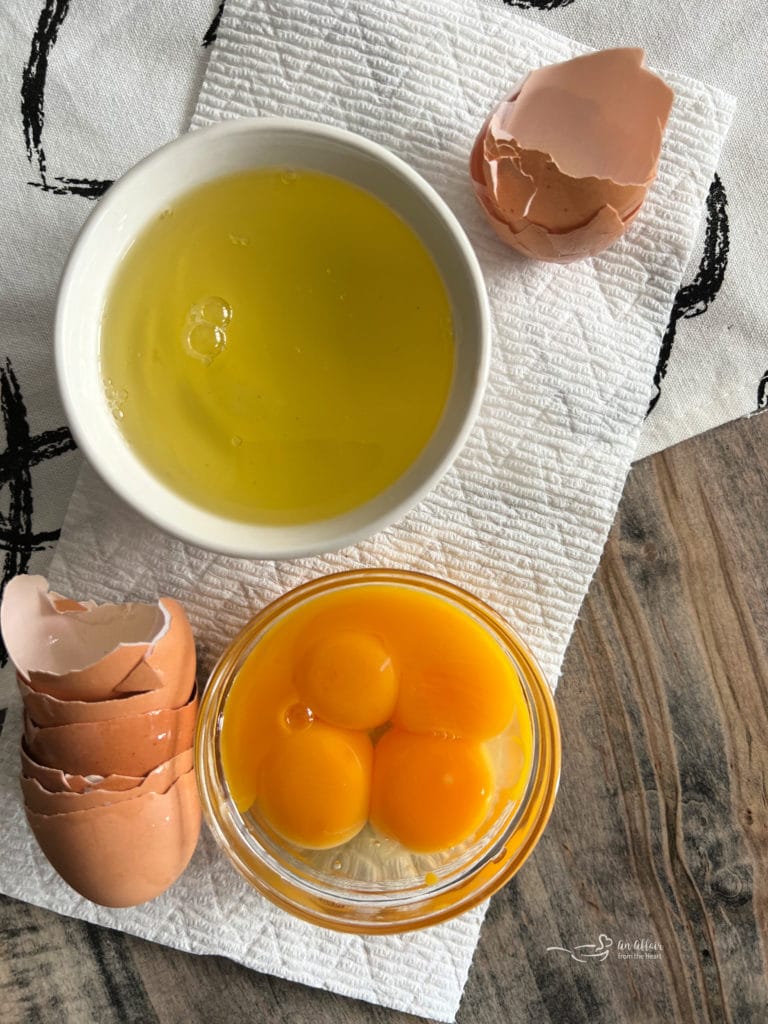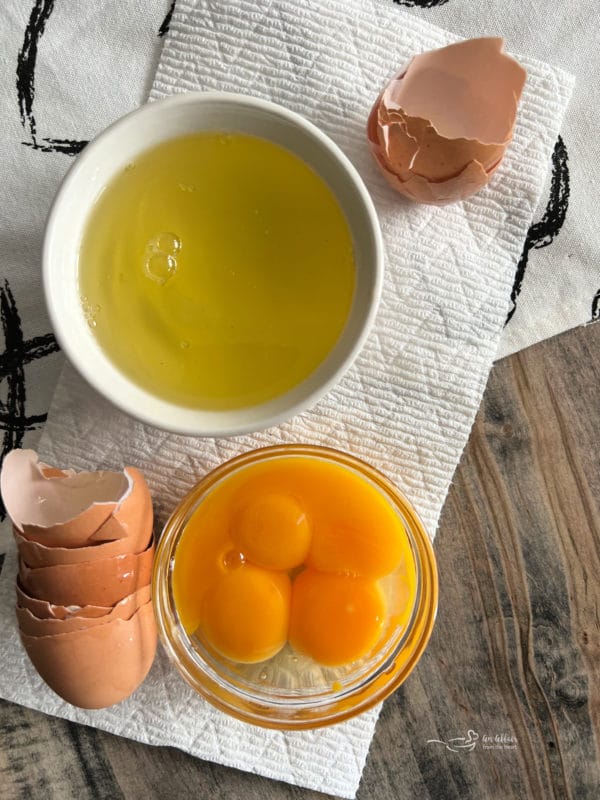 Next, separate the egg whites from the yolks while reserving the egg whites in a separate dish. Add the yolks one at a time to the butter and sugar. Mix after each yolk is added to the bowl.
COMBINE INGREDIENTS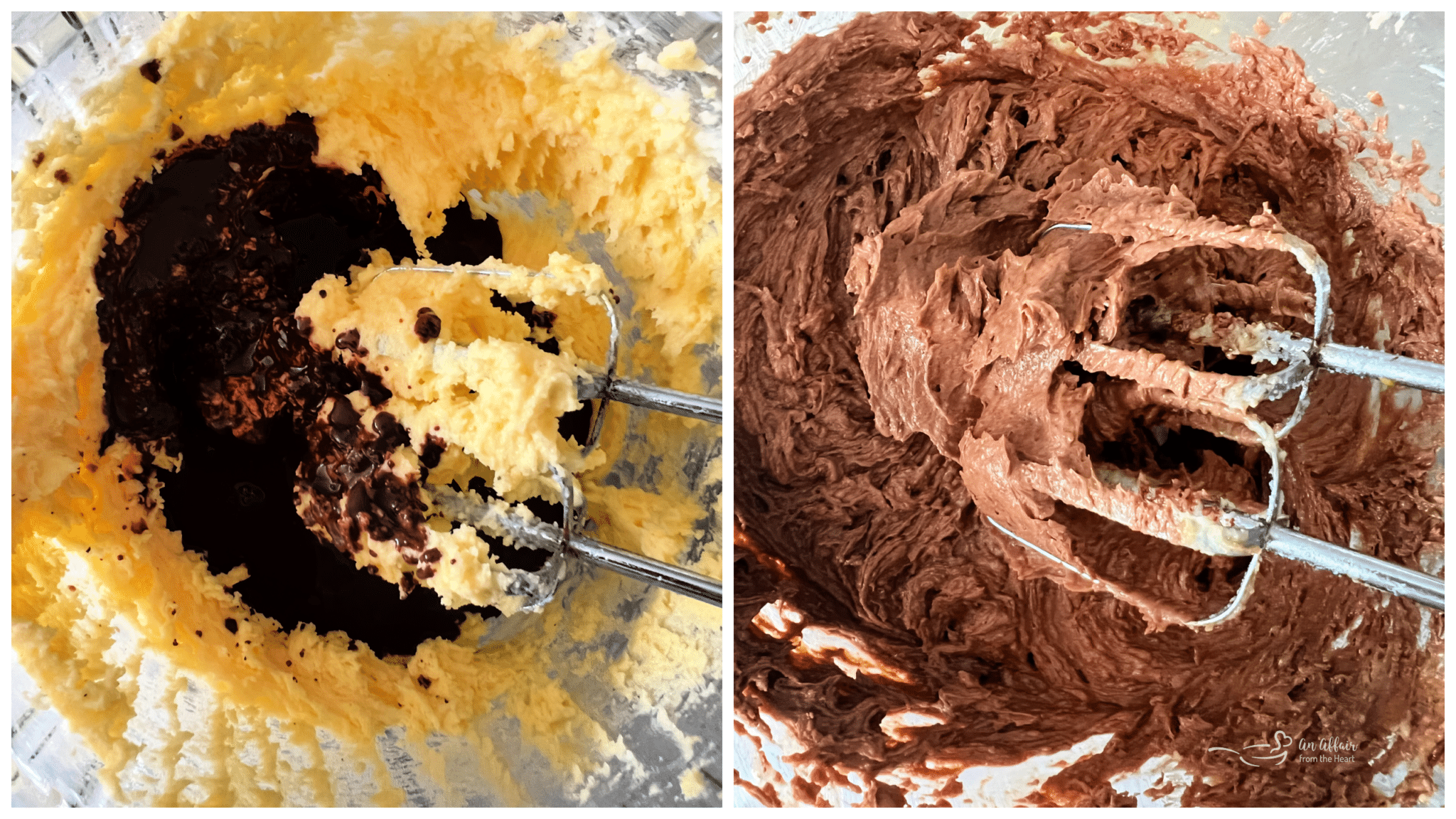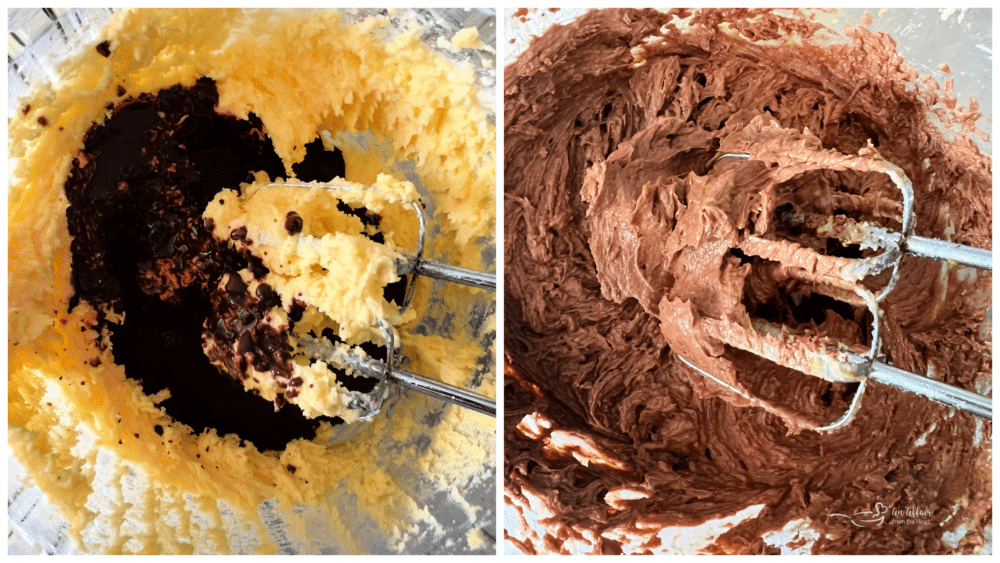 Next, add the melted chocolate and vanilla to the bowl, then mix until combined and uniform.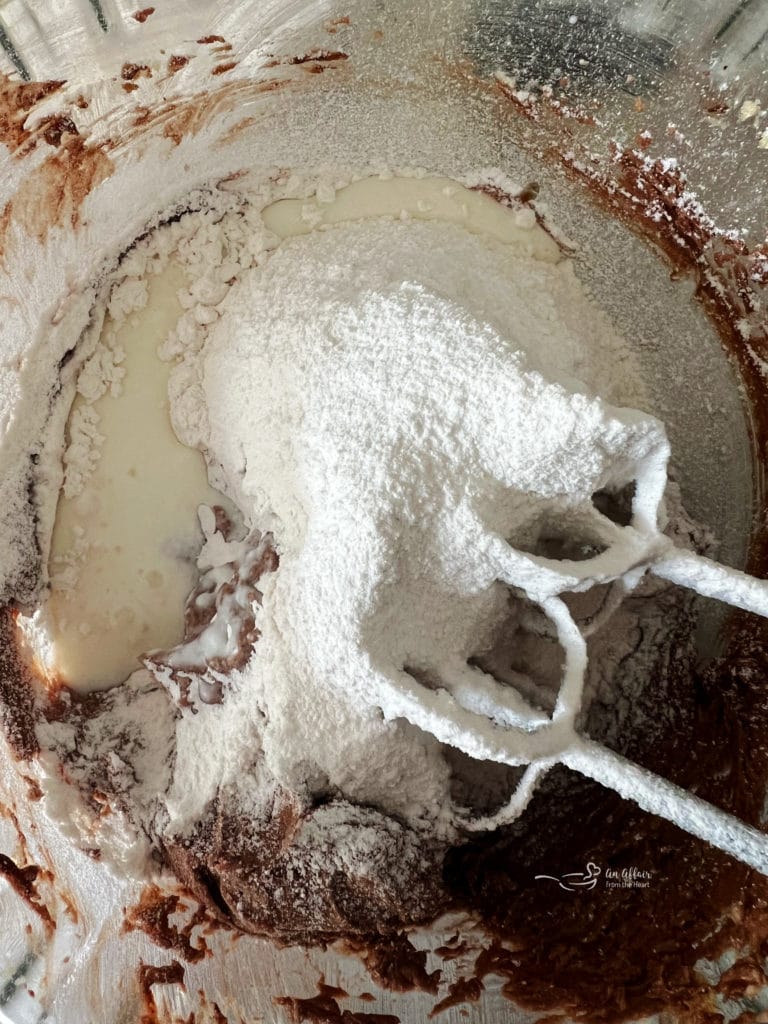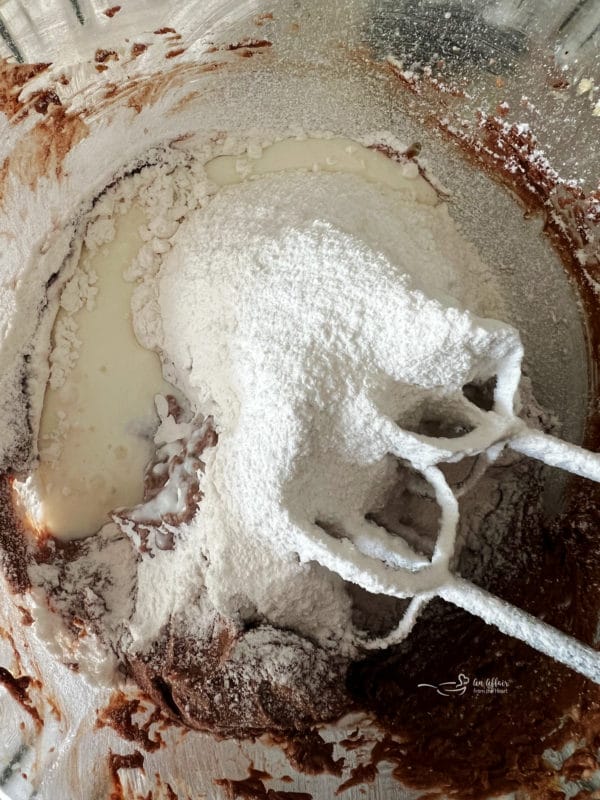 Next, add the flour, baking soda, and salt in separate steps with the buttermilk. Mix the ingredients until they are just combined. I like to add the dry ingredients a little at a time until everything is fully mixed.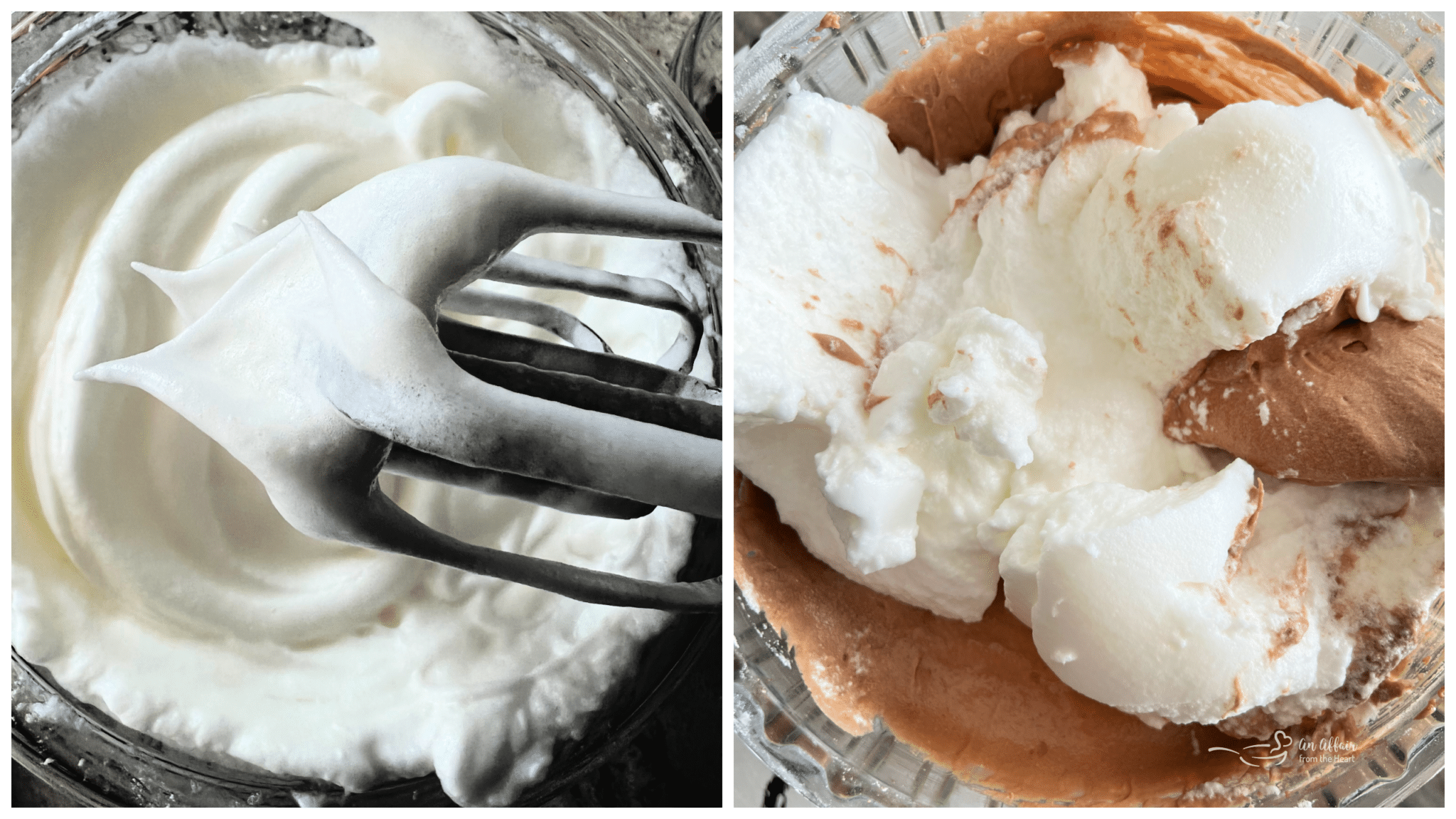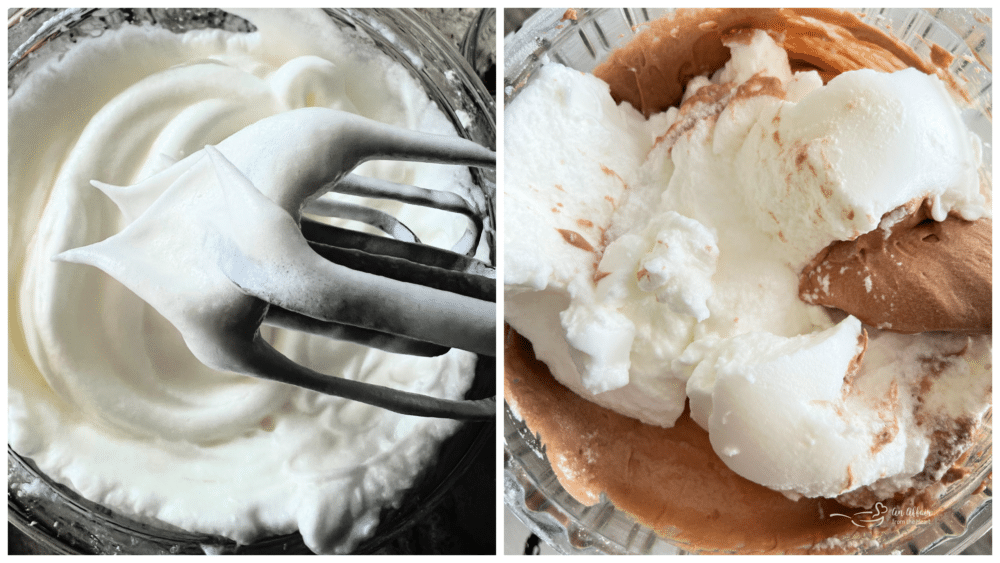 Beat the egg whites with the mixer until stiff peaks form. Fold the eggs into the cake batter.

BAKE THE GERMAN CAKE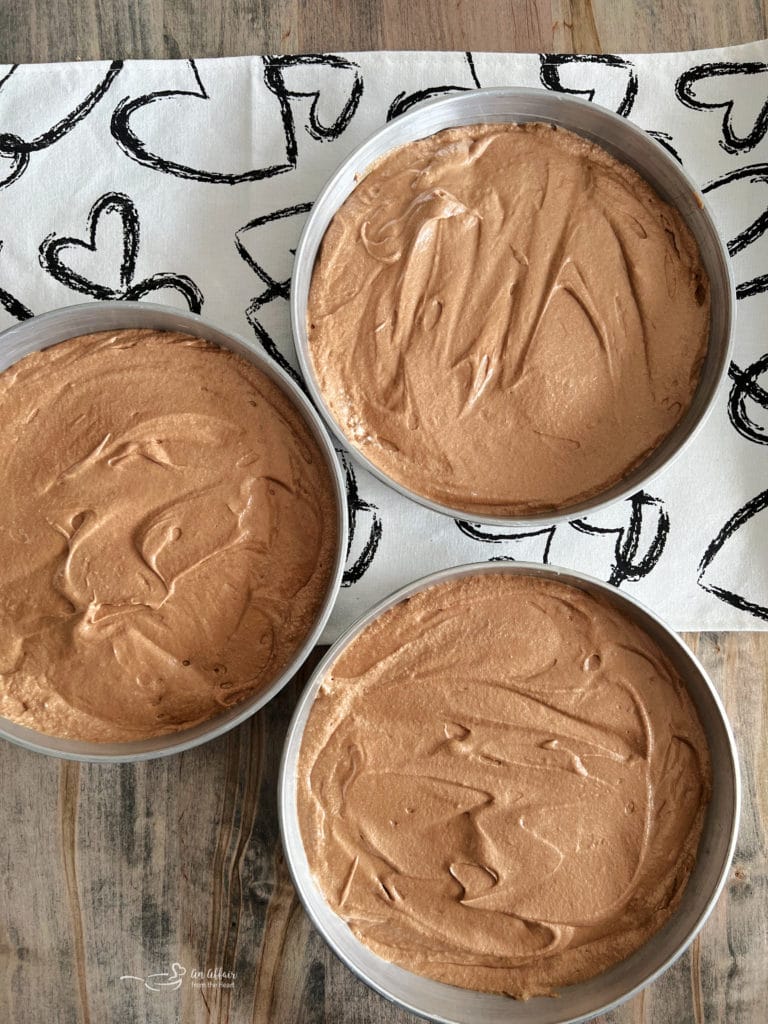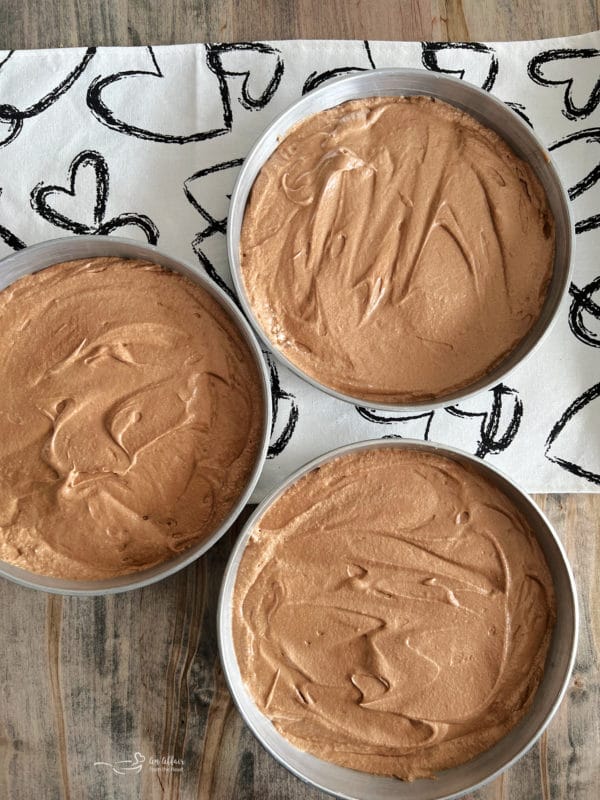 Finally, divide the cake batter into two round three-inch cake pans. Be sure to grease the pans beforehand or place parchment paper in them to prevent the cake from sticking.
Bake the cake for 24 to 28 minutes in the fully preheated oven until a toothpick inserted in the center comes out clean.
Allow the cakes to cool in the cake pans for at least ten minutes before transferring the cakes to the wire racks.
HOMEMADE FROSTING FOR GERMAN CHOCOLATE CAKE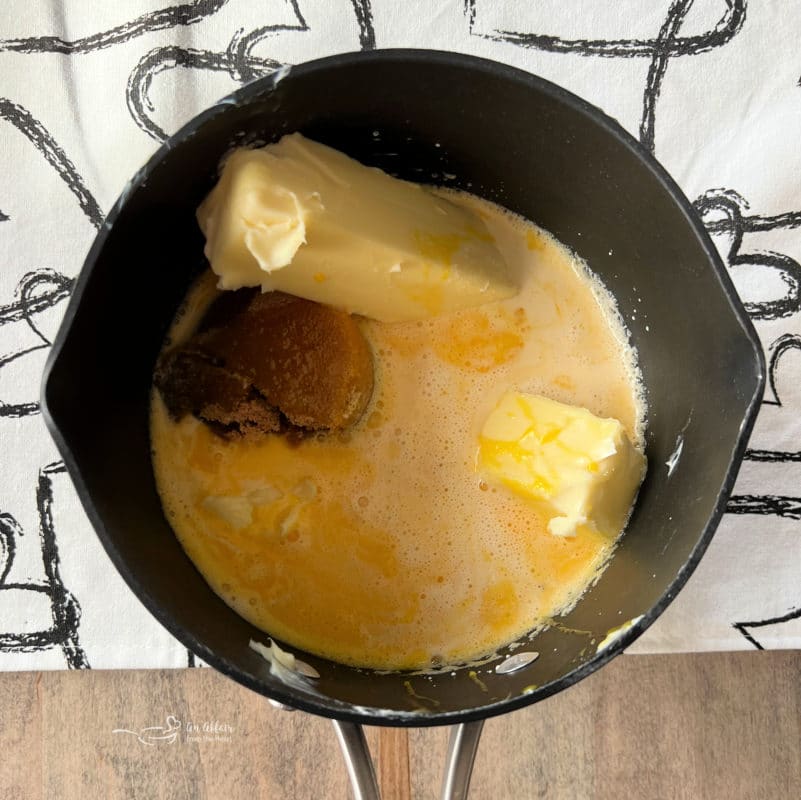 In a medium saucepan, add the sugars, evaporated milk, butter, and beaten egg yolks, and cook over medium heat until the frosting is thick and smelling good. Constantly stir the mixture so everything evenly cooks–it should be a golden brown color.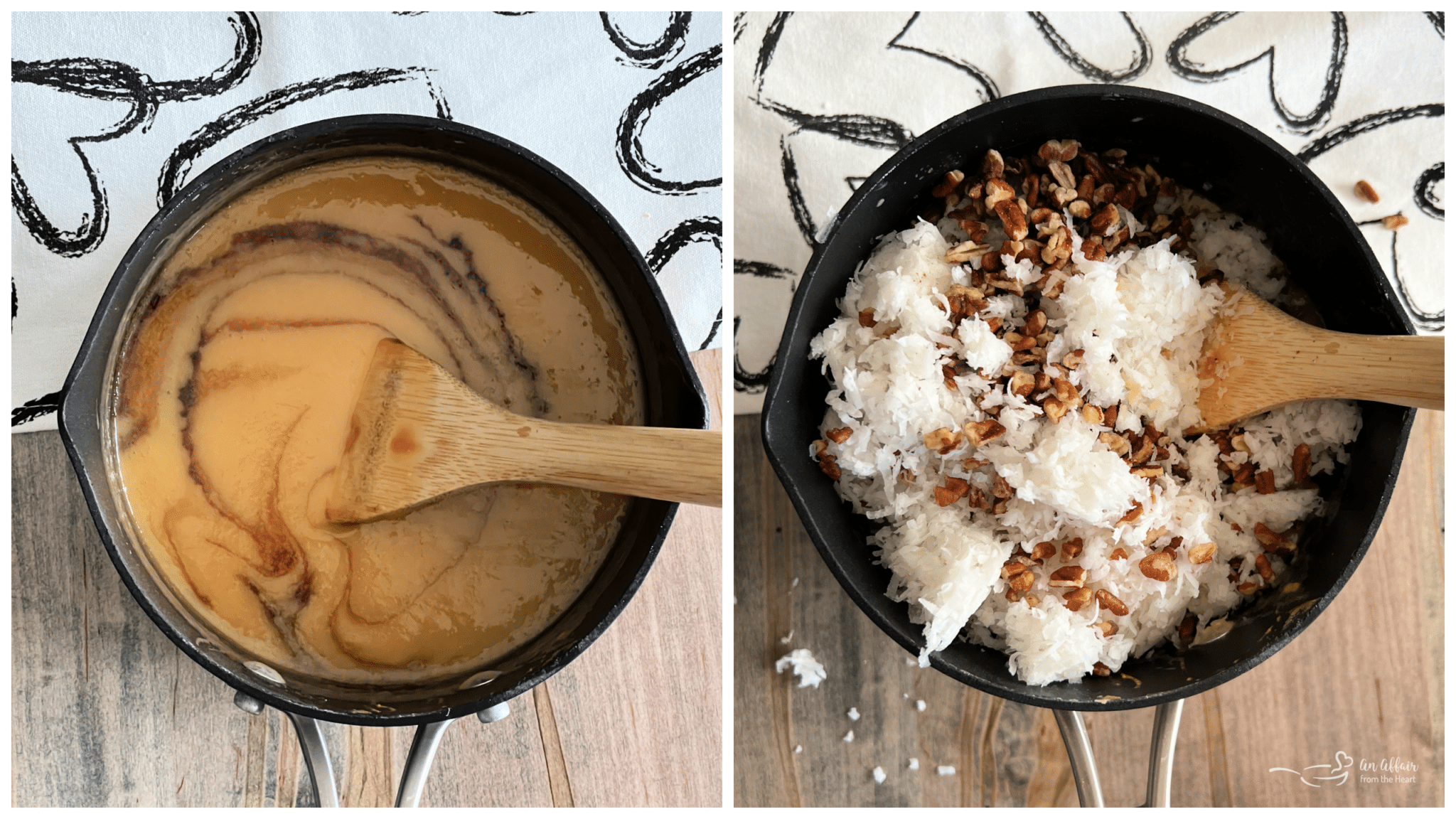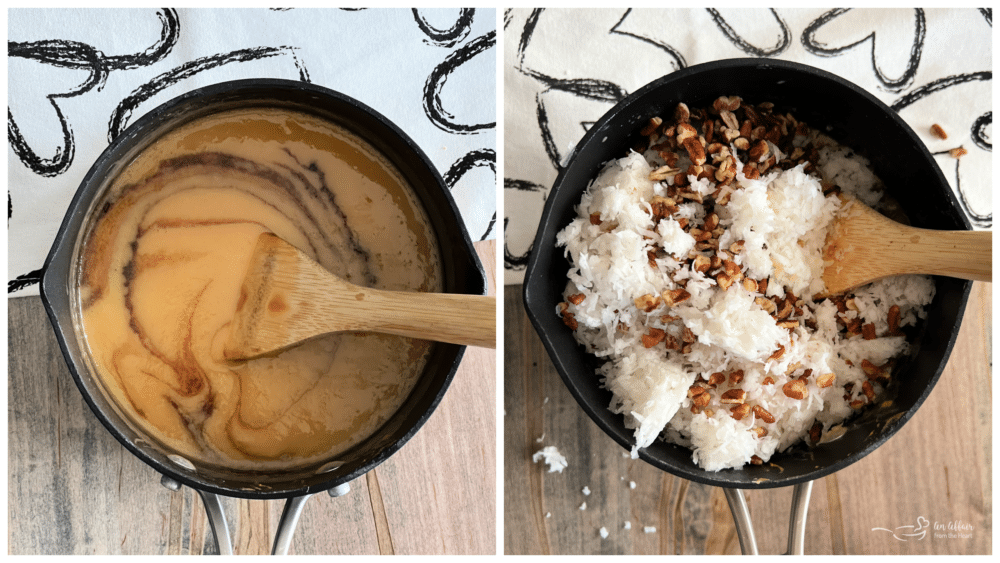 Next, remove the frosting from heat and add vanilla extract, pecans, and shredded coconut.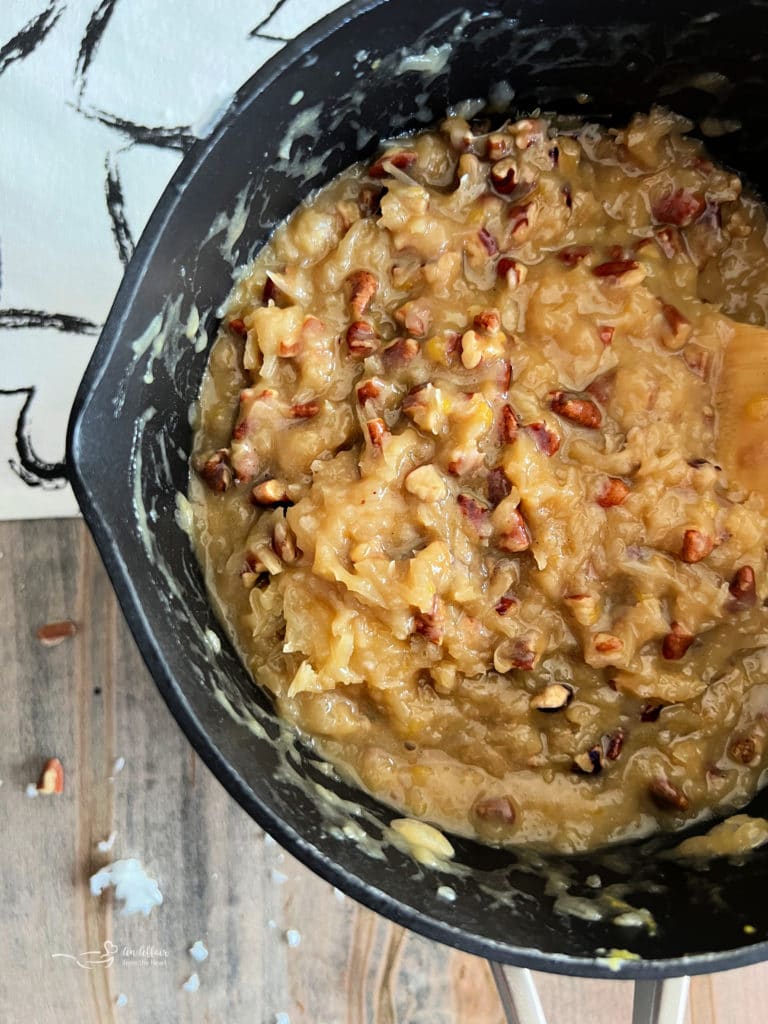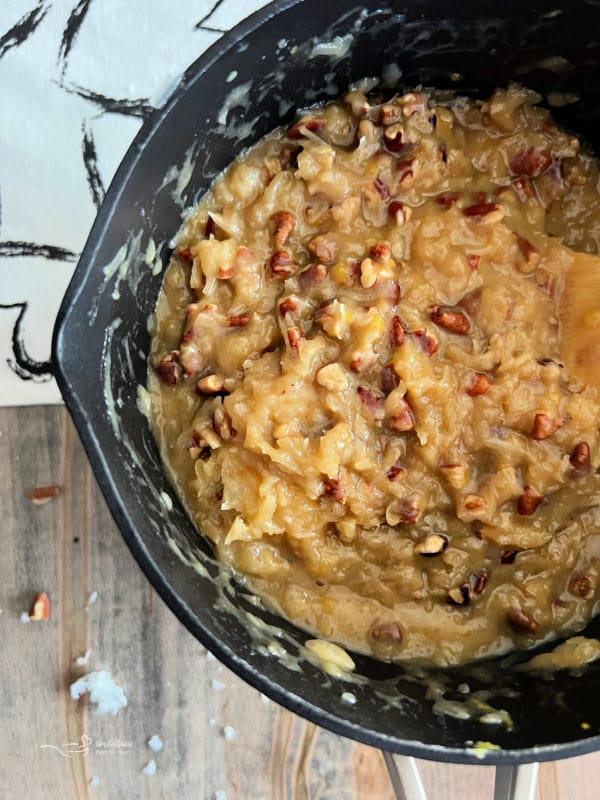 After that, stir everything together and allow the frosting to rest for 30 minutes to cool and thicken.
ASSEMBLE AND SERVE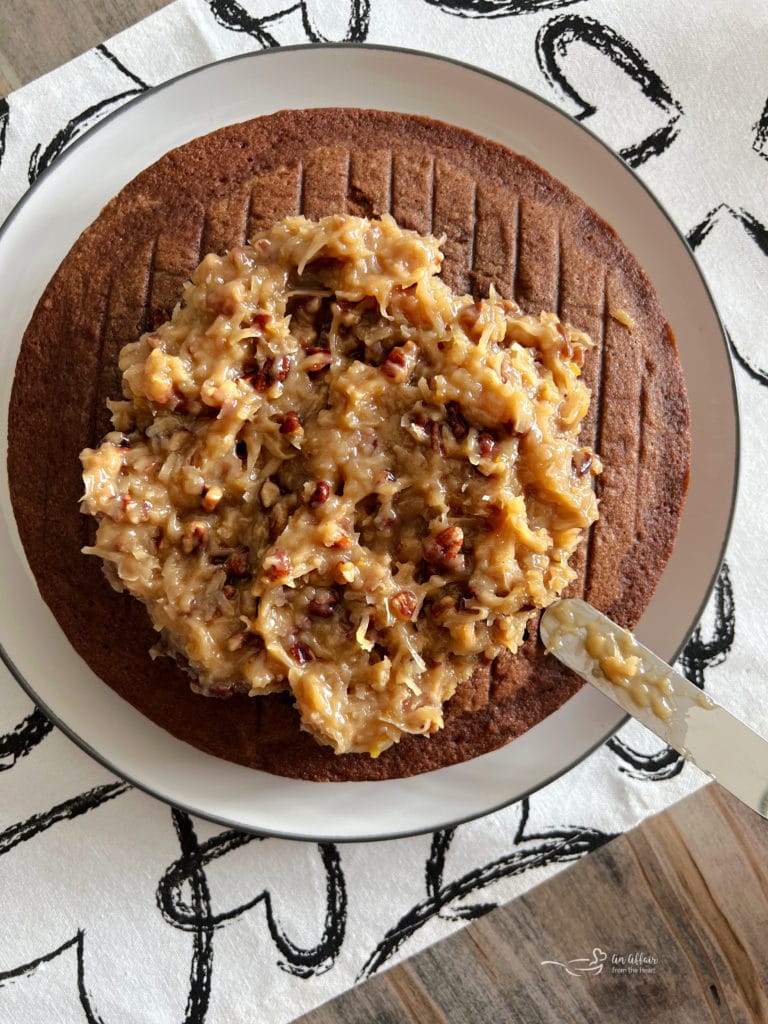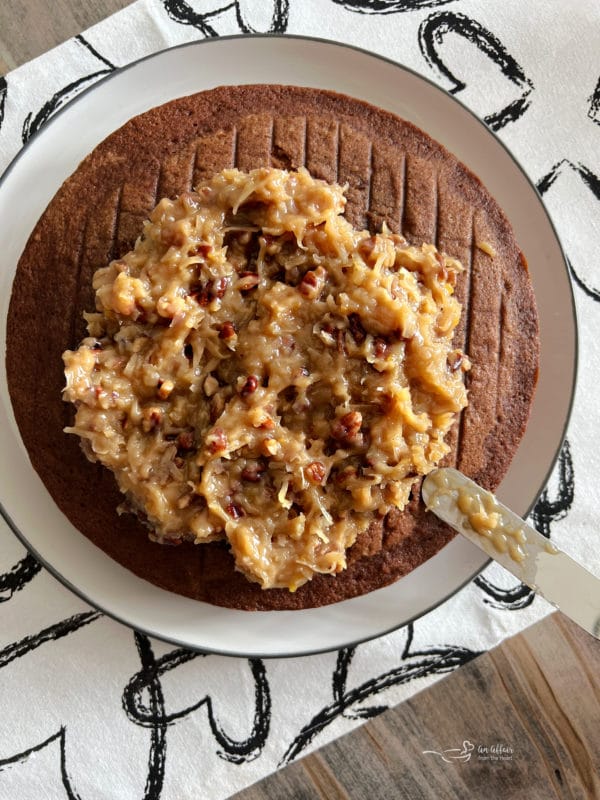 Finally, set the first cake layer on a cake plate and frost just the top of it with ⅓ of the frosting. Repeat with the next two layers, leaving the sides of the cake bare.
Note: This amount of frosting is for a cake with no frosting on the sides or a "naked cake." If you want to frost the outside of the cake, you will need to make a double batch of the frosting.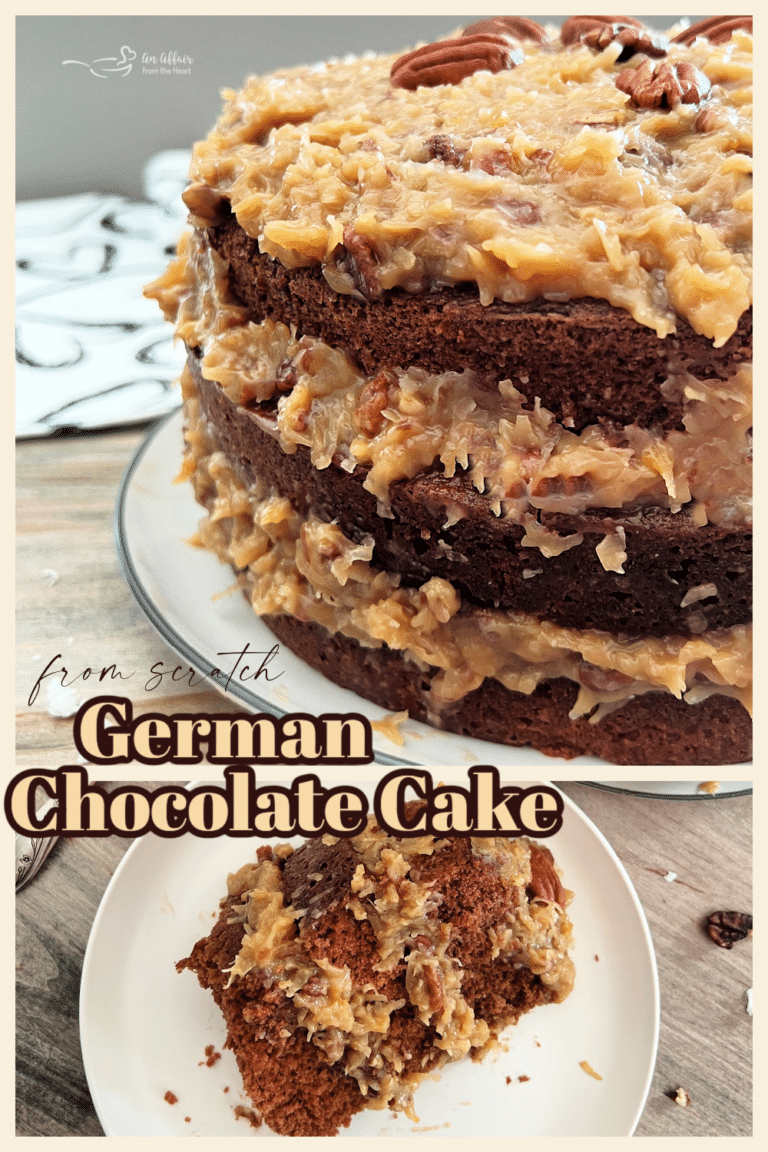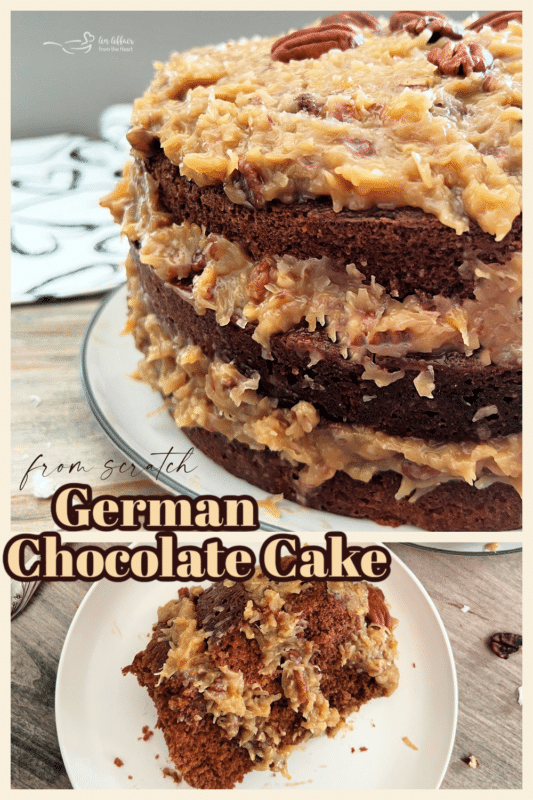 LOVE it? PIN IT!
Be sure to save this chocolate cake for all of your upcoming holidays, birthday parties, events, and special occasions. Saving this homemade cake recipe to your favorite recipe board on Pinterest will allow you to find it quickly the next time you want a yummy, sweet German chocolate cake!
WHY THIS TRADITIONAL GERMAN CHOCOLATE LAYER CAKE IS THE BEST
Homemade German chocolate cake is an old-fashioned original cake recipe that is known for its yummy combination of sweet German chocolate and sweet nutty icing. You will love it for several reasons:
Easy to Make: This traditional German cake is made with basic easy steps that will have you feeling confident and proud of what you have baked. You will want to share it with everyone if you can manage it not keep it all to yourself. Just be sure everything is properly measured beforehand to yield the best cake.
Rich and Moist: The sweet creamy layers of German chocolate, coconut pecan frosting, vanilla extract, sugar, butter, and more create a delectable, moist homemade cake that is rich with the BEST flavors!
The Best Cake: I am truly not exaggerating whenever I say this is the best German Chocolate cake you'll ever eat. The sticky sweet layers and coconut pecan filling round the entire chocolate cake out and allow it to be extra spongy since the cake absorbs the textures of the sweet homemade icing. The melted chocolate makes this homemade German chocolate cake recipe truly wonderful.
Great for Holidays and Birthdays: Serve this easy chocolate layer cake for any traditional occasion. Everyone will love this homemade cake recipe!

HOW LONG DOES GERMAN CHOCOLATE FROM SCRATCH CAKE KEEP?
You can make the coconut pecan frosting ahead of time and store it in an airtight container in the refrigerator for a week. You'll want to set it on the counter to take the chill off of it and give it a good stir before spreading it atop the cake.
CAN German Chocolate Cake BE FROZEN?
Yes, you can freeze both the frosting and cake layers. I recommend slicing the cake into big slices, then wrapping securely in plastic wrap before placing it into an airtight container. Freeze the cake layers for up to three months.
To freeze the frosting, place it in an airtight storage container and freeze for three months. Allow the frosting to come to room temperature prior to icing the cake.
DO YOU HAVE TO REFRIGERATE German Chocolate Cake?
You do not have to refrigerate the cake but refrigerating it allows it to remain fresh longer. The cake will last in the fridge for about 4-5 days in an airtight container. German chocolate will last cake in an airtight container at room temperature for about 2-3 days.

NOTES
All-purpose flour is not the same as cake flour. Be sure to use cake flour or the cake will not come out like it did in this recipe!
Make sure the eggs are at room temperature before starting the recipe.
You should be able to find German chocolate bars or pieces in most baking aisles at the grocery store.
Do not overmix the cake batter or it will not properly rise. Beat the butter and sugar until light, fluffy, and creamy.
Semisweet chocolate can be used in place of German chocolate adding a 1/2 Tablespoon of sugar per ounce needed. I recommend using German Chocolate if you can find it.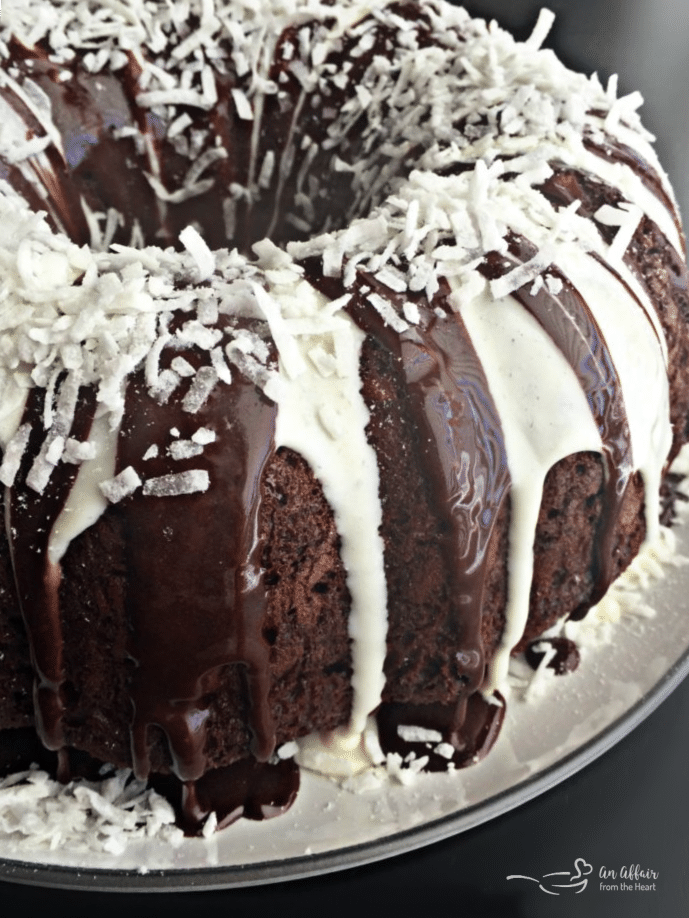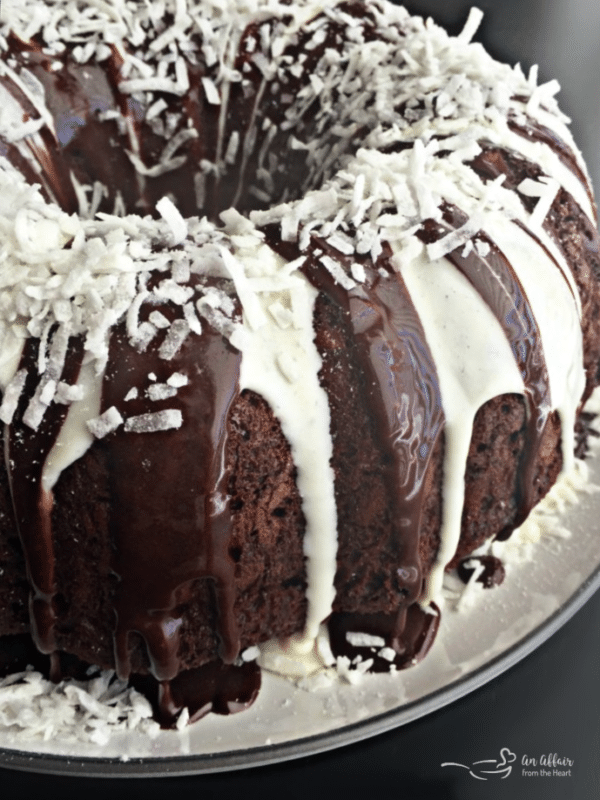 MORE RECIPES to FALL IN LOVE WITH
Be sure to take a look at all of our 2022 Freaky Friday Winter Edition Recipes:
An Affair from the Heart – Homemade German Chocolate Cake
Aunt Bee's Recipes – Cafe Rio Sweet Pork
Devour Dinner – Sweetie Pie's Mac and Cheese
Family Around the Table – Easy Garlic Knots
Feast + West – Guinness Chocolate Cake with Irish Buttercream
Fresh April Flours – Homemade Buttermilk Biscuits
The Fresh Cooky – Easy Mini King Cake Recipe with Crescent Rolls
Hostess at Heart – Chocolate Chip Peanut Butter Blondies
House of Nash Eats – Pizza Casserole
Kathryn's Kitchen Blog – Cheesy Garlic Bread
Lemoine Family Kitchen – Breakfast Chorizo Enchilada Bake
Life, Love & Good Food – Cheddar Cheese Popcorn
The Speckled Palate – Hot Spinach Artichoke Dip
Sue Bee Homemaker – Cornbread Tamale Pie
Take Two Tapas – Whipped Feta Dip
The Wimpy Vegetarian – Spinach Madeline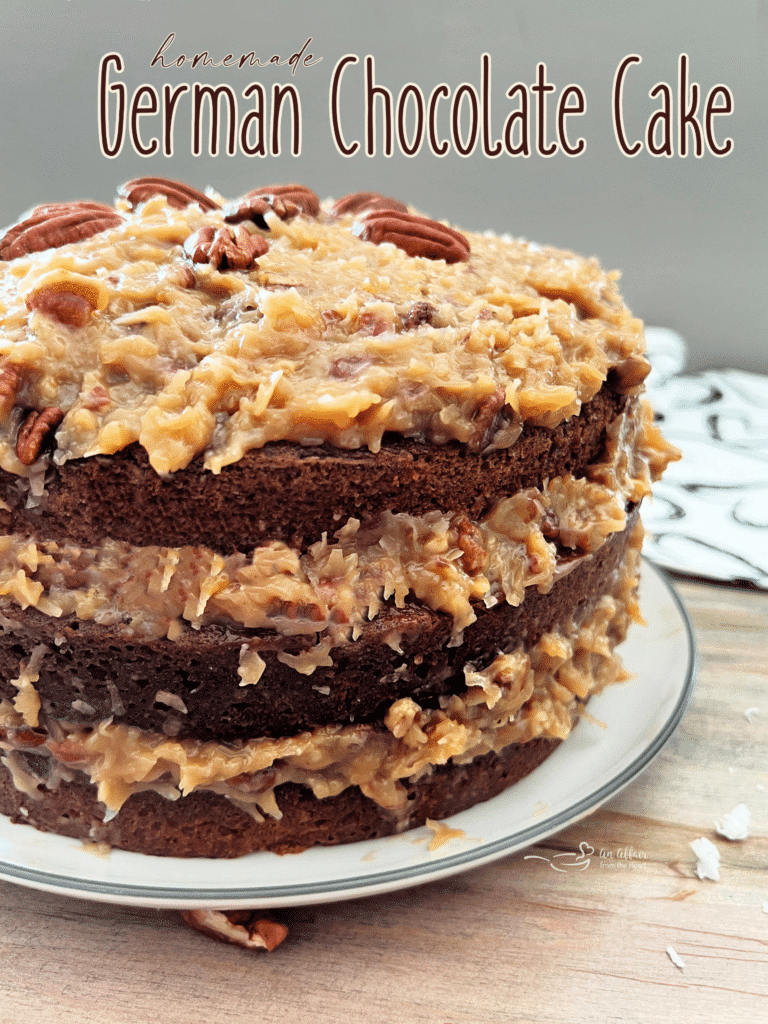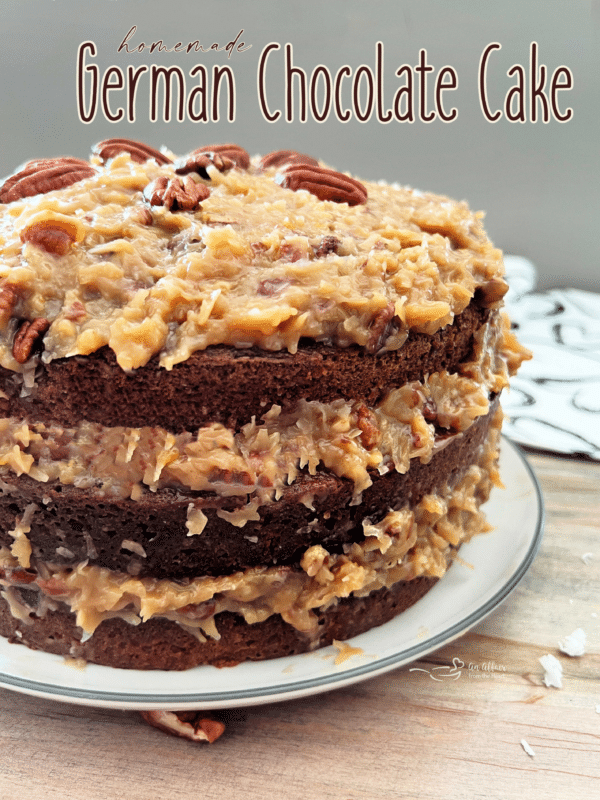 Want to sink your fork into a big slice of this German Chocolate Cake? Let's get baking!!

Yield: 12
The BEST German Chocolate Cake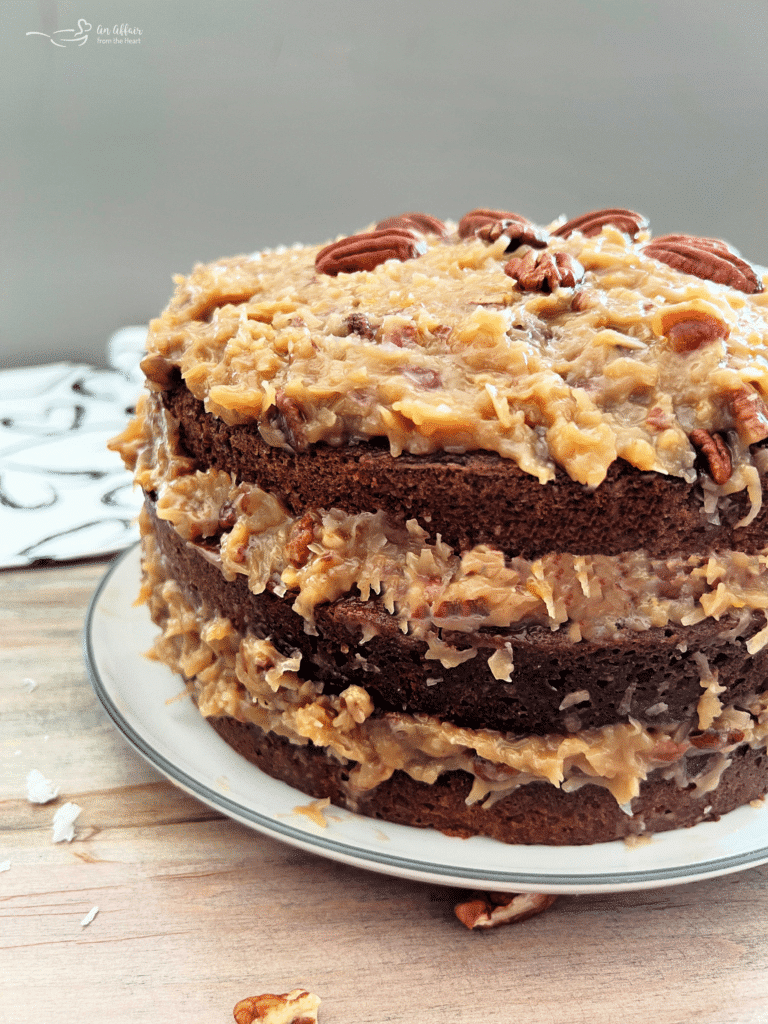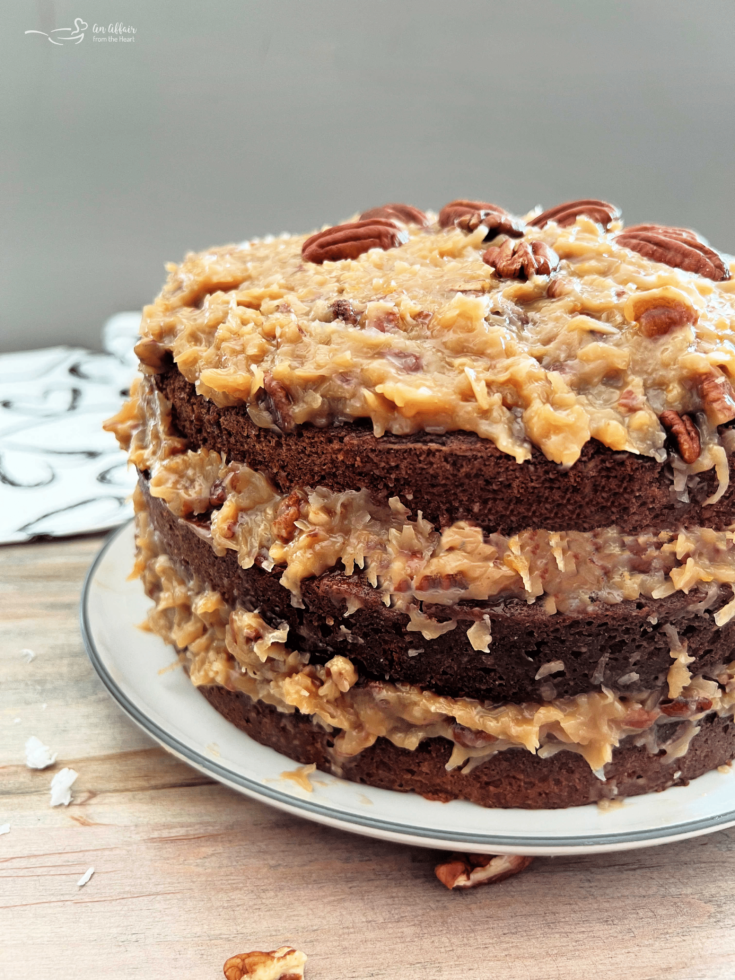 This traditional Homemade German Chocolate Cake Recipe can be described in one word; perfection. Spoonfuls of creamy, sweet coconut pecan frosting nestled between rich chocolate cake layers, all made completely from scratch. This old-fashioned cake recipe is the ideal dessert for all of your dessert cravings and special occasions.
Additional Time
30 minutes
Total Time
1 hour
20 minutes
Ingredients
FOR THE CAKE:
4 ounces German sweet chocolate chopped
½ cup boiling hot water
1 cup butter, softened
1 ¾ cups sugar
4 eggs, room temperature, divided
2 teaspoons pure vanilla extract
2 ½ cups cake flour
1 teaspoon baking soda
½ teaspoon salt
1 cup buttermilk
FOR THE FROSTING:
¾ cup granulated sugar
¾ cup brown sugar
12 ounces evaporated milk
¾ cup butter
5 large egg yolks, room temperature, beaten
3 cups shredded sweetened coconut
1 ½ cups chopped pecans
1 Tablespoon pure vanilla extract
Instructions
Preheat the oven to 350 degrees F. Grease and flour three 9" round cake pans or line with parchment paper for easy release. Set Aside.

To a medium sized bowl, add the chopped chocolate. Pour the boiling hot water over the chocolate and stir gently until it is melted and smooth. Set aside to cool slightly.

Using your stand mixer or hand mixer, cream butter and sugar together for about 4 minutes, until light and fluffy. Scrape the sides and bottom of the bowl about halfway through.

Separate egg whites from yolks, reserving the egg whites. Add each of the yolks, one at a time, to the butter and sugar, mixing after each addition.

Add in the vanilla and the melted chocolate and mix until combined. Scrape the sides and bottom of the bowl and mix again.

Add the flour, baking soda, and salt alternately with the buttermilk. Mixing until just combined. Scraping the sides of the bowl after each addition.

Beat egg whites until stiff peaks form, then gently fold into the batter.

Divide the cake batter evenly between three prepared 9-inch round cake pans and bake for 24-28 minutes or until a toothpick inserted into the center of the cakes comes out clean. Cool slightly before inverting onto wire racks to cool completely.

For the frosting, heat the granulated sugar, brown sugar, evaporated milk, butter, and beaten egg yolks in a saucepan over medium heat until thick and golden brown. Takes about 5 minutes. Make sure to stir constantly so as not to scramble the eggs. Remove from the heat and add in the vanilla, shredded coconut and chopped pecans. Cool for at least 30 minutes. The frosting will continue to thicken as it cools.

To assemble the cake, set the first cake layer on a cake plate and frost just the top with ⅓ of the frosting. Repeating with the next two layers, leaving the sides of the cake bare.
Notes
If you want to frost the outside of the cake, you will need to make a double batch of the frosting.
Don't have buttermilk? Try this easy Buttermilk Substitution
To Freeze leftovers: I recommend slicing the cake into big slices, then wrapped securely in plastic wrap before placing it into an airtight container. Freeze the cake layers for up to three months.
Store at room temperature in an airtight container for up to 3 days, and in the fridge for up to 1 week!
Recommended Products
As an Amazon Associate and member of other affiliate programs, I earn from qualifying purchases.
Nutrition Information:
Yield:
12
Serving Size:
1
Amount Per Serving:
Calories:

900
Total Fat:

52g
Saturated Fat:

28g
Trans Fat:

1g
Unsaturated Fat:

21g
Cholesterol:

238mg
Sodium:

605mg
Carbohydrates:

98g
Fiber:

4g
Sugar:

70g
Protein:

13g
Please note that nutrition is not guaranteed accurate.

If you make this recipe, I'd love to know! Snap a picture, share the photo on social media with the hashtag #AnAffairFromTheHeart – I'd love to see what you made! – Michaela