Carrot Cake Bars with Cream Cheese Frosting
As an Amazon Associate and member of other affiliate programs, I earn from qualifying purchases.
Easy and sweet "picnic" Carrot Cake Bars are made with creamy and tangy vanilla cream cheese icing and will make anyone happy! Flavors of cinnamon, puréed carrots, and spicy nutmeg are combined with sugar to create the best dessert bars you'll ever eat!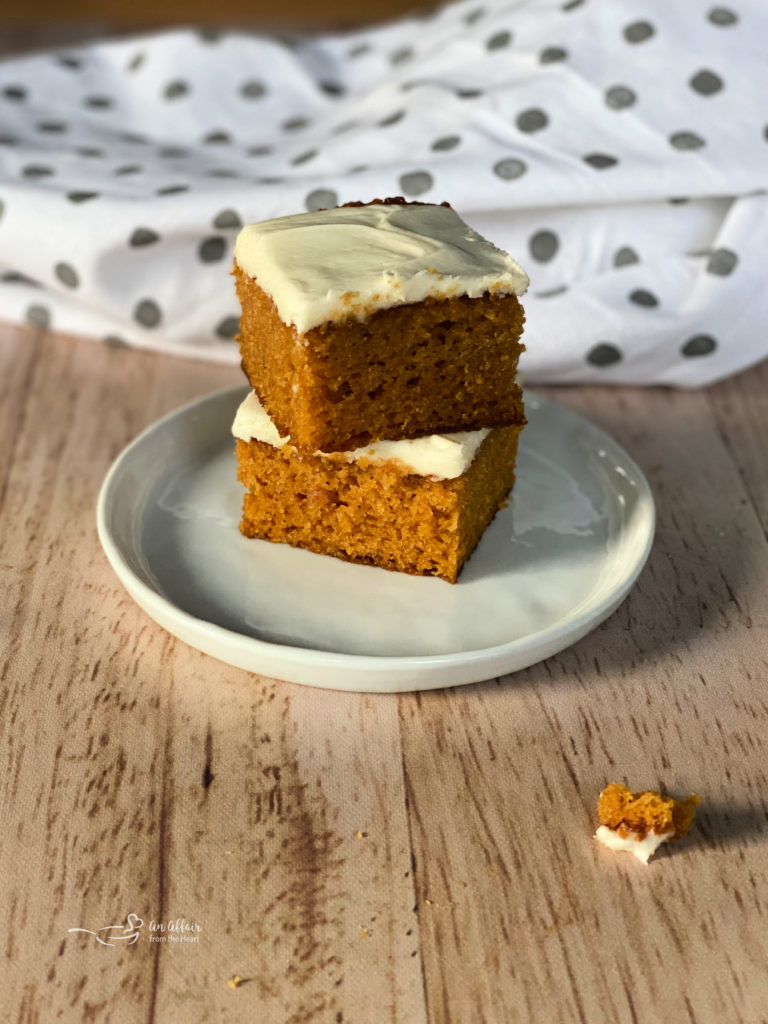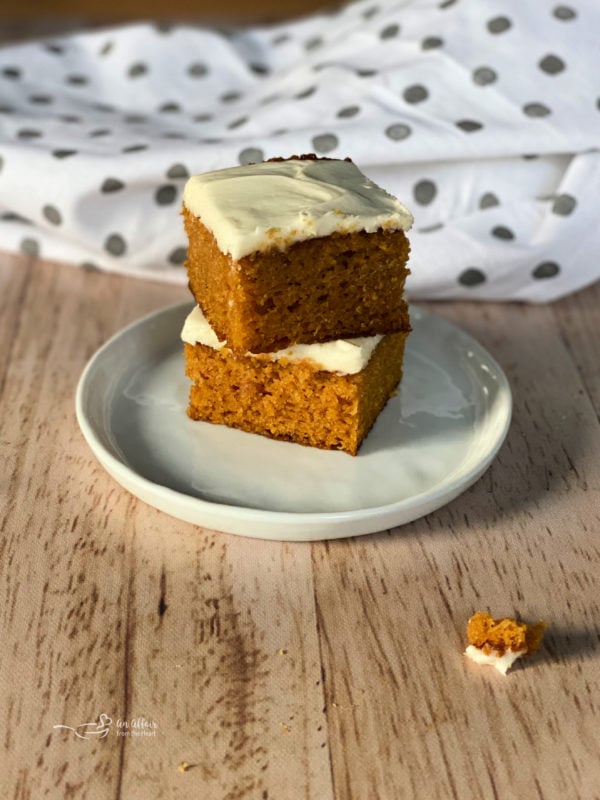 Soft and Easy Carrot Bars Recipe
I love this carrot bar recipe! It's so easy to make, and each and every time that I do, they are devoured. I got this recipe out of an old church cookbook from 1980. The cream cheese frosting is the perfect topper for these delicious carrot cake bars!
Bake your feelings away with this baking recipe. The batter comes together in minutes and creates treats that are incredibly moist, pleasant, and definite dealbreakers for carrot cake lovers. Baby food carrots allow this recipe to be pillowy and filled with light textures that will make your mouth water! Who would have thought?
These carrot squares are great for picnics, holidays, and anytime you need to impress someone else (or yourself.) This is one of those recipes that really caught my attention when I discovered it years ago. Ever since I found this carrot recipe in the old-fashioned cookbook I mentioned earlier, we've been hooked ever since and make these dessert bars anytime we crave those classic flavors of carrot cake.
What is it about carrot cake that you just love? There is nothing quite like the nostalgia you can feel from eating your favorite carrot-flavored desserts. The magical duo–cream cheese and carrot cake–come in many forms such as this fan-favorite carrot bundt cake. There are so many great things to say about these recipes, but I will let the flavors do all the talking!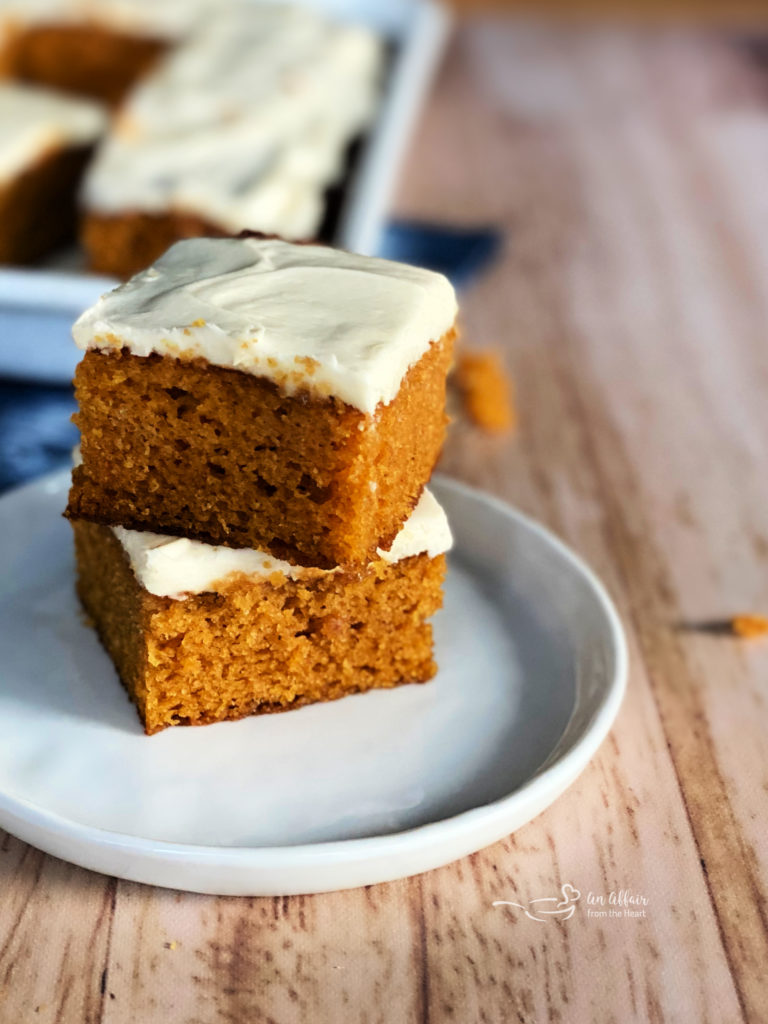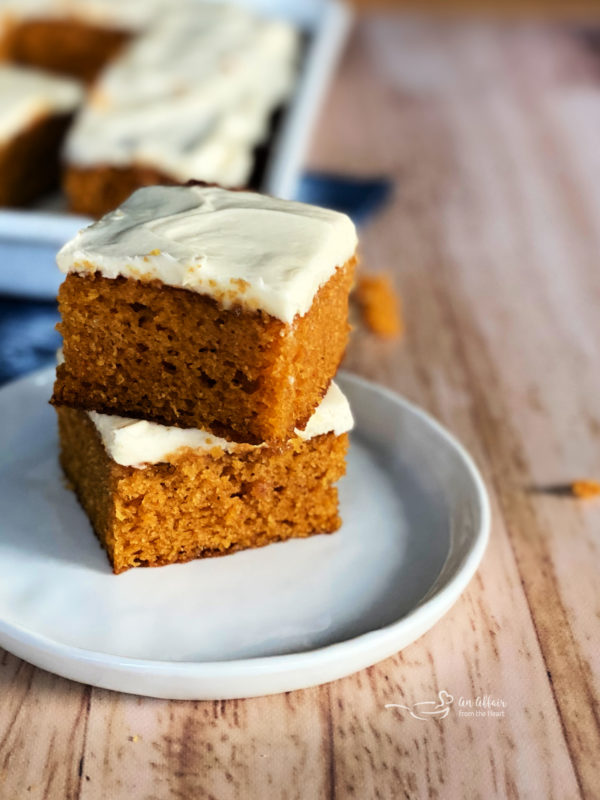 National Cookbook Month
October is National Cookbook Month. I have hundreds of cookbooks, but by far, my favorites are the good old-fashioned church cookbooks! I am participating in an event with a few other bloggers that showcase recipes from a cookbook of their choosing. You Can see what all of them chose at the end of this post, underneath the printable recipe card.
This recipe was adapted from one that I found in the Centennial Cookbook from Havelock United Methodist Church in Lincoln, Nebraska.
Why This Recipe is the Best
Easy: One of my very favorite things about this recipe is just how simple it is! The cream cheese frosting can easily come together while the carrot cake bars cook!
Indulgent: The rich flavors of cinnamon and nutmeg shine through this recipe and create the perfect pair with the cream cheese topping. The baby food carrots allow the cake to be super moist and so easy to bite into.
Sweet: Not too sweet, but sweet enough, these bars are the best way to satisfy your sweet tooth desires!
Perfect for the Family: Great for all ages, everyone will love these cake bars. I always make sure to bake extra because I know my family will eat all of them!
Ingredients Needed
Dry Ingredients
Sugar: Granulated white sugar is used to make these cake bars as sweet and soft as they can be.
Flour: All-purpose flour is an easy flour to use for this recipe because everyone usually always has it on hand!
Baking Soda: Baking soda is a leavening agent that allows the cake to rise and become fluffy.
Salt: Salt gives this recipe some extra flavor and balances out the sweet flavors!
Cinnamon: Use ground cinnamon for these carrot cake bars. If you only have cinnamon sticks, then you can grate them with a boxed grater or break them up into pieces and put them in the food processor.
Nutmeg: Use ground nutmeg if you can! Of course, you can grate the whole nutmeg if that is all you have.
Wet Ingredients
Eggs: You will need four eggs for this recipe. Make sure you remove them from the fridge ahead of time!
Carrots: The secret to this recipe is using jars of baby food carrots. Puréed carrots give these bars extra moisture and true carrot flavors that are so delicious.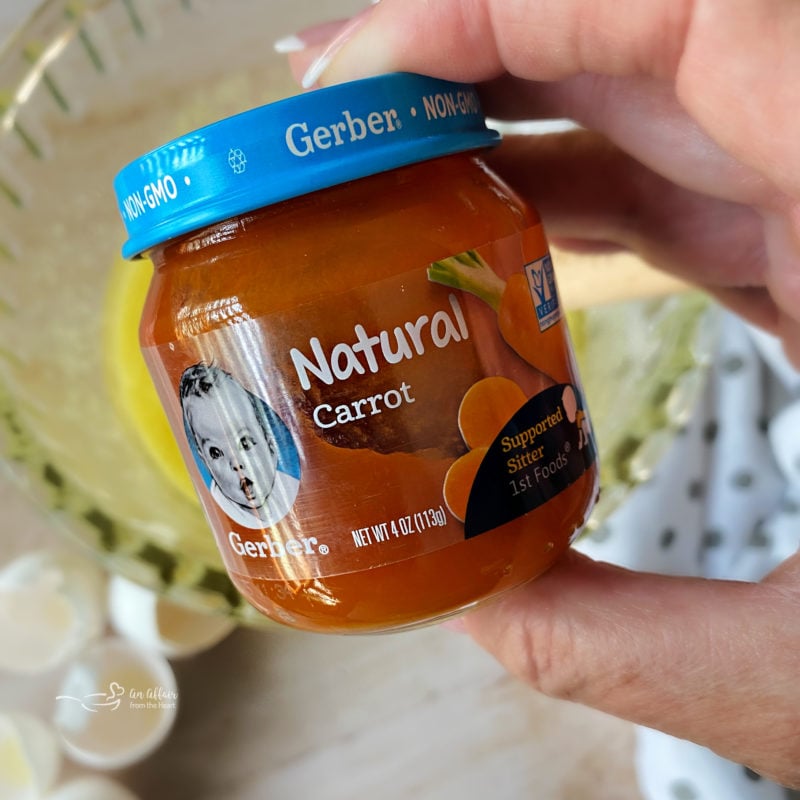 For the Icing
Powdered Sugar: Also known as icing or confectioner's sugar, this light sugar is used to make the cream cheese frosting sweet and super delicious.
Vanilla: Pure vanilla extract gives the frosting yummy flavors of warm vanilla that are definitely a must!
Butter: Use either salted or unsalted butter for the frosting to make it extra good. Make sure the butter is softened or it will be difficult to blend the frosting!
Cream Cheese: Softened cream cheese creates a frosting that is fluffy and rich with bold flavors. The smooth flavors of cream cheese are the best combination with the carrot cake.
Don't know where to find jars of baby food? Find carrot baby food in the baby section at well-stocked grocery stores or supermarkets. Stores will usually always have jars of baby carrots.
How to Make Carrot Cake Bars with Cream Cheese Frosting
Make sure to follow these steps word by word so your cake bars will come out delicious! Follow the pictures from left to right.
First Step – Preheat Oven
First, preheat the oven to 325 degrees Fahrenheit and grease a jelly roll pan (10 ½" x 15 ½") and set it aside. You can grease the pan with either butter or spray oil.
Second Step – Cream Ingredients

With a wooden spoon or electric or stand mixer, cream together the eggs and sugar until fluffy. After that, mix in the oil. Next, stir the carrots until just mixed and smooth.
Third Step – Sift Dry Ingredients

Next, sift together the flour, baking soda, salt, cinnamon, and nutmeg and pour the sifted dry ingredients into the carrot mixture. Meanwhile, stir the mixture as you go.
Fourth Step – Bake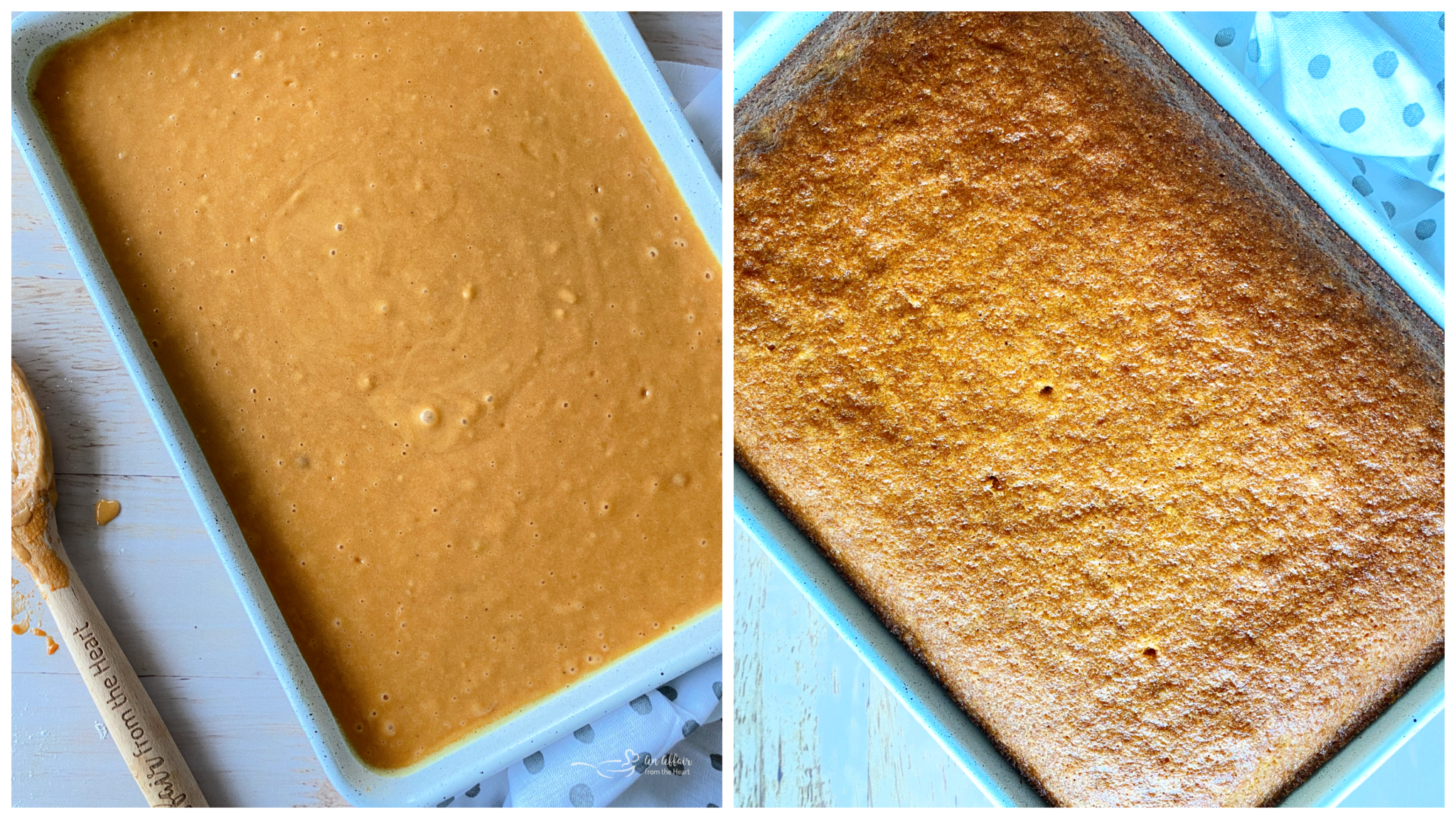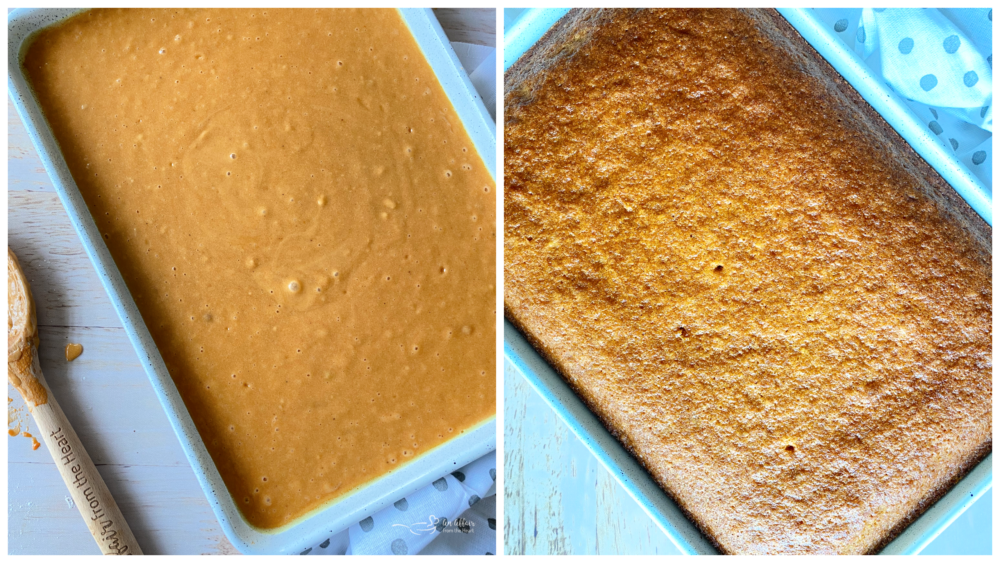 Next, spread the cake batter into the prepared jelly roll pan. After that, bake for 25 to 30 minutes until a toothpick inserted in the middle of the cake comes out clean. Keep in mind different ovens will have different baking times and temperatures.
Fifth Step – Cool
Next, remove the carrot cake bars from the ocean and allow them to cool while you prepare the frosting.
Prepare the Cream Cheese Frosting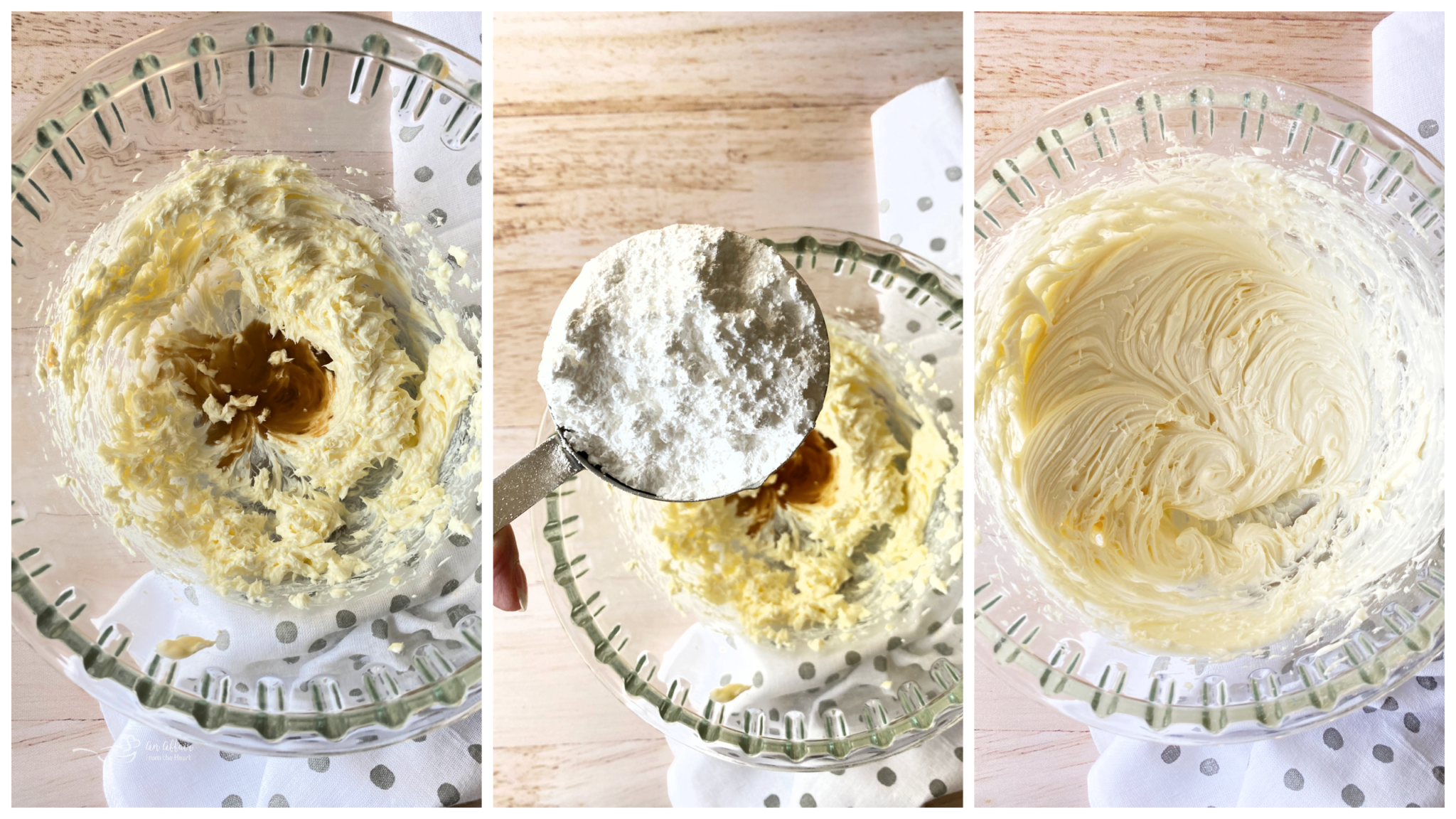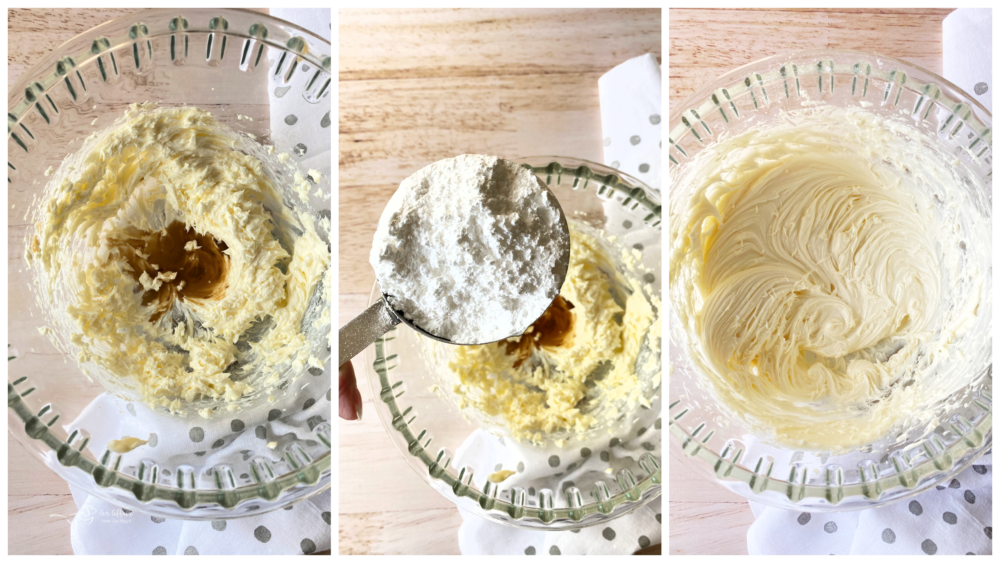 Meanwhile, cream together the butter and cream cheese in a mixing bowl. Then, add the vanilla extract and powdered sugar. Next, mix the frosting until very smooth and no lumps remain.
Frost the Carrot Bars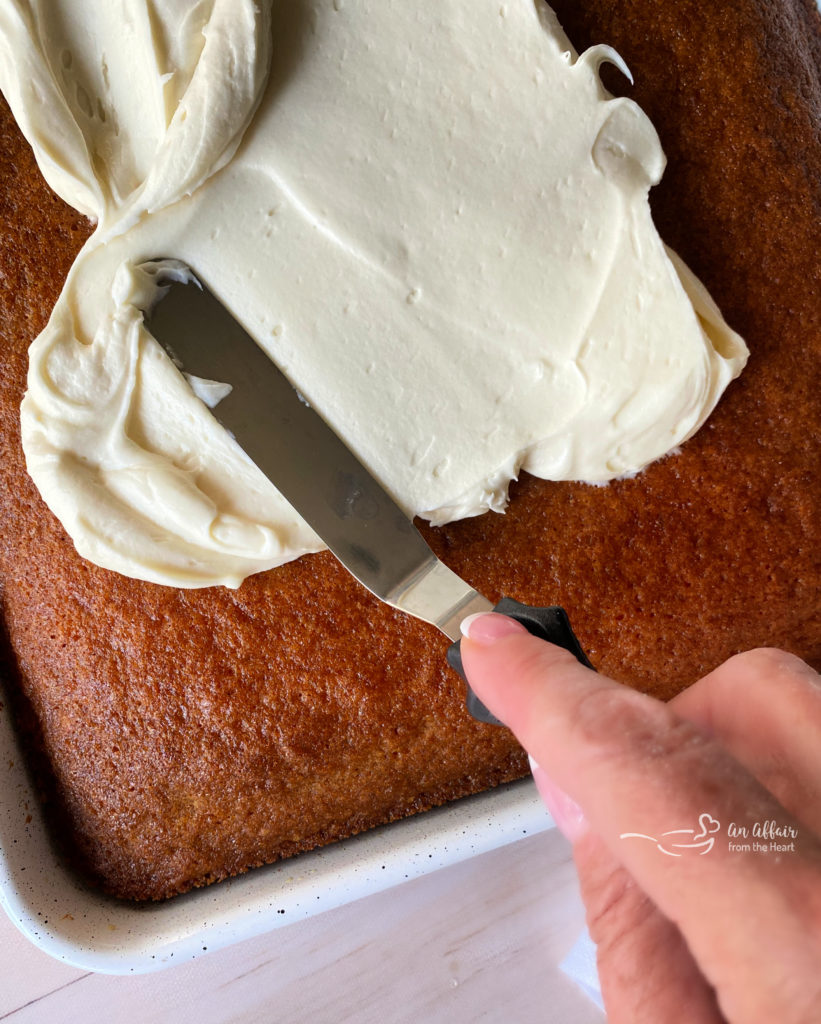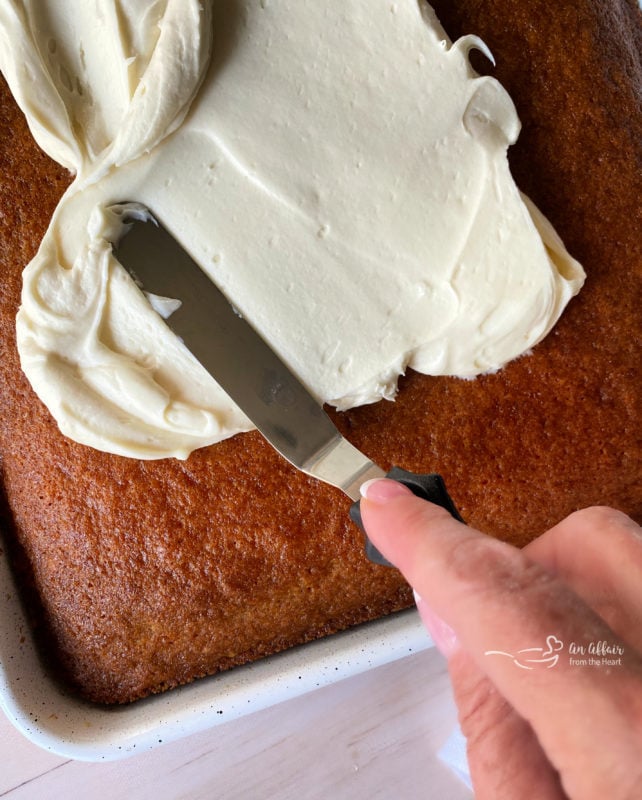 Finally, frost the cooled cake with a rubber spatula or offset spatula. Make to evenly spread the frosting on top.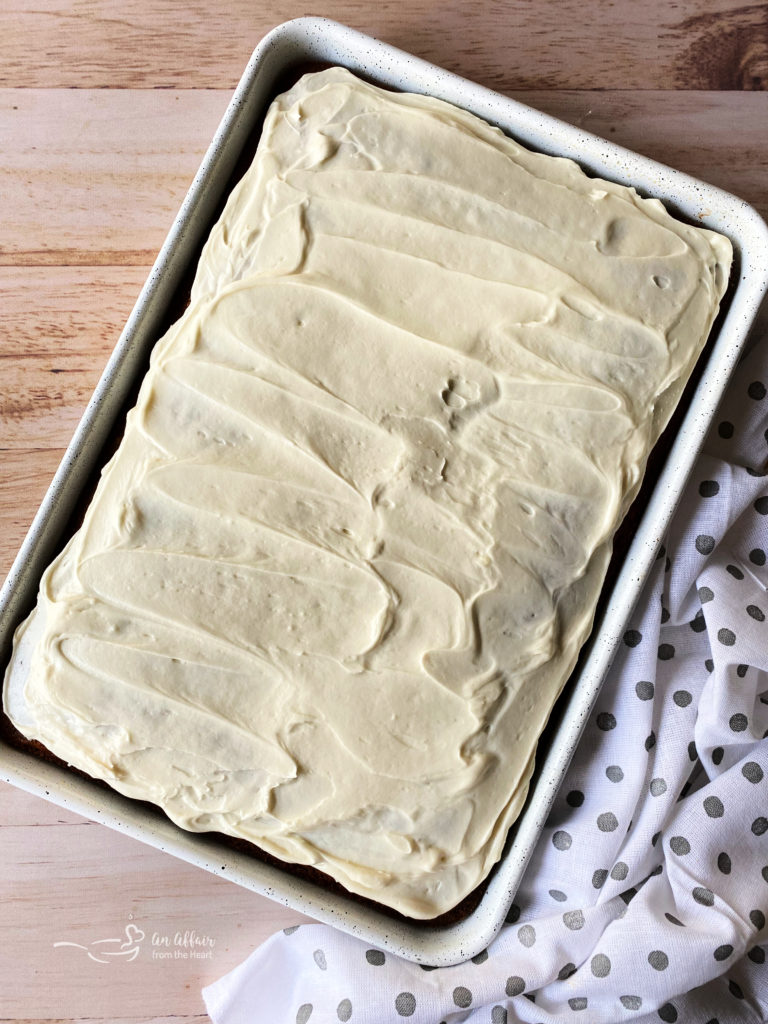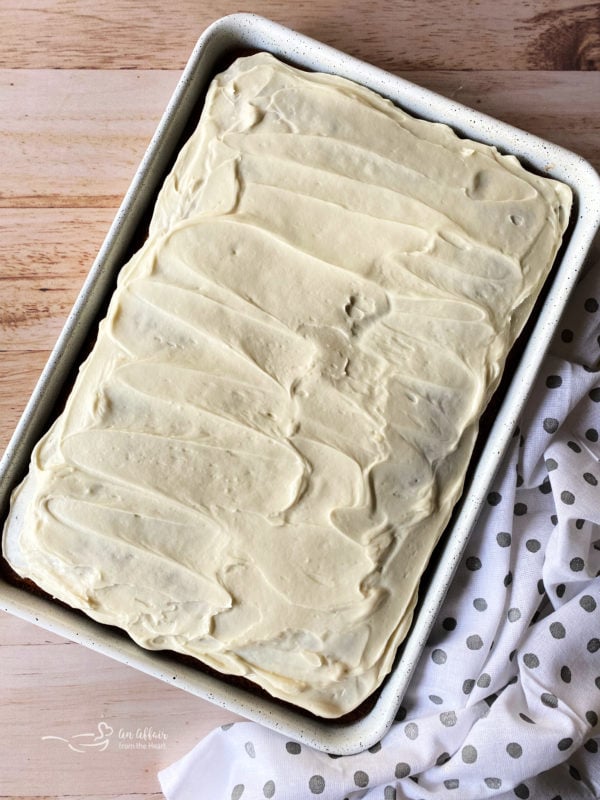 Enjoy these bars immediately or refrigerate until ready to eat. Enjoy! You are going to LOVE these bars!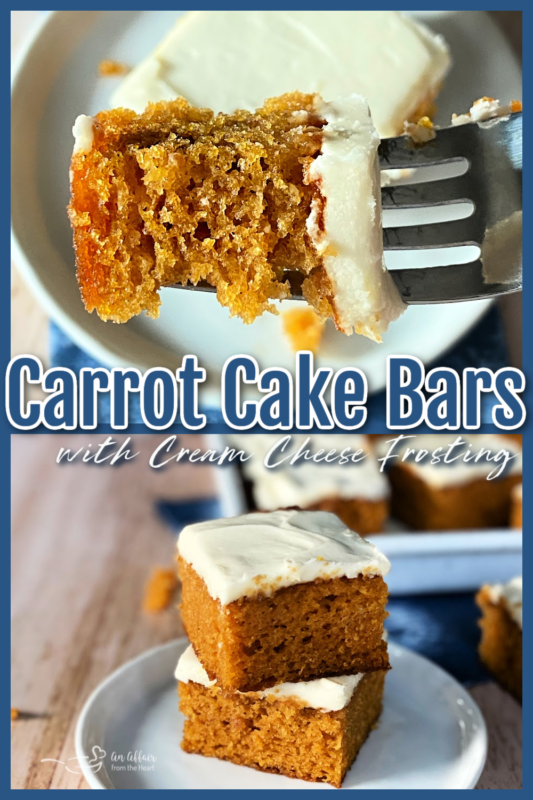 LOVE THIS CARROT RECIPE? PIN IT!
Save these carrot cake bars with cream cheese frosting for the next time you desire carrot cake! These bars are mixed together in only one bowl and are so easy to make, too. Finally, Pin it to Pinterest!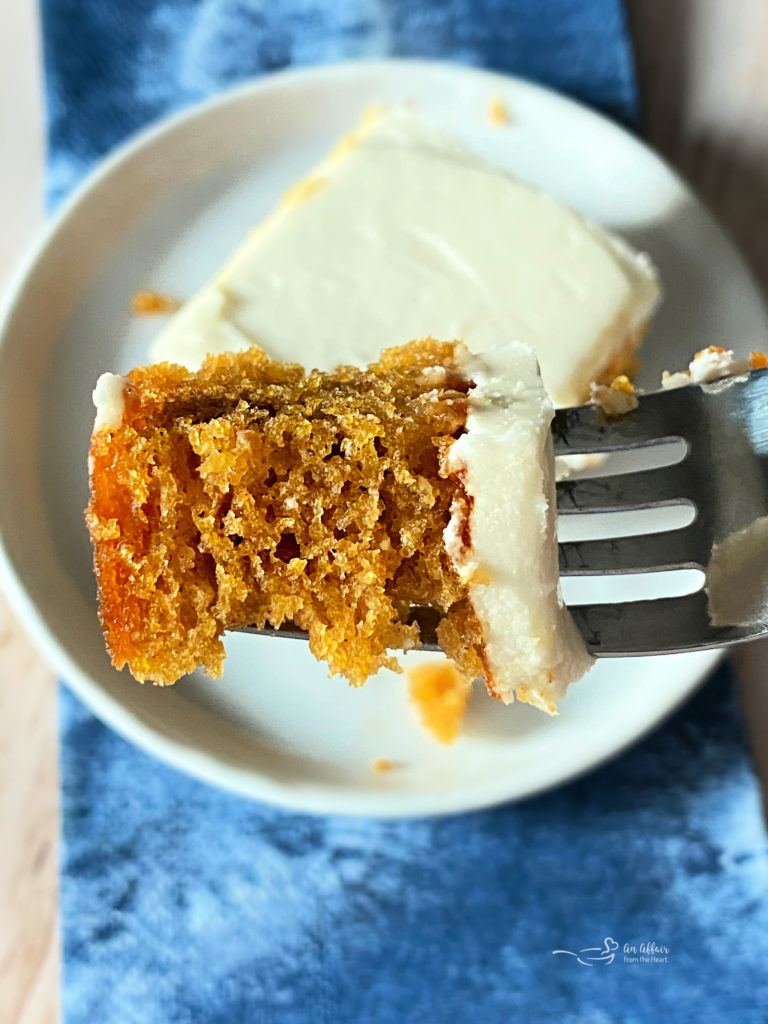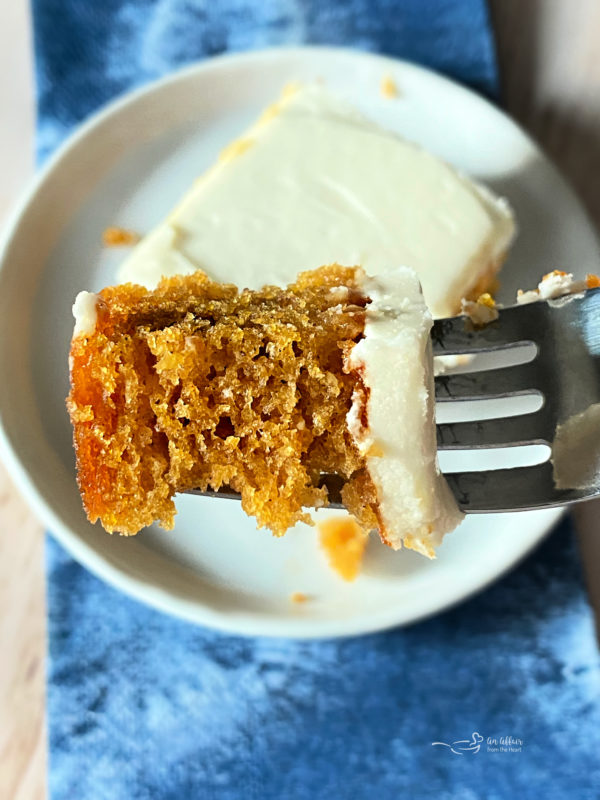 Tips
Be careful to not overbake the bars or they will turn out to be dry.
Serve these carrot bars with chopped pecans or raisins for extra flavor and texture.
Place bars in a single layer in an airtight container and cover. Store the leftovers in the refrigerator for up to three days.
Instead of carrots, then use puréed pumpkin or squash.
Serving Suggestions
These baked treats are delicious after main course meals and lunch. I like to bake these bars whenever we are tailgating because I know everyone will be begging for them! This carrot bar recipe is yummy served with a glass of your favorite milk or a cup of coffee or tea–delicious!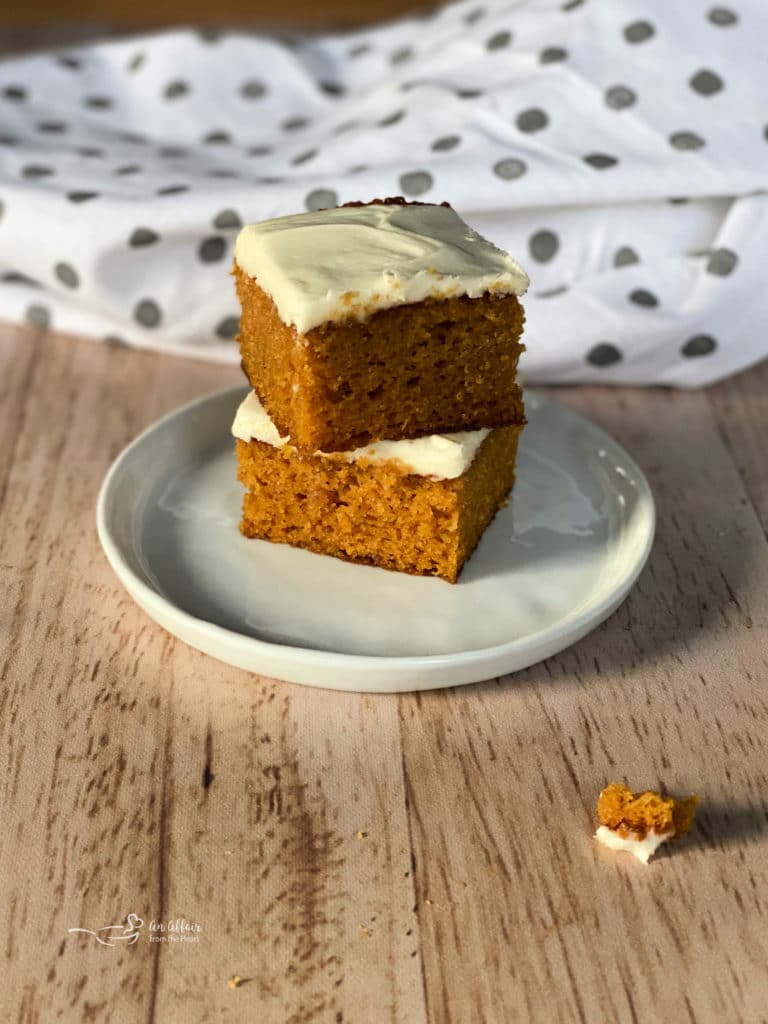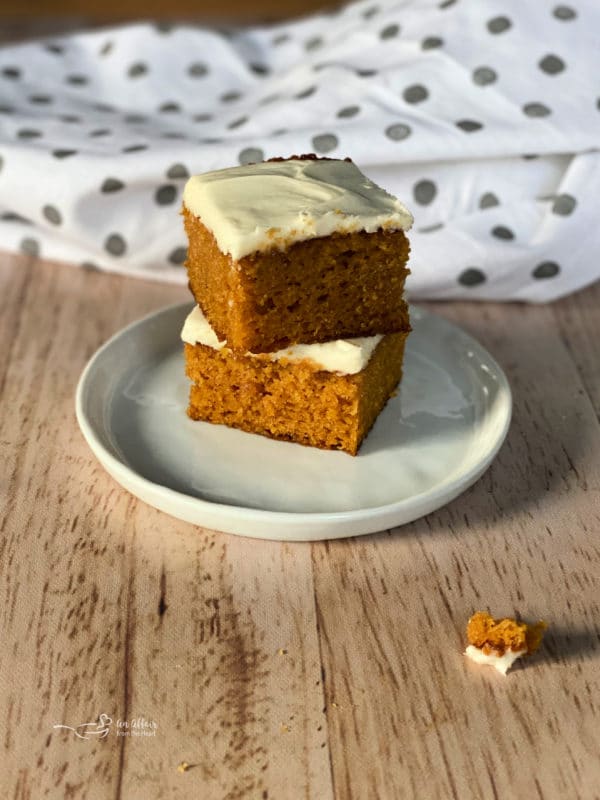 Other Tasty Bars You Will Enjoy
Be sure to look at all of my desserts to choose something you really like! There is something for everyone!
Yield: 20 bars
Carrot Cake Bars with Cream Cheese Frosting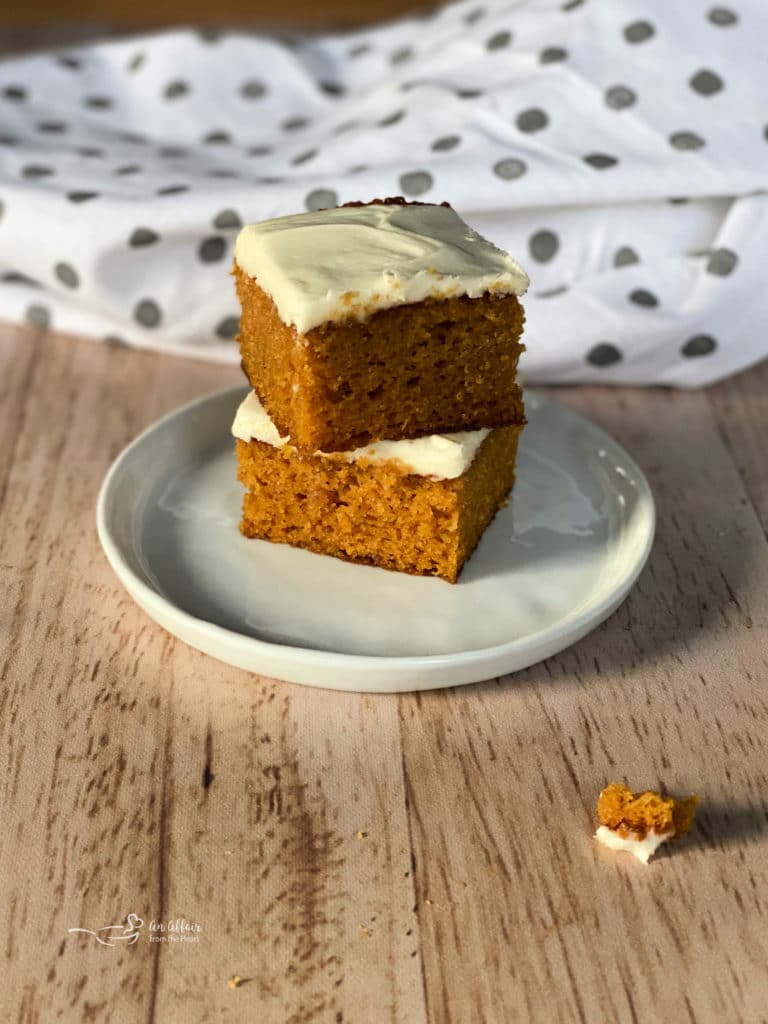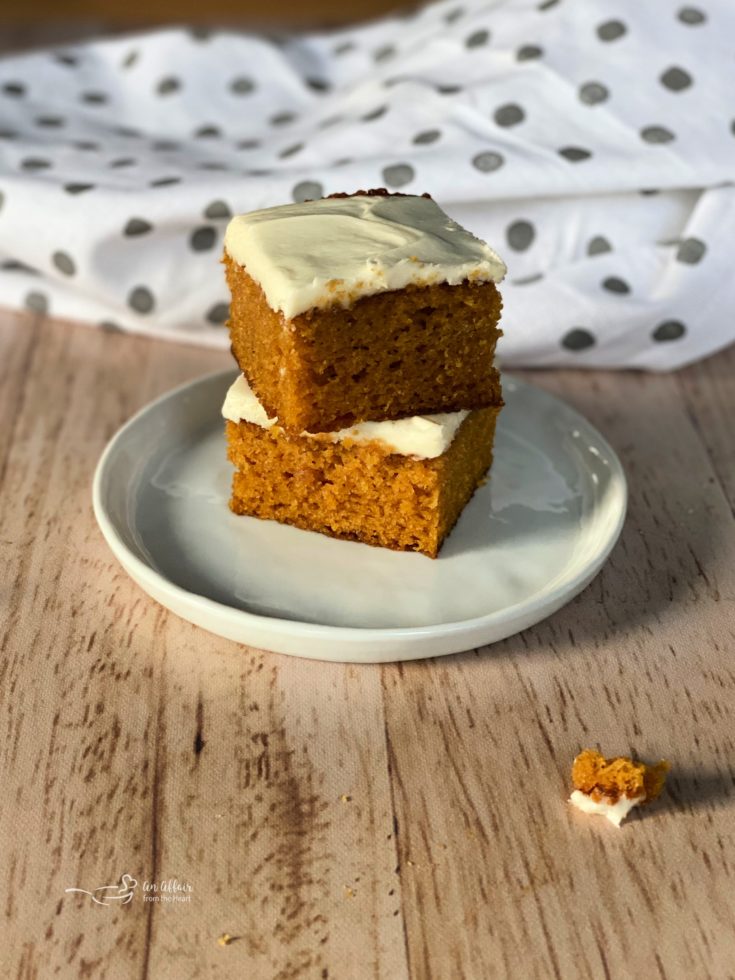 Moist carrot bars baked with cinnamon and nutmeg, slathered with cream cheese. These snack cakes are perfect for any time of the year.
Ingredients
For the Bars
4 eggs
2 cups sugar
1 cup vegetable oil
3 (4 ounce) jars of strained baby food carrots
2 cups flour
2 teaspoons baking soda
1 teaspoon salt
1 teaspoon cinnamon
1/4 teaspoon nutmeg
For the Icing
1 1/2 cups powdered sugar
1 teaspoon vanilla
4 Tablespoons butter, softened
3 ounces cream cheese, softened
Instructions
Preheat oven to 325 degrees F. Grease a jelly roll pan (10 1/2" x 15 1/2) set aside.
With your mixer, cream together eggs and sugar until fluffy. Mix in oil.
Stir in carrots.
Sift the dry ingredients together, and slowly add to the wet mixture, stirring as you go.
Spread into prepared jelly roll pan. Bake for 25-30 minutes, or until a toothpick inserted in the middle comes out clean.
Cool before whipping together icing ingredients and frosting bars. Eat immediately or store in the fridge until you enjoy them.
Recommended Products
As an Amazon Associate and member of other affiliate programs, I earn from qualifying purchases.
Nutrition Information:
Yield:
20
Serving Size:
2
Amount Per Serving:
Calories:

303
Total Fat:

16g
Saturated Fat:

3g
Trans Fat:

0g
Unsaturated Fat:

11g
Cholesterol:

48mg
Sodium:

280mg
Carbohydrates:

38g
Fiber:

1g
Sugar:

28g
Protein:

3g
Please note that nutrition is not guaranteed accurate.
National Cookbook Month Blog Post Contributors