Snow Ice Cream
As an Amazon Associate and member of other affiliate programs, I earn from qualifying purchases.
Creamy snow ice cream made with sweetened condensed milk and vanilla. Top it with your favorite ice cream topping or some pretty sprinkles!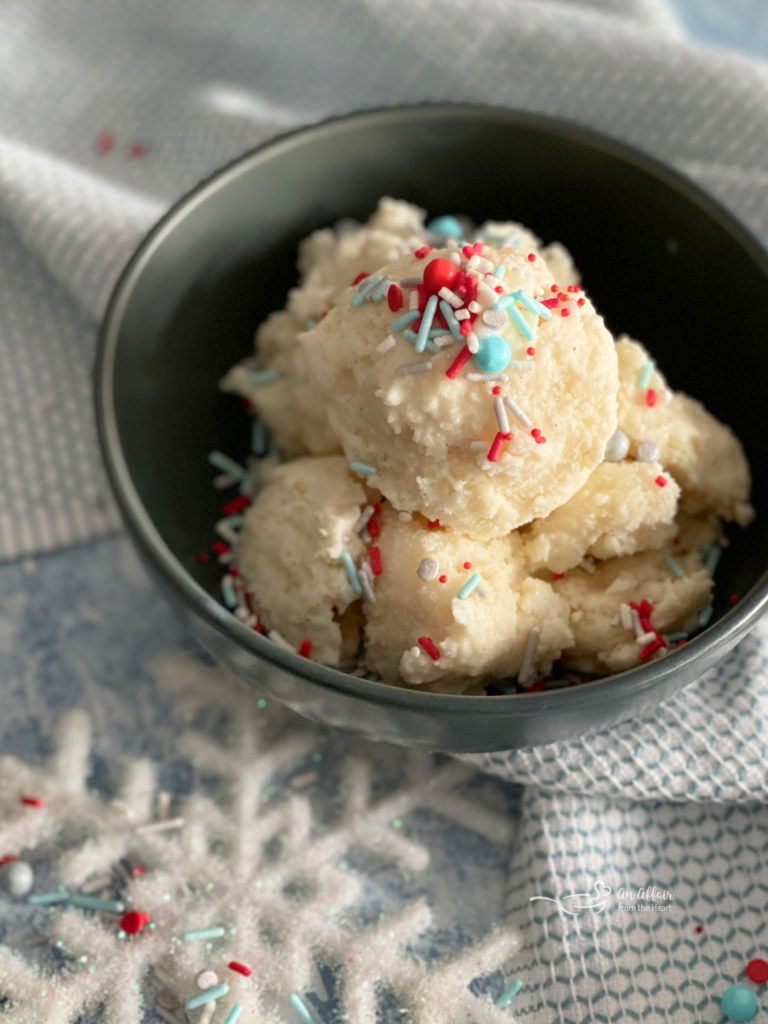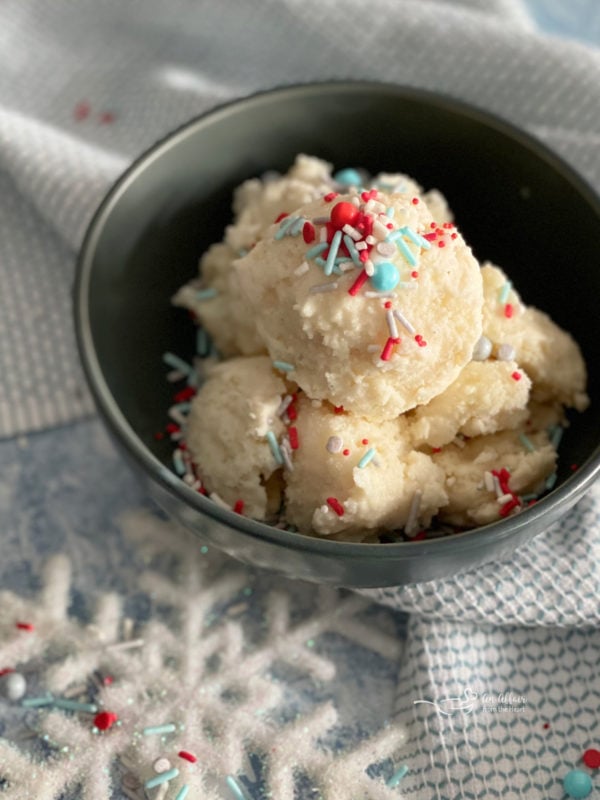 Snow Day Ice Cream
This winter has been BRUTAL. Living in Nebraska, we are used to snow, but this COLD? It's good for nothing. One thing about this winter, though, almost all of the snow, has missed us.
It goes North … It goes South…it goes around us. Our kids have had "cold days" but no "Snow Days" until yesterday.
We finally got some snow, to at least make the cold worthwhile! The kids were home, I was in the kitchen baking
peanut butter cookies
, and had a pot of
homemade chicken noodle soup
on the stove. I asked them "hey — you guys wanna make some snow ice cream?" To which I received a heartfelt "Yay! SNOW ICE CREAM!"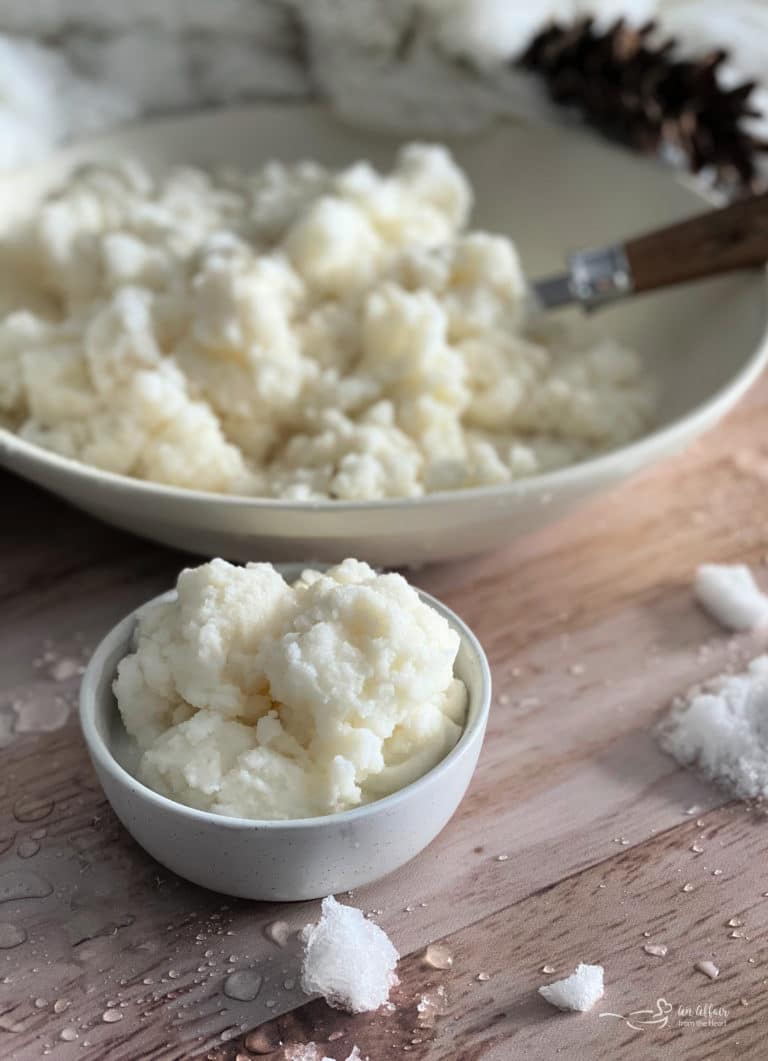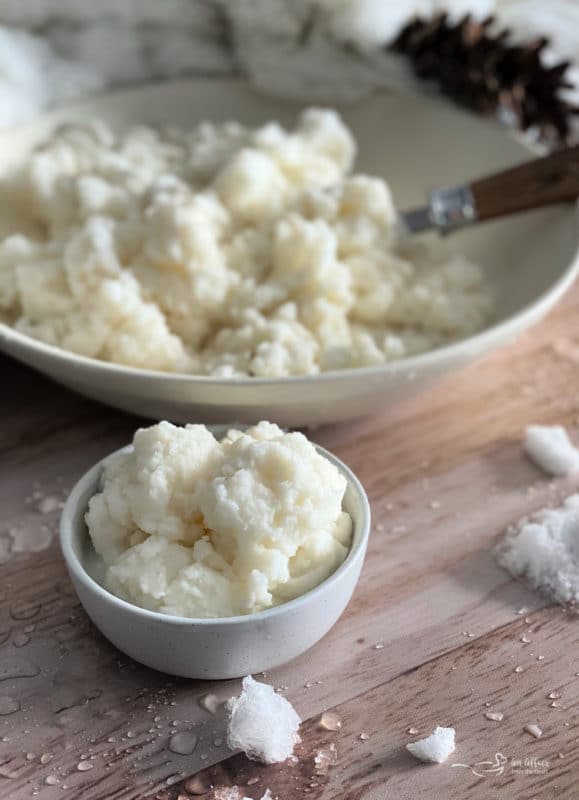 Snow Ice Cream Recipes
This wasn't the first time we had made snow ice cream, but this was the first time we had made it, using this particular recipe. I had heard others talk of making it with sweetened condensed milk and I thought it was time to give it a whirl.
For years and years, and I mean since I was a kid, I have always made this
recipe for Snow Ice Cream
. I got this recipe from my first-grade teacher, and it's the one that we always made as kids, and the one I made with mine.
It's more of an "ice milk" than ice cream, as it uses milk. It's got the benefit of being able to be made dairy-free, and you get to eat it immediately. This recipe here is actually Paula Dean's recipe and it more creamy in texture, but you do need to put it in the freezer for a bit before you scoop it.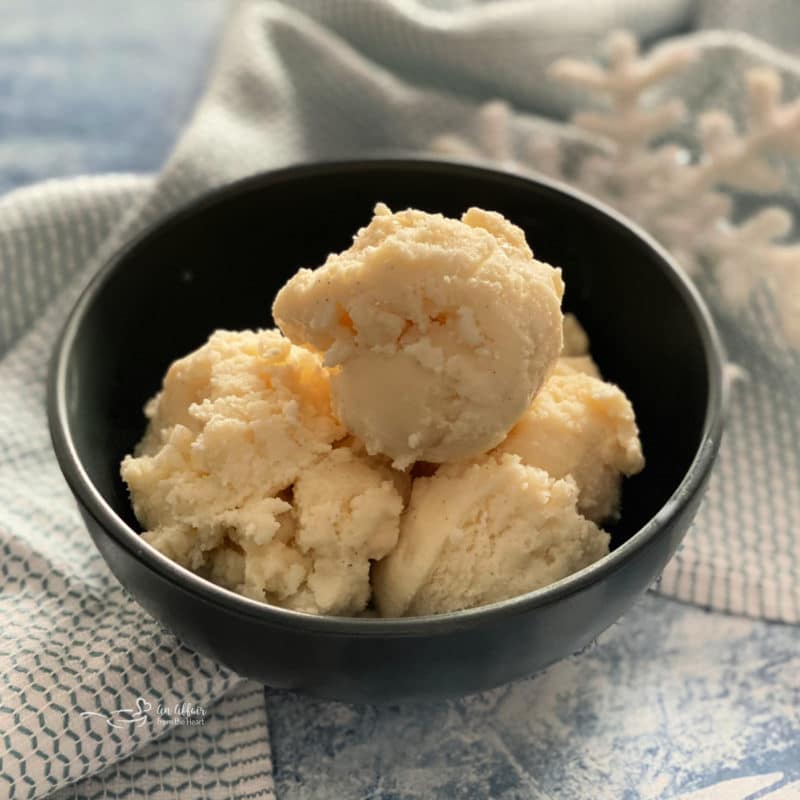 Old Fashioned Snow Cream
Back in the 1950's they referred to this frozen winter treat as "snow cream." It was actually made by making a traditional vanilla custard with eggs on the stovetop, then letting it cool before mixing the snow into it to make it. That just sounds like a whole lotta work doesn't it?
My original recipe actually called for eggs, but I make it without these days. Apparently, in the 1970s nobody knew you shouldn't eat raw eggs? I'm still here, but I figured, I'd leave them out anyway.
Of course, the custard option cooked the eggs and made them safe. But I am all about instant gratification, and not adding extra steps to recipes. How about you?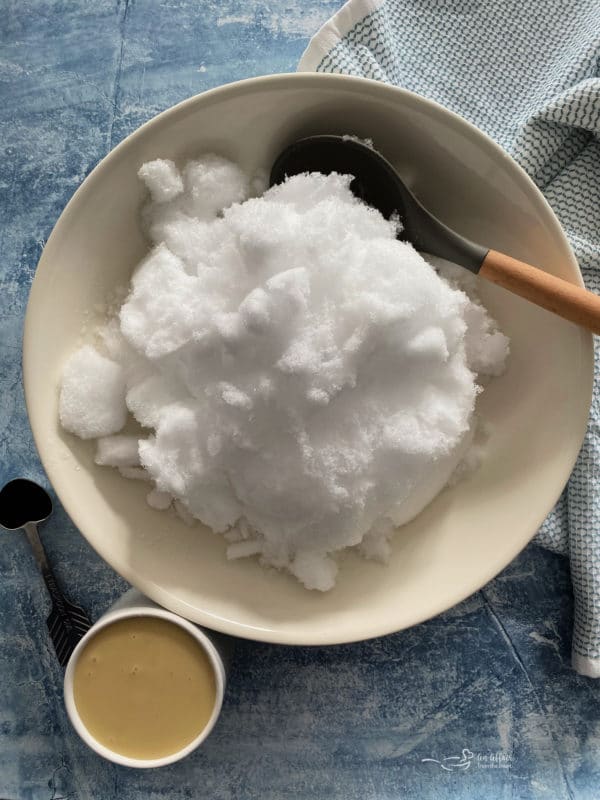 Snow Ice Cream Ingredients
Doesn't get much easier than a can of sweetened condensed milk, some vanilla extract, and clean white fluffy snow. Well, I guess unless you live where there isn't snow, then this recipe might pose a problem.
I love using vanilla bean paste instead of just plain 'ol vanilla extract. It gives it that extra depth of flavor. My favorite is this organic one from Taylor & Colledge. But don't fret, it's not a deal-breaker if you don't have it.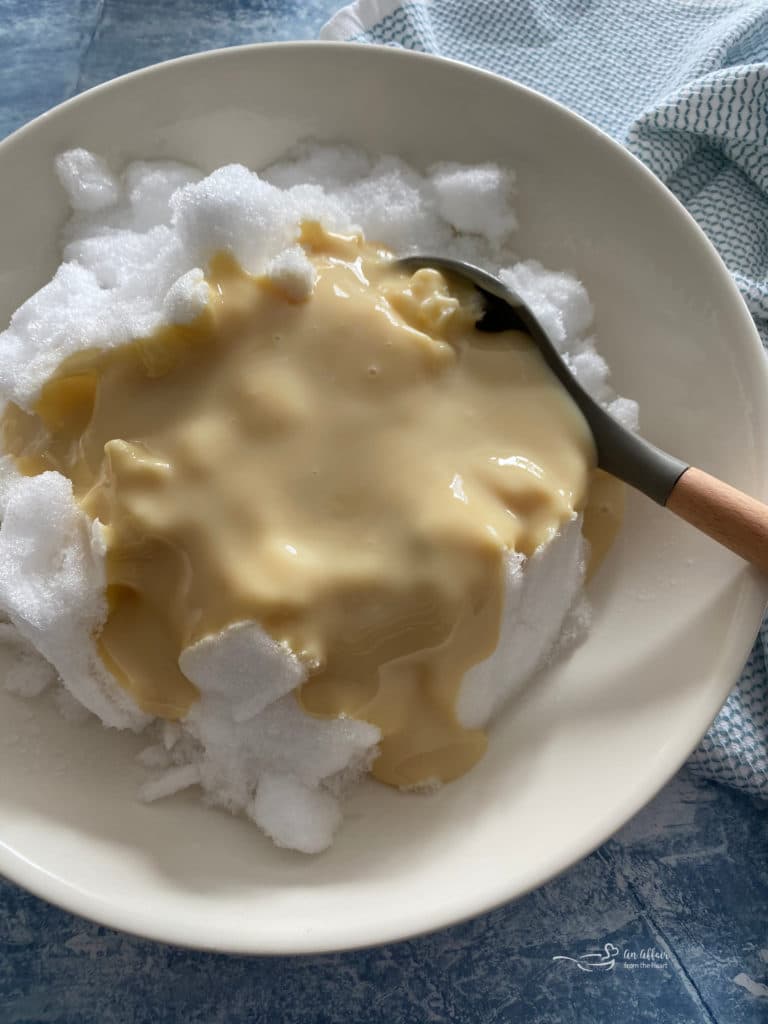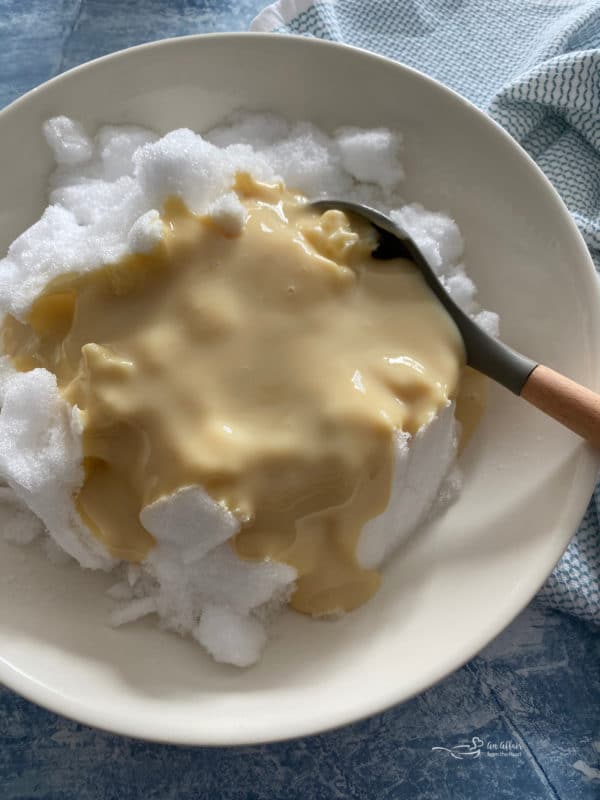 How to Make Snow Ice Cream with Sweetened Condensed Milk
You are going to need a big bowl. Combine all of the ingredients together.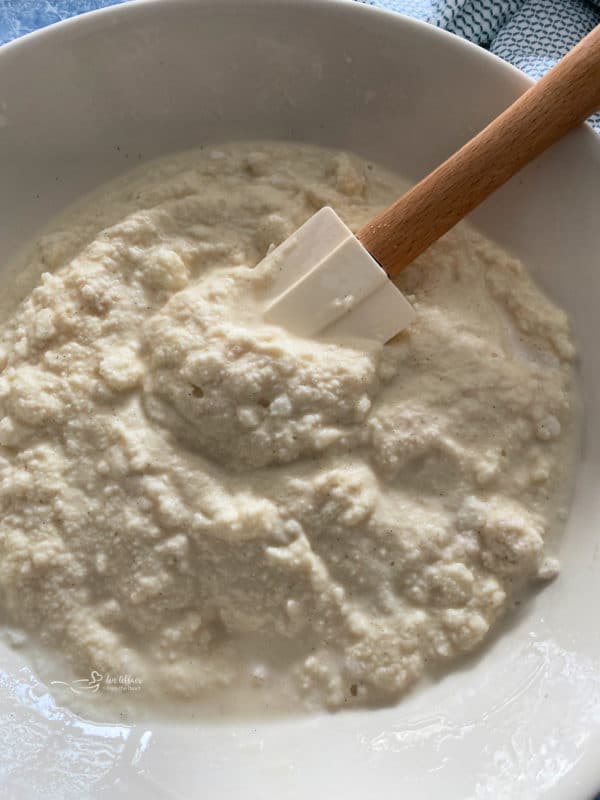 It will be really slushy.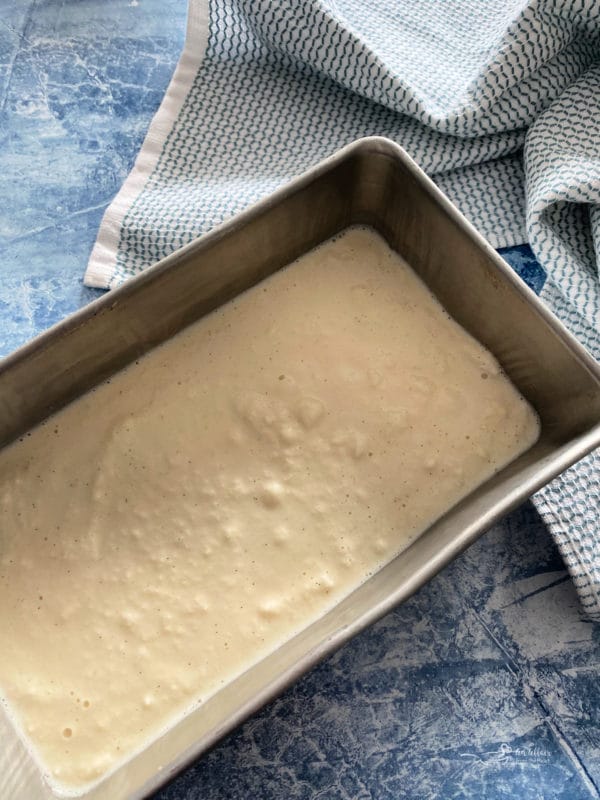 Pour it into a metal baking pan and place it in the freezer. I typically use a loaf pan.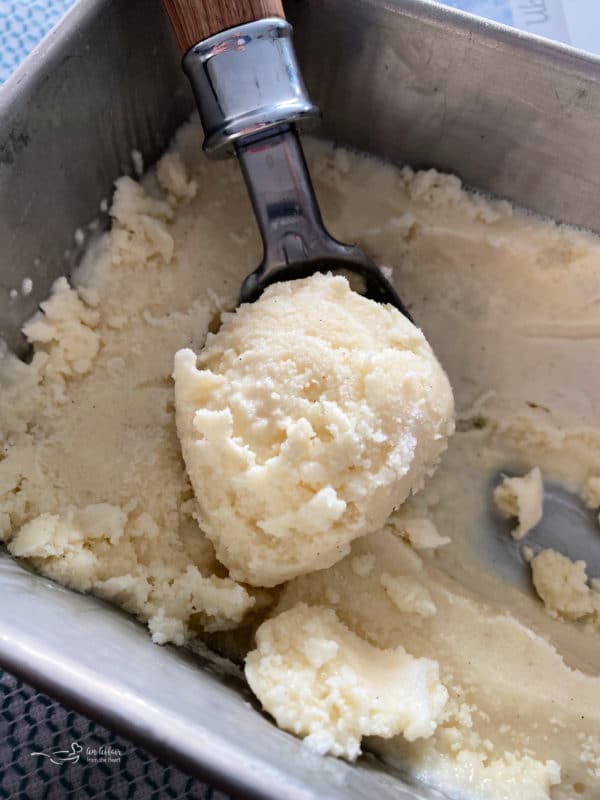 In a couple of hours, it'll be ready to scoop and enjoy!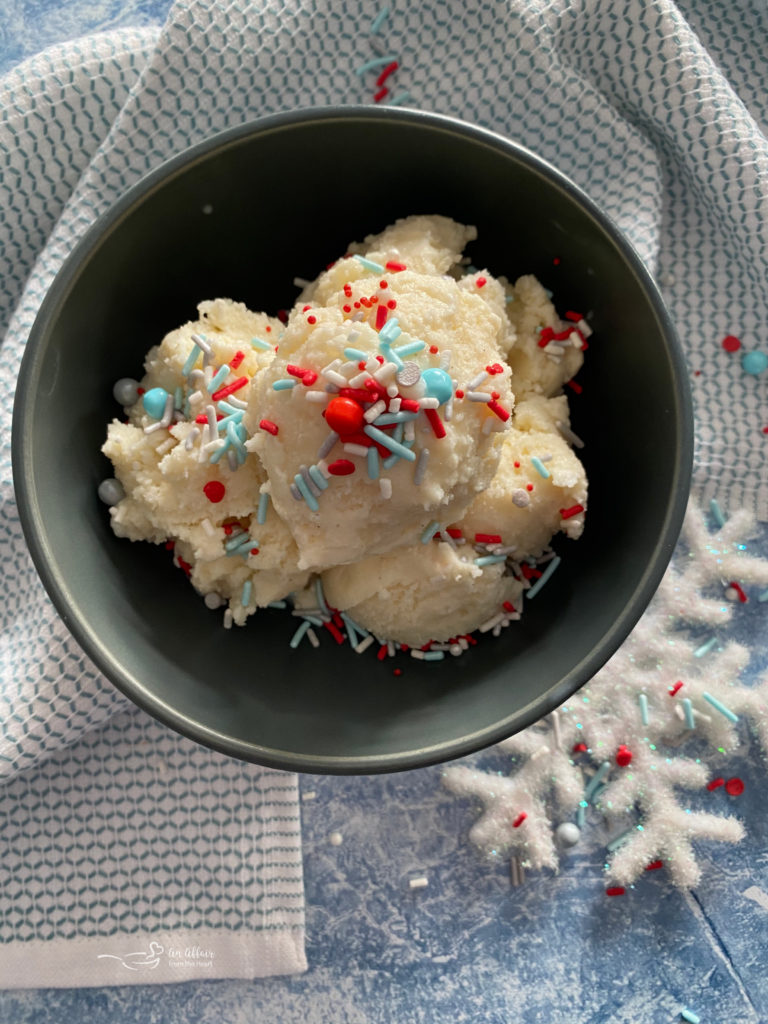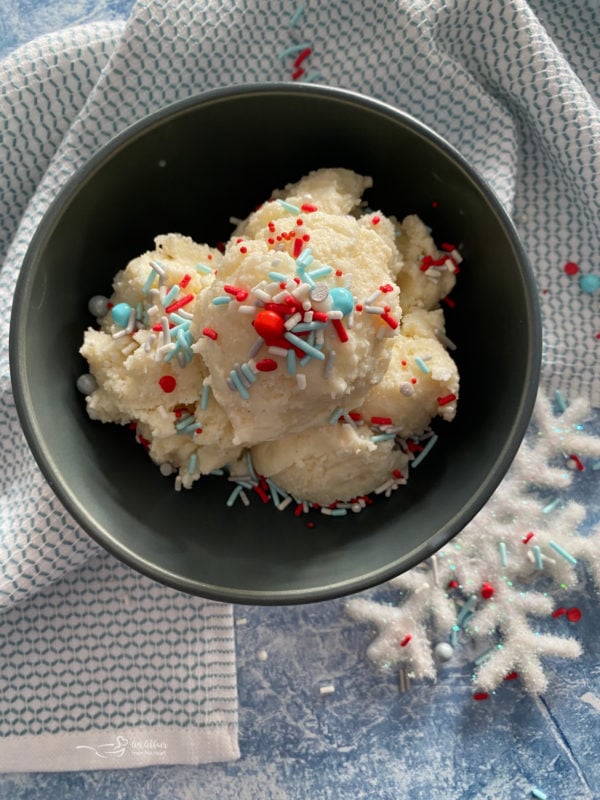 Adding some sprinkles always makes it more fun, right?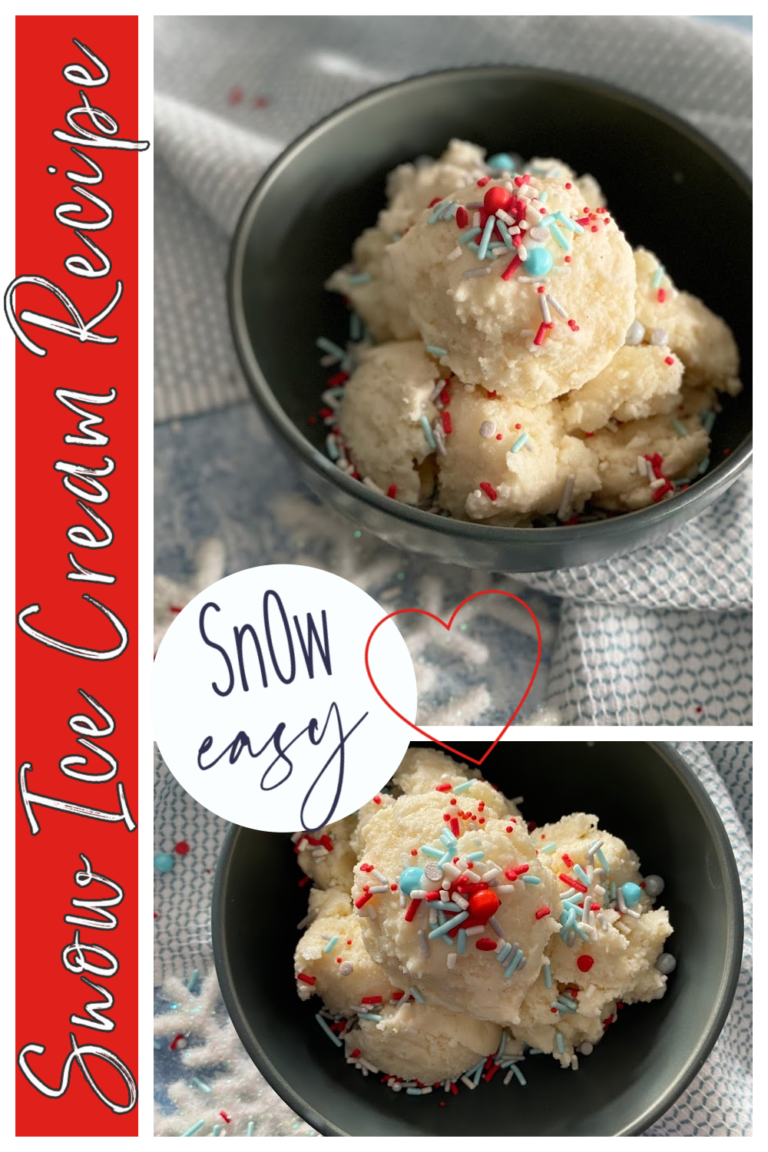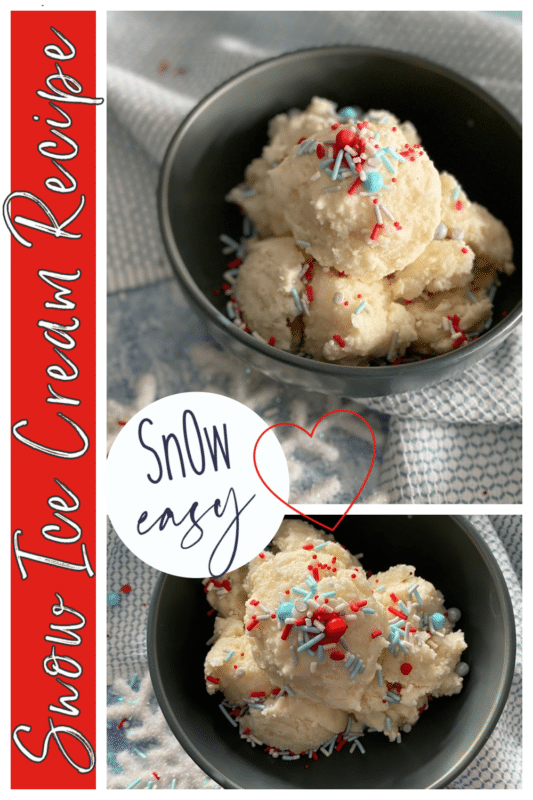 LOVE IT? PIN IT!
Make sure you remember how to make this easy recipe for snow ice cream. Pin it to your favorite Pinterest recipe board before you go, then you will know right where the recipe is.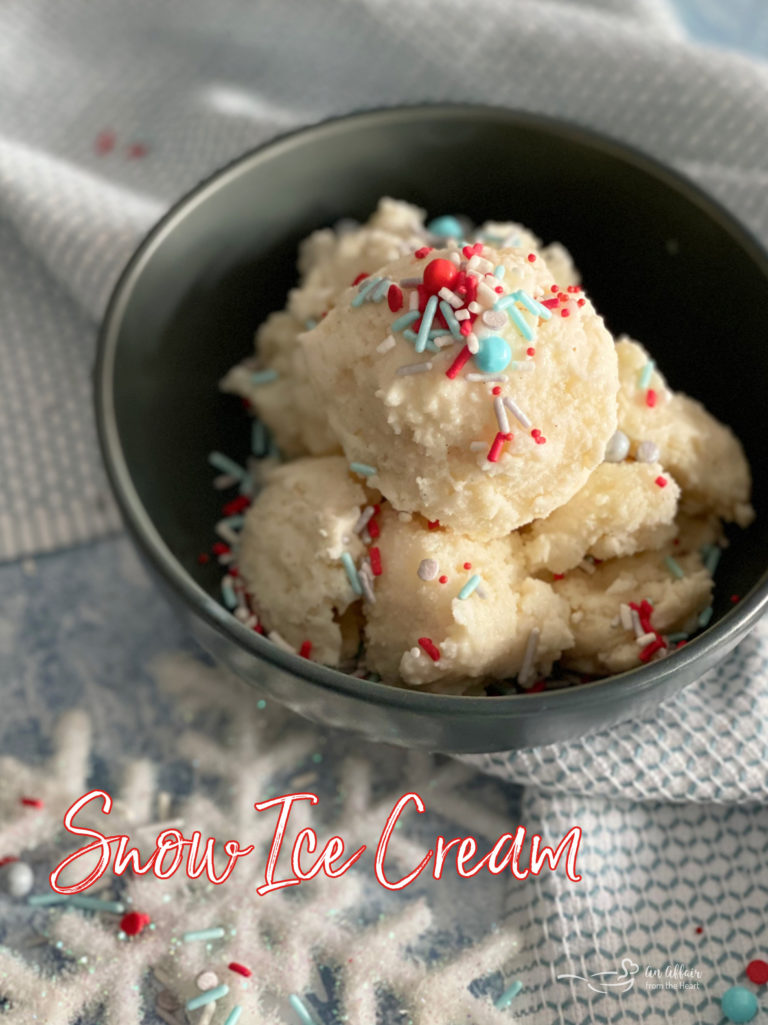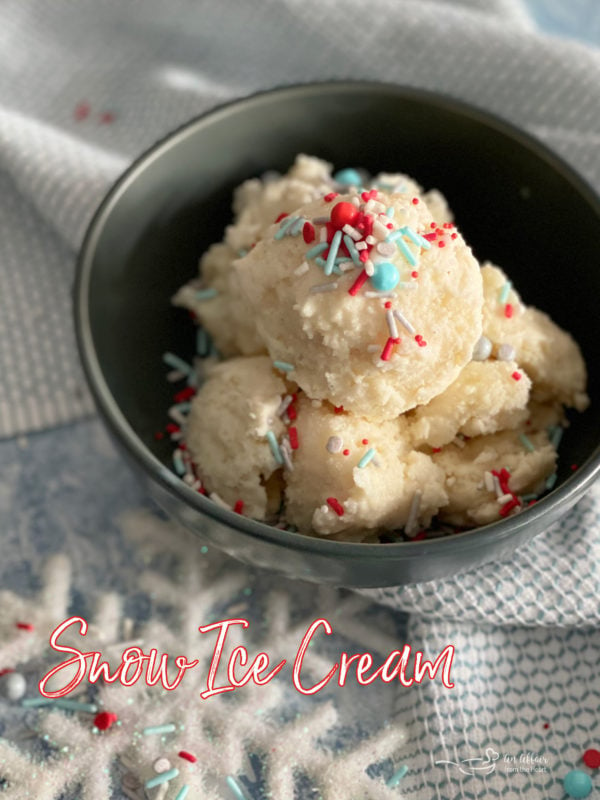 It's
S
n
O
w easy to make! Let's get to it!

Yield: serves 8
Snow Ice Cream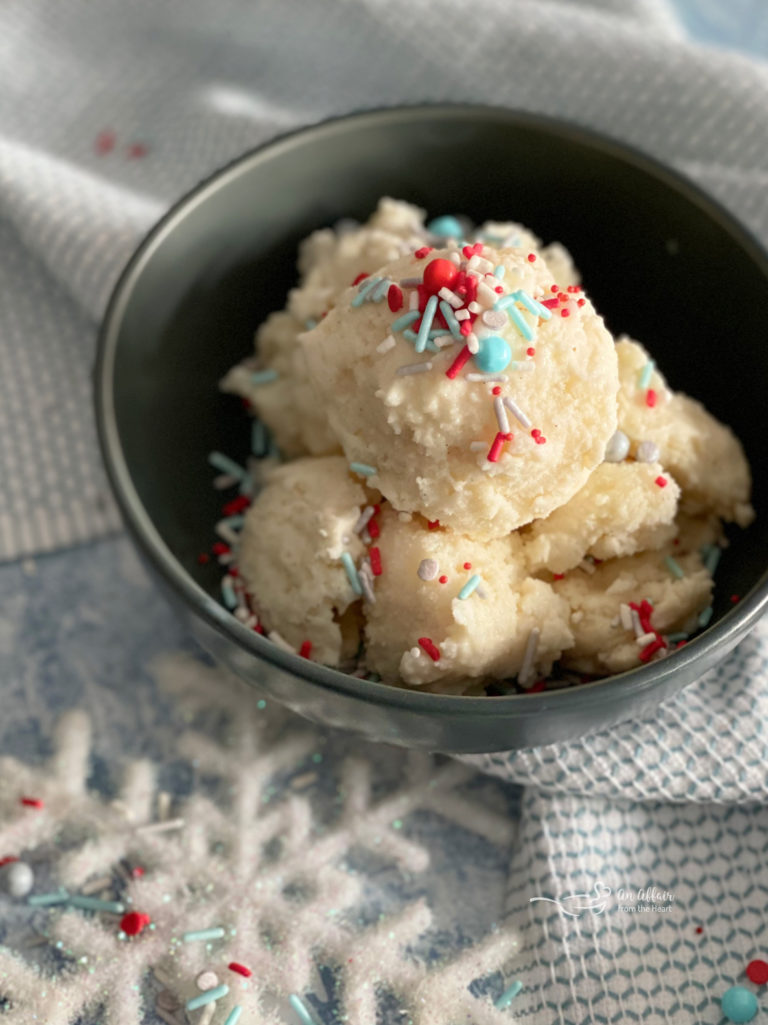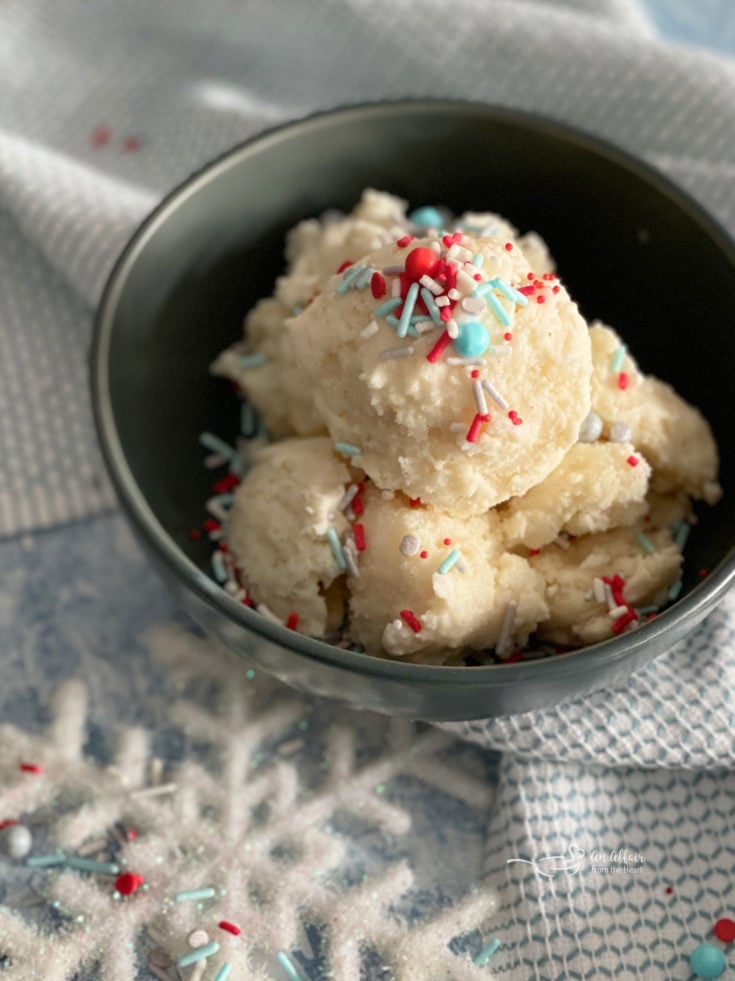 When it's snowing outside, grab some and make this delicious Snow Ice Cream recipe that uses sweetened condensed milk.
Total Time
2 hours
3 minutes
Ingredients
8 cups snow
1 – 14 ounce can of sweetened condensed milk
1 teaspoon vanilla
Instructions
Combine ingredients in a big bowl until smooth.
Pour into a metal baking dish and freeze for a couple of hours.
Scoop and enjoy!
Nutrition Information:
Yield:
8
Serving Size:
1
Amount Per Serving:
Calories:

216
Total Fat:

6g
Saturated Fat:

4g
Trans Fat:

0g
Unsaturated Fat:

2g
Cholesterol:

23mg
Sodium:

85mg
Carbohydrates:

36g
Fiber:

0g
Sugar:

36g
Protein:

5g
Please note that nutrition is not guaranteed accurate.
This recipe was updated on February 13, 2021, to improve the reader experience.