Carrot Bundt Cake
As an Amazon Associate and member of other affiliate programs, I earn from qualifying purchases.
Gobs of the very best cream cheese frosting, slathered over a perfectly moist carrot cake, is there really anything better?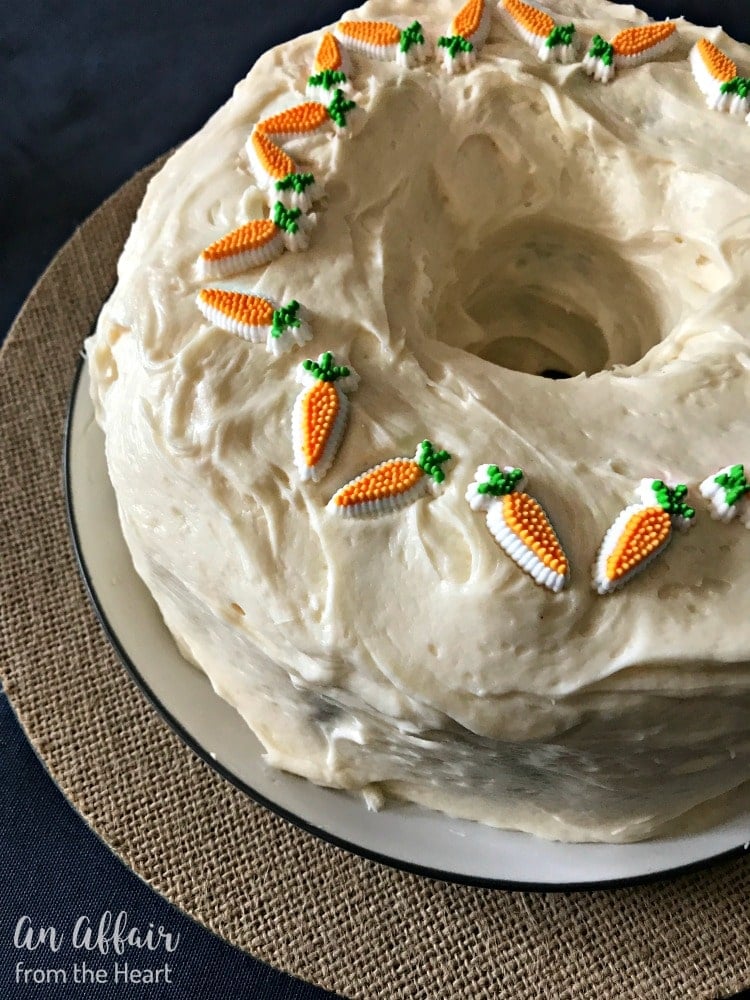 Carrot cake — it's not just for Easter, ya know. But since Easter is creeping up on us, it would be the perfect chance to give this recipe a try. I mean, if you're looking for an excuse? Plus, it gives you an excuse to use that bundt pan of yours! What better way to use it than to bake up this carrot bundt cake — then frost it with the very best cream cheese frosting ever.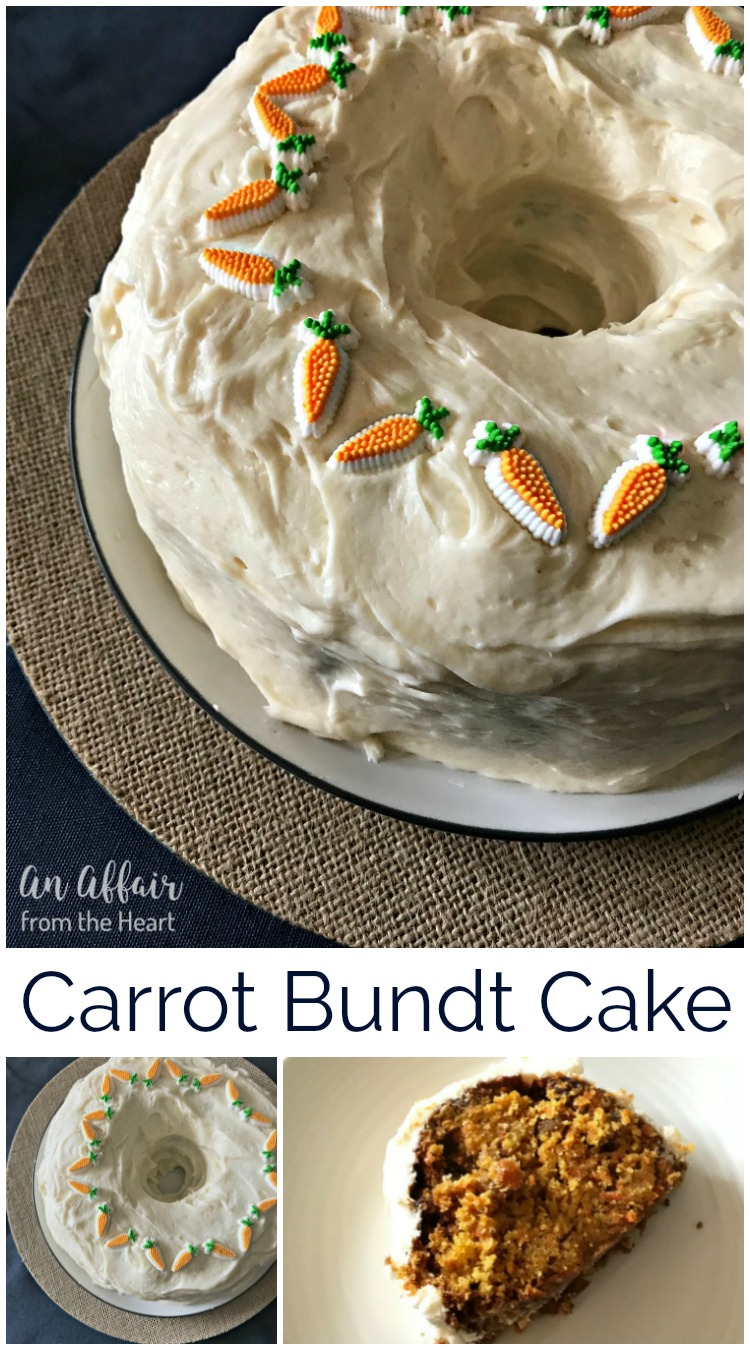 I have made this cake so many times, and I have never blogged it. The last time I made it, was last Easter. (Guess I thought I needed an excuse, too?) For whatever reason, I didn't blog it then, either. Then all of the sudden I got asked to participate in this month's Fantastical Food Fight –and what was the theme? Carrot Cake! Commence scrounging for photos of last year's Easter dessert — and Ta-Da! You have a new cake to try!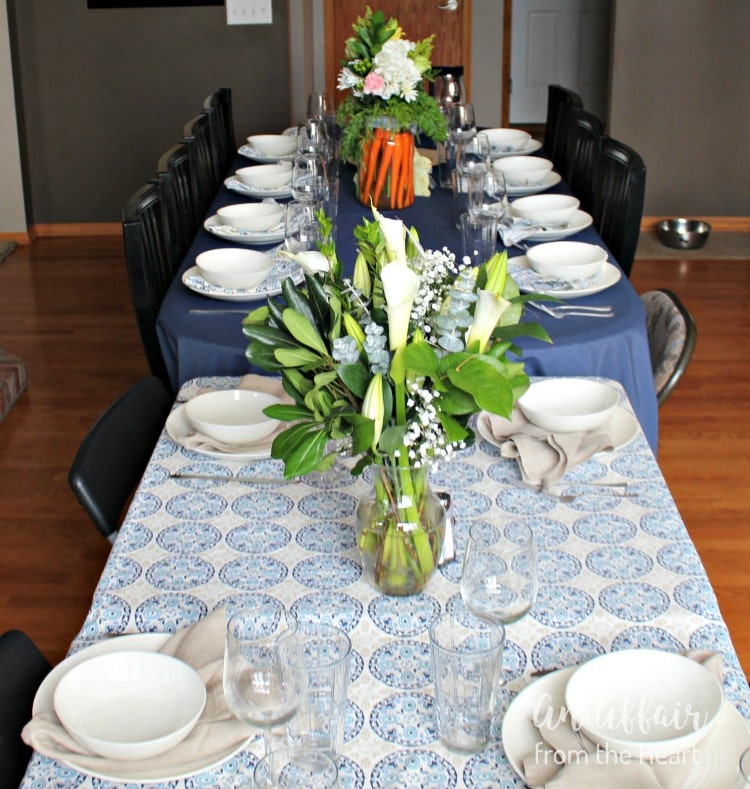 While we are talking about Easter – here is a picture of my table from last year. Kudos to my daughter Josie for getting the table setting gene, and always being willing and able to help her mama!
Here is the centerpiece she and I made. We used a gallon sized mason jar, fresh carrots and a big bouquet of flowers. Super cute, huh?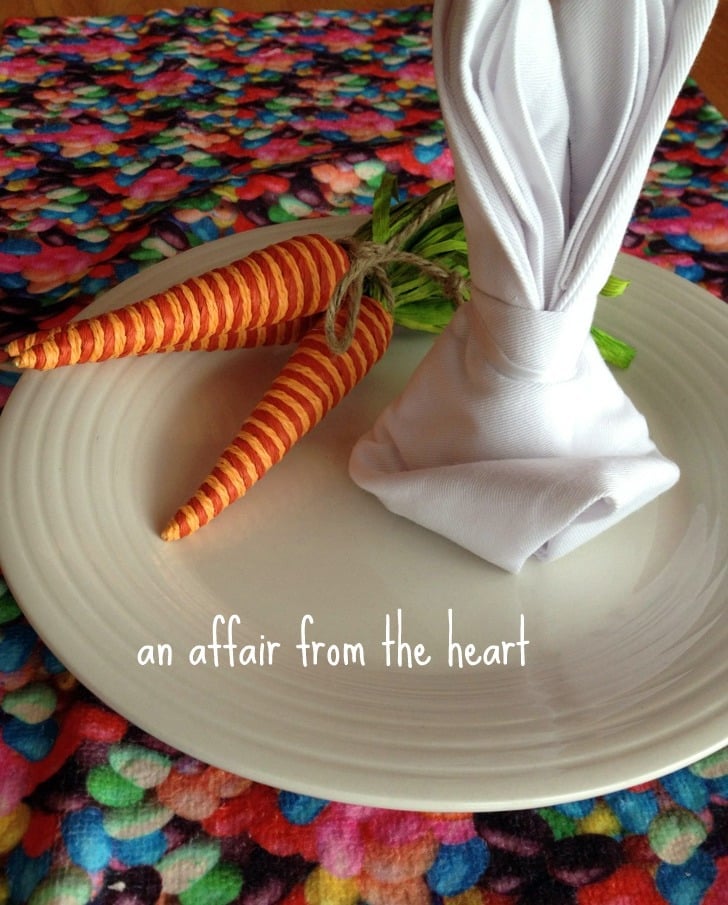 How To Fold Napkins Like Bunnies. This one is a few years old — but so fun I had to share it, too! Look at their cute little bunny butts! They are made from white cloth napkins.
Okay — Okay — I am getting away from myself!! (not to mention … didn't I just say that Carrot Cake isn't just for Easter anymore?) Back to the carrot bundt cake that you can eat any 'ol time …..
This cake has shredded fresh carrots, and plump golden raisins. For those of you giving raisins the "ick factor" just hang on one hoppin' minute. Sure, we have heard all of the jokes .. "thought it was a chocolate chip cookie and it was an oatmeal raisin" .. blah blah … Raisins really get a bad rap. They added a whole new dimension to this cake, and personally, I wouldn't make it without them. You can, I mean, if you're allergic or something. But otherwise .. break out of the box and give it a try, k? K!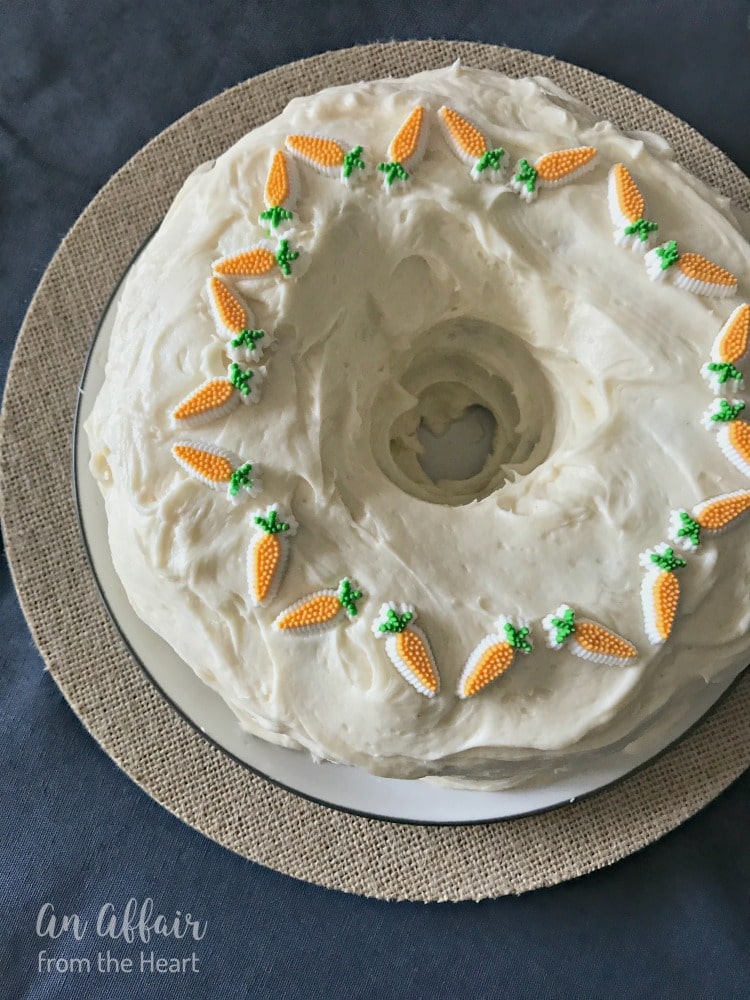 There are people out there that don't really like frosting. I find it to be a bit insane actually … but I know they exist. I even live with one. The only thing that is better than this carrot cake, is the frosting it's slathered in. I love me some cream cheese frosting. It took a while to perfect it however, and get it just where I like it. That happened when I made a little cake called a Cinderella Cake a couple of years ago. I am not even a little bit ashamed to tell you I made it three times in one week. Yes, people, it's that good.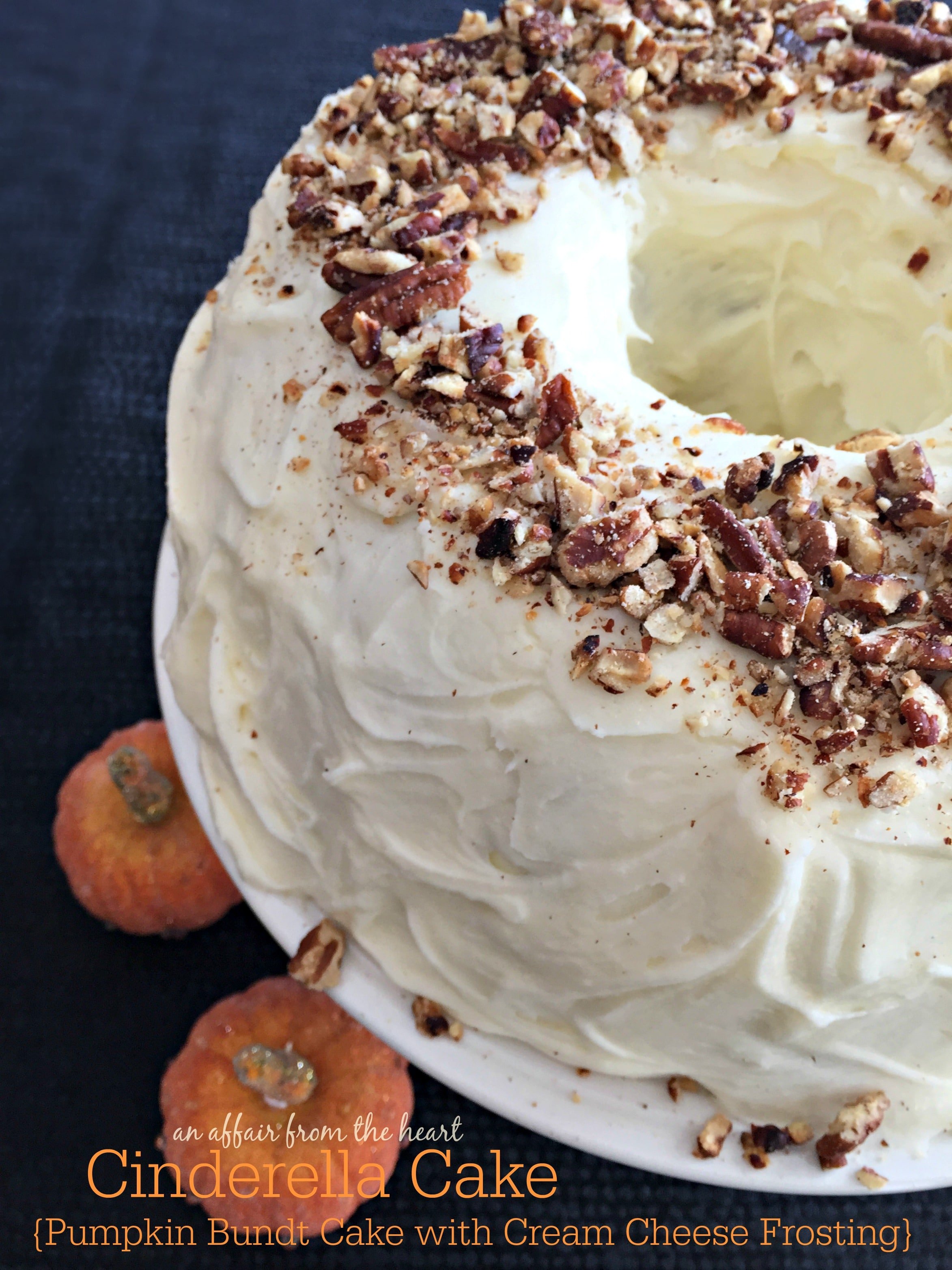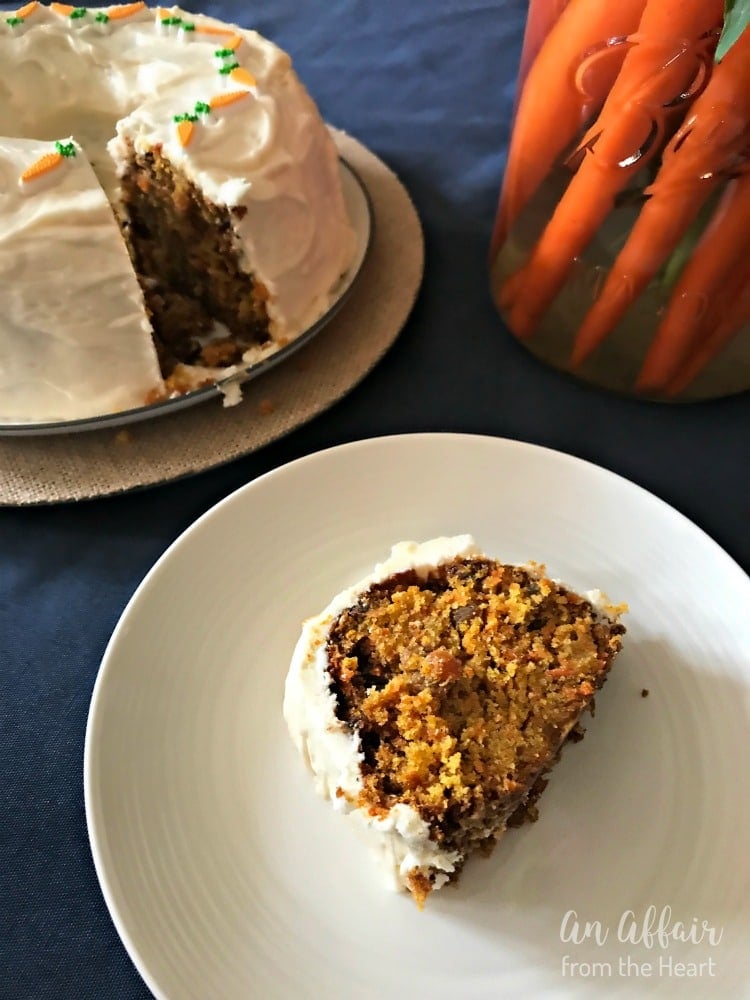 I typically make an extra amount of frosting, because I love it, and the way I look at it, life is hard enough. Add more frosting whenever possible.
Do you love bundt cake like we do?? Well, my friend, you are in the right place! I have tons of recipes for using your bundt pan!
Bundt Pan Recipes: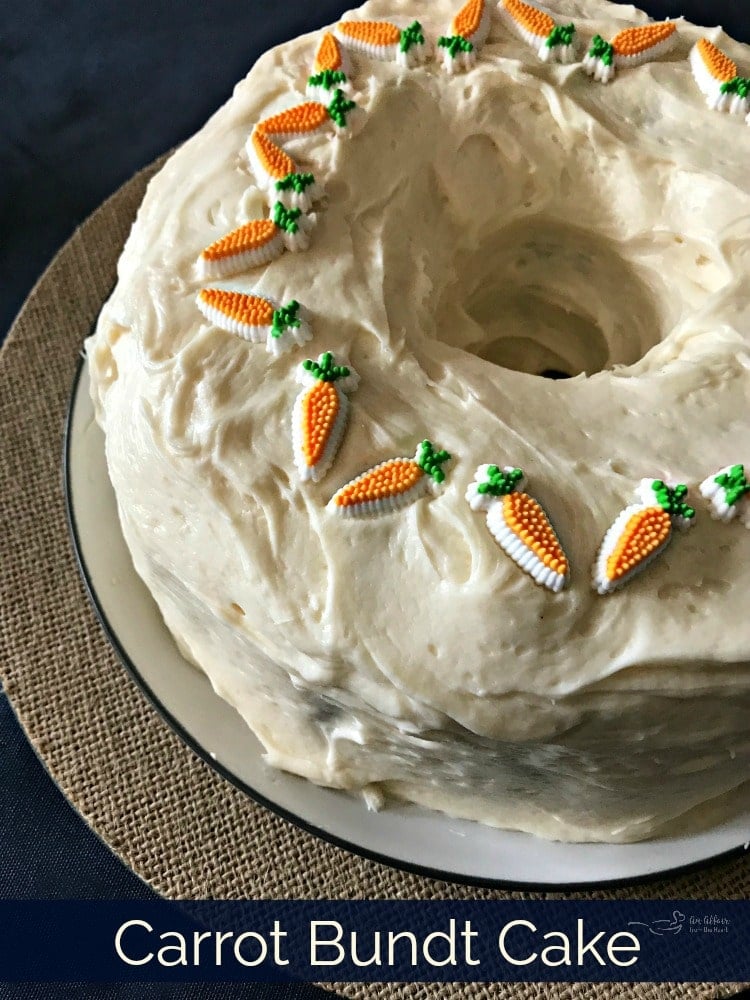 Okay — enough chit chat, let's get to making this cake already!

Yield: 1 bundt cake
Carrot Bundt Cake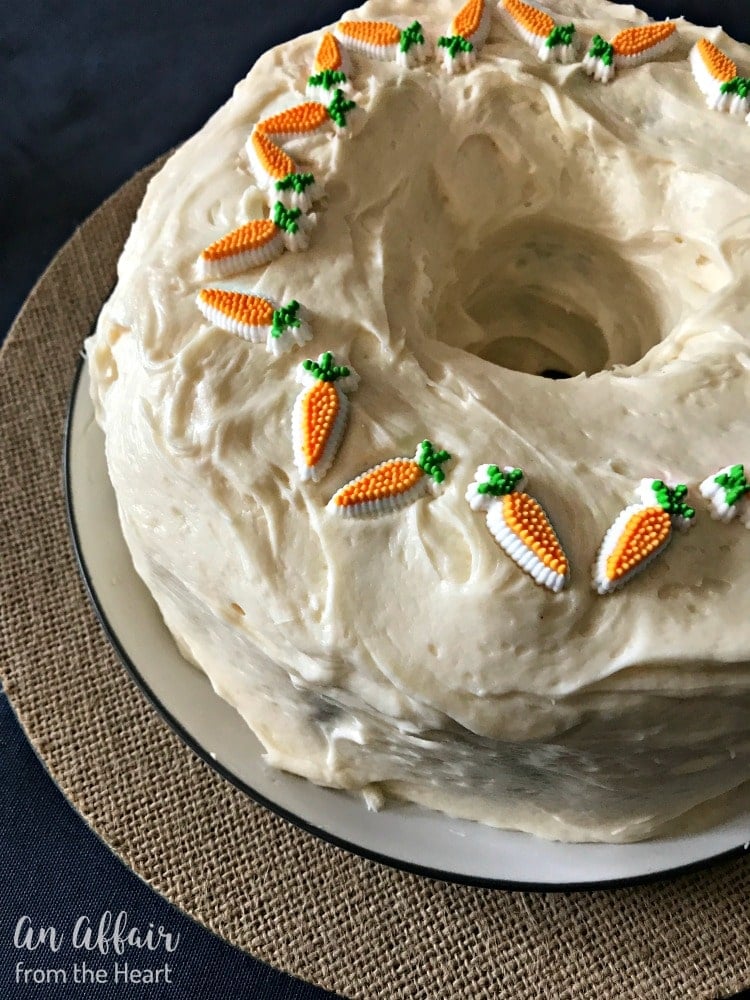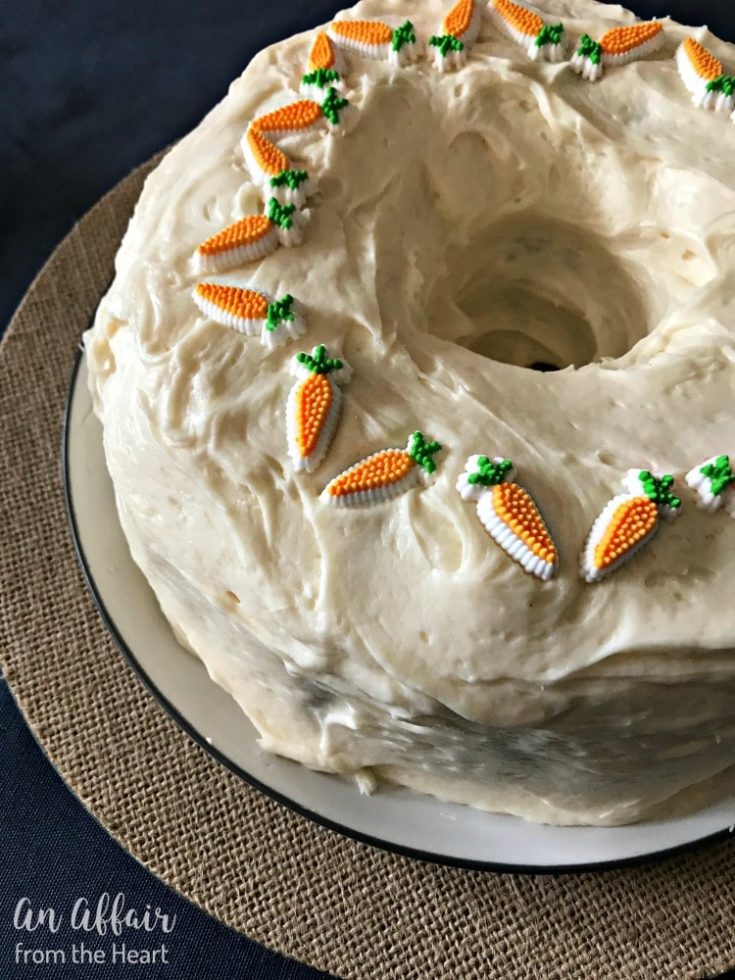 The very best cream cheese frosting, slathered over a perfectly moist carrot cake, is there really anything better?
Additional Time
40 minutes
Total Time
1 hour
55 minutes
Ingredients
For the Cake:
4 eggs
3/4 cup vegetable oil
2 cups sugar
2 cups flour
2 teaspoons baking soda
2 teaspoons baking powder
1 teaspoon salt
2 teaspoons cinnamon
1/2 teaspoon nutmeg
1 cup golden raisins
3 cups finely grated carrots
For the Cream Cheese Frosting:
8 ounces cream cheese, softened
1 1/2 sticks unsalted butter, softened
4 cups powdered sugar
2 teaspoons vanilla
Instructions
To make the cake: Spray a bundt pan with non stick cooking spray, and preheat the oven to 350 degrees. Beat together eggs, oil and sugar for about one minute. Sift together flour, baking soda, baking powder, salt, cinnamon and nutmeg. Slowly add to sugar mixture, incorporating as you go. When it is completely mixed in, fold in carrots and raisins. Pour into prepared pan and bake for one hour, or until toothpick inserted in center comes out clean. Invert onto a plate, and cool.
To Make the Frosting: In a medium bowl, blend softened cream cheese and butter til smooth and creamy. Add vanilla. Then add powdered sugar until desired consistency is achieved. (you may need to add more to achieve this) Frost cake. Refrigerate uneaten cake.
Notes
Nuts can be added if desired
Nutrition Information:
Yield:
10
Serving Size:
1
Amount Per Serving:
Calories:

856
Total Fat:

40g
Saturated Fat:

15g
Trans Fat:

0g
Unsaturated Fat:

23g
Cholesterol:

134mg
Sodium:

689mg
Carbohydrates:

121g
Fiber:

3g
Sugar:

95g
Protein:

7g
Nutrition isn't always accurate.
Fantastical Food Fight is a group of food bloggers that get together once a month and cook or bake to an assigned theme. I have participated a few times, and always enjoy it. Take a minute to two to check out all of the other Carrot Cake Recipes shared this round:
Here are some of my past Fantastical Food Fight Recipes: