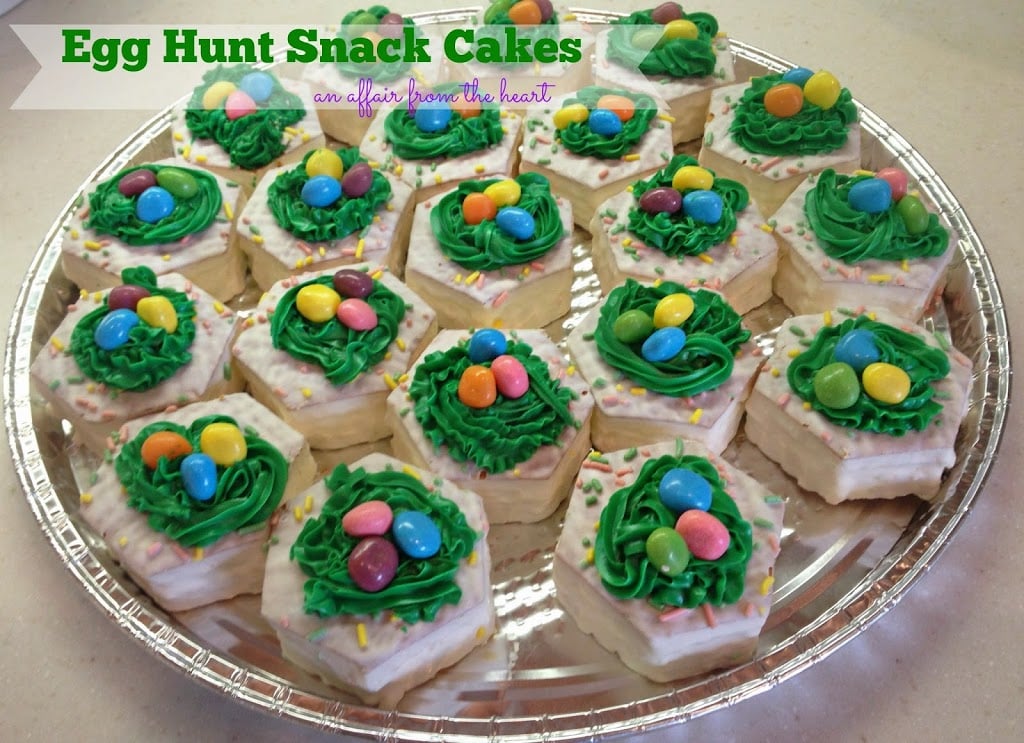 Our parish has a fish fry every Friday during Lent.
They are not only a lot of fun, they generate a good source of income for our church via the Men's Club who does all of the "heavy lifting."
Now, I do my part and stand in line with a beer and consume yummy fried fish, coleslaw and french fries, shell out money for the kids to get heir faces painted and for raffle tickets, but aside from that my "job" is pretty easy.
The church asks that families donate desserts.
There is one week, based on the first letter of your last name, that you are asked to do so.
I don't abide by that, and usually bring a couple of different things every week.
(I sometimes lose my inhibitions for dessert after consuming keg beer in line for an hour+, and I, for one, wouldn't want dessert lovers to go without a choice.)
So, I whipped up a batch of chocolate mint brownies, and the kids helped me with these little cakes.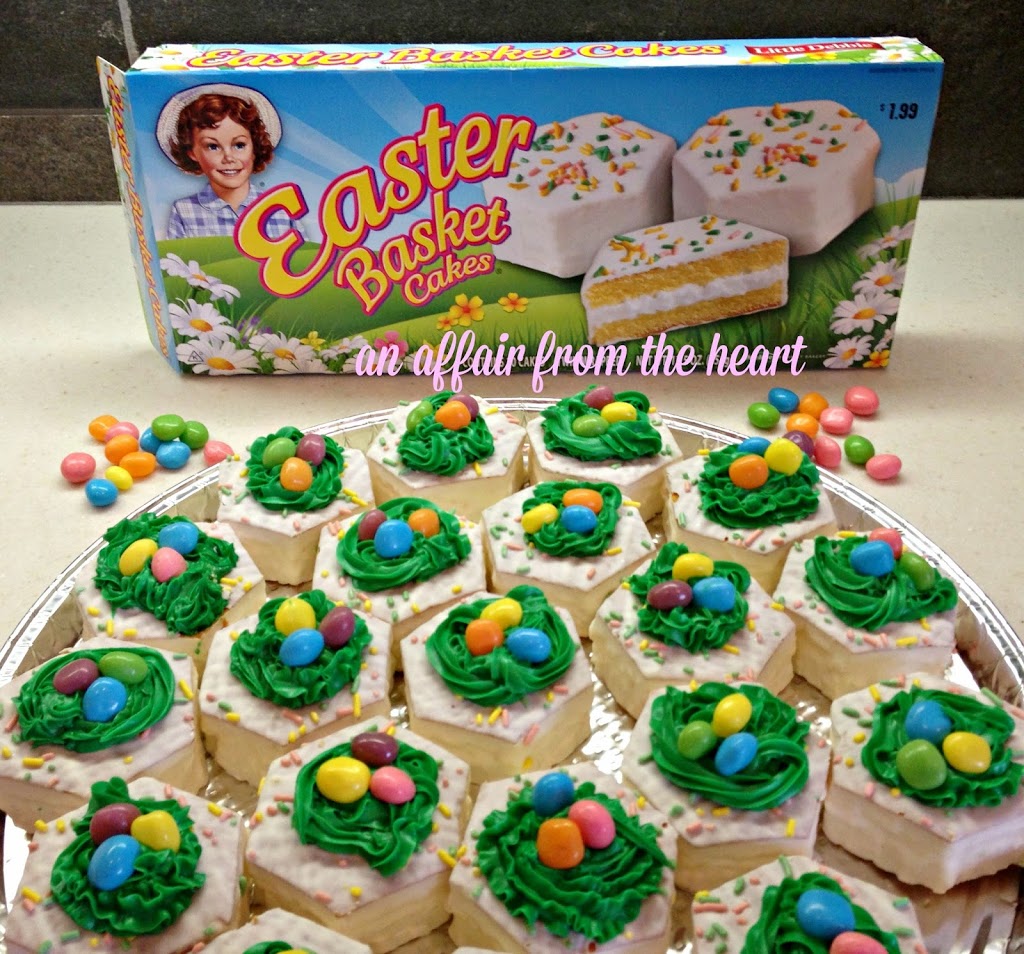 She does the MOST ADORABLE things for parties, and just for plain fun.
My 11 year old daughter LOVES the sight, too, and if forever saying "we should make this!"
Best part is, your kids will have fun helping you do it.
So when I saw these on her page, I fell in love.
My kids love when I have those Little Debbie cakes around anyway… and I thought, how fun they would be to make for the fish fry!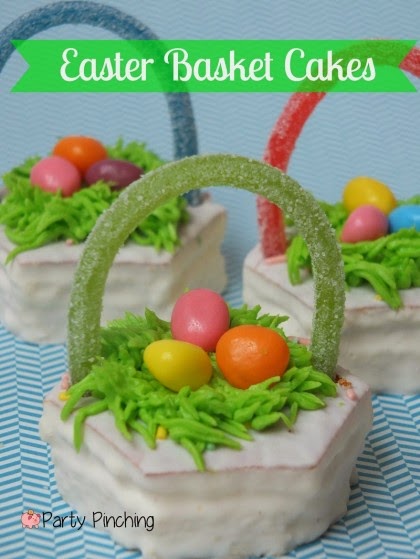 I literally didn't do anything!
My 11 year old twins made these. Our only problem was we couldn't find the Sour Punch candy, and bought licorice (the colored flavored kind) and it was too limp, it kept falling over.
So, my son unwrapped the packages of snack cakes while my daughter squirted on green frosting from the can, then he added the jelly beans.
I plated them on an aluminum pan and off the to the fish fry they went!
Follow the link to Party Pinching's original idea, to make the cute baskets.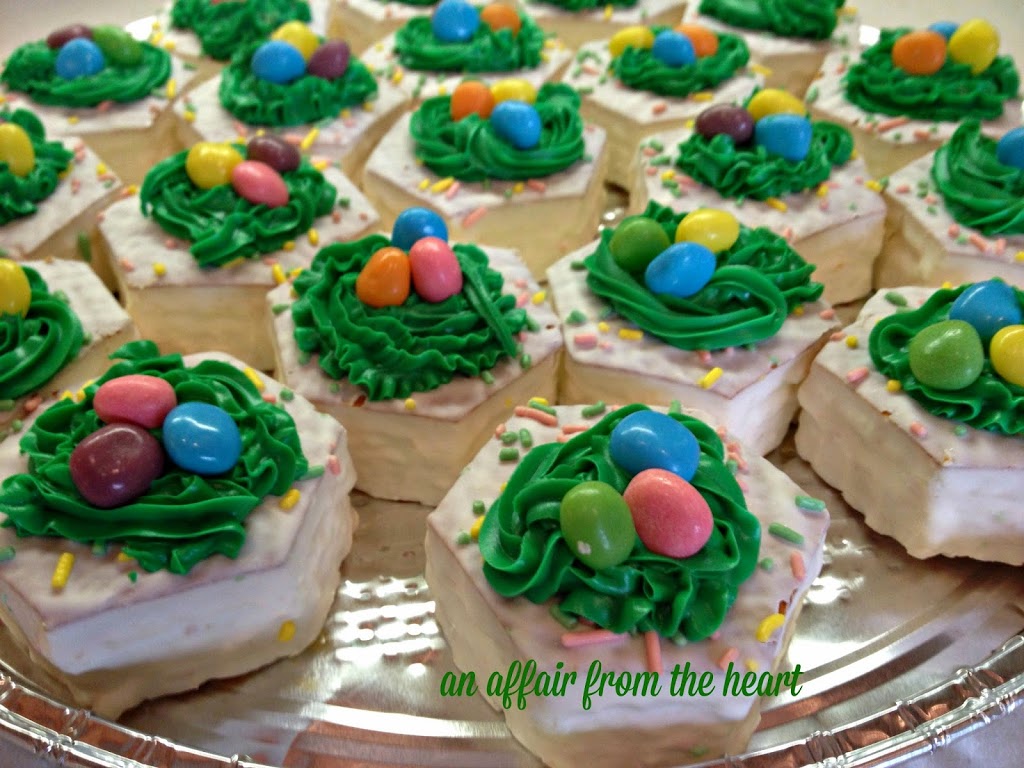 Egg Hunt Snack Cakes
Little Debbie Easter Basket Snack Cakes
Jelly Beans
Can of "squirtable" green frosting
Squirt on green frosting and top with jelly beans.
done.
easy peasy!

If you make this recipe, I'd love to know! Snap a picture, share the photo on social media with the hashtag #AnAffairFromTheHeart – I'd love to see what you made! – Michaela