Baking Pan Conversions (Cheat Sheet Included)
As an Amazon Associate and member of other affiliate programs, I earn from qualifying purchases.
Baking pan conversions are one of those things you always say you will remember to figure out after you get the recipe going. You know, when you already committed to using a 9″ x 9″ bake pan when you should've gone with the 9″ x 13″ or vice versa. And it makes all the difference, because when it comes to baking anything… size matters.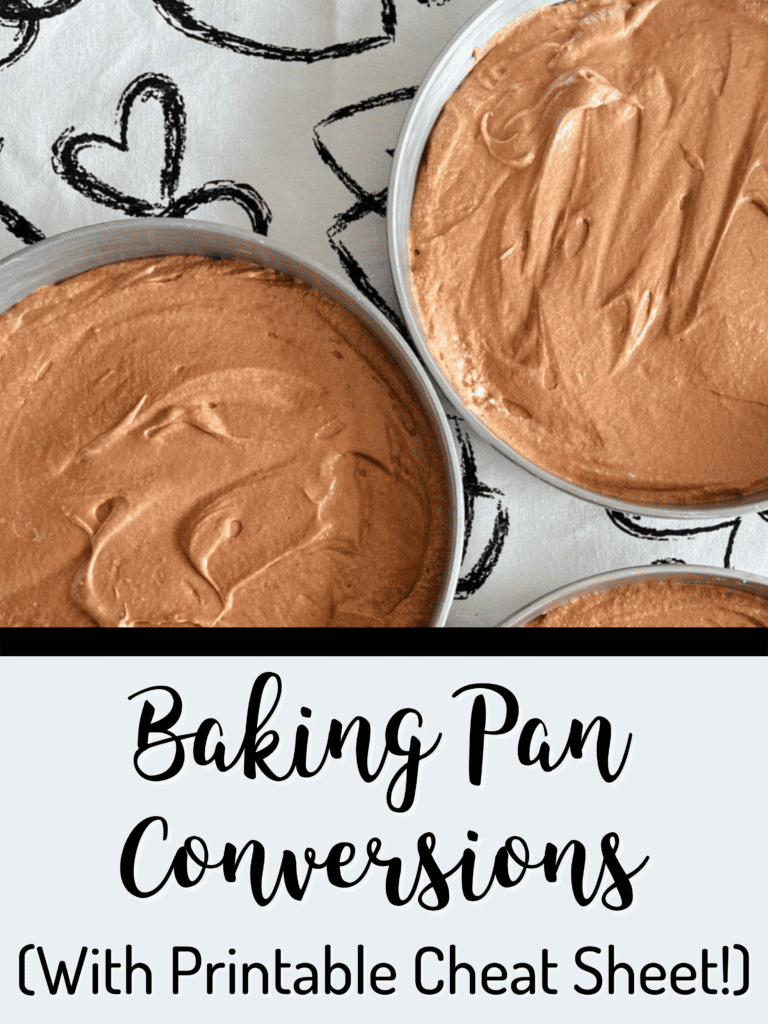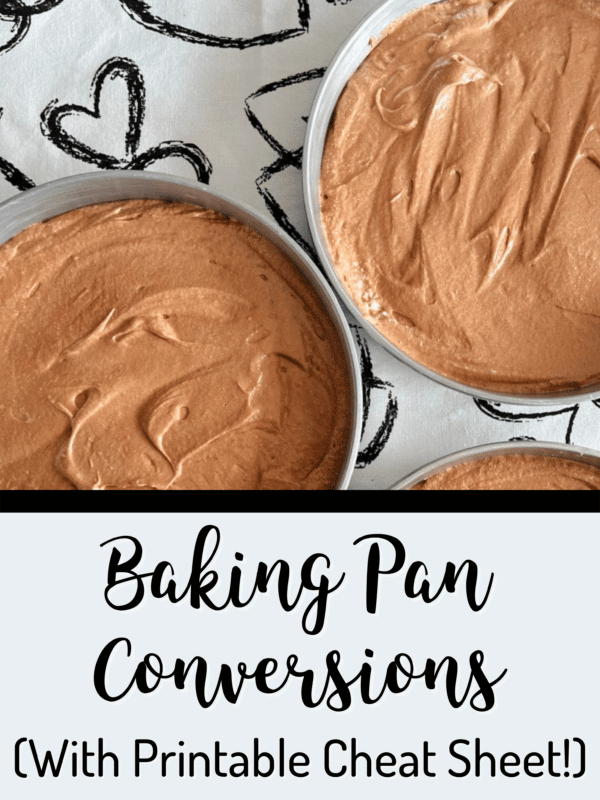 Helpful baking pan conversions
Because using the right pan means the cooking time will be relatively spot on. But using the wrong sized pan, you might end up with something overcooked or undercooked. Besides, who wants to go get a brand new bake pan when you might have something else that would suffice? You know, without an extra trip to the store?
Even better, I have included a cheat sheet for baking pan conversions that makes it super easy to figure out. You can download and print it. Then perhaps tape it inside a cabinet door. Or magnet it up on your fridge. Don't worry, no one is going to bust you for cheating!
Understanding volume for making bake pan conversions
Generally speaking, volume refers to how much space something occupies. Whereas, weight refers to how heavy or light something is. Seems simple enough, but when it comes to recipes using American or UK weights and measures, volume and weight are nearly interchangeable.
This is actually sort of convenient, because when a cake recipe calls for four cups of flour or 8 cups of water, then you don't need a kitchen scale to weigh it out. You just have to measure to the appropriate line and pour it in. And that is where the conversion chart for baking pan conversions comes in so handy.
Now you know if your recipe makes, say, 10 cups of cake batter, you might need a bigger pan or have to make it using two smaller pans. Or, perhaps you don't have a bundt cake pan and you just want to bake it in a regular pan. Now you will know what size is going to work just fine, based on the amount of batter.
Affiliate Link Disclosure: Some of the links you will see on An Affair from the Heart are affiliate links, meaning that, at no cost to you, I may earn a small commission if you click through and make a purchase.
TYPES OF CAKE PANS
When it comes to cake baking, different recipes will call for different cake pans. If you are baking a cake recipe from my website, I will suggest what specific pan size to use, and even mention if a different pan can be used in its place. Here are some standard baking pans for the home baker. Maybe it's time to add a new pan to your collection?
Visit my Amazon Store for great gift ideas for the baker in your life. (even if it's you!)
Tip: Have a little leftover batter after you fill your cake pans, and make a couple of cupcakes!
Baking Pan Conversions FAQ's
How do you adjust baking times for different-sized pans? The Food Network explains this one really well. Think of it this way: "If the pan you have makes the batter shallower than the original recipe, raise the temp and decrease the baking time. If your pan makes the batter deeper than the original recipe, lower the temp and increase the baking time."
Do two loaf pans equal a 9×13? The answer is yes!
Can you use a 9×13 instead of two 9″ pans? You sure can! If you prefer to make a sheet cake as a layer cake, you can use round or square layer cake pans as an easy substitution. Just remember that depending on the size of the layer cake pan, the cake layers may turn out thinner than you'd expect.
Love it? Pin it!
Don't forget where you found this free baking pan conversion printable! Pin it to your favorite Pinterest baking board before you go!

PAN SUBSTITUTIONS CONVERSION CHART
So, the next time you are ready to bake a cake, and decide that you need to use a larger pan, a smaller pan, or different size pans, based on your need, or just what you have on hand, I have the perfect cake pan converter cheat sheet for you! I have made it super simple for you, just click this PDF link and you can print the free baking pan conversion shart.
Please know that I made these for my readers, and they are printable, but are copyright protected and cannot be used for commercial use or resold.

Other Kitchen Hacks & How To's
I have an entire section of "How To's" on my website to browse! Here are some highlights:
Let's get baking!
Ready to try out a new recipe or two to test your baking pan conversion skills? Here are some dessert recipes to try and see how handy the printable guide is, no more guesswork is needed.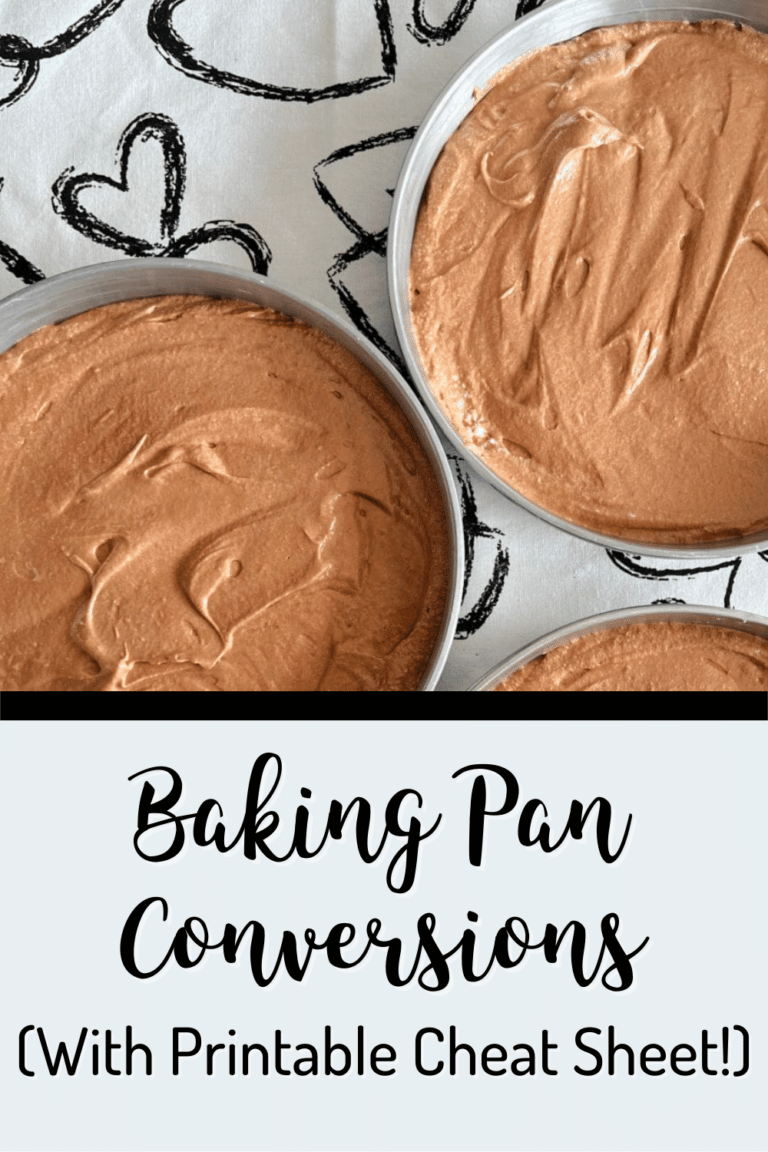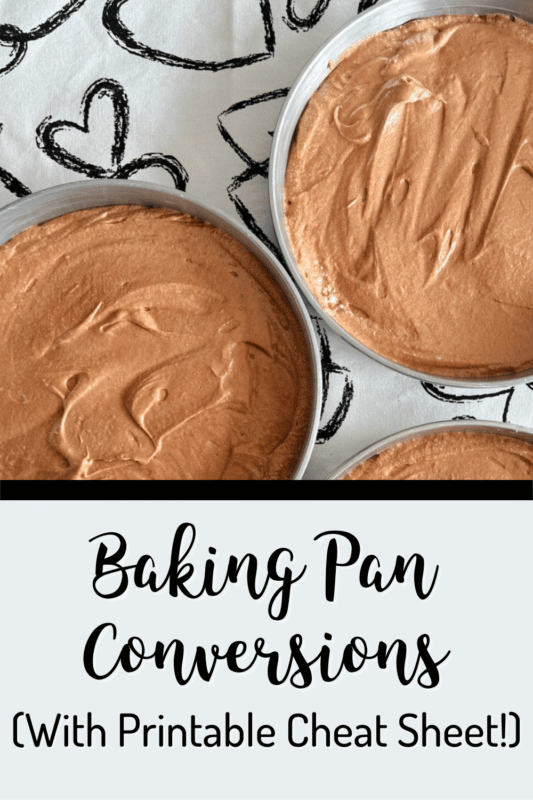 Happy Baking!