Easy Lemon Raspberry Bundt Cake
As an Amazon Associate and member of other affiliate programs, I earn from qualifying purchases.
Lemon raspberry bundt cake is one of the tastiest ways to do a simple bundt cake and it looks beautiful with the fresh raspberries, too.
Aside from chocolate, I think lemon is my most favorite flavor of any dessert.
I was making desserts not only for my house this past weekend, for Easter, but making two of them for my In-Law's Easter dinner. Everyone in my husband's family loves my
Chocolate Macaroon Bundt Cake
, so I volunteered to bring it, and then I wanted to make another bundt cake to take along with it.
I didn't want it to be chocolate, so I thought something "fruity." Of course, my mind instantly went to LEMON!!
The Best Lemon Raspberry Bundt Cake
My sweet friend, Candi, from
The Devilish Dish
, shared a few of her favorite bundt cake recipes with me, and of course, when I saw the Lemon one, I knew that was the ticket.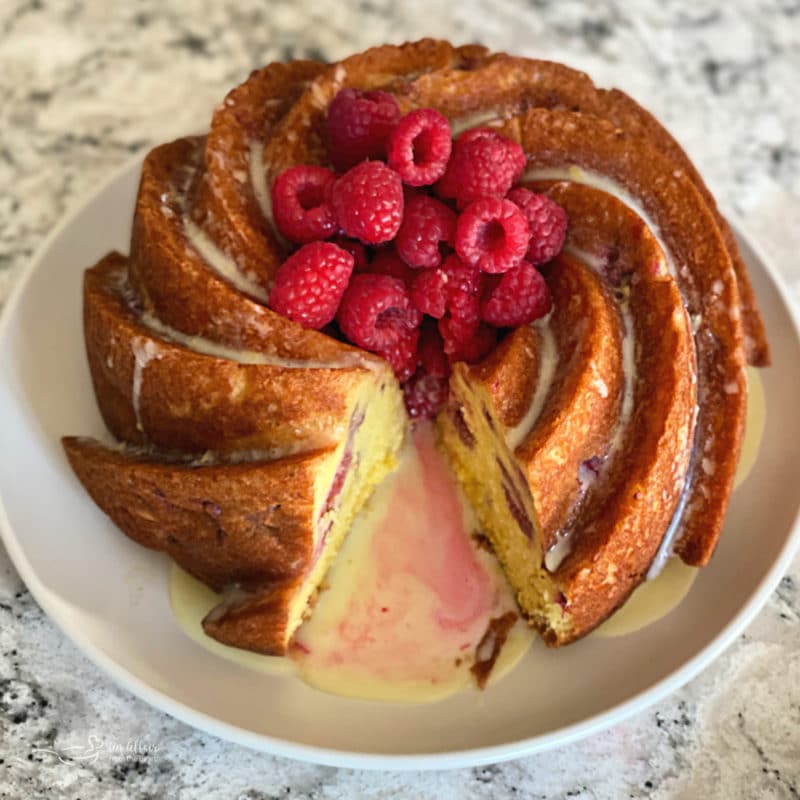 I didn't change much from her recipe, other than I added fresh raspberries to it, and glazed it with a tart lemon glaze. Because, in my own little humble opinion, a bundt cake begs to be glazed. I mean it has that little hole in the middle that the glaze puddles in, and just sits there waiting for your finger to drag through it … Um… I mean, the spatula to serve it properly on a plate for your guests.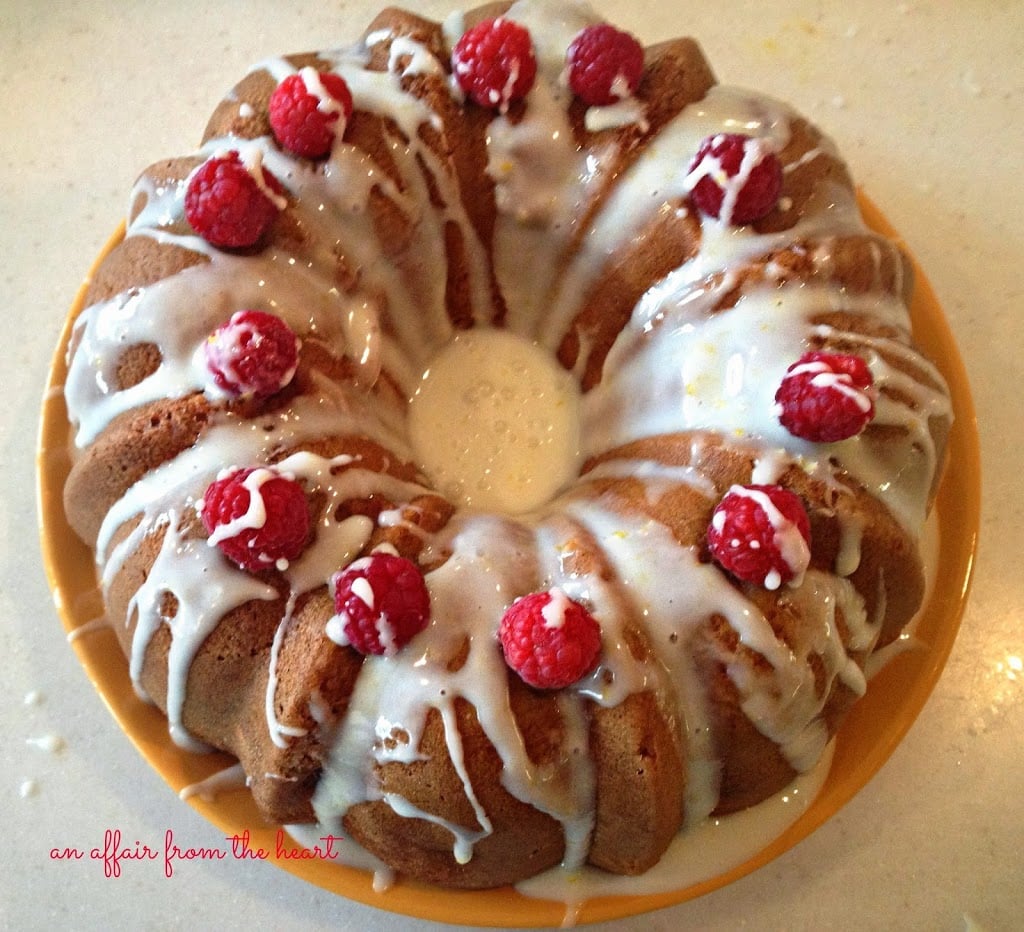 Look at that puddle!!
Swoon!
So, If you just want a nice, moist lemon cake, that is super easy to make, then make the recipe and omit the raspberries, and don't use the glaze. You'll still be delighted!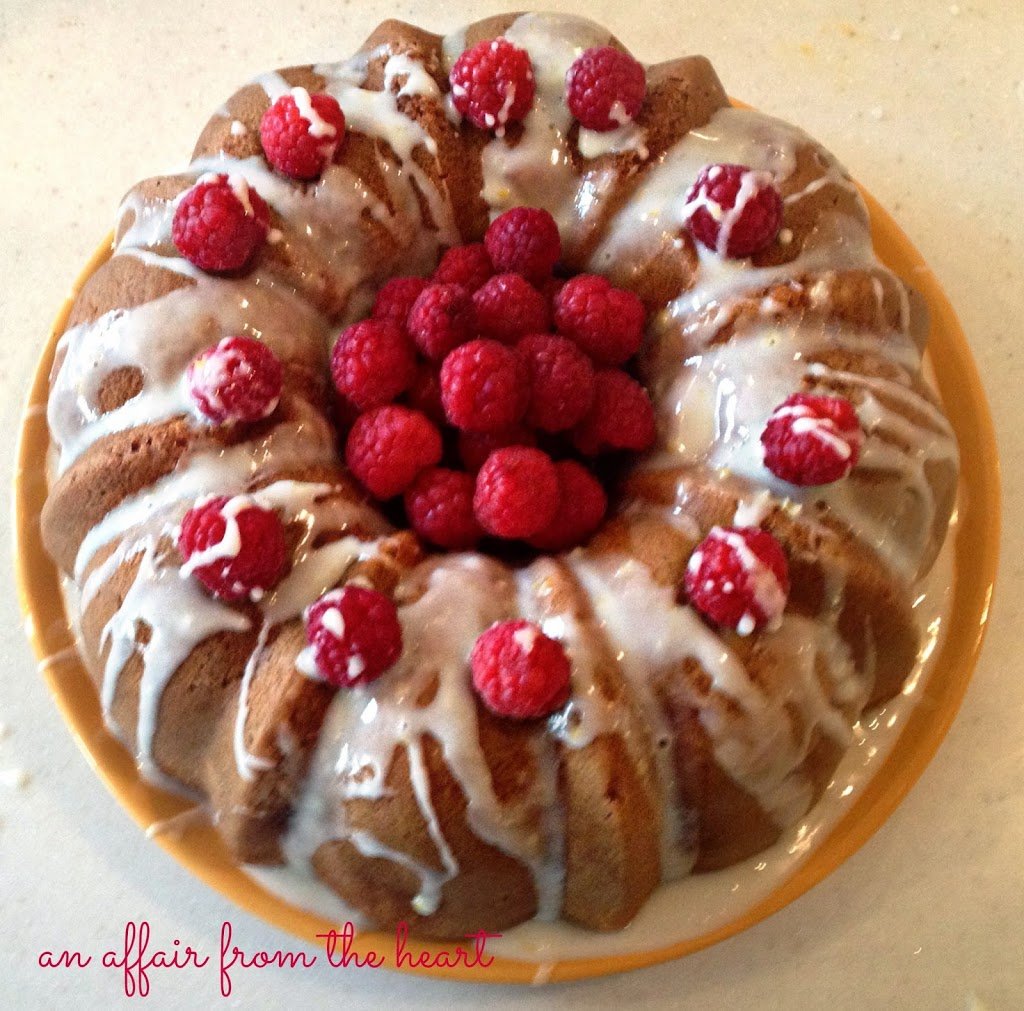 Or put raspberries inside the cake when it bakes and fill that hole full of fresh ones on the outside to make it look 'perty!
Love it? Pin it!
Don't forget where you found this delicious and easy glazed lemon raspberry bundt cake recipe! Pin it to your favorite Pinterest recipe board before you go!
Where does bundt cake come from?
Just like so many great confections bundt cake was inspired by a German cake called "Gugelhupf" which is a fun name to say. The modern "bundt" style pan actually was invented by a company in the US called "Nordic Ware." However, it wasn't until Pillsbury picked up the idea of using that style pan to bake cakes in that things really took off.
Friends in high places as they say.
What does 7up Soda do for the cake?
Not only does 7up add a touch of lemon but it also helps the cake to rise beautifully as well. Some people actually refer to it as "7up bundt cake". 7up happens to be highly carbonated so it is ideal.

What is the difference between cake, sponge cake, and angel food cake?
Any cake made in a bundt style pan can be called a "bundt" cake. Bundt cake pans are also referred to as "tube pans." However, what type of cake you bake in a bundt pan varies per the recipe. The main differences between cake, sponge cake, and angel food cake is whether or not you use entire eggs or just the whites or extra yolks and or oil or fats like butter.
Of course, whipping the eggs will also affect the texture of the cake as well.
For this glazed lemon raspberry bundt cake recipe, I go with the easy-peasy pre-mixed lemon cake mix but then make it extra moist and add lemon pudding. Then I make it even more lemony with the tart lemon glaze made of fresh lemon juice and zest. The cake is rich, decadent, and moist so it is very different than angel food cake for example.

How to release a bundt cake from the mold
I think the number one issue people have with doing bundt cakes is getting the cake out of the pan without any sticking issues.
I have two bundt pans that I use most often. One is about 30 years old, and is more of a traditional style pan. The other is a fancy Nordic one, that looks beautiful, but has lots of tiny little grooves, so making sure to prep it right is key.
Some folks say to flour a greased pan. But this isn't always effective and it can leave a flour paste on the outside of the cake, too.
Non-Stick is Key
The best way to go is to use preferably a non-stick bundt pan. Modern innovations can make a big difference at least in this case. However, even the old fashioned tin or aluminum ones work, too.
I have the most success using a non-stick spray to get in all of those tight places. If you feel like you have some little "puddles" from spraying it down, flip it over in your kitchen sink and the excess will drain out, but you won't lose the non-stick.
Let the cake cool in the bundt pan for a few minutes before inverting it onto a plate. It should just plop right out. If you struggle – carefully run a knife around the edge to loosen it up.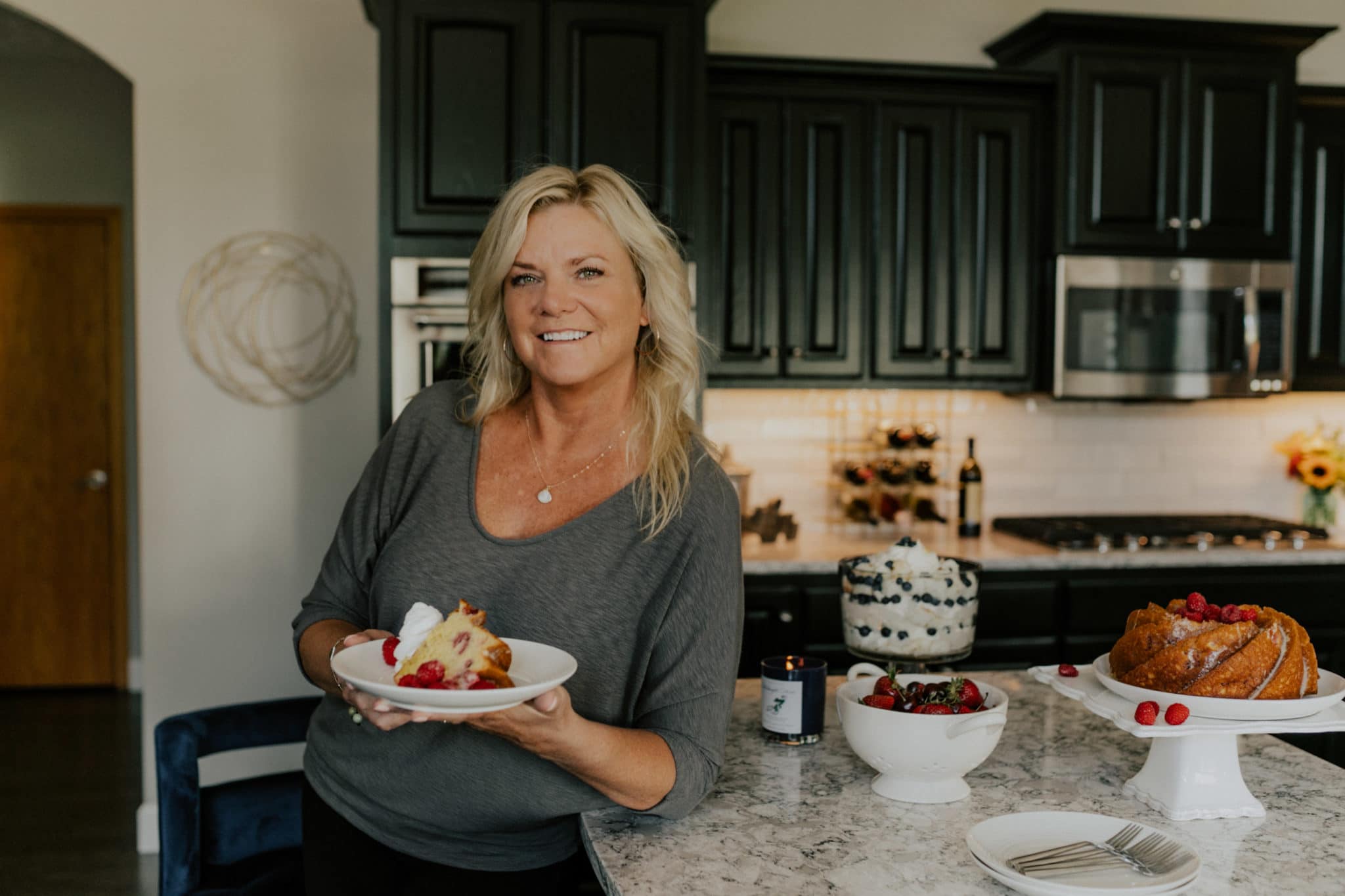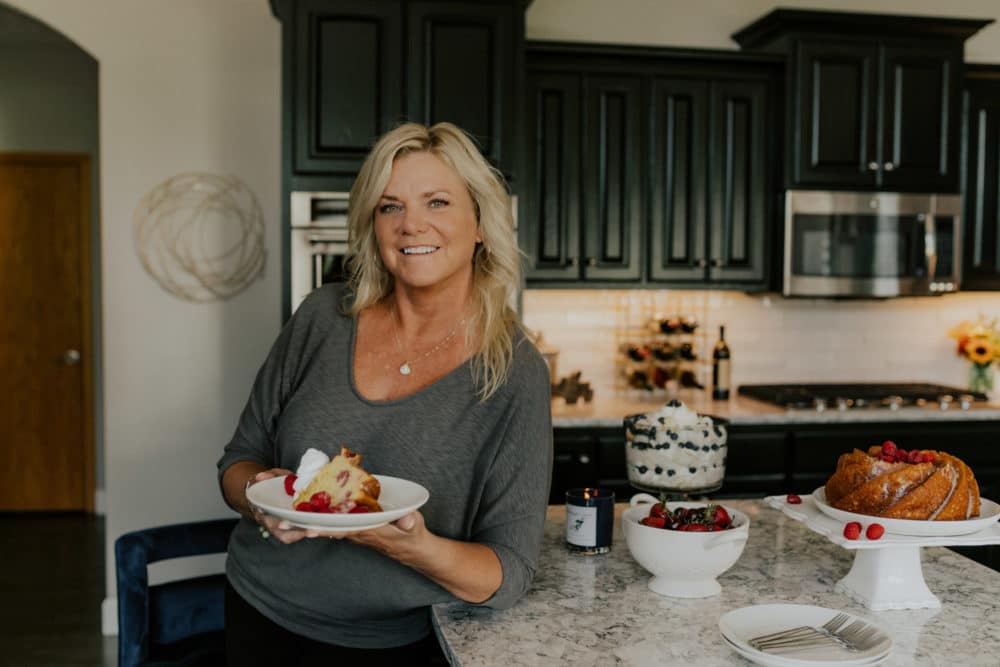 My Glazed Lemon Raspberry Bundt Cake Photoshoot
Recently I had professional brand photos taken. It was something that I always wanted to do, and it finally happened!
I did a kitchen remodel this past winter, and I had my photoshoot scheduled with Linden McKay Photography for April. Then, as it delayed so many things, the COVID pandemic happened. The photoshoot got pushed to June, and when I was trying to decide what to make for the pictures, this Glazed Raspberry Lemon Cake came to mind.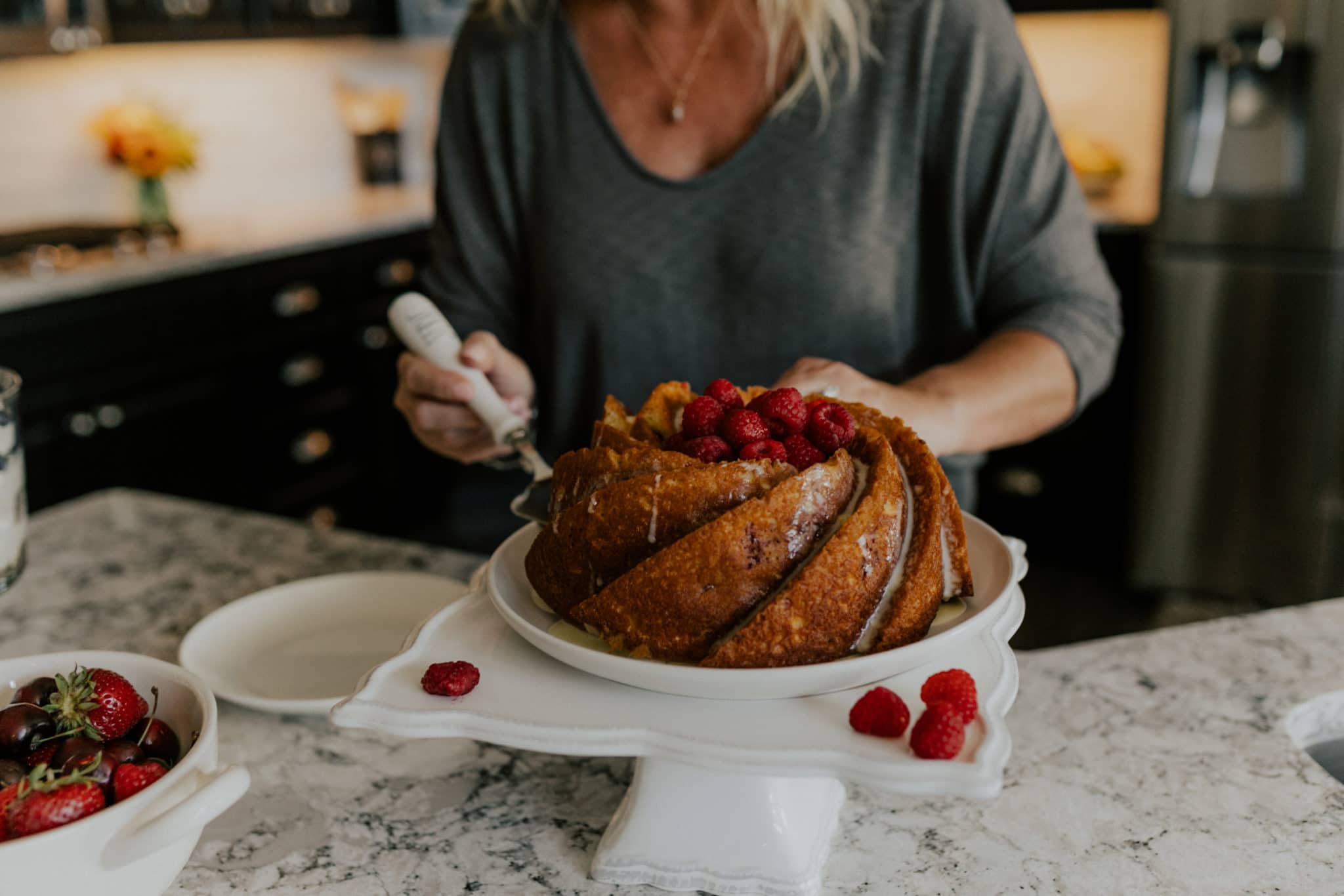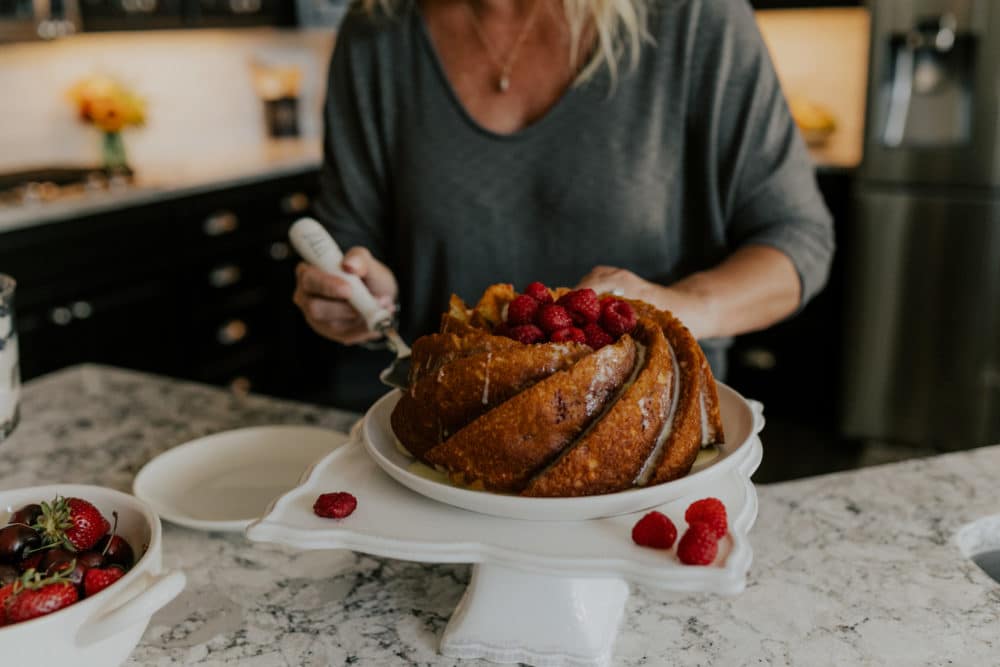 Linden captured me decorating the cake with the glaze and the fresh raspberries, and serving it up. I had so much fun with her. Even though things like this are totally and completely out of my comfort zone!
More Ways to Use your Bundt Pan
I have all sorts of ways to use that bundt pan! From dessert cakes to brunch cakes like coffee cakes, and monkey bread, there are all sorts of bundt cake recipes for you to enjoy. There are some recipes perfect for spring and summer bundt cakes too. If you don't have a bundt cake pan, or maybe you would like another design? These recipes are the perfect excuse to grab a new one!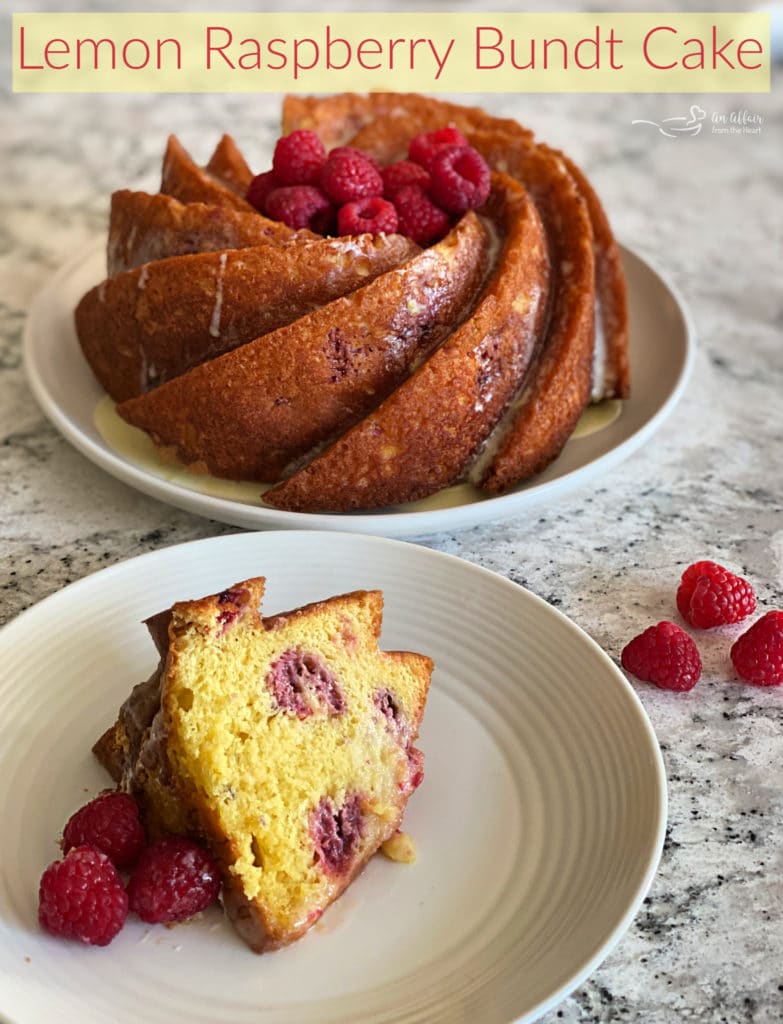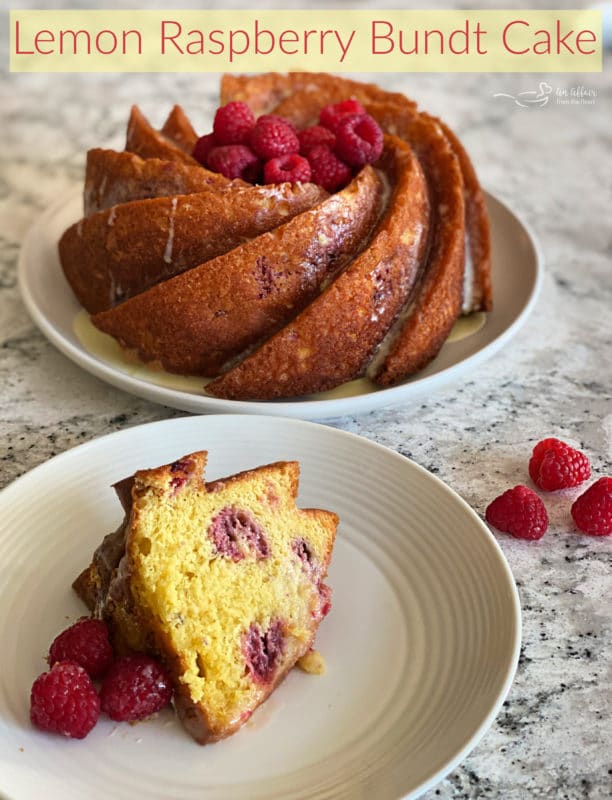 Time to get to the recipe for this Lemon Raspberry Bundt Cake!

Yield: 1 Bundt cake
Lemon Raspberry Bundt Cake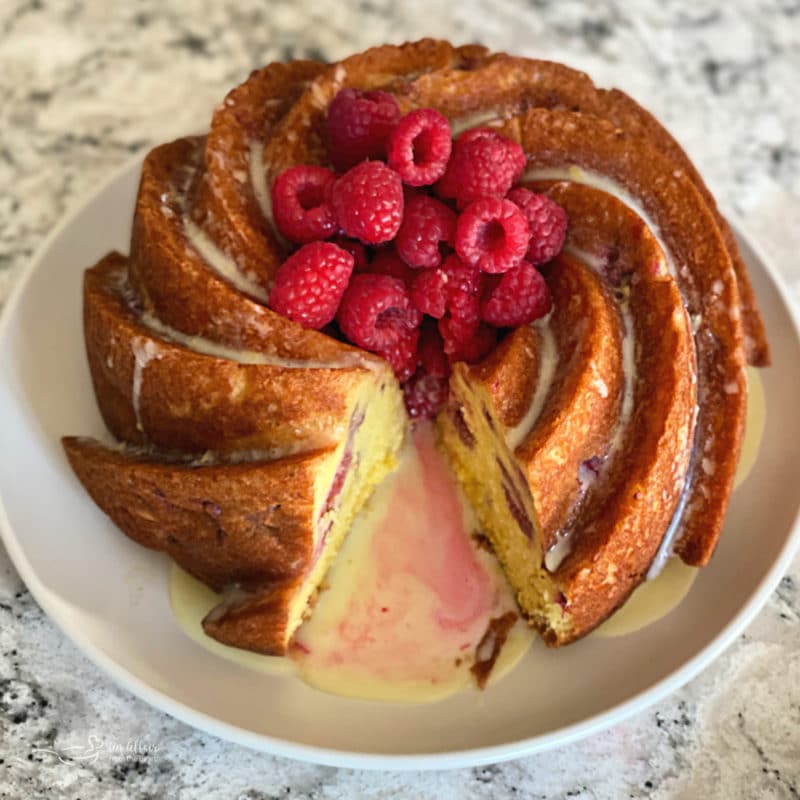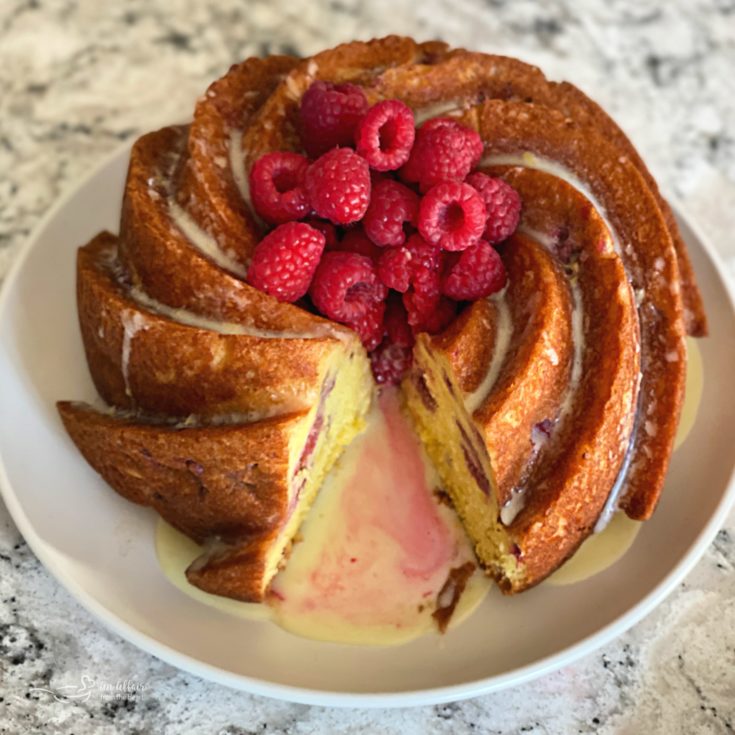 If you want a nice, moist Lemon Raspberry cake, that is super easy to make, then this is the recipe for you.
Ingredients
1 -15.25 ounce lemon cake mix
1 -3.4 ounce package instant lemon pudding
1/3 cup oil
4 eggs
1 cup lemon lime soda, (7Up)
1 cup raspberries dusted in 2 Tablespoons flour
Glaze:
1 teaspoon fresh lemon zest
1 1/2 Tablespoons fresh lemon juice
1 cup powdered sugar
1 1/2 cups fresh raspberries, for garnish
Instructions
Preheat oven to 325 degrees. Spray bundt pan with non-stick cooking spray.
Mix cake ingredients, minus raspberries, in mixing bowl until moistened.
Mix on medium for 2 minutes.
Fold raspberries in.
Pour into bundt pan and bake for 35-45 minutes or until toothpick in cake comes out clean.
Cool in pan for about 10 minutes, then turn onto a wire rack to cool the rest of the way.
When cake is cool, glaze and garnish with raspberries. Store in the refrigerator
Nutrition Information:
Yield:
16
Serving Size:
1
Amount Per Serving:
Calories:

214
Total Fat:

7g
Saturated Fat:

1g
Trans Fat:

0g
Unsaturated Fat:

5g
Cholesterol:

47mg
Sodium:

232mg
Carbohydrates:

35g
Fiber:

2g
Sugar:

21g
Protein:

3g
nutrition isn't guaranteed accurate.
This recipe was originally posted on April 24, 2018. It was updated to improve user experience and re-shared on July 15, 2020.