Frosted Sugar Cookie Bars (+ Video)
As an Amazon Associate and member of other affiliate programs, I earn from qualifying purchases.
These Frosted Sugar Cookie Bars have a buttery sugar cookie base and a thick layer of rich frosting. You can decorate these homemade cookie bars for any occasion with a little food coloring and sprinkles.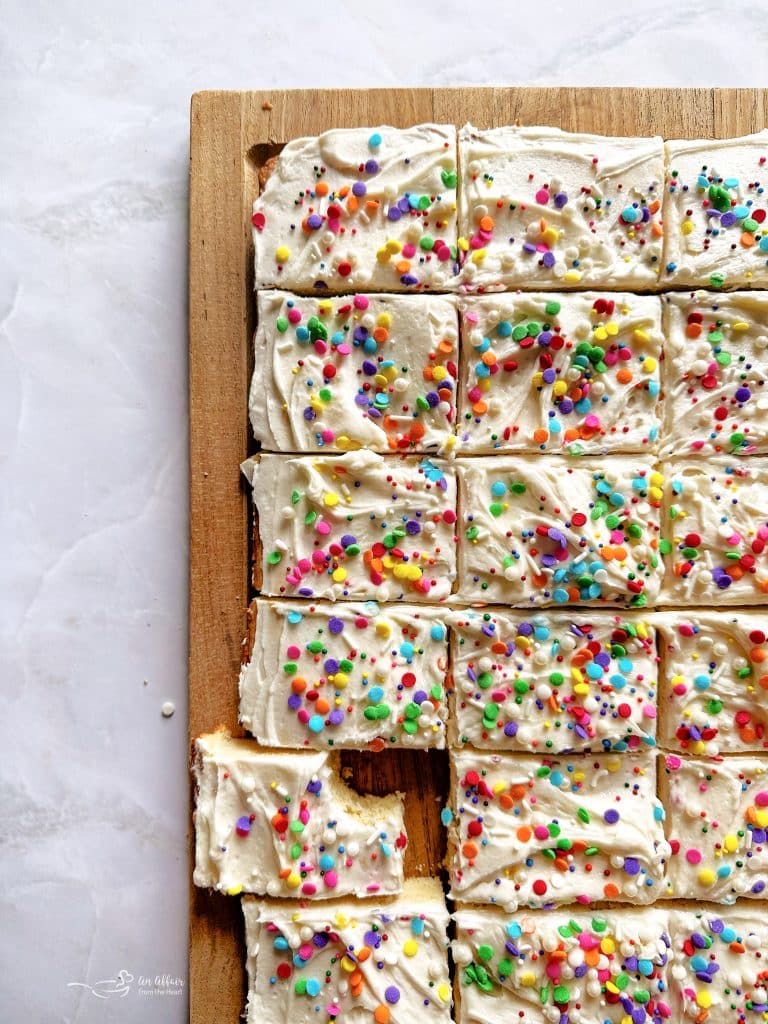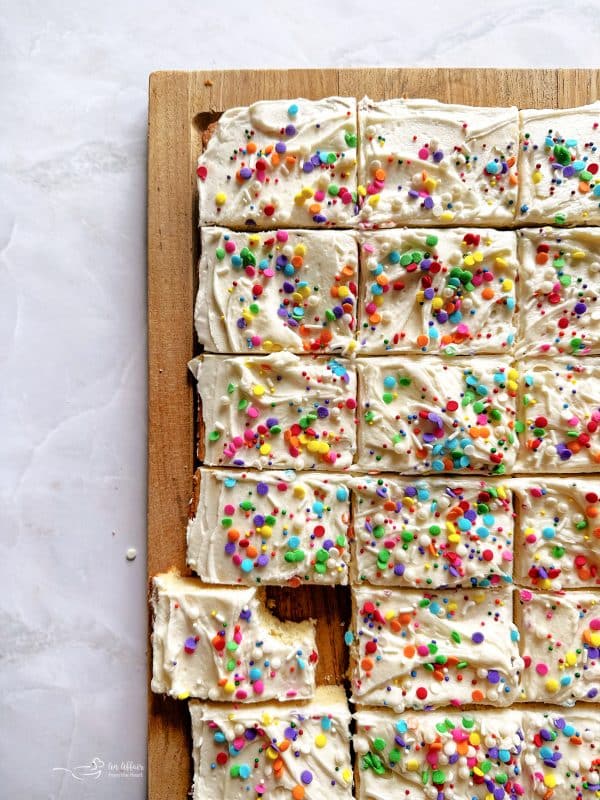 These Frosted Sugar Cookie Bars are loved by kids of all ages. The, not too sweet, vanilla cookie bottom, is slathered with a fluffy frosting flavored with almond extract. Totally customizable for any holiday, this large batch is perfect for parties and feeding a crowd!
Back in 2012, when I first made these Frosted Sugar Cookie Bars, I made them all the time! Literally, I think I made them 3 times in one week! Can you say Obsessed?! I first made them with vanilla extract, but since trying it way back then, I have always added a little almond extract in, too.
If you are a fan of a classic chewy sugar cookie then these bar cookies will rock your world! So simple to make!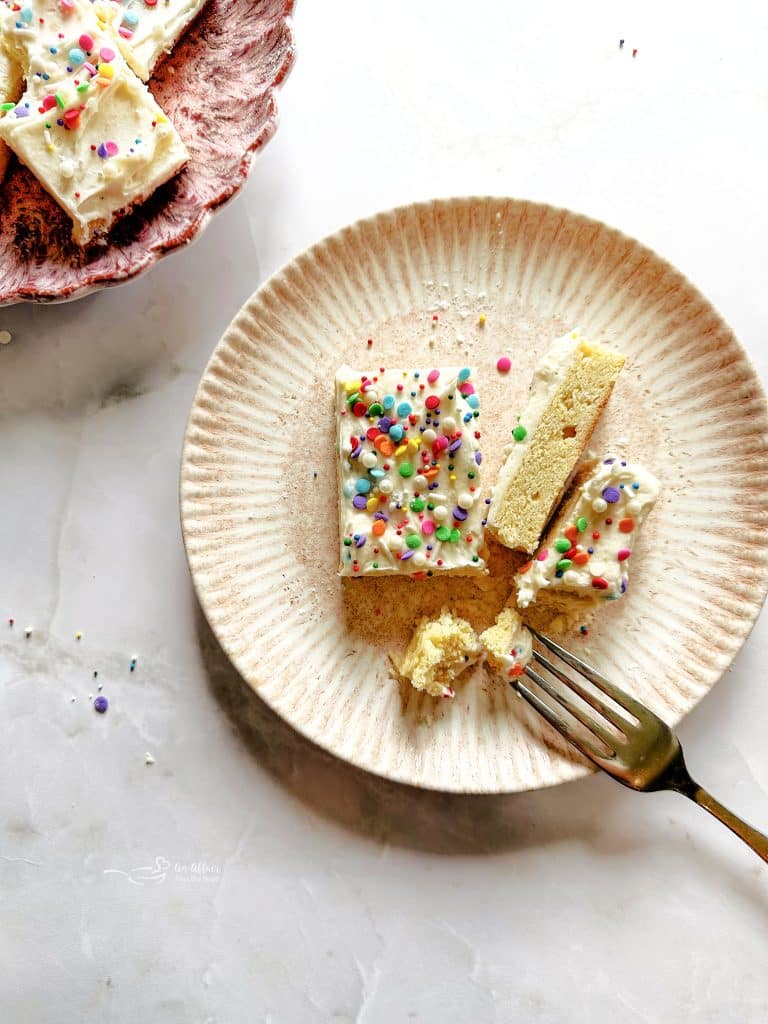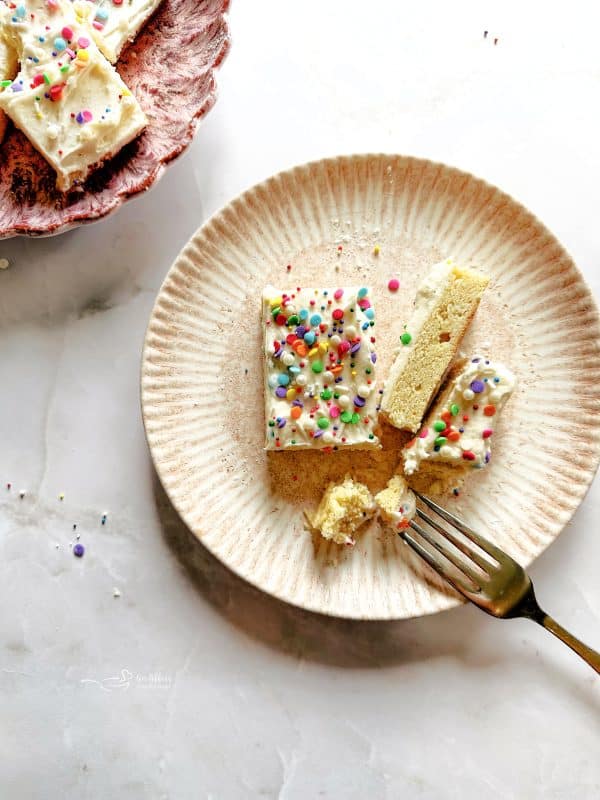 FROSTED SUGAR COOKIE BARS
There is nothing quite like classic sugar cookie bars with frosting. I mean, if the dessert has sugar in the name, you know it will be something tasty! They are a great party dessert or holiday dessert, and easy to prepare ahead of time. Why get store-bought when you can make these simple sugar cookie bars at home?

FROSTED COOKIE BARS
The beauty of traditional sugar cookies is that they are perfect for any season! This bar form recipe uses vanilla and almond extract but you can interchange almond for another flavor depending on the occasion. Pumpkin for Fall, peppermint for Christmas, lemon for summer…the list goes on. Change the frosting color and add some fun sprinkles or decorations for Valentine's Day, 4th of July, or baby showers!
If you love dessert bars you are sure to love these too: Iced Snickerdoodle Bars, PB&J Oatmeal Cookie Bars, No Bake Peanut Butter Cookie Bars, and these luscious Zucchini Brownies!

WHY YOU SHOULD TRY THESE EASY DESSERT BARS
You know I am all about hosting so that means easy recipes that you can prepare in advance. You can make the sugar cookie dough up to a week in advance and keep it in plastic wrap in your fridge!
This is one of my favorite sugar cookie recipes and I have made these easy sugar cookie bars for Halloween, an engagement party, bake sales, class parties, and a family reunion. So versatile for any holiday season and so yummy every time.

INGREDIENTS FOR SUGAR COOKIE BARS RECIPE
Complete ingredients and instructions can be found if you scroll to the bottom of this post for the full printable recipe.
For the Sugar Cookie Bars:
Butter: Unsalted butter is recommended – it allows you to control how much salt is present in your recipe.

Sugar: Use white granulated sugar.

Eggs

Vanilla extract: I recommend pure vanilla extract.

Flour: Use all-purpose flour for this recipe.

Salt

Baking powder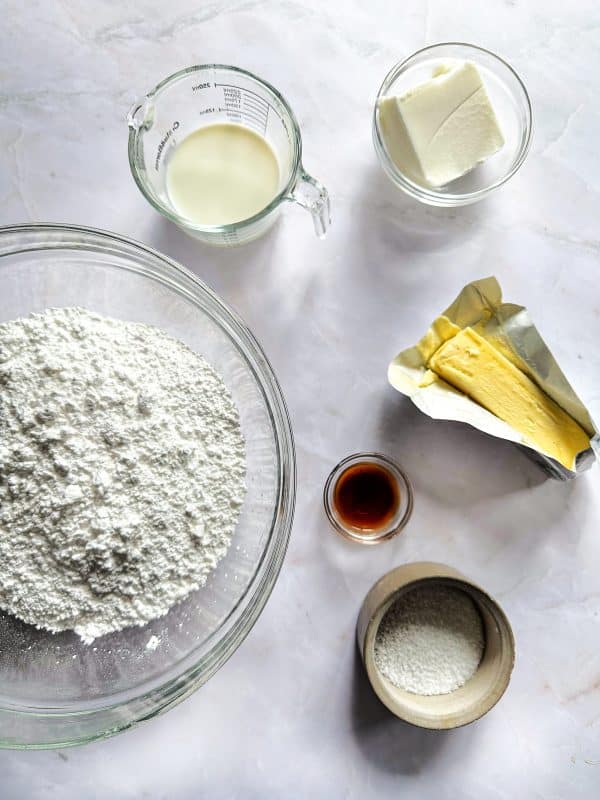 For the Frosting:
Butter: unsalted

Shortening: Use instead of butter to provide a more stable, thicker frosting.

Almond or Vanilla extract: or a little of both!

Milk: Use your choice of dairy milk or plant milk.
Food coloring and sprinkles: These are optional but sure do make the cookie bars look pretty!

HOW TO MAKE FROSTED SUGAR COOKIE BARS
FIRST: Preheat the oven to 375 degrees Fahrenheit. Grease a 13×18 baking pan with nonstick cooking spray and line it with a piece of parchment paper.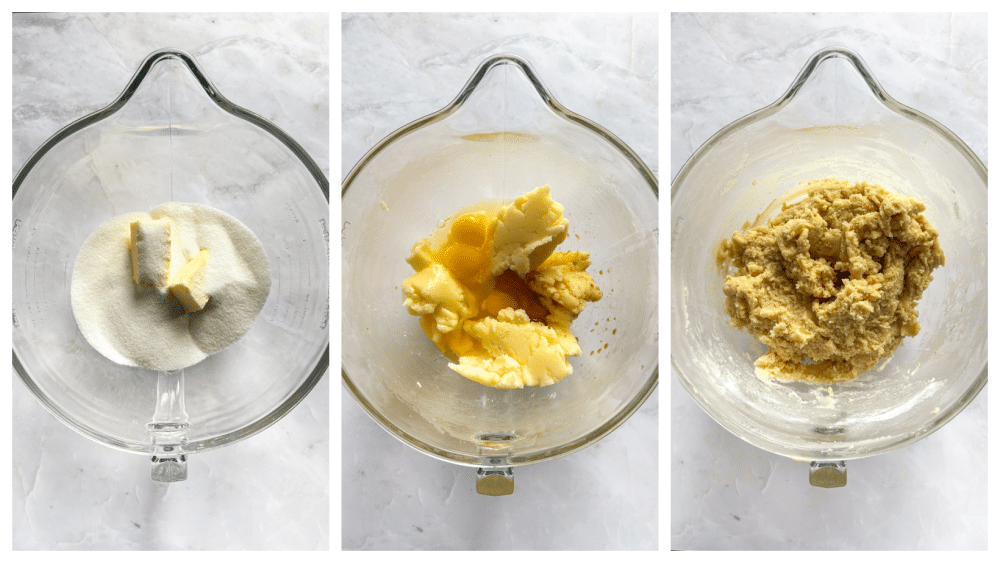 SECOND: In a large bowl, cream together softened butter and sugar, then add vanilla and eggs.
THIRD: Mix all dry ingredients in a medium bowl. Add flour mixture into the wet mixture and combine well. For best results, use a stand mixer or hand mixer. Spread dough in the prepared baking pan. Bake for 10-15 minutes.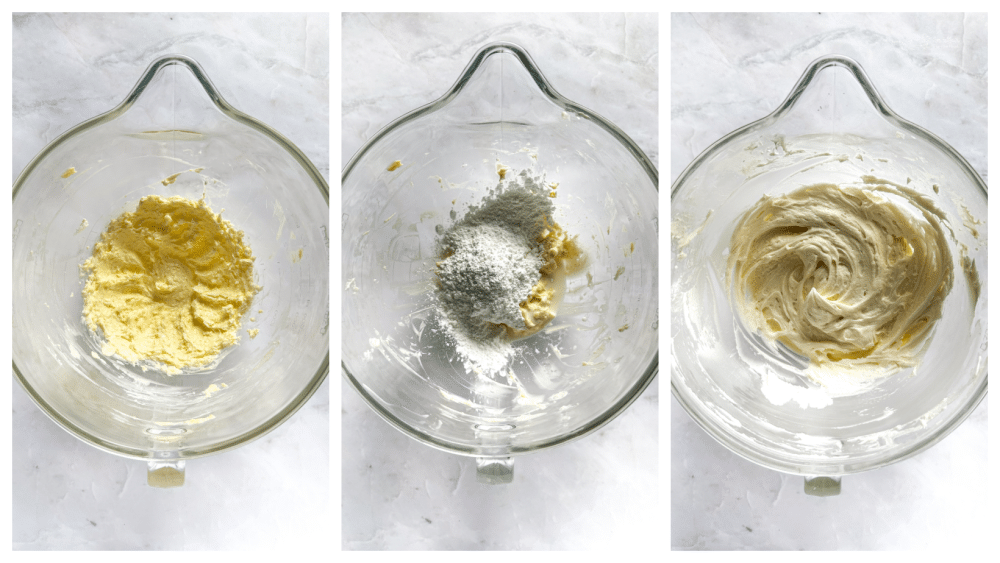 FOURTH: While the cookies are baking, start on the frosting recipe by creaming together butter, shortening, extracts, and salt with an electric mixer on medium speed. Add in powdered sugar and milk and mix until the frosting is fluffy.
FIFTH: Spread frosting on top of cooled bars. The best way to spread the frosting is with an offset spatula. You can also add sprinkles, candy bits, or fruit!

Love it? Pin it!
If you love this FROSTED SUGAR COOKIE BAR recipe make sure that you don't lose it! Pin it to your favorite Pinterest recipe board before you go!

FAQs ABOUT SUGAR COOKIE BARS
Why are my frosted sugar cookies so dry? If you notice your dough is dry and crumbly, you can add a teaspoon of milk or water until your mixture binds. If you notice that your cookies are dry once they are out of the oven, this is due to over baking. Just load them up with frosting and try to moisten them up!

How long can frosted sugar cookies last at room temperature? Store your cookie bars at room temperature for up to seven days in an airtight container. Or store in the fridge for up to two weeks or the freezer for up to three months.

Do frosted sugar cookies need to be refrigerated? You do not need to refrigerate your sugar cookies immediately. They can sit on your counter and look pretty for about a week. After that, store them in a fridge or freezer. However, if you do not bake the dough right away, you must refrigerate your sugar cookie dough.

How do you keep the middle of the cookie bars from sinking/ensuring they are fully cooked? To keep your sugar cookie bars from sinking you want to make sure they are fully cooked. Signs of your bars being ready to come out of the oven would be golden brown edges and a toothpick or knife that comes out clean when dipped into the middle.

What's the difference between butter and shortening? Butter is a mixture of fat and some water while shortening is 100% fat. Because of this, shortening provides more stability within the frosting because it does not melt like butter. Using both butter and shortening provides the benefits of shortening while still yielding that yummy buttery flavor!

SUBSTITUTIONS
Remember that when it comes to making substitutions in recipes, you don't need to be afraid to get creative and use ingredients that suit your personal taste and dietary preferences. Make it your own!
Almond extract: provides a rich flavor, but can be interchangeable with vanilla. You might also try hazelnut extract for the same sweet, nutty flavor.

Shortening: I do not recommend it but in a pinch, you can use butter. If subbing with butter, use a 1:1 ratio (1 cup shortening=1 cup butter).

Milk: Milk acts as a thinning agent in the frosting so any milk will do! You can also use cream or water. You can use lemon juice, or even coffee if you want to flavor your frosting.

TIPS & TRICKS
This recipe requires a lot of mixing so I recommend using a stand mixer with paddle attachment to save your arm.

You can prepare the dough ahead of time and keep it in plastic wrap in your fridge for up to three to five days before baking. If you need to make it even further in advance, you can keep the dough wrapped up in the freezer for up to three months.

To store your frosted treats, keep them in an airtight container (Tupperware, Ziploc) for up to a week at room temperature. After that, store them in the fridge for a few more days.

Package individual cookies in clear bags for bake sales and treats for work or school.

Use cookie cutters to cut shapes, Valentine's Day hearts, and Pumpkins for Halloween – use the leftovers pieces for crumbling over ice cream for another easy recipe for a yummy dessert!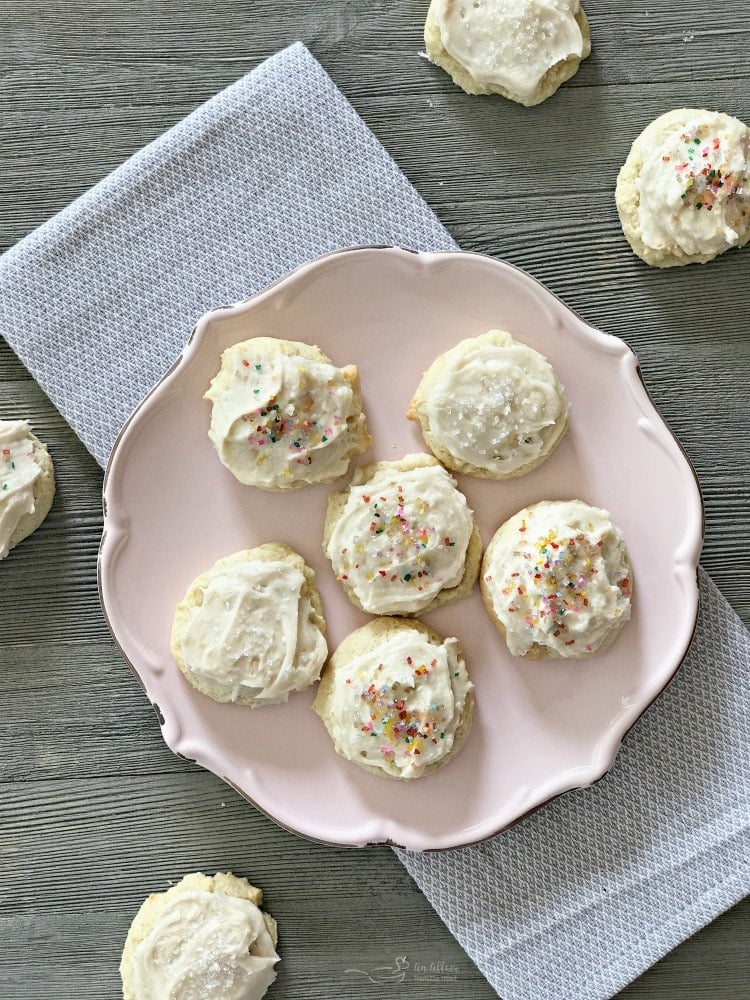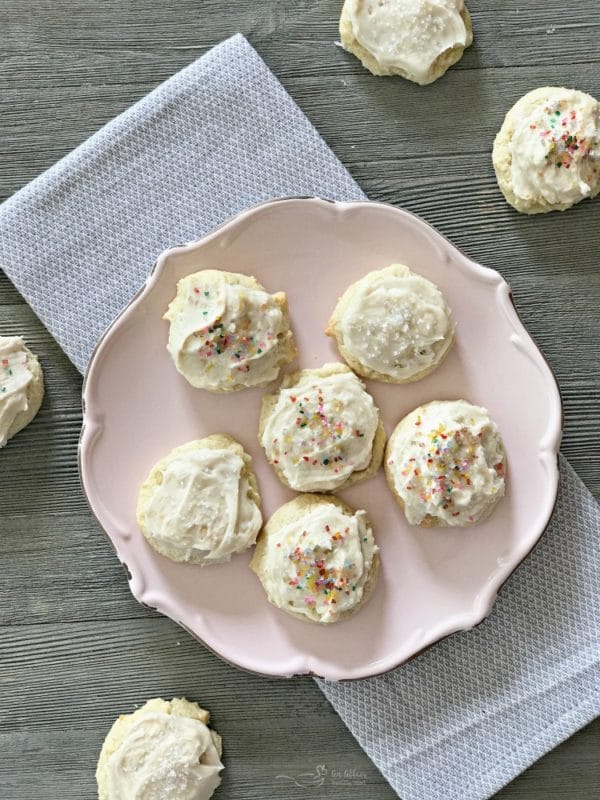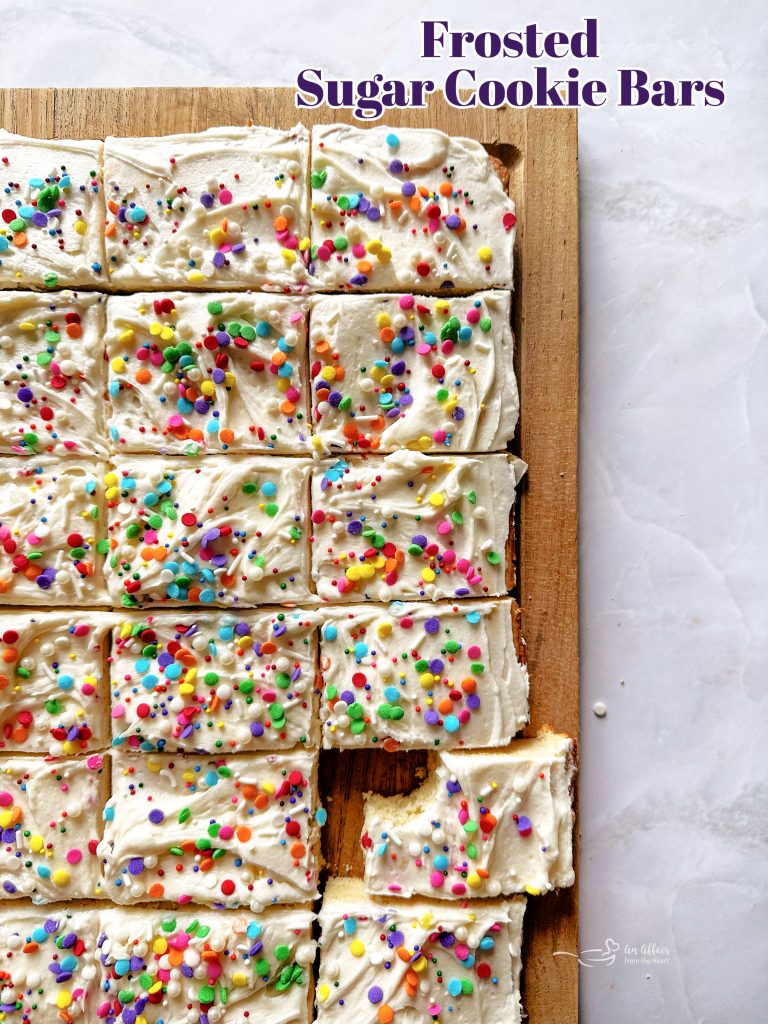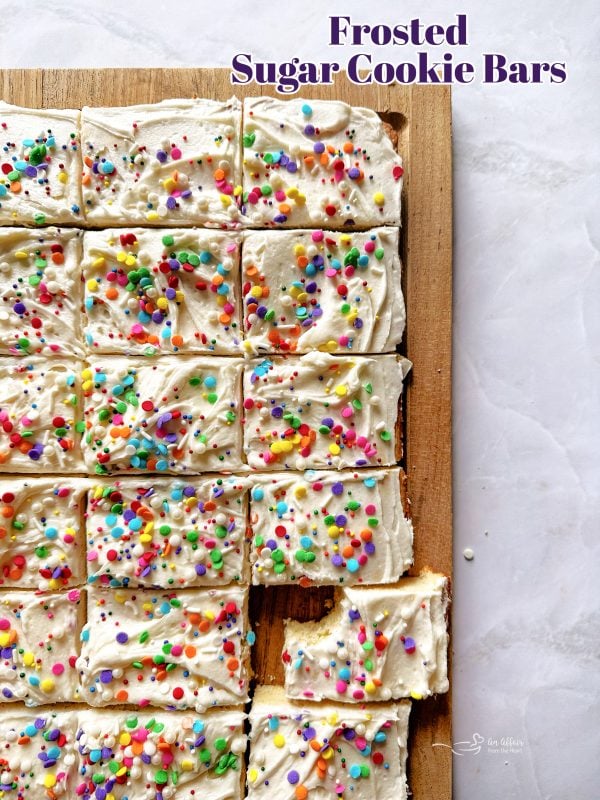 Go make this sugary, delicious, and classic FROSTED SUGAR COOKIE recipe just because, or decorate them for any special occasion! Yum!

Yield: 32 bars
Frosted Sugar Cookie Bars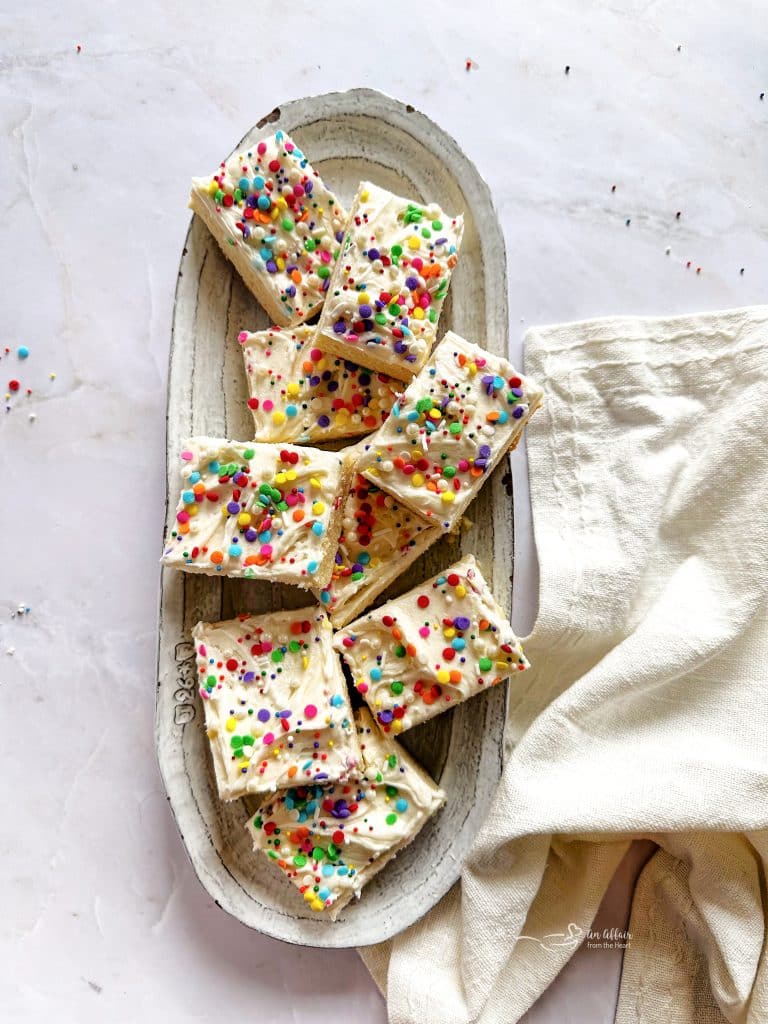 These Frosted Sugar Cookie Bars have a buttery sugar cookie base and a layer of rich frosting. You can decorate these homemade cookie bars for any occasion with a little food coloring and sprinkles.
Additional Time
30 minutes
Ingredients
FOR THE COOKIES:
2 sticks unsalted butter, softened
2 cups sugar
4 eggs
2 teaspoons vanilla (+1/2 tsp almond extract, optional)
5 cups flour
1 teaspoon salt
1/2 teaspoons baking powder
FOR THE FROSTING:
1 stick unsalted butter, softened
1/2 cup shortening
1 teaspoon vanilla or 1 teaspoon almond extract
pinch of salt
4 cups powdered sugar
5 Tablespoons milk
FOR DECORATING:
food coloring (optional)
sprinkles (optional)
Instructions
Preheat oven to 375 degrees
For the cookies: Cream together butter and sugar. Add vanilla and eggs, and beat well. Combine dry ingredients in a separate bowl, and gradually add to creamed mixture, mixing well.
Spread into greased 13×18 pan, and bake for 10-15 minutes, or until golden brown.
Cool, before frosting.
For the frosting: In a mixer, cream together butter and shortening, add extract and salt. Add powdered sugar and milk a little at a time, mixing until fluffy.
Can tint the frosting with food coloring if desired.
Spread onto cooled cookie bars.
Top with sprinkles if you choose.
Recommended Products
As an Amazon Associate and member of other affiliate programs, I earn from qualifying purchases.
Nutrition Information:
Yield:
32
Serving Size:
1
Amount Per Serving:
Calories:

290
Total Fat:

13g
Saturated Fat:

7g
Trans Fat:

0g
Unsaturated Fat:

5g
Cholesterol:

48mg
Sodium:

90mg
Carbohydrates:

41g
Fiber:

1g
Sugar:

26g
Protein:

3g
Nutrition isn't always accurate.
This recipe was originally posted in 2012. It has been updated to improve user experience and reshared on July 28, 2023.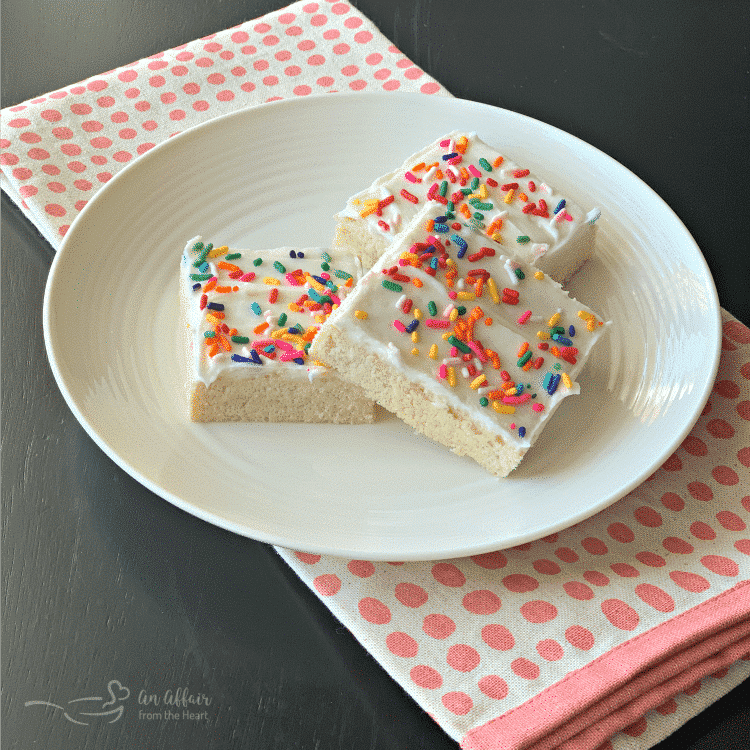 ea