Frosted Zucchini Brownies
As an Amazon Associate and member of other affiliate programs, I earn from qualifying purchases.
These thick and fudgy brownies are made with shredded zucchini, then frosted after they are cooled. They are so moist and chocolatey, I bet you can't stop at one!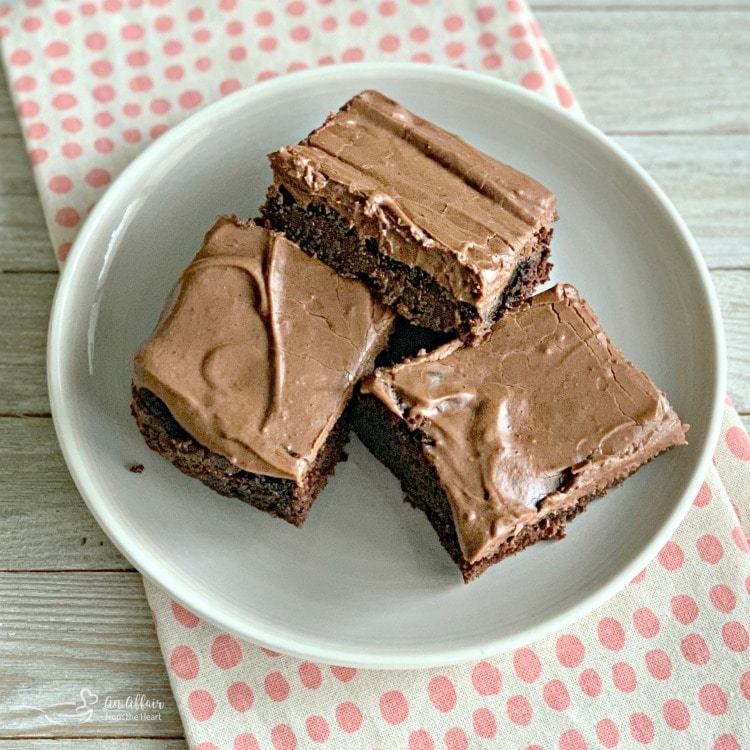 Zucchini in brownies? Is that what you are asking yourself? Yes, you want to try these. Wait, no. You NEED to try these Frosted Zucchini Brownies!
Why on earth would I put a vegetable in a brownie?
I know. If you haven't tried it, it might sound crazy. But you've had Carrot Cake, right? Think about how moist that cake is. The addition of zucchini to brownie batter, does that same thing. I make zucchini bread all of the time, and it's the same way. (my Grandma's recipe is coming next week, stay tuned for that!) . Does it make these some sort of diet food from heaven? No. But adding the vegetable to these can't be bad, right??
Kind of like when I made Chocolate Beet Cake? What a huge surprise that was! In fact, my kids compared these to the very best chocolate cake, ever, my Sauerkraut Chocolate Cake!
SOME OF THE ITEMS BELOW CONTAIN AFFILIATE LINKS; I AM A PARTICIPANT IN THE AMAZON SERVICES LLC ASSOCIATES PROGRAM, AN AFFILIATE ADVERTISING PROGRAM DESIGNED TO PROVIDE A MEANS FOR US TO EARN FEES BY LINKING TO AMAZON.COM AND AFFILIATED SITES. I AM ALSO AN AFFILIATE FOR OTHER BRANDS. HOWEVER, I ONLY PROMOTE THINGS THAT I LOVE AND THINK YOU WILL LOVE, TOO. FOR MY ENTIRE DISCLOSURE POLICY PLEASE

CLICK HERE

.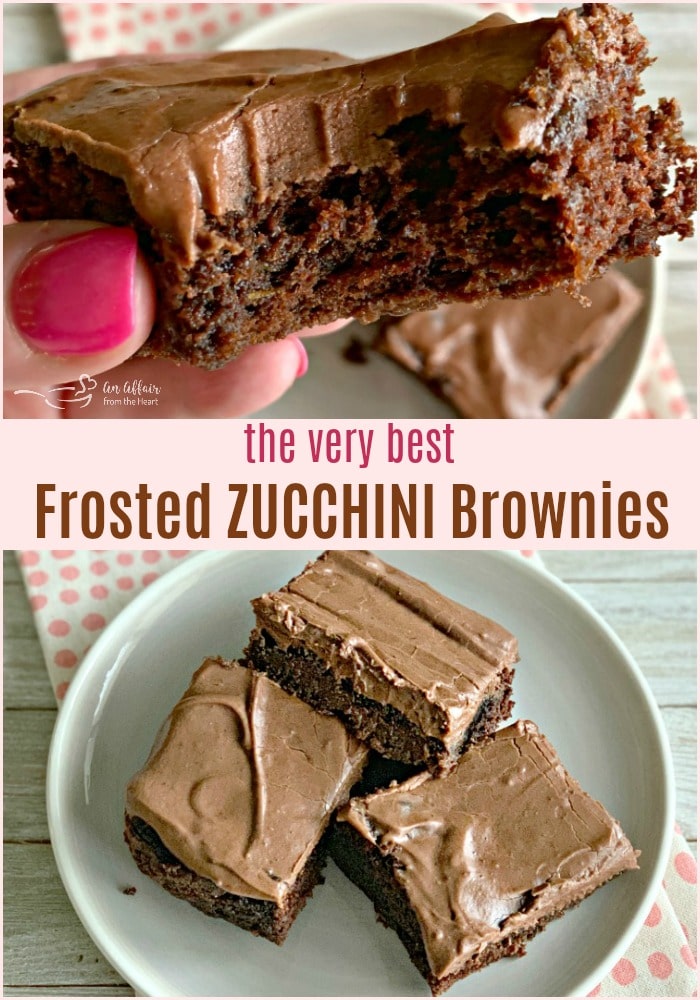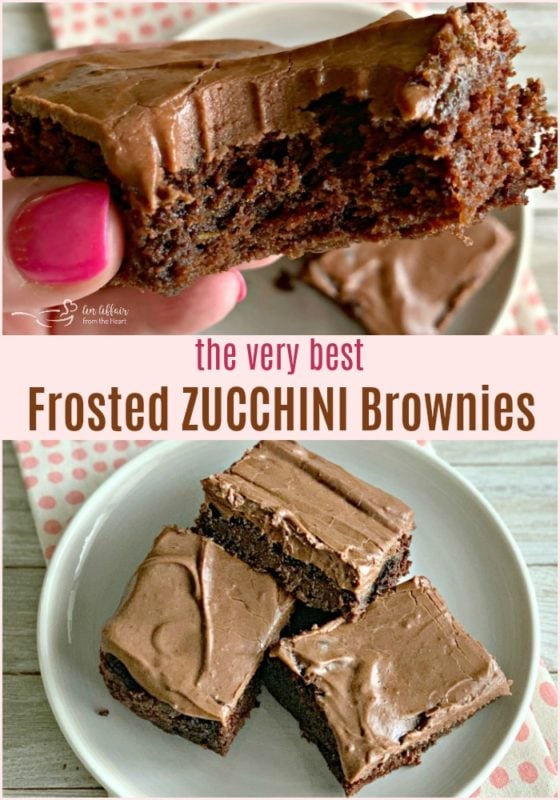 Pin Them before you Read on!
So, I need to admit something. I haven't been taking very good care of myself for a while now. Maybe you know how that goes? You get in a rut, you stop doing the things that make you happy and feel good. I always had an excuse. "I can't got for a walk, I have too much work to do." Excuses why I didn't go to bed at a decent time. "I'll drink that bottle of water after this cup of coffee." (then the next cup of coffee.)
I celebrated a milestone birthday in June, and that coupled with a whole bunch of other things made a lightbulb go off in my head.


I had a serious reality check. I am sure you have seen lots of articles about Self Care. I started reading more. There are so many little steps we can take that add up in a big way. Some of them over a short time, some of them take longer.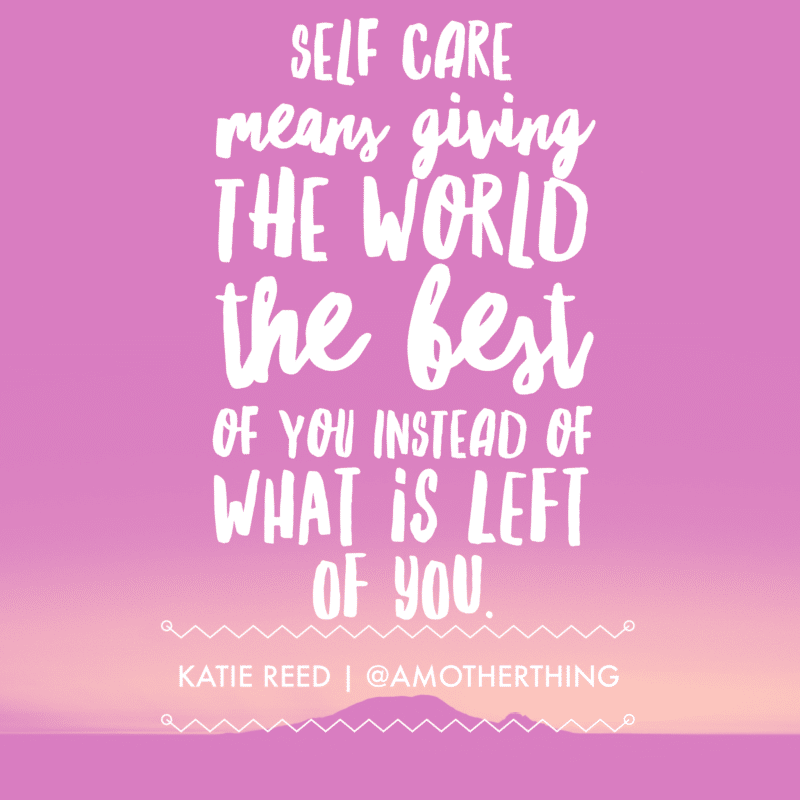 Simple Ways to Practice Self Care:
Get enough sleep. Sleep is important. I was at the point in my life where I wasn't getting near enough. I was getting on average of 5-6 hours a night. I felt run down. I looked run down. Know that that project or that show on Netflix will be there tomorrow. Go to bed. Try to do so at the same time every day and wake at the same time, too. Adults need to average 7-8 hours per night.
Drink your water. It's hard to get accustomed to drinking the right amount of water each day. Figure out what makes you drink more. A bottle? A glass? From a straw? Whatever works best, do that. It helps everything.
Move more. Go for that walk. Take your dog. Ask a friend, or go alone and put your headphones in. Listen to music. Listen to that favorite podcast. Leave the work/to do list for a while, and go outside. Sunshine is my favorite way to get my Vitamin D.
Have fun. Go to lunch or dinner with a friend. Watch your favorite movie for the 500th time. Laugh. Pet your dog. What are things you loved as a kid? Coloring? Riding a bike? Dancing? Do it.
Say No. Reject Negativity. Unplug. It's hard to let things roll off your back. Trust me, I know. I take things very personally. I have a terrible time telling people no. I am a work in progress. The internet is a blessing and a curse. Take it from someone that can't just walk away from it, as it's part of my job. (a very large part of my job) People are mean.
Those people online don't really know you. Walk away from it. Put the phone down, turn off the computer and walk away. Take the high road, and pat yourself on the back for it.
Eat good food. Here is where I really struggled. I share all sorts of recipes with you all. Somedays you might get a salad, the next it might be a cheese filled dip with tortilla chips. You might get a cauliflower rice or you may get a layered cake full of coconut cream. Everything you see me post, we eat. There is nothing wrong with indulging from time to time, but the rest of the time? Practice portion control. Eat to fuel not stuff yourself. Eat more fruits and vegetables.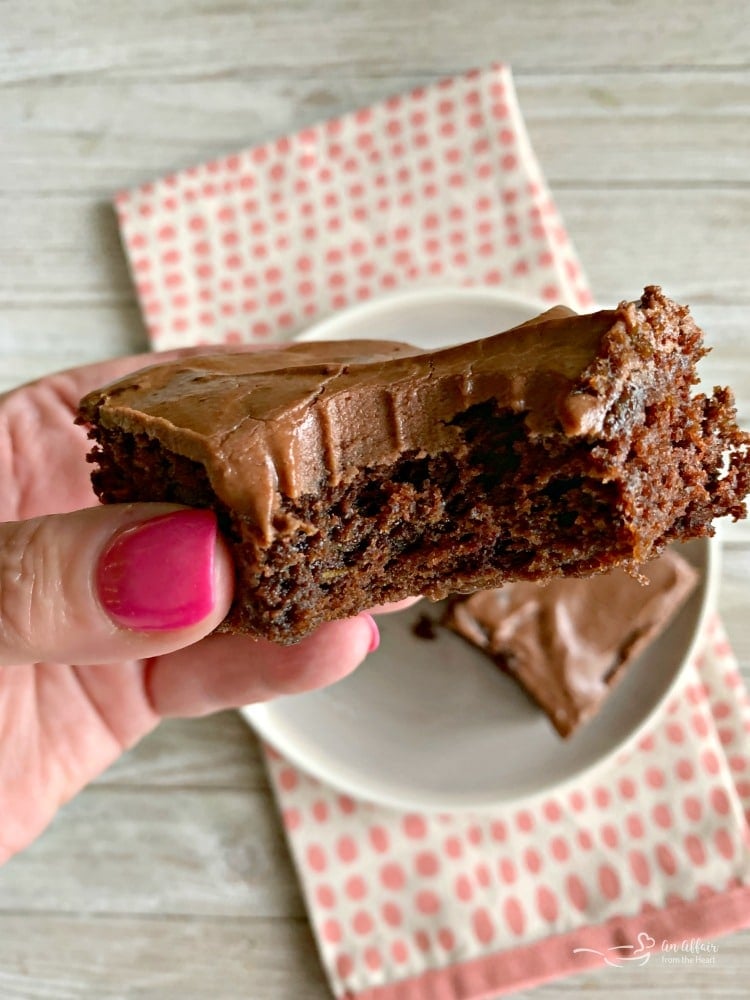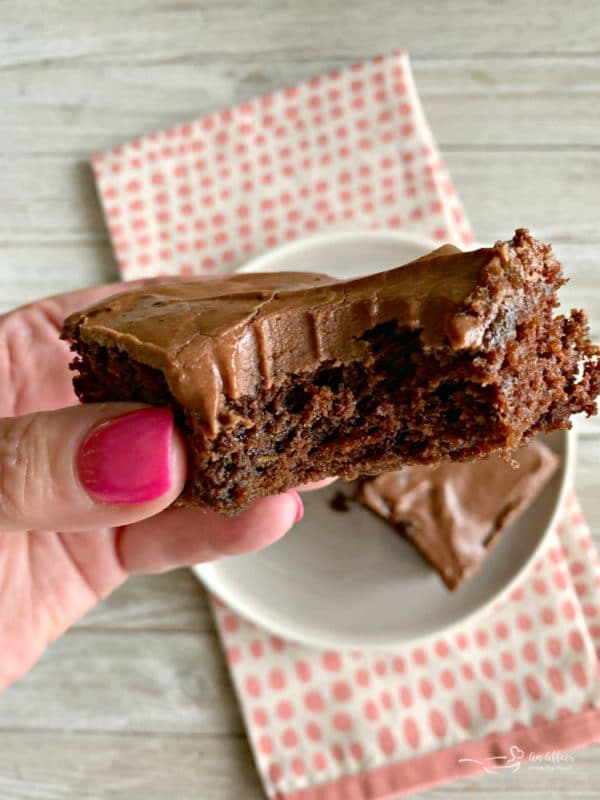 Put vegetables IN your brownies!
You see what I did there? These zucchini brownies tick both options for eating good food. They include the veggies, and they are definitely indulgent.
Why Did I chose this Frosted Zucchini Brownie Recipe?
I know so many people that hate the word "moist." But there is really no other way to best describe these brownies. I looked at so many recipes. I picked them apart, and tried to decide what components I liked from each of them. Ultimately, I went with the recipe I found at Crazy for Crust. If you haven't ever heard of her site, you need to give it a look.
One thing I loved about the recipe? There was no wringing out the zucchini. Most of the recipes had you shredding all of that zucchini then pressing out the moisture. Honestly, it was one step I just didn't want to do.
I made these on a Sunday, when the kids were coming over. I was short on time, so I knew that was one corner I could cut. I made some changes though after reading the comments. Some thought the brownies were more cake-y than the photo looked. Secondly, I only had two small zucchini, and it didn't equal the two cups of zucchini the recipe called for. So, I started playing with it.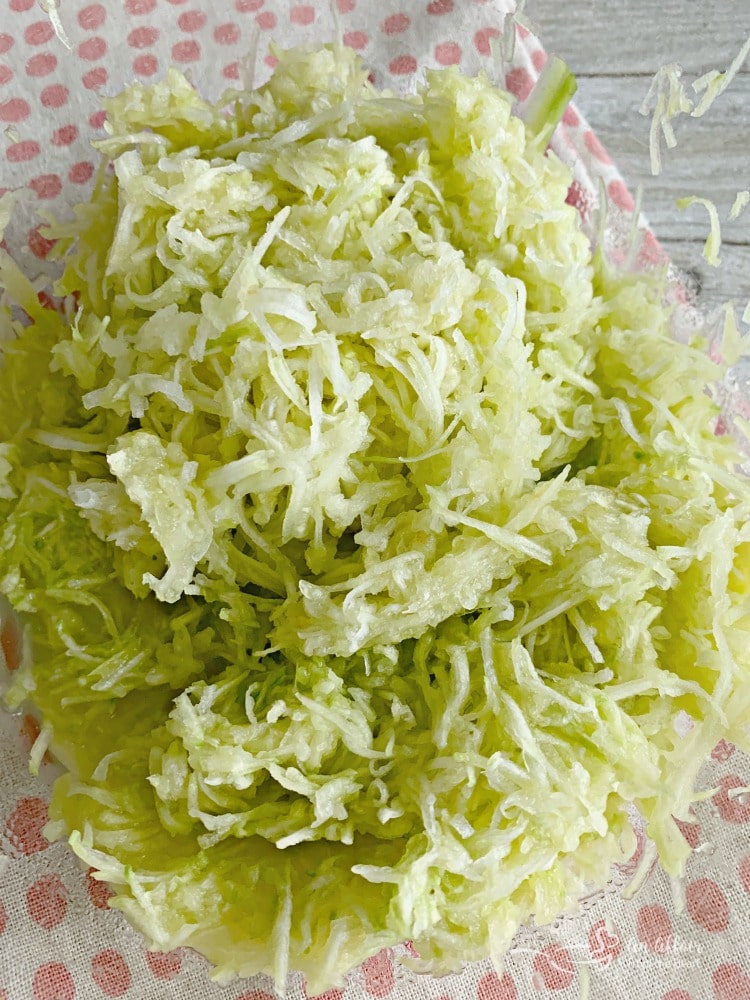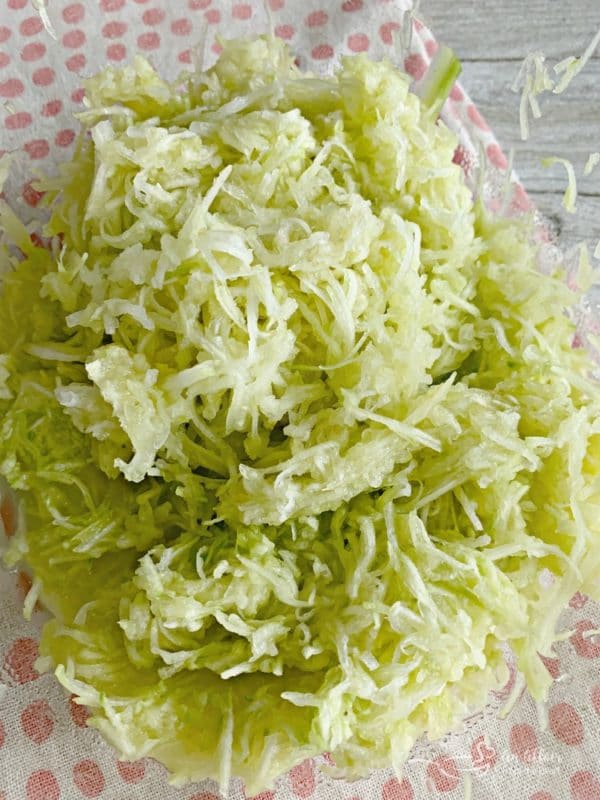 I shredded the zucchini finely.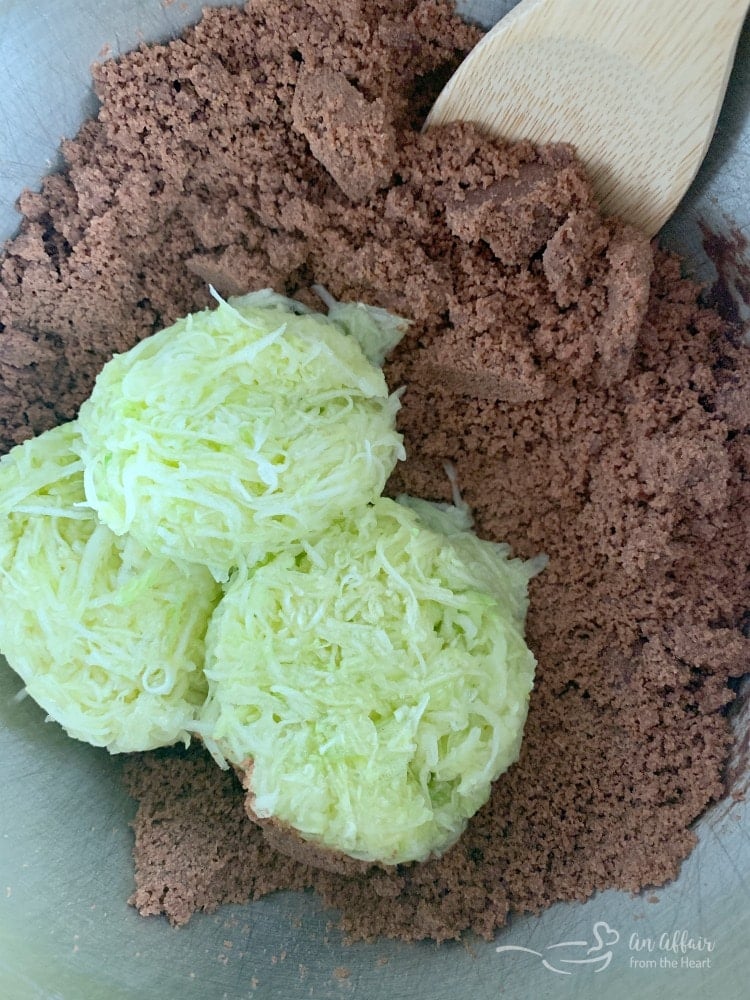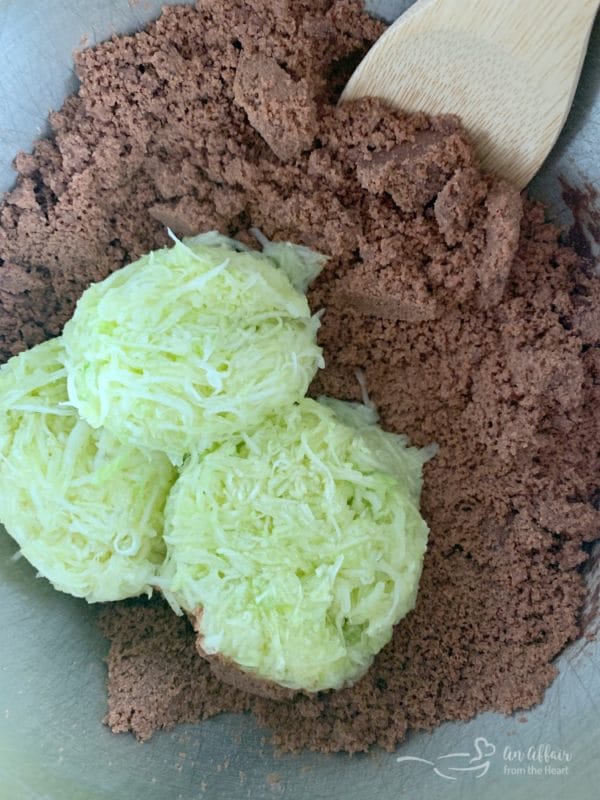 The batter of these brownies will make you think, how are these ever going to turn out? It's really dry. Then you add that moisture rich shredded zucchini.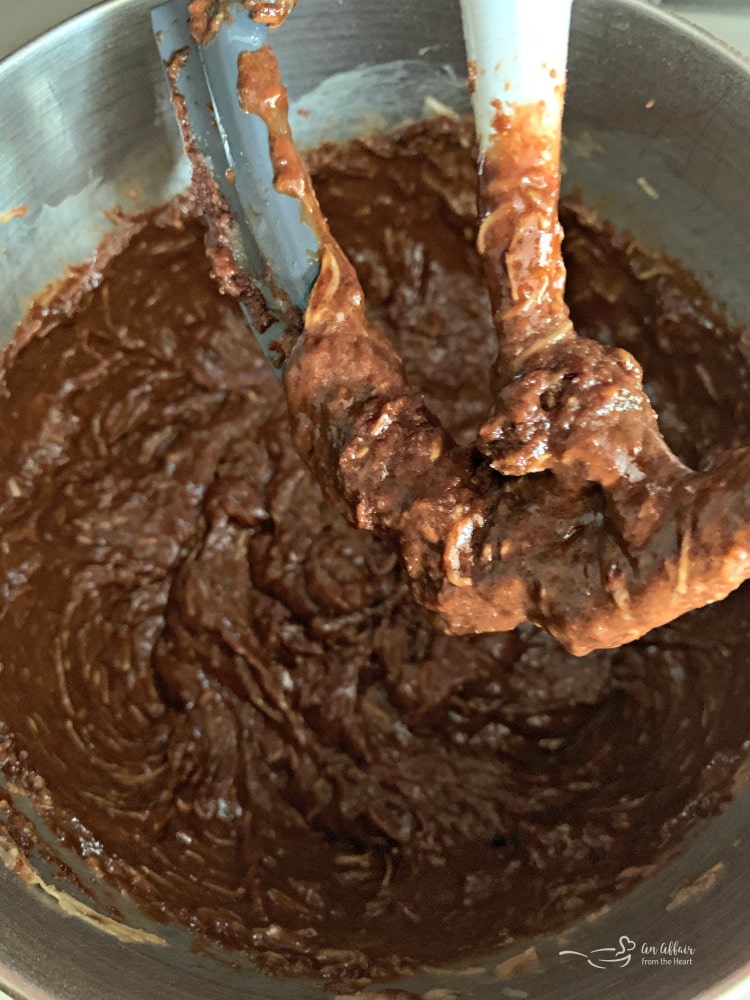 Then LOOK at it. Try not to sneak a bite. (or two)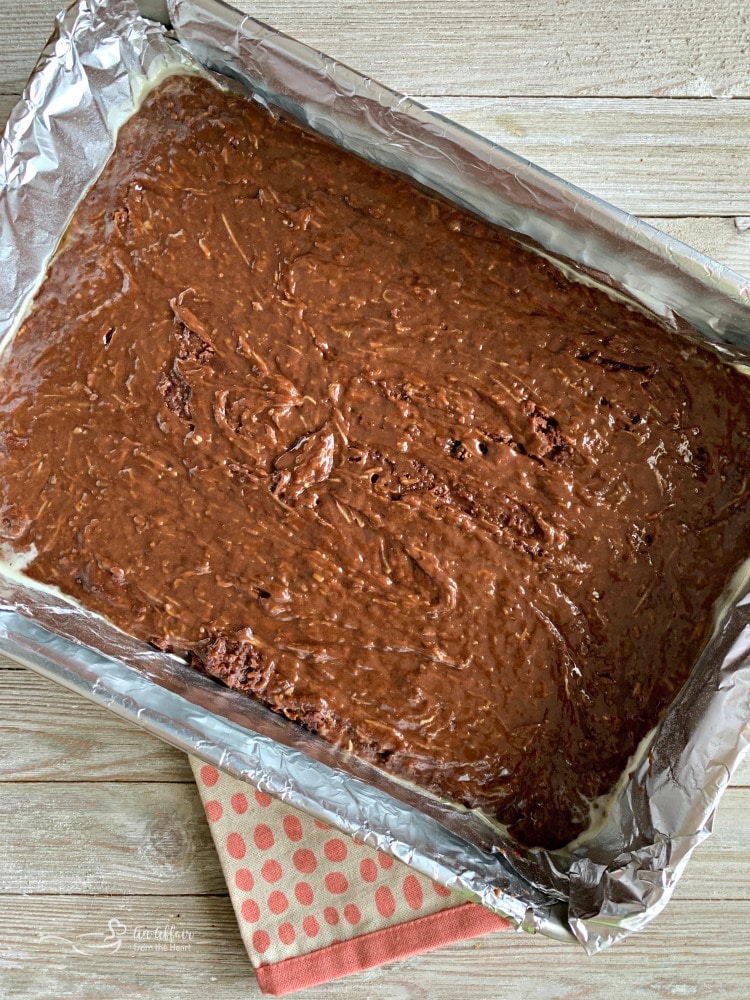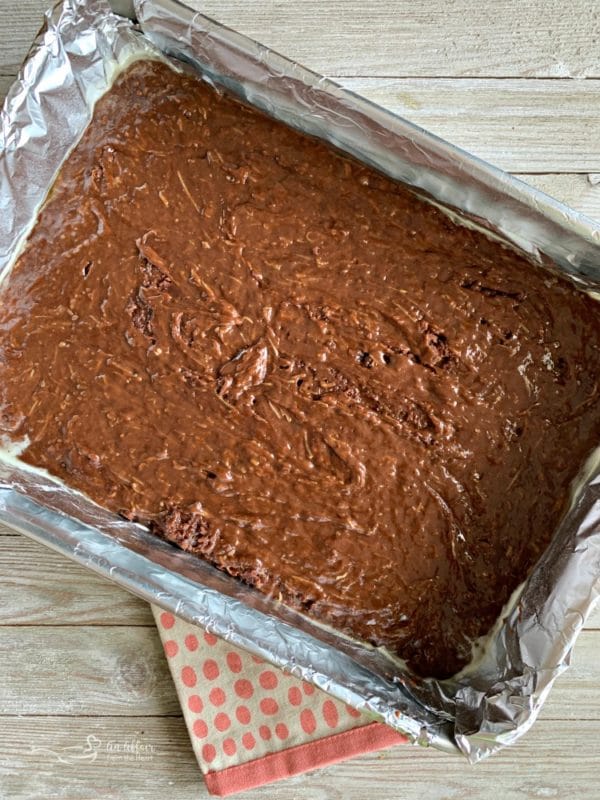 Line the 9×13 baking pan with heavy duty foil, then spray it with non-stick cooking spray. Spread the batter into the pan. Look at all of that chocolate goodness.
Bake it up and cool them. I contemplated using my chocolate ganache recipe for these, like I do for my Chocolate Ganache Brownies. But the more I got to thinking, the recipe called for a frosting that reminded me very much of these Lunch Lady Brownies I love. So, I went with the one that Crazy for Crust used. I was so grateful!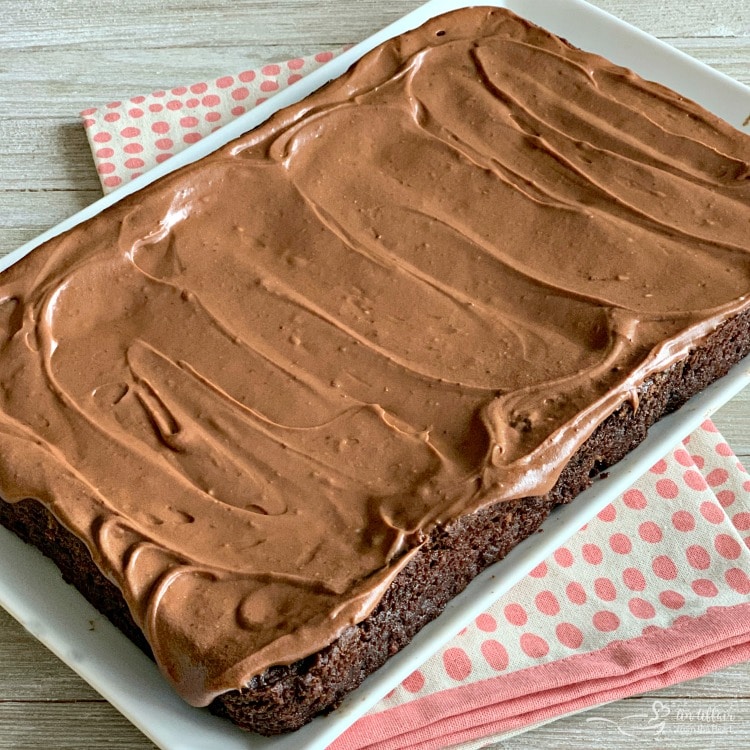 Once you take the brownies out on the foil, plate them on a platter before frosting them. Make sure you are super careful, they are so moist they are going to try to break apart on you.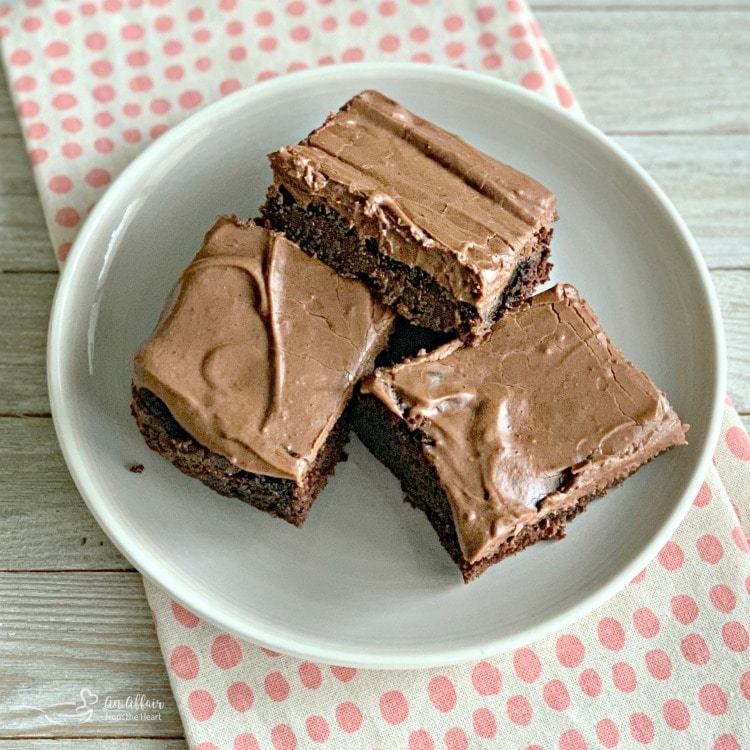 The frosting does harden a bit on the top, but not underneath. Underneath it stays all nice and chocolate fudgy.
I have a lot of Brownie Recipes on my site. This one right here? It went right into the top three favorites in my mind.
Other Desserts with Zucchini Baked Inside: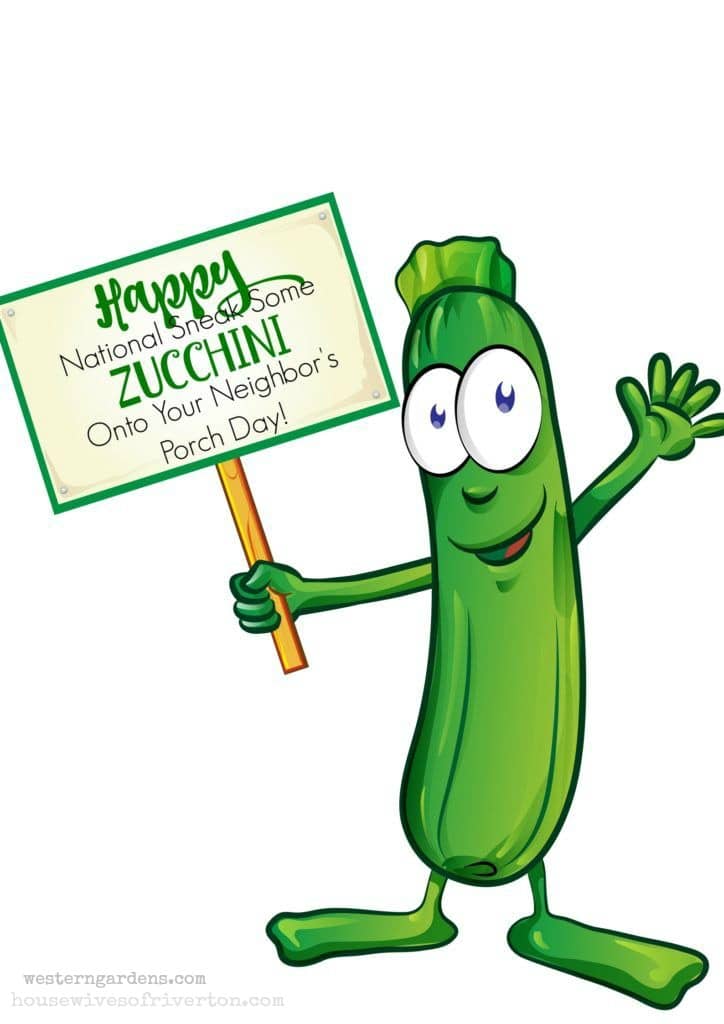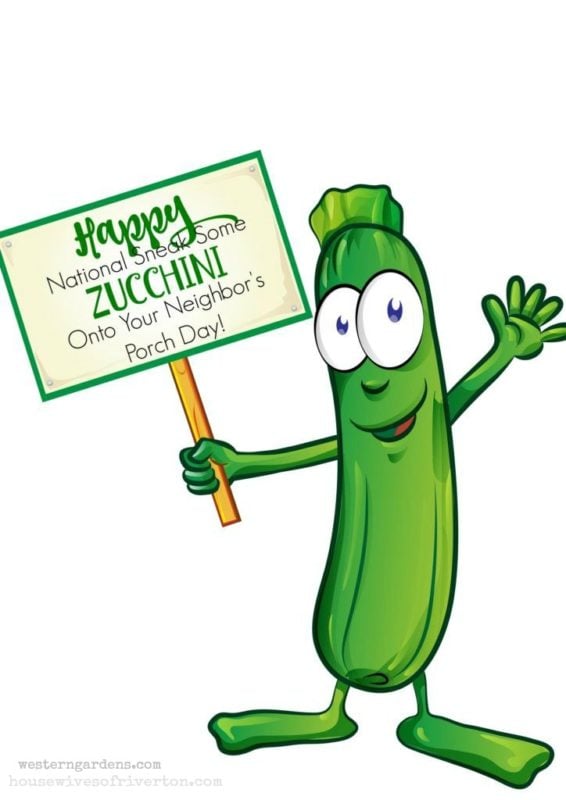 August 8th is National Sneak Some Zucchini on your Neighbors Porch Day! So, welcome that zucchini, and bake these amazing chocolatey brownies. Hey, share some with your neighbors! It's all about moderation, right?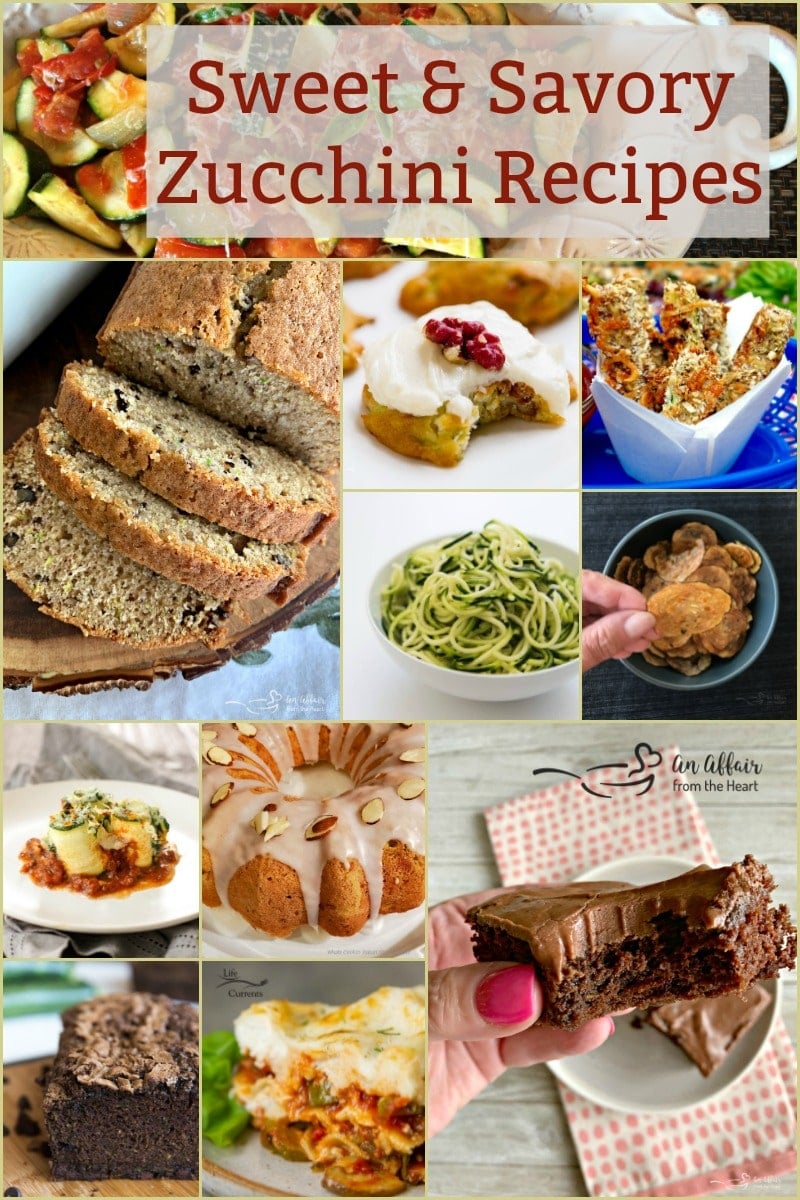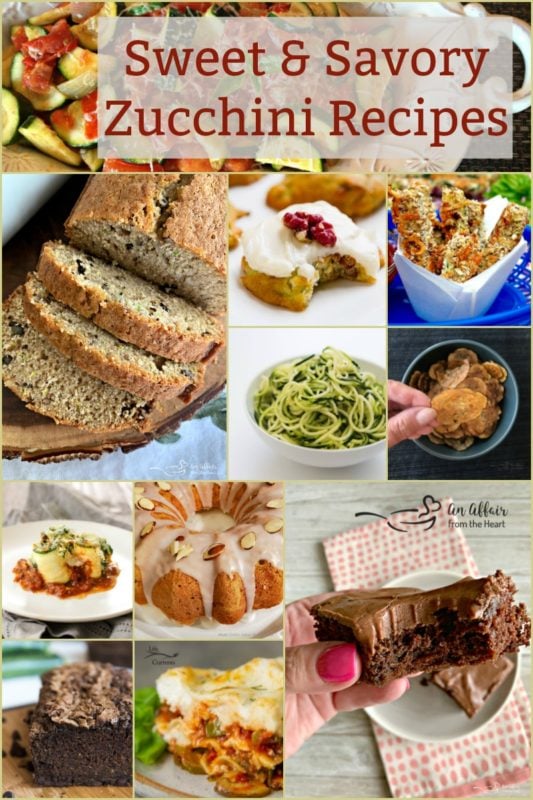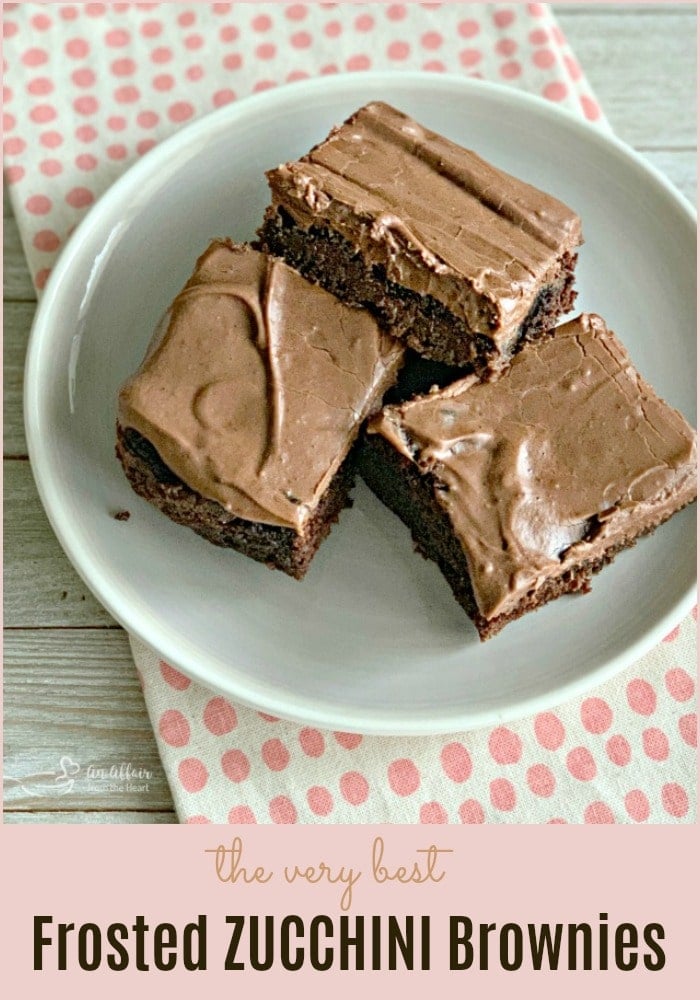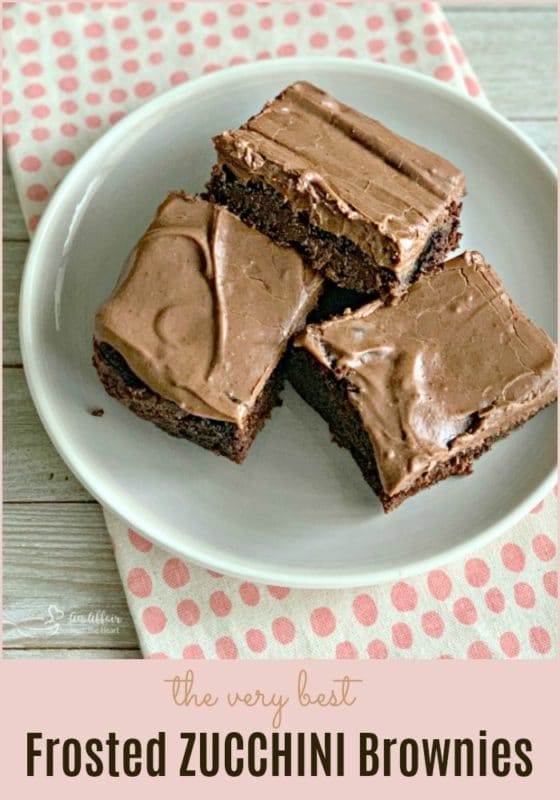 As always, I hope you enjoy this recipe! If you try it, I would love to know what you think!! Comments are always appreciated!

Yield: 15
The Very Best Frosted Zucchini Brownies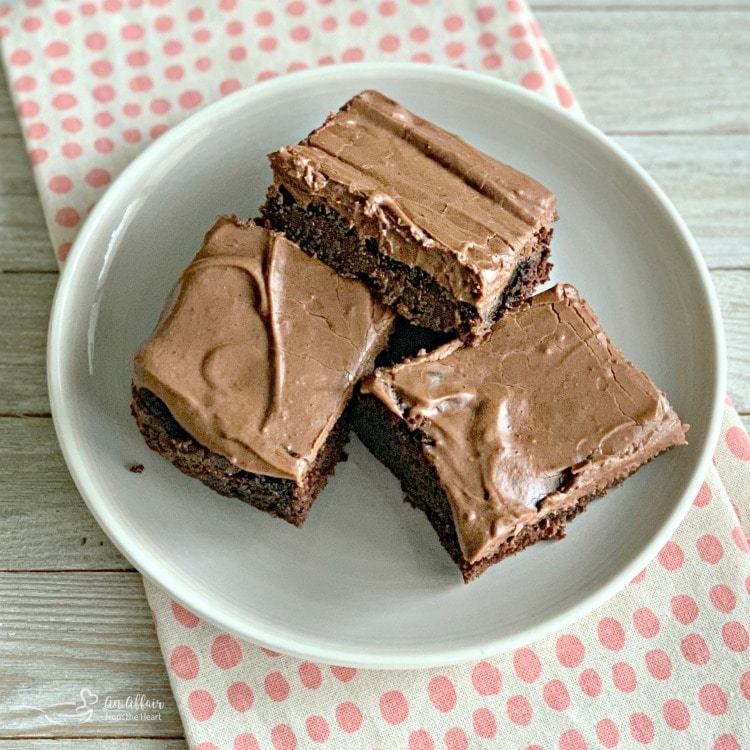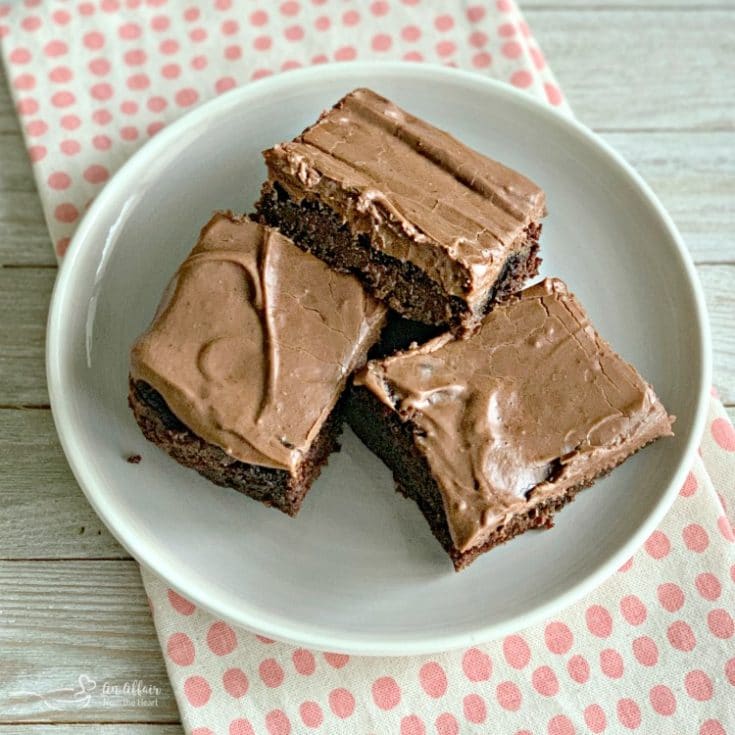 These thick and fudgey brownies are made with shredded zucchini, then frosted after they are cooled. They are so moist and chocolatey, I bet you can't stop at one!
Ingredients
For the Brownies
2 cups flour
1/2 cup cocoa powder
1 1/2 teaspoons baking soda
1 teaspoon salt
3/4 cup vegetable oil
1 1/2 cups sugar
2 teaspoons vanilla
1 1/2 cups finely shredded zucchini (do NOT wring out moisture)
For the Frosting
1/4 cup (1/2 stick) salted butter, melted
3 heaping Tablespoons cocoa powder
2 cups powdered sugar
1 Tablespoon vanilla
1/4 cup milk
Instructions
To make the brownies: Preheat your oven to 350 degrees. Line the bottom and sides of a 9x13 baking dish with heavy duty foil, and spray with non-stick cooking spray.
Shred zucchini finely, set aside.
In another bowl, sift together flour, cocoa powder, baking soda and salt. Set aside.
In the bowl of your mixer, fitted with the paddle attachment, combine the vegetable oil, sugar and vanilla. Slowly incorporate the sifted dry ingredients into the wet mixture. The batter will be dry looking. That's okay! Fold in the shredded zucchini.
Spread into prepared pan and bake 30 minutes. When the brownies are done, the top with spring back when touched. The toothpick trick doesn't work on these, as they are made to be super moist.
Cool brownies. Gently remove them from the pan with the foil edges. Peel the foil off and plate them on a platter.
To make the frosting: Whisk together melted butter, cocoa powder, and powdered sugar. Whisk in vanilla and milk. Spread over cooled brownies. Chill, then cut into squares.
Notes
Keep in an air tight container in the refrigerator for up to 3 days. (if they last that long. 😉 )
Recommended Products
As an Amazon Associate and member of other affiliate programs, I earn from qualifying purchases.
Nutrition Information:
Yield:
15
Serving Size:
1
Amount Per Serving:
Calories:

318
Total Fat:

12g
Saturated Fat:

1g
Trans Fat:

0g
Unsaturated Fat:

10g
Cholesterol:

1mg
Sodium:

272mg
Carbohydrates:

50g
Fiber:

1g
Sugar:

35g
Protein:

3g
Nutrition isn't guaranteed accurate.