Frozen bananas and peanut butter come together for a rich and creamy Peanut Butter Banana Ice Cream without the guilt. The perfect whipped cream-free, low-fat content ice cream treat you can make without an ice cream maker using just a few simple ingredients.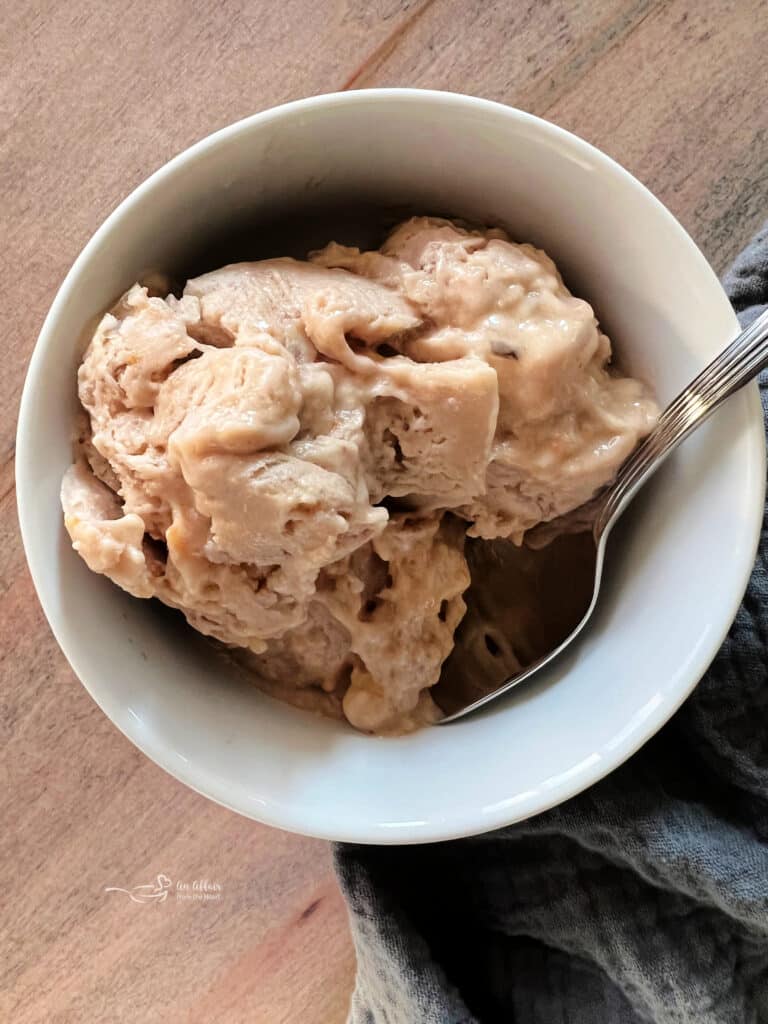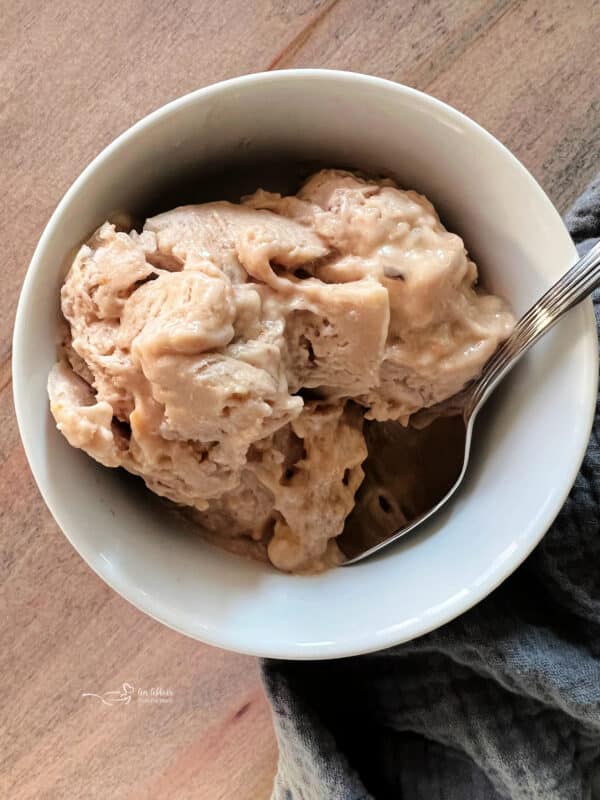 In this healthy Peanut Butter Banana Nice Cream recipe frozen bananas take the place of whipping cream or heavy cream and provide a sweet, creamy base for the peanut butter. Though ripe bananas are usually sweet, I added some vanilla and powdered sugar to sweeten it up a little more but you can easily adjust it to your liking.
Bananas and peanut butter are the ultimate combinations. If you were like most American kids you probably had your fair share of peanut butter and banana sandwiches growing up so I know you are going to love this peanut butter banana ice cream recipe.
If you like this banana ice cream with peanut butter, I'm sure you'll love these other delicious ice cream recipes: Ice Cream Cake Roll, Homemade Cinnamon Vanilla Ice Cream, or this Grasshopper Pie Ice Cream.

Ingredients for Banana Nice Cream Recipe
Bananas – I used really ripe bananas, sliced.
Powdered sugar – Also known as confectioner's sugar. I added a touch of sugar but you can taste test to determine if you need more or less. You can also use coconut sugar to sweeten up this creamy peanut butter banana nice cream.
Milk – I added a touch of cow's milk to help thin out the bananas. You can use any kind of milk you like, almond milk or oat milk will both work well. If you choose a plant-based milk make sure it is unsweetened.
Vanilla – I prefer to use real vanilla extract.
Peanut butter – I added natural peanut butter without sugars or oils. Chunky peanut butter or smooth peanut butter both work well.
How to Make This Frozen Banana Ice Cream Recipe
First: Cut the ripe banana into slices and place on a plate in a single layer.
Second: Cover the plate with plastic wrap and place banana slices in the freezer. Freeze for about 2 hours.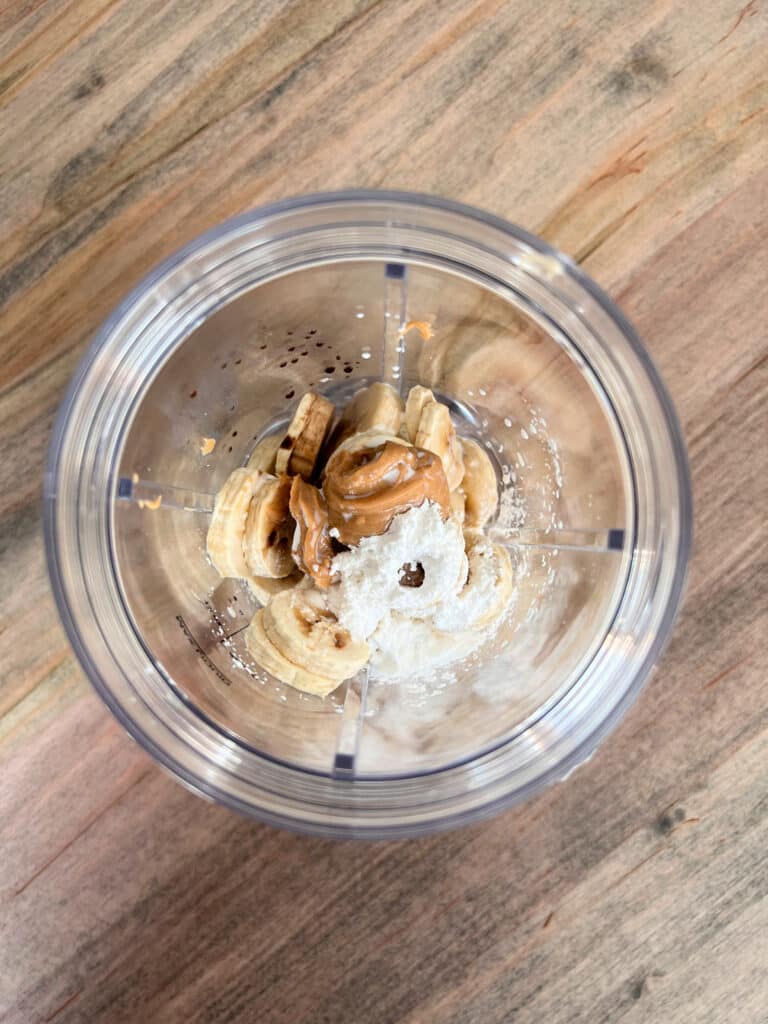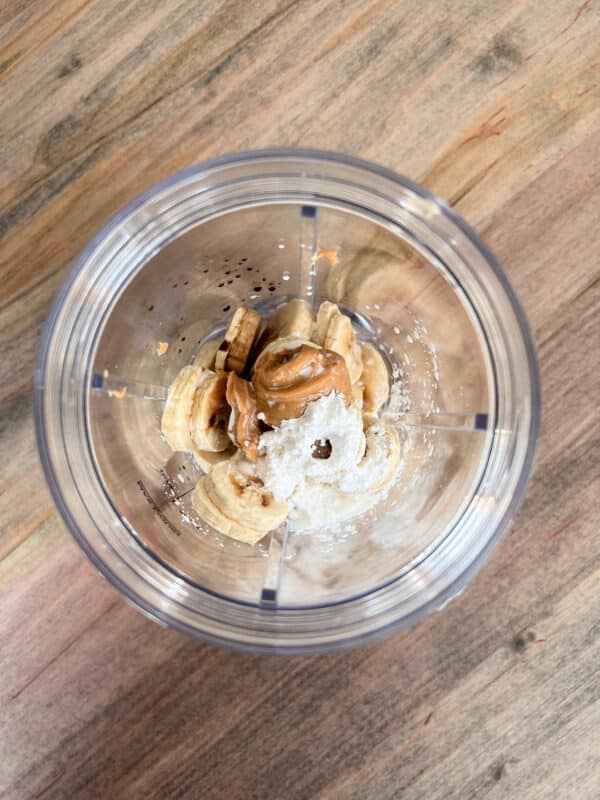 Third: Remove from the freezer and place frozen bananas in a high-speed blender, regular blender, or food processor, add milk and vanilla and blend until creamy and a smooth consistency.
Fourth: Add peanut butter and blend until combined.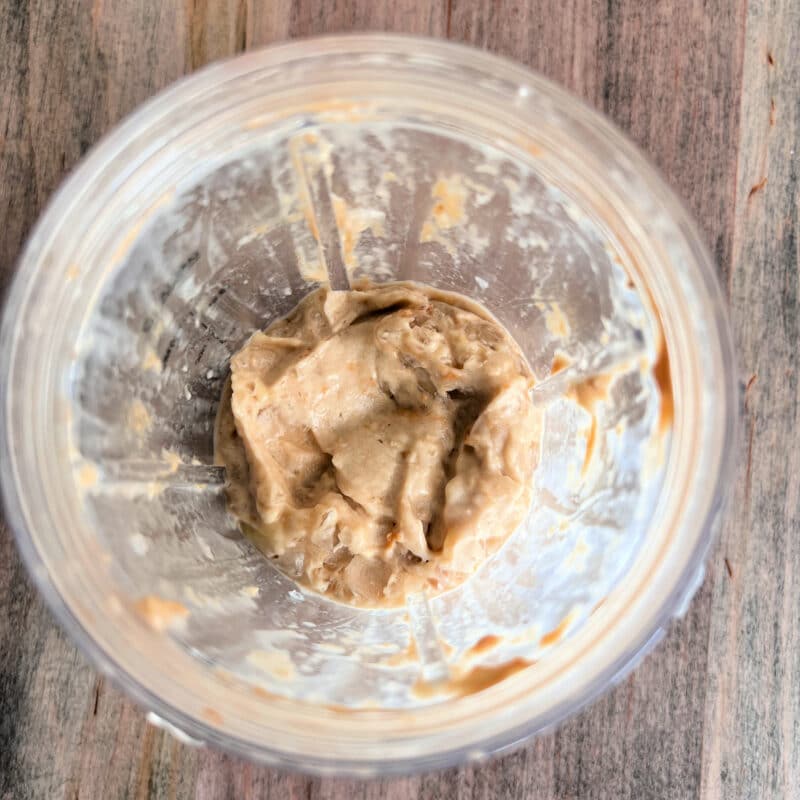 Fifth: Eat it right away, or freeze it for a little while as I did, to make it a little denser.

Love it? Pin it!
If you love this easy banana nice cream recipe make sure that you don't lose it! Pin it to your favorite Pinterest recipe board before you go!
FAQ
Does banana and peanut butter go well together? Banana and peanut butter is an iconic, favorite flavor combination that go very well together.

Is peanut butter and banana a thing? Peanut butter and banana have become known as a flavor combination.

Who makes Chubby Elvis ice cream? Chocolate Shoppe Ice Cream makes Chubby Elvis ice cream.

Is eating a banana with peanut butter good for you? Yes, eating a banana and peanut butter can be good for you. If you want to choose a healthy peanut butter make sure to read the label to make sure there are no added sugars or oils.

Why is my banana nice cream bitter? If you find your nice cream is bitter it could be because your bananas were not ripe enough. It is best to use bananas that are brown and have as little green on the peel as possible.

Does banana nice cream taste like bananas? Yes, banana nice cream has a banana flavor.

Is peanut butter and banana healthy snack? Yes, peanut butter and banana can be a healthy snack. As mentioned above, make sure to choose natural peanut butter without additives, sugar, or oils.

Substitutions and Variations
Change up the peanut butter for almond butter, or cashew butter, or if you want to make a nut-free ice cream use tahini or pumpkin seed butter.

Mix in a touch of cinnamon.

Throw in chocolate chips- dark chocolate, semi-sweet or milk chocolate will all taste great. Cocoa nibs will also work.

Add a touch of cocoa powder for a chocolate-flavored banana ice cream.

Substitute maple syrup for the powdered sugar.

Mix in coconut flakes, bits of peanuts, or other chopped nuts.

How to Freeze Ripe Bananas
Don't throw away those bananas when they are getting too ripe — toss them in the freezer! How do you freeze ripe bananas? I've got you! Here you will find several ways to freeze ripe bananas, and of course, many recipes that use ripe bananas.
Tips & Tricks
Peel whole bananas and keep a stash in the freezer so you can whip up this nice cream recipe any time instead of saving the bananas for banana bread.

If you prefer hard ice cream as opposed to the texture of soft serve ice cream, place the ice cream mixture in a loaf pan, cover it with plastic wrap, and place it in the freezer for a couple of hours until it reaches your desired texture.

Run your ice cream scoop under hot water to make portioning the frozen nice cream easier.

For vegan ice cream use a non-dairy milk alternative.

Add melted coconut oil to the peanut butter and add a drizzle of peanut butter to the healthy banana ice cream.

Leftover nice cream will keep in an airtight container in the freezer for up to 3 months.

More Banana Recipes to Love:
I recently posted this recipe for Easy Banana Pecan Rolls and they are so yummy! Plus, I have lots of Banana Bread recipes to enjoy; The Best Banana Bread, Chocolate Orange Banana Bread, Banana Bread Coffee Cake, and this Chocolate Banana Cake is delicious, too!
Love Ice Cream? Us too!
Make sure to check these out: Homemade Cinnamon Vanilla Ice Cream, Reese's Peanut Butter Ice Cream Cake, Fried Ice Cream Pie, Grape Nut Ice Cream, and Lemon Ice Cream, too.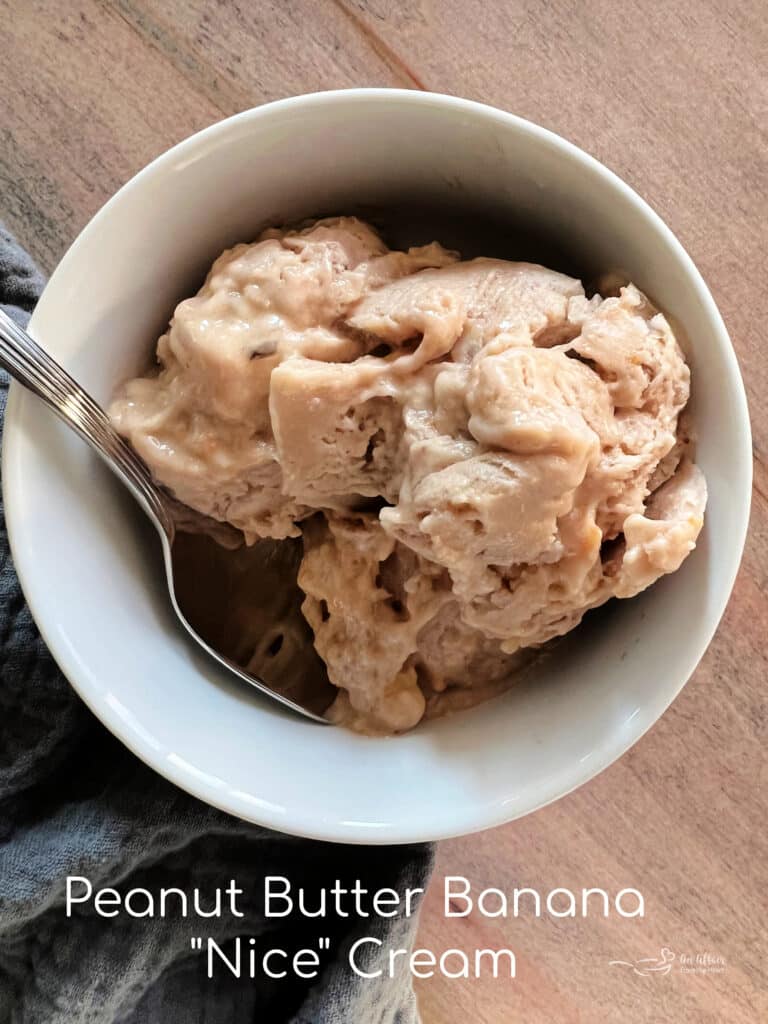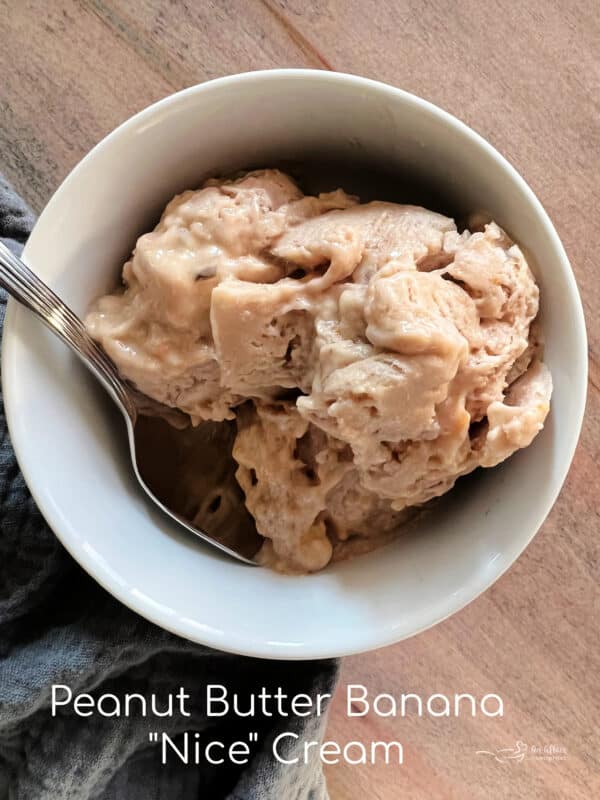 The creaminess of ice cream, without the sugar or the guilt, make this Peanut Butter & Banana "Ice Cream" today and enjoy a decadent but healthy dessert.

Yield: 1
(4 ingredient) Peanut Butter & Banana "Ice Cream"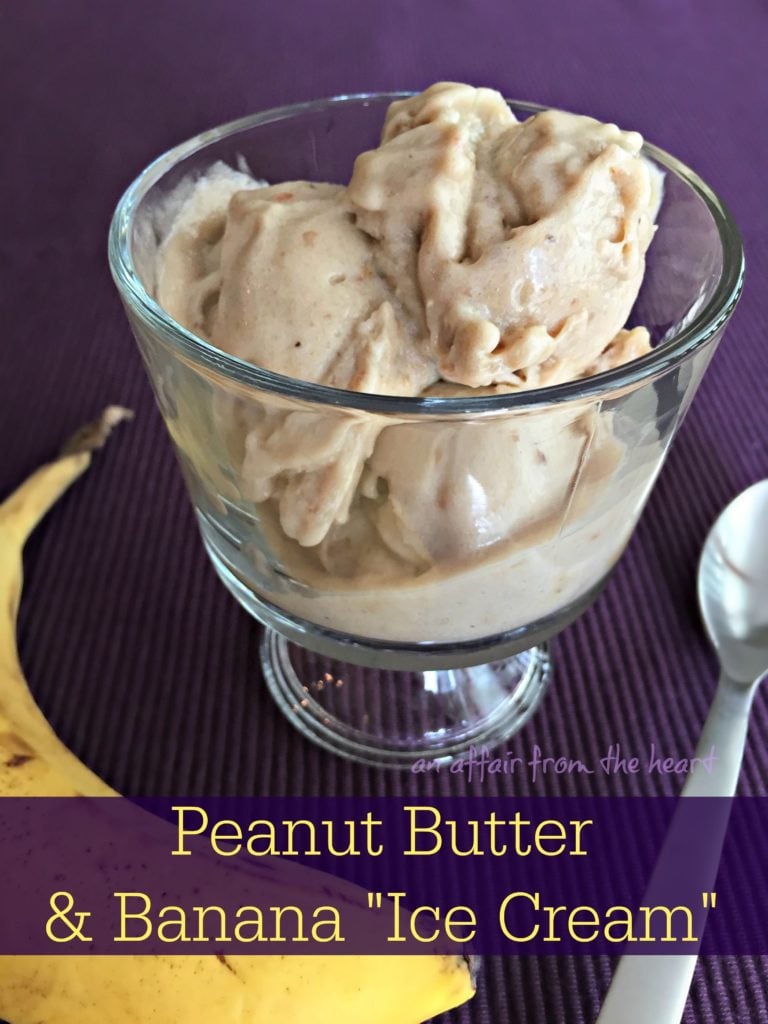 The creaminess of ice cream, without the sugars or the guilt - make this Peanut Butter & Banana "Ice Cream" today - no ice cream maker needed.
Total Time
2 hours
5 minutes
Ingredients
2 ripe bananas sliced
1 teaspoon powdered sugar
1/2 teaspoon vanilla
1-2 teaspoons peanut butter
(optional) 1/2-1 teaspoon milk
Instructions
Cover a plate in plastic wrap, place sliced bananas on the plate in a single layer. Freeze for about 2 hours.
Place frozen bananas in a blender, add milk and vanilla and blend until creamy. Add peanut butter and blend until combined.
You can eat right away, or a freeze a bit more like I did, to make it a little denser.
Nutrition Information:
Yield:
1
Serving Size:
1
Amount Per Serving:
Calories:

291
Total Fat:

6g
Saturated Fat:

1g
Trans Fat:

0g
Unsaturated Fat:

4g
Cholesterol:

0mg
Sodium:

56mg
Carbohydrates:

59g
Fiber:

7g
Sugar:

32g
Protein:

5g
Nutrition isn't always accurate.
This recipe was originally posted on August 7, 2015. It has been updated to improve user experience and re-shared on May 29, 2023.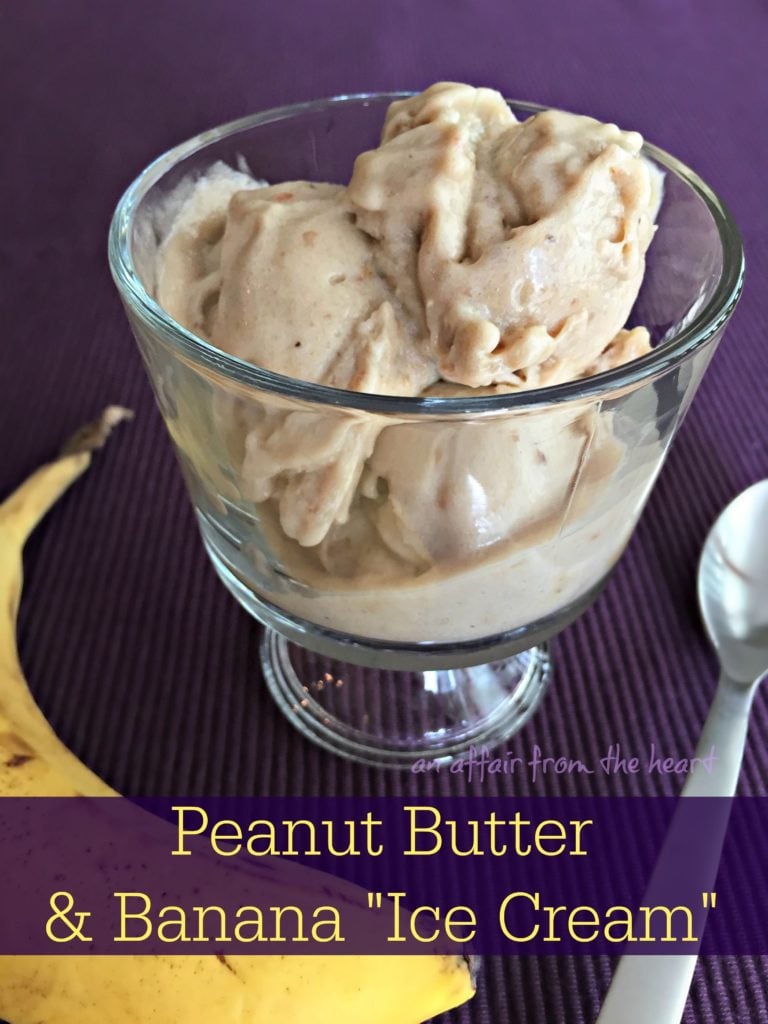 adapted from allrecipes.com

If you make this recipe, I'd love to know! Snap a picture, share the photo on social media with the hashtag #AnAffairFromTheHeart – I'd love to see what you made! – Michaela