Easy Brownie Bark with Pistachios
As an Amazon Associate and member of other affiliate programs, I earn from qualifying purchases.
This brownie bark begins with a box brownie mix, add in chocolate chips and pistachios and bake it up to make those wonderful crunchy "edge pieces" of the brownies we love the most. Easy recipe that makes snacking sensational!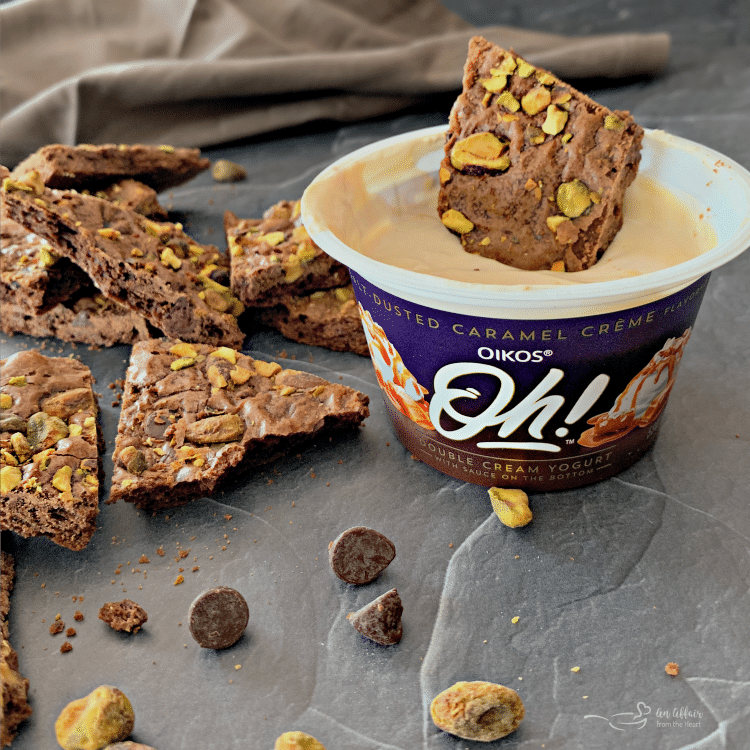 This post is sponsored by the NEW Oikos Oh! Double Cream Yogurt but the content and opinions of their delicious products are mine alone.
SOME OF THE ITEMS BELOW CONTAIN AFFILIATE LINKS; I AM A PARTICIPANT IN THE AMAZON SERVICES LLC ASSOCIATES PROGRAM, AN AFFILIATE ADVERTISING PROGRAM DESIGNED TO PROVIDE A MEANS FOR ME TO EARN FEES BY LINKING TO AMAZON.COM AND AFFILIATED SITES. I AM ALSO AN AFFILIATE FOR OTHER BRANDS. HOWEVER, I ONLY PROMOTE THINGS THAT I LOVE AND THINK YOU WILL LOVE, TOO. FOR MY ENTIRE DISCLOSURE POLICY PLEASE

CLICK HERE

.
So many people get distracted in the afternoon. I usually do somewhere between 2 and 3 o'clock. My mind starts to wander, I feel distracted, I just need a break in my day. A nap? A snack?
I always joke that working from home offers the best commute. A few steps and I am "at the office." I can work in my PJ's if I want, and I get to spend all day with my two favorite assistants, my boxers, Theo and Libby. But one of the hard things about working from home is having the discipline not to slack off when you really want to.
When that afternoon distraction hits, it would be really easy to head back into the bedroom and take a 30 minute nap. But I need to just give myself a little break. I get up, stretch, walk around, maybe head outside. Many times I have a little snack. What is your go to afternoon snack? I myself typically opt for something sweet to go with my afternoon cup of coffee.
This New Oikos Oh! Double Cream Yogurt definitely hits the spot! This Salted Dusted Caramel Crème is delicious! Double Cream Yogurt with a hyper-indulgent salted caramel sauce on the bottom.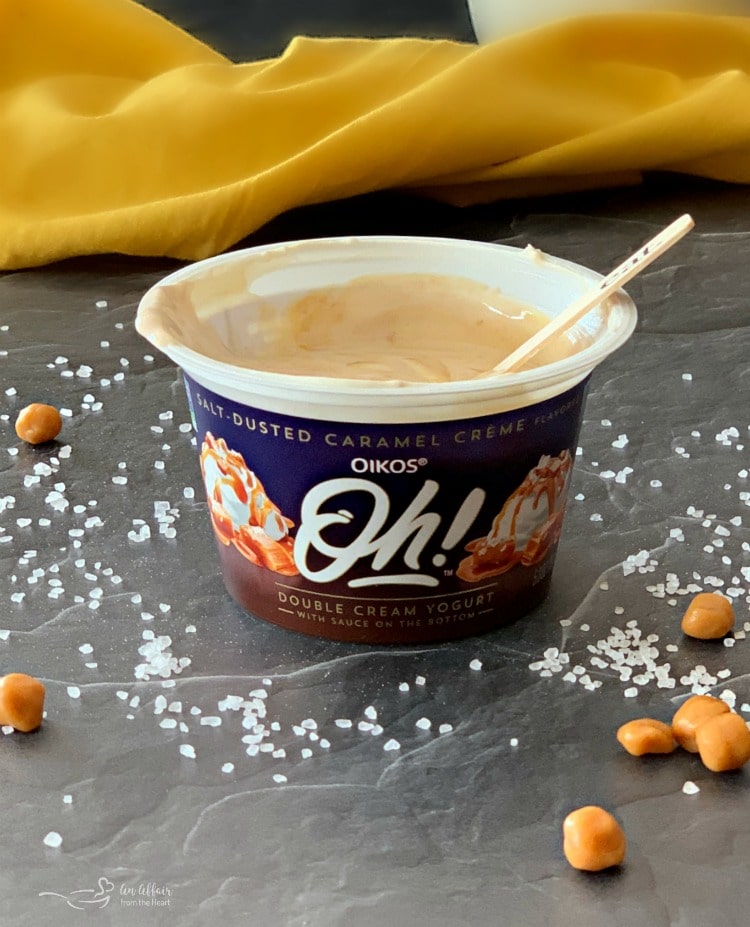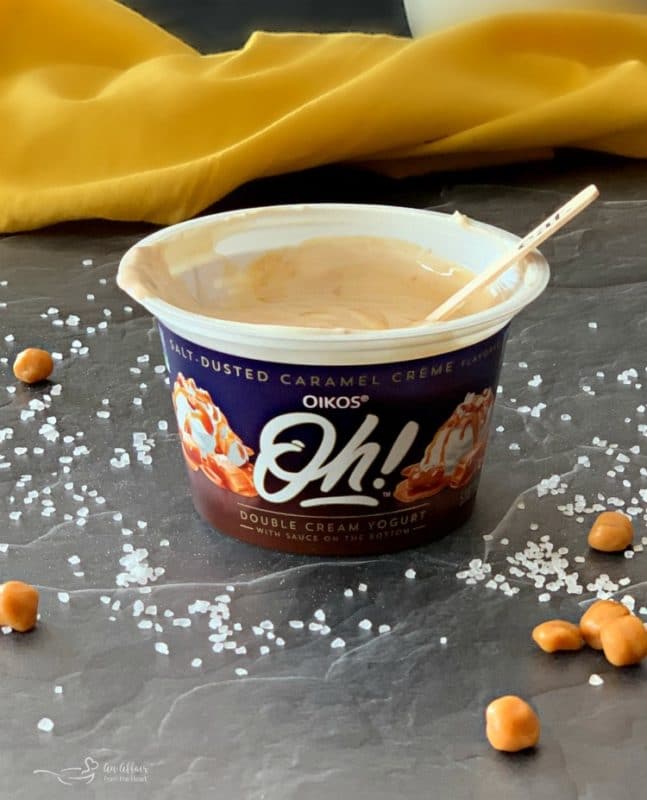 This is one of those treats that you save for yourself. After the kids go to bed, when you finally get to settle into your latest Netflix binge, or during that afternoon break you take, before they grace you with their presence after school.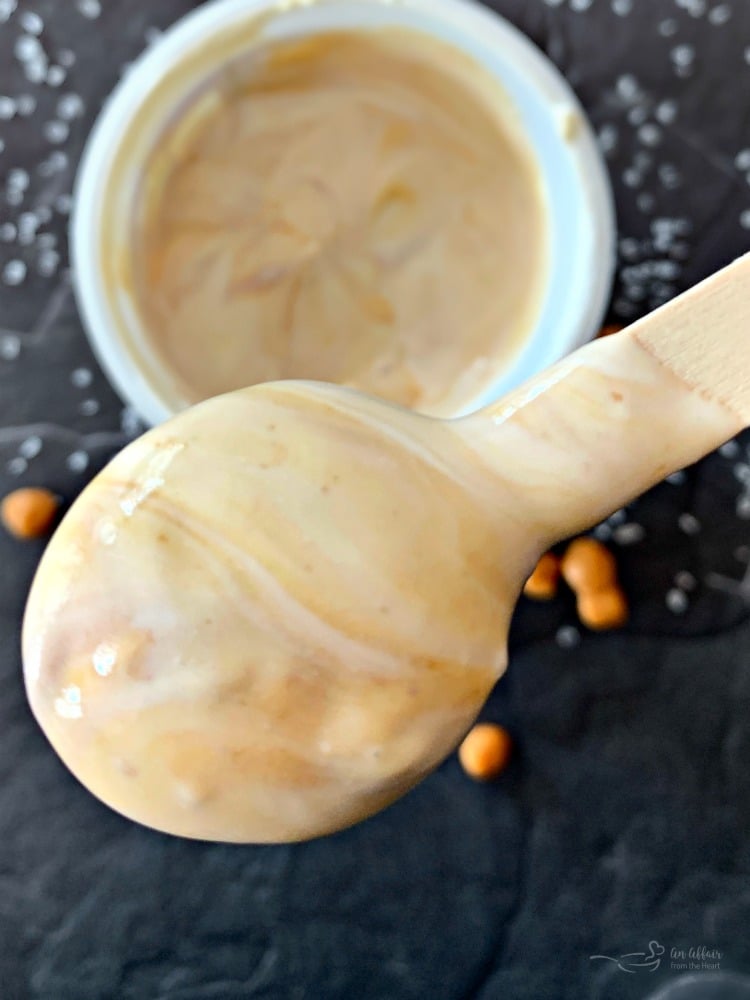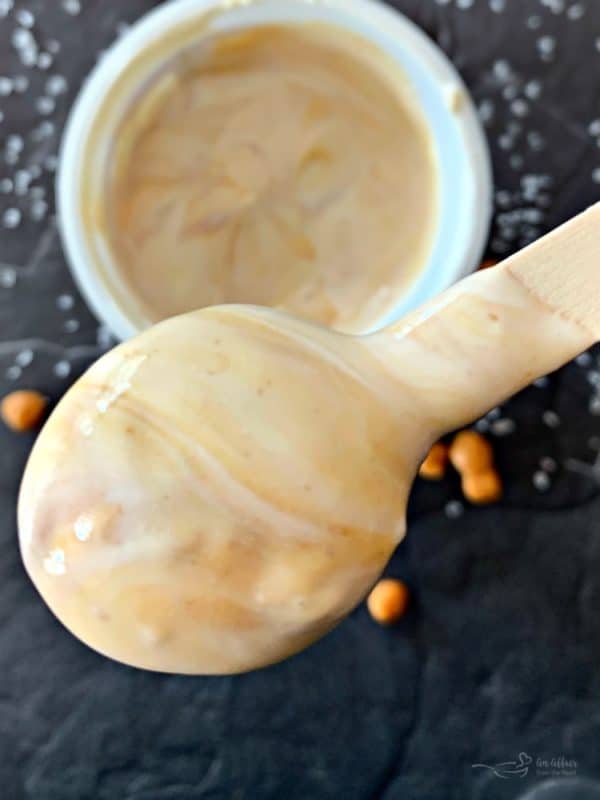 What Makes Oikos Oh! Yogurt different?
It's made with double the cream of Oikos Whole Milk Yogurt, creating a luscious texture that you won't be able to get enough of! Decadence like this will make that me-time-snack-time special in a whole new way.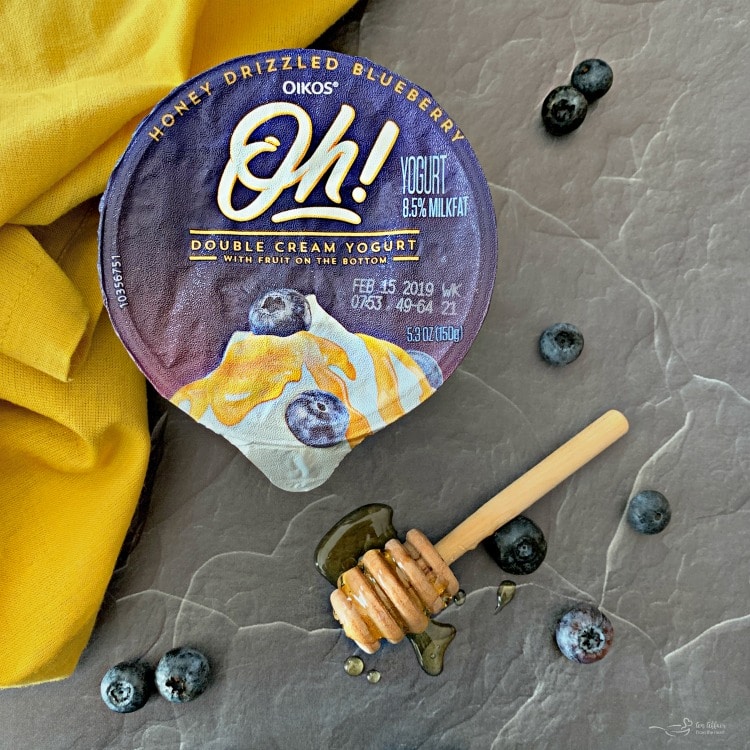 So far, I have tried two flavors. The Salt Dusted Caramel Crème and the Oikos Oh! Honey Drizzled Blueberry. Give that creamy yogurt a stir and swirl that fruit from the bottom throughout. I would have to say that blueberry yogurt is one of my favorites, so I was especially happy with this flavor.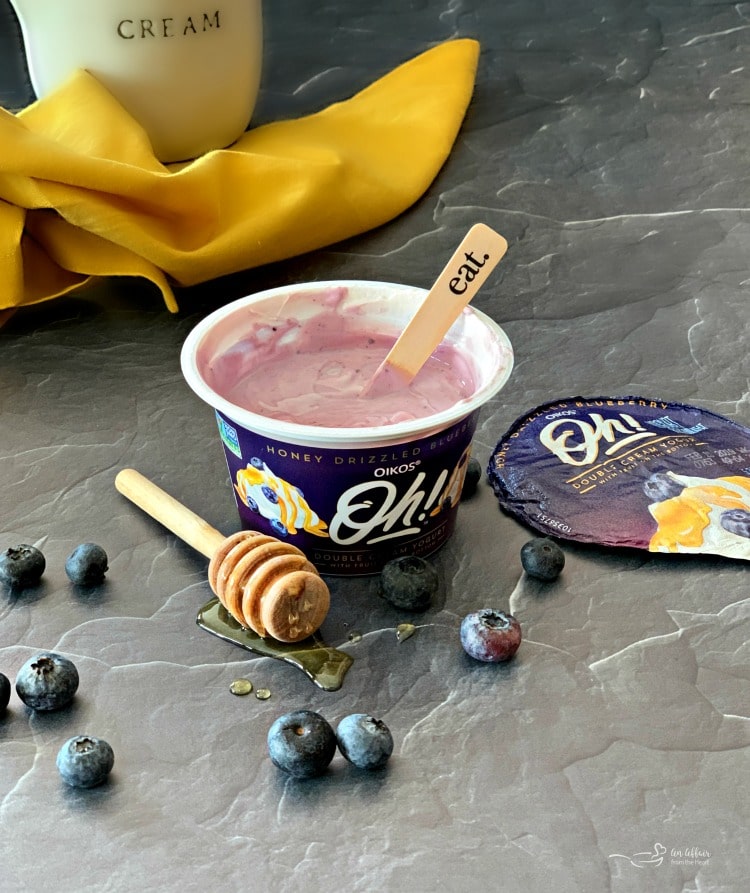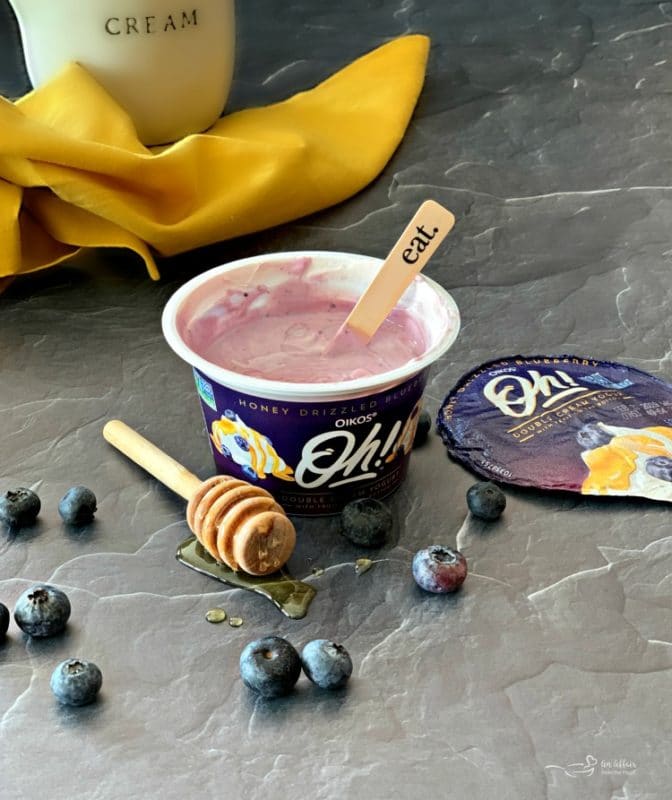 It also comes in two other flavors, Magnificent Mixed Berry Rhubarb and Lemon Sweet Cream Delight. I can't wait to give those two a try!

My #Oh!MGMoment
The day I was sampling the new yogurt, I had a brilliant idea. Earlier that day, I was working on a new recipe for the blog. Have you ever had brownie bark? I love brownie bark because it reminds me of the best part of a brownie. The EDGES. In our house, the edges are always gone first. Specifically the corner pieces. Those you fight for. We love the edges so much, that I even have an edges pan. Ever seen one? All edges and corners! YES!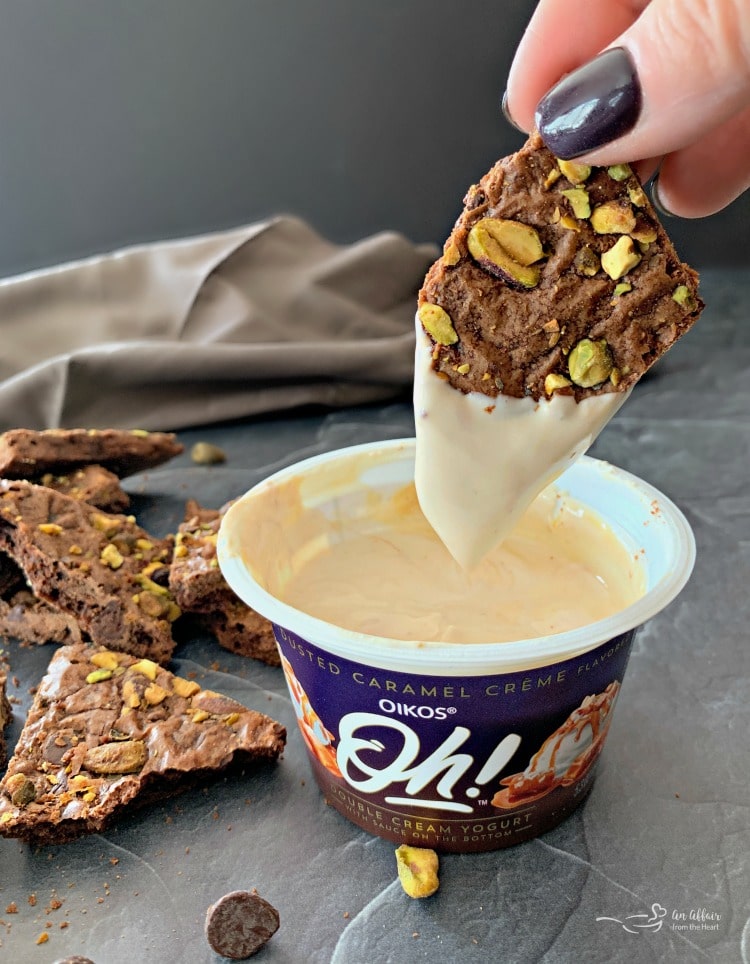 Well, as I was standing at the counter during my afternoon break, I looked down at the brownie bark on my counter and thought — I bet it would be amazing in this Salt Dusted Caramel Crème Yogurt! Guess what? I was right! I dunked it right down inside that already decadent yogurt and I took it over the top! I took a few moments to myself to enjoy, the only ones that could tell you about that audible "Mmmm." that escaped my mouth would be my two assistants, and they don't talk much.
Take a moment for yourself, take a break from work, and enjoy a special snack. Me time is needed and is so much more delicious when you get to have it with this Oikos Oh! Double Cream Yogurt. A true spoonable pleasure.
Ingredients for Easy Brownie Bark with Pistachios
box of brownie mix
butter
water
egg
chocolate chips
pistachios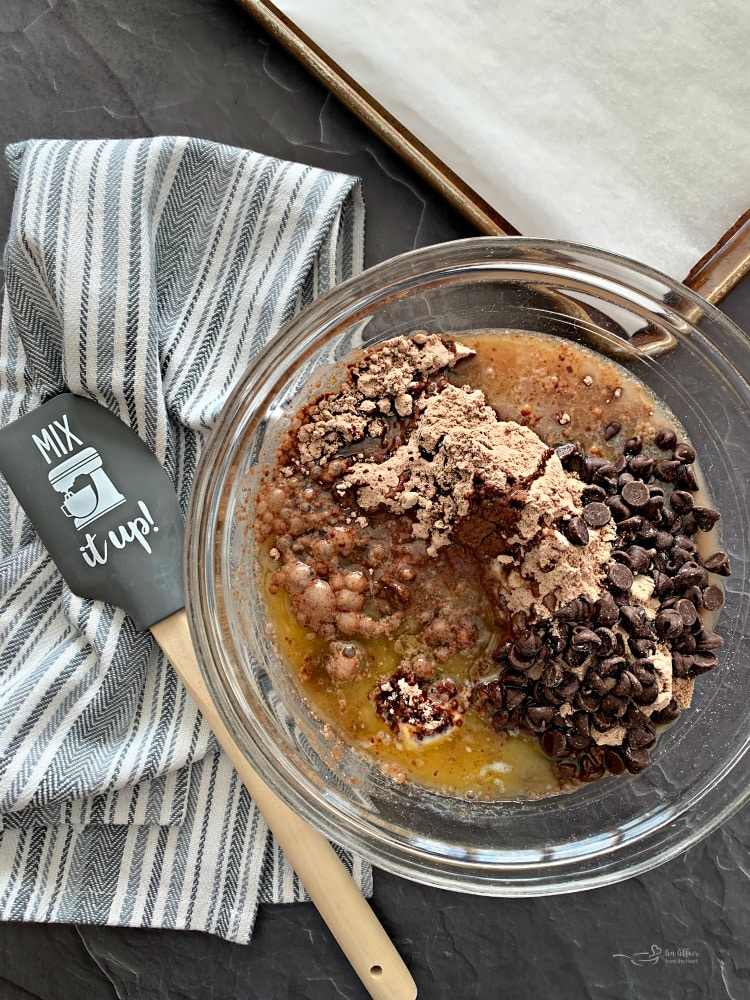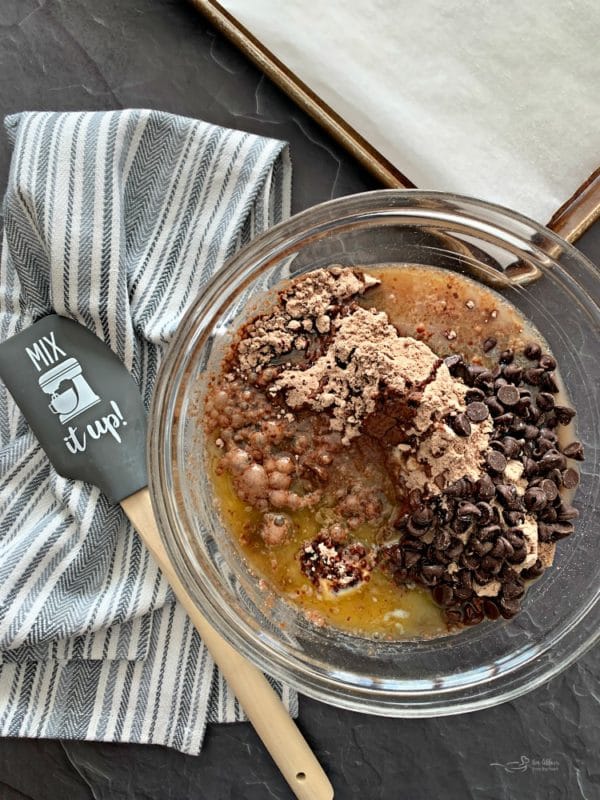 Mix brownie mix, egg white, melted butter, water and chocolate chips in a bowl.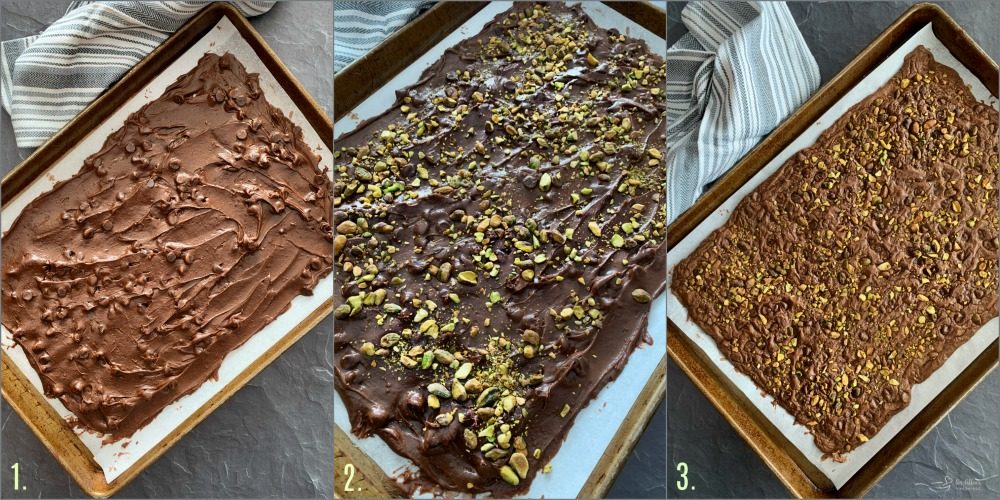 First, line an 18×13 inch cookie sheet with parchment paper. Spread batter in an even layer. Second, press pistachios into batter. Third, bake and then let cool completely in your oven. This helps the bark to dry.
I used my long pizza cutter to cut into pieces. They will break randomly, too. Gives the brownie brittle character!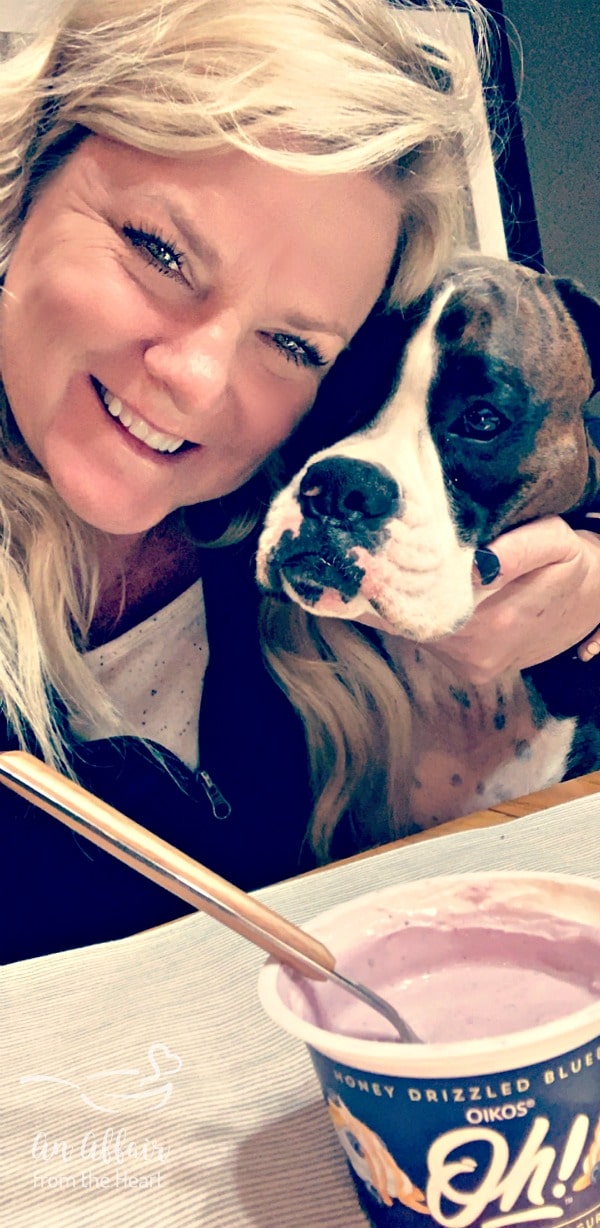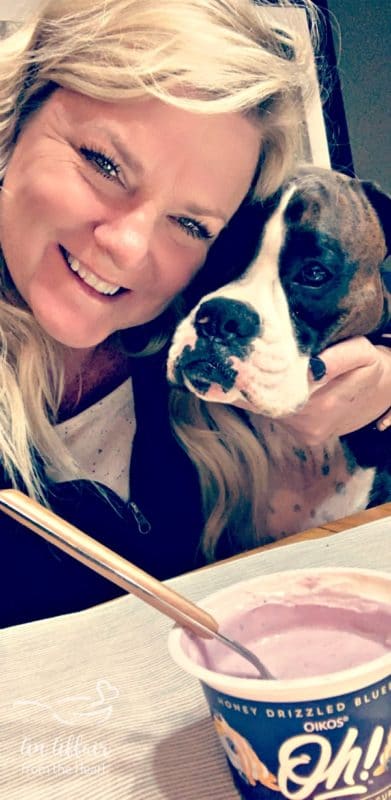 #PuppyBreakSelfie — My assistant, Libby, and I enjoying a much needed break from our busy day.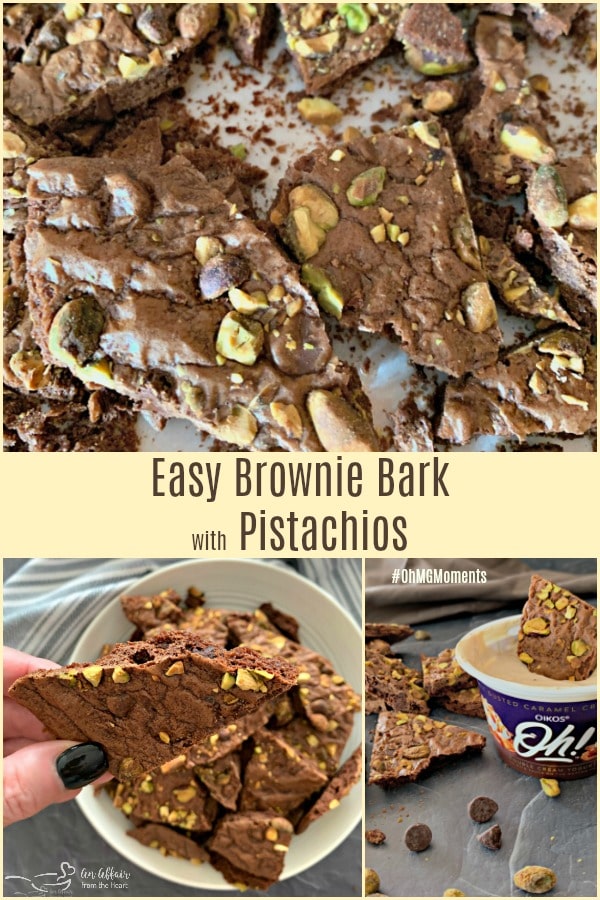 Love it? Pin it before you go!
If you love Brownies, I have so many more for you to enjoy. Check out these Epic Brownie Recipes.

Let's make some pistachio brownie bark!

Yield: 18x13 pan
Easy Brownie Bark with Pistachios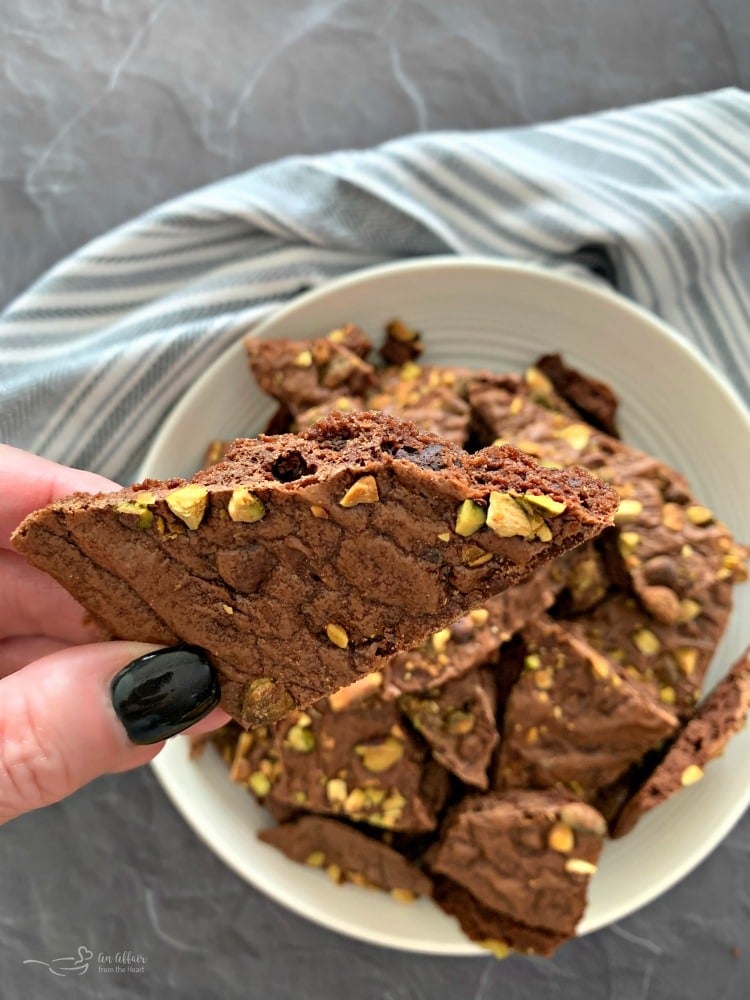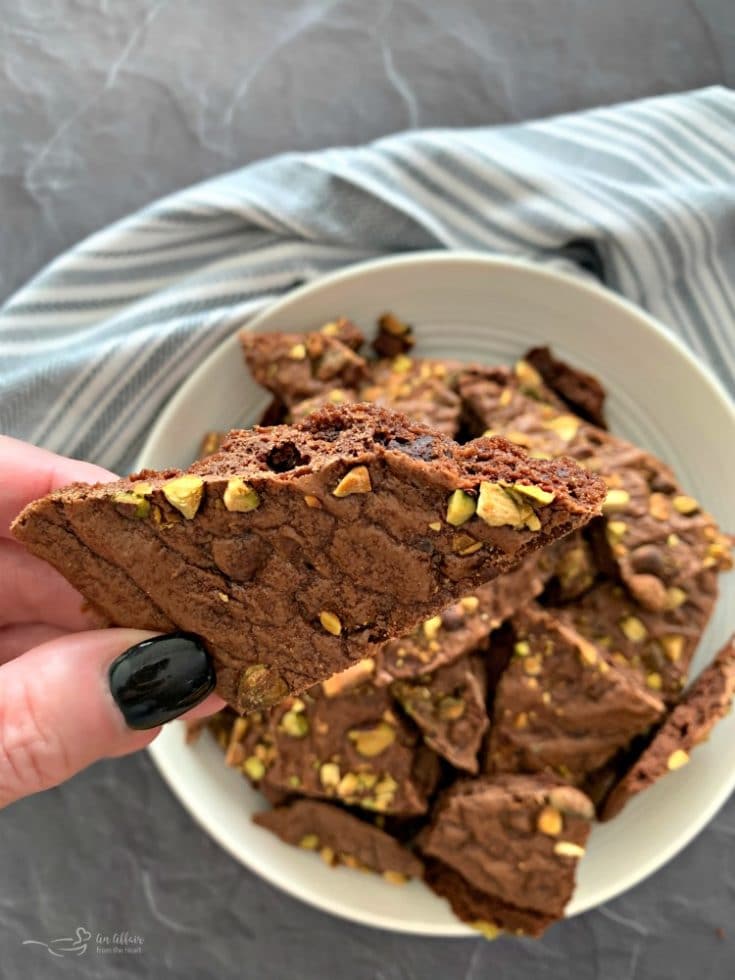 This brownie bark begins with a box brownie mix, add in chocolate chips and pistachios and bake it up to make those wonderful crunchy "edge pieces" of the brownies we crave. Easy recipe that makes snacking sensational!
Ingredients
1 box of brownie mix
6 Tablespoons melted butter
1/3 cup water
1 egg white
1/2 cup semi-sweet chocolate chips
1/2 cup pistachios, roughly chopped
Instructions
Preheat oven to 300 degrees and line an 18x13" baking sheet with parchment paper.
Mix brownie mix, egg white, water, butter and chocolate chips in a medium sized bowl.
Spread batter on parchment paper evenly.
Press pistachios into top of batter.
Bake for 40 minutes. Turn oven off and open the door just a crack. Cool bark in the oven.
Break or cut into pieces.
Store in an airtight container.
Notes
I used pistachios that were lightly salted. I roughly chopped them so the pieces were just slightly broken.
I used Semi-Sweet chips, you could use dark chocolate or even milk chocolate if you prefer.
Nutrition Information:
Yield:
16
Serving Size:
1
Amount Per Serving:
Calories:

94
Total Fat:

8g
Saturated Fat:

4g
Trans Fat:

0g
Unsaturated Fat:

4g
Cholesterol:

11mg
Sodium:

60mg
Carbohydrates:

6g
Fiber:

1g
Sugar:

3g
Protein:

1g
Nutrition isn't always accurate.