Chocolate Candy Cups (Homemade Chocolates Recipe)
As an Amazon Associate and member of other affiliate programs, I earn from qualifying purchases.
Homemade Chocolate Candy Cups are simple to make, and are so versatile it's easy to please just about anyone with the fillings and toppings! I prefer dark chocolate, so mine are all made with a good quality dark chocolate, some are left empty and just topped with sprinkles or sea salt, others are filled with nuts, fruits, pretzels, coconut and sometimes even MORE chocolate.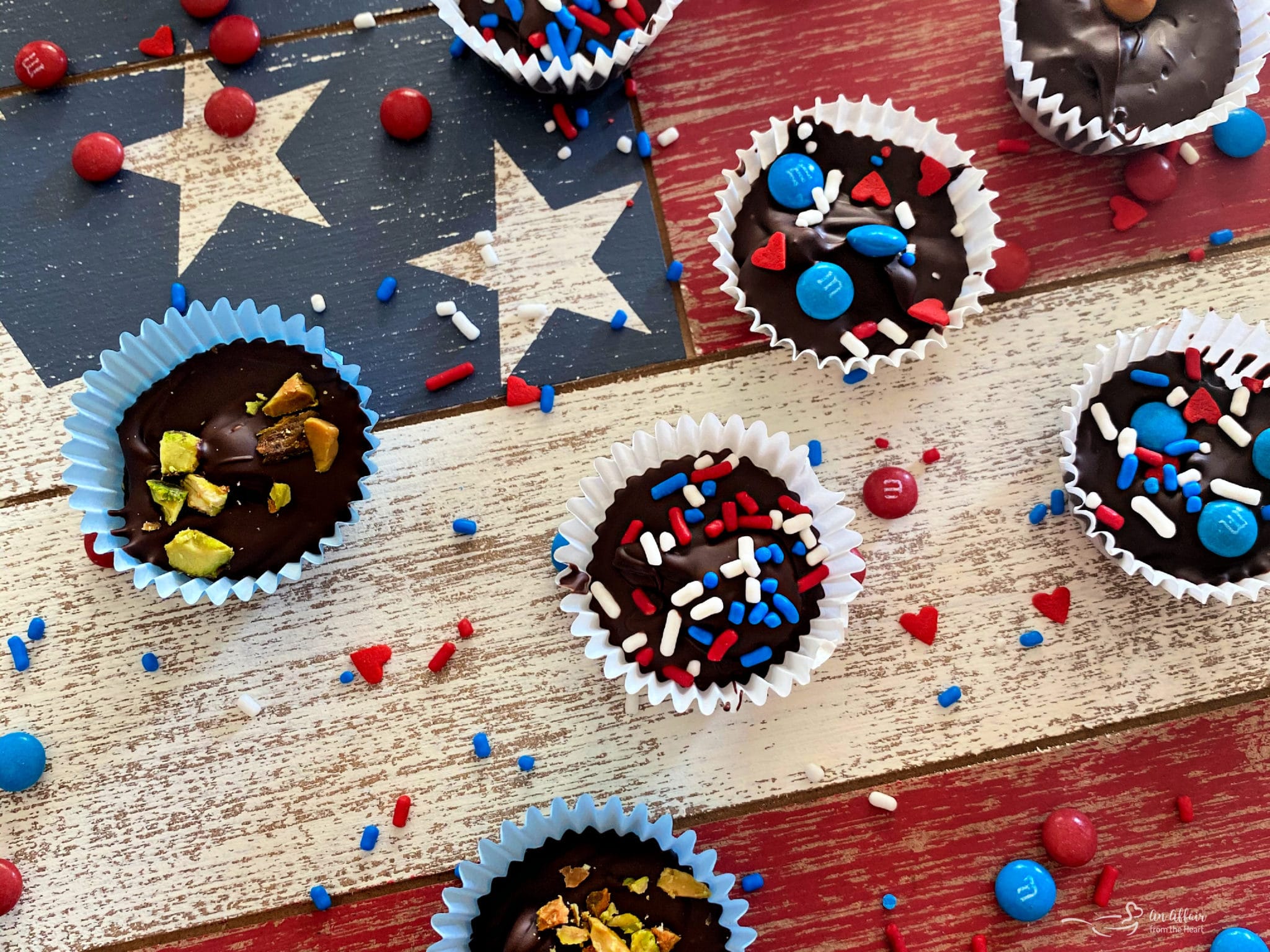 I am posting these homemade chocolate candy cups in honor of Veteran's Day, but just because they don't get much better than looking than when they are dressed up in their patriotic red, white and blue, doesn't mean you shouldn't keep this simple candy recipe in your back pocket for all sorts of holidays.
Today though, I am here to in some little way just say thank you to all of the Veterans out there. For your service and your sacrifice, you have my heartfelt gratitude.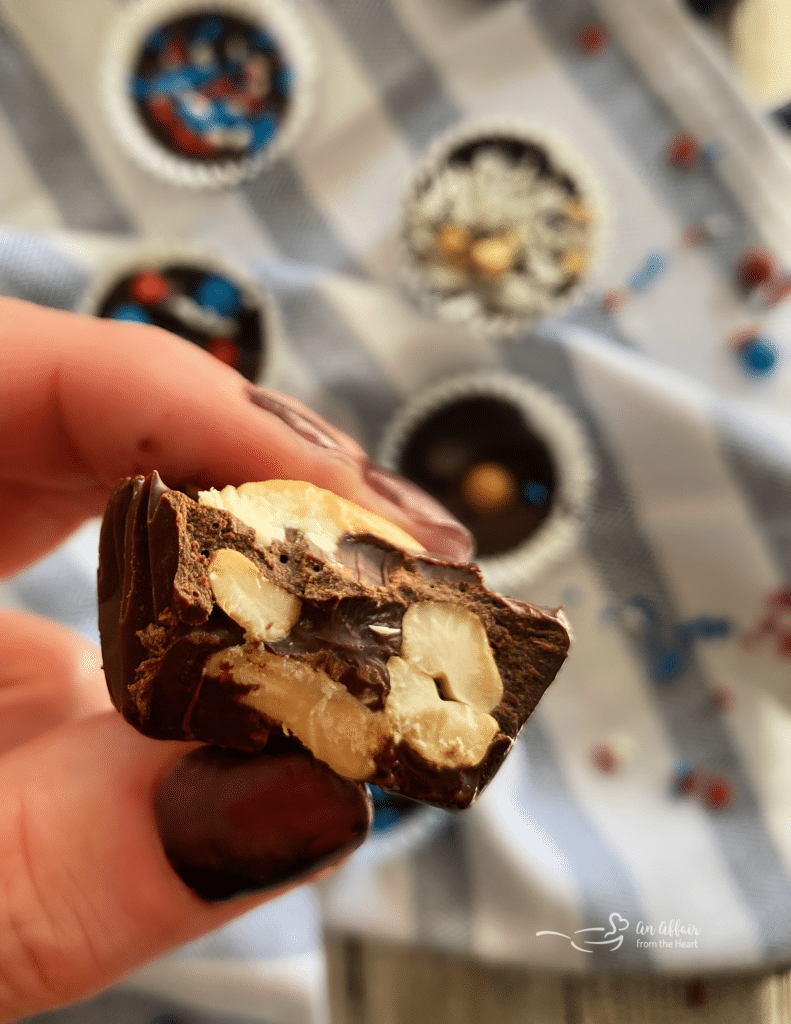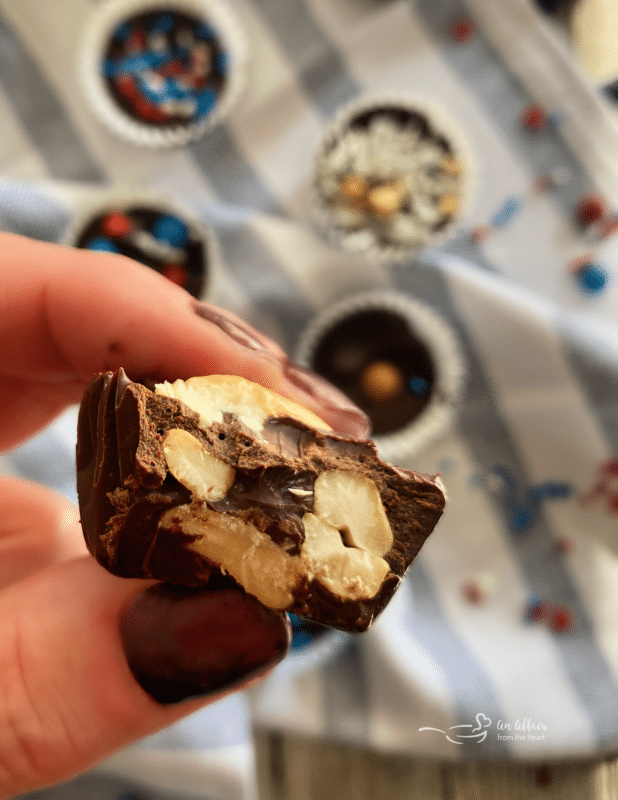 Make homemade chocolates for Veteran's Day
Homemade chocolates are very easy to make and you can use really good chocolate to make them all the more special. So if you want an easy way to show appreciation for a vet on Veteran's Day then this is a great way to create a heartfelt thank you.
I know some people still confuse Veteran's Day with Memorial Day. First, Memorial Day is for Veterans that paid the ultimate sacrifice while Veteran's Day is for all persons who have served in the United States Armed Forces.
Veteran's Day, which is also called Armistice Day was created after the first world war and is celebrated on November 11th, every year.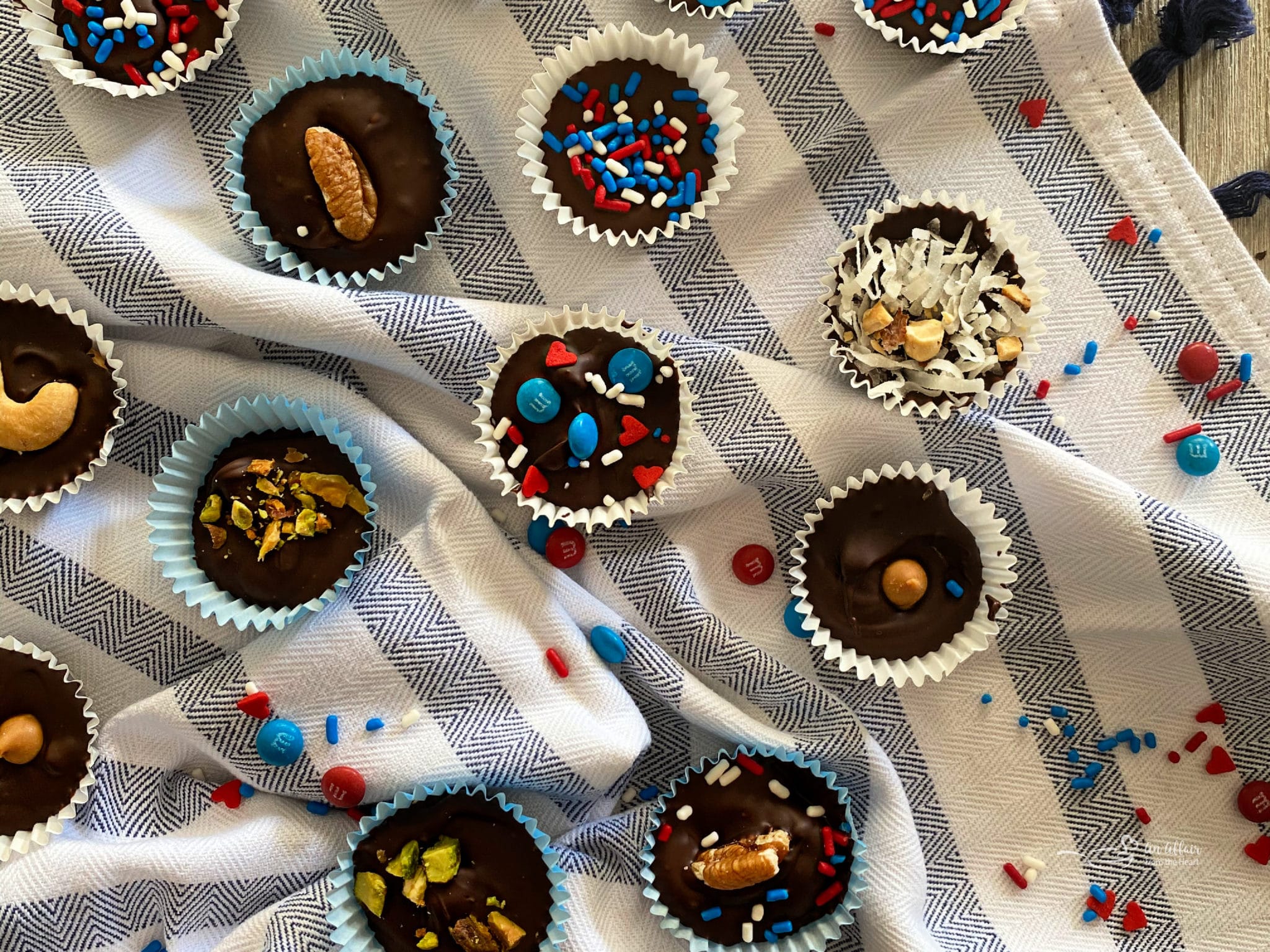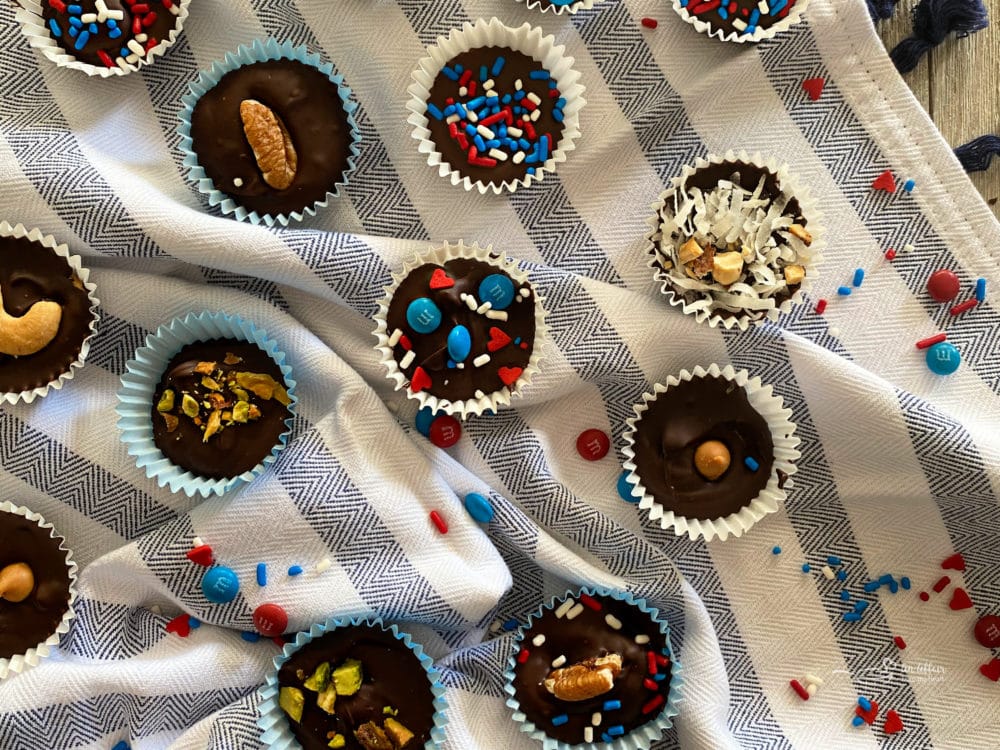 For everyone, making a point of thanking our Veterans is the least we can do. And simply and plainly, a box of chocolates is a humble way to show some appreciation.
How to Make Chocolate Candy
Making homemade chocolates is so easy. Do yourself a favor and use some high-quality chocolate if possible to start with. Ghirardelli is pretty easy to find and they make great milk and dark chocolate chips you can use.
As the famous line in the movie "Forrest Gump" goes, "Life is like a box of chocolates". So make your chocolates as lively as possible with creative twists and delicious additions.
You can add things like nuts, or coconut, raisins and dried fruit, caramel, and even crushed up peppermint candies. You get the picture, just let your creativity roll.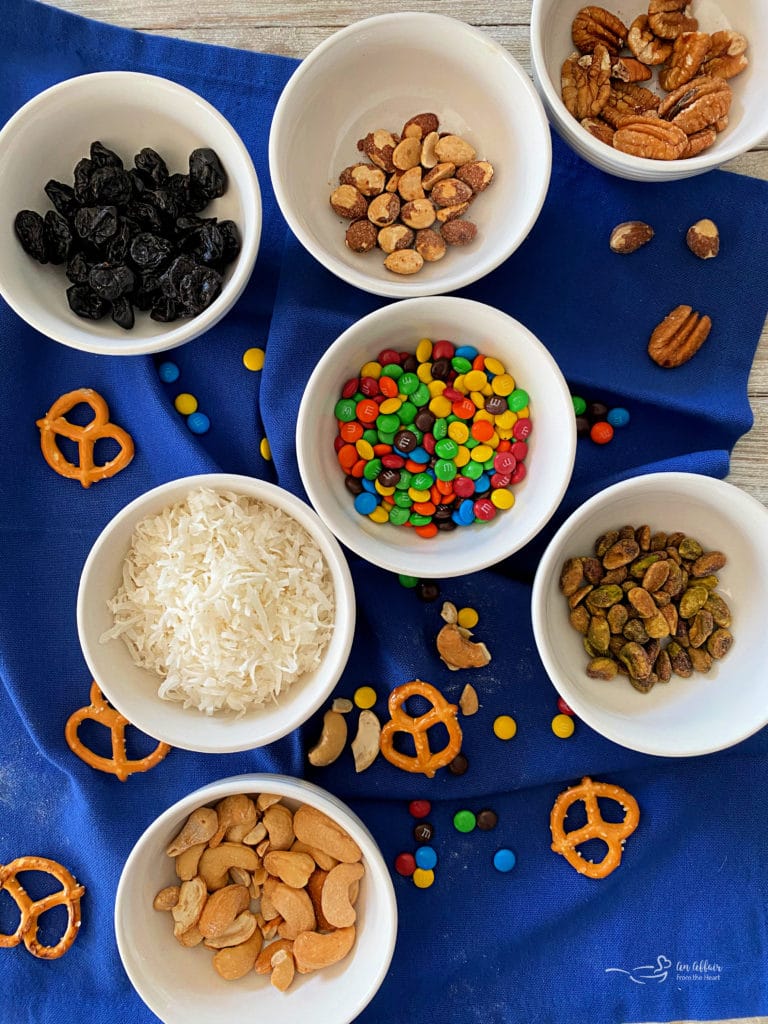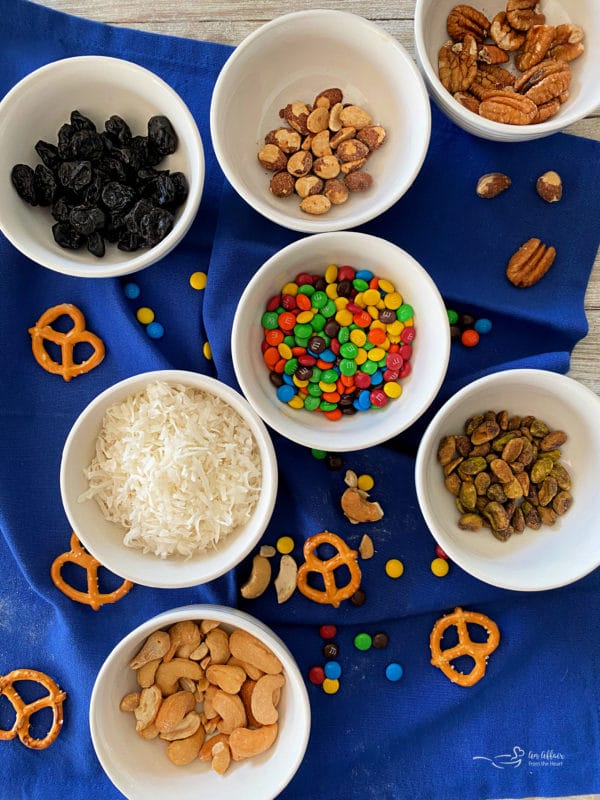 Begin by gathering your ingredients. You will want to use good quality chocolate. I promise you it makes all of the difference. I chose dark chocolate that was 60% cacao. You can purchase higher percentages, but this was what I had on hand, and I rolled with it.
That is another beautiful thing about this chocolate candy recipe, it uses whatever you have in the pantry! Don't you love recipes like that?
I used nuts: cashews, pistachios, pecans, walnuts and almonds, I also used pretzels, peanut butter chips, M&M candies, caramel bits and dried cherries. Again – use what you like, the process is still the same.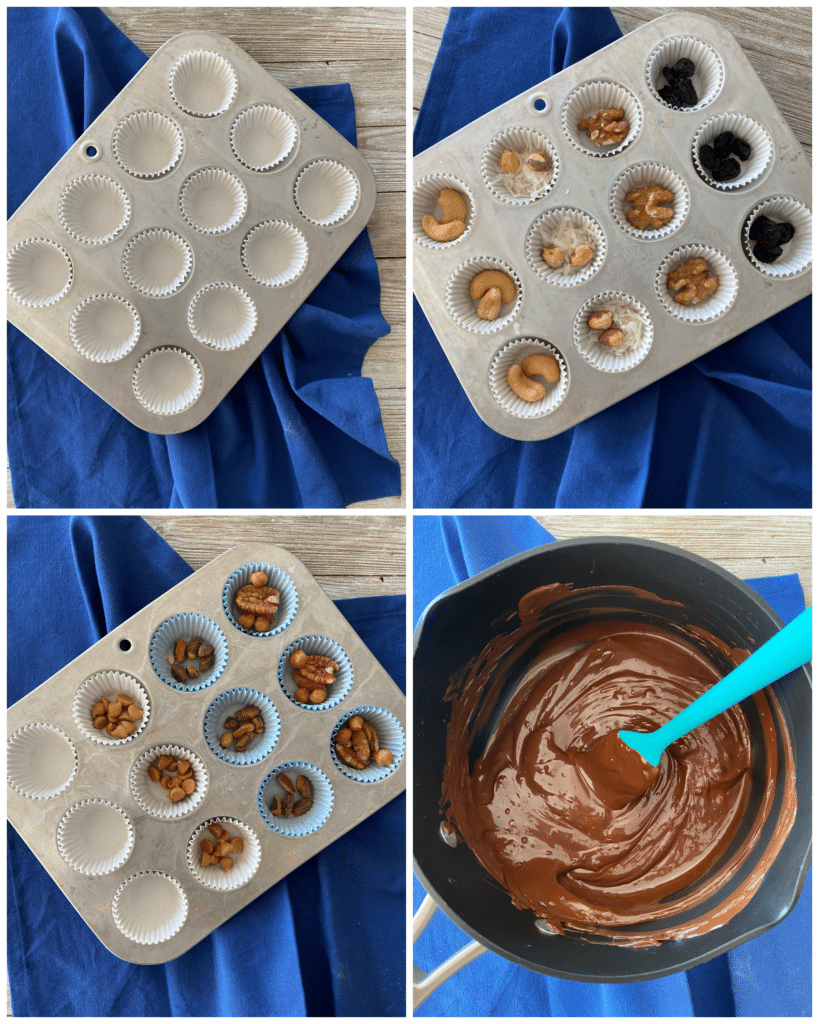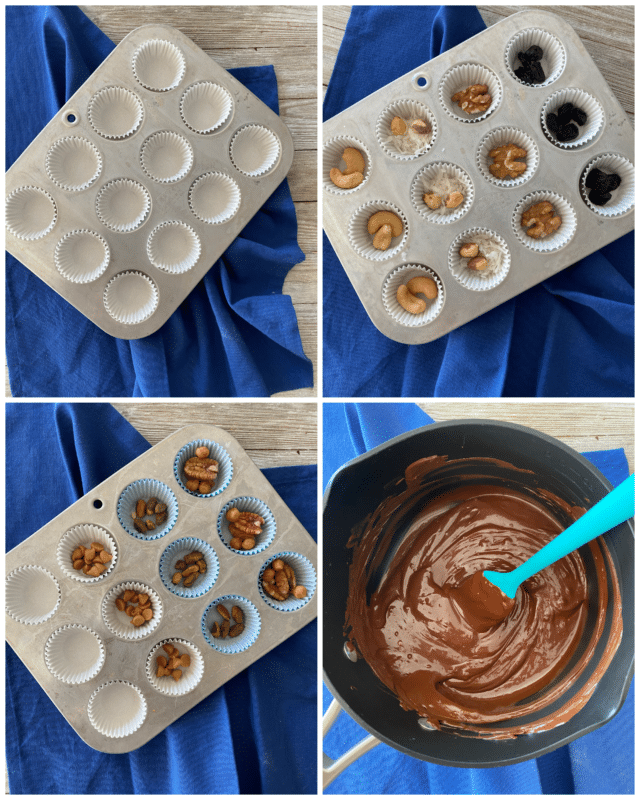 Line mini muffin tins with liners. This recipe makes 2 dozen mini chocolate candy cups.
If you are filling the centers, add what you want into the cup. You won't need to fill the cup completely, you want to leave room for the chocolate. You can see above how I added only one of the walnuts because they were pretty big, but added about 10 of the peanut butter chips.
Melt the chocolate in a saucepan on low, stirring constantly.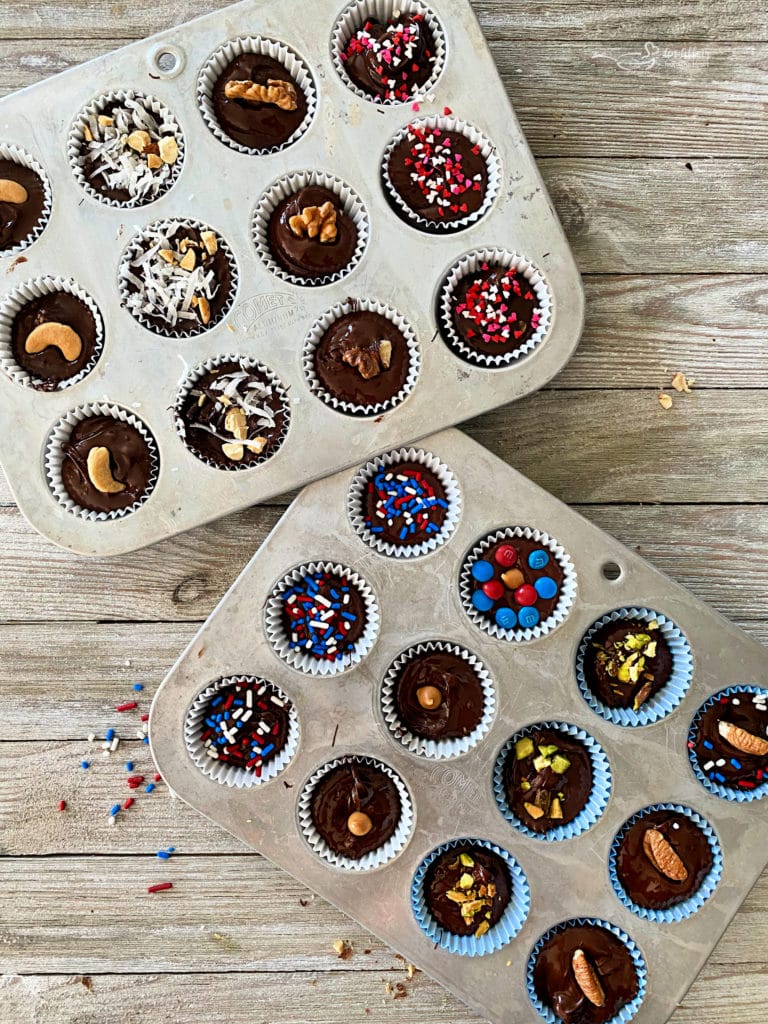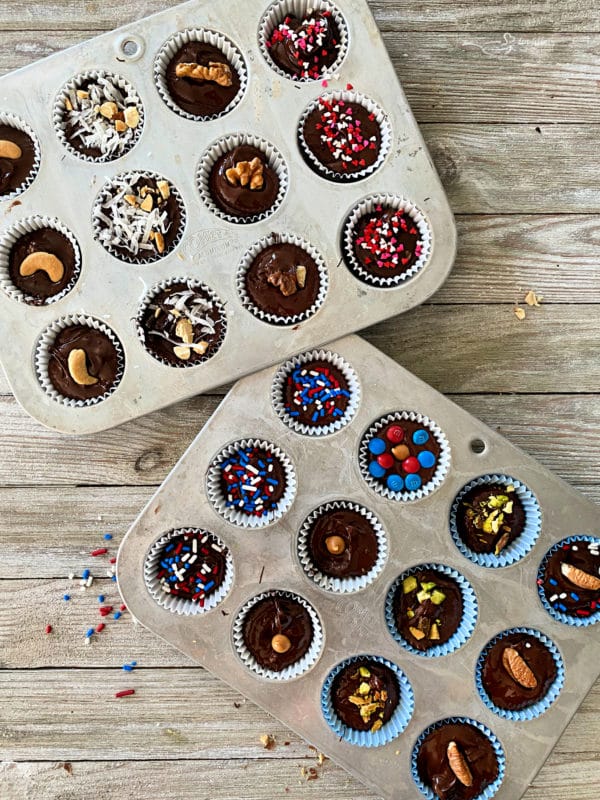 I added the chocolate to each cup and gave a little stir with a toothpick to make sure the chocolate got down to the bottom of the liner, and that it adhered to the filling.
I topped them with whatever was inside because I am not one for surprises when it comes to chocolates. There is nothing worse than biting into something you can't stand, or God forbid someone got one with nuts and they had an allergy!
Full Disclosure: I am one of those people who poke holes in the chocolates in the box if there is no "guide" included. Sorry, not sorry. 😉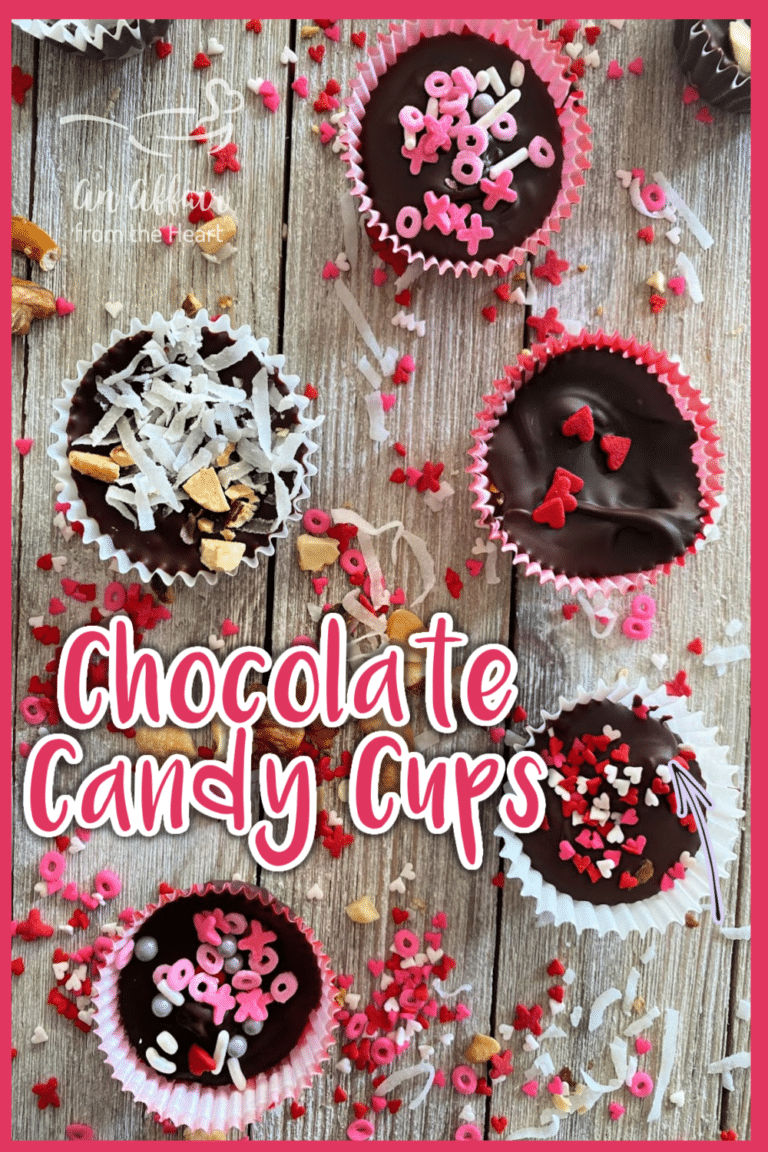 Love them? Pin them!
You'll be so sad if you forget where you found this simple homemade chocolates recipe! Pin it to your favorite Pinterest recipe board before you go!

Finding the paper Liners for your homemade chocolates
To separate and package your chocolates, you can use the mini-muffin wrappers. You can even find very decorative versions of these on the baking aisle. You can find nice decorative boxes too, which makes giving these chocolate cups as gifts even more special.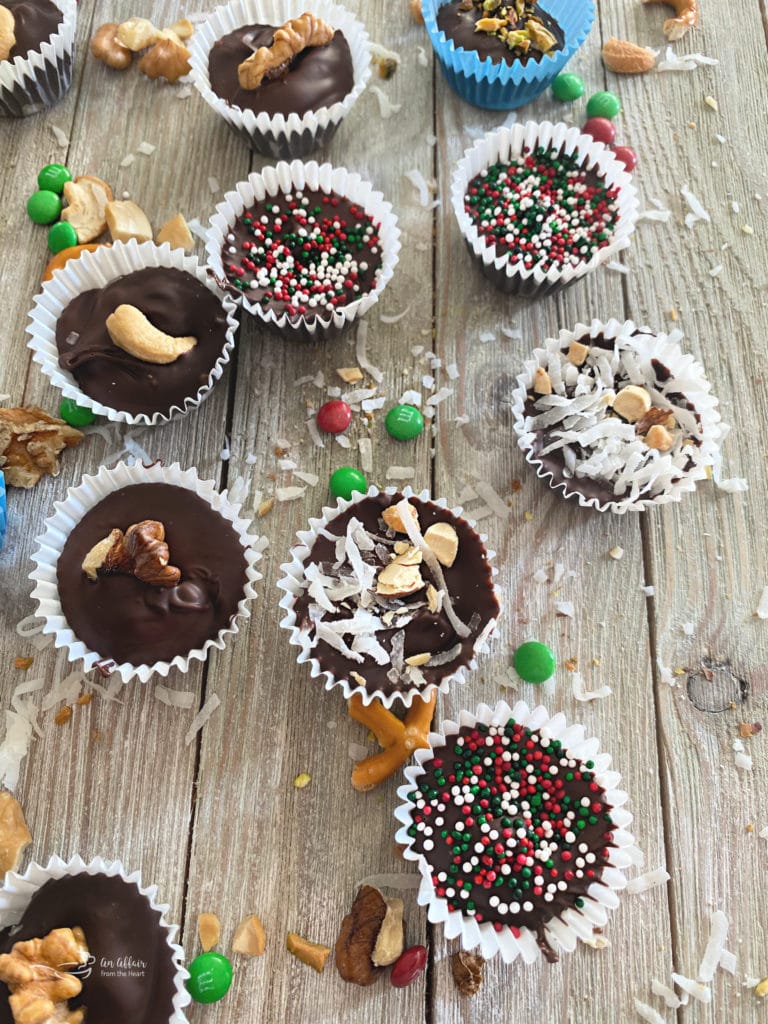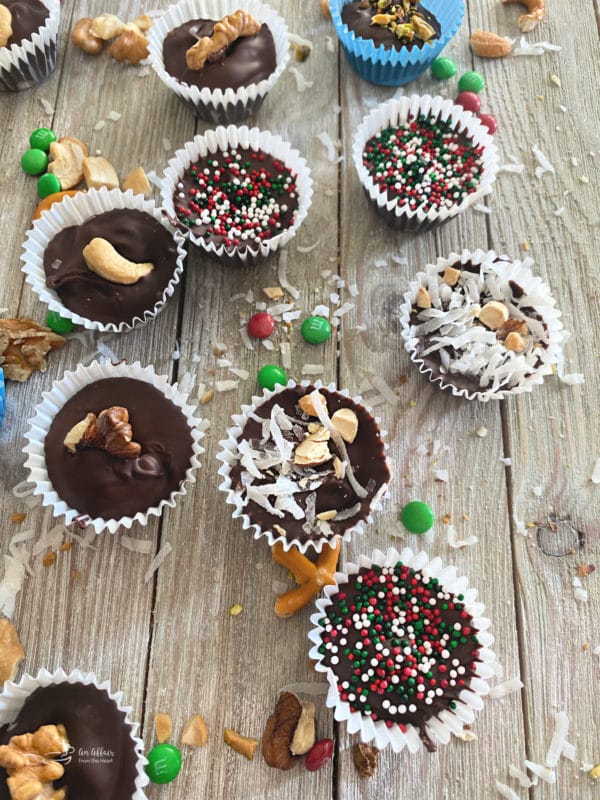 Homemade chocolates make beautiful additions to cookie platters at the holidays, and they also are a quick little hostess gift, too.
They take no time to make and they are always appreciated.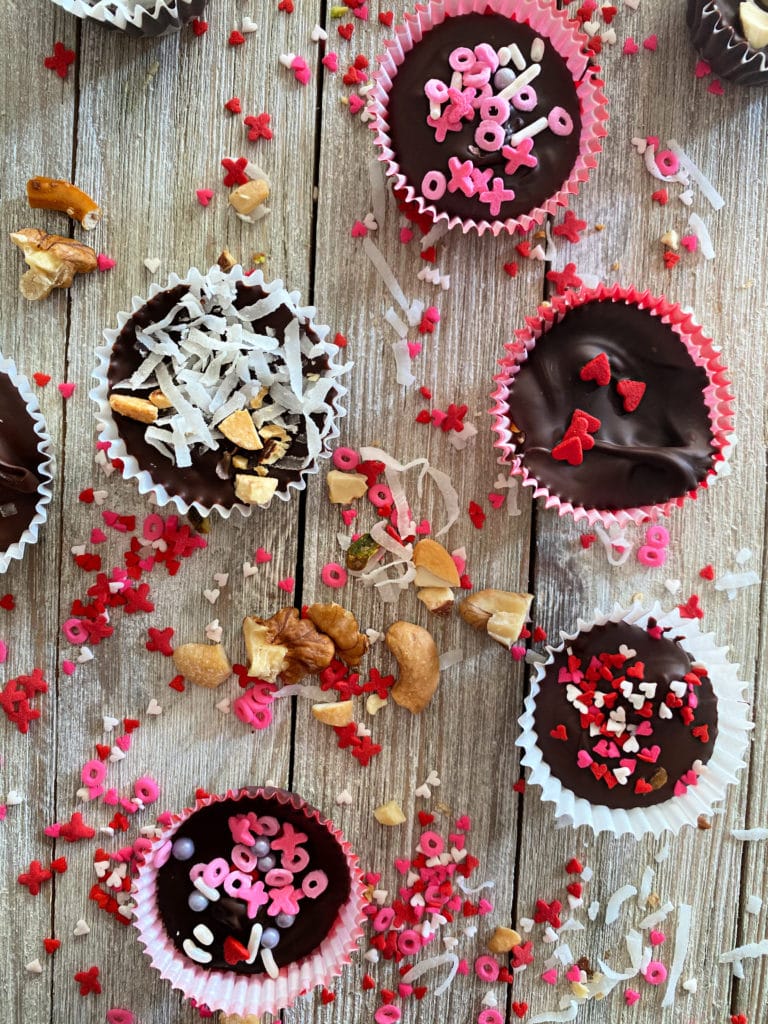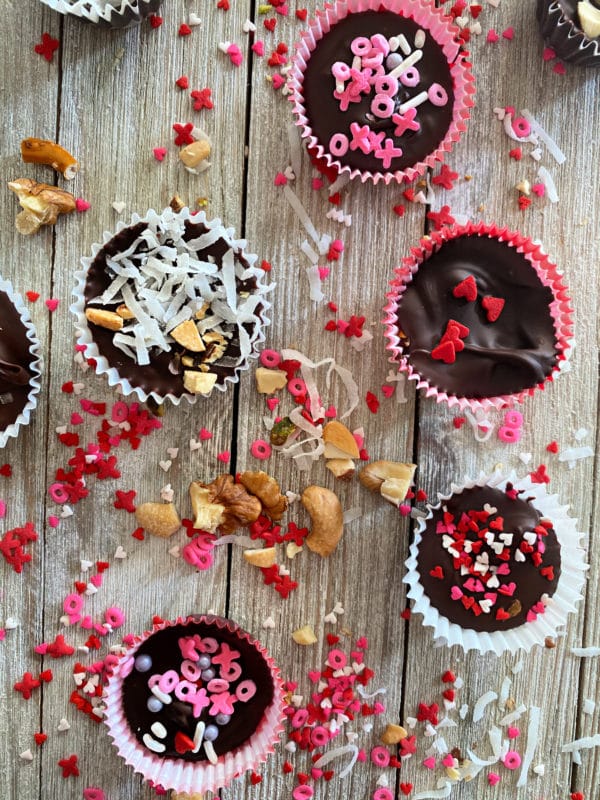 Obviously — homemade chocolate candy cups for Valentine's Day is a no-brainer. I mean, chocolates and valentine's day just go hand in hand, don't they?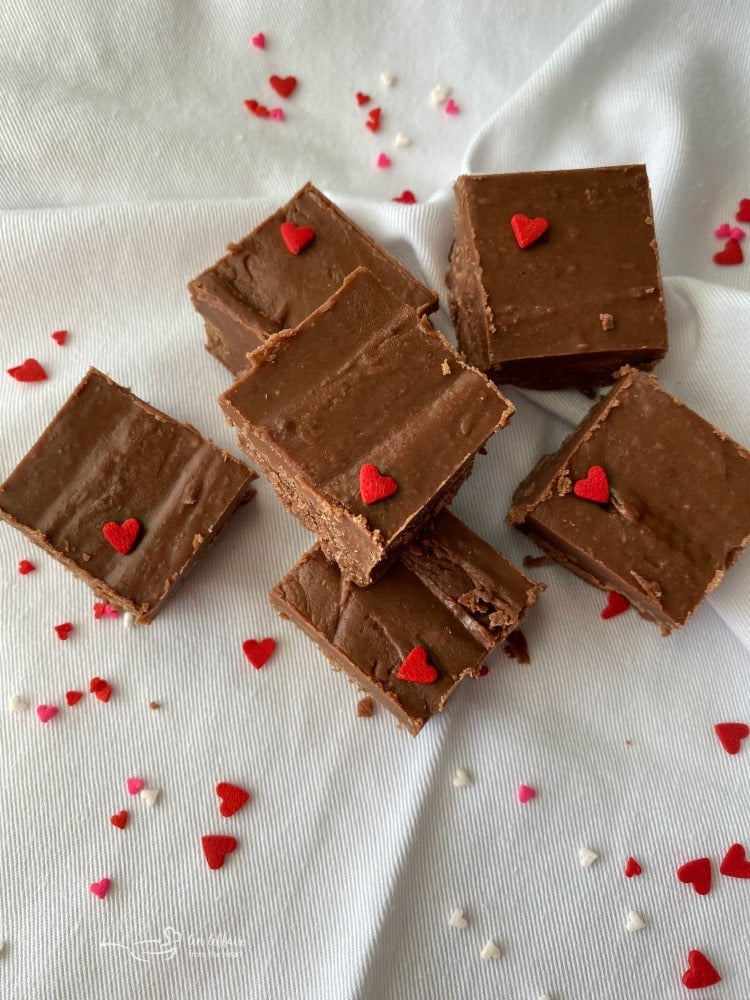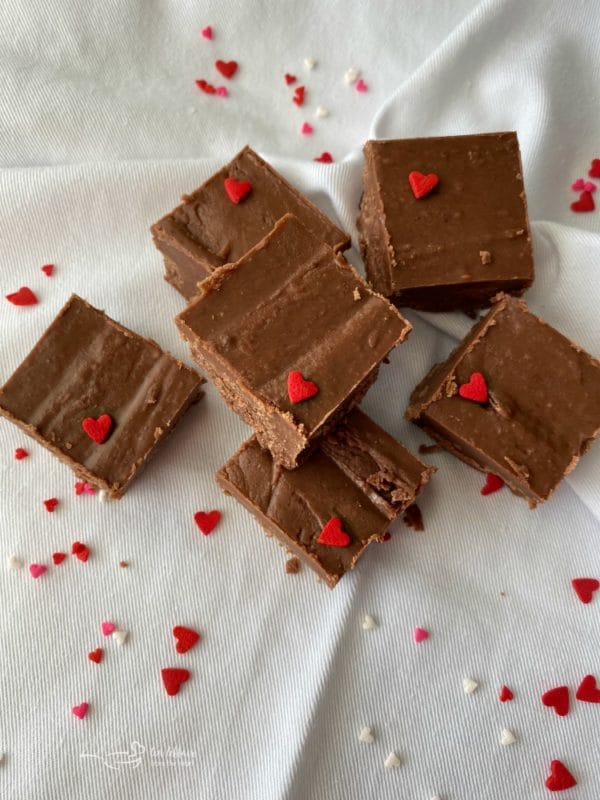 More Treats to Try
If you want other ideas for easy treats you can thank a Veteran with, I have several. Of course, you can never go wrong with chocolate, but there are other goodies here that aren't chocolate, too.
Here are a few more ideas:
Some of my most favorite people in this world are Veterans. To all of them and to each of you out there, thank you for your service. These homemade chocolates are for YOU!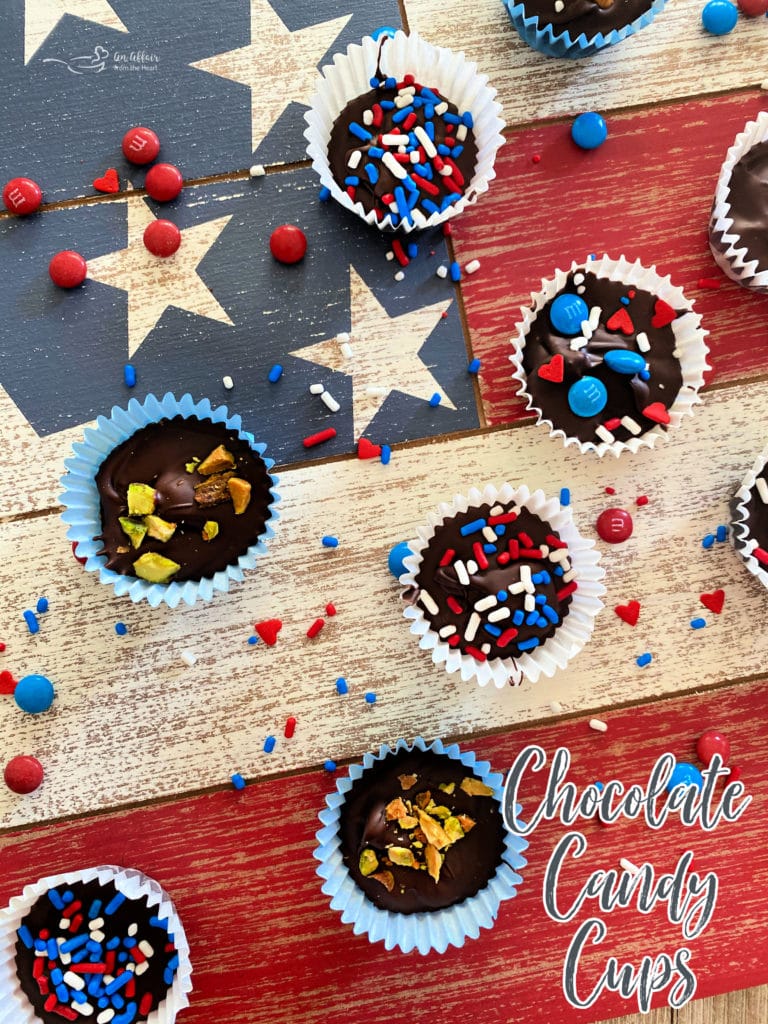 Let's get to the recipe!


Yield: 2 dozen
Chocolate Candy Cups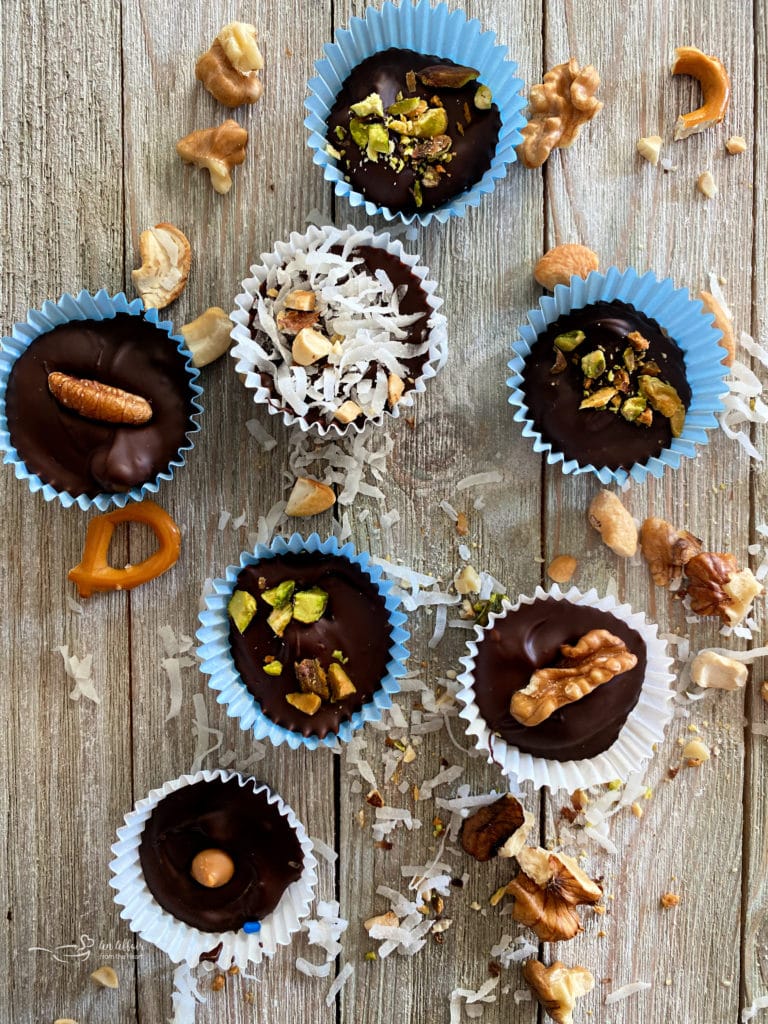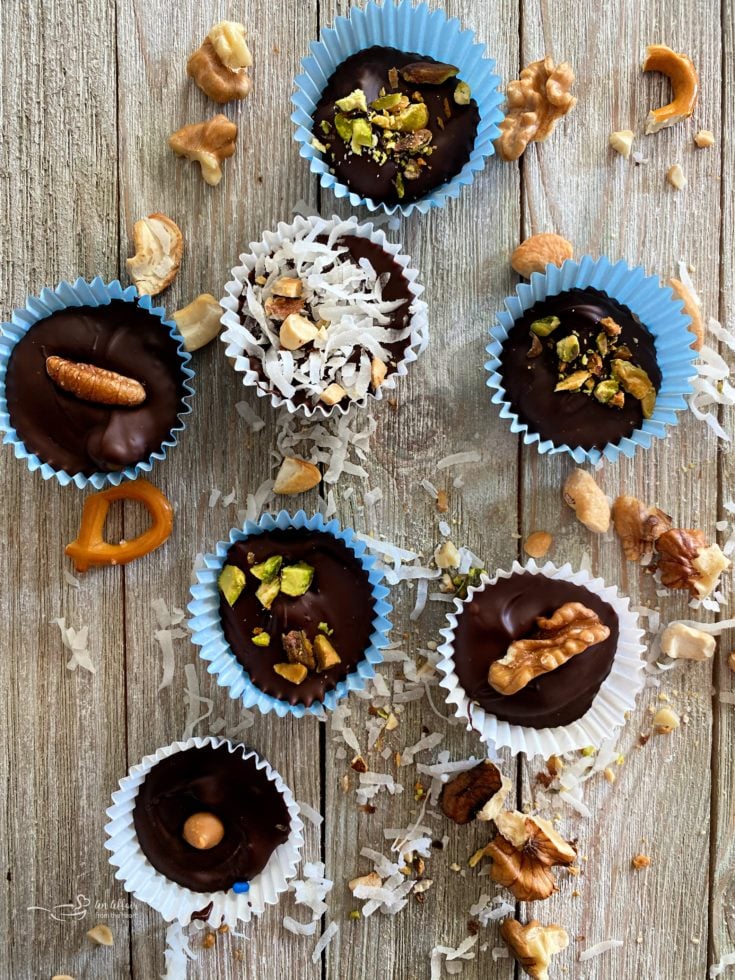 Dark chocolate candy cups filled with anything you can imagine, nuts, fruits, peanut butter, coconut, caramel, and all dressed up for any occasion.
Ingredients
2 cups good quality dark chocolate, chopped
mini muffin liners
nuts, dried fruits, coconut, pretzels, sprinkles, peanut butter chips, caramel bits
Instructions
Gather your ingredients. Anything you'd like to fill the cups with, or you can simply make them just plain chocolate.
Line muffin tins with mini muffin liners.
Place what you'd like to have in the chocolates inside the liners.
Over low heat in a saucepan, melt the chocolate, stirring constantly. When it's smooth, remove it from the heat and pour it into each cup. The ones that have quite a bit in them, it's a good idea to give them a little stir with a toothpick to get the chocolate to the bottom.
Let set at room temperature. Store in a cool dry place. No need to refrigerate.
Nutrition Information:
Yield:
24
Serving Size:
1
Amount Per Serving:
Calories:

152
Total Fat:

8g
Saturated Fat:

5g
Trans Fat:

0g
Unsaturated Fat:

3g
Cholesterol:

2mg
Sodium:

46mg
Carbohydrates:

18g
Fiber:

2g
Sugar:

13g
Protein:

2g
nutrition isn't guaranteed accurate.