Graham Cracker Toffee + Video
As an Amazon Associate and member of other affiliate programs, I earn from qualifying purchases.
This Graham Cracker Toffee bark is simply amazing! A light, flaky, and buttery toffee crust is topped with rich chocolate chips to create graham cracker brittle that is sweet, crunchy, and heavenly! Make this graham cracker toffee bark for the holidays and whenever you're in need of graham cracker recipe ideas. This recipe is so easy and delicious!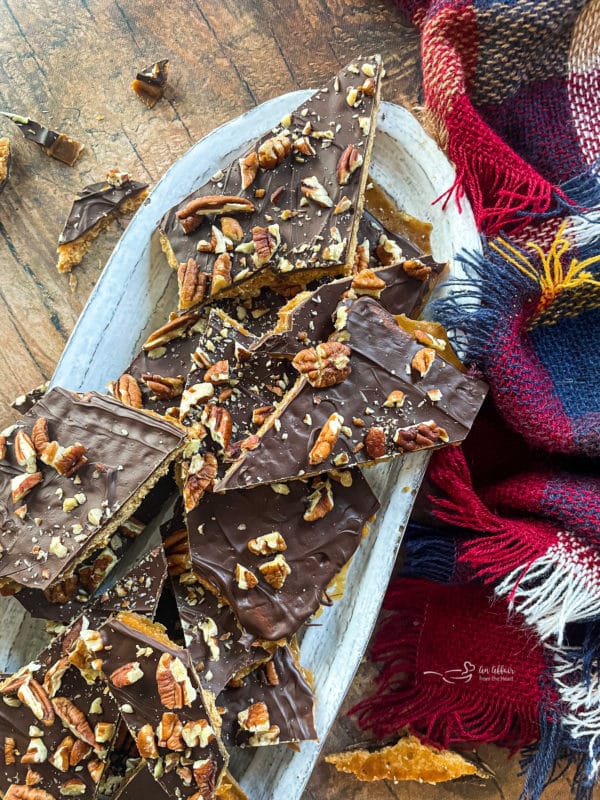 Buttery toffee, semi-sweet chocolate, and pecans over graham crackers – make this super easy toffee recipe, perfect for the holidays or anytime! Holiday baking is upon us. I will tell you one item that is going on my shortlist — this Graham Cracker Toffee!
Graham cracker toffee crack or bark is the perfect treat! Curious about what to make with graham crackers? This crunchy, chocolate graham cracker brittle is made with tasty ingredients like chopped pecans, melted chocolate, butter, and sweet brown sugar to create the best old-fashioned toffee flavors out there.
Serve a batch of these graham cracker chocolate bars to friends and family whenever you're wanting to do something extra special for your loved ones. I love this recipe because it is not only so tasty, but it is beautiful to look at, too! The contrast between the light shades of pecans mixed with the dark toffee bark makes this dessert fun and exciting to display for Christmas parties or whenever you need to drop some sweet treats off as gifts.

Quick & Easy Graham Cracker Toffee
This graham cracker toffee recipe is family-friendly and easy enough for almost anyone! In a few simple steps and quick chill time in the refrigerator, you will be able to dig right into the crunchy, salty, and sweet flavors of toffee bark. Make sure you have plenty of graham crackers!
I make this recipe pretty often because it is so simple and literally gets devoured off my cookie plates every single year! This recipe is certainly a crowd pleaser and a big hit every year.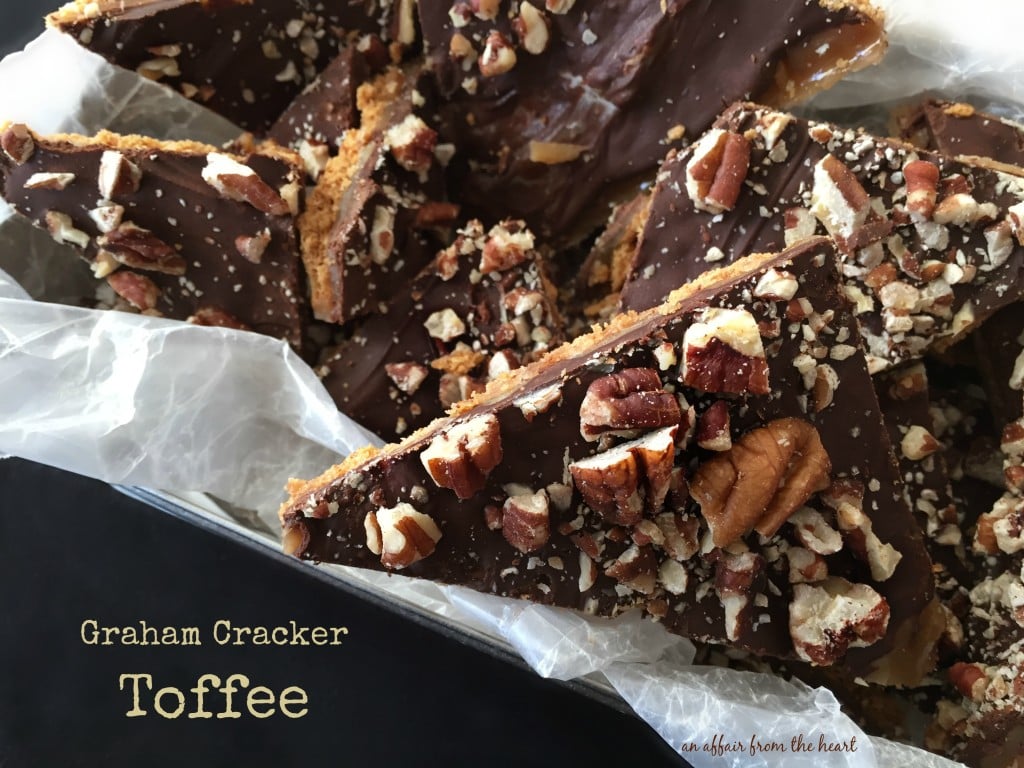 Best Cookie Exchange Recipes
Want to know a secret to not stressing out when you get invited to a cookie exchange? Make bars. Just because it's called a "Cookie" exchange doesn't mean you have to labor into the wee hours making dozens of cookies. Cookie/Candy style bars fill up a holiday tray nicely. I promise you, you will thank me later.
Back in 2015, I was scouring through some old recipes from cookie exchanges gone by and came across this one. It had been "hidden in plain sight" for so long! I decided I had to give it a test run before I committed to making it for my holiday platters that year.
Honestly, it's one of those recipes that sounds too easy to be as good as it is. I'm not sure why I always manage to talk myself into difficult recipes, thinking that is the only way something will turn out fabulous?

WHY THIS GRAHAM CRACKER TOFFEE BARK IS SO TASTY AND GOOD
Quick: This toffee brittle is made in minutes! If you're not wanting to spend a lot of time in the kitchen, then you will love this recipe because it is so quick and easy. Just bake and chill!
Delicious: The amazing combination of butter, brown sugar and graham crackers form sweet, flaky, and crunchy flavors that pair perfectly with the rich chocolate and pecans. You will love experiencing all of the delicate and yummy flavors this sweet treat has to offer.
Perfect for any Occasion: Whether you're hosting a party or attending an event or potluck, this graham cracker toffee is fitting for almost any occasion! Any excuse to eat toffee, right?!
WHAT TO MAKE WITH GRAHAM CRACKERS?
It never fails, every time I buy a couple of boxes of graham crackers, I always end up with extra to spare! I don't know if you knew this, but you can use graham crackers for SO many things. Of course, I love to use up any extra graham crackers to make this toffee brittle, but there are some other things you can make, too, such as graham cracker pie crusts, graham cracker crumbles for mousse, puddings, cheesecakes, parfaits, etc., truffles–the options are limitless!
Here are some of my favorite Honey Maid Graham Cracker recipes: Lemon Icebox Pie, S'Mores Cookie Bars, No-Bake Fruit Tart, and this Key Lime Pie Smoothie. Get creative!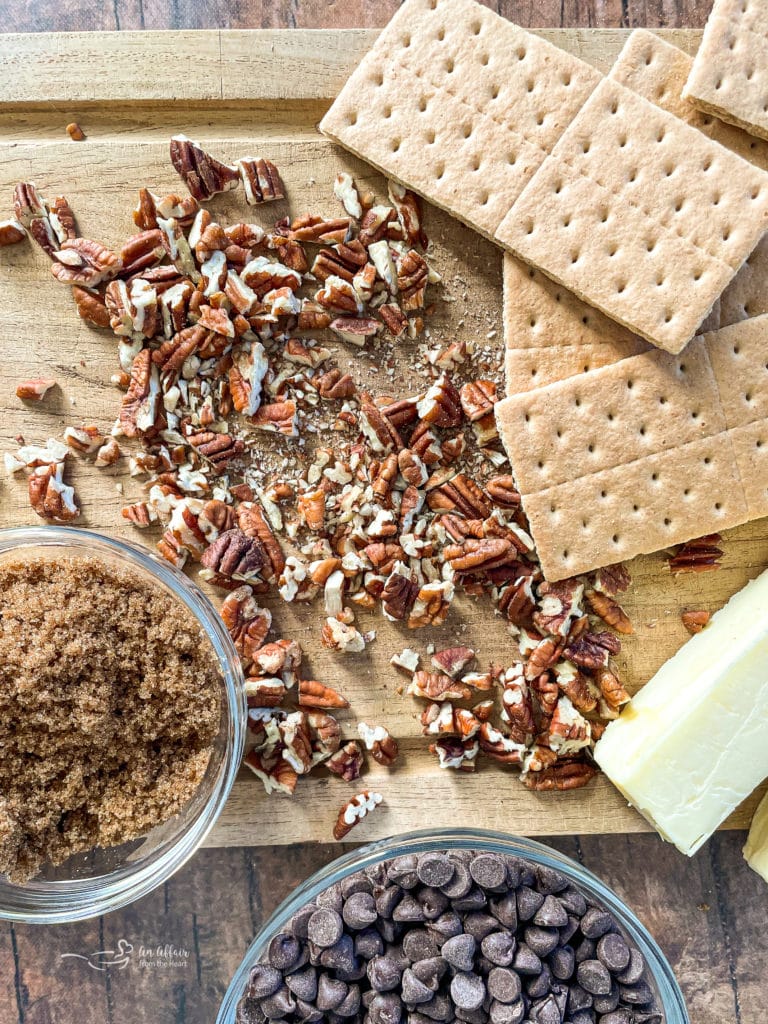 INGREDIENTS
Graham Crackers: My favorite brand of graham crackers to use are Nabisco Honey Maid Graham Crackers because they are perfectly flaky, sweet, and light! Most well-stocked grocery stores should have those classic blue and yellow boxes in the snack aisles.
Butter: You will need two sticks of salted butter to make sure this graham cracker crack comes out buttery and extra delicious! The more butter the better!
Brown Sugar: Light or dark brown sugar is melted with the butter to create the sticky and sweet toffee layer. Brown sugar is a must!
Chocolate Chips: You can use any kind of chocolate chips for this recipe. I like to use semi-sweet, but feel free to use dark or milk chocolate. Regular-sized or mini chocolate chips will be okay!
Pecans: Chopped pecans give this toffee bark the rich nuttiness it needs! If you are lucky to live where you can pick them or buy them fresh, do! But if not, the store-bought ones are great! Buy chopped pecans from the store to save time.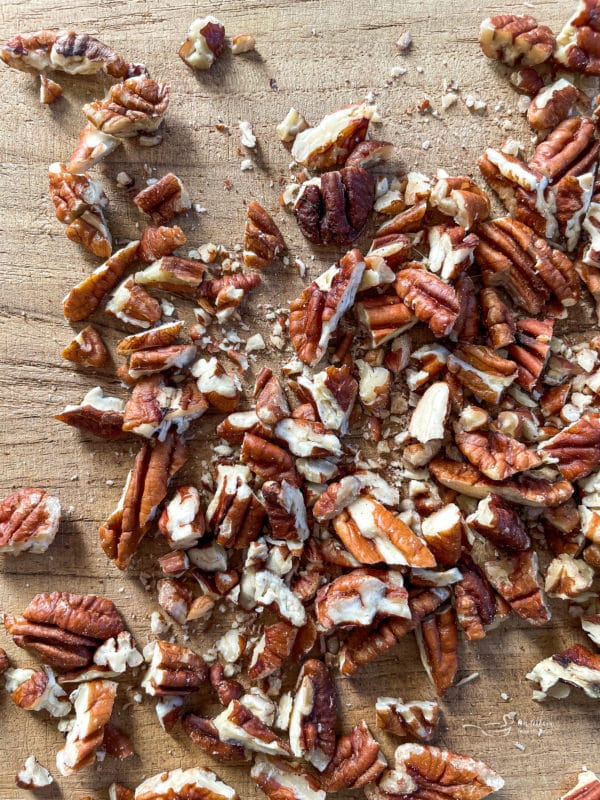 HOW TO MAKE THIS EASY RECIPE
You will love how quickly this graham cracker toffee comes together. The steps are so simple especially for those who are just starting out in the kitchen.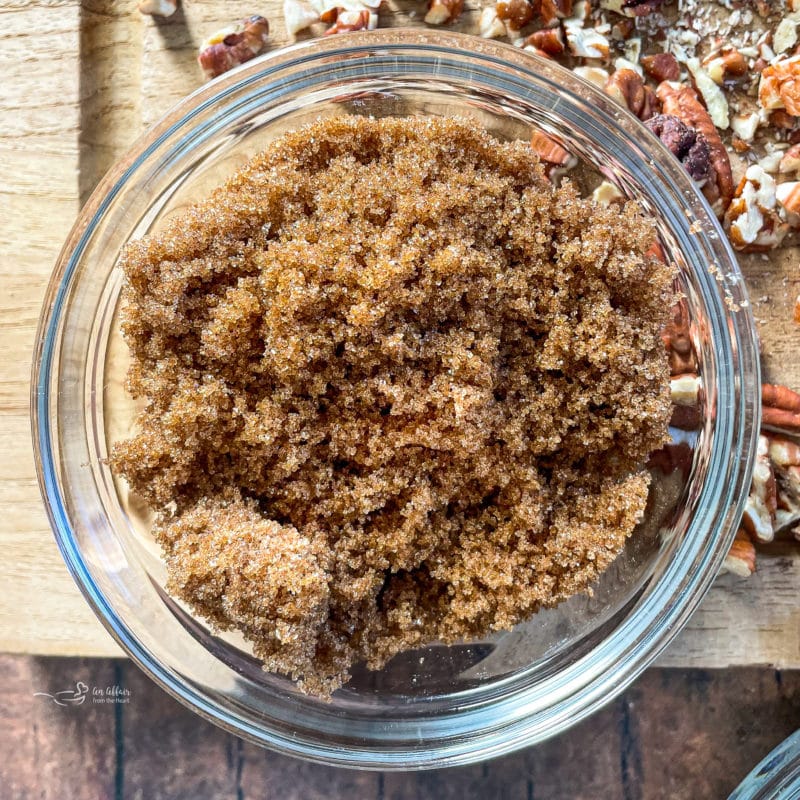 COOK THE BROWN SUGAR AND BUTTER
First, preheat the oven to 350 degrees Fahrenheit. Line a cookie or baking sheet with foil and spray it with nonstick cooking spray or grease it with oil.
Cover the cookie sheet with whole graham crackers and set it aside.
In a medium saucepan over medium heat, bring the butter and brown sugar to a boil. Boil the mixture for four minutes while stirring constantly.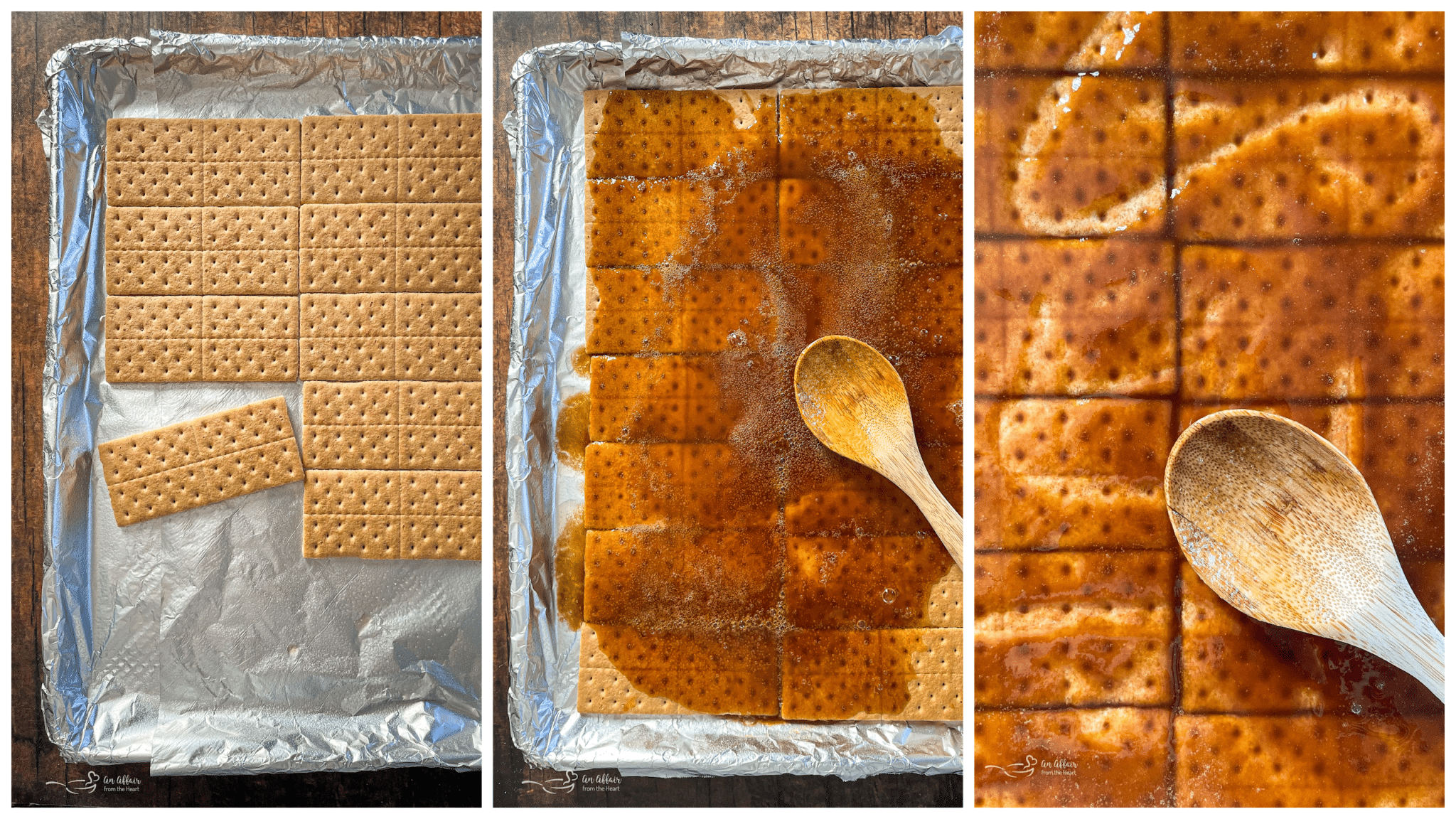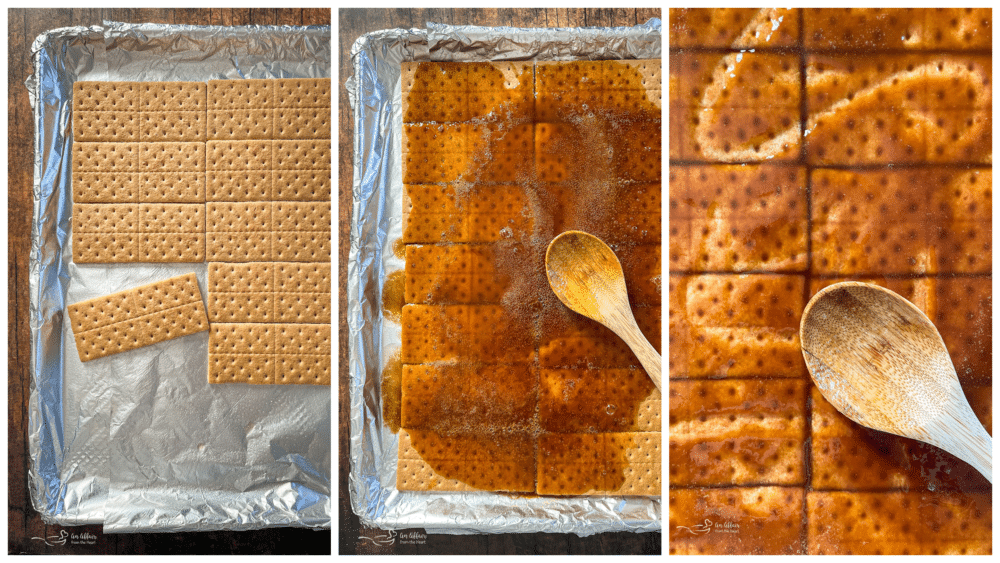 SPREAD THE BUTTER MIXTURE
Next, carefully pour the melted butter and sugar over the graham crackers making sure to spread it evenly over every cracker.
Bake the crackers in the preheated oven for eight minutes.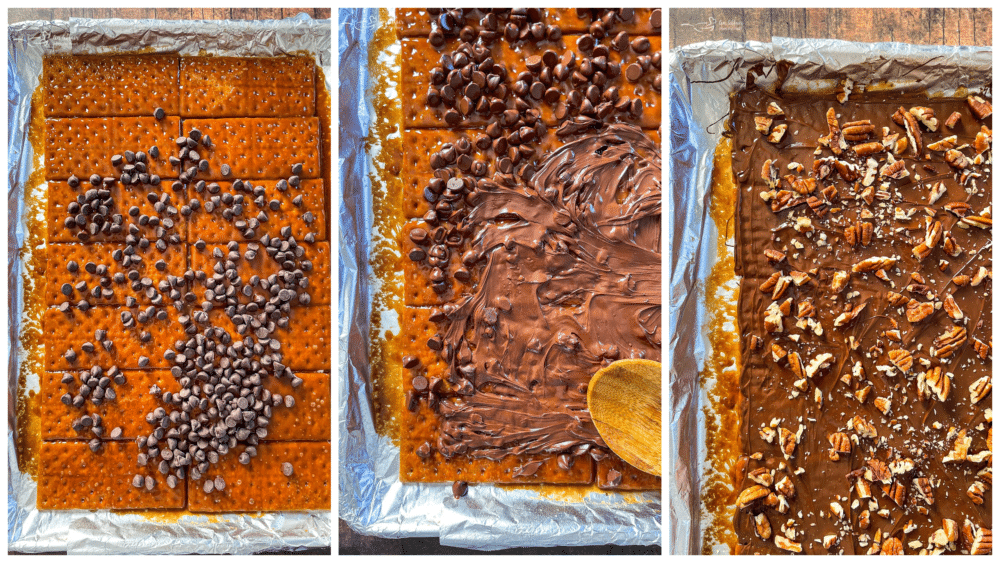 Remove the baked crackers from the oven and sprinkle the hot crackers with chocolate chips. Next, allow the chocolate chips to sit on the crackers for a little bit to melt, then with a knife or rubber spatula, spread the melted chocolate evenly over the surface of the crackers.
SPRINKLE WITH PECANS & CHILL
Finally, sprinkle chopped pecans over the melted chocolate and transfer the crackers to the refrigerator. Allow the crackers to chill in the refrigerator for at least 30 minutes or until everything has set.
CUT INTO PIECES
Remove the hard toffee brittle from the refrigerator and place it on a cutting board. With a knife, cut the chocolate graham crackers into small triangles or little pieces.
Serve and enjoy! It will be hard to resist this sweet treat!
LOVE IT?! PIN THIS GRAHAM CRACKER BRITTLE
Save this recipe for the next time you need to serve a crowd or satisfy that sweet tooth! The kids will love this sweet and crunchy snack as well as the adults, too! Pecans, chocolate, and toffee are perfect together!
TIPS & TRICKS FOR MAKING TOFFEE BARS
Use any kind of nuts in place of the pecans such as cashews, walnuts, almonds, or even peanuts.
Store the leftover graham cracker toffee in an airtight container in a cool place for up to one week.
Freeze this toffee recipe by cutting it into small pieces and transferring them to a freezer-safe bag. Store in the freezer for four months. Allow the bark to thaw in the refrigerator prior to eating.
For extra saltiness, sprinkle the top with a little bit of course sea salt.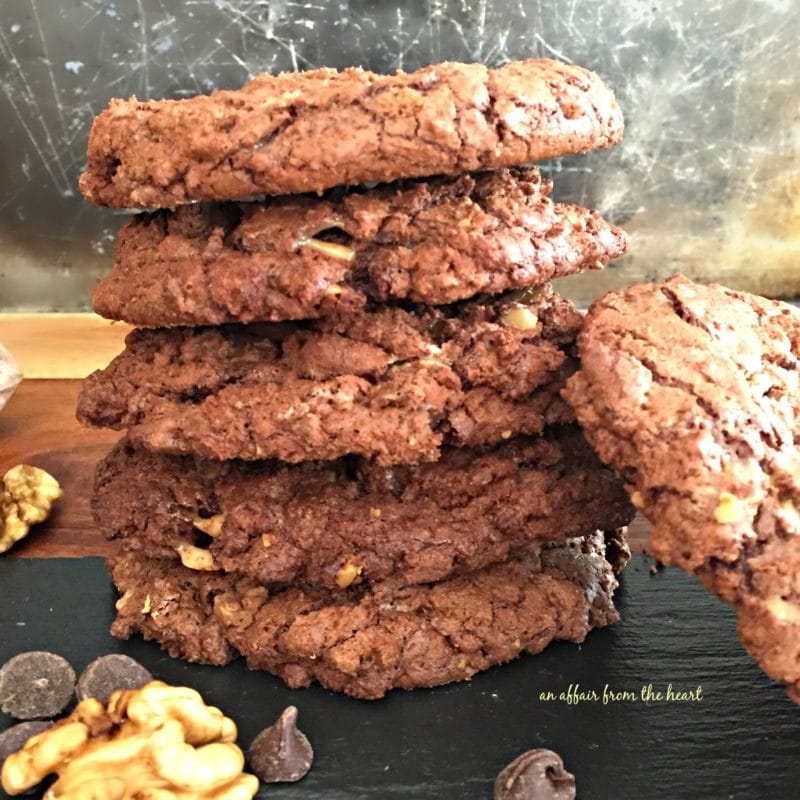 MORE SWEET SNACKS YOU WILL ENJOY
Other Easy Cookie Exchange Recipe Ideas
Looking for some other quick and easy recipes to take to your next cookie exchange? Besides this Graham Cracker Toffee, here are some other favorites of mine: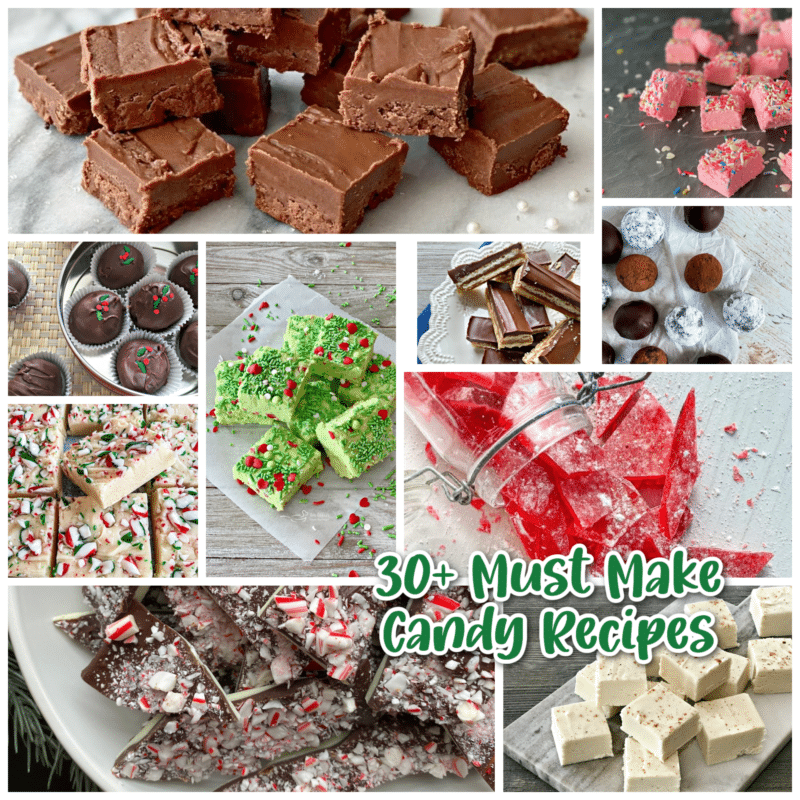 This toffee is perfection. The light and flaky bottom, the buttery toffee center, topped with semi-sweet chocolate and chopped pecans. Let's whip some up, shall we?

Yield: 24
Graham Cracker Toffee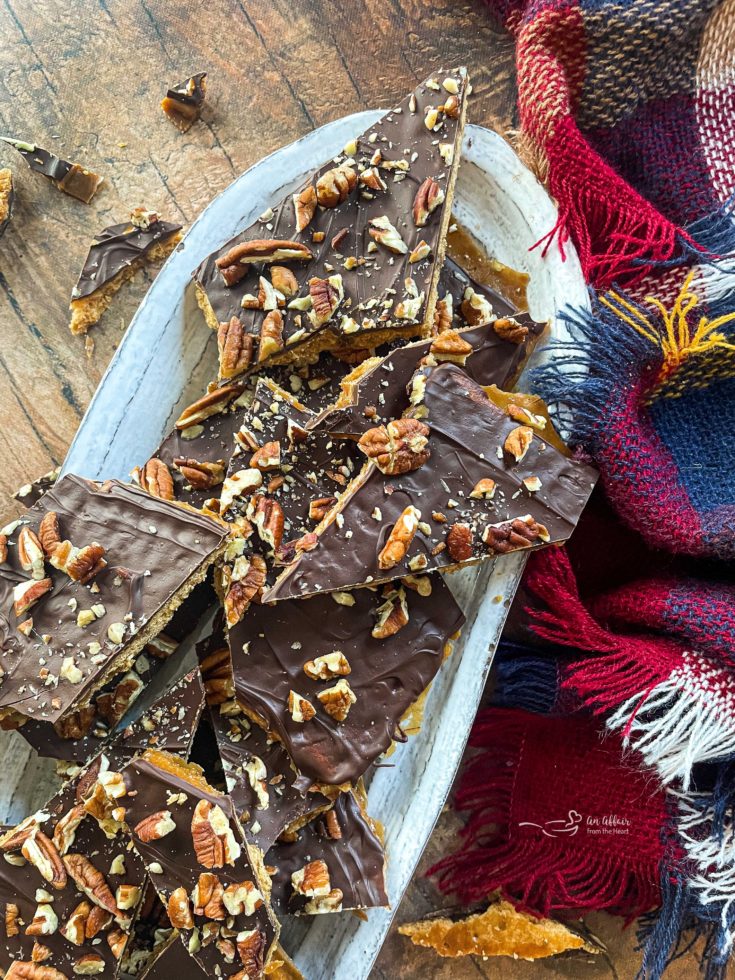 Buttery toffee, semi-sweet chocolate and pecans over graham crackers - make this super easy toffee recipe, perfect for the holidays or anytime!
Additional Time
30 minutes
Ingredients
15 graham cracker sheets
2 sticks salted butter
1/2 cup brown sugar
1 1/2 cups semi-sweet chocolate chips
3/4 cup pecans, chopped
Instructions
Preheat oven to 350 degrees. Line a cookie sheet with foil and spray with non-stick cooking spray.
Cover the cookie sheets with graham crackers, set aside.
In a saucepan over medium heat, bring butter and brown sugar to a boil. Boil for 4 minutes, stirring constantly. Pour over graham crackers and spread evenly.
Bake for 8 minutes. Remove from oven and sprinkle with chocolate chips. Let them sit for a couple of minutes, until they become melty. Gently smooth the chocolate over the top and top with pecans.
Refrigerate for about 30 minutes to set the chocolate.
Cut into pieces.
Recommended Products
As an Amazon Associate and member of other affiliate programs, I earn from qualifying purchases.
Nutrition Information:
Yield:
24
Serving Size:
1
Amount Per Serving:
Calories:

197
Total Fat:

14g
Saturated Fat:

7g
Trans Fat:

0g
Unsaturated Fat:

6g
Cholesterol:

20mg
Sodium:

106mg
Carbohydrates:

18g
Fiber:

1g
Sugar:

12g
Protein:

1g
Please note that nutrition is not guaranteed accurate.
This recipe was originally posted on November 20, 2015. It has been updated to improve user experience and re-posted on November 28, 2021.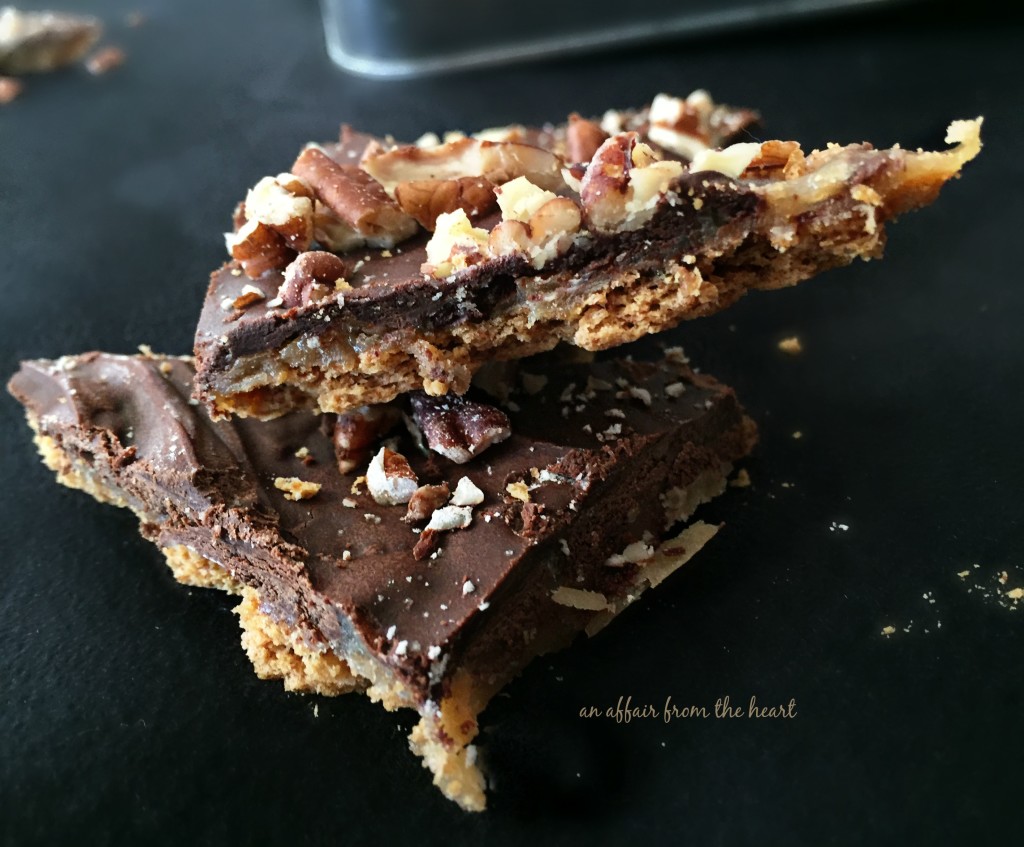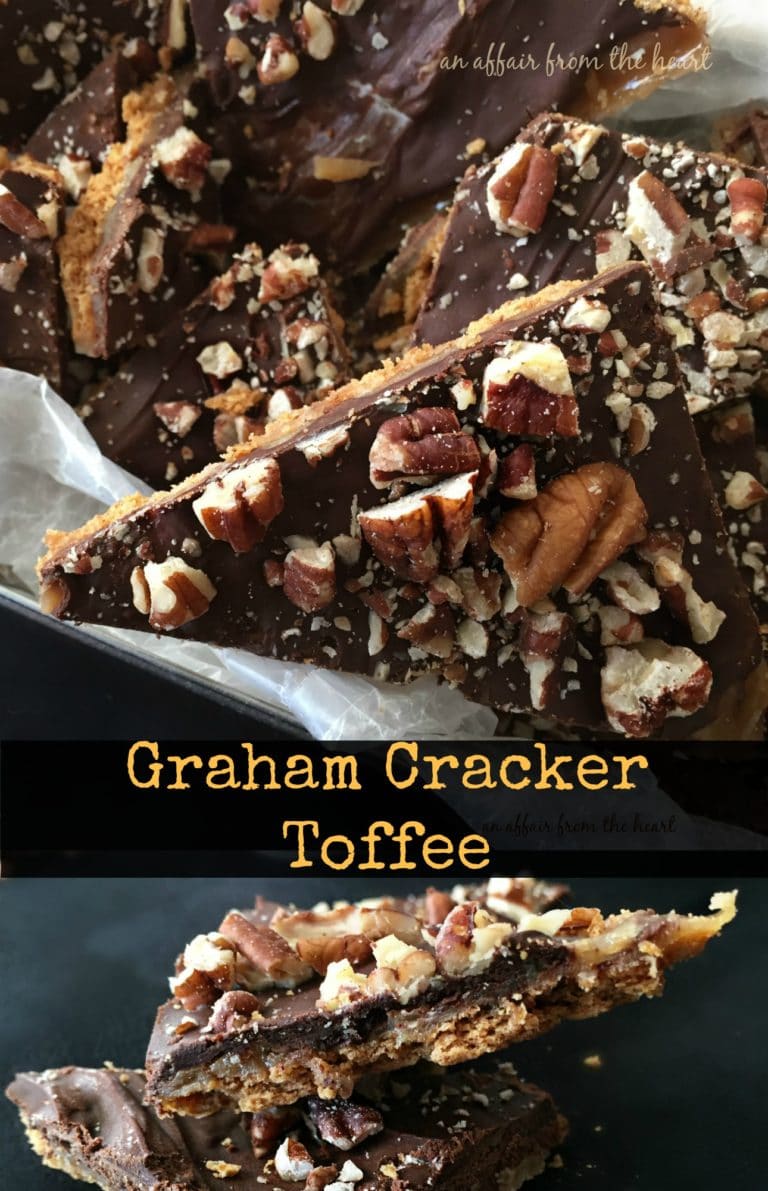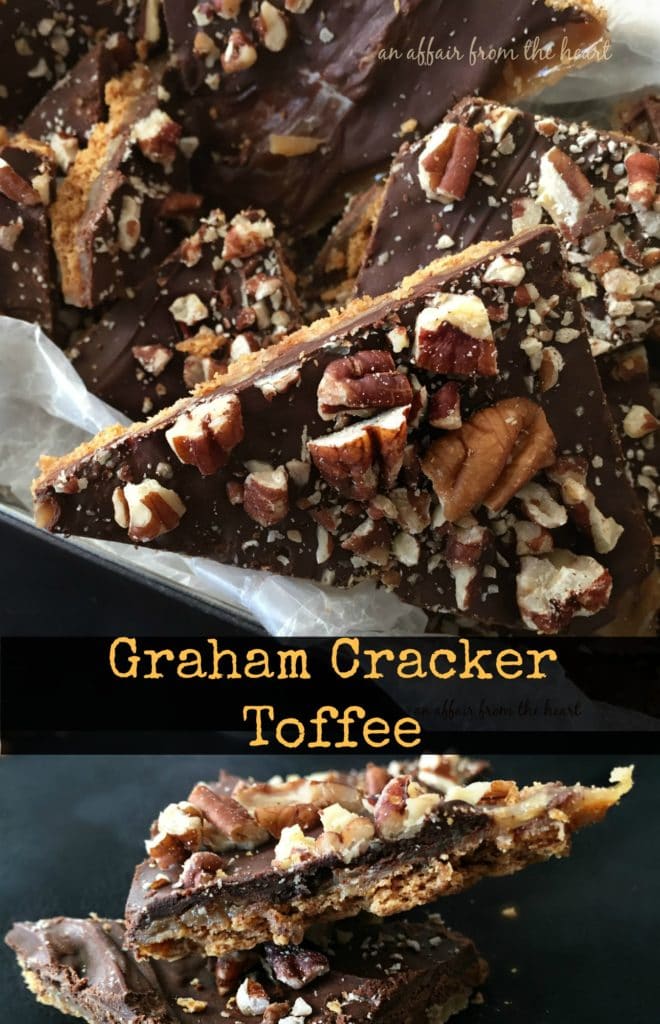 It's been popular since it was very first posted — maybe you followed this photo here? It's the same exact recipe, just updated photos and content.
I was selected for this opportunity in 2015 as a member of Clever Girls and the content and opinions expressed here are all my own.