No Bake Fruit Tart
As an Amazon Associate and member of other affiliate programs, I earn from qualifying purchases.
This no bake fruit tart recipe is one of the best fruity desserts out there! Crushed graham crackers are formed into a crust and filled with a subtly sweet and tangy cream cheese filling that is topped with fresh berries or your choice of fruit. Perfect for any occasion, this easy fruit tart recipe is easy to make and great for summer!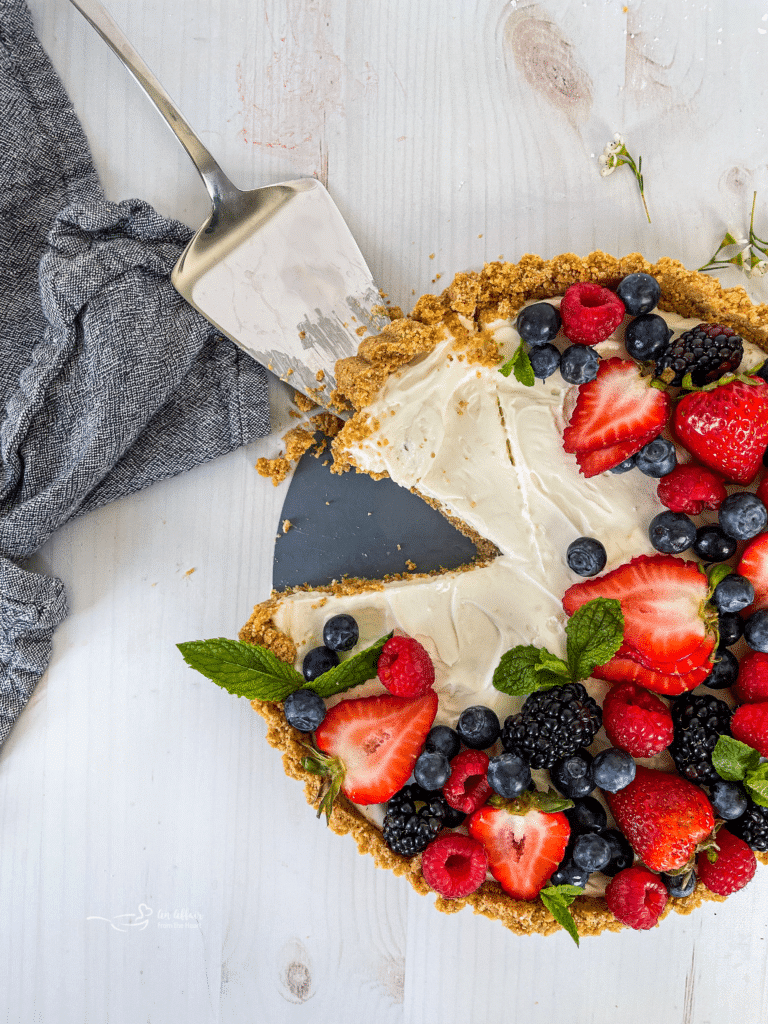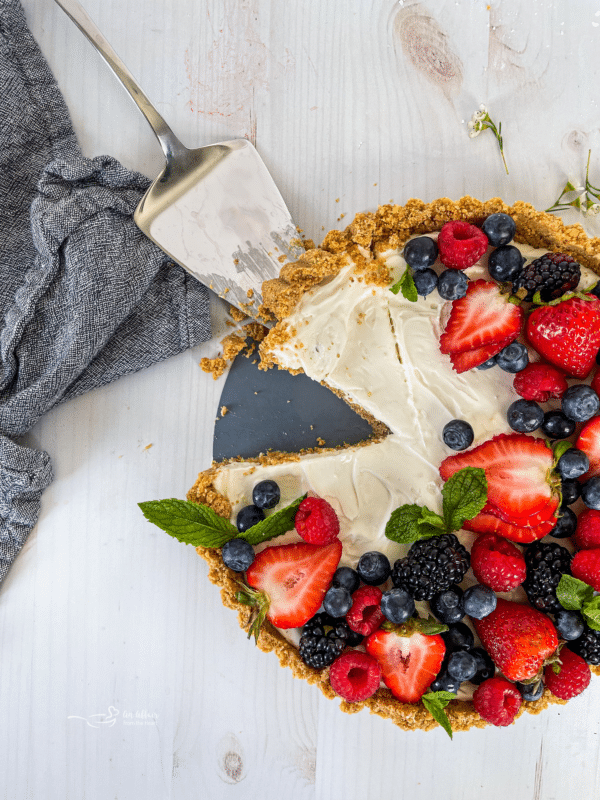 Summertime means lots of fruit tart recipes! No matter what type of occasion you're celebrating– whether it's the Fourth of July or another occasion like a brunch, party, picnic, etc., be sure to impress the crowd with this patriotic dessert! Vividly colorful and fun to make, this no-bake fruit tart recipe is simple, satisfying, and filled with so many fresh flavors.
This graham cracker fruit dessert is naturally sweetened with fresh strawberries, blackberries, blueberries, and raspberries on top of a delicious cream cheese filling that is mixed with lemon juice and vanilla. The delicate flavors of graham crackers and sweetened cream cheese are perfectly paired with berries in this recipe, but feel free to use any type of fruit you have on hand.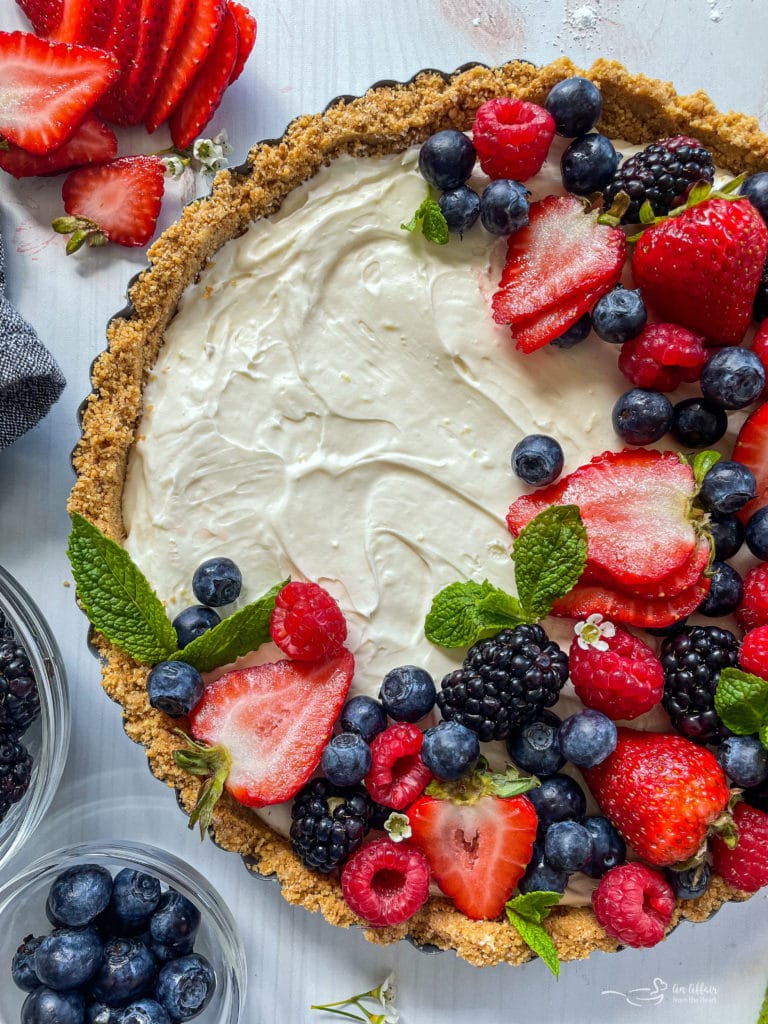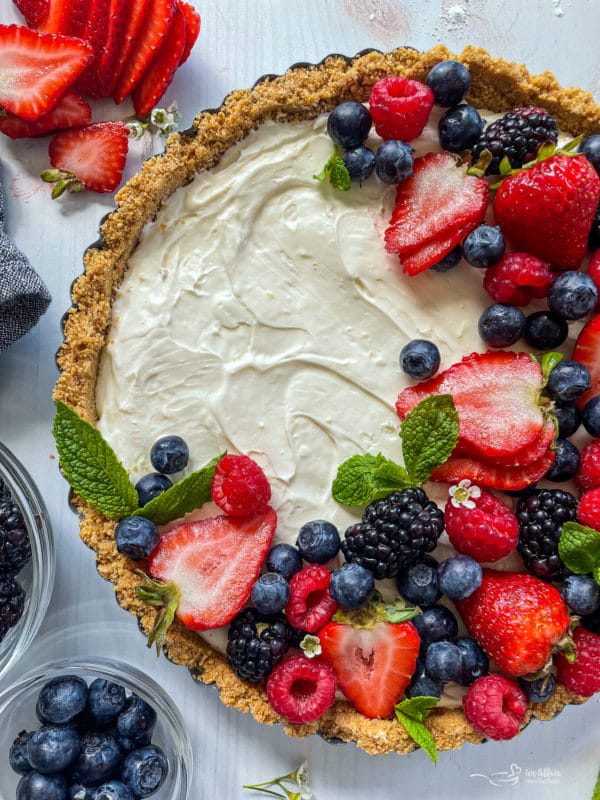 Patriotic Fruit Tart
Independence Day is right around the corner! Can you believe it? The summer is literally vanishing right before my eyes, and I want to get the very most out of what's left!
It's been a while since I posted a "Red, White & Blue" dessert. I think the last time was the Homemade Chocolates that I made for Veteran's Day? I knew that this fruit tart had to happen for the fourth though. It's absolutely perfect for summertime and picnics.
The fact that it's no bake means no heating up the kitchen, it's full of fresh summer berries, and that cream cheese filling is got a hint of lemon that is so refreshing!
Use the berries to decorate it any way that you like. It's fun to arrange them like a flag, too! But this dessert isn't just for those patriotic holidays – you can enjoy it any 'ol time! And trust me, you'll want to!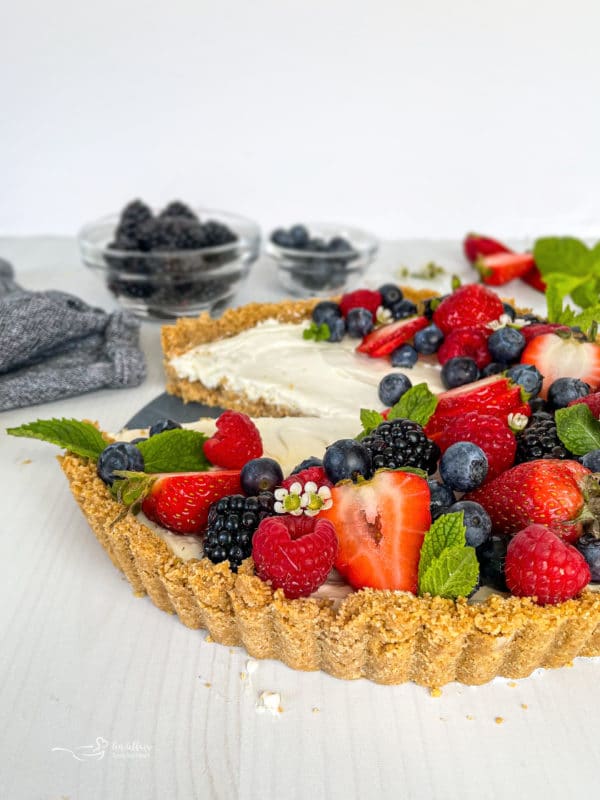 Why You're Going to Love This Easy Fruit Tart Recipe
Easy to Make: What's not to love about no-bake fruit desserts? Stress-free and easy enough to make on even the busiest days, this simple fruit tart recipe is great for whenever you're wanting something super delicious, but without a lot of work.
Versatile: You can easily customize this easy fruit tart with your preferred fruit. The toppings to this tart can change with the seasons!
Full of Flavor: Topped with fresh fruit and filled with cream cheese, there is a smooth and sweet flavor that is perfectly balanced with the graham cracker crust and lemon juice making it taste similar to cheesecake!
Perfect for Occasions: If you're looking for a light and fresh addition to the party, then you will love making this dessert for your guests. If you need a fruit flag recipe, then this no bake tart is perfect for it!

What is a Tart?
A tart is typically a baked dish that is served with an open top. Usually, the toppings are fresh fruit and the fillings are typically cream-based and smooth.
Ingredients
Don't miss the full measurements for this easy fruit tart recipe– scroll down to the recipe card below!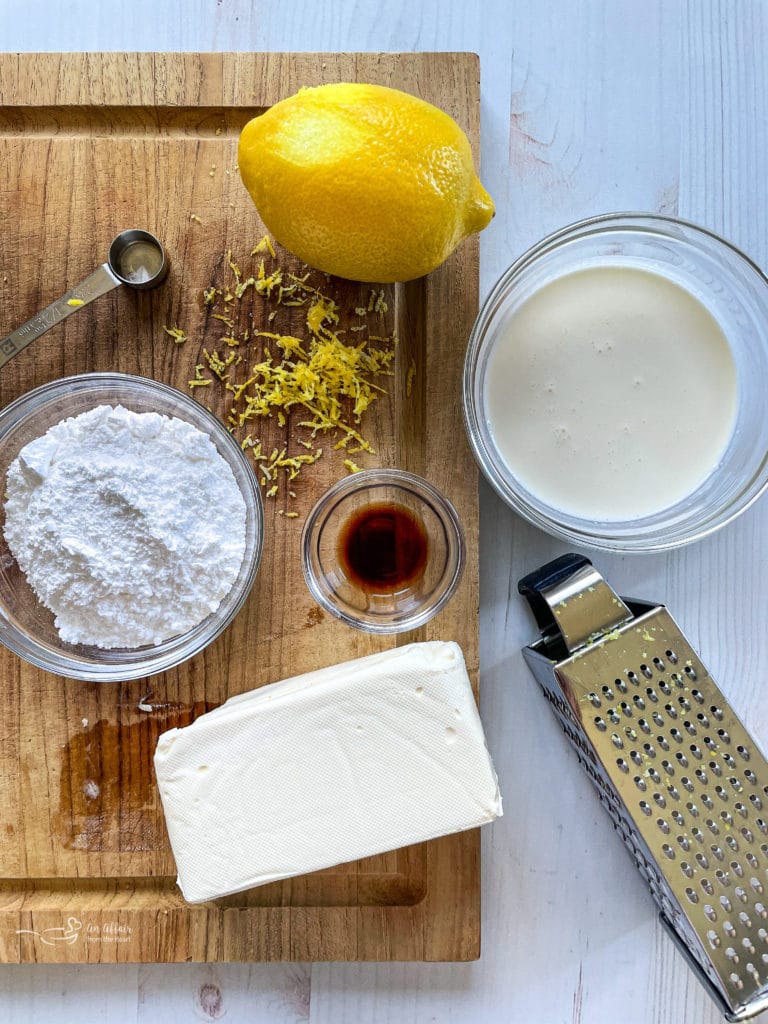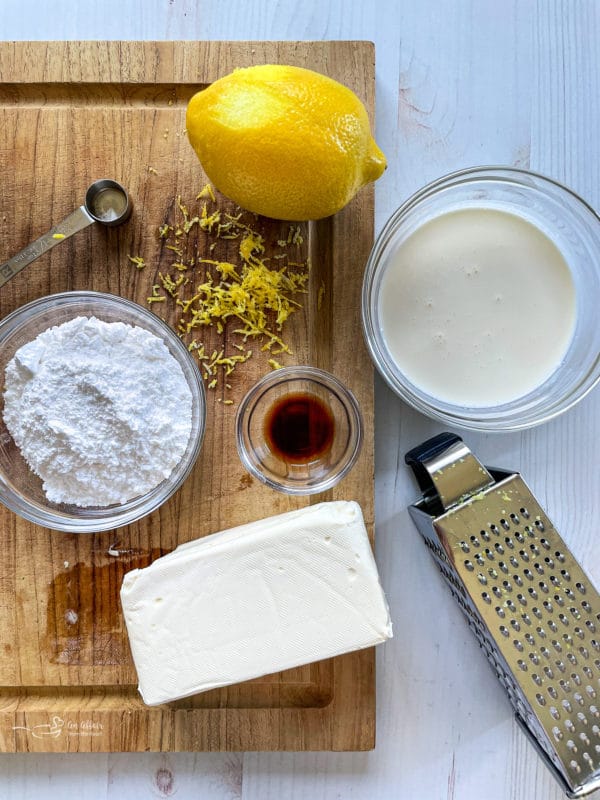 Graham Cracker Crumbs: You can make your own graham cracker crumbs by placing some whole graham crackers in a bag and sealing it shut. Carefully, crush the graham crackers crumbs with a rolling pin or something similar. I like to use honey graham crackers.
Butter: Feel free to use either salted or unsalted butter for this no bake fruit tart.
Heavy Whipping Cream: Heavy whipping cream is used for a smooth and creamy filling.
Vanilla: One of the main ingredients for this recipe is vanilla extract. Vanilla allows this dessert to be rich in flavor.
Cream Cheese: You will need one package of cream cheese, but make sure it is softened!
Powdered Sugar: Also known as confectioners sugar, you can find this in the baking section at the local market.
Lemon: Both the zest and juice of the lemon are needed in this graham cracker fruit dessert.
Fresh Fruit: I used fresh berries such as blackberries, raspberries, blueberries, and strawberries, but you can use any fruit on hand depending on what season it is. This tart would be delicious with banana slices, peaches, kiwi, etc.
How to Make This No Bake Fruit Tart
Step 1
Make the Graham Cracker Crust: First, mix the graham cracker crumbs together with the butter and sugar. Then, press the crumbs into the bottom of a tart pan and chill in the refrigerator.
Step 2
Make the Filling: First, in a stand mixer, beat the whipped cream and vanilla until stiff peaks form. Set aside.
Step 3
Cream the Cream Cheese: Next, cream together the cream cheese, powdered sugar, lemon zest, and lemon juice until smooth.
Step 4
Combine: Then, gently, fold the whipped cream mixture into the cream cheese mixture.
Step 5
Assemble the Tart: Then, spread the filling on top of the graham cracker crust and top with fresh berries or other fruit of choice. Finally, refrigerate until ready to serve.

How Do You Avoid a Soggy Bottom?
If the bottom of your tart is soggy, then it is possible the tart has sat too long. Also, be sure to allow the crust to harden in the refrigerator.

How Do You Keep a Tart Fresh?
You will want to make sure your tart is tightly wrapped with plastic wrap and stored in the refrigerator. If stored properly, then the tart should remain fresh for up to two days in the refrigerator.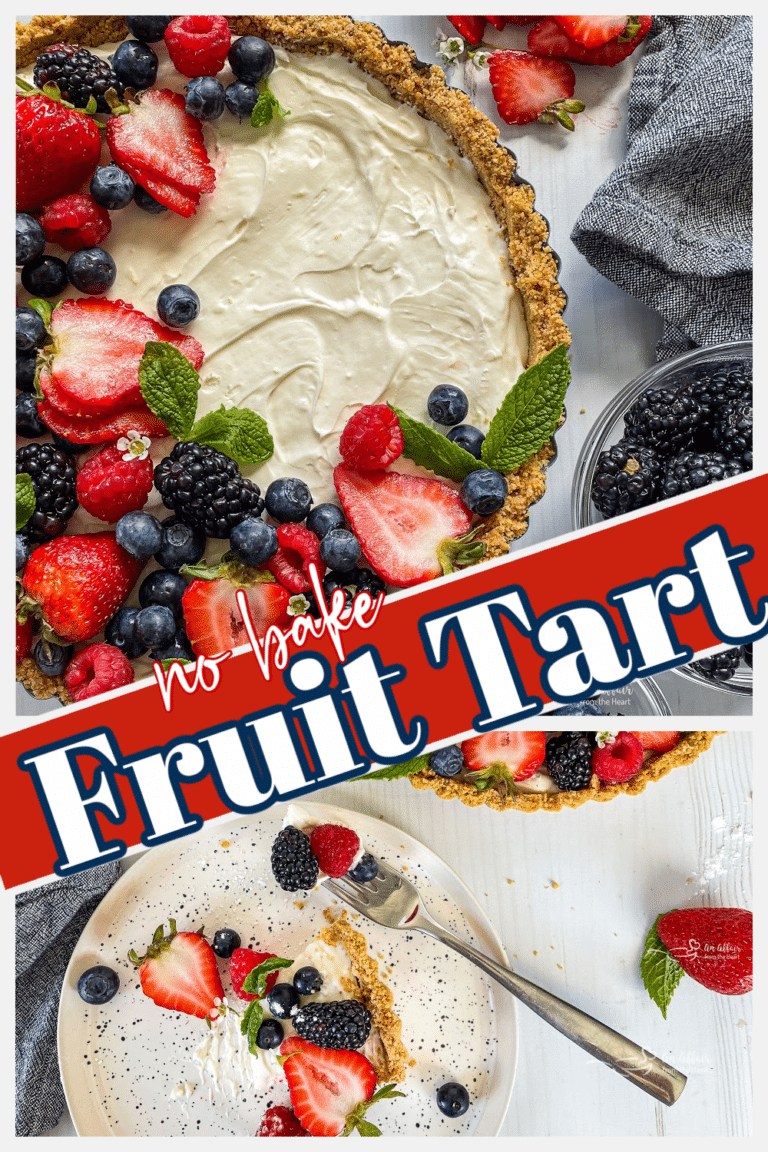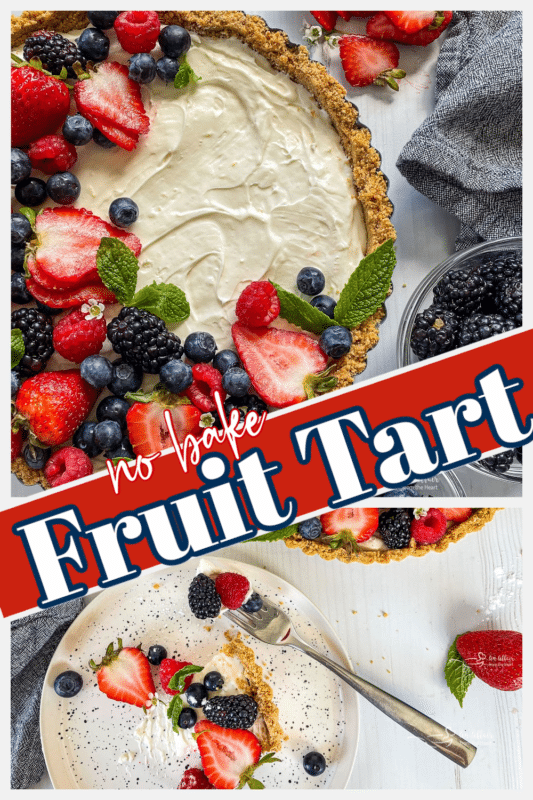 LOVE IT? PIN IT!
Make sure to save this no-bake fruit tart on your favorite Pinterest recipe board before you go! You'll want to make sure you have it when you need to make a fruit tart flag recipe!
Which is Better: Pie or Tart?
That's up to you! Personally, I prefer both! I appreciate the unique flavors that both pies and tarts have to offer. Some days I prefer a tart with fresh fruit, other days I just prefer a freshly baked pie.
Tips
Mint: If desired, then garnish with fresh mint.
Premade Crust: If you don't want to make your own crust, then you can easily make this fruit tart recipe with a storebought premade crust!
Cream Cheese: Make sure to cream cheese is softened or it will be hard to mix.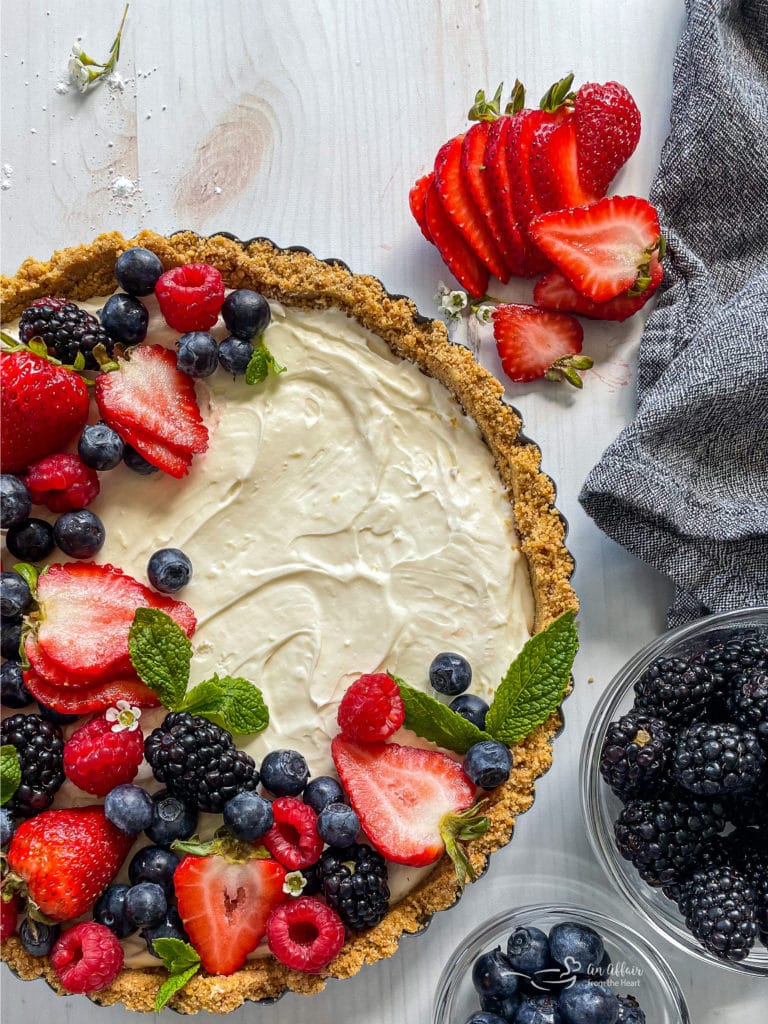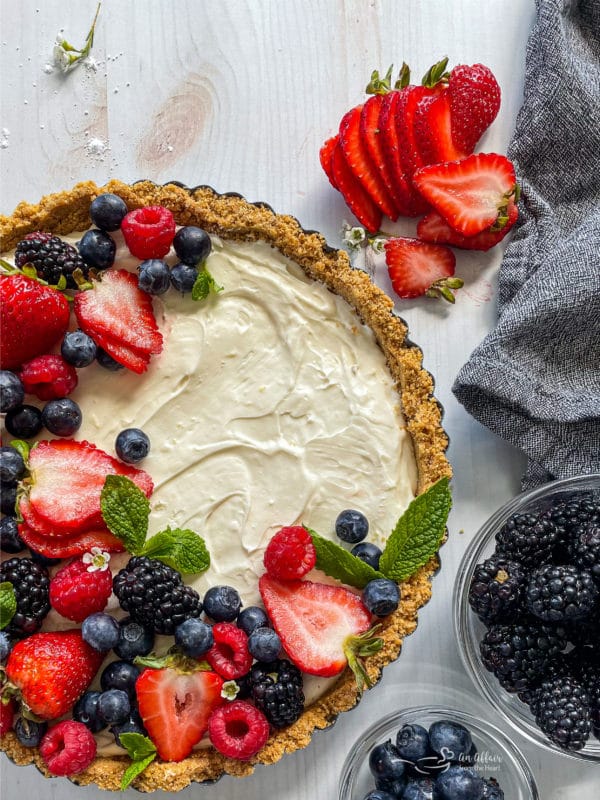 More Dessert Recipes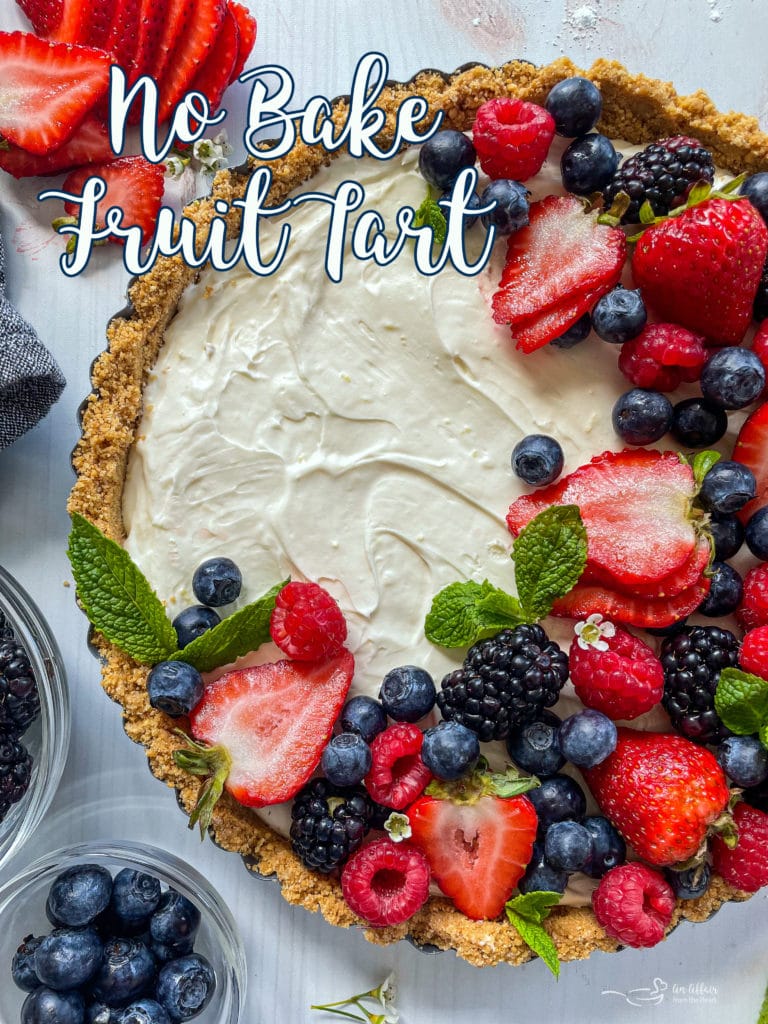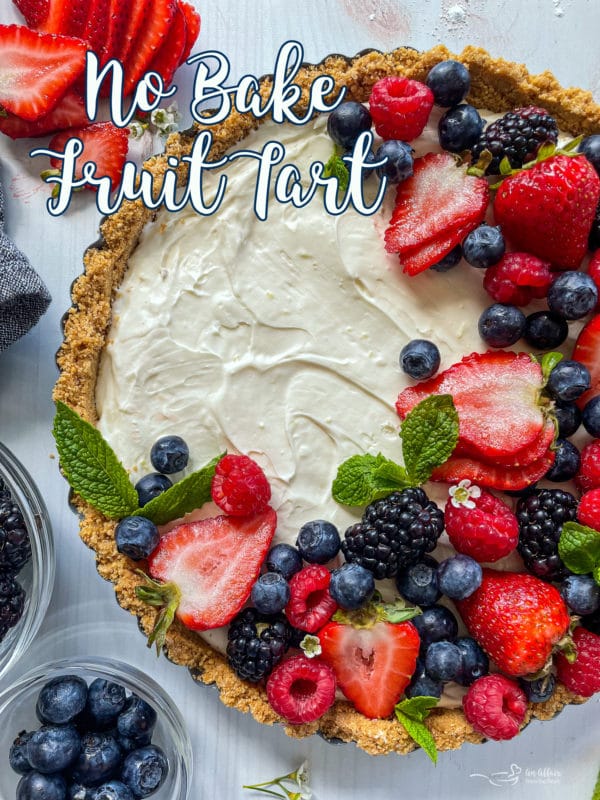 Who's ready to make this beautiful red, white and blue no bake fruit tart? Let's get to it!

Yield: 8 servings
No Bake Fruit Tart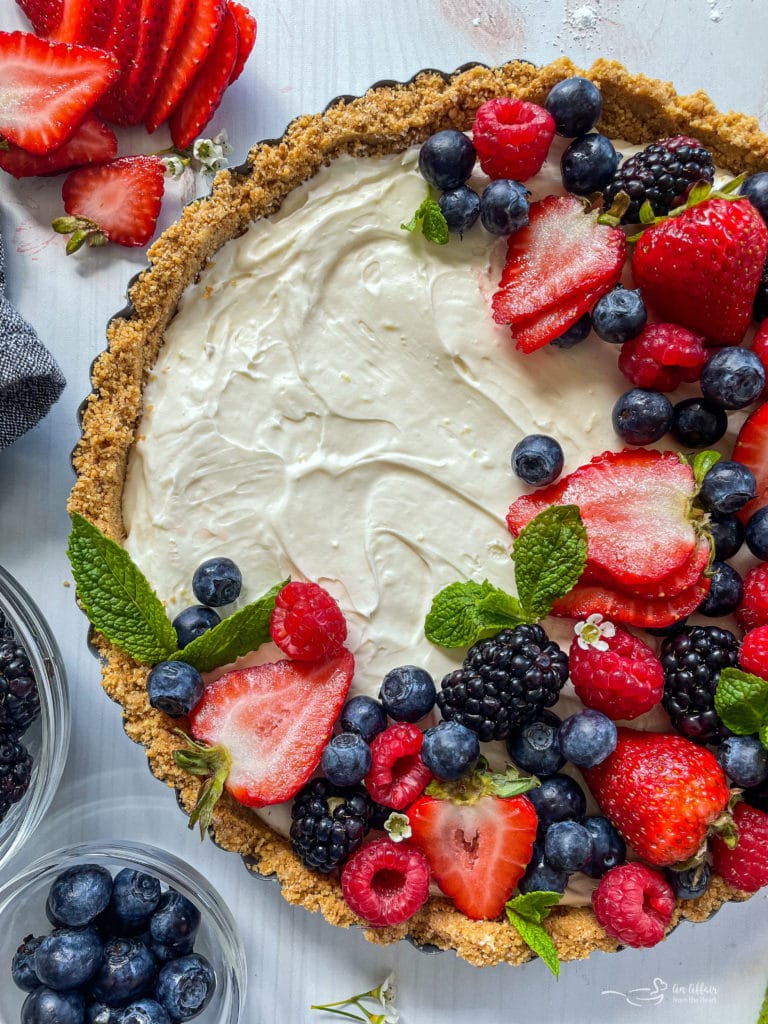 This delicious No Bake Fruit Tart is all dressed up in red, white and blue and perfect for any celebration. Graham cracker crust, creamy cheesecake-like center with a hint of lemon all topped in red strawberries and raspberries as well as blueberries and blackberries. The presentation is gorgeous and this dessert recipe is always a winner!
Ingredients
Crust:
1 ½ cups graham cracker crumbs
6 Tablespoons butter, melted
1 Tablespoon sugar
Filling:
½ cup cold heavy whipping cream
½ teaspoon vanilla extract
8 ounces cream cheese, softened
1/2 cup powdered sugar
Zest of one lemon + 2 teaspoons lemon juice
Topping:
¾ pound fresh strawberries, sliced
1 pint raspberries
1 pint blueberries
(optional: add blackberries if you like
garnish with fresh mint if desired
Instructions
To prepare the Graham Cracker Crust: Mix the graham cracker crumbs together with the butter and the sugar until they are moist. Press into the bottom and up the sides of a tart pan. Place in the fridge for at least one hour.
To prepare the filling: In your stand mixer with the whisk attachment beat whipped cream and vanilla until stiff peaks form. Set aside.
With your mixer and the paddle attachment, cream together cream cheese, powdered sugar, lemon zest and lemon juice until smooth.
Gently fold in whipped cream into cream cheese mixture, taking care not to mix it too much and "deflate" the whipped cream.
To assemble the tart: Spread the filling into the graham cracker crust. Top with fresh berries. Chill for an hour before slicing and serving.


Notes
Makes an incredible patriotic dessert when it's all dressed up in red, white and blue. But it is equally as delicious with other fruits/berries as well!
Recommended Products
As an Amazon Associate and member of other affiliate programs, I earn from qualifying purchases.
Nutrition Information:
Yield:
8
Serving Size:
1
Amount Per Serving:
Calories:

386
Total Fat:

26g
Saturated Fat:

15g
Trans Fat:

1g
Unsaturated Fat:

9g
Cholesterol:

68mg
Sodium:

236mg
Carbohydrates:

37g
Fiber:

5g
Sugar:

22g
Protein:

4g
Please note that nutrition is not guaranteed accurate.