Deconstructed Patriotic Pies
As an Amazon Associate and member of other affiliate programs, I earn from qualifying purchases.
This light and fresh dessert recipe will be an instant hit among your family and friends. Deconstructed Patriotic Pies takes luscious blackberries and blueberries, adds in succulent strawberries and raspberries, pairs them with flaky pie crust cookies and tops them all with fluffy whipped cream. A berry "pie" turned into a delicious no-bake dessert recipe.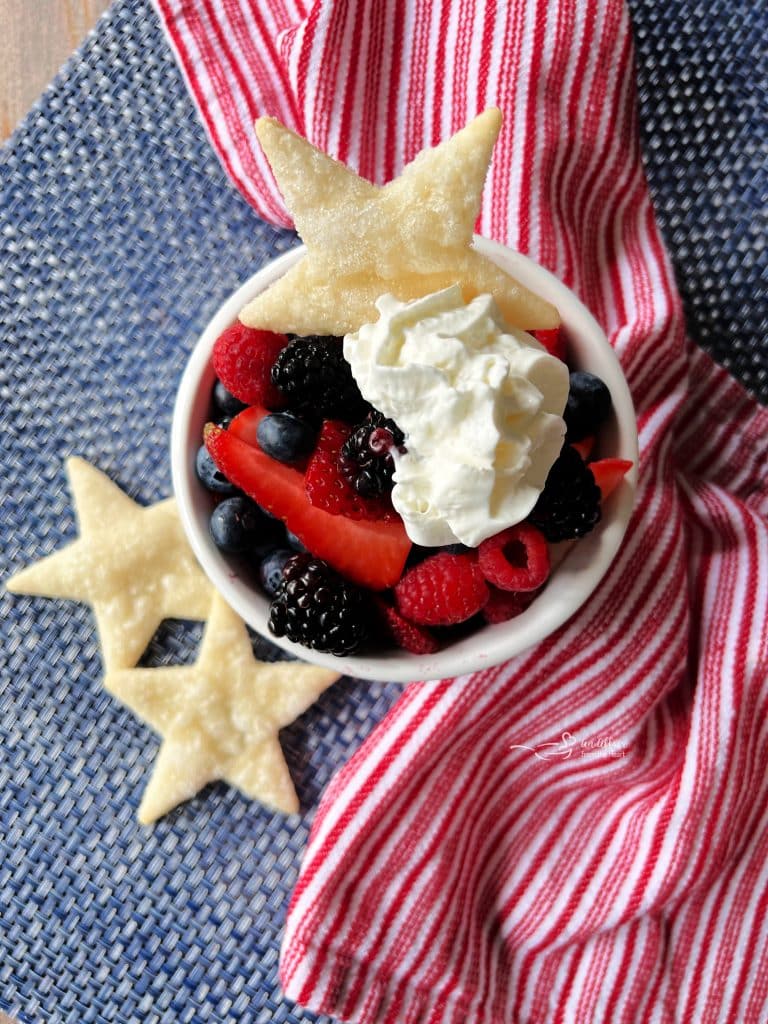 Imagine a delightful dessert that celebrates patriotism in a unique way. Deconstructed Patriotic Pies are all about red, white, and blue! You start with fresh berries like blueberries and strawberries, cut them into bite-sized pieces, and place them in a bowl. Then, you add a dollop of fluffy whipped cream on top, creating a creamy and sweet layer.
Finally, the magic happens when you top it all off with adorable pie crust cookies, which are crispy and buttery. These cookies add a wonderful crunch to each bite. It's a fun and easy way to enjoy the flavors of a berry pie without the traditional pie shape. Give it a try and experience the joy of this patriotic dessert!
Be sure to check out all of my Patriotic Recipes.

What are Pie Crust Cookies?
Pie crust cookies are delicious treats made from pie crust dough. Instead of using the dough to make a full pie, you roll it out and cut it into cute little shapes like stars or circles. Then, you bake them in the oven until they turn golden brown and crispy.
These cookies have a buttery and flaky texture, similar to pie crust, but they are smaller and perfect for snacking. You can enjoy them on their own or use them to decorate desserts like our Deconstructed Patriotic Pies. They add a tasty crunch and a touch of sweetness to your dessert.
Ingredients & Substitutions for No Bake Patriotic Pies
Fresh Berries (blueberries, blackberries, strawberries, raspberries)
Reddi-Whip Whipped Cream
2 Star Shaped Pie Crust Cookies
Substitution Ideas:
Fresh Berries: If you don't have access to the mentioned berries, you can substitute them with other seasonal berries like cherries, cranberries, or even sliced peaches or mangoes.
Reddi-Whip Whipped Cream: If you prefer homemade whipped cream, you can substitute it by whipping heavy cream with a bit of sugar and vanilla extract until stiff peaks form. Alternatively, you can use a dairy-free whipped topping or coconut whipped cream for a vegan option.
Star Shaped Pie Crust Cookies: Shortbread Cookies or graham Crackers would also work well.
Remember, these substitutions can add a personal touch to the recipe, so feel free to get creative and customize it according to your taste and preferences! Find the full printable recipe at the bottom of this post.

How to Make Deconstructed Patriotic Pies
First, make sure to clean and cut your assortment of blueberries, blackberries, strawberries, and raspberries into bite-sized pieces.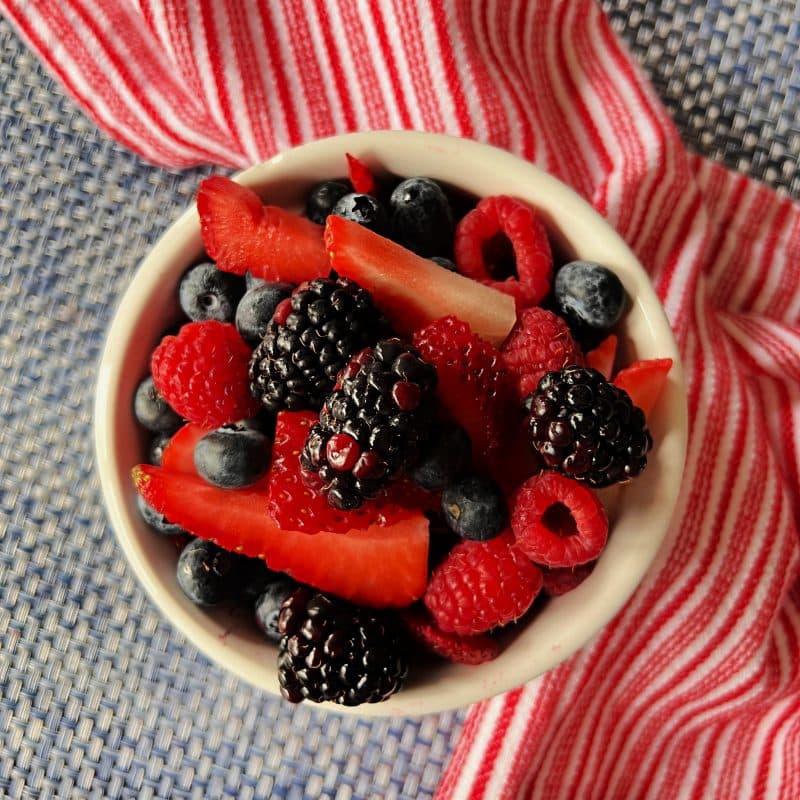 Next, grab a bowl and assemble the red, white, and blueberries at the bottom. It's like creating a patriotic masterpiece!
Now, here comes the fun part. Add a generous dollop of Reddi-Whip whipped cream on top of the berries.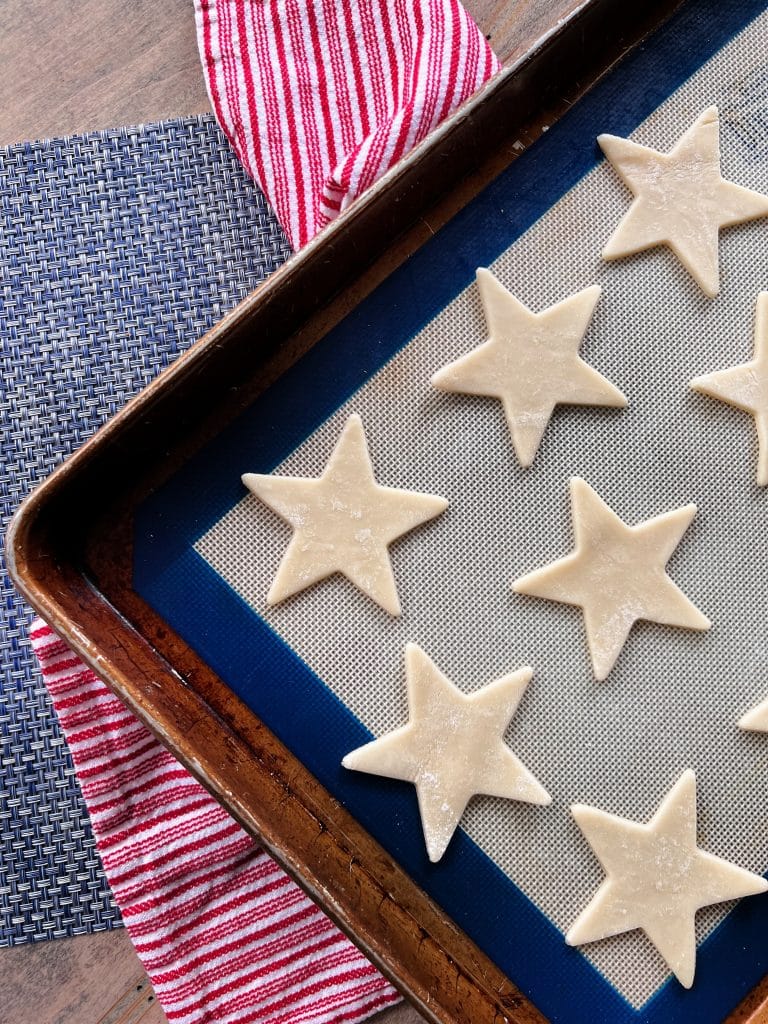 Finally, complete your berry delight by placing two star-shaped pie crust cookies in the bowl.
Tip: Sprinkle your pie crust cookies with flavored sugar! I love lemon-flavored sugar with berries.
Dive in and savor every bite of this berrylicious goodness. Enjoy!

Love it? Pin it!
Don't forget where you saw this recipe! Pin it to your favorite Pinterest recipe board before you go.
FAQs About this Deconstructed Pie Recipe
What berries can I use for this recipe? You can use an assortment of blueberries, blackberries, strawberries, and raspberries.
Can I use homemade whipped cream instead of Reddi-Whip? Absolutely! Feel free to use homemade whipped cream if you prefer.
Where can I find star-shaped pie crust cookies? Make homemade pie crust cookies with my recipe and a star-shaped cookie cutter.
Can I add more toppings to this dessert? Of course! Feel free to get creative and add additional toppings like chocolate shavings, mint leaves, citrus zest or a drizzle of chocolate syrup.
Is this dessert suitable for people with dietary restrictions? The dessert can be made gluten-free and it is vegetarian-friendly. However, please check the ingredients of the whipped cream and pie crust cookies for specific dietary considerations.
Can I prepare this dessert in advance? It's best to assemble the dessert just before serving to ensure the pie crust cookies remain crispy. However, you can prepare the berries in advance and store them in the refrigerator until ready to assemble.
Can I use frozen berries in this recipe? While fresh berries provide the best flavor and texture, you can use frozen berries if fresh ones are not available. Just make sure to thaw and drain them before using.
Can I use other shapes for the pie crust cookies?
Absolutely! If you don't have star-shaped cookie cutters, feel free to use other fun shapes like hearts, circles, or even squares. I love making this dessert for Valentine's Day with red berries and heart-shaped pie crust cookies.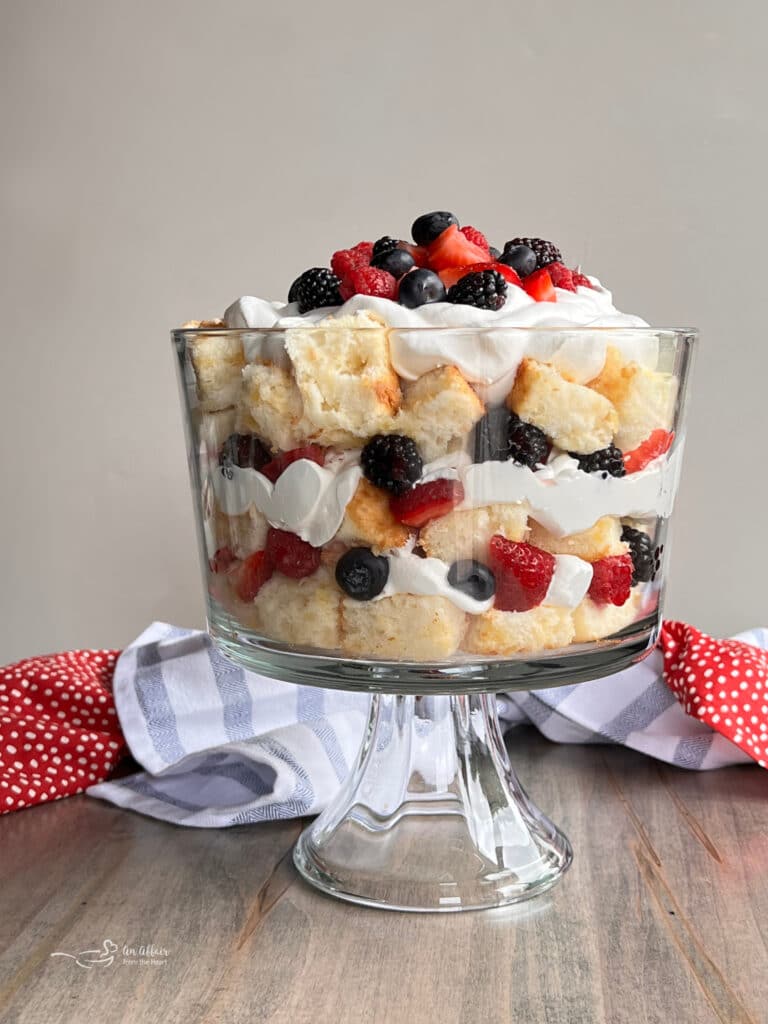 More Patriotic Recipe to Love
As you explore the world of deconstructed patriotic pies, using fresh fruit and your creative ideas, let your imagination soar. Embrace the fun and celebration of Independence Day, Memorial Day, and Labor Day, and share these tasty treats with your loved ones.

Yield: 1 serving
Deconstructed Patriotic Pies
Experience the patriotic delight of Deconstructed Patriotic Pies with fresh berries, whipped cream, and pie crust cookies. A sweet treat to savor!
Ingredients
Fresh Berries, cleaned and cut into bite sized pieces, I use an assortment of blueberries, blackberries, strawberries and raspberries
a Dollop of Reddi-Whip Whipped Cream
2 Star Shaped Pie Crust Cookies
Instructions
Assemble the red white and blueberries in the bottom of the bowl.
Add a dollop of whipped cream.
Top with two star shaped pie crust cookies.
Serve.
Notes
Recommended Products
As an Amazon Associate and member of other affiliate programs, I earn from qualifying purchases.
Nutrition Information:
Yield:
1
Serving Size:
1
Amount Per Serving:
Calories:

200*
Total Fat:

54*g
Saturated Fat:

18*g
Trans Fat:

0g
Unsaturated Fat:

32*g
Cholesterol:

5*mg
Sodium:

815*mg
Carbohydrates:

131*g
Fiber:

14*g
Sugar:

31*g
Protein:

14*g
*Calculating nutrition for this recipe is difficult. It will vary greatly depending on the amount of berries, whipped cream and how many pie crust cookies are served with it.
This recipe was originally posted on June 17, 2014. It has been updated to improve user experience and reshared on June 21, 2023.