Chicken & Spinach Pasta Bake
As an Amazon Associate and member of other affiliate programs, I earn from qualifying purchases.
Fiber rich penne pasta tossed with chicken and pasta sauce, then baked to perfection with organic cheeses and spinach.
Meal planning. How is your success rate? Mine? Actually, getting better at meal planning was one of my New Year's resolutions in 2015. How am I doing? I would say that my success rate is about 60%. It is a work in progress for me for sure, but I will admit, the weeks that I plan, I am certain that I spend less at the grocery and let's face it, the stress level at dinner time is cut in half.
On Sunday's I take a family poll of dinner suggestions. Do they have something they are craving? Add it to the list. Do I have a new recipe I want to try? Add that to the list on a night that we don't have a bunch planned so I can take my time on it. I try to space out the amount of beef/chicken, pasta once or twice per week (we love the stuff!) a soup or stew one night. Crock pot meals and make ahead meals are key for the nights we all get home right at dinnertime and everyone is starving. I try to use leftovers from a meal earlier in the week when I can to make another meal. If I am making chicken for one meal, make extra to throw in a soup, or in a pasta dish like this one. The same goes with beef. Add it to a stew or a soup later on. Tacos on Tuesday … leftover taco meat makes game day nachos that next weekend. You get the idea.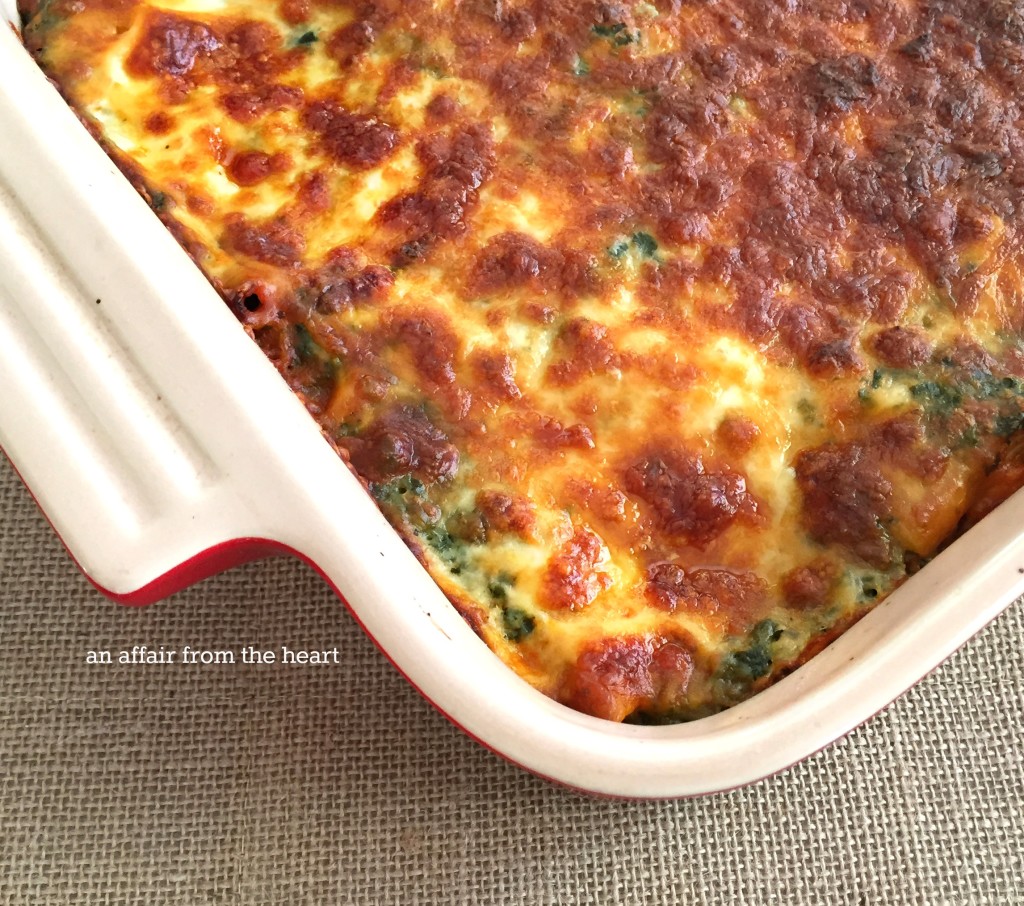 My youngest daughter is my help in the kitchen, and she is pretty quick to figure out my tricks, too. She helped me make this meal, and said to me, "you know, this is a lot like lasagna, isn't it?" To which I replied, "yes, but let's keep that to ourselves." You see, even though my family isn't what I would call picky, and even though we love pasta, only 3 out of 6 of us will eat lasagna and enjoy it. I had read a recipe a while back that blended the cottage cheese and the mozzarella together before adding to the lasagna, and thought I might like to try it. I love spinach in my lasagna, so I threw that in, too. (plus — it was a great way to add that extra veggie!)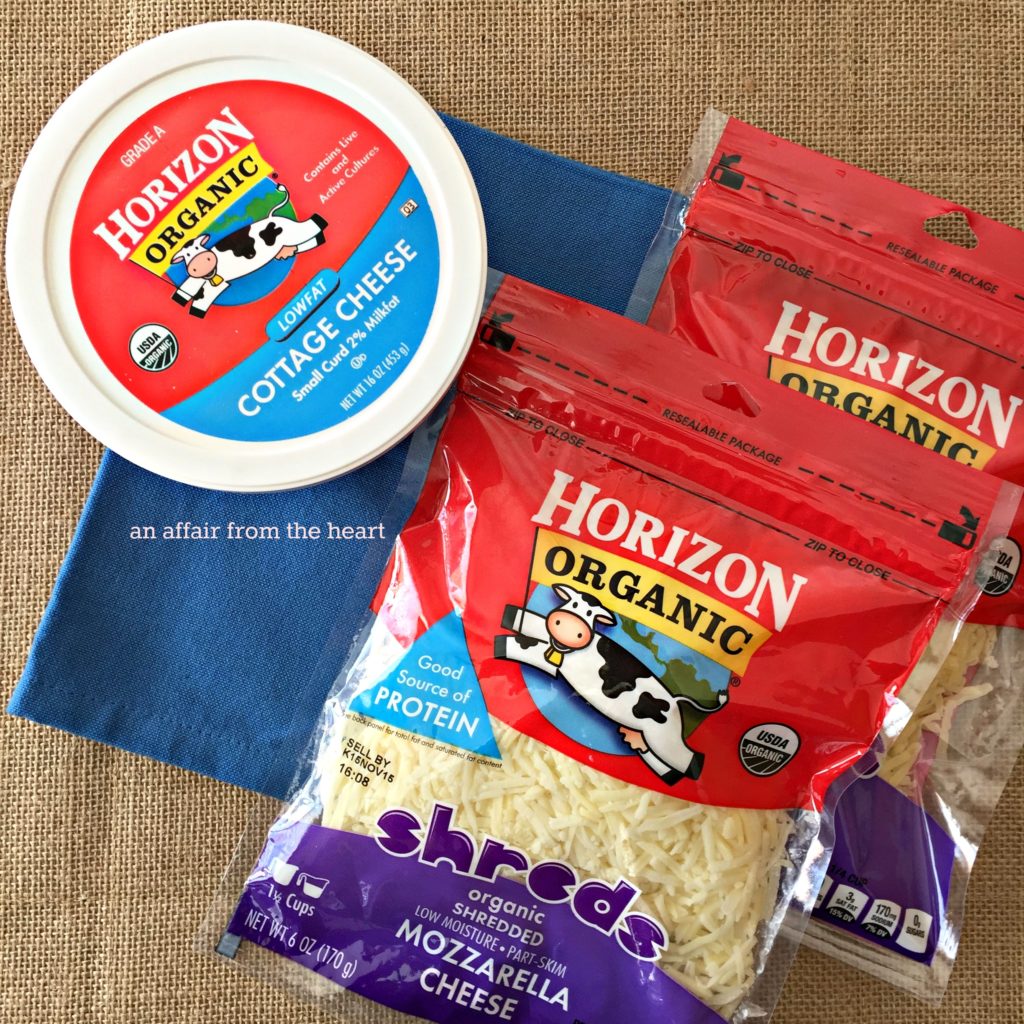 Cheese — lots of cheese — that's what always makes or breaks a good pasta dish in my book. I used Horizon Organic's low fat cottage cheese and their Mozzarella shreds when I made this dish.
Horizon Organics – From Farm to Table: More than 20 years ago, our founders helped pioneer the organic dairy movement and Horizon became the first company to supply organic milk nationwide. We began with a handful of organic family farms, and family farms are still the heart of Horizon.
Using chicken breasts you are preparing at the time you are making, or leftover chicken from a previous night tossed with a jar of pasta sauce, you mix in your chosen noodle, mine was a high fiber penne, and spread it into the bottom of a 9×13 baking dish. Whir together your cottage cheese and shredded cheese, adding frozen spinach to half of it.
That gets spread over the top of the pasta/chicken mixture.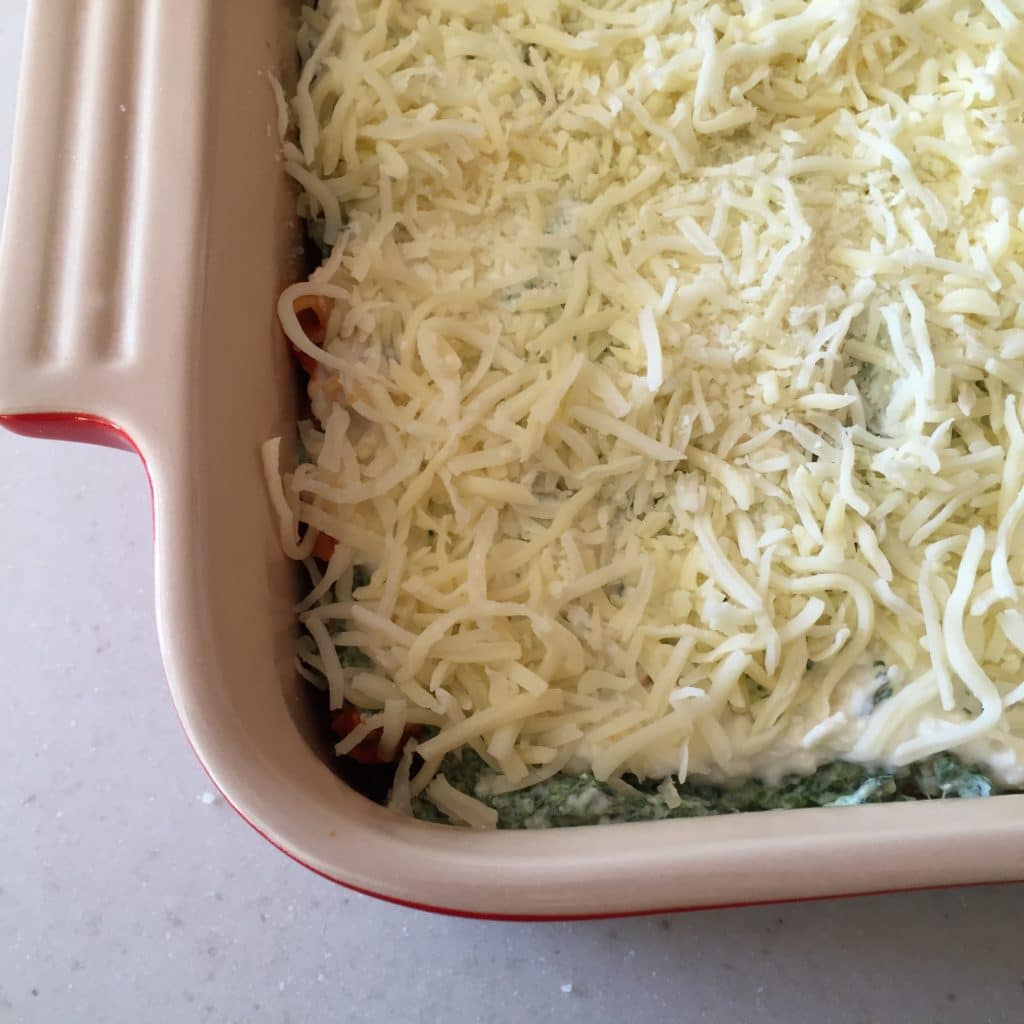 The other half (without spinach) gets spread over that, then topped with, you got it … MORE cheese!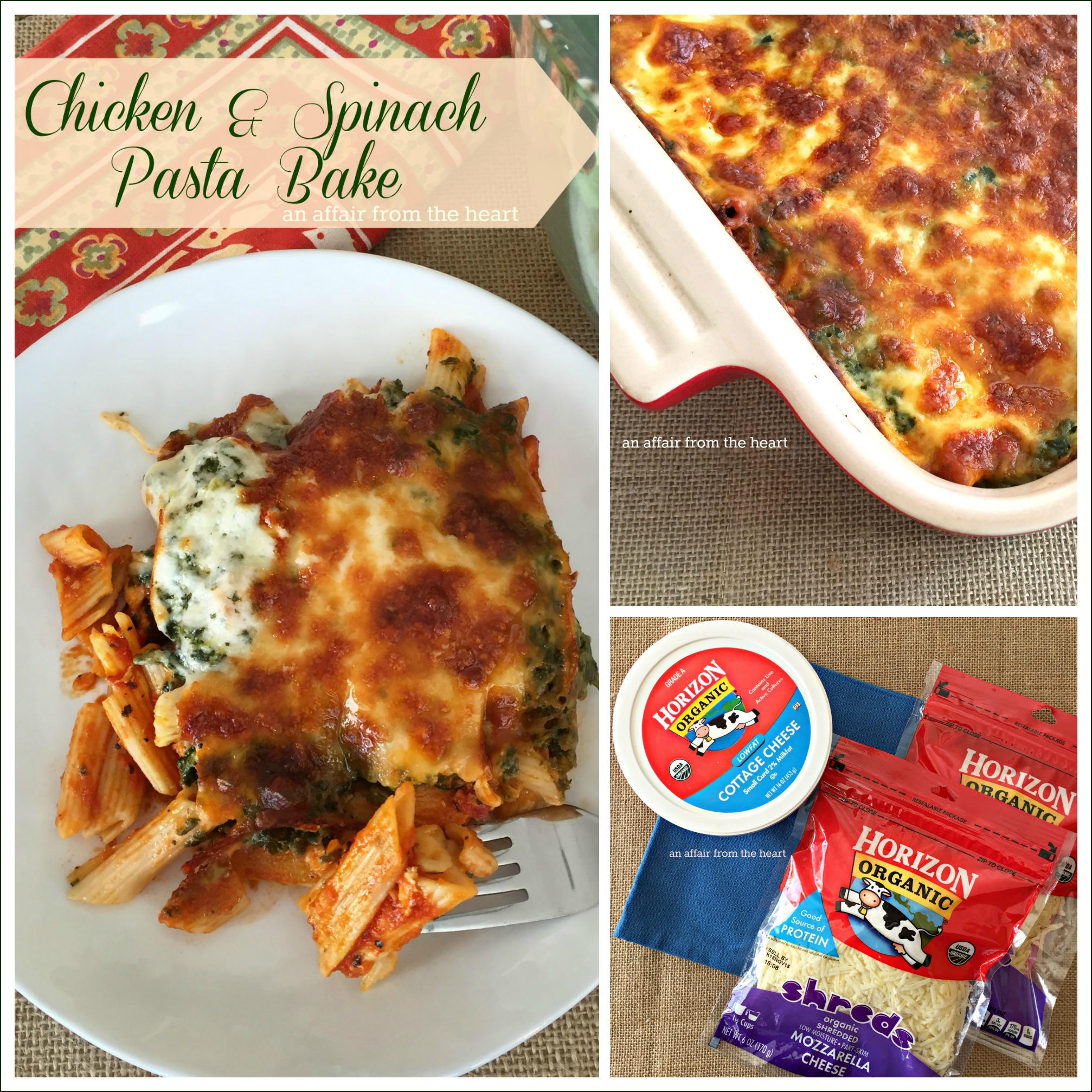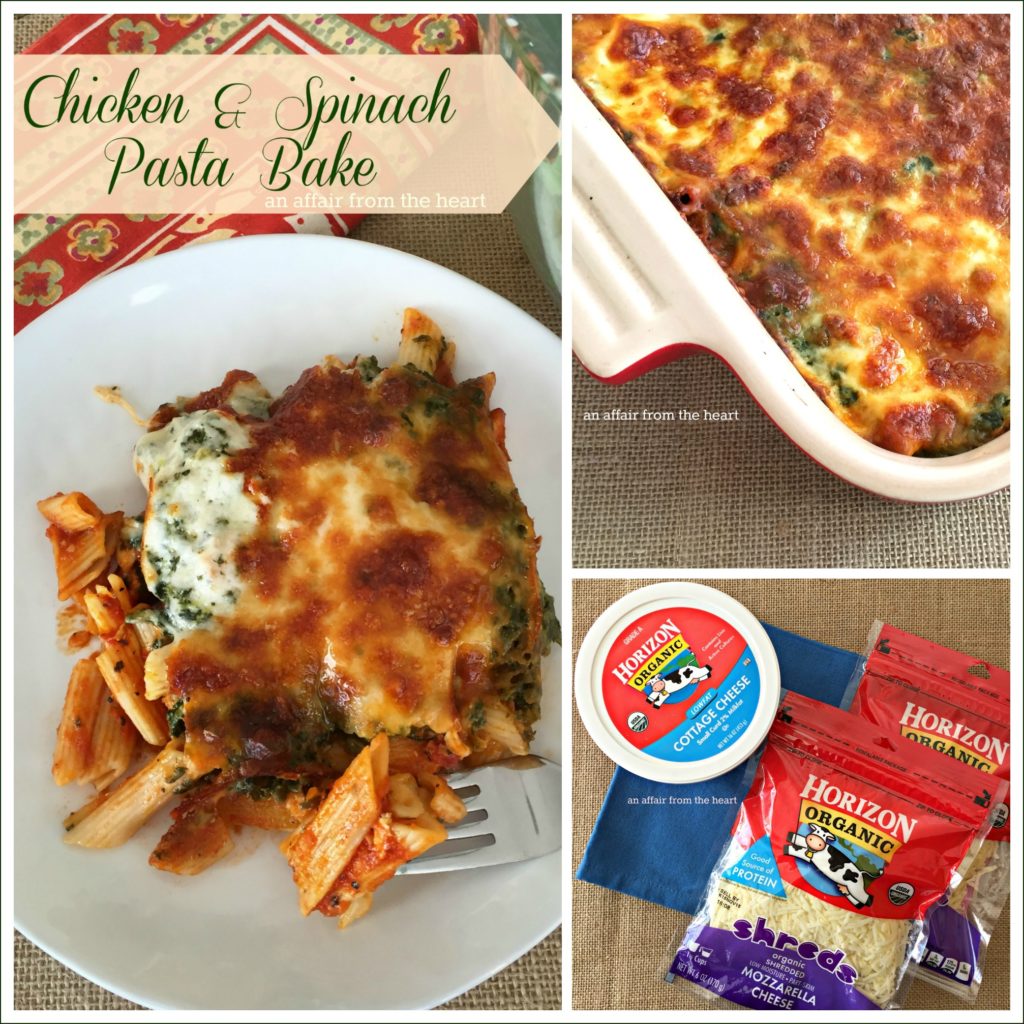 Bake for 30 minutes and you are ready for dinner! I baked mine to get a little browner on the top — we prefer it that way. If you don't want that, reduce baking time about 5-8 minutes or so.
—
Yield: 8-12
Chicken & Spinach Pasta Bake
Fiber rich penne pasta tossed with chicken and pasta sauce, then baked to perfection with organic cheeses and spinach.
Ingredients
3 chicken breasts (about 12 ounces)
1/4 cup shallots, chopped
2 Tablespoons olive oil
1/2 cup chicken broth
1 (8 ounce) jar of pasta sauce
1 (10 oz) box penne pasta (I used low calorie high fiber)
1 (16 oz) Horizon Organic Low Fat Cottage Cheese
2 (6oz) packages Horizon Organic Mozzarella Shreds, divided
1/3 cup fresh grated Parmesan cheese
1 (10oz) package frozen spinach, defrosted and liquid squeezed out
Instructions
Preheat oven to 375 degrees and prepare a 9x13 baking dish with non-stick cooking spray.
Prepare pasta according to package instructions for al dente. Drain.
In a skillet over medium high heat, add olive oil. When it's hot add chicken breasts and shallots, saute for about 4 minutes on each side. Add chicken broth, cover and cook until chicken is easily shredded. It won't take long, just 10 minutes or so. Shred chicken, add pasta sauce to skillet. Stir to combine.
Add pasta to sauce, Stir to combine, Spread into a 9x13 baking dish.
In your food processor, pulse cottage cheese until it's smooth in texture. Add to it 1 bag of Mozzarella cheese and the Parmesan cheese. Remove half of the mixture and set aside.
Add spinach to the food processor and whir with remaining cheese mixture.
Spread spinach mixture over the top of the pasta. Then Spread remaining cheese mixture over the top of that. Top with remaining bag of Mozzarella cheese.
Bake at 375 degrees for 30 minutes.
Notes
Use left over chicken to make this even simpler - or leave out completely for a meatless pasta bake.
Reduce cooking time by 5-8 minutes to get a lighter top -- we love ours browned! 😉
Nutrition Information:
Yield:
10
Serving Size:
1
Amount Per Serving:
Calories:

151
Total Fat:

6g
Saturated Fat:

2g
Trans Fat:

0g
Unsaturated Fat:

4g
Cholesterol:

37mg
Sodium:

276mg
Carbohydrates:

7g
Fiber:

1g
Sugar:

2g
Protein:

16g
Nutrition isn't always accurate.
—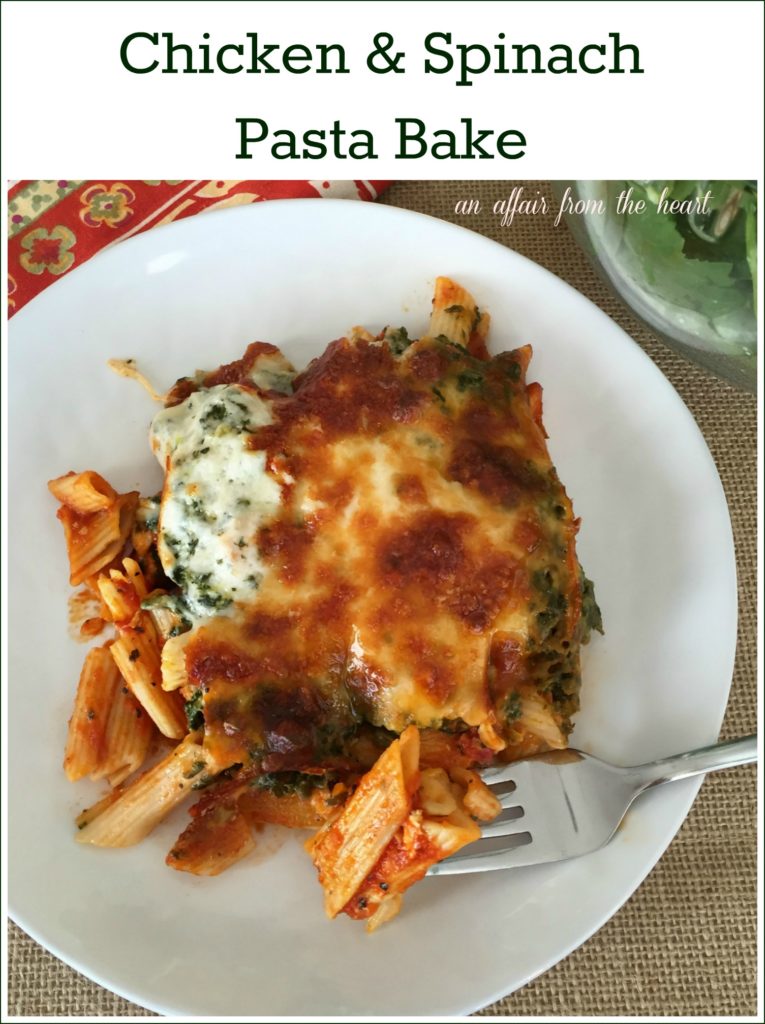 You can find more great recipes to feed your family well at Horizon's webpage. Follow them on Pinterest, Facebook, Twitter and Instagram, too! You can bet that I do!
This is a sponsored conversation written by me on behalf of Horizon Organics. The opinions and text are all mine.